So, you've just arrived in Cusco and are all fired up to visit Machu Picchu. There are a variety of ways to get there, but not all are going to suit your state of fitness or your pocket.
But don't worry, it is possible to visit Machu Picchu on a budget of only $100 USD.
Useful information about getting to Machu Picchu
Restrictions on visiting Machu Picchu
You should first be aware that visitor numbers are limited on any one day. If you take an organised trip, your entry pass into Machu Picchu will be arranged alongside your transport and your accommodation in Aguas Calientes.
If not, you will need to organise your entry into Machu Picchu independently.
Getting to Aguas Calientes
There is no road to the town of Aguas Calientes (aka "Machu Picchu Pueblo") which sits at the foot of the mountain where Machu Picchu stands.
The only ways in are by the railway from Cusco (passing through Ollantaytambo) or on foot.
The railway itself goes up the Sacred Valley and on for about 10km past the station at Aguas Calientes, to end up at the hydroelectric station or Hydroelectrica as it's best known.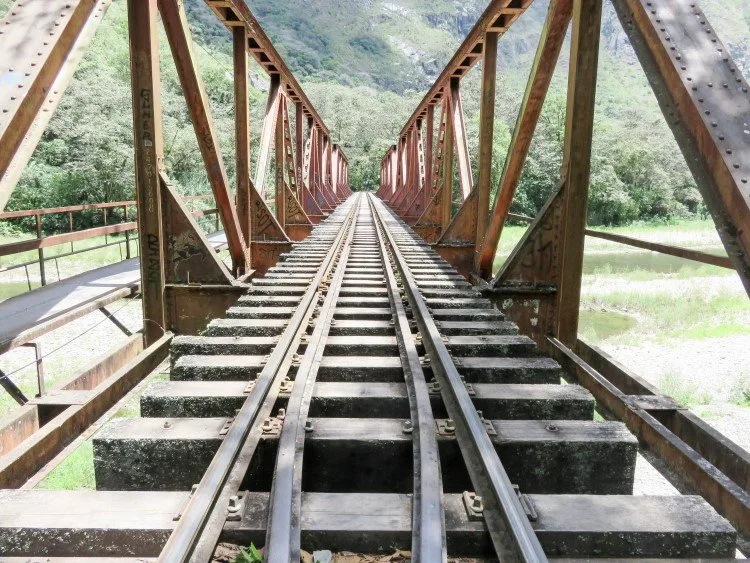 Here, it connects up with a dirt road that goes the long way round the mountains back to Ollantaytambo via the towns of Santa Theresa and Santa Maria.
And the road is dirt for a simple reason; during the rainy season sections of it get washed away, cutting off the towns. Bulldozers are sent out to gouge it back out of the mountainside.
But for the locals there's absolutely no point in wasting time and money resurfacing it.
What are your options for visiting Machu Picchu?
Hiking the Inca Trail to Machu Picchu
By far the most atmospheric way to go is to hike the Inca Trail, which takes you directly into Machu Picchu via the Sun Gate. This is the route that the Incas themselves, being mountain people, were happy to follow on foot up from Cusco, trekking over mountain passes with ease.
Runners brought fresh fish from the coast for their rulers across the mountains via Cusco to Machu Picchu. And even the top soil that was used on the growing terraces was brought in from Cusco.
The only spanner in the works – and it's quite a big one if you haven't already considered this route – is that places on the Inca Trail are limited and you will need to have booked your trip well in advance (probably about six months).
You cannot hike the Inca Trail without a guide and you can expect to pay everything from $560 to $1600 per person for a tour, particularly if you book with an agency outside of Cusco (don't do this – book with an agency based in the city!).
As ways of visiting Machu Picchu on a budget go, this is one of the least viable options due to its popularity and the very high prices you can now expect to pay.
Taking the tourist train to Machu Picchu
There is of course always the railway journey. An organised day trip costs over $250 all in, including lunch, buses up the mountain (assuming you don't want to climb up the path to the entrance, which takes an hour or so of steep uphill) and entry to Machu Picchu (with a Spanish or English-speaking guide).
By far the most expensive part is the railway trip, which by all accounts is pretty spectacular, but unless you're Peruvian, you will have to pay the tourist price.
You can, of course, buy the tickets individually yourself, but it's unlikely to come out much cheaper, and you'll need to get your dates together (see above).
If you want to see Machu Picchu on a budget, again, this isn't the best option for you.
Alternative trails to Machu Picchu
If you want to walk, alternative trails include Salcantay and the Lares trek. Both take three or four days of walking and can be arranged with any of a multitude of agents in Cusco
You will need to be well acclimatised to the altitude as they go over a high mountain passes at over 4000 metres.
When you sign up, ask about provisions for anyone who has problems with the altitude (it's not necessarily the old or apparently unfit who may suffer, and altitude sickness must be taken seriously).
There is often an "emergency horse" (or mule) laid on to carry anyone who is falling behind.
But, both treks will cost you quite a bit of money (starting from $250 USD) and if your budget doesn't stretch that far, there are other ways of visiting Machu Picchu cheaply.
Visiting Machu Picchu on a budget of $100
However, the cheapest way to visit Machu Picchu is for those who don't mind a bit of walking and a long bus journey.
The trips that are advertised in Cusco for around $100 as "Machu Picchu by car" actually comprise a 6-hour bus journey through Ollantaytambo, Santa Maria and Santa Theresa to the Hydroelectrica. From here you walk back along the railway to Aguas Calientes.
You also get an evening meal, overnight accommodation in a hostel/budget hotel in Aguas Calientes, entry to Macchu Picchu (with Guide– Spanish or English) and the return bus journey.
This trip may not be possible in the rainy season (December to March), due to problems with the roads; find out when's the best time to visit Machu Picchu.
But, if you can do it, how does it work in practice?
Exploring Machu Picchu on a budget: the itinerary
Day One
The bus starts early; you'll be picked up from your hostel about 7am and loaded into a minibus with 15 or so seats.
You'll need to be a good traveller on the bus as although the road is fairly good for the first 4 hours (and the driver is amenable to stopping where possible for roadside services), after Santa Theresa it becomes a very bumpy dirt track, zigzagging along the side of the mountains and not always wide enough for two vehicles.
During the rainy season, in some places you'll find rivers running down the mountainside and across the road, making them difficult to cross, and there is at least one rather spectacular bridge crossing.
Your vehicle will be one of several making that journey on any one day.
Your driver is supposed to stop somewhere on the way for you to get lunch. When we did it our driver stopped after a couple of hours for us to get a bit of breakfast but then rushed on without stopping again, as though in a race to be first at Hydroelectrica.
A guide should meet you at the car park at Hydroelectrica and will explain about your accommodation and where to meet him in town later, then he will send you on your way to walk along the railway.
At this point, there is an option to buy tickets for the train back to Aguas Calientes (there are two trains a day, and it's not too expensive compared with doing the full journey starting from Cusco) but the walk itself, a distance of around 10 km, is delightful.
The railway runs along the bottom of the river valley and the altitude is low enough for the vegetation to be thick and lush, including banana plants, many flowers, birds and insect life.
The butterflies are wonderful, but the sand flies are vicious, so an adequate supply of insect repellent is essential if you don't want to itch for days.
Along the way, there are numerous places where you can buy drinks, snacks and use the loo. And all the time you can catch tantalizing glimpses of Machu Picchu high above you.
Aguas Calientes is a bustling town full of tourists, accommodation and restaurants.
The central square has an impressive statue of an Inca warrior. It is here that the guides meet their groups in the evening to take them to a restaurant for a simple evening meal and an explanation of how the next morning will work.
If you don't fancy the steep climb up to Machu Picchu the next day, you can pay for a bus ticket ($12 one way) at the bus kiosk before retiring to bed.
Day Two
The next day is another early morning (breakfast box supplied by your hostel).
Machu Picchu opens at 6am and the gateway to the path up the hillside opens at 5am. The walk to the top takes at least 45 minutes even for the very fittest.
The buses start at 5:30am, and keep looping around to pick up passengers from the bottom and take them 10 minutes to the top as long as there is still a queue. It is advisable to start queuing early as there are vast numbers of people waiting.
Only small bags can be taken into Machu Picchu, larger bags and rucksacks must be left at the left luggage point (another charge of course!).
Your guide will take you around the main parts of the complex, and explain them to you, then leave you to wander around by yourself as long as you want, with the proviso that you need to get back down the mountain (allow 45 minutes if walking) and back along the railway path to Hydroelectrica by about 2pm.
It's advisable to try and get some lunch on the way back to Hydroelectrica (or at the various places when you get there), because it may be some time before the driver stops.
Once back at Hydroelectrica, the guides sort everyone out into the various minibuses that have just deposited today's tourists, for the 6-hour journey home.
Believe it or not, the road is just as nasty going back as it was coming. You will arrive back in Cusco, somewhere near to your original pick up point, tired, shaken, but hopefully having had a wonderful experience.
Planning on visiting Patagonia too? Read about whether hiking in Patagonia or the Inca Trail to Machu Picchu is best suited to you.
Things to be aware of when visiting Machu Picchu the cheapest way
We had a wonderful trip, but I would advise making sure you find out from the agent you book with exactly what the arrangements are for meeting your guide and getting to your accommodation.
When you arrive at Hydroelectrica, the drivers aren't always as helpful as they might be and if there is a communication problem (they are unlikely to speak anything other than Spanish) and you miss your guide at this point it can cause problems finding him later.
This is a guest post written by my wonderful mum from her visit to Machu Picchu! You can also read her other article on the site about the world's best places to watch the sunrise!