I'm an independent traveller. My travel bread and butter is disappearing off into the most remote, beyond-the-beaten-trail destinations as I channel my insatiable desire to explore.
But I know that being a confident, independent woman doesn't stop me from sharing the experience with other, like-minded travellers. There's actually few things I enjoy more when I travel then meeting other people who have the same desire to explore the world and not feel limited by their gender.
It's for this reason that the growing trend in women only travel groups is one that I can fully get behind – and one that I truly believe is changing the face of the travel industry.
Inspiring us to travel differently: Women-only travel groups
How many female friends do you have who've travelled solo in the last few years? What about you?
And do you know what's available if you want to travel solo but not be quite, well, so alone?
Back in October 2018, I spent ten days in Guatemala, learning about the country's fascinating array of community-run tourism projects, many led by seriously badass women taking control of the country's tourism destiny.
As part of that trip, I had the good fortune to meet Caitlin Murray, an experienced traveller from the US and the owner of the tour operator Purposeful Nomad, who had landed in Guatemala for a similar purpose, but with the aim of turning it into something awesome: a small, women only tour.
Our mindsets of bringing women from around the globe to meet and learn more from local communities through sustainable, sensitive tourism immediately aligned in some sort of travel meet-cute.
Speaking to Caitlin also made me realise how many of my readers – independent and adventurous female travellers, you know who you are! – would find Purposeful Nomad's tours exactly the style of travel that had been seeking – but perhaps didn't even know existed.
I was delighted when she agreed to chat with me about the origins of Purposeful Nomad and their Guatemala tours, which follow much of the same route as I did when I explored sustainable, community-led tourism in Guatemala late last year.
As a company, Purposeful Nomad are leading the way when it comes to women travel groups. [Editors' note: they've now started leading family tours as well. Check out their family tours here!).
Their tours generally include between eight and 12 women, comprising a mix of nationalities from across the world and offering an impressive range of adventure, community-engagement, relaxation and local interaction. Alongside this, you're travelling together with like-minded women.
If you're interested in learning more about this incredible tour, make sure you scroll to the end of this article where you can find out how to grab 10% off of their upcoming trip to Guatemala, exclusively available to readers of Worldly Adventurer!
You can also read more about my favourite things to do in Guatemala to get your adventure taste buds whetted or dive into this itinerary for one or two weeks in Guatemala!
Interview with Caitlin Murray from Purposeful Nomad
"Myself and Jess Scranton (the co-founder of Purposeful Nomad) saw a lack of women out there exploring the world. That initially started the conversation and we thought it would be cool to start inspiring women.
We had also had very negative experiences volunteering and doing community work abroad. I really wanted to change the language of community engagement and volunteering because it's such a lost opportunity when it's done wrong.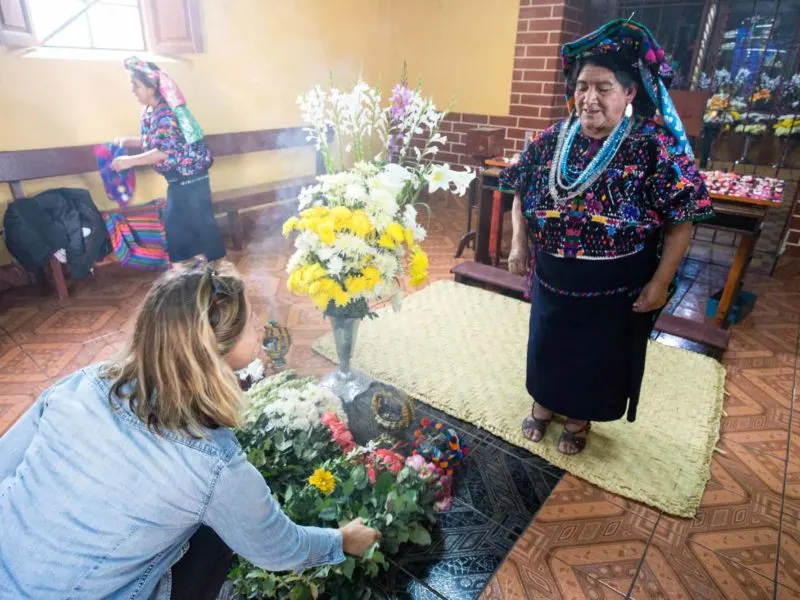 We were like OK, let's start look at what the industry has to offer and there was nothing. There was a lack of quality programs for women that travelled a little bit outside of the box and that weren't big, in-the-box bus trip companies.
We also saw a lack in trips that provided a real blend: we describe our tours as a blend of adventure, community engagement and self-care. Instead, all we saw were food tours, wine tours or all volunteering.
How we like to travel is we like to do a little bit of everything. We like to spend a day working on a farm but then we might like to go to a spa. And then we get out into the community and spend time there, as well as visiting some of the bigger sites, eating great food and choosing to do activities that are relevant to the country and the area.
That's how we started Purposeful Nomad: wanting to provide quality trips that have vetted, honest organisations and individuals that we work with, in addition to getting off the beaten path and having an adventure."
Each trip is tailor designed by you. What's the process that leads to you designing and ultimately choosing a new trip?
"Ecuador was our beta trip. We spent two years going there, researching and piecing it together. Everything was handpicked; we were on the ground going to all of these places and vetting the people in the organisations.
And because we had so much travel experience and volunteer experience, we knew exactly what we were looking for and we knew exactly when something wasn't right. It was definitely a gut feeling. That made it easy to weed out the bad and find the really good stuff."
What types of women do you find generally travel with you?
"Our demographic is not about age, it's about attitude. Every single trip, we've had women from their 20s to their 70s. This is great because multi-generational trips are so fun; everyone has a different perspective, everyone's on the trip for a different reason, so that makes it really diversified.
The women who join us are definitely craving something a little different. They don't want an in-the-box tour on a big bus; they want to connect with the local communities. They still want a little bit of adventure, but they also want the trip to be curated.
Most of our women come and they're super open minded and they're not looking for all of their creature comforts that they get at home on their trip. If you're a super luxury traveller and you need a replication of all your creature comforts that you have at home then this is definitely not the style of travel for you.
For me, providing an experience that not only pushes women out of their comfort zones but also caters to their needs is my goal. We're somewhere in the middle. A homestay might be somewhere out of your comfort zone and a lot of women are worried about it but then they do it and it's their favourite part.
And those are those great little learning moments and they're super empowering for those women, who come out saying "I didn't think I could do that!".
But we also understand that we're a tour operator and we like to provide wonderful experience where we're enabling you to relax, do some self-care and let go because that's also an important part of travel.
You don't need your senses heightened every moment of the day. A lot of reasons why people travel is to relax so we also keep that in mind as well."
What are the experiences that have most had an impact on the women who have taken your trips?
"Definitely the community engagement parts. And a lot of women that have travelled with us have never done stuff like that before, it's all relatively new and a lot are nervous about it and when they're in it.
But they're so open and so excited to have an experience and connect with a person that if they were travelling on their own, they would never have had the chance to meet.
That's why I continuously plan our itineraries where we do have these experiences where we push people outside of their comfort zones. I've found that when that happens, our clients see themselves in a different light.
For some, it's like "OMG I never thought I could do that" or "it's so enlightening to actually learn about this culture" and "I thought this but now talking to them directly, yes I see it now!"
The opportunities to have person-to-person contact are definitely the most impactful and so community engagement is a pillar of all of our trips because that's where clients seem to grow the most."
Do you find that a lot of women have done a lot of travel previously, or do you get many who've not travelled before?
"It's a real mix. Some have really travelled a lot on their own and then some have never travelled before!
On our first trip to Ecuador, we had this woman who was like this badass world solo traveller who had backpacked through Afghanistan, Pakistan, Iran – all crazy hard countries to travel to alone. She joined us and was super curious – and we kept her interested with our itinerary.
On the flipside, we've had women who have literally never left the US before.
My challenge – which I love – is how do we keep these two different types of travellers curious and entertained and challenged the whole time?"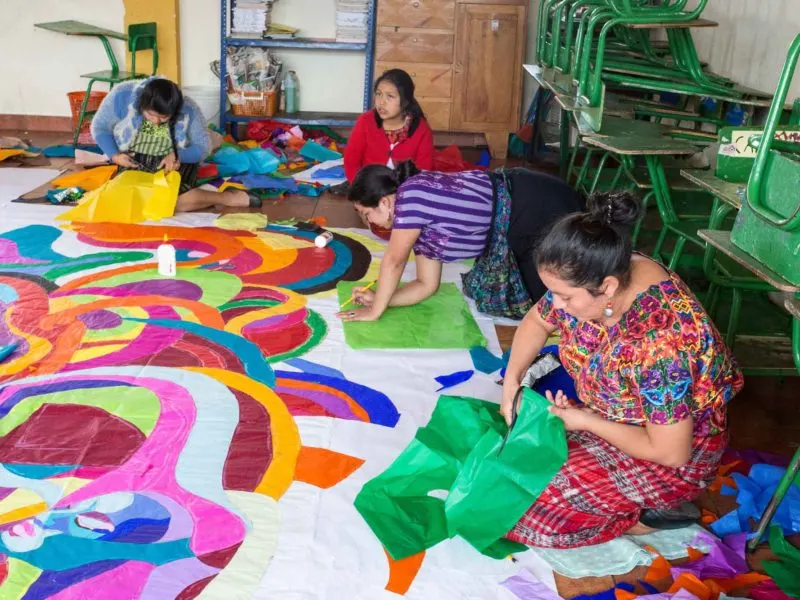 What about women who are used to travelling independently? Are your tours a good option for them?
"Purposeful Nomad was born out of mine and Jess' experiences solo travelling. We were always like "group travel, no way!", so it's quite ironic that we ended up starting a company that leads group travel!
But we always thought of it as making our company offer group travel for the solo traveller.
Our groups are on average eight to 12 women, so it's never overwhelming and you're still allowed to have these intimate small experiences. I think by keeping the groups small you still experience the camaraderie and friendships, but if you want to take a day and do something on your own, zen out or go away from the group and have some solo time, you can.
We've had a lot of solo travellers that have had a little trepidation about group travel and they've come out the other end and been like "wow that was amazing".
There's also lot of pros that come with group travel like this. I've solo backpacked all over the world and it can be so hard with the buses and the trains and all the transportation; it was always so tiring for me.
Instead, with our tours, you have that private van right at your doorstep any time you want! And it allows us to easily access these rural areas, without 2.5 days of travel. So that's my favourite part!"
Do you do much volunteering on your trips?
"It depends, every trip is different. We see what is needed and think to ourselves: are we needed? Or, instead, is there some sort of educational component we can take with us? Sometimes volunteering isn't relevant or needed and instead, there's often just loads to learn.
The thing I don't like about volunteering is sometimes I think it belittles the other side of it. We're not giving them the opportunity to take pride in their cultures and their area and if you're just going in and saying what can I do for you, that's really not an equal exchange.
Instead, in our Ecuador trip, we assist in a rural village to sheer alpacas – it's a great job! It's quite a process, we not only assist in the sheering but sort the fleece and learn all about the different softness of them and what's more expensive and less expensive so those are more hands-on labour.
In Guatemala, I wouldn't call it volunteering what we do, because Guatemala is more about engagement and education. Instead, we're learning all about the weaving culture, but again, we want to go in there and do it ourselves.
So we get instructions from the Maya weavers and we work the loom and learn how to do it and then we're doing a day where we work together to put together kites for the kite festival in Santo Domingo Xenacoj with all the kids."
Talk to me about the new trip to Guatemala. What made you choose Guatemala?
"The ITA FAM trip (a destination familiarisation trip organised by the US-based Impact Travel Alliance and the Guatemalan tourism board) was what brought me there. I had never been to Guatemala before and had heard good and bad things about Guatemala so I went with no expectations: and I fell in love with it!
Our introductory tour focused on community-based activities and day after day we met so many badass women and organisations all super invested in their communities and it just felt like everyone was really trying to empower Guatemala.
I loved that excitement and everywhere we went, everyone was just really excited to share that with us.
Because of that experience, it was so easy to build a trip around it! It was just super organic, I definitely left Guatemala being like wow, I have so much material. I had that tour done and ready for sale within a month."
What most excites you about this new itinerary to Guatemala?
"The textiles and weaving culture it what stands out to me! I'm not a weaver or a sewer but I was blown away. I knew Guatemala had textiles, had beautiful fabrics and colours but I had no idea how embedded in the history and culture it was. It was so interesting how every community had their own patterns and stories behind everything they were weaving and that was just extremely interesting to me.
It's such a great way to connect with them, it's this hands on, tactile, beautiful thing that even for people like me, who don't know anything about sewing or weaving, can be super interested in.
Our Guatemala trip is all about that and highlighting a lot of these women who are taking these roles in their community and keeping these traditions alive. We visit a lot of these communities so that you can see each pattern and what each piece means them and what its place in history is, too.
We focus on the weaving and the textiles, but we also have a cooking class and visit the kite festival in Santo Domingo Xenacoj. I'm so excited to be there when the kites fly!"
How to claim your 10% discount on the 2022 women's only travel tour to Guatemala
You can read the complete tour schedule on the Purposeful Nomad website, which includes a day in the picturesque colonial city of Antigua Guatemala, cookery classes, natural dying and weaving workshops in various rural towns, and the pièce de résistance: kite making in preparation for the Dia de los Santos celebrations in Santo Domingo Xenacoj – which you'll attend on your final day of the tour!
Caitlin and Purposeful Nomad are offering an amazing 10% discount on their 2022 Guatemala tour (running from October 26th through November 2nd inclusive) for Worldly Adventurer readers!
All you need to do is use the discount code "worldly" when booking your trip!
This article was written in collaboration with Purposeful Nomad. As ever, all of the opinions, travel tips and recommendations that I make in this article are my own; I never promote companies whose values don't 100% mirror my own!