La Paz, the Bolivian de-facto capital, is both chaotic, high-altitude city and a hot-bed of fascinating new tourist activities – all of which reflect the face of modern Bolivia.
The uniqueness, beauty, and energy of La Paz is evident from the city as your plane descends into El Alto International airport: an urban sprawl wedged between the snow-capped peaks of the Andes.
While many travelers view this city simply as a transit point, there are plenty of things to see and do in La Paz.
Consider adding several days into your Bolivia itinerary to spend in this exceptional place – and use this jam-packed list of the 25 finest tourist attractions to get you started!
1. Play a round at the highest golf course in the world
Bolivia is home to the La Paz Golf Club which, at 3,342 m (almost 11,000 ft.) above sea level is the highest grassy golf course in the world! If you're an avid golfer, you won't want to miss out on the opportunity to play 18 holes at this one-of-a-kind course.
Weekday rates for tourists are 400 BOB (almost $60 USD) while weekend and holiday rates go up to 560 BOB (about $83 USD) and you will need to book your tee time in advance.
2. Go Shopping in Calle Sagarnaga
Sagarnaga is the main tourist heart of the La Paz, and this street is home to hundreds of shops, restaurants, hostels, and tour agencies.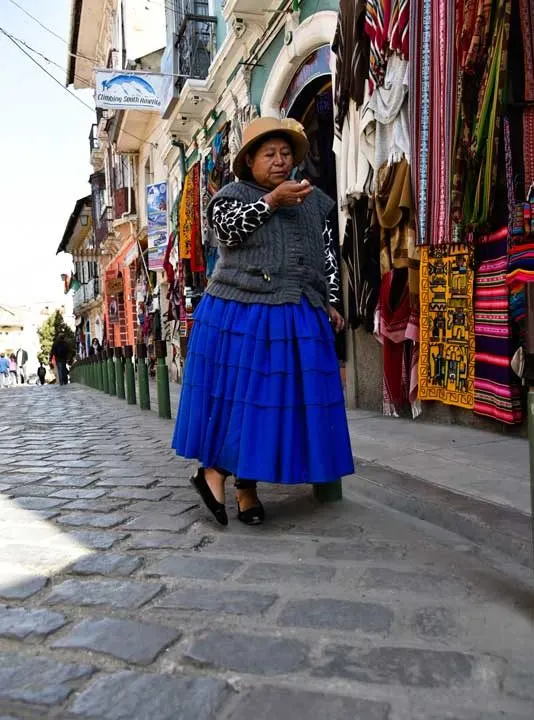 While I wouldn't recommend spending all of your time here, it's definitely a good, safe area for accommodations, restaurants, and most importantly, souvenir shopping.
If you've been searching for a warm alpaca sweater or anything made of the colorful aguayo fabric (the bright, patterned material used by many in Bolivia to carry belongings and babies) this is your place to find it!
Take a break from a tough afternoon's shopping and stop by Café del Mundo for a coffee or meal. This cozy café is bright and cheery, and the food is delicious!
3. Ride the teleféricos
La Paz's location, in a valley surrounded by towering mountains, led to it having one of the world's coolest public transportation systems: the teleférico!
These colorful cable cars span the city, providing efficient, traffic-free transportation to residents – and a unique tourist attraction for visitors.
To ride and appreciate the whole city from a bird's eye view, visit a teleférico station and purchase either a re-chargeable card or a single-use ticket.
Each ride costs 3 BOB (about $0.43 USD), and you have to pay every time you change lines. With a wide range of routes – and new routes being constructed all the time – you can now see the entire city in a couple hours.
For the best views of the surrounding mountains, take the red line all the way to the top and check out the view of Illimani (the largest, double-peaked mountain to the right), Huayna Potosi (the triangular shaped mountain to the left), and the rest of the Cordillera Real.
4. Go rock climbing
If you enjoy rock climbing, La Paz has hundreds of outdoor sport and traditional climbing routes right in the city.
Near the Amor de Dios and Aranjuez neighborhoods in the Zona Sur, on either side of the Avenida Hernan Siles Zuazo, there are tons of walking trails and climbing routes.
To get there, head to the Iglesia Amor de Dios (across the river from the Parque Bartolina Sisa).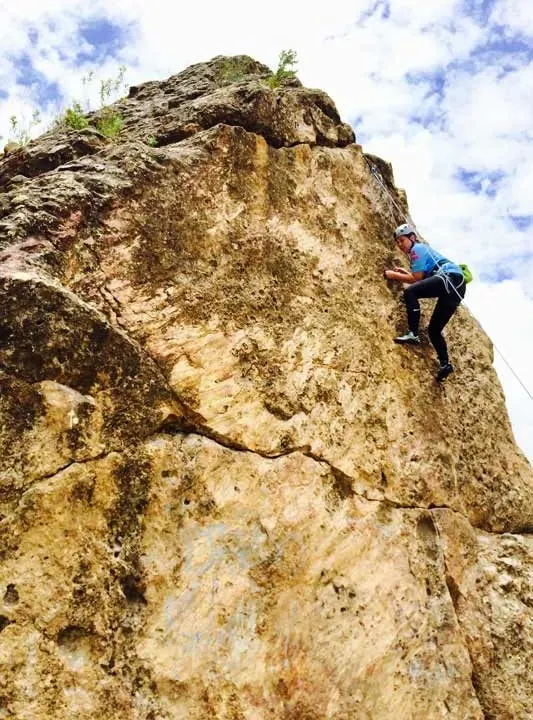 The La Paz rock climbing clubs meet at the park next to this church and there are several easy-to-access sport climbing routes right there. If you don't mind a bit of a trek, take the path up the mountain to find hundreds more routes off the Sendero de los Aguilas trail.
*Note: This is for experienced rock climbers only as you will need to bring your own gear and climb on your own – there are no guides or tours here! The local climbers, however, are very friendly and always happy to see other enthusiasts out on the rocks.
5. Enjoy tea time at Los Qñapes
Bolivians eat very late dinners (most restaurants will not open until 7 pm, and won't be full until 8 or 9pm), so taking afternoon tea is a very common practice and a quintessential Bolivian experience.
Many cafés open around 3 pm, and are full of people enjoying a light snack and conversation around 4 or 5. In my opinion, the best place in the city to enjoy tea time is Los Qñapes.
This café, located in the Montenegro area of the Zona Sur, specializes in creating Bolivian favorites using Bolivian ingredients. If you want to try sonzo (a sweet yucca and cheese pastry), masaco (mashed plantains mixed with charque, or jerky), empanadas (meat pastry), or humintas (corn cakes) this is definitely the place to do so!
But their speciality, as the name suggests, is cuñapes, a cheesy pastry made of gluten-free yucca dough.
The owner is a warm host who speaks four languages, so you can fully enjoy the experience even if you don't speak Spanish. Get the 4Q combo paired with a rich hot chocolate. – it's delicious!
6. Glamp at Colibri Camping
On the outskirts of the metropolitan area in a neighborhood called Jupapina is an awesome ecolodge called Colibri Camping. This family-run business offers a warm welcome, clean facilities, gorgeous views, and safe, peaceful accommodations.
There are camp sites if you want to pitch your own tent, or adorable tipis and lodges for those who want give glamping a try.
The owners are a bilingual couple from the UK and Bolivia, so if you're looking for suggestions for sightseeing or volunteering in the area, they are a great source of local information.
7. Hike to the Muela del Diablo
One of the most iconic rock formations in La Paz is the Muela del Diablo, or "Devil's Tooth." If you're looking for an energetic La Paz day trip, hiking up to the Muela is a great option.
This hike is not very long (about 2 hours up), but it is quite strenuous as you trek uphill to an ending altitude of 3,825 m (or 12,549 ft.). Pack a picnic (and plenty of water!) to enjoy at the top. Once you arrive, the views of the city and valley are amazing!
To get there ask a taxi to drop you off at the Cementerio El Pedregal, from where you need to start hiking, and head up the mountain road. If you want to see the Muela and the views, but aren't so keen on hiking, you can always ask a taxi to drive you all or part of the way up the mountain to cut down your walking time.
If it is rainy season, many taxis will not want to drive all the way up the mountain, as the roads become treacherous, but during the dry season, for a price, many taxi drivers will take you to the top.
8. Enjoy a glass of wine and tapas at Hallwright's
Bolivia might not exactly be known for its vino, but Hallwright's bucks that trend. This great little wine bar in the Sopocachi neighborhood has a selection of wine from Bolivia, but also many bottles to try from all over South America.
Their charcuterie boards and small plates are also very tasty and it's a very relaxing evening activity in La Paz.
9. Catch a futbol match
The Hernando Siles stadium in La Paz is a great place to watch a soccer game. The two most popular local teams, The Strongest and Bolivar, have quite a rivalry, and if you happen to be in town when they play against one another in an "El Clasico" match, don't miss out on getting tickets.
The loud cheers and energy in the stadium are contagious and tickets are very fairly priced (usually between 50-150 BOB, or less than $25 USD, depending on your section).
The Bolivian national team also plays in La Paz, so you might be lucky and catch an international game with some big names. We were able to see the Brazil and Argentina play in La Paz before the Word Cup!
10. Wander down Calle Jaén
Calle Jaén is the most well-preserved colonial street in the city, dating back to the 1700s, and it makes for a lovely place to stroll and take photos of its cobblestones and colorful buildings.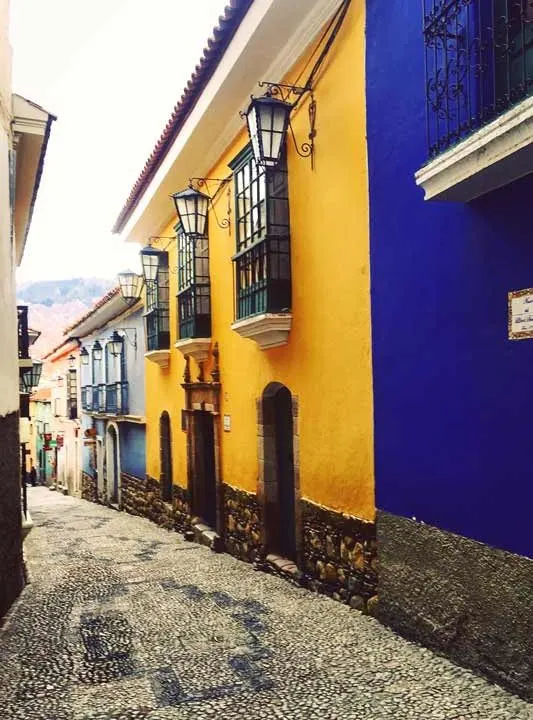 It's also home to many of La Paz's museums, including the Museo de Metales Preciosos, where you can see pre-Columbian silver and gold artwork, and the Casa de Murillo, which is where the revolutionary leader Pedro Domingo Murillo lived, making it one of La Paz's most historically-significant tourist attractions.
11. Shop the city's many markets
If you're a bargain hunter, there are numerous opportunities to indulge in La Paz. The most famous market is the 16 de Julio market in El Alto which takes place every Thursday and Sunday.
The market extends for miles throughout the El Alto neighborhoods and you can find almost anything your heart desires from outdoor gear to electronics to clothes and shoes!
The prices are so low that it's easy to walk away after several hours shopping with an armful of bags but having only spent a couple hundred BOBs.
In the city-center, the Uyustus, Max Paredes, and Rodriguez markets are also great places to find lots of products for cheap prices.
Uyustus and Max Paredes are excellent for household goods, clothes, and shoes while Rodriguez is the perfect place to find fresh fruits and vegetables.
Some fun Bolivian fruits to try are grenadias and chirimoyas. Grenadias have hard orange shells and look a bit like gray pomegranates on the inside. To enjoy one, crack the shell and suck out the seeds and fruit from the inside.
Chirimoyas are green and appear to almost have scales. Cut one open and eat the milky white insides with a spoon. I always think they sort of taste like fruit loops!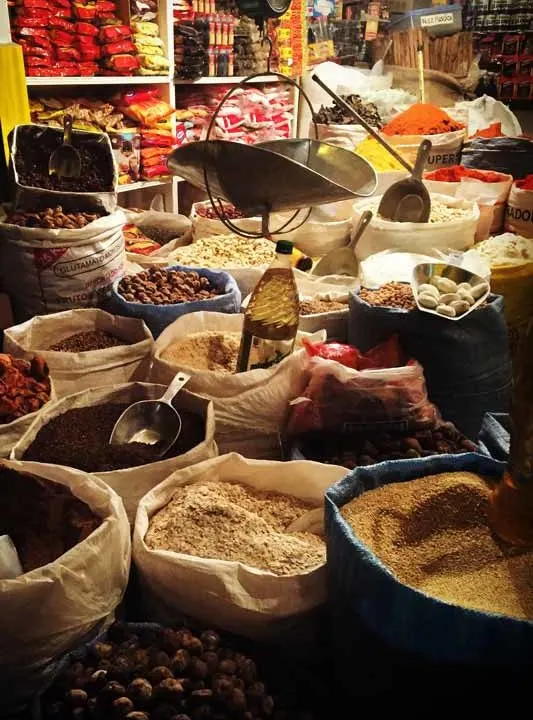 *Note: It can be very easy to get lost in the 16 de Julio market. If possible, go with a friend who is familiar with the area. If you're on your own, a good rule of thumb is to stay in sight of the blue teleférico line.
Pick pockets are also known to frequent the 16 de Julio market. Use a cross-body bag rather than a backpack, and don't obviously carry expensive belongings such as jewelry, a nice camera, or smart phone. The least ostentatious you appear, the better!
A top travel tip for La Paz is that one of the most common tactics of pickpockets in Bolivia is to spray water or blow baby powder at you to distract you while you are robbed.
If anyone does this your best option is to not pay them attention and continue walking with your belongings.
If you'd rather observe the market than shop, a great option is to take the blue teleférico over the market on a Thursday or Sunday morning. You'll be able to see the real expanse of all the shops.
All that said, I shopped in El Alto many times and never once had a problem, so be aware, but don't be afraid to have a great shopping experience at 16 de Julio!
12. Visit the government buildings in Plaza Murillo
Located in the city-center, the Plaza Murillo is home to several of Bolivia's government branches (and about a million pigeons – ha!).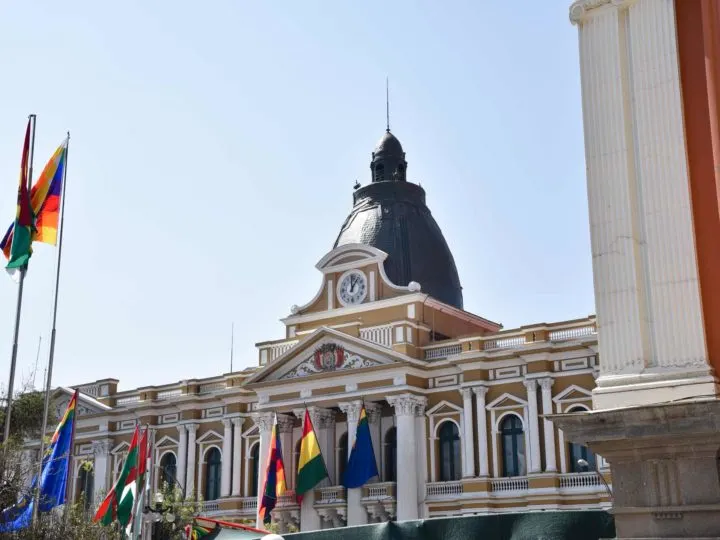 The presidential palace (known as the "Palacio Quemado" due to the many attempts to burn it down throughout Bolivia's history) is located there, as well as the legislative building.
A closer look at the legislative building's clock will reveal that it ticks backwards! Called the "Clock of the South," this backwards clock is intended to represent the nation's indigenous roots and it is an important point of interest in La Paz and Bolivia.
13. Explore the Valle de Las Animas with a stay at the Allkamari Eco Resort
On the outskirts of La Paz, lies the unique landscape of the Valle de las Animas. The rugged, spiky rock formations of the valley were thought to represent souls, giving it its name, "animas", means souls in Spanish.
Nearby, you will find the Allkamari Eco Resort and Spa, a great place to spend the night or enjoy a meal if you want a day trip from La Paz.
The resort offers guided walking tours of the valley, massages, yoga and Pilates classes, and even the opportunity to observe or participate in native rituals. On a clear day, the view from the resort of Mt. Illimani from the resort can't be beaten!
14. Taste gourmet, Bolivian-inspired dishes at Gustu
For the past three years, Gustu has earned a spot on Latin America's 50 Best Restaurants list. If you want a truly gourmet experience, an evening at Gustu will not disappoint.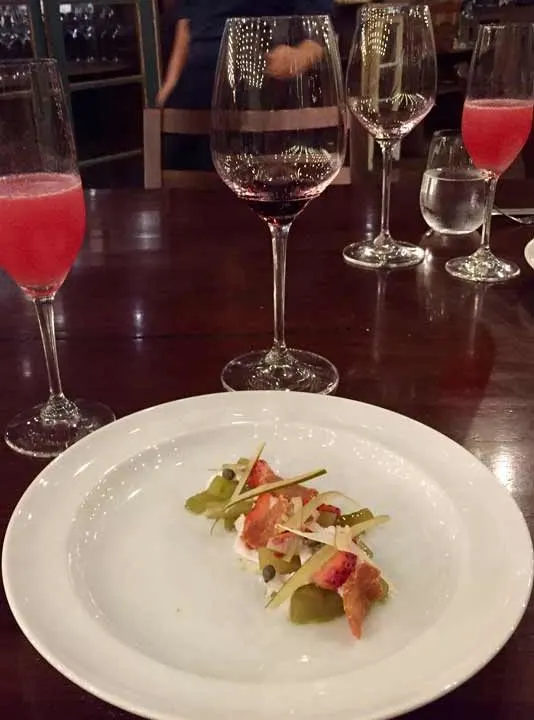 I recommend opting for one of the tasting menus to get the full experience. Each plate is small, but there are plenty of plates (and drinks) included to leave you feeling satisfied after the meal.
The dishes and drink pairings are unique and delicious. I tried many things I had never even heard of before – like pickled caiman!
15. Wander the Valle de la Luna
The Valle de la Luna, or "Valley of the Moon," park is one of the unusual tourist attractions accessible from La Paz and makes for an interesting afternoon's excursion.
Hiking through this strange landscape, you'll never believe you are just moments away from the main city.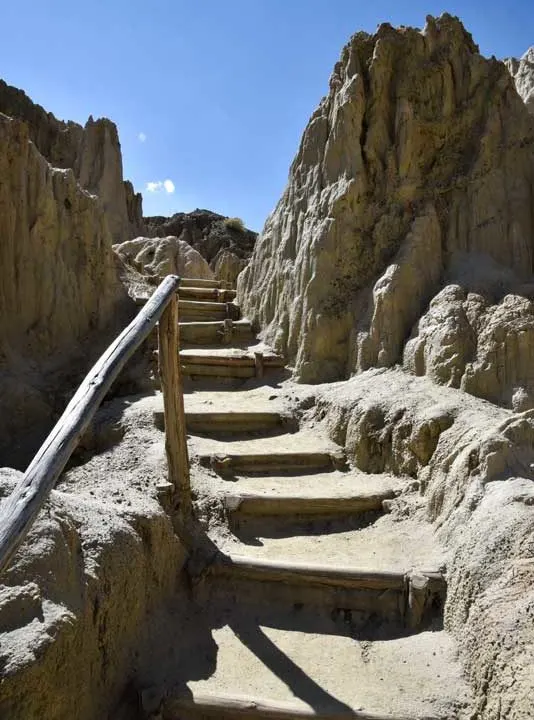 The hikes in the park are short and easy, and you might be lucky enough to see a viscacha (something like a large squirrel or rabbit) running among the spires!
To get to the Valle de la Luna, take a mini bus marked Mallasa (you can usually find these at Plaza Humboldt in the Zona Sur) and ask to get down ("Voy a bajar!") when you see the sign for the Valle.
16. Take a four-wheeler tour
A fun way to explore the outskirts of La Paz is by taking a four-wheeler or dirt bike tour. In the Mallasa neighborhood near the Valle de la Luna, you will find several shops offering ATV tours. All you need is a driver's license and you're all set.
The guides will take you past the Valle de la Luna toward Lake Achocalla and all the way up to El Alto. The views of Illimani and the valley are spectacular, and the ride is tons of fun.
17. Taste food from all around the world
It may surprise you to learn that La Paz is home to many amazing restaurants offering cuisine from tons of different countries and if you know where to look, you can definitely enjoy some fantastic meals in La Paz.
In the Zona Sur area, check out Taj Mahal for Indian food, La Bastille for French, Reineke Fuchs for German, New Tokyo for sushi, or Chalet La Suisse for some delicious fondue.
In the Sopcachi neighborhood, near Plaza Avaroa, a visit to Vinapho for Vietnamese food is a must, as is Café Beirut for some Lebanese fare.
My personal favorite for Thai food, Maphrao On, is also a few blocks away from Plaza Avaroa.
In the city center, the Marrakech restaurant has awesome Moroccan food and Sabor Cubano is an excellent place for sandwiches and mojitos. There are plenty of options for a delicious meal in La Paz!
If you are lucky enough for your visit to overlap with the biannual restaurant week in the city, you'll be able to try some dishes at these restaurants and many more for only 110 BOB (about $16 USD). Many restaurants participate and create special menus for the week-long event. The restaurant week selections include an appetizer, main dish, dessert, and beverage.
Another fun food event and unmissable thing to do in La Paz is the Eat Out La Paz Food Fest, which takes place a couple times per year and combines tons of tasty local food trucks and restaurant tents with music and events.
18. Visit the beautiful San Francisco Basilica
The San Francisco Plaza and its eponymous church are a must-see when visiting La Paz.
The church dates back to the colonial era in Bolivia and the architecture shows a unique blend of the European and indigenous cultures that are defining parts of Bolivian history; its façade combines Catholic elements with indigenous symbols and flora and fauna native to Bolivia.
To learn more about the church, monastery, and some history of La Paz, take a tour for a cost of only 20 BOB, or $3 USD.
My favorite part of the tour was checking out the roof of the basilica and panoramic views of the city-center from there!
19. Brunch at Paceña La Salteña
You can't leave Bolivia without sampling a salteña (or two, or three!). These yummy snacks are a Bolivian favorite for brunch time.
The best way to describe a salteña is like a juicy, semi-sweet empanada, or like an on-the-go chicken pot pie.
The best place to grab a salteña in La Paz is one of the many Paceña La Salteña locations around the city. Don't forget to grab plenty of napkins as they can be very juicy. (They say that only a true Bolivian can eat a salteña without spilling!)
The pollo (chicken) option is a bit sweeter while the carne (beef) flavor has more of a kick to it. There are also vegetarian options. All are a warm, delightful way to fuel up for your day of exploring!
20. Take in the views at Mirador Killi Killi
In the city-center, one of the best places appreciate, and snap some photos of Illimani towering over La Paz is the mirador, or lookout point, of Killi Killi.
A 30 minute-uphill walk from Plaza Murillo, it's a great place to stop and soak in the city as you wander the downtown area.
21. Grab breakfast or a drink at Casa Grande
The large Casa Grande Hotel in the Zona Sur area of La Paz is a great (but rather pricey) place to stay, but even if you choose not to book a room there, you should still check it out for a meal to start your day or a drink to end it.
The restaurant on the main floor has a weekend breakfast buffet that is to die for, especially if you are missing a big American breakfast!
They have French toast, an omelette bar, fresh fruit and juices, assorted pastries, coffee, crispy bacon, and bottomless mimosas are on the itinerary, with the breakfast buffet running for 70 BOB (or about $10 USD). Trust me: you won't need to eat lunch afterward.
In the same hotel, on the top floor, you will find the CasaBar, a trendy bar with great drinks and a nice view, making it the perfect place to go for an evening out.
22. Watch Cholita wrestling
One of the most unusual tourist attractions in La Paz is the cholita wrestling matches. Set up like a WWE match, these shows may seem silly, but they actually started as a women's empowerment movement and a way to take a stand against domestic abuse.
Every Sunday evening you can catch one of these entertaining shows. Buy tickets to the shows at many tour company locations in the city.
Almost all of the tour companies in Calle Jaén and Calle Sagarnaga sell tickets, and many of these ticket packages include dinner and transportation to and from the wrestling show.
23. Sip some coffee at Café Typica or Roasters
Two of the best coffee shops in La Paz to grab a drink, have some lunch, or work or relax in are Typica and Roasters. Both are located in the Montenegro area of the Zona Sur, and Typica has a second location in the Sopocachi neighborhood.
These two coffee shops offer a great atmosphere, excellent service, and (comparably) quick WIFI as well as yummy drinks and food.
At Typica, the iced coffee is incredible, as is the empanada combo. At Roasters, try the teas as well as the coffee selections, and enjoy a soup, salad, or sandwich.
24. Observe the Alasitas Festival
If you happen to be in La Paz on January 24th, you will be able to see the Feria de las Alasitas. During this celebration, hundreds of markets will pop up around the city offering miniature versions of everything you can think of – houses, cars, food, money, plane tickets… anything!
Paceños buy these tiny models to give to their Ekeko dolls (the God of god of abundance and prosperity in Tiwanakan culture) in the hopes that they will be blessed with the real-life version of these items in the coming year.
Be sure to check out one of the Alasitas markets and play some foosball if you are in La Paz during the festival. These markets are set up all throughout the city, and can be recognized by the many foosball tables set up between the vendors' tents.
25. Take a Photo with a dancing zebra
La Paz has some of the most unusual crossing guards in the world – dancing zebras! These friendly striped folks protect pedestrians in busy intersections from the aggressive traffic in the city.
They're always up for a photo op or a high five, so if you see a zebra, say hello!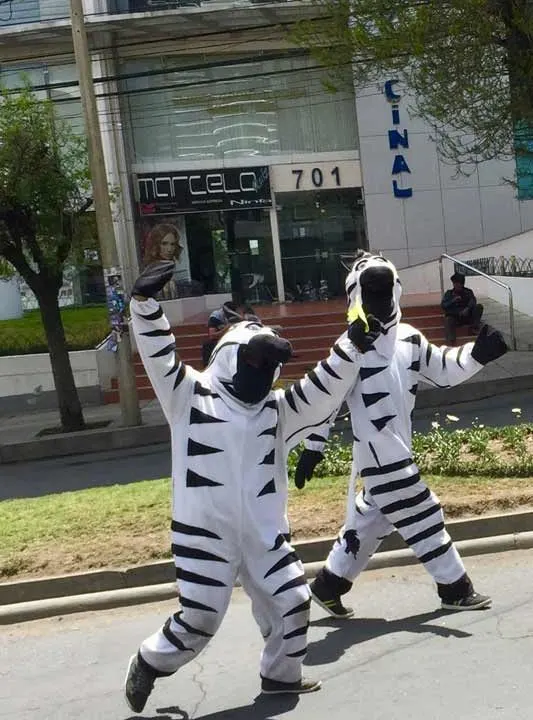 La Paz can be a great jumping off point for Bolivia's many attractions, such as the Death Road to Coroico, Tiwanaku, Lake Titicaca, the salt flats, and some of South America's best mountain treks like Huayna Potosí, but the city itself should not be overlooked. La Paz is truly a place unlike any other!
Pin this article to your favourite Pinterest board!