South America has incredibly diverse landscapes and so of course has some of the world's best hikes!
Most notably, there are the Andes, the second highest mountain range in the world, home to the most awe-inspiring treks on the planet.
With hundreds of different trails sprawling across the continent, this guide will help you discover some of the best places to hike in South America.
So whether you're looking for a jungle trek in the rolling hills of Colombia, volcano treks in the towering mountains of Ecuador, or cliff climbing amongst the glaciers of Patagonia, this list will tell you where to go, what you need, and when to go.
Find the inspiration for your next trip and get all the information you need to reach your next summit. So strap on your boots and let's get trekking!
A note about equipment:
All the hikes on this list require you to have basic hiking gear: good shoes, a day pack, weather appropriate clothing and so on.
If you are planning on doing a hike with a tour, camping and cooking equipment will be provided.
Most tours will rent sleeping bags separately, so bring your own or get a liner to use with the rented ones.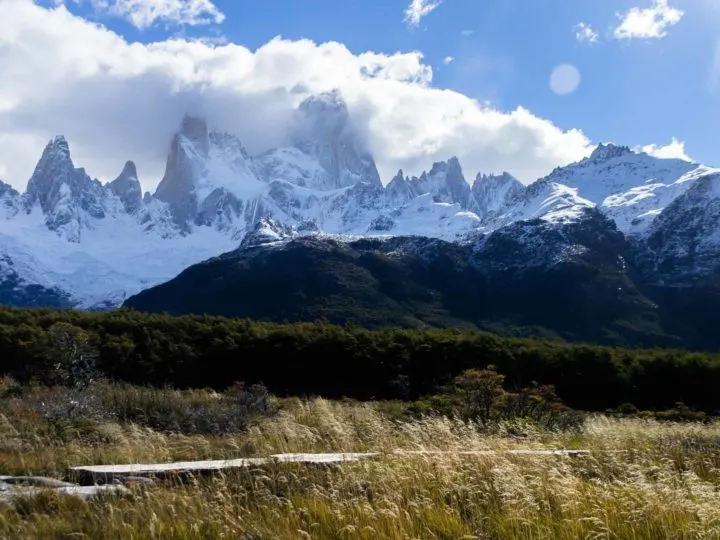 While a lot of these hikes have fresh water along the trail, it is recommended to bring water purification tablets or some backpack -friendly water filtration system (such as a Sawyer filter, LifeStraw or Steripen – read our review of the latter).
If you are planning to hike without a guide, ensure you know what accommodation is available.
Some hikes require camping and cooking equipment, as well as carrying several days worth of rations.
Don't worry, all this information can be found below, so keep reading. If you are looking for more packing advice, check out our Patagonia packing list, which covers the gear your need for hiking in southern Chile and Patagonia, or our South America packing list for a complete guide to packing for the entire continent.
All prices are quoted in US dollars as South American currencies are subject to fluctuations and tourist prices are usually based on a dollar amount.
1. Salkantay – Peru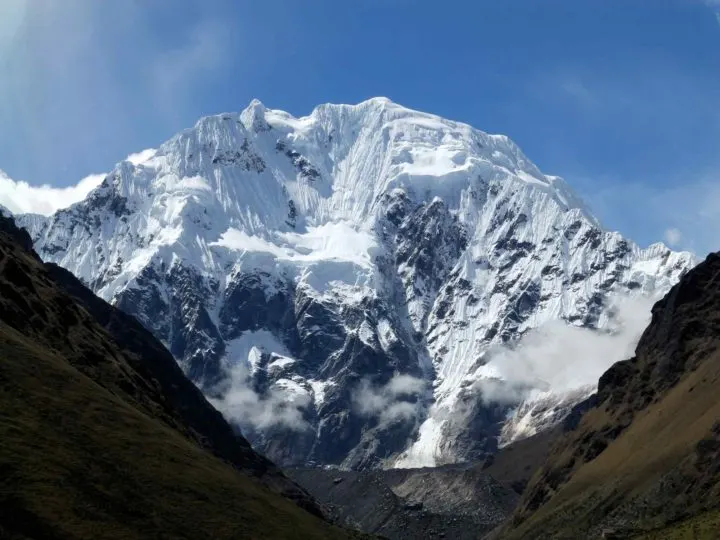 Duration: Six days
Best time to go: April – September (July – August is peak tourist season)
Difficulty: Moderate
Highest point reached: 4,830 meters.
Starting point: Cusco
Must have gear: Despite the humidity, bring some warmer clothes for the early mornings and for at higher altitudes.
Do I need a guide? No, but it means you will have to carry enough provisions and camping equipment for six days. Some tour companies do offer independent hikes where they'll organise accommodation and food for each night without a guide (try Refugios Salkantay). Also remember to book a ticket for admission into Machu Picchu before you leave Cusco.
Cost: Starting from $120 USD without a guide and $250 USD – $600 USD with a guide. This will not include the admission ticket to Machu Picchu.
With hiking the famous Inca Trail incredibly expensive and constantly booked up, Salkantay is the best affordable alternative hike to Machu Picchu.
This incredibly scenic trek will take you past snow-capped peaks, turquoise glacier lakes, natural hot springs and through dense Peruvian jungle.
You'll pass beneath the towering, sacred peak of the Salkantay mountain, which is encrusted with glaciers and snow all year around.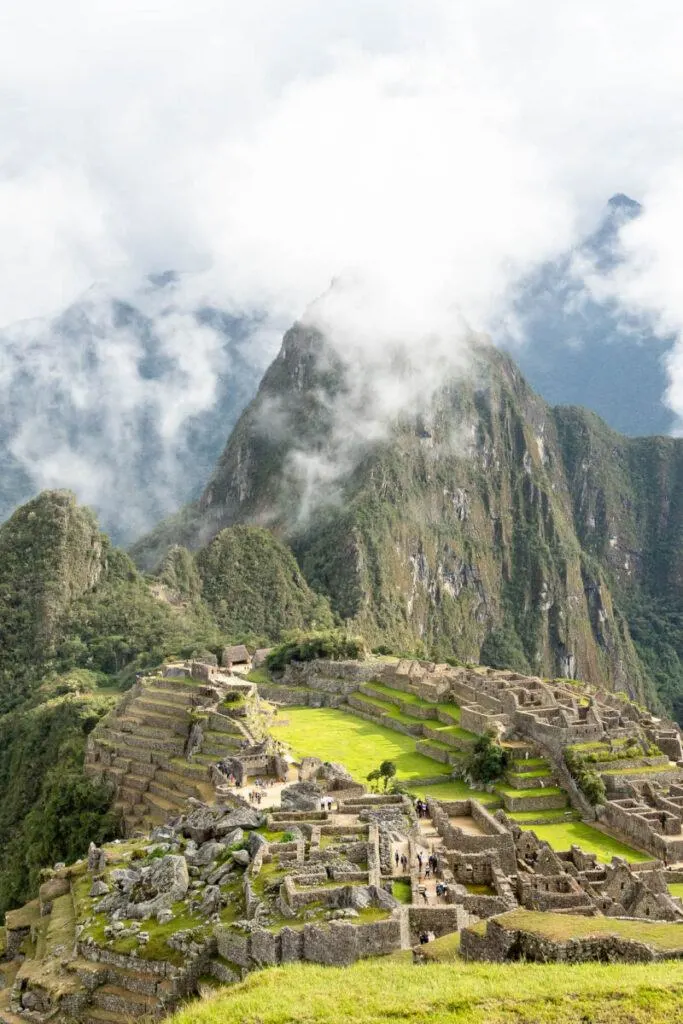 Want a cheeky 5% discount on the Salkantay trek?
Alpaca Expeditions are not only one of the most sustainable companies offering Salkantay and Inca trail treks to Machu Picchu, but their guides, porters and chefs are the ultimate hosts.
They're now offering Worldly Adventurer readers a 5% discount on all of their hikes – use discount code WorldlyAdventurer when you enquire!
It's five days of walking and four nights of camping with the final night spent at accommodation in Aguas Calientes.
Thanks to its status as the most accessible alternative route to Machu Picchu, this is definitely one of the best hikes in Peru.
2. Cordillera Huayhuash – Peru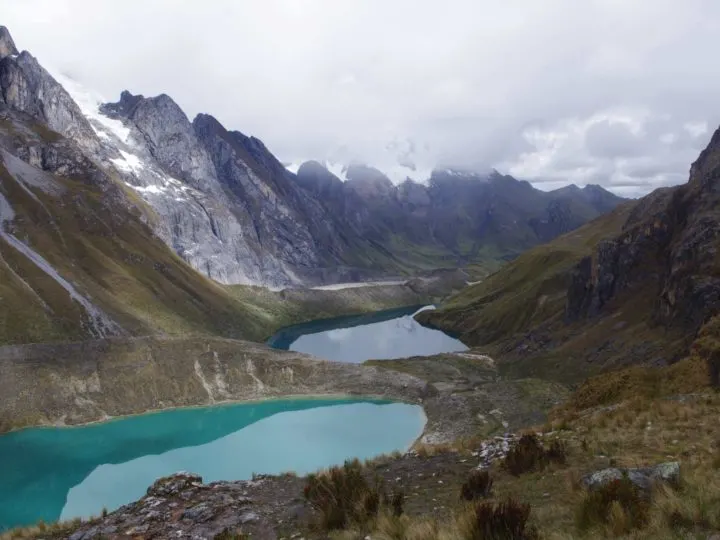 Duration: 10-12 days
Best time to go: April – September
Difficulty: Challenging
Highest point reached: 5,000 meters
Starting point: Huaraz
Must have gear: UV sunglasses and warm clothing to protect you from the snow. A waterproof jacket will also be helpful (waterproof pants too if you are there in the rainy season).
Do I need a guide? A guide is recommended because of the length and altitude of the hike. If you opt for no tour, you will need to carry a lot of hiking gear and food for the journey. I recommend that it's better to go with a guide so that you can focus on hiking and they can keep you safe and organised.
Cost: Around $200 USD – $300 USD, depending on the length of your chosen route and the agency you use. If you're a solo female traveller and want to take a women's-only tour of Peru that includes the Huayhuash trek, check out Explorer Chick's range of tours.
Cited as one of the most scenic hikes in the world, Huayhuash is not for the faint hearted.
With most of the hike happening over 4,000 meters above sea level, it is definitely the most epic trek in Peru.
With the full trail taking 10-12 days, it is also possible to do partial sections of the trail.
Huayhuash is less popular than the nearby Santa Cruz trek, and it offers quieter trails across some of the most untouched regions of the Cordillera Huayhuash.
Lauded as one of the best treks in the world, if you are serious about hiking in South America, this is a route not to be missed.
Planning Your Trip to Patagonia?
Save time, stress & money with a customized travel itinerary planned for you by a Patagonia expert
3. Choquequirao – Peru
Duration: Four to five days
Only time to go: May – September
Difficulty: Moderate
Highest point reached: 4,668 meters
Starting point: Cachora
Must have gear: Sunblock and mosquito repellent.
Do I need a guide? Not at all, the route is well marked and very easy to follow. Be sure you have all the necessary camping equipment and enough food for five days before you set off. Donkeys can be hired in Cachora to carry provisions (they come highly recommended from me, the path can get very steep).
Cost: Starting from $150 USD without a guide and $250 USD with a guide
Wish you could go explore a ruined Incan city without thousands of other people taking selfies next to you?
Choquequirao was built in the same era as Machu Picchu but was discovered more recently.
Without the fame of Machu Picchu and because this multi-day hike is the only way to see it, the ruins only receive around a dozen visitors a day.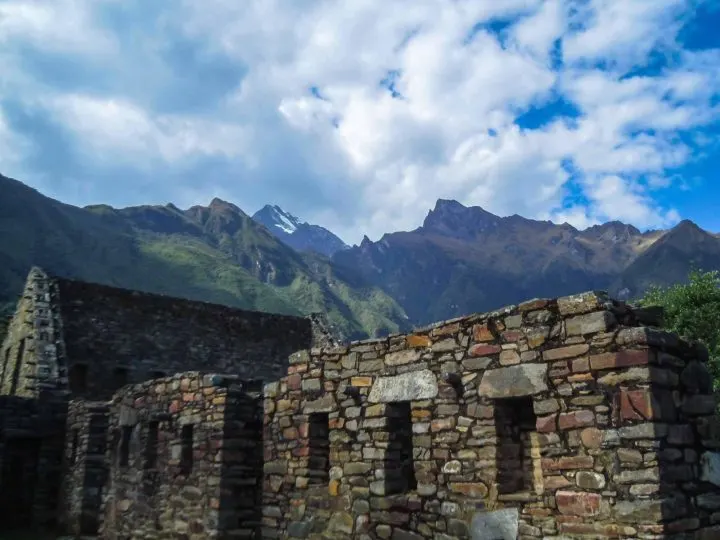 The only way to get there is a beautifully scenic multi-day trek through the various microclimates of the Apurimac Valley.
While the Choquequirao trail is not at high altitude, the descent into the valley and climb out the other side are steep.
There are no easy days, but you will be gazing the entire time at lush forest, arid mountainside, snow capped peaks, and with luck, maybe a condor soaring above you.
This trek can also be extended to a nine-day hike that will take you past Choquequirao to Machu Picchu, with the best time to hike in Peru during the dry season (May through September).
This is a truly spectacular alternative to the Inca Trail and you can read our full guide to the Choquequirao trek for more information.
4. The W Trek – Torres del Paine – Chile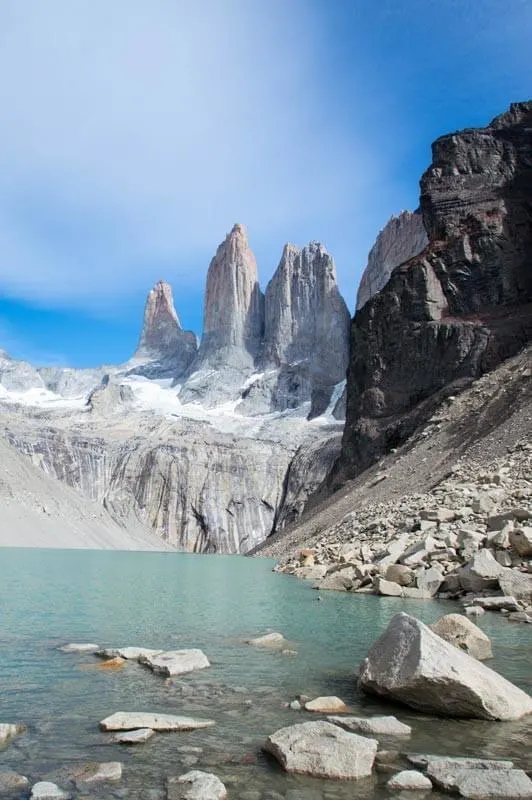 Duration: Four days
Only time to go: November to March (February is the busiest month)
Difficulty: Moderate
Highest point reached: 870 meters
Starting point: Punta Arenas
Must have gear: Good snacks, as food is expensive this far south. If you are opting to stay or buy food in the refugios, you need camping equipment and a gas stove to cook on as fires are not allowed in the park. We've covered all the gear you need for hiking in Torres del Paine National Park.
Do I need a guide?: No. It's easy to go alone: read our guide to hiking the 'W' trek without a tour.
Cost: around $20 USD a day if you go it alone and have your own gear. Guided tours start at $1500 USD.
Torres del Paine looks like a place of dreams and is home to some of the best hiking trails in Patagonia. The W hike is named for the shape the path traces through the mountains, and you'll get sweeping views the whole way.
Incidentally, contains the best of Chilean hikes: glacial lakes, jagged peaks, powdered snow, and glittering glaciers.
There is a longer, nine day version of this hike, the O Circuit, for those who wish to immerse themselves deeper amongst the Patagonian peaks.
As Torres del Paine is one of the most famous parks in Patagonia, this is a must do hike in South America.
5. Huayna Potosi – Bolivia
Duration: Two to three Days
Best time to go: December – March
Difficulty: Difficult
Highest point reached: 6,088 meters
Starting point: La Paz
Must have gear: A waterproof jacket and waterproof pants (can be hired in La Paz).
Do I need a guide?: Yes; there is technical rock and ice climbing on the route.
Cost: Between $130 USD and $180 USD for the tour. Be sure to check whether gear and sleeping bags are included as well as checking the state and quality of the gear you're being offered to use before signing up.
Summiting Huayna Potosi is one of the more challenging adventures you can attempt in South America, but it is also one of only a few accessible routes that allow you to summit an Andean peak.
Huayna Potosi is only a few kilometers from Bolivia's capital, La Paz. It is advised to spend a few days there acclimatizing before taking on the staggering 6,000 meter altitude.
Far more a climb than a hike, Huayna Potosi has been dubbed the easiest 6,000 meter peak in the world.
However, don't get any ideas about this route being easy.
All the same, those who summit it will be rewarded with incredible views of mountain ranges that stretch all the way to Lake Titicaca.
6. Ciudad Perdida (Lost City) – Colombia
Duration: Three to five days
Best time to go: December – March
Difficulty: Moderate
Highest point reached: 1,200 meters
Starting point: Santa Marta
Must have gear: Mosquito repellent and clothes that will keep you cool in high humidity.
Do I need a guide?: Yes; you cannot enter the park without one.
Cost: $350 USD including the entry fee, accommodation, food and transportation. You can book directly with a company in Santa Marta or organise in advance with responsible local operator, IMPULSE Travel Colombia (and get a 5% discount by using the code WORLDLY5)
Possibly the best hike in Colombia and an unmissable trek to do on a trip to South America, the route to Cuidad Perdida will take you through lush rainforest and gorgeous rivers to reach the Lost City of Tayrona Indians.
The ruins were only discovered in the 1970s, and the city is believed to have been built around 800 AD, pre-dating Machu Picchu by 650 years.
The site is only accessible to the few who wade through rivers and climb the 1,000 steps to the top. Here, you're rewarded for the effort: gaze out at the ruins and jungle-covered peaks stretching out around you.
7. Cotopaxi – Ecuador
Duration: Two days
Best time to go: November – February (but open whenever weather and the volcanoes allow)
Difficulty: Difficult
Highest point reached: 5,897 meters
Starting point: Quito
Must have gear: Layered clothing for the fast altitude changes
Do I need a guide?: Yes, if you have a group you can hire a private guide for less than a full tour would cost.
Cost: Tours cost between $160 USD and $180 USD per person. Private guides are around $65 USD but then you also need to hire the necessary equipment and pay all accommodation and food. This will add up to $100 USD to $130 USD per person (depending on the group size).
Cotopaxi is perfectly conical, active volcano in the Avenue of Volcanoes of central Ecuador. The hike consists of a tough ascent which will give you panoramic views of the wide landscape around.
Most of the trail is above the snow line and due to the unpredictability of the weather at such high altitudes, not everyone reaches the summit.
Be sure to time your hike in the dry season to get the best chance at summiting. But even if you don't manage to reach the top, the trek is still worthwhile.
Note that as Cotopaxi is active, the park will be closed if any activity is detected with the volcano.
8. Fitz Roy – Argentina
Duration: Five or ten days
Best time to go: October – April
Difficulty: Difficult
Highest point reached: 2,900 meters
Starting point: El Chaltén
Must have gear: A good windproof and waterproof jacket to keep the chill out and layers of clothing to be ready for unpredictable weather. Camping equipment is needed if you are not on a tour, and a good, warm sleeping bag for the icy nights.
Do I need a guide?: No, the trails are well marked.
Cost: Hiking alone is very cheap here; budget for about $15 USD for camping and food a day. You do not need to pay an entrance fee for the park.
A great alternative to Torres del Paine, Parque Nacional Los Glaciares is home to several routes that leave from El Chaltén and take you past Cerro Fitzroy, one of the tallest mountains in Patagonia, and Cerro Torres.
While there are many day hikes to popular locations like Lagunas De Los Tres, the longer treks will allow you to take in the landscapes of Parque Nacional Los Glaciares, where endless views of glaciers and snow summits will keep you entertained despite a relatively easy path.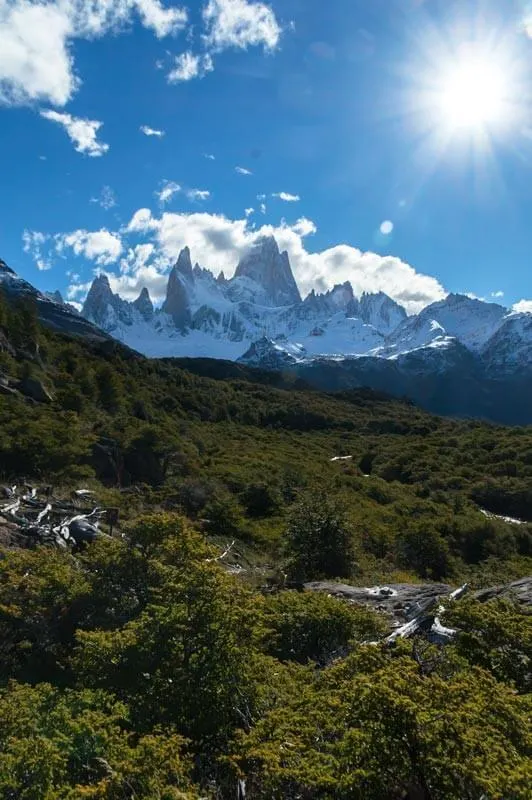 The Humuel Circuit traverses a difficult but beautiful terrain that rewards you with remote locations from which to view the Southern Ice Fields and untouched fauna.
There are many rock climbing spots and short detour hikes to keep you entertained there for days.
There is also the Fitzroy Loop, a 10-day trek that must be attempted with a guide but offers far greater exploration of the valley.
If you are looking for the more challenging treks in Patagonia and hoping to do some hiking in Argentina, this is the hike for you.
9. Chapada Diamantina – Brazil
Duration: Three to five days
Best time to go: March – October
Difficulty: Moderate
Highest point reached: 1,420 meters
Starting point: Vale do Capão (Bahia)
Must have gear: Long, light clothes to protect from sun and bugs. Warm clothes for the evening when the temperature drops.
Do I need a guide?: Yes, the paths are not marked and it is very easy to get lost.
Cost: Expect to pay between $250 USD – $350 USD depending on the number of days you do and how big your group is.
Not many people think of Brazil as a trekking destination but it contains one of the best hikes in South America.
The Chapada Diamantina route will take you across the incredible plateau topped mountains, through lush forest, past towering waterfalls and underground river caves.
This trek means "diamond cliffs" in English, reflecting how this region was part of the diamond rush in the 1800s.
If natural beauty and Brazillian history isn't enough to entice you, Chapada Diamantina also offers a view of Cachoeira da Fumaça, Brazil's highest waterfall.
You will view it from across the valley, allowing you to see its full height as the water mists down over the cliff.
10. Colca Canyon – Peru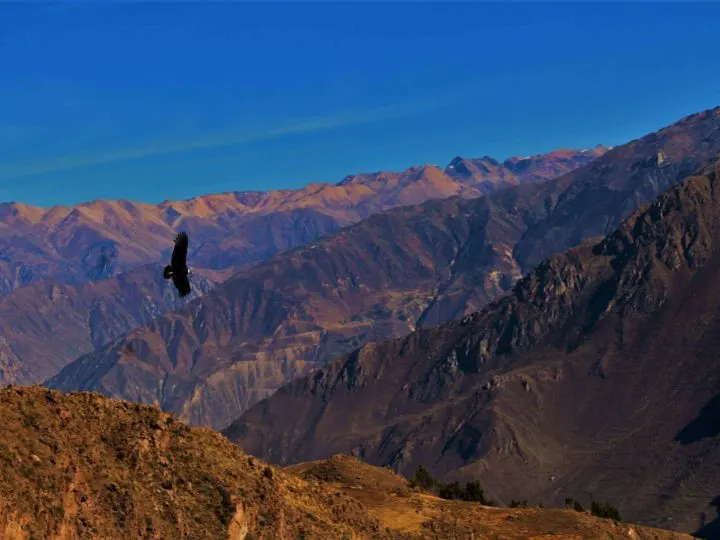 Duration: Three days (although shorter routes are available)
Best time to go: March – June
Difficulty: Easy
Highest point reached: 3,200 meters (at the start)
Starting point: Chivay (three hours from Arequipa)
Must have gear: You don't need any hiking gear or food, as there are a lot of villages along the way but be sure to bring cash, sunblock and a hat.
Do I need a guide? No, there is really no need unless you are really inexperienced. The trails are well marked, the ticket comes with a map and the locals are very helpful.
Cost: The fee for the park is $22 USD. It is valid for a week and there are park officials along the route that will stop you and ask to see your ticket. Food, transport and accommodation should come to around $60 USD for the three days.
The south of Peru boasts the second deepest canyon in the world, deeper than the Grand Canyon, and the trek to through it is one of the most famous in Peru.
Flanked by distant, snow-capped Andes, sightings of sacred Condors are common in this dramatically harsh landscape.
The trek consists of a long descent the first day, traversing the length of Colca Canyon the second, and the tricky, steep ascent on the third. Read our guide to hiking in the Colca Canyon for full route details.
The villages along the way offer accommodation and food, meaning you only need to carry a light day pack for this multi-day trip. So don't over pack and just enjoy the scale of the canyon, the bird life and a dip in the hot springs in Llahuar.
11. Kaieteur Falls – Guyana
Duration: Five days to two weeks
Best time to go: March – October
Difficulty: Moderate
Starting point: Georgetown
Must have gear: A good hat and light, long clothes that will protect you from the sun and bugs.
Do I need a guide?: It is possible to do this without a guide, but you need to register with the park rangers in Georgetown, organise a boat up the river and there is not a lot of information online about the specifics of the trail. Ask the park rangers for maps and advice. Also bring water purification tablets or a portable water filter and at least some of your food as prices will be expensive in Kaieteur.
Cost: If you organise through a local agent in Georgetown such as Wilderness Explorers (who offer a 5% reader discount, just mention Worldly Adventurer when you book), it will cost between $150 USD and $300 USD. There are also more elaborate tours that visit more locations or are longer; these cost between $300 USD and $500 USD.
Kaieteur Falls is one of those great places that tourism hasn't properly found yet; one of Guyana's tourist attractions that you can enjoy as it is, before the other visitors get there.
As the park only allows a few thousand visitors a year, you will likely have a lot of room to explore.
Guyana has hugely diverse fauna and flora populating this unique ecosystem. The well-used paths take you through virgin jungle and local communities which have accommodation for hikers.
The trail will end at Kaieteur falls, one of the biggest single drop waterfalls in the world.
Hit "bookmark" on your browser or pin this article to read later