When you hear the name "Guyana", what do you think?
Perhaps that it's a place in Africa?
Maybe the location of the Jonestown massacre?
Or, well, not much?
Whichever it is, this English-speaking country (yes, really!) on the northeastern edge of South America is as surprising as it is under-the-radar. I've spent close to six years exploring South America but Guyana blew me away.
It's a place brimming with nature. While the Amazon jungle further south might be scientifically more biodiverse, around 80% of Guyana is covered in tropical rainforest, meaning that the opportunities for spotting elusive and, in some cases, giant wildlife are abundant.
It's also a country committed to sustainable tourism, meaning that you can visit safe in the knowledge that your trip is doing a little bit of good towards protecting a critical slice of global biodiversity.
But, with visitor numbers only reaching some 280,000 annually, Guyana is also a country that you can also expect to share with few others. When I visited, I saw just two other groups of tourists in a two-week trip.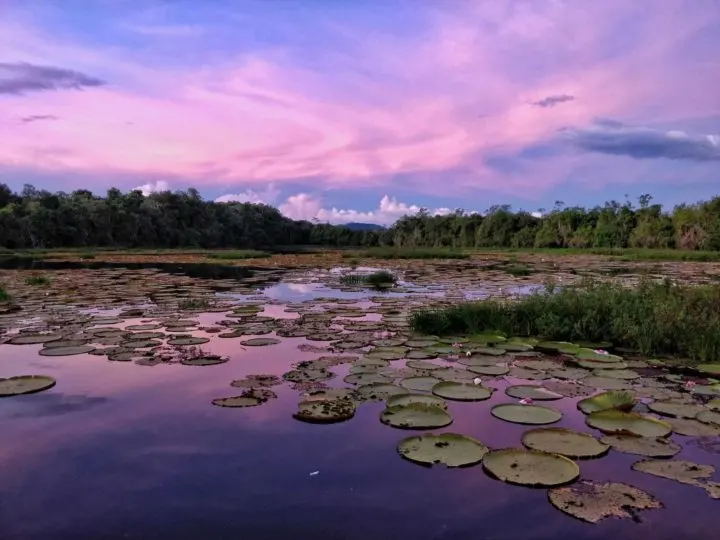 There's a lot about this country that makes it unique, and these 21 things to do and tourist attractions that you can find in Guyana are just the tip of the iceberg….but they're also a great place to start.
Guyana tourist attractions: Natural wonders and striking landscapes
1. Admire the might of Kaieteur Falls
While Angel Falls in Venezuela might take the title of world's tallest uninterrupted waterfall, and Iguazú Falls in Argentina might be the continent's most famous, there's another equally spectacular waterfall and landmark that few visitors have heard about: Kaieteur Falls.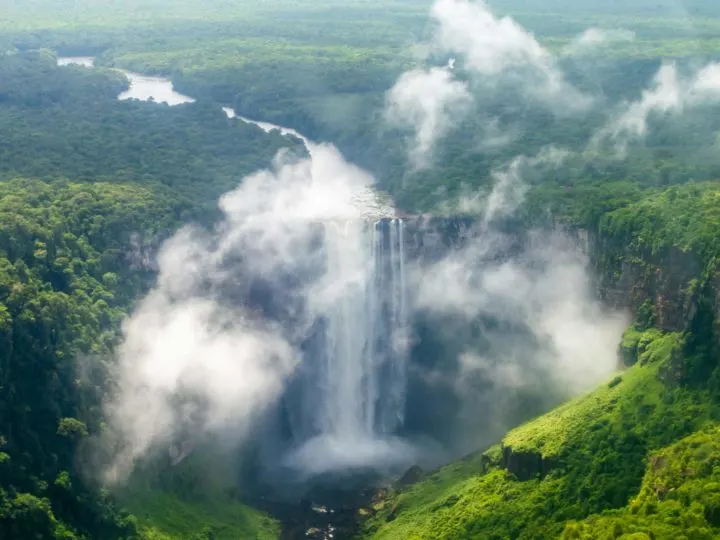 There's a reason that Kaieteur Falls features on all itineraries to Guyana. Firstly, it's the world's largest single drop waterfall by volume, particularly during the rainy season (May through July) when it's at its fullest.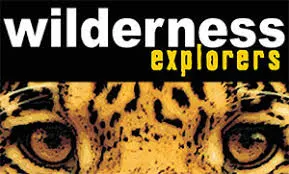 Overwhelmed with Planning Your Trip to Guyana?
I travelled to Guyana with Wilderness Explorers, a local company that has spent 25 years developing sustainable tourism in Guyana and organizing once-in-a-lifetime trips for intrepid travelers.
They're now offering Worldly Adventurer readers a 5% discount on all of their hand-crafted Guyana itineraries – just mention Worldly Adventurer when you enquire!
But secondly, there's no denying the drama of the setting. Tucked into the Guyanese interior and protected by a wall of thick rainforest, Kaiteur Falls is only accessible by a one-hour flight from the capital, Georgetown, or a two-day hike.
As you arrive by air, flying over the falls for the ultimate in bird's-eye views as the jungle undulates into the distance below, it's hard to shake off the feeling that you're in a real-life Jurassic Park. Although, probably without the dinosaurs…
2. Enjoy sunset from the waters of the Essequibo River at Baganara Lodge
In the language of one of the many Amerindian tribes still living here, Guyana translates as "land of many waters" and it's a fitting description.
A vast network of rivers snakes across the territory, with these waterways providing a necessary means of getting from the capital out into the interior and the many remote lodges that feature in any trip to Guyana.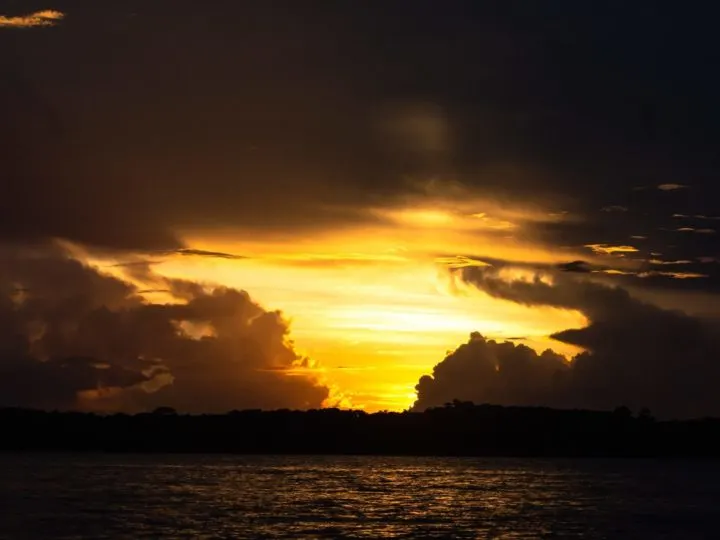 A case in point is Baganara Lodge. Surrounded by jungle, it lies on a private 185-hectare island in South America's third largest river, the Essequibo. This watery location means its top of the class when it comes to spots to watch the sunset in Guyana.
As the day comes to a close, take a speedboat downriver to visit Parrot Island where thousands of yellow-crowned and orange-winged parrots arrive in a squawking, heaving mass at sunset to roost for the evening.
Alternatively, kick back at the lodge where, cocktail in hand, you swim in the river's warm waters as the sun dips behind the jungle canopy.
3. See the world's largest lily
Amateur botanists will want to head out to the calmer waters of Guyana's lakes, where there's a strong chance they'll encounter the world's largest water lily, the Victoria amazonica.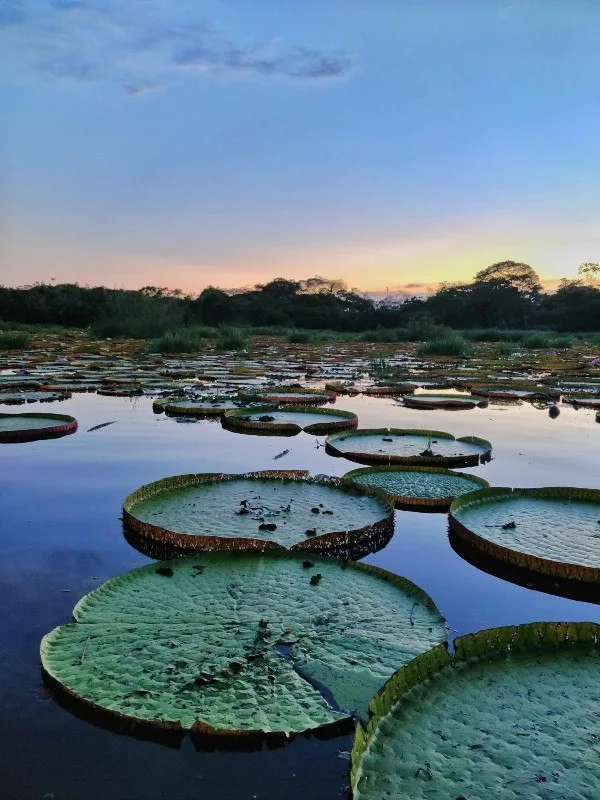 Growing up to six feet in diameter, the leaves of this water lily are able to support the weight of a baby (there's many photos to prove it).
But while their size is extraordinary, there's another reason this lily pad is worth tracking down: as a result of pollination, its flowers change from white to red overnight.
You can see the beginnings of this process at dusk, as the flowers begin to unfurl. One of the best places is near Rewa Eco-Lodge, where rare birds flit above the lily-strewn waters and baby caiman crawl out of the waters onto the lily pads to await their prey.
4. Catch dawn breaking over the rainforest canopy
Early birds will find themselves at home in Guyana, where dawn is always a splendid affair. There's no better place to experience the awakening of a new day than at the Iwokrama Canopy Walkway, located just a short hike through the jungle from ATTA Rainforest Lodge in the very centre of Guyana.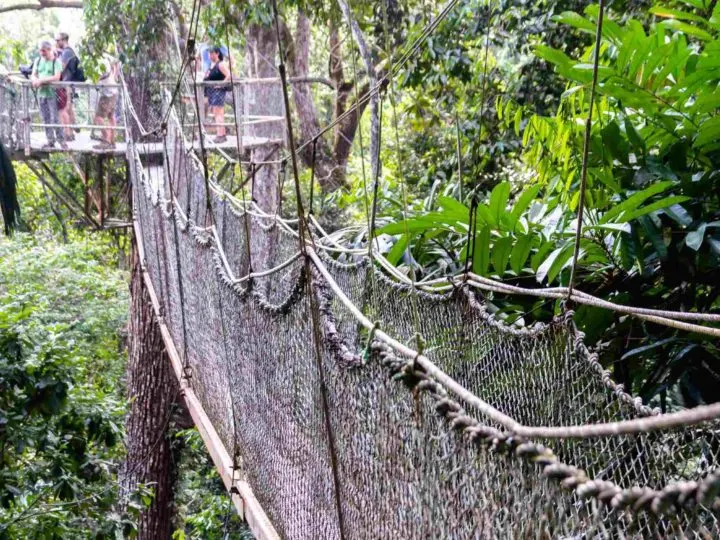 Built into the treetops of the Iwokrama Reserve some 30 metres above the forest floor, the walkway is a series of viewing platforms connected by suspension bridges that provide the finest views across the jungle.
As the sun lifts over the rainforest canopy, the hum and buzz of life recommences. Listen out for the sharp squawk of scarlet macaws overhead and the distant deep roar of the howler monkeys as they begin their morning song.
5. Climb a mountain for incredible rainforest views
Guyana isn't a country known for its long hikes, but there are still plenty of opportunities to stretch your legs here.
Walking in the rainforest might rank as a hot and sweaty thing to do in Guyana, but it's one that promises extraordinary rewards, particularly at the Awarmie Mountain, a trail accessed from the remote Rewa Eco-Lodge.
A short, rocky path climbs up the side of Awarmie, a low mountain clad with jungle. When it finally emerges out of treetops, the trail has reached the open mountaintop, where boulders the size of cars are interspersed with thick grasses and every angle grants views for miles across the rainforest.
Spend an hour or so relaxing here and you'll find your patience rewarded; on our visit, pairs of red-and-green and blue-and-yellow macaws passed directly overhead, their resplendent feathers bright against the blue sky above.
Guyana tourist attractions: Wildlife experiences
6. Catch a glimpse of big cats in the wild
Guyana is home to over 225 species of mammal and, thanks to the unspoilt nature of its interior, it's a fantastic place to spot some of the continent's most mesmerizing big-cat residents.
The jaguar is the largest of South America's cat species and while sightings are rare, they're not impossible. You've got a strong chance of encountering them in areas of primary forest across the country, particularly at dawn and dusk when they're most active.
You might also see the rarer puma, a smaller cat that prefers higher rocky terrain. Luck was on our side when I visited Guyana: we spotted a juvenile puma wandering across the road in broad daylight on the road through the Iwokrama Reserve.
7. Hunt down the Goliath Birdeater, the world's largest spider species
Arachnophobes look away: there's one resident of the jungle that you probably don't want to meet on your vacation. The Goliath bird-eating spider – named as such because it was allegedly once caught eating a hummingbird – is the largest tarantula on earth and about the size of a human fist.
Eagle-eyed rangers from Rewa Eco-Lodge managed the incredible feat of tracking their burrows down and you can trek into the jungle with them to encounter one of these enormous spiders.
Luckily, while its venom poses a problem for small rodents, it's less harmful for humans. If you can bear to get close enough, admire the harpoon-shaped hairs that cover its legs and which are used to attack predators.
8. Help out with one-of-its kind black caiman research
Ever wanted to get close to a black caiman? While it's probably not on everyone's bucket list, catching a caiman alongside the crack team of researchers at Caiman House in the Rupununi is a once-in-a-lifetime experience.
Officially one of the largest reptiles in the world, they can grow to over 15 feet in length and are a terrifying predator – at least for animals, not humans. While the species is listed as of least concern on the UN Red List, research into its lifespan and habits is limited.
With the help of tourists, Caiman House have been steadily changing this. Since 2005, researchers have caught and registered over 700 black caiman – and you can get involved.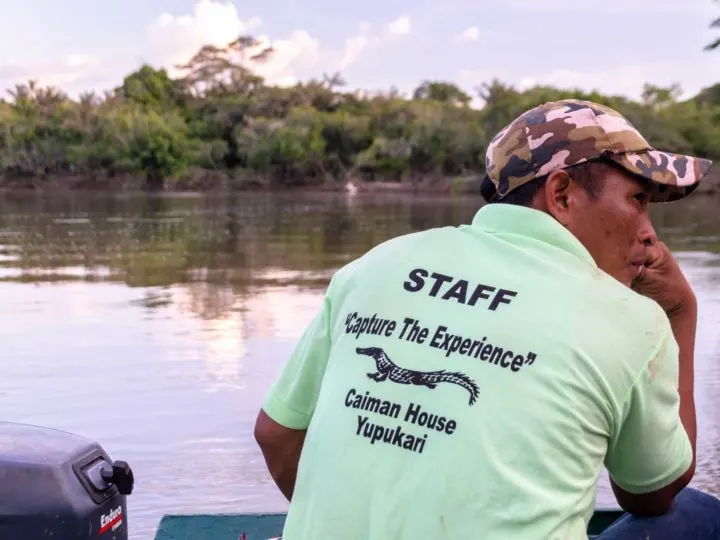 Head out at night onto the jet-black waters of the Rupununi with the researchers, who catch a caiman, bring it ashore to take 24 different measurements, before releasing it back into the water.
It's a thrilling – and completely safe – experience and another way of seeing how your tourism dollars are boosting conservation efforts throughout Guyana.
9. Paddle out in a dugout canoe or kayak
While speedboat is the transport of choice for the Guyanese people who live along the country's rivers, there are plenty of slower means of getting around and appreciating Guyana's spectacular nature.
At Baganara Lodge, you can take kayaks out onto a nearby narrow dyke that flows through the dense rainforest. Early morning along this waterway, it's possible to catch sightings of red howler monkeys or hear the calls of toucans echoing across the forest.
At Caiman Lodge, wooden canoes built in the traditional dug-out style can be paddled out onto a vast oxbow lake where otters play in the shallows and birds such as green kingfishers, Muscovy duck and the rare agami heron wait in the undergrowth on the lake-shore.
10. Follow a local cowboy to find giant anteaters
One of the animals I was most keen to see in Guyana was another of the country's most elusive giant species: the giant anteater.
This shuffling creature, measuring up to seven feet from its long, sensitive nostrils to its brush-like tail, inhabits the plains of the Rupununi region.
What's more, you've a fair chance of spotted roaming through the grasses hunting for ants and termites.
Probably the best destination in Guyana to find it is in the private reserve grasslands of Karanambu Lodge.
In this part of the savannah, local cowboys demonstrate a knack for locating this giant beast and, on my trip, we came across two: one wandering the grasses beside the side of the road and another one sleeping beneath the shade of a sandpaper tree.
11. Learn about otter conservation at Karanambu Lodge
As you travel along the rivers through the jungle and the Rupununi grasslands in Guyana, it's always worth keeping an eye on the water itself.
While caiman and capybara are frequent sightings along the river bank (particularly in the two dry seasons, February through March and September and October), one of the river's most captivating residents is much harder to spot: the giant river otter.
This endangered mammal is a truly unique creature to encounter on a trip to Guyana, where you may well see it fishing or playing near its holt. To learn more about the animal and the threats facing the species – which range from hunting to becoming a pet – there's no better place to visit than Karanambu Lodge.
The late Diane McTurk, the former owner of the lodge, received global acclaim for her work rehabilitating orphaned otters; and these are efforts that her nephew and his wife continue to this day.
Their lodge is an essential place to visit in Guyana because, by doing so, you're supporting their efforts of education and conservation through the Rupununi region.
Better still, you may well get a chance to see one of these beautiful playful creatures as it's being reintroduced to the wild.
12. Go horseback riding through the savannahs of the Rupununi
In the deep south of Guyana, the Rupununi plains offer an alternate universe to the dense forests of the jungle that covers most of the country. Here, there are plenty of adventure activities for those wanting to appreciate the open terrain during their vacation.
At Waikin Ranch, a working cattle ranch, you can join the cowboys out in the fields by taking a ride on one of their working horses.
A canter out into the grasslands brings you to bush islands, patches of jungle in the middle of the open plains home to birds and mammal species, as well as picture-perfect places from which to watch the setting sun.
13. Fish for the world's largest freshwater fish
There's a reason anglers are flocking to Guyana and it's thanks to the arapaima. Considered one of the world's largest freshwater species fish, the arapaima can weigh up to 200 kilograms (well over twice the weight of an average adult male).
While population sizes diminished rapidly over the past twenty years, the conservation actions of the guides and community at Rewa Ecolodge have brought the species back from the brink.
The river now brims with arapaima and an unmissable thing to do while staying at the lodge is to head out by boat to fly-fish. Catch a whopper, pose for a photo and then, in the name of sustainability, throw it back into the water – fishing is on a catch and release basis after all.
14. Spy the Guianan cock-of-the-rock's mating dance
While mammals might steal the show when it comes to wildlife watching in Guyana, birders will find the country a veritable playground for discovering some of South America's most beautiful species.
Across the country, leks are where the both sexes of the Guianan cock-of-the-rock gather for extravagant mating displays. Tangerine-coloured males show off their plumage to the females as part of a noisy and colourful courtship display, which takes place in March – although you can spot the birds congregating in these places throughout the year.
One of the easiest mating grounds to find is at Kaieteur Falls, while other destinations in Guyana such as ATTA Rainforest Lodge also have access to leks.
15. Find harpy eagles nesting
The final of Guyana's giant creatures can be found in the forests of Guyana. Named after the namesake creatures of Greek mythology, the harpy eagle is a truly staggering bird that measures over a metre in height.
It's considered the heaviest and most powerful of all eagle species, particularly given that its claws are longer than those of a grizzly bear.
Like the Guianan cock-of-the-rock, there are known nesting sites located across Guyana. ATTA Rainforest Lodge and a number of the other lodges across the country have access to harpy eagle nests where – with luck – you may find a female raising its young.
Their nests are extraordinary, measuring over a metre in diameter and wedged into the treetops up to 40 metres above ground – roughly the height of a ten-storey building. To get a good look, be sure to bring your binoculars!
Guyana tourist attractions: History and modern life
16. Spend a day in Georgetown, Guyana's scruffy but charming capital
While the country's scruffy capital is certainly not the main appeal of Guyana, most visitors spend at least a day or two in Georgetown. Here, Guyana's colonial past mingles with the dirty and noisy reality of any modern-day city.
You'd be hard pushed to call Georgetown pretty, but there is a certain charm to its streets. In the centre of the city, faded wooden mansions look on as horse and carts carrying lumber trot nonchalantly across busy intersections filled with taxis and fearless motorbikes.
The architecture here is one of the main points of interest. A wander through the city brings you to the most curious buildings, including the restored, Anglican St George's Cathedral, which, painted white and built from wood, looks a bit like an iced cake.
17. Stay in a historic lodge frequented by presidents and royalty
While in Georgetown, make sure you spend a night at Cara Lodge, one of the city's most luxurious accommodations.
Like many of the historic buildings in the capital, it started life as a 19th-century stately home for one of Guyana's bourgeois families.
Since its conversion to a hotel in the late 1990s, Cara Lodge now offers the perfect blend of history and modernity. Delicate verandas and polished hardwood floors have been preserved from the original building, while modern comforts (such as much needed AC) have been added to the hotel's 34 bedrooms.
However, part of the hotel's appeal is its colourful history, which has seen it opening its picture-perfect doors to guests including members of the British royal family, as well as other dignitaries such as former American president, Jimmy Carter.
18. Tour Guyana's final remaining sugar cane plantation
If there's one thing you need to learn about Guyana before you visit, it's the fact that this country is powered by rum. Drink it with chilled ginger ale or lime and be sure to complement its taste: it is a point of pride for the locals.
But to learn about where it comes from, hop on a tour of one of just three still-functioning sugar cane plantations in Guyana. Established by Dutch colonisers, the Lenora and Uitvlugt plantation is the only one in the world to use a unique form of transportation for moving the sugar cane between the fields and the factory: punts.
In fact, tourists get to board one too (transformed for passengers rather than sugar cane) as you float out along the canal system and you learn about a key part of the country's colonial history.
19. Take a sundowner on Guyana's only highway
Perhaps Guyana's most unique feature is its lack of roads. Because of its vast network of rivers, boat travel has superseded over-ground transport, and, as a result, Guyana is home to just one highway – which, to this day, remains unpaved.
For a truly quirky thing to do in Guyana, stay at ATTA Rainforest Lodge, a charming hotel surrounded by the rainforest of the Iwokarama Reserve. Accessed by vehicle along the red dust of the highway, this lodge offers a singular sunset activity: a sundowner out on the road.
While enjoying a chilled beer on a highway might not sound like much fun, it's certainly a bizarre experience as staff from the lodge bring deck chairs and coolers of beer for you to sit out on the dusty road as the dusk falls.
Avoid getting too relaxed, however: while the road is closed at night to traffic, you should still keep your eyes peeled for toucans in the treetops and big cats padding across the highway.
20. Stay at one of the country's indigenous lodges
While the world debates the merits of tourism and how travellers can have a positive impact on the places they visit, the people of Guyana have been quietly proving how easy sustainable tourism can be.
Everywhere you go, eco-lodges operated by local indigenous people have been setting the standard for eco-conscious and socially responsible tourism.
Check out Rewa Eco-Lodge, a 24-bed lodge deep in the jungle and run by the indigenous people of Rewa Village. Started thanks to a grant from Conservation International, this lodge is staffed by local community members.
Their ancestral knowledge about the habitats of animals and their behaviours make this an ideal place to learn about the rainforest and to catch sightings of many of its most evasive creatures.
What's more, the community has been involved in several initiatives to protect wildlife and the forest, meaning that by visiting, you're supporting the conservation of over 350 square kilometres of virgin land from logging, mining and other environmentally-damaging industries.
Guyana tourist attractions: Food and dining
21. Tour Bourda Market and enjoy a Guyanese feast at Backyard Café
With a population encompassing cultures as varied as Indian, African and indigenous Amerindian, there's no better to place to dive into this mix than with a tour of Bourda Market in Georgetown.
Covering four blocks in the centre of town, this market spills out onto the roadsides, with a furore of noise as stall owners heckle passers-by.
Products on sale include everything from everyday vegetables to fruits you've never seen before in your life and questionable looking bottles of brown sludge that claims to cure impotence.
An unforgettable thing to do in Georgetown is to explore the market accompanied by local chef Delven Adams, who introduces you to vendors as you buy ingredients for lunch and sample local dishes such as dhal and fresh coconut water mixed with rum.
Back at his restaurant, the Backyard Café, the day's shopping is transformed into a spectacular display of local Guyanese dining. Highlights include baked fish rubbed with garlic and herbs and delicious fruit juices – again, infused with rum if you want!
My trip to Guyana was in partnership with the Guyana Tourism Board and Wilderness Explorers. As always, my opinions (and absolute LOVE of Guyana) are all my own.