Sucre is Bolivia's true capital city, and it is one of my all-time favorite cities in South America. The food, beautiful architecture, museums, cultural and outdoor adventure activities make Sucre a must-see for your Bolivia vacation.
This beautiful and relaxed city is brimming with adventure possibilities, ranging from trips to barely-visited rural villages, to trekking through ancient, otherworldly landscapes.
Sucre is a place where you can see and experience many of the things that make Bolivia special. Located an altitude of 2,810 m (9,219 ft.), Sucre still offers the feeling of being in the Andes without the more severe altitude sickness that can accompany trips to La Paz.
So here are twenty tips for making your trip to "La Ciudad Blanca" (The White City) an unforgettable one!
Where is Sucre?
This elegant colonial city is situated in the southern highlands of the country – or the Cordillera de los Frailes to be exact.
Around 14 hours by bus or 30 minutes on the plane from La Paz, it receives its fair share of visitors and I encountered a huge number of travellers who'd got waylaid here for a few weeks, captivated by its unusual charm and surprisingly un-Bolivian array of cosy cafes and decent restaurants and bars.
Why should you visit Bolivia's capital, Sucre?
Numerous language schools have popped up across the city to capitalise on Sucre's reputation as a comfortable halfway house between the frenetic, high-altitude energy of La Paz and the sparse, barely visited nothingness of the rest of the county.
As a result, most travellers come here to study Spanish. This is definitely Bolivia's most comfortable city to spend some time in.
But while language learning is what brings most foreigners to The White City, it's actually one of few in all of Bolivia where you'll find English speakers. Surprisingly enough, studying here isn't actually ideal if you're really serious about picking up the language. Instead, La Paz or even unknown but lively Cochabamba are better options if your ultimate goal is Spanish fluency.
But if you're less serious about learning the lingo and more interested in exploring the area's vast range of adventure possibilities or just enjoying how strangely European it feels (when compared with the rest of Bolivia that is) then you'll most likely enjoy being here.
It has some of the most accessible nature activities, all within striking distance of the city, making it a great spot for those who like adventure.
Unmissable things to do in Sucre
1. Visit the Parque Cretácico
The Parque Cretácico is one of the coolest attractions in Bolivia, and truly one of the coolest things I think I've ever seen. This museum is home to Cal Orck'o – a giant wall containing the world's largest collection of dinosaur footprints!
Over 5,000 dinosaur footprints from different species cover the wall, and if you'd like to take a closer look, you can don a hard hat as part of the tour and walk along the wall near the prints. (Note: Be sure to wear closed toe shoes for this tour.)
There are footprint tours every day except Mondays at noon and 1:00 pm. Taking the tours midday is the best time to see the footprints in the sun. Entrance to the Parque Cretácico, which includes a tour in English, costs 30 BOB (about $4.50 USD).
Visiting information:
Take the red double-decker "Dino Bus" from Sucre's main plaza (Plaza de 25 de Mayo) at 9:30 or 11:00 am to be in time for the tours. The Dino Bus shuttle costs about 20 BOB ($3 USD); much cheaper than a taxi from the city center.
2. Brunch on Salteñas
A classic Bolivian food that you must try is the salteña, a juicy, sweet-doughed, empanada-type snack, usually eaten around mid-morning. I often describe salteñas to friends as a soupy, handheld chicken pot pie – ha!
The best place to enjoy a salteña or two in Sucre is El Patio Salteñeria. The flaky pastry crust is delicious with your choice of fillings – either pollo (chicken) or carne (beef). They also have plenty of fruit juice options and a nice outdoor seating area in a courtyard.
If you're a vegetarian, or just want to taste other salteña options, Salteñeria Flores is located next door to El Patio and is also highly recommended.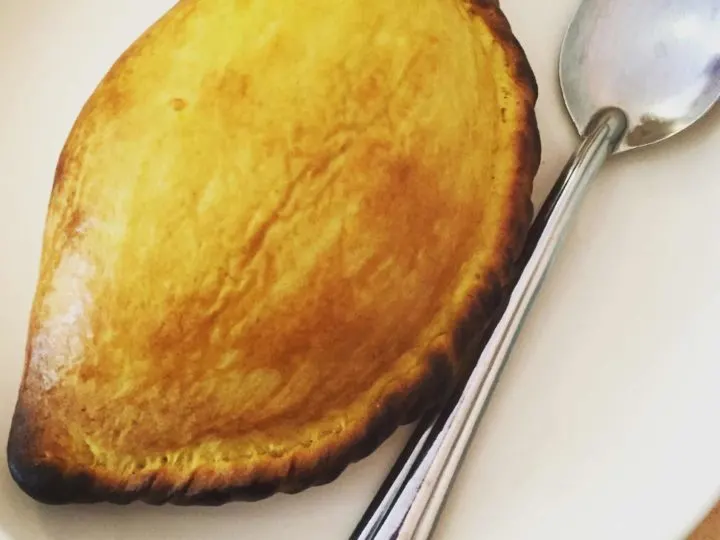 Visiting information:
El Patio Salteñeria and Salteñeria Flores are located on San Alberto, next to the Plazuela Santa Cruz and a block northeast of the Plaza 25 de Mayo.
3. Catch a show at Espacio Cultural Origenes
A trip to Bolivia is incomplete without experiencing some of the country's traditional dances. If you are traveling in Bolivia during Carnaval or other holidays, it's easy to see dancers in elaborate costumes parading in the streets, but in Sucre, you can see dances year round at the Origenes show.
Make a reservation for dinner (170 BOB ($25 USD)), or just for the two-hour show (120 BOB ($18 USD)), and you'll be able to enjoy the sights and sounds of dances like the Tinkuy, Saya afroboliviana, Morenada, Pujllay, and the popular Caporales, among others.
Along with the dances themselves, the show offers explanations and information on the history and significance of the dances. It's a can't-miss activity in Sucre!
Visiting information:
Reservations can easily be made online or with a phone call. They are closed on Mondays and Sundays. Espacio Cultural Origenes is on Azurduy, an easy four block walk due south of the Plaza 25 de Mayo.
4. Enjoy delicious vegetarian fare at Condor Café
If you're a vegetarian, or even if you're not, check out the Condor Café while in Sucre. It's also the home to the Condor Trekkers tour agency, which offers a lot of great tourist information for Sucre and the surrounding area, as well as trekking tours.
Stop in and grab a beer and a bite and plan an outdoor adventure if you'd like!
Visiting information:
Condor Café is a block southeast of the Plaza 25 de Mayo, on the corner of Calvo and Bolivar. Hearty breakfasts or a set menu lunch come in at around 30 BOB ($3 USD). It gets busy, so get here early for lunch!
5. Wander through the Cementerio General
While it feels rather strange to recommend visiting a cemetery on vacation, Sucre's General Cemetery is a really lovely place to take an afternoon walk. It almost feels like your walking through a peaceful garden rather than the final resting place of many of Sucre's past inhabitants.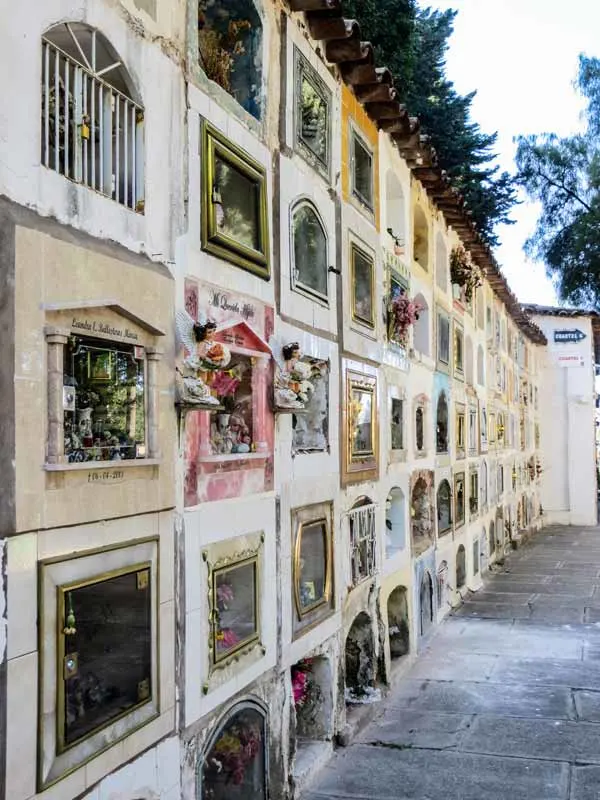 The grounds are very well-kept and the mausoleums and statues are beautiful. You can often find someone offering to give you a tour of the cemetery by the main gate if you wish, but you're also free to explore on your own.
Visiting information:
Entrance to the cemetery is free, and you can get there from Plaza 25 de Mayo by turning left on Aniceto Arce and following it until the street turns into Bustillos.
Turn right when you reach J.M. Linares/Route 5 and you will see the large white gate of the cemetery's entrance with its message "Hodie Mihi Cras Tibi" (Today Me, Tomorrow You).
If you choose to walk, it will only take you about 20 minutes, and it is mostly flat (a rarity in Sucre!). On weekdays, the cemetery is closed for lunch between 11 am and 2 pm.
6. Try Chorizo Chuquisaqueño
Chorizo chuquisaqueño is a dish you must try while in Sucre!
This regional pork sausage dish, usually accompanied by grilled onions and hot peppers, can be found in several different restaurants in Sucre, but El Huerto is the restaurant to visit for chorizo and other traditional dishes from the Chuquisaca region.
Be sure to start your meal with the chorizo appetizer! It costs around 45 BOB (less that $7 USD). Main dishes cost between 60-90 BOB ($8-14 USD).
Visiting information:
To get there, walk northwest out of Plaza 25 de Mayo on Calvo/Arenales street. Continue walking until you pass Parque Simón Bolivar. After crossing through the park, turn right and head uphill on Ladislao Cabrera.
This last 150 m of walking is definitely an uphill climb, but the food at El Huerto is worth it!
7. Enjoy the view at La Recoleta
For a great view of the city, head to La Recoleta. The white arches of the plaza are perfect for a photo op and the view of the city can't be beat, especially at sunset.
If you'd like to enjoy dinner or a drink with your view, head down the steps to the right of the arches and grab a table at Café Gourmet Mirador.
They specialize in Italian food and homemade pasta, but have a wide variety of menu items. On many evenings, local musicians serenade diners with traditional Andean music as well!
Visiting information:
To get there, walk south from Plaza 25 de Mayo on Audiencia, which later turns into Grau. The walk is definitely uphill, but it will only take about 20 minutes.
8. Learn something new in Sucre's many museums
Sucre is home to tons of museums for history, art, and culture lovers. The Museo del Tesoro on the main plaza hosts many specimens of Bolivian gold, silver, and precious stones and showcases much of the country's mining history. It costs 25 BOB ($4 USD) for adults and 10 BOB ($1.50 USD) for children.
The Casa de la Libertad, also located on the city's main plaza, is the location where Bolivia gained its independence from Spanish rule. It costs 15 BOB ($2 USD) to enter and another 10 BOB if you wish to take photographs while inside.
The Museum of Indigenous Art, located near La Recoleta, focuses on the weaving arts of the region, and you can even catch a demonstration on certain days! Entry to the museum costs 22 BOB per person (about $4 USD).
The Ethnographic and Folklore Museum has several different rotating exhibits highlighting different parts of Bolivian culture. Entrance to this museum is free!
The museum located inside the cathedral on the main plaza is home to many religiously and historically significant artifacts, and if you want to see a crypt, check out the San Francisco de Charcas basilica.
The remains beneath the altar are those of the Spanish conquistadors who founded Sucre.
The cathedral's museum costs 20 BOB for foreigners ($3 USD). There are several other museums in Sucre, but these were my favorites.
Visiting Information:
Many of the museums (one exception being the Museo del Tesoro) are closed on Mondays and/or Sundays, as well as large holidays (including Carnaval).
Twice per year, usually in April and November, Sucre's Noche de Museos presents a great opportunity to explore the many of the city's museums in the evening on one ticket.
If you happen to be in Sucre during this time, take advantage of the opportunity! Be aware that the lines get very long, so hop in line at your top choice early to make the most of your night.
9. Have dinner at La Taverne
Looking for a nice night out? Don't miss La Taverne, a lovely French restaurant serving delicious food and wine. The steak there was incredible, and every menu item sounded just a good. The atmosphere and service matched the quality of the meal.
Visiting Information:
La Taverne is located just around the corner from Plaza 25 de Mayo if you head northeast on Aniceto Arce. You will see a sign for the restaurant beside a doorway that opens into a small courtyard with walls painted to look like a French street.
The restaurant seating is both indoor and outdoor.
10. Take some pictures from the roof of the San Felipe de Neri convent
One of my all-time favorite places in Sucre is San Felipe de Neri. This former convent, now school, is the place to go if you're wanting to snap a few pictures of the "white city's" colonial architecture.
For 10 BOB ($1.50 USD) you can wander throughout the convent, even up onto the roof! The views are incredible and the pictures you take will likely be your favorites from your trip to Sucre.
Visiting Information:
To get to San Felipe de Neri, head southwest from Plaza 25 de Mayo on Calle Nicolas Ortiz.
Head to the convent after 2:00 pm and walk away (back toward the main plaza) from what appear to be the main church doors down Calle Nicolas Ortiz.
You will come to a small doorway with a little sign that says, "Museo San Felipe." Ring the doorbell or knock loudly and someone will come and let you in.
11. Check out the crazy architecture of El Castillo de La Glorieta, home to Bolivia's only royalty
Ever think Bolivia would be the place where you'd get to explore a pink castle made up of several different architectural styles, including Byzantine, Moorish, and Gothic, and more?
Me neither, but you can do just that in Sucre! El Castillo de La Glorieta is located a bit outside the main city.
This unique structure has a unique story behind it as the Prince and Princess that occupied this castle are the only Bolivians in history to hold royal titles, bestowed on them by the pope in the late 1890s.
Visiting Information:
Take bus #4 to the end of the line and pay 20 BOBs (about $3 USD) to explore this castle and all its quirks and towers.
12. Learn Spanish
Sucre is one of the best cities in South America to learn Spanish. Because many locals do not speak English, it will be easy to take what you learn in your lessons and apply it right away while out and about in Sucre.
In my experience, Bolivians in the Andean areas like Sucre also speak a bit more slowly and annunciate more clearly, making this a great place to try your hand at the language.
There are several different language schools to choose from, and lessons are relatively cheap (as little as $5 USD per hour at some schools).
13. Relax outdoors at Plaza 25 de Mayo or Simon Bolivar Park
Sucre's main plaza and the Simon Bolivar Park are both nice places to stroll or sit on a park bench and people watch. The Simon Bolivar Park is also home to a large play area for kids and families and an outdoor food court if you're craving an afternoon snack.
Visiting Information:
To get to Parque Simón Bolivar, walk northwest out of Plaza 25 de Mayo on Calvo/Arenales street for about five blocks.
14. Taste some Bolivian chocolate
Sucre is home to two of Bolivia's favorite chocolatiers: Taboada and Para Ti. Para Ti is the more popular of the two, and their chocolates can be found throughout Bolivia, but both of the shops are worth visiting to have a taste (or two).
If you're interested at taking a closer look, you can take a tour of the chocolate factory as well!
Visiting Information:
Pop into the chocolate shops right around the corner from Plaza 25 de Mayo on Calle Audiencia.
Sucre is home to so much of the history and culture that make Bolivia special. It is truly a city that cannot be missed during your Bolivian holiday. Hopefully, these tips will make your trip to one of the best cities in Bolivia a success!
15. Go rock climbing in the surrounding mountains
Bolivia has a surprising number of places for going climbing and, whatever your level and previous experience, the mountains surrounding Sucre offer a range of walls to try – all with spectacular views.
Obviously, unless you've got loads of rock climbing experience under your belt – not to mention ropes and harnesses with you – it's best to climb with a guide.
Luckily, Climbing Sucre are very experienced in taking tours out into the mountains and speak excellent English (as far as I'm aware the two guys who run them are both from the US).
I had an excellent time and was really impressed by the professionalism of my guide. Be aware that their climbing boots are in US sizes so if you're from any other country and ask to borrow boots, make sure you convert yours into US sizing).
A word of warning: some of the other companies offers climbing tours in Sucre aren't known for their safety precautions or the quality of their equipment.
Visiting information:
Contact them via their email address or telephone number on their website. They can take some time to get back to you, so it's worth contacting a few weeks in advance.
They've also opened their own bouldering gym in the north of the city that is open to the public.
Incredible hikes and adventures to have from Sucre, Bolivia
The rolling landscape of the Andes is the first clue towards the main things to do in Sucre, Bolivia.
Here, you'll find treks through a surreal selection of ancient landmarks, hidden accommodation set in remote places and tiny villages of dusty streets – all coupled with the feeling that you've somehow stepped back in time.
Trekking in Bolivia is certainly not as popular as in many other South American countries, particularly because paths are normally difficult to find. However, taking a guide or using my articles about trekking routes in Bolivia is the key to a very unique foray into this county's wild and mostly inaccessible countryside.
16. Hike the Las Siete Cascadas (The Seven Waterfalls)
I never went to Las Siete Cascadas. I'd heard mixed reviews; the rubbish that I'd been told now coated the path leading up to the falls and had even dirtied the water there had left me less than inclined to bother.
I'd also heard of a few people having accidents there, which, as someone who is decidedly accident-prone, being in the middle of nowhere with another head injury didn't sound like my idea of fun.
However, if you're stuck for a few days, they're easy enough to visit and while supporting a local agency such as Condor Trekkers by taking one of their tours is advisable purely for ethical and responsible travel purposes (and the fact that their vegetarian food is simple delicious), you can still go alone.
For most tourists, this is top of their list of things to do in Sucre – although I would certainly argue that there are more interesting hikes in Sucre that you can find.
If you actually want to see the waterfalls that the hike is named for, don't go during the dry season (about April to November).
Visiting Information:
Take the 'Q' collectivo (bus) from Calle Junin outside of the Mercado Central. Get off at the final bus stop called Alegria and continue in the same direction as the bus was headed until you reach a set of houses.
Here, turn right and go down a hill until you reach the bed of the river from where you need to hike upstream for 45 minutes
You can do this either:
By continuing along the road until you reach a bridge. Out of rainy season (December-April), you should be able to walk upstream along the riverbank. Just be aware that you're forced to clamber over rocks and this is where I've heard of a handful of people receiving stupid, if relatively minor, injuries.
Cross the bridge to continue along the road until you hit a small path forking left and take this up to the waterfalls.
Find the Siete Cascadas on Google Maps here.
Hiking length: Around 45 minutes to an hour to the first waterfall.
Things to take:
Food and water as once you get off the bus you are unlikely to find any shops.
Difficulty: Easy.
17. Hike to the Maragua Crater
The Maragua Crater definitely ranks as one of my favourite Bolivian trekking destinations.
The route has spectacular panoramic views of the strange, multi-coloured swirling rocks of the crater, a stretch of fossilised dinosaur footprints, 2,000-year-old cave paintings and a section of well-preserved Inca trail – although how much you see of all this does depend on which path you choose.
I've previously written about how you can walk to the Maragua Crater from the Virgen de Chataquila, via the cave paintings at Incamachay and Pumamachay and the dinosaur footprints at Niñu Mayu, before ending in Potolo.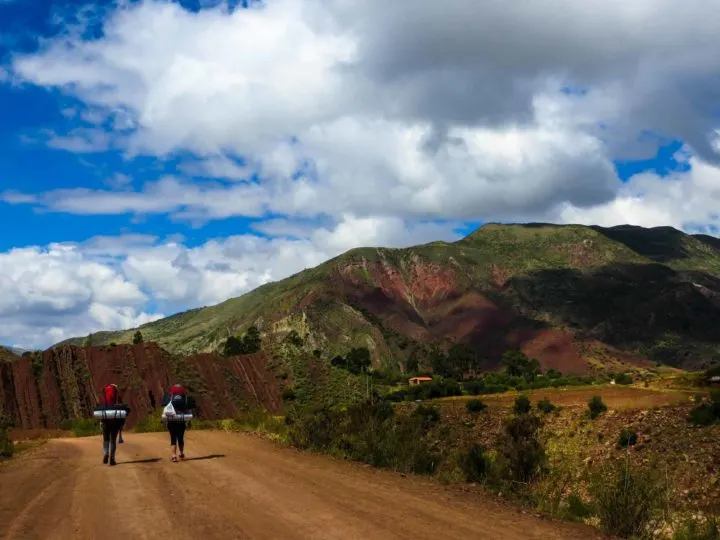 Along the route, you pass the village of Maragua itself, where you'll find a small hospedaje (very basic hostel-style accommodation) which is impossible to be book ahead of time but it's unlikely you'll find it full – just ask at one of the shops to speak to the señor who runs the accommodation and who'll charge a small fee for you to stay (cooking facilities and a working toilet are included).
By following the river that cuts through the village you'll arrive at the Garganta de Diablo, at times a crashing waterfall (depending on in which season you visit) and you can also see and buy the strikingly coloured traditional weavings of the local women.
Again, ask in one of the two shops or speak to any one you meet in the village as they'll be able to point you in the right direction.
There's also a village school and library run by US-founded NGO, Biblioworks (where Steph, the founder of this site spent a few weeks volunteering during her seven months in Sucre).
If you want to learn more about this tiny school and living in one of the most remote parts of Bolivia then read this article about volunteering in Maragua.
Visiting information:
You can either go by yourself (read our article about doing this self-guided).
Alternatively, Condor Trekkers, who are one of the best adventure tour companies in Sucre and who give all their profits directly to the local villages through which their tours pass, also offer a four-day tour to the paintings, the Maragua Crater and Niñu Mayu.
Find the cave paintings on Google Maps here.
Hiking length: The trek including the cave paintings takes roughly three days and a night in Potolo (there are community-run cabañas which are clean and cheap) before taking the trufi (small minibus) or riding in the back of a truck back to Sucre in the morning from the main plaza.
Hiking down the Inca trail and missing the cave paintings is generally a two-day trek.
Things to take:
You will need a tent for the main hike if visiting the cave paintings (read my review of what I consider the best backpacking tent for camping in South America). Accommodation is available in Maragua and Potolo.
Food for four days is necessary, although a number of small shops in the tiny villages along the river after the cave paintings, in Maragua and in Potolo do sell water (at a very expensive price) and biscuits and tinned food.
There is a stream but during dry season (between April and November) there may be little water. It's also worth being careful about drinking directly from watercourses as they can often be polluted. I always carry a Steripen with me.
Difficulty: The hike is not particularly strenuous, although finding the initial path to take towards the cave paintings from the main road is not easy and we later lost the path completely when we were descending into the valley away from them.
We also struggled to find the path leading to the dinosaur footprints at Niñu Mayu the morning after leaving Maragua.
This hike is possible, it's just worth consulting local people who may have information before you attempt it. The Maps.me app (check out my other recommended (free!) apps specifically for adventure travel in South America) actually has the route to the paintings marked on it, so going with GPS is an option.
18. Stay at the Centro Ecologico Juvenil in Cajamarca
Few people have ever even heard of Cajamarca and even fewer have visited.
An area of reforestation about 30 km outside of Sucre, it offers another completely distinctive landscape from Maragua and the Siete Cascadas, particularly as verdant forest is in short supply in the Bolivian Andes.
Visiting on the recommendation of a friend's Spanish teacher, I was enamoured with the green landscapes that contrast with the sparse, dry mountains that surround Sucre.
We had heard about the Centro Ecologico Juvenil, a small centre set in the heart of Cajamarca. It welcomes school groups and tourists to its huge dormitory-style accommodation and log cabins.
I can't remember the exact price, but as with all places in Bolivia, it was very affordable and included kitchen facilities and bathrooms
In terms of things to do from these lodgings in Cajamarca, a number of trails pass through the forest and meadows that now cover the area.
It's worth getting hold of some instructions before arriving (again, speak to people in Sucre) as the hand-drawn map of paths that you can find at the centre isn't particularly helpful and Maps.me doesn't mark any. We walked up to a nearby mirador which was beautiful.
Visiting Information:
Take a bus from Sucre to Potolo and get off at the crossroads to Punilla.
Make sure you download Maps.me (free and can be used off-line) as the location of the Centro Ecologico Juvenil is clearly marked. On Google Maps it is indicated by the name "Cajamarca".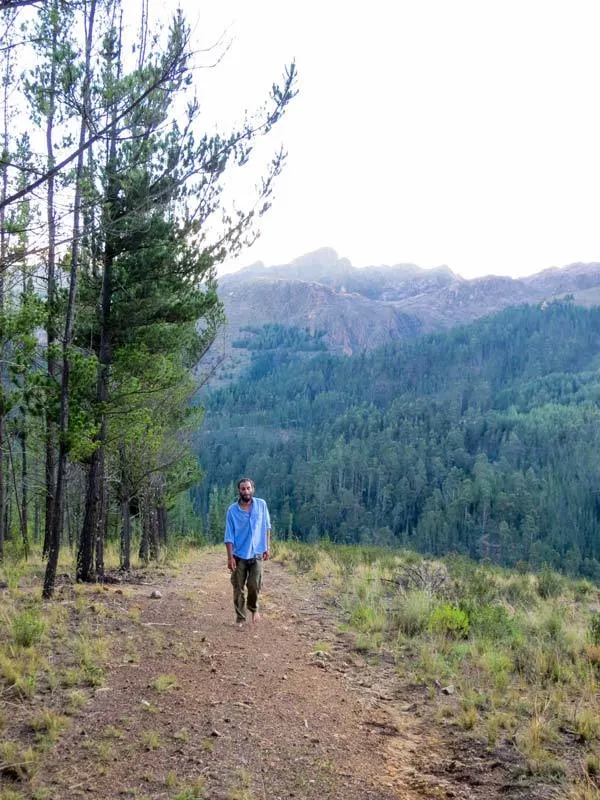 Hiking Length: From Punilla, it took around 1.5 hours to walk to the centre. The path is fairly level but does ascend gently.
Things to take:
Food and water for your trip as there are no shops in the area.
Difficulty: It's not hard to get there, but there's no guarantee that you'll find anyone to receive you.
It's worth contacting ahead of time by visiting their website as the woman was surprised by our arrival and we were lucky that she was there and able to accommodate us.
The paths that are "helpfully" documented on a hand drawn sign are not the easiest to follow and we never found the cave paintings that they mentioned (in fact, I wonder if they're actually those that you can visit at Incamachay and Pumamachay but I have literally no idea where the path is that takes you all the way across the mountain).
19. Explore Pitantorilla near Yotala
Set in the south of Sucre, tourists only normally make it to Yotala for the Santa Rosa Festival on the 30th of August each year or as part of an organised tour into the Cordillera de los Frailes mountain range.
However, about 10km east of Yotala is the restored hacienda or colonial mansion Pitantorilla that was once inhabited by José Mariano Serrano, a Bolivian-born statesman and President of the Assembly declaring Bolivia's independence in 1825.
Few tourists ever make it this far from Yotala and for good reason: your main options are to walk from the town and follow the dusty road that winds down to Pitantorilla.
But the trek is worth it; the house itself is a pretty and surprisingly elegant colonial dwelling, with a gorgeous tree-lined, grassy courtyard at the front, surrounded by private vineyards and a small play area out the back (I think it is most often used as accommodation for school trips).
It's also a bright pink/orange colour and I think deserves to be on the list of adventurous things to do in Sucre.
Pitantorilla is theoretically open for visitors as a B&B with a number of private rooms, toilet facilities and even breakfast included.
From Pitantorilla, you can take the road into the mountains leading down to a river where, when followed upstream, brings you out at a series of beautiful, natural water pools which are ideal for bathing and have stunning views over the valley.
Pitantorilla is at the foot of Obispo, a 3,352 m mountain that can be climbed from Pitantorilla, although my friends attempted it themselves without a guide and were unable to reach the summit as, like most hiking in Bolivia, there was no clear path to follow.
It is possible with tour agencies in Sucre: here is some more information about climbing Obispo Mountain from someone who did just that.
Visiting Information:
Take a trufi to Yotala or a taxi (if there are a number of you this shouldn't cost more than 20-30bs and is a far quicker option). Download Maps.me or screenshot the page of google that indicates the road that leads to Pitantorilla.
Find Pitantorilla on Google Maps here.
Hiking Length: From Yotala, we walked around two hours and found a spot around halfway along the road to camp overnight. The next morning, we hitched a ride with a truck to get to Pintatorilla. According to Google Maps, the road is around 10km.
Things to take:
Food and water for your trip. There are some shops in Yotala.
A tent in case you are unable to stay at the mansion.
Difficulty: The best way to attempt to make a booking or to find out if it's possible to stay at the Casa de hacienda de Pitantorilla is to ask around with some tour agencies in Sucre, even if you're planning on going it alone.
Like most things in Bolivia, information is only available by speaking to the correct person and this might the best way of getting hold of a telephone contact number – although you will need a decent level of Spanish to organise this.
Otherwise, just arriving and bringing backup tents, food and cooking facilities is a possibility.
To get an idea of how bizarre Pitantorilla is, someone made a video which you can watch here.
20. Hike through the canyons of Icla, near Tarabuco
Around 100km south-east of Sucre is the village of Icla: a tiny settlement nestled into a stunning, lost-in-time valley, where the crystal waters of Río Icla gush through a nearby canyon.
The whole area is outstandingly beautiful but notoriously difficult to get to.
When we visited, we camped the first night on a stretch of land above the valley which had the most incredible views at dawn. From there, we walked down the main road into Icla and spent the afternoon in the canyon, which purportedly leads all the way to Paraguay.
For our final night, we pitched up next to the river where there is a flood plain which I imagine wouldn't be an ideal place to camp during rainy season (December through April).
We found a small restaurant for menu del día (lunch menu) off the main square and a handful of tiny shops that sell the utter basics. There is also a hostel in the village that I don't know exactly how it can be booked but again, speaking to any of the tour agencies in Sucre should unearth this information.
There is also a guy who supposedly runs tubing and hiking trips from Icla but when we were there, he was in Sucre. We got information about him from Condor Trekkers so they're probably worth visiting to scope out this information (and taking a trek too – they're fab).
Visiting information:
We had heard there was no direct bus from Sucre to Icla, so we took a trufi to Tarabuco and then waited on the main road leading south-east to hitch a lift – for most of the day.
We were finally picked up about 5pm that afternoon and arrived at the main vantage point overlooking the village of Icla (where there is space for wild camping and some incredible views) as night was falling about 6.30pm.
It turns out there is a bus in the morning directly from Sucre. Head over to the main terminal or Avenida des Americas and someone should be able to help you out.
There is also a bus that leaves around 4/5am from Ica back to Sucre most mornings (again, check this) which you shouldn't need to book in advance but you will need to be at the stop near the plaza on time.
You can find it on Google Maps here.
Hiking Length: All of the walks around Icla are pretty short, although if you've got a tent and are feeling adventurous there are many spots for wild camping.
Things to take:
Food and water for your trip. There are some shops in Icla and a small restaurant.
A tent and camping equipment.
Difficulty: Easy, although getting there in the first place is the real challenge.