Nicknamed "Little Switzerland", Bariloche (Bar-ee-lo-chay) in Argentina is a feast for the eyes and soul of the adventurer! This city, which is home to about 130,000 people, features German and Swiss mountain architecture, and a passion for chocolate. But the real charm of Bariloche lies in the natural beauty of its location.
Situated at 900 meters (3,000 feet) above sea level in the transition zone between the snowy Andes mountains and the arid steppe grasslands, Bariloche has a picturesque location, made even more so by the ancient forests of Nahuel Huapi National Park and the blue glacial lakes that surround the city.
Just a stone's throw from Bariloche you'll find almost endless opportunities for hiking, mountaineering, skiing, fishing, sailing, horseback riding, and golfing in this Argentine "Adventure Capital".
So here are my recommendations for the best things to do in and around Bariloche.
Planning Your Trip to South America?
Save time, stress & money with a customized travel itinerary planned for you by a South America expert
1. Visit the Centro Civico
The touristy part of Bariloche is centered around the Centro Civico, the city's main square, which has a stunning panoramic view of the deep blue lake, Nahuel Huapi, and the rugged mountains on the opposite shore.
Surrounded by grand stone and wood buildings, this is truly the central heartbeat of the city. Take a look at the cobblestones, which are covered with the iconic kerchief designs paying tribute to the desaparecidos, or citizens who disappeared during Argentina's last dictatorship.
On one side of the plaza, the knowledgeable staff at Bariloche's Tourist Center will help you with maps, bus schedules, and recommended outings. They can also help you complete your online registration for trekking or camping in Nahuel Huapi National Park. For more specific park information, visit the Nahuel Huapi National Park Visitor Center just one block up the hill from the Centro Civico.
2. Wander the shore of Lago Nahuel Huapi
Down the steps from the Civic Center, you'll find Lago Nahuel Huapi, the lake upon which Bariloche is situated as well as a beach and boardwalk. Pronounced Nah-well Wha-pee, this 550 square kilometer (210 square mile) lake is the largest of many lakes protected within the boundaries of Nahuel Huapi National Park.
Take your perfect family photo in front of the Bariloche letters, with the lake and mountains as a spectacular backdrop. A few minutes' walk to your right, you'll find a free cultural arts center and a skatepark where the local talent will give you a show.
3. Stroll, shop, and eat along Mitre Street
Are you looking for some classic Patagonian leather goods or woolen sweaters? How about a mouth-watering Argentine steak or regional specialties? Maybe you need to rent ski and sledding clothes for winter snow play? Or perhaps, you plan to sample all the chocolate shops lining the street? Mitre Street has it all!
For many, Bariloche is synonymous with chocolate and you will avoid long lines by visiting the many small independent chocolatiers. However, the large chain chocolate stores are famous for a reason.
Hardly anyone leaves Bariloche without a signature bag of treats from Mamushka – considered by many as the very best in Bariloche. However, my personal favorite is the delectable chocolate, ice cream, and hot chocolate from RapaNui. If you come in the winter, you can even take a turn on the skating rink in the back of their store.
4. Appreciate the interior of the pretty Catedral Nuestra Señora del Nahuel Huapi
From many viewpoints around the lake, the iconic tower of Bariloche's 1946 Nuestra Señora del Nahuel Huapi cathedral is a beacon to all.
For a small entrance fee, you can appreciate its interior of beautiful stonework and bright stained glass windows. Then, join the locals sprawled out in the park, enjoying the big trees and the lakeside view.
5. Take an historical walking tour
To understand more about Bariloche, Historias de Bariloche Walking Tours offers several different English tours. These focus on the settlement history and heritage of Bariloche including the Indigenous people of the area, the influx of European immigrants, and how Bariloche became a de facto hideaway for Nazi's after World War II.
West of Bariloche
Heading west out of the city center, you enter the area known as "the Kilometers". Two roads run parallel to the lake and stretch out along the KM's. The upper road is named Avenida de Los Pioneros, and the lower lake-shore road is called Avenida Exequiel Bustillo. Bariloche's outdoor activities and bus routes are oriented around these two roads.
6. Head to the heights at Cerro Otto
Named after a locally famous German mountaineer, Cerro Otto is a 1400-meter (4,500-foot) high panoramic viewpoint featuring hiking trails, zip-lines, and, in winter, sledding tracks. The real draw, however, is the chance to have lunch in its slow-spinning cafeteria which offers a 360-degree spectacular mountain and lake view.
A popular way to reach the top of Cerro Otto is to take the teleférico (cable car) located at KM 5 along Avenida Los Pioneros. City bus #50 will transport you there for free from the city center, or you can book tickets and free transportation from the Cerro Otto Kiosk downtown on the corner of Villegas and Mitre Streets.
Finally, there is a five-kilometer (three-mile) Cerro Otto access road and hiking trail to the top if you'd rather get there yourself from the city center.
7. Explore Lago Gutiérrez
Just over the mountains from Bariloche's center lies the hidden gem of Lago Gutiérrez. Take the road to Villa Los Coihues (Bus #50) to find a lovely shoreline and beach, often out of the strong winds that plague Bariloche.
From the beach, it is easy to walk or drive the one kilometer to the entrance of Nahuel Huapi National Park to visit the Cascada de los Duendes (Dwarves Waterfall).
If you'd like to get your heart pumping, follow the path from the parking lot for a three-kilometer (1.9 mile) round-trip forested climb to Mirador Lago Gutiérrez. Your efforts will be rewarded with a sweeping and dramatic view of this long, narrow lake channeled between steep mountains.
8. Ski or hike at Cerro Catedral
Cerro Catedral, the largest ski resort in South America, is revered across Argentina. As a result, it's the place for winter fun including alpine skiing, sledding, and snowshoeing.
However, more importantly, it's a year-round adventure center. In the summer months, lifts will take you up to the 2000-meter (6,500-foot) ridgeline to enjoy ridgeline hikes, mountain biking, ATV rides, and fantastic restaurants with endless views. Bus #55 will take you to the base of the ski resort from the city center.
The most popular day hike from Cerro Catedral is to Refugio Frey: This trail starts from the base of the ski resort and climbs up 9.5 kms (5.9 miles) one-way to Refugio Frey, a typical mountain hut beside a beautiful lake. Camping space and dormitories are available to spend the night with a reservation. Registering your hike with the national park is always a good idea and you can do so at the Nahuel Huapi National Park office in town or online.
If you're looking for a multiple-day excursion, a challenging 8 km (5 mile) mountain trail continues from Refugio Frey to Laguna Jakob (Refugio San Martín) where camping space and dormitories are available with a reservation. To complete the entire 4-day Nahuel Huapi Traverse, the trail does continue to Laguna Negra and Cerro Lopez, but hikers must hire a guide for this rugged section. Another option is to make a loop on the historic 12.7 km (7.9 mile) Huella Andina Trail and return to civilization using the trailhead at Tambo de Baez.
9. Take in the astounding views of Lago Nahuel Huapi at Cerro Campanario
Along Avenida Bustillo at KM 17, a very popular chairlift will take you up Cerro Campanario (Bell Tower Mountain) to reach a viewing deck. Situated at 1,000 meters (3,280 feet) above sea level, it guarantees an astonishing view of all the mountains surrounding Lago Nahuel Huapi. If you only have time on your trip for one mountain summit, this is the place to go.
For some exercise, hike the 2.3-kilometer (1.4-mile) round-trip trail from the base of the mountain to the viewpoint. However you get to the top, the cafeteria located there will reward you with a sweet treat and a killer view from your table.
Catch Bus #20 to Campanario's base from the city center.
10. Drive, bike, or tour the Circuito Chico
At the far end of Avenida Bustillo (25 km or 16 miles from the city center), the road continues as RP77 and makes a grand loop around Lago Perito Moreno. This 27-km (17 mile) loop is known locally as Circuito Chico (the Little Circle), with several great stopping points along the route.
There is no public bus service that travels the full length of the circuit, however, you can rent a car to drive yourself, rent bicycles near the base of Cerro Campanario, or book a day tour from various travel agencies in town. Here are the not-to-miss sights going anti-clockwise around the loop:
Puerto Pañuelo at the start of the loop is the boat dock where many day trips around the lake begin. There is a small lake viewing platform on the hill behind the ticket office.
Sendero de los Arrayanes Less than one kilometer (half a mile) around the loop, you'll find the parking lot for the Los Arrayanes hiking trail. This two-hour round-trip mostly flat trail will take you through a small forest of uniquely curvy Arrayanes trees and offer some lovely viewpoints along Lago Perito Moreno. From the end of this trail, you can connect to other trails along the Circuito Chico. Refer to maps at the trailhead or use the app Maps.Me for a quick reference of your options.
A stones throw from the Los Arrayanes parking lot you'll see the entrance to the Cerro Llao llao Trail (Llao LLao Summit). This is a steep but very worthy 5.5 kilometers (3.5 miles) round-trip trail up to a rocky viewpoint overlooking the most scenic and remote parts of Lago Nahuel Huapi, and the national park.
Trails to Lago Escondido (3.3 kilometers or 2 miles further along the loop), Playa Los Troncos (.5 kilometers or .3 miles further) and Playa Bahia López (1.7 kilometers or 1 mile further along the loop) are short flat trails through the forest to a selection of stunning little beaches with crystal clear water and mountain views.
Starting from Playa Bahia López, the trail to both Mirador Bahia López and Mirador Brazo Tristeza is a short, easy 2.9 kilometers (1.8 miles) round-trip trail with stunning views over a remote section of Lago Nahuel Huapi and a chance to see the massive Mount Tronador in the distance.
Patagonia Brewery (4.5 kilometers or 2.8 miles further around the loop) has a great restaurant and a beautiful lake view from their flagship microbrewery.
Punto Panorámico (1.8 kilometers or 1.1 miles further) offers the perfect place to take your best photos of the lakes and mountains of the Llao Llao area.
By continuing 5.1 kilometers (3.2 miles) further around the loop, you'll pass the beaches at Lago Perito Moreno and complete the Circuito Chico loop where it meets Avenida Bustillo. Turn right to return to Bariloche.
11. Stay overnight at the luxurious Llao Llao Resort
On the northern edge of Lago Perito Moreno (and at the beginning of the Circuito Chico), Llao Llao Resort is a five-star hotel with a picturesque location.
This pretty hotel has unfettered views directly across the lakes towards the mountains from many of the communal areas as well as from south-facing bedrooms. There's also a gorgeous infinity pool, a spa, a golf course, and a clutch of nearby hiking trails.
What's more, it's easy to reach, even without a rental car, as it's the last stop on the Bus #20 route from the center.
12. Taste unique local specialties in Colonia Suiza
Colonia Suiza, a tiny Bavarian village on Lago Perito Moreno, some 25 kilometers (15.5 miles) from Bariloche, is famous for their gastronomic specialty – a meaty curanto stew cooked in the ground – and its variety of shops selling souvenirs and crafts.
Best visited on market days (Wednesday and Sunday), Colonial Suiza can be an interesting side trip if you have an extra day in Bariloche, or if you have a car and are driving around the Circuito Chico. That said, the village is small and its enormous popularity makes traffic conditions and parking a little difficult. Bus #10 will take you to Colonia Suiza from the city center, but service is infrequent throughout the day.
13. Hike up into Barciloche's snowy peaks
Bariloche and its surroundings are overflowing with opportunities to climb into the high country for impressive views of the surrounding mountains and lakes of Nahuel Huapi National Park. Easy and short day hikes can be found from Villa Los Coihues, Cerro Catedral, Cerro Otto, Cerro Campanario, and along the Circuito Chico.
If you are up for a full-day challenge, consider the hike up Cerro López. Starting from the Circuito Chico, it's a steep 10-kilometer (6.3-mile) round-trip scramble that first reaches Refugio Roca Negra and then Refugio López where space for camping and dormitory accommodations are available. Inquire with the refugio about availability.
Another great option is the Cerro Goye trek, a 12.6 kilometer (7.8 mile) steep trail starting from Colonia Suiza. It can be turned into a loop, but I suggest doing this loop clockwise to go up the steep ascent, or do the hike as an up and back as suggested in the link. To add to your challenge, a side route to a neighboring peak, Cerro Bellavista, can be taken from near the top of Cerro Goye.
It's always a good idea to register your hikes in person at the office of Nahuel Huapi National Park or online here.
14. Get some sun at a Patagonian playa
Playa Bonita on Lago Nahuel Huapi is a lovely cove eight kilometers (five miles) from the city center and Playa del Moreno has beaches along both sides of the Circuito Chico road crossing the stunning Lago Perito Moreno (about 25 km from the city center).
All of these beaches offer a refreshing swim in crystal clear waters with the added bonus of snow-capped mountain views. Kayaks can be rented at Lago Perito Moreno if you fancy a paddle out. Bus #10 will take you there from the city center.
15. Take a boat trip out onto Lago Nahuel Huapi
Bariloche is the largest city within the Lakes Region and taking a boat tour on one of the local lakes is a wonderful way to explore the surrounding area.
One of the best is a half-day boat excursion across Lago Nahuel Huapi, which first visits Isla Victoria (Victoria Island), where you'll have time to explore the rugged coastline and pine forests backdropped by the snow-capped mountains across the water. The boat continues to Los Arrayanes National Park, which is home to a unique forest of ancient and orange arrayanes, or myrtle, trees. The Cau Cau Catamarán departs for this boat trip from Puerto Pañuelo, but the company running the trip can provide transportation from Bariloche.
Another option is a boat ride along the spectacular Blest Arm of Lago Nahuel Huapi, an expanse of water that reaches west towards the border with Chile. You'll visit scenic Puerto Blest, before hiking through temperate rainforest to reach the pretty Los Cantaros Waterfall. You can add on a bus tour to the emerald-colored Lago Frías, too.
Plenty of companies in Bariloche offer this tour. If you want an even greater adventure, consider using this route to cross into Chile (see #21 below).
16. Take a truck ride up to Cerro Tronador
Sitting just outside Bariloche is an exceptionally beautiful 3,500-meter (11,500-foot) volcano, Cerro Tronador, which straddles the border between Argentina and Chile. It is one of the largest peaks in the Andes Mountains.
With a guided tour organized from any agency in the city center, you can take a jeep up to the base of Cerro Tronodor to view Lago Ventisquero, a cobalt lake, and Ventisquero Negro, the glacier with the same name.
Stops are made at various overlooks and the high-elevation community of Pampa Linda.
17. Road trip along Ruta 40 and the Ruta de los Siete Lagos
The legendary Route 40 travels from the northern tip of Argentina to almost its southernmost tip and has long been a prime road-tripping destination for visitors.
However, the stretch north from Bariloche to the equally picturesque village of San Martín de los Andes, known as the Ruta de los Siete Lagos (Route of the Seven Lakes), is a manageable slice of this epic road trip.
This must-see route starts at Bariloche and heads north for 157 kilometers (98 miles). While tours and public buses can take you along the route from Bariloche to San Martín de los Andes (as of October 2023 buses are using an alternative route due to a mudslide), renting a car for a day or two gives you the flexibility to stop and enjoy the different lakeside viewpoints and beaches along the way.
If you use a maps app or iOverlander App, you'll find plenty of side roads that will actually take you to eleven different lakes and hidden beaches to round-out your adventure.
This route can be done in a long, one-day road trip, but charming San Martín de los Andes is also worthy of your time. Spend a night there and return the next day for the perfect two-day excursion from Bariloche.
18. Explore the beautiful lakeside town of Villa la Angostura
Located on Lago Nahuel Huapi 82 kilometers (50 miles) northwest of Bariloche along Ruta 40, Villa la Angostura is considered by many as the most beautiful town in all of Argentina. Set between two lakes (Nahuel Huapi and Correntoso), it offers visitors several beaches, hiking trails, and a sweet mountain-themed town oozing with great restaurants, breweries, boutique souvenir shops, and dramatic mountain views!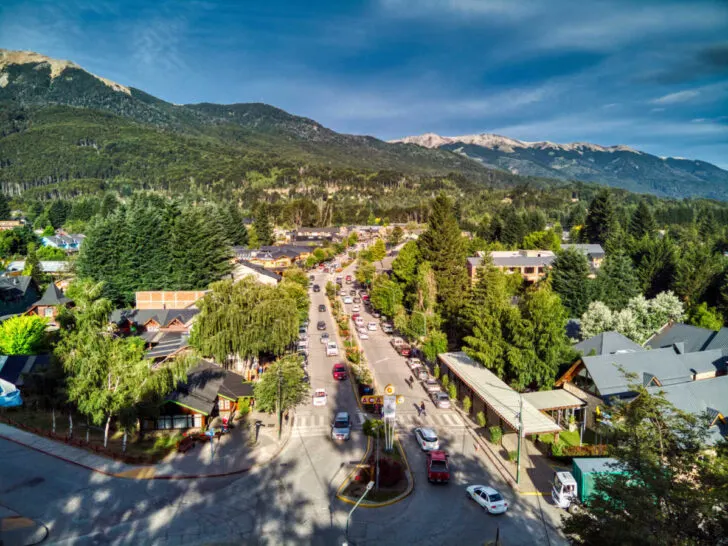 On the far south of the town, you'll find the port, Puerto Angostura (Angostura Port), with two serene beaches, Playa Mansa and Playa Brava. You'll also find the entrance to Los Arrayanes National Park where a steep, 20-minute trail up to two different viewpoints will keep your camera clicking.
From the port, you can also book a short boat excursion to the famous Bosque de Arrayanes (Los Arrayanes Forest), a destination offered as part of the Victoria Island day trip from Bariloche, but cheaper- and quicker – to visit from Villa La Angostura.
19. Drive the spectacular Circuito Grande
If the entire 314 km (195 miles) round-trip to San Martín de los Andes and back along the Ruta de los Siete Lagos doesn't appeal to you, then opt for the shorter Circuito Grande. This 248-kilometer (154-mile) loop can easily be done in a day and includes a handful of the lakes, as well as the lovely Valle Encantado.
From Bariloche, drive north along Ruta 40 for 20 kilometers (12 miles) and then take Ruta 237, which will take you northeast through the dramatically different scenery of the rocky, arid steppe that follows the Río Limay.
Just after you reach the cliffs and emerald pools within Valle Encantado, head 34 kilometers (20 miles) northwest along the gravel Ruta 65 to reach Villa Traful, a charming little lakeside town set between the mountains. Finally, continue west until you join Ruta 40 (the Ruta de los Siete Lagos) and turn south toward Villa la Angostura, passing the beautiful Espejo and Correntoso lakes on the way.
20. Hit up the artisanal fair or the hiking trails in El Bolsón
To really appreciate the expansive beauty of the Lakes Region, take a day – or spend the night – in another nearby community. One of the best is El Bolsón, an historically hippy village located in a steep valley 120 kilometers (75 miles) south of Bariloche along Ruta 40.
With its laid-back vibe, great breweries, and large artisanal fair on Tuesdays, Thursdays, Saturdays, and Sundays, it's a popular spot for day-trippers.
You'll also find a variety of hiking trails, including the 17.4 km (10.8 mile) round-trip route to El Cajón del Azul, which features a crystal clear swimming beach along an icy blue river, and the impressively steep 9.3 km trail (5.8 mile) up and down Cerro Piltriquitrón, where you'll feel like you have reached the top of the world from its 2,380-meter (7,800-foot) peak.
21. Cross into Chile along the Cruce Andino
Bariloche is just across the border from the equally popular town of Puerto Varas, so if you're planning on heading into Chile, it makes sense to travel via one of the most beautiful routes.
The Cruce Andino is a full-day journey of three bus rides and three different boat rides that offers rarely-seen views along an original trade route through the Andes Mountains and dense Valdivian rainforest while crossing the border from Bariloche, Argentina to Puerto Varas, Chile.
The tour is operated by Turisur which has offices on Mitre Street. If needed, they can help you navigate a method of return to Bariloche in the following days.
---
Accommodation in Bariloche
Budget accommodation in Bariloche
The Kospi Boutique Guesthouse ($53 double) is a real home-from-home. With 11 rooms available, and communal areas to meet other travelers, breakfast included and free Wi-Fi, it's an obvious choice for those on a budget, or those looking for a more homely of stays.
Hosteria Las Amapolas ($60 double) can be found 300 meters from the city center, and includes free Wi-Fi and breakfast. With lake and mountain views, it's certainly a tranquil base to explore from, with all rooms including private bathrooms and cable TV.
Mid-range accommodation in Bariloche
They don't come much more central than Hotel Concorde ($158 economy double), located a mere 100m from the Civic Center. With private bathrooms, free Wi-Fi, and an on-site bar, it's a great option for those looking to stay in the heart of the action.
The Huinid Pioneros Hotel ($95 double with garden view) makes a great option for those who don't mind being a little further afield (2.5km outside of the city center). With an on-site swimming pool, games room, spa facilities, and gym, you won't have a chance to be bored – and some rooms even benefit from views over the Nahuel Huapi Lake.
Boutique accommodation in Bariloche
Located right on the water's edge of Nahuel Huapi Lake, the highly-rated Charming Luxury Lodge & Private Spa ($215 classic suite) is a great option for those looking to escape the city and relax in nature.
With stunning mountain and lake views, all suites include their own jacuzzis (with some even having their own saunas!), while cozy fireplaces and wood stoves are included in Deluxe and Charming Suites, Apartments, and Residences.
---
FAQs about Bariloche
Where is Bariloche, Argentina and how can I get there?
San Carlos de Bariloche is located in the foothills of the Andes Mountains along Argentina's famous Ruta 40 and near the border with Chile. It is the largest city in the Lakes Region and is considered to be in the northern part of Patagonia (although where Patagonia actually is is strongly contested).
Bariloche has an airport with connecting flights to all parts of Argentina, and is an easy two-hour flight from Buenos Aires.
When should I go to Bariloche and the Lakes Region?
Bariloche is a popular destination all year round and when you choose to travel will depend upon what you want to see. If you want to access the mountains and have dry weather and clear skies, it's best to visit this region between November and April. That said, December through February is summer vacation, or high season, for Argentinians and international travelers, so accommodations and restaurants fill up fast.

Winter brings significant rainfall in the town of Bariloche, but this means snow in the mountains; many come for the ski season during July through September.
Just know that because of its location between large lakes and mountains, the climate of Bariloche is considered cool and windy all year round.
How do I travel around Bariloche and the region?
Bariloche is sprawled out along the edge of Lake Nahuel Huapi, which means that in the busy summer and winter tourist seasons, traffic can be frustratingly slow out in the "kilometers" west of town and in the town center.

City buses are available and you can research the routes with the somewhat reliable app, Moovit. In order to take the city buses, you will need a Sube card, which you can pick up before 3pm weekdays at the Sube office next to the visitor center in the Civic Center.
Once you have the card, vendors everywhere in "kiosks" will sell rides to add to your card. But never fear, if you can't find a card in town, simply board the bus with some cash to offer and ask if someone would scan their card for you. Most riders are happy to help.

For destinations further afield, long-distance buses do leave frequently from the Terminal de Omnibuses in Bariloche. Renting a car is by far the most flexible option to get yourself to all the viewpoints, hiking trails, and scenic drives. Check out Rental Cars for the best prices.
Where should I stay in Bariloche?
Bariloche is packed to the rim with hotels, hostels, and Airbnbs. If you have your own vehicle, it's easy to stay anywhere in the city center or out in the "kilometers".
If you are going to be dependent upon the city buses, you should definitely stay in the city center as buses outside of the center are less frequent and sometimes get so full they won't stop for more passengers.
Is Bariloche safe?
Bariloche is considered very safe, but in any tourist city, you should take precautions with your phone and belongings. I have heard that rental cars do get broken into around Bariloche, so it may be best to find accommodations with private parking. This is especially common during the summer tourist season.
Is Bariloche worth visiting?
Yes! If you want to experience the rugged outdoors of Argentina and the Andes Mountains, this is a great destination for you.
How long do I need in Bariloche?
Although you could easily spend a week or more exploring the wide variety of destinations in the region, you can get a good feel for this corner of Patagonia in three to four days, with a day or two visiting some of the towns in the surrounding area. Then, I promise you, you'll want to return for more!
---
Are you ready for a trip to Argentina? Find out the best time to visit the country according to an expert, check out the best places to visit in Argentina whatever your travel style, and discover the coolest Argentinian national parks (and how to visit them) here.