Big adventures await in the land of street-side tango, football, barbecue, and vast natural wonders. As one of the top destinations in South America, Argentina has a place for all kinds of travellers.
But, Argentina is a very large place. In fact, if you placed Argentina over the top of Europe, it would cover everywhere from Portugal through to Eastern Europe. As a result, planning a trip here requires you to not only be aware of the vast distances you can be expected to cover but also the different weather systems you may encounter.
Seasons are vastly different in the north of Argentina compared with Patagonia in the south, and some parts of the country are almost impossible (or at least not recommended) to visit outside of spring, summer, or autumn. Others are jam-packed with visitors during summer when you'd be advised to steer clear if you want to avoid the hordes.
Sound complicated? It doesn't have to be. This guide to the best time to visit Argentina – written by someone who has spent months in the country – should help you understand when you should visit, whether you're set on staring in awe at Iguazú Falls, sipping robust malbec at a winery, spying on chattering penguin colonies, or clambering up a Patagonian mountain.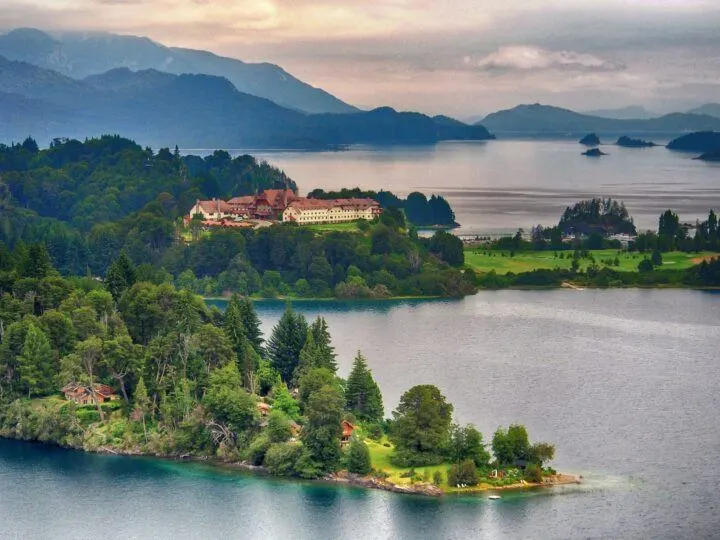 Argentina month by month
January: This height of summer is also the peak season for most tourist destinations in Argentina. Go as far south as you can, all the way to Patagonia and Tierra del Fuego, to avoid the crowds.
February: Catch sightings of southern right whales as they pass through the Valdes Peninsula.
March: This is the Lake District's best time in summer.
April: Mendoza is bustling with winery activities, including wine-tasting tours!
May: The second best time after spring to visit Buenos Aires.
June: Enjoy dry and cool winters in Mendoza and the wine region.
July: The peak of winter is surprisingly the sunniest season in Salta and the northwest region, perfect for day trips to surrounding rock formations!
August: Visit Buenos Aires for the World Tango Festival.
September: During this drier month, paths at Iguazu Falls are easier to explore. It is also the best time to explore Patagonia in winter, starting with the ski resorts of Bariloche.
October: Aim for the second half of October for the best view of the Iguazu Falls while avoiding the peak-season crowds, or head to the Valdes Peninsula for the best months to catch sight of southern right whales and orca.
November: The best time to explore Buenos Aires, right before the peak season starts, or escape the crowds to explore the Atlantic Coast on horseback.
December: Despite being the start of peak season, this month is best to enjoy hiking in the national parks around Patagonia's El Chaltén, El Calafate and Ushuaia.
Understanding Argentina's climate zones
As the eighth largest country in the world, and as a place with varying altitudes and a huge range in latitudes from north to south, it won't come as a surprise to learn that Argentina has a wide range of climates at any one time – varying from hot and subtropical in the north, to freezing cold in the south.
To help us better understand Argentina's climates, it's best to look at the four main regions: the Andes, the Pampas, the North, and Patagonia.
The Andes
Whilst the southern part of the Andes is rainy and cool, the bordering Argentinian land tends to be much drier thanks to the mountains stopping the rain.
The Pampas
The Pampas are low, fertile grasslands that stretch through a number of South American countries, including Argentina.
Here, the climate tends to be semi-arid, prone to droughts interspersed with above-average rainfall, whilst temperatures seem to peak in January at 30℃ (86℉), and go as low as 15℃ (59℉) in July.
You'll find this sort of ecosystem and climate around Buenos Aires out west to the provinces of La Pampa and Cordoba.
The North
The North is a lot drier and warmer than elsewhere in the country – regularly reaching temperatures of 35°C (95°F) and above. Rain brings with it uncomfortable humidity.
Patagonia
Whilst Chilean Patagonia can experience a lot of rain, Argentinian Patagonia is mostly dry, thanks to the Andes blocking precipitation that otherwise lands in Chile. Summers are warm, winters are cold – and there are strong winds year-round.
As a result of this lack of rainfall, Argentine Patagonia is characterized by semi-arid scrub or steppe, which takes the form of a vast plateau dotted with low bushes that dip into the sea in the east and hit the glacier-strewn Andes Mountains in the west.
Each part of Argentina has its own climate and high season, so read on as I go through the best time to visit each region.
Buenos Aires
Prepare for nonstop excitement as soon as you arrive in Buenos Aires. This capital city of Argentina offers vibrant culture for anyone who wishes to explore. Tango halls (milongas) and steak houses (asados) can be found in the porteños, traditional local neighbourhoods.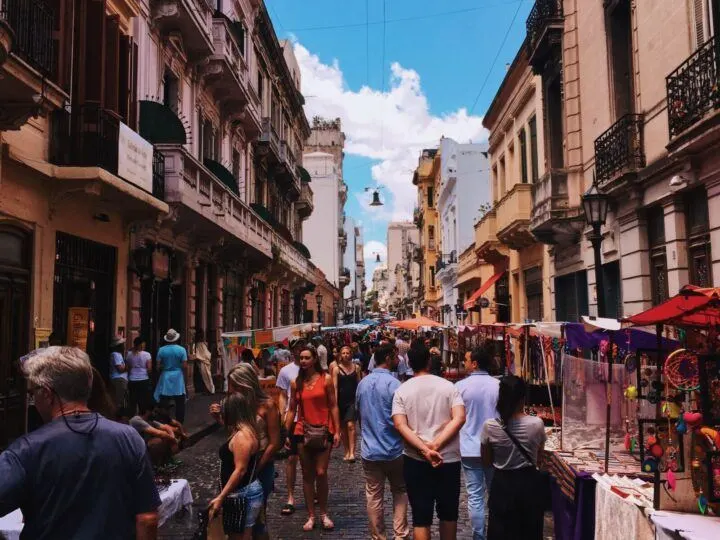 Being the go-to city among visitors, Buenos Aires can be crowded during peak season. To avoid this, I recommend traveling to Buenos Aires between March and May for warm fall weather or the cooler spring months of September through November.
Buenos Aires during spring and fall
Buenos Aires' temperatures are warm during these months with a typically low chance of rain, except for October, the city's second rainiest month. Regardless, you still get to enjoy blue skies throughout the year.
Temperatures are warmest in March, where they hover, on average, at a balmy 26°C (78.8°F). During spring, temperatures start at 18°C (64.4°F) in September and steadily increase. Visiting during any of these months will see pleasant, mild weather and a low chance of rainfall, with rain falling an average of eight days per month throughout the entire year.
If avoiding crowds is your main concern, skip August as it's the month of the World Tango Festival. This world-renowned tournament usually takes place in late August and goes on for two weeks. Those who do want to celebrate this festival of dance should mark their calendar!
Note that during the COVID-19 pandemic, the dates were moved to September. We advise you to check the dates for the next festival here before your visit.
Safety can be a bit of a concern in the Argentine capital, but issues can be avoided with some common-sense precautions. Read our guide to how to stay safe in Buenos Aires for more information.
Alternative months to visit Buenos Aires
Since tourism facilities, including tours operated by the local authority, are open all year round, the best time to visit Buenos Aires depends on whether or not you'd like to avoid the crowds.
Most local tourists – including Chileans, Brazilians, and Uruguyans – visit during the peak season, which falls in the summer months of December to January. Because these are also good months to head down south to Patagonia, it's when the majority of foreign tourists arrive, too.
With temperatures averaging around 29°C (84°F) (but often being warmer), exploring the city can be a little too hot during these months, but they make for a great time to escape to the seaside and explore the nearby Atlantic Coast.
Planning Your Trip to Patagonia?
Save time, stress & money with a customized travel itinerary planned for you by a Patagonia expert
Iguazu Falls and the Northeast
Comprising 275 cascades, Iguazu Falls can be seen from both Argentina (Puerto Iguazú) and Brazil (Foz Do Iguaçu) and is considered by many one of the best places to visit in Argentina.
Though you cannot see all 275 from the Argentinian side, you can hike the natural paths through the tropical Atlantic rainforest, where you can catch glimpses of indigenous animals, such as toucans and South American coatis.
For the best sights and trekking experience, I recommend visiting from September to October.
Iguazu Falls from September through October
Deciding the best time to visit Iguazu Falls depends on your answer to this question: would you prefer to see Iguazu Falls at its most powerful or a safer, easier trekking experience?
The more rainfall, the more powerful the falls, but the paths around the site are wetter, which can be strenuous for less-experienced hikers.
For the former, aim for the second half of October to travel to Argentina as precipitation starts to rise. And for the latter, early September would be best. An alternative to this would be from April to May.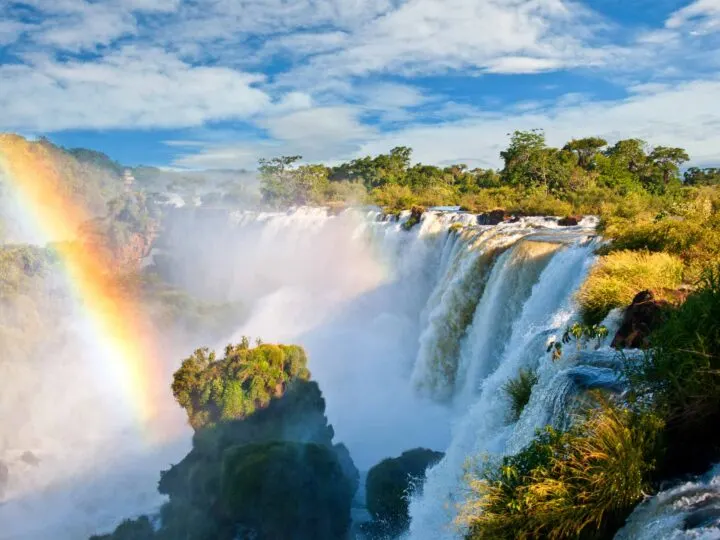 Keep in mind that the climate at Iguazu Falls and the northeast is unlike the usual climate in Argentina. Here, it is humid and hot with no dry season. This area receives nearly 2,000 mm (78.5 in) of rainfall per year.
So, no matter which month you plan your trip to Iguazu Falls, always expect at least a little bit of rain, even during the peak season of summer months from December to March.
Salta and the Northwest
North Argentina is where you should go for a glimpse of Andean culture. Though you'll still find the neoclassical architecture of Argentina's colonial past, the indigenous tradition is still prevalent.
Museums are spread around Salta, which is known for its leafy streets, while breathtaking rock formations can be found just a couple of hours away. Visiting Argentina's northwest region is best to do from May through September.
Salta from May through September
Though located at 1,200 meters (4,000 feet) of altitude, Salta enjoys the mild temperatures of Argentina during winter. On average, it only gets as cool as 11.5°C (52.5°F) in June and as warm as 22°C (72°F) in January. From May through September, it rarely rains here.
However, light frosts may occur at night during winter (from June to August), which is surprisingly the sunniest season in this region. This alone makes Salta a great destination to experience winter in Argentina, which is the period when Worldly Adventurer contributor, Becky, visited to write this guide to Salta.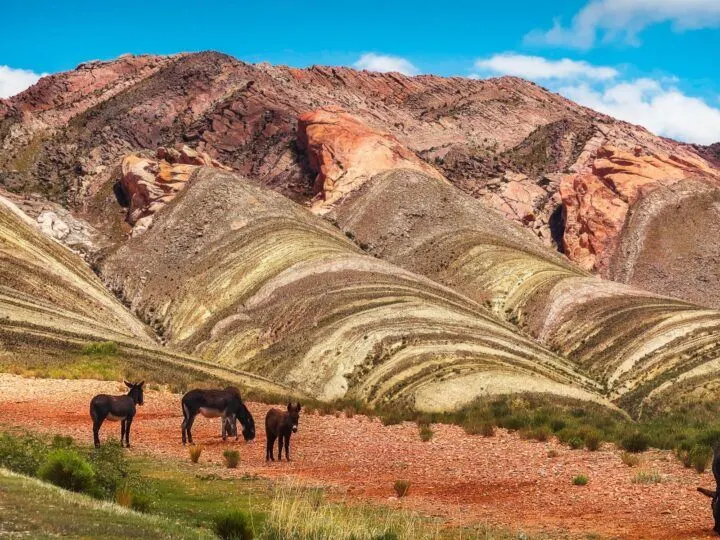 Since the Valles Calchaquíes enjoys all-year sunshine, you can also visit this area to escape the colder climate zones of Argentina during winter. With that said, packing warm clothes for chilly nights is highly recommended.
Peak season in the northwest – and Salta in particular – falls from December to March. Even though most tour operators and facilities are open, note that this season has the most downpours and thunderstorms, which often make roads impassable for days.
For further recommendations on making the most out of your visit to the city, you can find our guide on the best things to do in Salta here.
Mendoza and the wine region
The long days in Mendoza and the wine region make them popular among oenophiles and travelers in general.
The crisp and colorful fall is the best time to admire the Argentina scenery of the vineyards at their autumnal best – all while avoiding the hot days of summer. For those reasons, March through June is the best time to visit Mendoza.
Mendoza from March through June
Fall is harvest time for most wineries in Mendoza. Outdoor activities are open, and tourism is at its peak. To avoid the crowds, April is the best choice among these months.
The Argentina weather in Mendoza generally ranges from 7.9°C (46.2°F) during winter in July to 22.5°C (77.9°F) in the summer of January, while during fall, it stays around 11.8 – 21.3°C (53.2 – 70.3°F).
Those who plan on visiting Mendoza during summer to avoid winter in the northern hemisphere should note that summer days may exceed 40°C (105°F), so bring plenty of sunscreen and a wide-brimmed hat.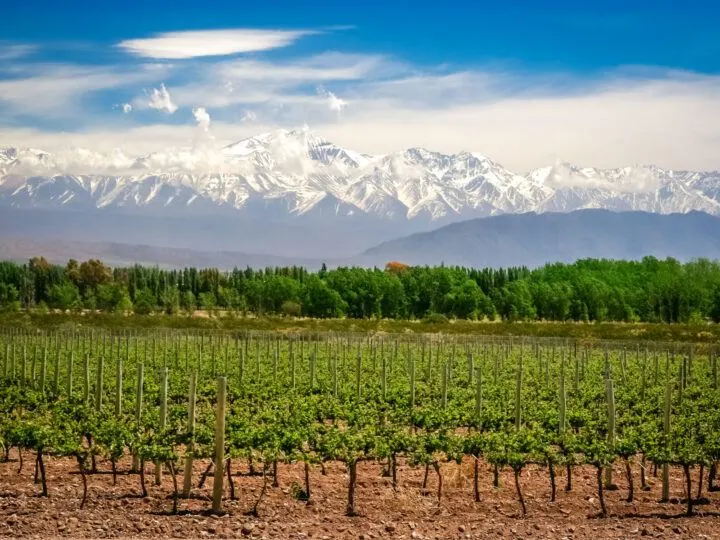 Mendoza in spring, from September through November
Though harvest time offers bustling winery activities, the second best time to visit Argentina specifically for its wine region is spring, as the wineries' planting season begins.
The plants start to wake up from their deep winter sleep, creating beautiful color changes, from frosty white to green. In addition, wine-tasting tours are still available even though some vineyards are not fully operational for tourists.
The Atlantic Coast
Many agree that the Atlantic Coast is where you will find the best beaches in Argentina. It's common among visitors and locals to explore the sandy beach of Mar del Plata and its surrounding areas on horseback.
The mesmerizing, never-ending coastline of the Atlantic starts just south of Buenos Aires. For the best weather and longest sunny days at the beach – while avoiding peak season – October to December is the most recommended time to visit.
The Atlantic Coast from October to December
During spring and early summer, the weather along the Atlantic Coast is comfortable for a day out at the beach. The temperature averages from 13.3°C (55.9°F) to 28.5°C (83.3°F) and the closer your visit is to summer, the warmer it gets!
However, you should note that summer is also the wettest season, with higher chances of cloudy and rainy days. With that said, as long as you stay along the coast – from the beach of Claromecó to the Mar de Ajó on the eastern coast – you'll have most of your day out on the beach without having to worry about rainfall.
If summer at the beach is what you're aiming for, December is your best option, right before the peak-season crowds arrive in January to February.
If you like a slightly cooler temperature – around 20.6°C (69.1°F) on average – before it gets muggy, November is highly recommended. Alternatively, January and February are the best for the warmest days of summer if you don't mind the humidity and the crowds.
The Valdes Peninsula
Visiting South Argentina is not complete without witnessing the natural beauty of the Valdes Peninsula. Being the habitat with the largest breeding population of southern right whales in the world makes this region one of the top tourist destinations in Argentina.
For the best chance of sightings, go to Puerto Madryn from February through April, where they are usually spotted just 200 meters (around 660 feet) from the coast.
The Valdes Peninsula from February through April
While the landscapes in this part of Argentina are beautiful, the main draw of the Valdes Peninsula is whale sightings, which take place all year round. February through April give the whales abundant food resources, making them plentiful in the area.
February to March also offer pleasant temperatures, ranging from 13.3oC (55.9oF) to 23.2oC (73.8oF), with low precipitation.
December through January – which is the beginning of the summer here – is the peak season. April through June are the rainiest months, which may obstruct your whale sightings. However, during El Niño years, November through February receive the most downpours.
Alternative months to visit the Valdes Peninsula
Alternatively, visit the Valdes Peninsula between August and October. Though the whales are not likely to be seen from the coast, you can always take a boat tour that will take you closer to them to get the best sightings.
Even better, you can see them beneath the water at some of the peninsula's popular diving sites. Visit the tourist information center in the Puerto Madryn area to sign up for boat tours or diving activities.
The Lake District
The Lake District is the winter wonderland of Argentina. This is where you'll find Bariloche and its world-renowned ski resorts, which are fully open between July and September. On the other hand, San Martín de Los Andes is best to visit during its sunniest and driest summer months, between December and March.
The Lake District in winter, from July through September
July is when Argentine Patagonia's winter starts. Ski resorts begin to open, and temperatures hover around 4oC (39.2oF) during the day.
But even during winter, the sun can be pretty intense, so there's no reason to take sunblock off your Patagonia packing list.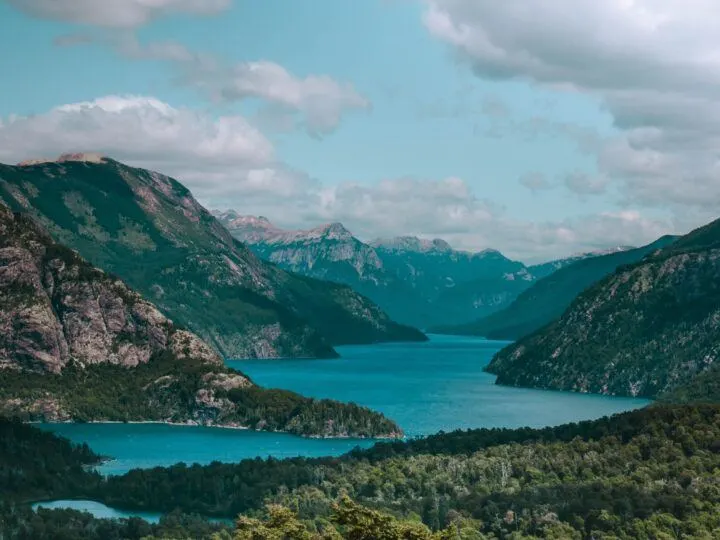 The snowfall starts in July and peaks in August. I recommend choosing September as it is the driest among these winter months (so no whiteouts for you), while the snow coverage is at a maximum.
Note that this also results in roads and hiking treks being closed as they are covered in snow. However, the ski resorts are easily accessible from Bariloche's airport via taxi, bus, or rental car.
The Lake District in summer, from December through March
Though it's the peak season, summer is still the best time to go to Patagonia among all seasons in Argentina. In the Lake District particularly, the melting of snow brings spring, and the landscapes return to an abundance of green mountains and crystal clear lakes.
As a result, tour facilities are in full operation, and trails are open, including some of the region's most exciting trails in Nahuel Huapi National Park, less than an hour from Bariloche and around two hours from San Martín de Los Andes. Here, you get the best views of the Lake District.
In these summer months, the weather is warm – with an average high of 21.9oC (71.4oF) – and the crowds flock to southern Argentina, with Bariloche and the quieter town of San Martín de Los Andes the main draw for hikers and those seeking glorious road trips through alpine landscapes of shimmering lakes and rugged peaks.
Visit in March for fewer tourists, though you have to deal with the slightly colder temperature (as low as 8.8oC (47.8oF) at night).
Patagonia and Tierra del Fuego
Without a doubt, Patagonia is among the most popular places to visit in Argentina. Who can say no to its barren yet beautiful landscapes, which range from Tierra del Fuego up to the mountainous regions of El Chaltén and El Calafate.
For convenient access and more choices of activities, visit this part of Argentina from October to April and read our detailed article on the best time to go to Patagonia for more information.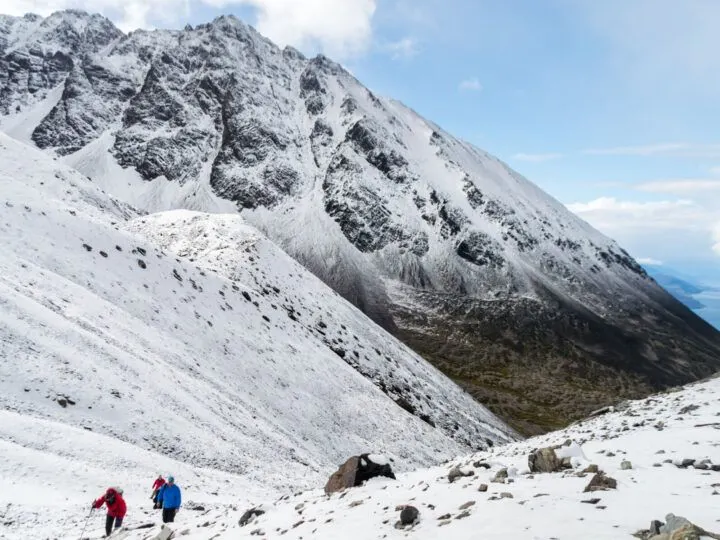 Tierra del Fuego from October to April
In the southernmost part of Argentina, the temperature stays between 0oC and 10oC (32o – 50oF) regardless of the season.
What makes October through April the best time to take a trip to Argentina in this region is the long hours of daylight (up to 17 hours) with the best Tierra del Fuego weather: warmer temperatures and less rainfall.
Besides, this is when all bus routes are open, making it easy to explore this otherwise hard-to-access area on a three-week or a month-long backpacking trip.
The peak season is from January to February, which are also the summer months. Note that places such as El Perito Moreno Glacier and Los Glaciares National Park – which Worldly Adventurer founder Steph considers one of the best national parks in Argentina – are often packed with tourists during these months, with hiking trails often very busy, too.
To avoid this, aim for October to December and March to April. Of these months, I recommend early April, when the weather is still cooperative, the crowds have dispersed, and the wildlife – such as the Andean fox and condor – are still possible to see.
Accommodation and tour considerations
Most accommodations are available to book on Booking.com, but occasionally you'll find small B&Bs and cabins that aren't. These can be found on Google Maps, and you'll need to contact them via Whatsapp to book (use Google Translate to help, as it's unlikely the owners will speak much English).
When looking for tours, most tour operators now have websites that you can book through. The price on the ground is rarely cheaper than the price online, so I'd recommend booking in advance to secure your place.
FAQ about visiting Argentina
What is peak season in Argentina?
Summertime in Argentina (December through March) is when tourism is at its peak. Most visitors come from the northern hemisphere to escape the chilly winter. If you don't mind the crowds and mostly hot and humid days, this is the best time to visit Argentina.
How many days do you need in Argentina?
You need at least one week to visit the most popular attractions of Argentina, such as Buenos Aires, Iguazu Falls, and the wineries of Mendoza. However, if you want to go further afield and down into Patagonia, I recommend a minimum of two weeks, but preferably one month of travel. Check out our Argentina itineraries for more suggestions about how to spend your time here.
When is the rainy season in Argentina?
Argentina does not have a specific rainy season. Most of its regions, such as Buenos Aires, receive more downpours during summer. That said, this remains the hottest season, with slightly more clouds than in winter, but the rain does tend to stop as quickly as it starts.
What time of year is it hot in Argentina?
The summer months – which fall from December through February – are the hottest days in Argentina. In Buenos Aires, for example, the average high is 30.1oC (86.2oF), while in the tropical monsoon region in and around the Iguazu Falls, the temperatures may reach 30.7oC (87.3oF) on average.