While Santiago offers much to travelers headed to Chile, a trip to the region would be incomplete without a few day trips exploring the countryside and urban areas beyond the main tourist attractions of Santiago.
Central Chile is a wonderfully diverse destination, giving visitors the opportunity to enjoy some of the country's best activities in a compact area. In fact, one can ski and surf in the same day!
Add in a visit to the coastal cities of Valparaíso and Viña del Mar, hiking near Santiago, and world-class wineries and you've got the makings of a phenomenal vacation.
Many of the best outdoor activities in the region are located in the stunning El Cajón del Maipo, a river gorge winding through the Andes mountains just southeast of Santiago. As the seasons change, so do the opportunities for adventure in this wild yet easily accessed location.
Because the region surrounding the capital is divided by forests and mountains, there is a lot of territory to explore.
Navigating and discovering the best destinations can seem a daunting task. However, with our guide to the best day trips from Santiago, rest assured you'll enjoy an unforgettable trip to match your adventures in Santiago.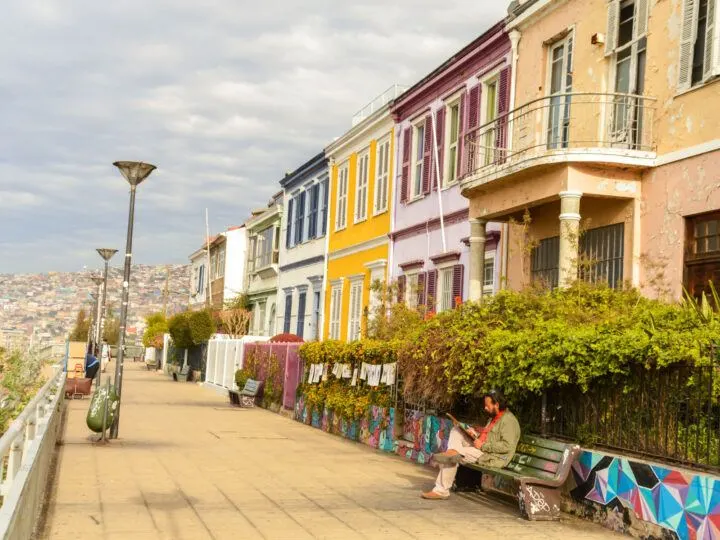 2023 safety update: The US State Department has suggested "exercising increased caution" when visiting Santiago. This is due to an increase in muggings, assaults, and carjackings taking place in the city. Unlicensed taxi drivers are an increasing issue, too, particularly at the airport, so it's recommended to always book through a registered provider (we recommend the reliable, English-speaking My Ride Chile). Previously safe tourist neighborhoods such as Bellavista and around the Plaza de Armas and the Central Market are becoming increasingly unsafe, and you're best to visit them during the morning as things can take a turn later in the afternoon. It's advised to take taxis (use Uber where possible or ask your accommodation to call a taxi; never hail a cab off the street) within these areas at nighttime. Read more safety recommendations here.
1. Take a road trip to El Cajón del Maipo
A good starting point for outdoor adventure not far from Santiago is the breathtaking river gorge El Cajón del Maipo, nestled in the Andes just southeast of the Chilean capital. A stunning year-round destination, this river valley is overlooked by seasonally snowclad mountains.
Accessible by frequent bus service or as a do-it-yourself destination by car hire, this river gorge is an ideal escape from the bustle of the city. Located just an hour and a half from the center of Santiago, this destination can become a bit crowded with locals visiting on the weekends. On weekdays, however, you'll have no trouble finding your own secluded spot.
Along the road on either side of the gorge, as well as in the town of San José de Maipo, you can enjoy a growing culinary scene where cafes and bistros specialize in locally-sourced cuisine. An excellent place to linger for a coffee, some artisanal chocolate, a beer, or a sandwich is Cajón del Maipo Chocolatería Adicción del Maipo.
Further upstream, don't miss the incredible views from El Morado lookout, with panoramic views of the surrounding area. It's a fairly demanding climb, which will take you to 4320 meters (14,173 feet), but it's well worth the effort.
Planning Your Trip to Chile?
Save time, stress & money with a customized travel itinerary planned for you by a Chile expert
2. Ski and snowboard the outstanding resorts of the Chilean Andes
The mountains near Santiago are home to the continent's best ski slopes, which offer the high standards of facilities you'd find in the alpine resorts of France or Austria. If you elect to visit Chile in the austral winter, you will not be disappointed by the winter sports on offer near the capital.
When resorts close for the summer in the Northern Hemisphere, winter athletes descend on Portillo, Valle Nevado, and Farellones. The latter are clustered directly east, an hour and a half from the city center. All resorts offer full clothing and equipment rental, and lessons in English, Spanish, and Portuguese. The terrain is entirely above the tree line and the season runs from mid-June to mid-October.
The nearest to Santiago is Farellones, which offers a full range of winter sports and activities, including a full complement of runs for all abilities, tubing, canopying, fat tire snow cycling, and motorized snow carts.
Valle Nevado has a full range of runs, the option for heli-skiing, and also a snowpark for freestyle skiing or snowboarding for those who are so inclined. Although there are beginner runs, its pistes are suited more for intermediate to advanced skiers and snowboarders. Valle Nevado is the furthest east into the mountains on the road from Santiago, an hour and forty-five minutes from the center.
A bit further afield, Portillo is perhaps the most renowned of Chile's ski resorts. This is the preferred option among professional athletes for its unrivaled snow coverage, extensive range of advanced runs, heli-skiing, spa, full rental service, and beautiful vistas of its lake, the Laguna del Inca. While good quality snowboards are available for hire, the resort caters more to skiers and lacks a snowboarding terrain park. It's around a two-and-a-half-hour drive from the city center.
3. Hike, bike, or climb a mountain at the resorts in the summer
While winters are a major draw for the mountain resorts, there's no shortage of fun to be had during the summer. All the major resorts are open and offer a wide range of activities from high-adrenaline to more relaxed.
Farellones offers the best range of activities, and visitors can take their pick from riding the panoramic lift up the mountain, trekking to the scenic viewpoint El Nido de Condores (The Condor's Nest), canopying (zip lining), mountain biking, or riding motorized three-wheel go karts.
4. Visit a winery in the Casablanca Valley
For many, a trip to Chile is incomplete without sampling the rightfully-lauded wines it produces. While it is possible to enjoy some excellent wine within Santiago, to fully appreciate the quality and viticultural tradition of the area it's best to seek out one (or several) of its top-notch vineyards, which can be visited as part of an excursion from Santiago.
Chile is a very special wine-producing country, not only for the quality of its wine but for the wide variety of its grapes. When a fungus spread across Europe in the 19th century, wiping out grape types such as Carignan and Carmenere, they survived in Chile due to its geographic isolation.
One of the best places to enjoy some of this wine is in the Casablanca Valley, which lies between Santiago and the coastal city of Valparaíso. While much of Chile's large-scale commercial wine is grown in the Maipo Valley south of Santiago, many of the vineyards in Casablanca focus on high-quality, small-batch vintages.
A winery with a growing reputation is Viña Emiliana, which produces all-organic wines and offers simple or more extensive tours and tastings, picnics on their lovely grounds, and a crafting class for those keen on learning the process of making fine wine in an environmentally-conscious way.
Other wineries offering excellent tastings and tours in the vicinity include Bodegas RE, Matetic Vineyards, and Viña Casas del Bosque.
5. Take a wine tour within Santiago
For travelers interested in sampling Chile's wine closer to their Santiago accommodation, there are some great options within the city limits. Because the city lies just north of highly-cultivated wine country, you won't be short on options.
One such winery in the southeast of Santiago is Viña Cousiño Macul, which offers tours, tastings, and bikes for hire to explore its lovely grounds, where grapes have been grown for over 400 years. The nearest metro stop is Quilín, a short taxi ride from the vineyard.
Another popular option is the historic Viña Santa Carolina, also southeast of the center and easily reached by the Rodrigo de Araya metro stop. At nearly 150 years old, Santa Carolina is one of the oldest commercial wine producers in the country, evident from their cavernous brick cellar which houses vintages up to seventy years old.
6. Spend a day or two in atmospheric Valparaíso
While some travelers elect to stay overnight in the nearby port city, Valparaíso is also a great option for a Santiago day trip.
May 2023 safety update: the city of Valparaíso is becoming increasingly unsafe to visit. Muggings have been reported in the tourist neighborhoods of Cerro Alegre and Cerro Concepcion, even during the day. We recommend avoiding this city until further notice. If you do visit, taking a pre-booked taxi or using Uber is essential if straying from these two neighborhoods during day or night and extreme precautions should be taken when walking around the city. Read more safety information here.
A key stop for Pacific maritime trade on the way to or from Cape Horn at the southern tip of South America, the city oozes character with its turn-of-the-century architecture and ubiquitous street art.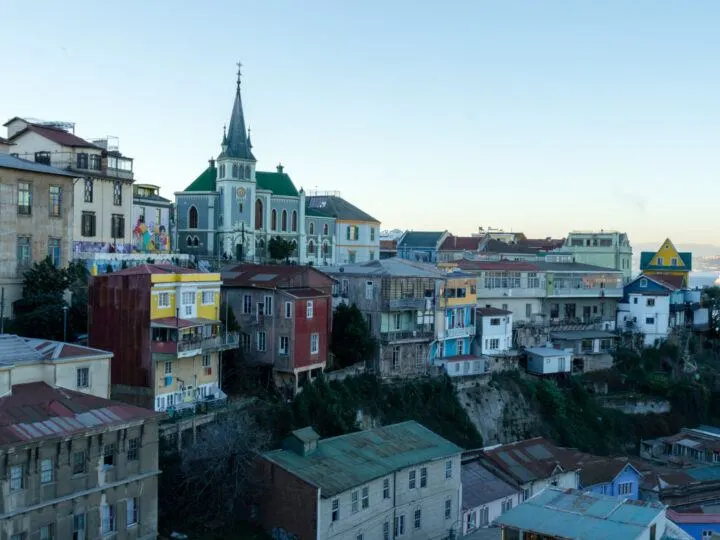 While on your Santiago to Valparaíso day trip, don't miss out on an outstanding seafood feast, exploring the eclectic home of Nobel Prize-winning poet Pablo Neruda, or wandering street art-lined streets with seaside vistas.
For more details and to plan a weekend trip from Santiago to Valparaíso, check out our guide to the best things to do in Valparaíso.
7. Head to Viña del Mar to escape the summer heat
Just to the northeast of Valparaíso sits its more modern neighbor, Viña del Mar. With its long stretch of sandy beach, tree-lined boulevards, cool ocean breeze, and pumping nightlife, Viña makes the perfect getaway from the summer heat of Santiago.
While visiting Chile's summer playground, you'll have the option to surf or sunbathe at Reñaca Beach, and, of course. eat some of the best seafood on the continent. For board rentals, head north up the coast to Concón, where Sacando Quillas offers surf classes and full gear rental. Bear in mind that the water is cold, but wetsuits are available for hire.
8. Go whitewater rafting on the Maipo River
For those seeking an adrenaline rush, the Maipo River offers excellent whitewater rafting adventures all year long. The rapids are Class IV during the summer (November through February), and Class III the rest of the year.
Cascadas del Ánimas operates rafting trips on a breathtaking stretch of the river. The company has highly-reputable guides, and rafters of all levels, from beginners to advanced, are encouraged to sign up. The descent takes around an hour and covers six miles (10km) of the Maipo River.
9. Explore the mountains of Santiago on horseback
One of the most rewarding and enjoyable experiences in Chile is exploring the countryside while riding a horse. Horses in Chile tend to be smaller and nimbler than those in North America or Europe, which makes them ideal for the narrow trails that wind up the mountains.
An experienced outfit specializing in horseback excursions from the eastern outskirts of Santiago is Cabalgatas Santiago. Their professional guides offer many options, including two-hour tours into the foothills, polo classes, and horse archery lessons. Cabalgatas is located on the eastern edge of the city, a half-hour from the city center.
10. Enjoy views of the Andes while soaking in thermal springs
Another popular destination for both locals and travelers is thermal baths in the upper reaches of El Cajón del Maipo. These river-adjacent springs consist of pools rich in sodium, iodine, and potassium, and the baths vary between 28-55ºC (82-131ºF).
Many enjoy the baths for their therapeutic value to rejuvenate skin and alleviate arthritis, while the dramatic mountain scenery only adds to the experience. The two most popular springs are Baños Morales and the more picturesque Termas Valle de Colina, the latter of which is home to nine pastel-blue geothermal springs. It's worth noting that the baths close for the winter months (June through August).
To visit the Termas Valle de Colina and explore El Cajón del Maipo as part of a tour from Santiago, visit with local operator Eco Chile Travel (and get a 5% discount if you book via this link).
11. Trek in the Reserva Nacional Río Clarillo
Just above the city to the south is a wonderful escape from the urban bustle of Santiago. La Reserva Nacional Río Clarillo (Clarillo River National Reserve) covers a large tract of land with a stunning assortment of flora and fauna, including cacti, falcons, condors, and mountain lions, although the latter avoid people and are rarely spotted.
The park is excellent for a hike without the crowds of some of the other nearby reserves. It's also a great place for a barbecue, with grills on site for self-caterers.
Getting around the Santiago region
The area surrounding Santiago is well-serviced by bus. Private operators Turbus and Pullman offer frequent service to Valparaíso and Viña del Mar, and leave from the Terminal Alameda bus station in the city centre.
To reach the ski resorts, Ski Total offers transport from their office or pick-up service from your accommodation.
For access to vineyards in the Casablanca Valley, buses leave from Terminal Sur bus station (a block west of the Alameda station) to the town of Casablanca. From there a short taxi ride will get you to the local wineries.
The most convenient way to get around Central Chile is to hire a car, either from the airport or in the city center. A 4WD vehicle is advised for dirt roads or heading to the ski resorts in winter. Chile has a zero-tolerance policy for drink driving, so make sure to plan ahead for trips to the vineyards.
Chile is a big country with a lot to offer, from the Atacama Desert in the north to Patagonia in the south. For information beyond the best day trips from Santiago covering the rest of this amazing country, take a look at our guides to the other regions.