The Atacama Desert is one of Chile's most exciting places to visit, comprising as it does incredible landscapes of salt flats and saline lakes, high-altitude geysers, softly smoking volcanoes and lunar rock formations.
However, when I visited San Pedro de Atacama in Chile in 2016, I struggled to find much information about how to see the region's main highlights without paying for costly tours.
Covid-19 update: As of February 2022, Valle de la Luna, Valle de la Muerte and Lagunas Altiplanicas are now open. You must, however, book tickets to these attractions in advance. For the Lagunas Altiplanicas here, for Piedras Rojas here and Laguna Chaxa here. You also must book the Valle de la Luna at least 24 hours in advance; you can do it here.
But it is possible: read on and I'll show you how with this guide to the top things to do in San Pedro de Atacama and the Atacama Desert.
Why you should hire a car and go self-guided around the Atacama Desert
Although most backpackers in San Pedro de Atacama march the streets looking for the best deals on the Atacama Desert tours being offered along the high street, one of the easiest (and most affordable) means of visiting the region's main sites is by renting a vehicle.
We found that having our own wheels made access to the region's top attractions cheaper, but also that venturing to the remotest sections of the Atacama Desert easier and considerably more fun.
How to rent a car in San Pedro de Atacama
Plan ahead and instead rent a car in Calama, the biggest town in the region and about an hour's drive from San Pedro de Atacama.
It's also the main transport hub for visitors to the region, so you'll likely fly into Calama El Loa Airport or arrive at its bus terminal.
There are at least three international car rental companies in the city and I recommend using Rental Cars as they hook you up with the cheapest provider in the area – and all your insurance information is in English.
Make sure you book at least a month in advance if visiting during high season (December through February).
We found almost all of the vehicles to have been booked when we were there in early January and instead ended up renting very last-minute with the Europcar office in San Pedro which charged us over $70,000 CLP ($113 USD) per day – hardly the cheapest way of doing it.
Expect to pay upwards of $300.000 CLP ($485 USD) for a one week rental of a 4×4. Although it is possible to tour in a 2×4 (just don't try and go off-road, we actually had to pull someone out of a sandbank who had), a 4×4 allows for more of an adventure, if at a higher price.
From Europcar we received a useful (but hand-drawn) road map of San Pedro de Atacama and its surroundings. This allowed us to plan where we were going as it included additional information about the various attractions, as well as distances between them.
I've tried to include as much of this information in this article. However, I would also suggest you download maps.me (and the other free apps that recommend for travel in South America) as having an actual map and using GPS is always advisable.
Another option for exploring San Pedro de Atacama
While I always try and outline how you can explore destinations without taking a tour, if you want a truly unique experience of San Pedro de Atacama and surroundings, I would highly recommend Travolution's Authentic desert life in San Pedro de Atacama tour.
Over four days, you visit many of the region's top sights, including El Tatio Geysers, Valle del Arcoíris (Rainbow Valley), as well as spend an evening stargazing and learning what ancient Andean cultures believed lay in the night sky. Most fascinating, however, is joining a traditional llama caravan, where you learn from your local guides about the relationship between the indigenous Lickan Antay and this animal through history – all while walking with your new furry companions across the desert.
Worldly Adventurer readers get 5% off this and all of Travolution's incredible community-led tours, which promise an extraordinary perspective of Chile through local eyes.
Top things to do in San Pedro de Atacama and the Atacama Desert
1. Visit Piedras Rojas (Red Rocks) and Salar de Talar, Ruta 23
This was actually one of our final day-trips and definitely my highlight from this list of things to do in the Atacama Desert. Surrounded by a ring of volcanoes, Las Piedras Rojas (Red Rocks) are an expanse of red-hued rocks that look like a set of huge natural cobblestones.
You can walk on top of this weird natural formation while watching the gentle lapping of the neighbouring saline lake and the blinding white of the Salar de Talar, a much smaller and cleaner salt flat than you will have seen previously in the Atacama Desert.
How to get to Piedras Rojas and the Salar de Talar
Ruta 23 leaves San Pedro de Atacama heading towards the south and is paved right until Socaire, 90 kilometres away. From here, the road is a dirt track until you arrive at Salar de Talar and Piedras Rojas.
In total, the journey should take around two and a half hours. At Piedras Rojas, there is no entrance fee.
It's also possible to continue along Ruta 23 as Laguna Tuyajto, 10km further along the road, often contains large groups of flamingos feeding in the shallows.
Don't go too far along this road as you're right on the Argentine border and you need special insurance to legally drive across.
Covid-19 update: As of February 2022, Valle de la Luna, Valle de la Muerte and Lagunas Altiplanicas are now open. You must, however, book tickets to these attractions in advance. For the Lagunas Altiplanicas here, for Piedras Rojas here and Laguna Chaxa here. You also must book the Valle de la Luna at least 24 hours in advance; you can do it here.
2. See the Atacama Desert from the skies
There's nothing quite like getting a bird's-eye view of a place and when I visited San Pedro de Atacama for the second time in August 2017, I joined a tour by Balloons Over Atacama to do just that.
After being picked up in the dawn, we drove out to the Salar de Atacama and watched as our stead (a vast red balloon) was prepared for the flight, before jumping in and lifting up into the skies for utterly sensational views.
On the tour, you spend anything from 30 minutes to one hour 30 minutes in the air (all depending on the wind and the conditions) and your pilot talks you through what you can see from the balloon.
This includes Volcano Licancabur silhouetted against the rising sun, the Valle de la Luna and the blue streaks of salty water that are Laguna Cejar and Laguna Tebinquiche beyond.
How to take a hot air balloon tour in the Atacama Desert
This is one of the few things in the Atacama Desert that you can't do without a tour and while it's not the cheapest experience, it was definitely worth it.
It's recommended to book at least a couple of days in advance and while you can book through various tour agencies within San Pedro de Atacama, the most direct way is directly through the company's website.
As of 2020, Phaway Atacama are now operating these balloon flights, which cost from $215,000 CLP ($250 USD) per person. Find out more and book here.
Planning Your Trip to Chile?
Save time, stress & money with a customized travel itinerary planned for you by a Chile expert
What previous clients have said:
"It's refreshing to find someone with insider knowledge that can take you off the beaten track, away from the mainstream. I particularly liked the detail you give; where to stay and your favourite places. We stayed in some lovely places because of your knowledge, places that we would probably never have found. I also liked the fact that we could ask you questions whilst on the move. Lots to like Steph!"
Sharon, United Kingdom
Traveled to Patagonia, January to February 2019
3. Visit Laguna Miscanti and Laguna Miñiques
Located only a short distance from Piedras Rojas and the Salar de Talar are two gleaming lagoons, Miscanti and Miñiques. Salt-rimmed and flanked on all sides by gently undulating rusty coloured hills and rough, sun-baked shrubs, these lakes are perhaps the most beautiful in the whole of the Atacama Desert.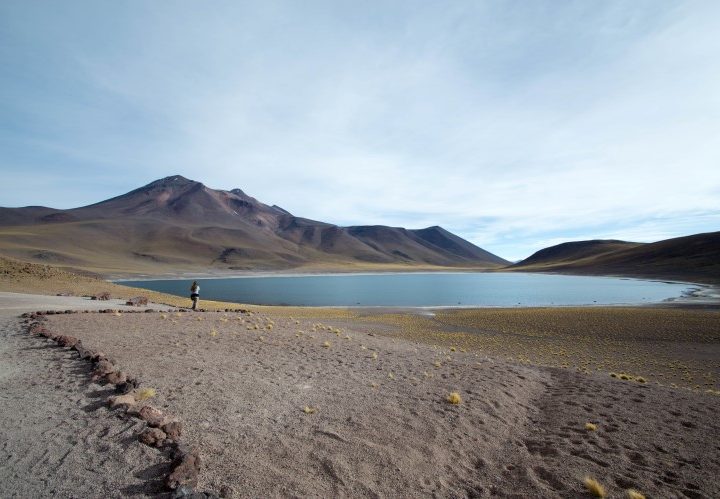 It is a true introduction to the barren landscapes of the Andean altiplano but the combination of motionless water and the brightest blue sky you will have even seen more than make up for the stark, inhospitable nature of the surrounding area.
How to get to Laguna Miscanti and Miñiques
From San Pedro de Atacama, it's 90km to Socaire (around one hour) and a further 20km to reach the turn-off to the lakes (which I think is signposted). You are required to pay around $2.500 CLP entrance fee to the park guard before entering.
We arrived at around 5.30pm and were only allowed in for a short visit and some pictures. Try and arrive earlier in the day to make sure you've got time to enter.
Be aware that they're located at an altitude of 4,320m above sea level so make sure you bring plenty of water to stay hydrated on the trip.
4. Valle del Arcoíris (Rainbow Valley) and the petroglyphs of Hierbas Buenas
Perhaps the least visited of the places on this list of things to do in the Atacama Desert, Valle del Arcoíris and the nearby petroglyphs are two other places that I strongly recommend, particularly if you've rented a car.
Your first stop will be the petroglyphs, where a series of rocky outcrops house carvings that have left relief images of guanacos, foxes, men and cross-legged shaman.
It's the best site for seeing cave paintings in the whole region and it's not hard to see how these carvings have been so well-preserved – the fierce dryness of the desert is excellent at keeping things in place – and it's worth considering the indigenous groups who survived in such a hostile place when you're admiring these incredible etchings.
Valle del Arcoíris (Rainbow Valley) is next: an aptly named tapestry of multicoloured rocks that weave through a series of hills through the river basin of Río Grande. They are hued in mint green, dusty red and even splashes of white, caused, no doubt, by the mineral content of the rock.
We arrived for sunset and the shadows cast over the valley added an extra sense of magic. We didn't see any other tourist during our visit – if you want to find things to do in the Atacama Desert far away from the gringo trail then a trip to Valle del Arcoíris definitely fits the bill.
How to get to Valle del Arcoíris (Rainbow Valley) and the petroglyphs at Hierbas Buenas
Take Ruta 23 north-west out of San Pedro de Atacama until at around 35km (30 minutes) you reach a right-hand turning onto a dirt road which is signposted towards Río Grande.
After around another half an hour you should arrive at Hierbas Buenas and the petroglyphs where you must pay $2.000 CLP entry. From there, continue along the main road and take the left turning towards Lican before you reach the bridge.
All of this is unpaved and only suitable for vehicles with high suspension. Continue along this road and after about 15-20 minutes you should start seeing the colours of the valley.
Again, I would strongly recommend you download maps.me (literally my favourite adventure travel app) on your phone before you leave as it's not the easiest place to find and there's also the possibility of getting lost in the valley as there are several dirt tracks that pass through.
5. Set up your own stargazing tour
One of the best parts of hiring a car to visit the Atacama Desert is the freedom it gives you to drive off into the wilderness.
Not only did we spend an afternoon taking tiny dirt tracks just to see where they went, but we drove out of San Pedro and to a spot a few kilometres away where we could enjoy some stargazing.
Although I would certainly recommend taking a proper tour (see below), it was still a lot of fun taking the truck out, finding a spot without any light pollution and enjoying the stars.
The police did come and ask us what we were doing (I think a person in a nearby house had alerted them to our vehicle) but "estamos viendo las estrellas" ("we're watching the stars") was enough explanation.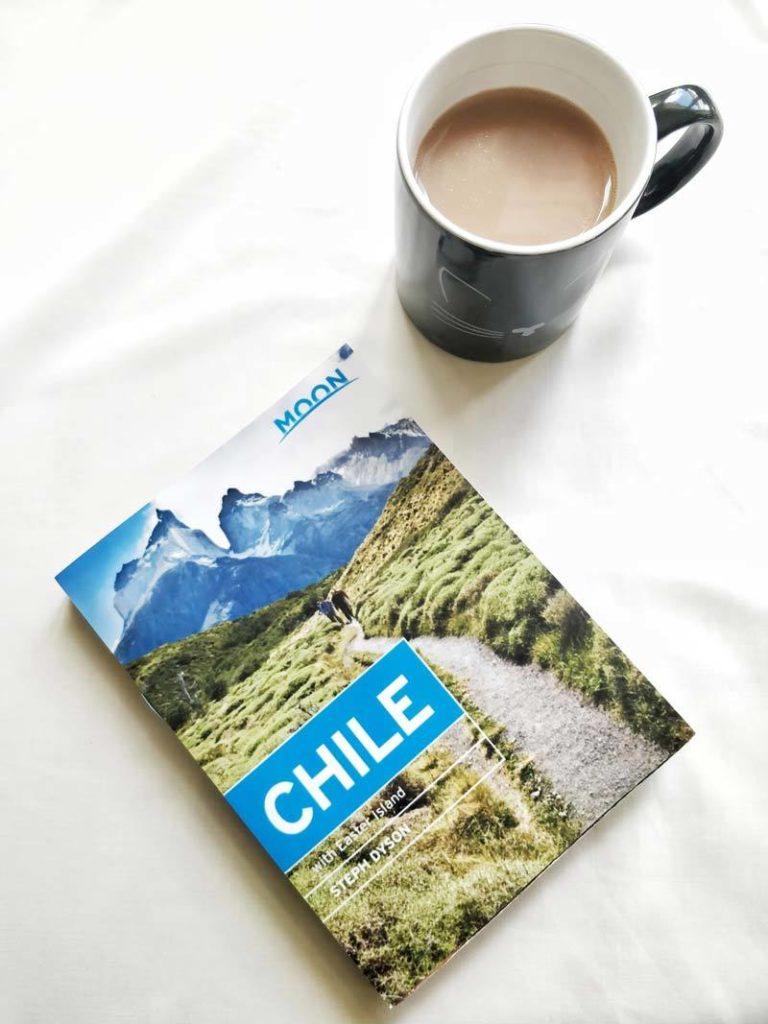 Need more inspiration?
You'll find even more detailed itineraries, off-the-beaten-path gems, hiking routes and accommodation, restaurant and tour recommendations to suit your travel style in my brand-new guidebook, Moon Chile.
How to go stargazing in the Atacama Desert
We took the road off towards El Tatio Geysers and pulled off down a dirt track and parked up by the side of the road.
You don't have to get far away from the town to escape the light pollution and to realise why the Atacama Desert is one of the globe's most spectacular places for admiring the constellations.
Stargazing tours
For an actual tour, I would strongly recommend SPACE (San Pedro de Atacama Celestial Explorations) tours. They're regarded as the best in town as they have the largest number of telescopes of any public observatory in South America.
They conduct tours in English, Spanish and French and are so popular that you will need to book; they're often fully-reserved a week or so in advance.
However, if you are travelling on your own then it's possible to visit the office about 5/6pm to see if there have been any cancellations.
This happened to me for a Spanish-speaking tour for the same evening and a guy I met got on an English tour using the same method.
Visiting ALMA
It's also possible to visit ALMA, a huge radio telescope and the most powerful observatory for studying the universe on the planet. You can visit on Saturdays and Sundays but again you must reserve, up to three months in advance using their online booking portal.
Although the (free) tour is during the day so you won't be seeing any stars, you will get to look at the equipment that they use and learn about their latest discoveries about the universe.
I unfortunately left it too late to book but I heard it's a really worthwhile experience and one of the most fascinating things to do in the Atacama Desert if you're interested in space.
6. Go camping and hiking in the desert
Although few people do it, it is possible to go hiking and camping in the Atacama Desert.
We didn't end up camping as the guys I was travelling with didn't have any equipment and so it was easier to stay in San Pedro de Atacama.
However, if you're on a budget or just have a real sense of adventure and some decent camping equipment, it is worth doing.
We did go hiking in the Atacama Desert one afternoon when we tried to climb up Volcano Lascar. Although it was without much success, it resulted in an excellent story of escaping pumas down the edge of a sand dune.
How to go camping hiking in the Atacama Desert
If you want to go trekking, again I would strongly recommend that you download maps.me so that you are aware of where you are at all times. It's also essential to take provisions; it can be incredibly hot in the desert, even at altitude, so always have plenty of water with you.
In terms of camping overnight, be aware that there is no wood for building a fire so you will need a cooking stove.
Temperatures can drop to -2˚C at night, particularly if you're at altitude so layers, a good sleeping bag and high-quality backpacking tent are important.
7. Drive out to Salar de Tara
Although we were told at the time that visiting Salar de Tara was among the things to do in the Atacama Desert that you can only experience with a tour, it is actually possible to reach this huge stretch of salt flats and lagoons using your own vehicle.
As one of the least visited places in the Atacama Desert, you're unlikely to spot any other tourists during your day trip and so you'll have the whole saline lagoons, sights of feeding flamingos and strange rock formations – the Monjes de la Pacana – all to yourself.
How to visit the Salar de Tara
Part of the issue with visiting the Salar de Tara is that there are no clearly defined roads on the map and you definitely do need a 4×4 to arrive. I would recommend that you speak to the owner of your hostel and see if they can provide you with a map for how to get there.
From Ruta 27 from San Pedro de Atacama, it's about 100km to reach Monjes de la Pacana and then from here it's off-road – at which point you will need instructions to get to the Salar de Tara.
Useful information about visiting the Atacama Desert
Alternative things to do in San Pedro de Atacama
We also visited the following places on our tour of the Atacama Desert:
El Tatio Geysers: the highest geothermal field in the world and home to a series of impressive geysers that are most beautiful at dawn.
Valle de la Luna (Moon Valley): red rocks weathered by the desert sands to look like what I imagine the surface of Mars appears. Again, most magical at dawn or dusk.
Valle de la Muerte (Death Valley): A short distance from Valle de la Luna, these sand dunes are a great spot for sandboarding, hiking and horse riding.
Laguna Chaxa: inhabited by three types of flamingos (James's, Chilean and Andean) and with views of the vast Salar de Atacama.
Laguna Tebinquinche: possibly my favourite lake, purely for the way that the colours of sunset seem to merge into the lake itself, turning its edges soft pastel shades.
Termas de Puritama: crystal clear naturally formed hot bathing pools are found here and there's plenty of room so you might even be able to have your own for the day. As entry costs around $15,000 CLP ($24 USD), it's worth spending a whole morning or afternoon to make the most of your fee.
Where to stay in San Pedro de Atacama
Accommodation in San Pedro de Atacama is very expensive, even by Chilean standards.
Remember that, as in most of South America, there are a lot more hostels on the ground than you'll find on the internet, so be prepared to take a wander around looking for accommodation that you might otherwise have missed.
Following my visits to San Pedro de Atacama, the following places are my top picks.
Where to stay in San Pedro de Atacama
I stumbled upon Ckuri Atacama ($48,000 CLP ($78 USD) double) online and this is definitely the nicest place you will find in San Pedro. They only have three rooms and it's best if you're a couple (they're only double rooms), but they all include a bathroom with shower, large double bed and a small dining area with fridge, cutlery and plates.
Breakfast isn't included but you can easily buy what you need and eat in your own personal dining area! The owner, Edgar, is really really friendly and can help you out booking tours or with suggestions for dinner. They also have bikes that are free of charge to borrow and are in the process of building an upstairs terrace where they'll have a telescope for star gazing.
Another affordable option in San Pedro is Hostal Ayni ($16,000 CLP ($19 USD) dorm, $45,000 CLP ($53 USD) double). This is a small guesthouse, not a hostal, as all rooms are private. You get kitchen access and it has a lovely garden with great views of the volcanoes, while its location is fantastic, situated just a few minutes' walk from the main street in town.
Where to stay in San Pedro de Atacama on a budget
I checked out La Casa de Matilde ($13,000 CLP (21 USD) dorm, $55,000 CLP ($89 USD) mini apartment) out during my research for Moon Chile and was really impressed by how homely it felt inside – and how cheap the rooms are. If there's a group of you, you can rent a mini apartment (with kitchen, bathroom and two bedrooms) for a really affordable price.The hostel comes with a kitchen, has an enormous patio and the staff are really friendly too.
Backpackers San Pedro Hostel ($14,000 CLP ($16 USD) dorm, $33,000 CLP ($38 USD)) is clean and had plenty of communal space (including two large kitchens) but was a little out of town (which shouldn't be too serious but it is hot and difficult walking at 2,400 metres above sea level in a desert!). It's a more relaxed option than many of the other hostels in town, although noise can still be an issue here.
Transportation to and from San Pedro de Atacama
From San Pedro de Atacama, buses leave for Salta, Argentina (11 hours). These generally only depart in the morning and as this is a popular crossing for backpackers, it's recommended to book a couple of days in advance.
From nearby Calama (one hour's drive from San Pedro), you can find buses to Bolivia (eight hours) (again only leaving in the morning and not necessarily every day) as well as buses to Santiago (24 hours).
Flights from Calama de Santiago can often be only a little bit more expensive than buses and take a tenth of the time. Flights start from $57,000 CLP ($92 USD) but it's worth booking a few weeks in advance.
Compare prices on Skyscanner.com and try Jetsmart (super budget) or Sky Airline (budget) for the cheapest flights.
From Calama, minibus transfers leave directly after flights arrive and cost a fixed rate of $12,000 one-way and $20,000 return:
They all offer shared transfers to and from hotels in San Pedro, one and a half hours away.
You can organise for them to pick you up from your hostel if you have a flight back from Calama. An easier way is to rent a car directly from Calama Airport through Rentalcars.com.
Other inspiration for places to visit in Chile
While there are plenty of adventure travel destinations in Chile, and particularly in the north of Chile, no trip here would be complete without heading to the far south and Patagonia – a true adventure playground for travellers!
From the ultimate Chilean road trip along the Carretera Austral to penguin colonies and wild Patagonian scenery, there's plenty of reasons to head south after your trip to the Atacama Desert. Get inspired with these four Patagonia travel itineraries for short trips!
Find this article useful? Pin it and help other travellers!