Volunteering in South America is a life-changing way of travelling and can help you see a completely different side to the continent, all while making a tangible difference.
But with 12 countries to choose from, a surprising eight different official languages and environments ranging from jungle to mountain and desert, it can be difficult to decide where you should go and which country most needs your help and skills.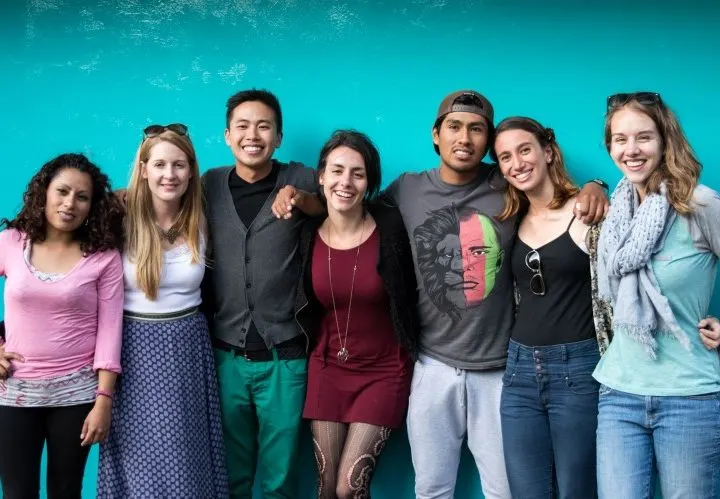 As someone who spent a year and a half volunteering in Bolivia and Peru, I know it can be difficult to find volunteering opportunities in South America that are both legitimate and cheap (or even free).
But it is possible and this guide hopes to introduce you to the different steps you need to take to find and commit to a volunteering placement in South America.
Volunteering in South America
There are two main routes for starting to select a volunteering placement: choosing a country or working out your skills and where they can best be of use.
Path One: Pick a country
If you've got your heart set on a specific country, this is the route for you.
Everyone has a different idea of where is the best place to volunteer in South America and it really depends on the type of culture you'd like to visit, whether you have prior experience of travelling in developing countries and what sights you want to see in your free time.
Argentina
Official languages spoken: Spanish
Cost of living: high
Argentina is wealthier than most of its Andean neighbours, but there are plenty of volunteering opportunities to be found here.
One of the top destinations for volunteers is the capital, Buenos Aires, (known as "The Paris of South America" because of its elegant architecture and bohemian attitude towards life).
Here, there are plenty of volunteering placements for English as a foreign language teachers and volunteers who want to work with children in after-school clubs.
There is also plenty of farm work, whether on vineyards around Mendoza or further south into the windswept steppe (grasslands) of Patagonia, where estancias (ranches) always need farm hands.
Wherever you go in Argentina, expect to be welcomed heartily by the locals and offered a traditional – and delicious – asado.
Bolivia
Official languages spoken: Spanish, Quechua, Aymara
Cost of living: low
Bolivia is one of the poorest South American countries and also has one of the largest populations of indigenous groups, such as Quechua and Aymara – people who have suffered a huge amount of racism throughout history.
Although Bolivia still has a reputation for having an unstable economic and political situation, from my own experience of spending around one year in the country, it is now a safe place to volunteer.
What's most exciting about volunteering in Bolivia is the opportunity to work alongside local people, particularly in rural communities.
I volunteered for seven months with BiblioWorks in Sucre and around six weeks with Up Close Bolivia in La Paz – both of whom are organisations that I would strongly recommend, particularly for people looking to volunteer in South America for free or at a low cost.
(You can read about my experiences of volunteering tiny community in Bolivia).
There are also projects in fields such as medicine, education and wildlife conservation throughout most of the country, with the greatest concentrations of opportunities in the three main cities, La Paz, Cochabamba and Sucre.
You'll also find that Bolivia has retained a real sense of its Andean identity plus its people speak some of the best Spanish in the continent. As someone wanting to learn Spanish and live in a country that has preserved its culture and traditions, Bolivia was definitely the best place to volunteer in South America for me.
However, if you plan to stay in Bolivia longer than three months (the period granted to visitors upon arrival), you must go through a very complicated process to get a temporary residency visa – something I did and which required a lot of time and Spanish.
Brazil
Official languages spoken: Portuguese
Cost of living: high
Brazil is the largest of all the South American countries and despite having the ninth largest economy in the world, it remains a country of distinct contrasts – both economically and geographically.
On the coast, you can find projects that work with street children in the favelas of Rio de Janeiro and Sao Paulo, just be aware that Brazilian cities have a reputation for being quite dangerous in parts, so make sure you speak with a prospective organisation about where you'd be living and how you ensure you stay safe while you're there.
Brazil also contains a huge chunk of the Amazon Rainforest and environmental charities that support wildlife conservation and education or sustainable agriculture exist in towns and smaller communities in the north and west of Brazil, further into the jungle.
Chile
Official languages spoken: Spanish
Cost of living: high
Economically prosperous and politically stable, Chile is an interesting place to live and volunteer, although I've personally found it to have lost some of its South American soul.
The capital, Santiago is a sprawling, cosmopolitan metropolis that could be mistaken for anywhere in Western Europe, making it less than ideal for someone looking to discover traditional South American culture – and living here comes at a price.
However, Chile is yet another very divided country and poverty does still exist here.
You can find volunteering in Chile working with children in community centres or at after-school clubs, mainly in Santiago or other large cities such as Valparaiso and Concepcion.
There's also huge scope for volunteering in the south if you're willing to get your hands dirty.
In Patagonia, there are numerous volunteering placements in agriculture and farm work, specifically in eco-sustainable methods or conservation projects and don't be surprised if you're based next door to a volcano.
Rural volunteering always guarantees an insight into a more traditional way of life – plus excellent opportunities for learning Spanish, although Chilean Spanish is one of the hardest to understand in the continent.
Colombia
Official languages spoken: Spanish
Cost of living: medium
A thrilling array of cloud-forested mountains, extensive coastline and jungle and beautiful colonial cities are some of the main draws for visitors to Colombia.
Although it once had a reputation as a dangerous place to travel, a peace deal between the government and the FARC leftist group has resulted in Colombia now being seen as an essential place to visit in South America.
High levels of unemployment and lack of access to education are just some of the many problems that the people of Colombia still face, so expect to find volunteering projects linked with these fields.
Ecuador
Official languages spoken: Spanish
Cost of living: medium
Far smaller than its immediate neighbours, yet Ecuador is home to thick jungle, colonial cities, beautiful beaches and the wildlife capital of South America, the Galapagos Islands.
Again, volunteering is mainly focused on educational activities and teaching either in rural communities or based in the capital, while positions working with disabled people along the coast, or at environmental protection or teaching projects in the jungle near Baños are also possible.
If you're lucky and either have qualifications in teaching English as a foreign language or have a bit of a budget for volunteering, you might even find a project based in the Galapagos Islands themselves.
Just be aware that, although you don't need a visa to travel in Ecuador for up to three months per calendar year, if you want to stay longer, it is a complicated process to obtain a visa.
(Find further information about visas here.)
The Guianas (French Guiana, Guyana and Suriname)
Official languages spoken: French, English, Dutch
Cost of living: medium (French Guiana: high)
If you're a native English speaker without any skills in other languages, Guyana is the only South American country where the official language is English.
Volunteering is in a real fledgling state with barely a handful of opportunities available, although some after-school classes and adult education projects, as well as farming and wildlife conservation programmes are in operation.
Suriname is perhaps one of the least known of the South American countries, mainly due to its turbulent political history and undeveloped tourist infrastructure.
While Dutch is the official language, an English-based creole is the lingua franca and the country has an exceptionally diverse culture comprising Caribbean, Dutch and African influences.
Similarly to Guyana, volunteering opportunities are few and far between and those that do exist are found with tourism companies who are looking for assistance in building eco-lodges.
French Guiana, an overseas department of France, is the most prosperous country in South America and uses the Euro as its currency. As such, it has almost no volunteering projects currently available.
Paraguay
Official languages spoken: Spanish, Guarani
Cost of living: low
With its own indigenous language, Guarani widely spoken in Paraguay, volunteering here can be a little complicated, particularly if you leave Asunción, the capital city. which perhaps explains why this small country receives less tourist footfall than its nearest neighbours.
With poverty on a similar scale to Bolivia, teaching roles to widen educational access for children and adults exist, although opportunities are thin on the ground.
With much of the terrain comprising the scorched, semi-arid Chaco or humid Atlantic forest, there are quite a few positions with eco-sustainable tourism companies or in agriculture. Just be aware that transport from the main urban areas can be slow and may involve multi-day bus journeys or even boat travel.
Peru
Official languages spoken: Spanish, Quechua
Cost of living: low
One of the most-visited South American countries by tourists, Peru is famous for being at the heart of the Inca Empire and is regarded as a politically stable country.
Be aware that crime is rife in the capital Lima, however, cities such as Arequipa and Cusco are much safer places to visit and when I lived in Cusco, I never felt unsafe.
Like its Andean neighbour, Bolivia, rampant poverty in the rural areas contrasts with the affluence of larger cities, and projects look for volunteers to work in education, wildlife and in small, community-based projects.
I volunteered as the Youth Development Coordinator for six months with LAFF based in Cusco and the surrounding area, a role that allowed me to work directly with young people but which required a high level of Spanish.
Uruguay
Official languages spoken: Spanish
Cost of living: high
Uruguay is often missed off itineraries by budget backpackers as it's one of the most expensive places to live and travel in South America. However, it's beautiful, with secluded beaches along its long Atlantic coastline and a relaxed attitude towards life.
Volunteering roles are mainly found in hostels and B&Bs, although there is a clutch of conservation and sustainable agricultural project in the steppe and wetlands in the north and west of the country.
Venezuela
Official languages spoken: Spanish
Cost of living: low
Although a handful of backpackers do still travel to Venezuela, the country (in 2020) is currently considered to be in a state of economic emergency where overwhelmingly high levels of inflation have led to food and medical supply shortages, resulting in foreign tourists becoming a real target for crime.
Unfortunately, this has completed altered the travelling landscape of what was once a real South American highlight.
That said, volunteering opportunities in sustainable community development and youth work do exist, but before organising any trip to Venezuela, check the guidance issued by your government go gain an overview of the risks associated with travelling and volunteering in this country.
At this moment in time (January 2020), I would not recommend visiting Venezuela.
Path Two: Pick a volunteering skill that you have to offer
If you're not concerned about where you're going to volunteer, it can be better to start with a diagnosis of your skills and how those can be used to support a project when you're volunteering in South America.
Be honest about your skills
While wanting to help and effect change is an important part of the volunteering mindset, being honest about your skills and limitations will save you, and your volunteering organisation, a lot of hassle.
Applying for an English teaching job when you have no experience of teaching English won't be in the best interests of anyone concerned, least of all you.
Pick a program that resonates with experiences and interests that you already have.
Travelling half the way around the world to volunteer when you're either underqualified or actually not interested in the type of position you'll be doing is a waste of everyone's time and money.
However, some paid roles do involve training and this can be an excellent way for you to acquire new skills while working to benefit the local community.
Before looking at volunteering roles, ask yourself:
What are my interests?
What am I good at?
What previous work experience or volunteering experience do I have?
Have I worked with children/animals before?
Am I interested in manual labour, including farm work?
Do I speak another language?
Do I have skills pertaining to social media, writing, photography, filmography or communications?
Have I got any experience of working in the medical profession?
Do I have any qualifications related to education, TEFL or tutoring?
What future career am I seeking?
Do I already have the relevant skills that a position is asking for?
Be honest about what you're hoping to get out of the experience
People approach volunteering with many different reasons for doing it. For many, it's a chance to grow as a person by working and travelling abroad and learning what life is like around the globe.
For others, it's about helping people less fortunate than themselves. While this is an excellent reason, you need to recognise that volunteering, especially only for a short period of time, can never truly have a huge effect.
During your volunteering, of course you'll be working towards the overall aims of the project and the local community, but you will only ever be a small part of any change that does happen.
Expecting profound change should never be part of your volunteering experience; unfortunately, this is one of the most common misconceptions that prospective volunteers have.
Volunteering for CV experience should never be your initial reason. Volunteering is about making a real commitment to a charity, a group of people or animals and doing so to tick a box on your resume is not likely to ensure you have the right attitude.
Of course, volunteering will be excellent for your future job prospects (and can even help with a career change), just don't do it solely for that reason; working in another country in challenging conditions requires a real belief in – and commitment to – what you're doing.
Other advice for getting started
To pay or not to pay?
Previous posts on this site have addressed the issue of whether you should pay to volunteer.
For me personally, my issue with paying to volunteer lies in the fact that large international organisations use a lot of the money you give to pay for admin staff in foreign countries, rather than sending all of it to the grassroots projects that they're working with – and who need that funding the most.
For that reason, I prefer to work directly with organisations and will happily pay for my accommodation and food.
If you expect that you won't be paying these basic living costs then consider the fact that the money required to put you up and feed you is money that is not going to the projects themselves.
I would prefer 100% of the cash goes where it needs to, rather than being spent on my comfort.
Bear in mind that volunteering in South America is cheap anyway, as living costs aren't high in most countries. Volunteering in Bolivia, I spent, on average, around £400 per month, which included eating and drinking out regularly, as well as travel within the country.
It's unlikely that you will find anywhere to volunteer in South America for free, unless you go down the route of Workaway or Helpx, two organisations that I discuss in this article about volunteering for free in South America.
I also think it's a great idea, if possible, to fundraise for the organisation before you arrive. That way, you can donate either a cash sum or bring vital resources, such as books and stationery with you.
Websites for finding volunteer programs
It can seem a daunting prospect trying to identify exactly where to start when it comes to finding a volunteering programme, even if you have worked out the country you'd like to visit or the skills you have to offer.
I've written about some of my top sites for finding volunteering programs in previous articles, but my favourite is Volunteer South America, a free site dedicated to sharing opportunities from grassroots NGOs where no fee (except covering accommodation and food costs) is expected.
It definitely has the widest selection of placements and is excellent for people with professional skills, although it does cater towards those with little experience as well.
The four other websites that are the best starting point for finding free and low-cost volunteering in South America are:
(Find my evaluation of each in this article about low-cost volunteering in South America).
I would also recommend these websites:
Choosing between rural and urban placements
Even if you've picked your favourite country, there's another important consideration to have: should you volunteer in a rural or urban location?
If you want to make a difference, a rural volunteering placement might seem like the obvious option.
In most cases, rural areas are where you find communities with the biggest need, given that wealth is often unequally distributed in South American countries, with urban areas generally having the most money.
However, volunteering in a rural area, particularly if you're not surrounded by many other volunteers, can be a really tough experience. Unless you're on your way to learning Spanish or Portuguese well, it'll be a difficult few months of miscommunication and frustration while you get to grips with your new tongue.
In some cases, you might find that even if you do know enough to get by, locals may speak one of the many different indigenous languages, with elderly people less likely to speak the official language.
If you're new to travelling abroad and want to be around other volunteers, urban placements are probably a better option.
However, programmes working with wildlife can sometimes involve a large volunteer community tucked away in the middle of the jungle – offering the best of both worlds.
But if your plan is to pick up a language and really get to know a country, rural volunteering wins hands down. You'll find yourself being immersed in a new language and a new culture.
Working at the local school in a tiny village in the Bolivian Andes was an incomparable experience and one that has left me yearning for another chance to live in a small, close-knit community.
So, if like me, you're hoping to combine volunteering with learning Spanish in South America, your best bet is a small town or village where few others speak English; nothing helps you become proficient in a new language more than sheer necessity!
Deciding on your time frames
How long you should volunteer is another hot topic and one where most are agreed on one answer: as long as possible.
That said, few of us have the time and the resources to donate a year or even more of our time to a good cause, so it's important to be realistic about how long you can afford to do so.
My general rule of thumb is that anything less than a month is counterproductive; think about how much time it takes to get settled and comfortable in a new job. It's no different with volunteering.
If you're working with children, it's unfair on all concerned to spend anything less than a few months.
Not only do children (and particularly those in precarious circumstances) need stability and don't benefit from a high turnover of volunteers, it also takes time for children to get accustomed to you and to learn to trust you.
Dedicating more time to volunteering in one place will allow you to feel like you're having more of an impact – and one that will also be felt by those you work with.
Another consideration is the fact that staying in a country for an extended period of time can cut into your travel time if you're planning on using volunteering as a part of a longer backpacking trip.
Consider that most South American countries are huge and internal travel can be slow; by setting aside a good few months to volunteer can also give you the time to really get to know your surroundings.
A final important time consideration is that visas for longer than 90-days can be difficult to come by in many countries in South America.
I faced this problem in Bolivia and Peru; Peru has recently changed its rules so that tourists can only enter for up to 180-days per calendar year – although this is not always enforced.
Before committing to volunteering in South America, it's essential you discuss visa requirements with the organisations you'll be working with.
I've tried to point out visa constraints in countries in this guide, but as information can change rapidly in South America, it's always best to speak to someone on the ground with access to the most up-to-date visa requirements.
Did you find this article useful? Share the love and PIN ME!