In a country filled with can't-miss destinations, Puerto Varas and the Lakes District are making a name for themselves with their beautiful landscapes and variety of exciting activities. Long a quiet, pastoral corner of Chile, this region is fast becoming a major destination in its own right.
Situated just north of the coastal city of Puerto Montt, the smaller, more laid-back town of Puerto Varas lies on the southwest shore of the stunning Lago Llanquihue.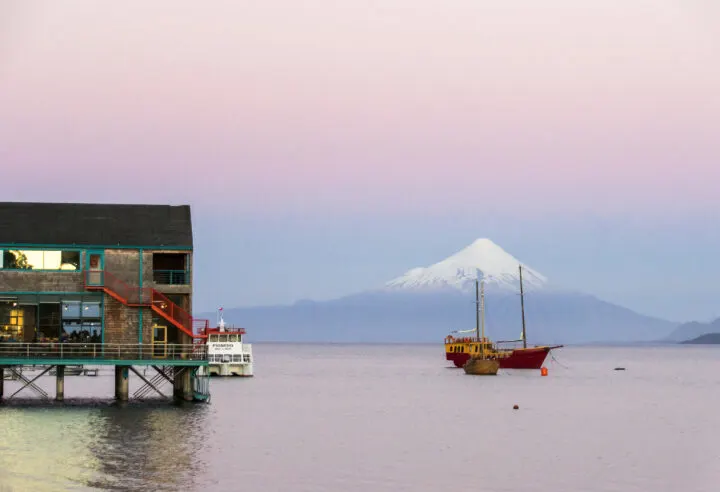 The region saw a large number of German settlers arrive in the 19th century, reflected in the architecture and industry you can continue to see in its towns and cities, plus a growing raft of craft breweries carrying on centuries-old traditions.
Whether it's a peaceful getaway, the unique local culture, or the outdoor sports you're after, Puerto Varas will leave a lasting impression. A trip to Chile is incomplete without experiencing one of the continent's most beautiful corners: the Lakes District.
1. Get to know Puerto Varas on foot
Puerto Varas is a small city (some would say large town) with a compact, walkable centre. As is common in the region, there are cultural and architectural reminders of the German immigrants who settled here. Highlights include the Iglesia del Sagrado Corazón de Jesús (Sacred Heart Church) and spectacular views from the lake shore, from where you'll see magnificent Volcán Osorno.
Planning Your Trip to South America?
Save time, stress & money with a customized travel itinerary planned for you by a South America expert
What previous clients have said:
Steph's itinerary exceeded all expectations. She provided off the beaten path hikes, great restaurants and accommodations, and very helpful local contacts.
Due to the weather, we had to deviate from our original plan, however, Steph quickly responded to our email during the trip with further recommendations. Her service took all the guesswork out of planning our vacation and lead to the most fun and unforgettable trip we have ever had!
Catherine Bradley
Traveled to Chile and Patagonia in Dec 2019/Jan 2020
2. Hire a boat on Lake Llanquihue or Maullín River
One of the best activities in Puerto Varas is getting out on the water. Whether you want a relaxing day on a boat for taking photos, a DIY row boat or kayak tour, or an expert-guided fishing tour, Puerto Varas is where you want to be. All these activities and more are offered by Rilamar Tours, located on the waterfront at the north end of the centre.
3. Tour the German towns surrounding the lake
Moving north from Puerto Varas around the lake, you'll find the towns of Llanquihue and Frutillar. Each has its own character and attractions. Llanquihue is the largest and has the most Chilean feel, plus a large esplanade with outstanding views.
30 kilometers north of Puerto Varas, Frutillar has a lot of charm and certainly leans into its German heritage with numerous cafes, restaurants, and shops offering plenty of küchen and nippsachen (cakes and nick-knacks). The town is divided into the workaday upper town and the lakeside lower town – the latter of which being where visitors tend to focus their attention.
Hop on a local bus from the main road that carves through the city (Ruta 225) heading west to reach both towns or take a day tour of the German towns.
4. Attend a performance at the Teatro del Lago
While Frutillar is a perfect place to while away an afternoon gorging on German-influenced cake, it's also home to the state-of-the-art performing arts centre, Teatro del Lago, this striking theatre is built on a promontory jutting out into the lake and was designed in the image of a Chilean barn – and makes for quite the photo with Volcán Osorno in the background.
The venue hosts events as varied from orchestral, choral, rock, and jazz music to ballet and contemporary dance. The town comes alive every summer for Semanas Musicales de Frutillar (Musical Weeks of Frutillar), which attracts top-tier domestic and international ensembles.
5. Photograph the dazzling Petrohué Falls
To the east of Puerto Varas and beyond the banks of Lago Llanquihue, you'll find Lago Todos Los Santos, which collects water from the Andes Mountains and drains into the churning and thundering Río Petrohué.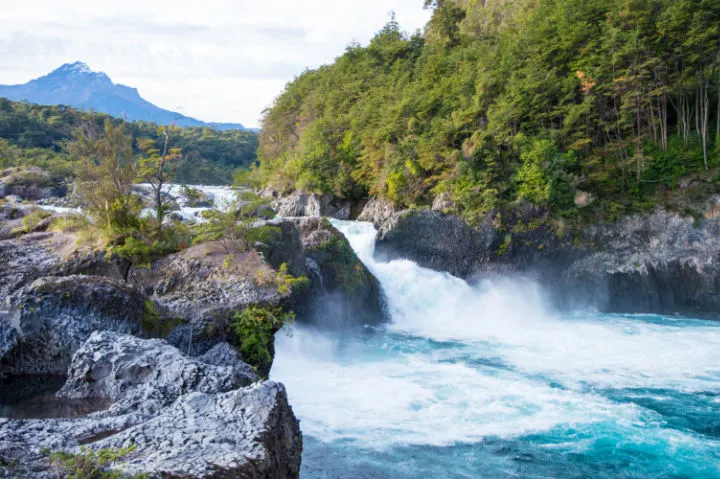 Home to the dazzling Saltos de Petrohué (Petrohué Waterfalls), this river is a dramatic destination to visit, where you can admire the dramatic waterfalls powering through polished black basalt with the backdrop of Volcán Osorno.
To get here, catch a bus from the stop at the corner of Martinez and San Bernardo in Puerto Varas (leaving every 30 minutes) or take a tour.
6. Go whitewater rafting on the Petrohué River
For thrillseekers, join a local kayaking or rafting operator such as ALSUR Expediciones to experience the Class III and IV rapids of the Río Petrohué. They can also organize sea kayaking adventures in the fjords that line the coast further south.
7. Summit Volcán Osorno
One of the first things you'll notice when you arrive in Puerto Varas is the iconic snow-capped peak of Volcán Osorno, the dormant volcano on the other side of the lake that dominates the skyline.
Summiting this 2,661-metre (8,701-ft) peak can be done in a full day through the highly-respected local operator, ALSUR Expediciones, who take care of permits, equipment, and all other logistics. It's not the most technical climb but requires a decent fitness level.
8. Hit the slopes of Volcán Osorno
If you visit Puerto Varas during the winter, take advantage of the snow and hit the slopes at Volcán Osorno, which is home to a 10-run six centre.
There are two lifts and runs suitable for everyone from beginners to advanced, while the frequent snowfall usually extends the ski season from June until October. You can rent gear at the resort, and although there's no accommodation on the mountain, it's only an hour's drive from Puerto Varas.
9. Hire a mountain bike and hit the trails
This region of Chile is one of South America's best destinations for mountain biking. Whether you're hardcore or a novice, you're guaranteed to have a great time. La Comarca Puelo Adventure organizes bike and equipment rental with guided or solo tours through forests, up mountains, along the lake, or even to a local brewery.
10. Savour spellbinding lake views at Hotel AWA
The views across Lago Llanquihue towards Volcán Osorno are one of the highlights of visiting Puerto Varas and there's no more comfortable way to appreciate them than with a stay at the luxurious Hotel AWA.
This five-star hotel sits a 25-minute drive northeast of Puerto Varas and has truly sensational views of the lake from the floor-to-ceiling windows of its bedrooms. These are decorated sensitively to the location with chunky woven throws and wood paneling to make you feel even more at one with the nature that surrounds you. The food in their on-site restaurant is excellent, too.
11. Explore the breathtaking Alerce Andino National Park
The Lakes District is a hiking paradise, offering endless possibilities for seasoned trekkers and casual day-trippers alike. The region is home to some amazing natural parks and ecological preserves, and one of the best and most accessible is Alerce Andino National Park.
Located fifty miles southeast of Puerto Varas, the park is named for the alerce (ahl-AIR-say) tree, a towering coniferous cypress that only grows in these temperate rainforests. There are several kilometers of trails from different road access points, with basic accommodations and campgrounds available.
Get here by taking a public bus from the stop at the corner of Martinez and San Bernardo in Puerto Varas (leaving every 30 minutes).
12. Take a trip to Chiloé Island
Just southwest of the Lakes District is the massive Chiloé Island, regarded by many as the gateway to Patagonia further south. The region has a remote and almost mystical sense, feeling a world apart from the mainland with its cloud-shrouded forests, unique wooden churches, and native-inspired cuisine.
Its capital, Castro, has a feel similar to Puerto Varas, with good restaurants and provisioning, but once outside of town, nature takes over. Visitors should consider exploring Chiloé National Park, with its temperate rainforest and wind-swept Pacific coastline. The folks at Chiloé Natural offer a wide range of tours and commit a portion of their profits to local preservation and reforestation efforts.
Another can't-miss is the Unesco World Heritage Iglesias de Chiloé, the colorful wooden churches which dot the archipelago. The ones in Dalcahue, Tenaún, and Chonchi are excellent examples, while the colorful wooden palafitos, or fishermen's dwellings, are another example of the island's unique architecture.
While the island does have public transport, it's best explored with a hire car or, if you're on limited time, with a long but fascinating full-day tour of Chiloé.
For those making the trip further south, regular ferries leave Castro for Chaitén, a starting point of the Carretera Austral.
13. Tuck into the local cuisine
In and around Puerto Varas, the culinary scene has taken off in recent years, and you won't have to settle for sub-par sustenance just because you're out of the big city.
Within Puerto Varas, Las Buenas Brisas has a wide range of delicious local food, from seafood to meat and poultry. For an upscale lakefront dining experience, try Casa Valdés for top-notch seafood dishes, like crab, octopus, or albacore, and an extensive wine list. The bakery Vollkornbrot is great for baked goods if you're on the go.
Many of the restaurants in Frutillar serve German-inspired food, but the quality can be hit or miss. We recommend Cocina Frau Holle for hearty breakfasts and grilled meat dishes. Fábrica de Kuchen Tante Lilian has good cakes, tortes and chocolates.
On Chiloé, Castro has most of the island's best restaurants, with El Mercadito de Chiloé a standout for their locally-sourced ingredients and features dishes such as sea urchin, duck confit or fish in garbanzo, and chili curry. Popular with locals is Travesía, which specializes in hearty comfort food like clam chowder or smoked ribs with chicharrón (crispy pork).
The best local eating experience on Chiloé is at the Mercado Dalcahue, a marketplace northeast of Castro in the town of Dalcahue. This food market has around twenty locally-run food stalls with a variety of local specialties, including curanto en olla, a hearty seafood and meat broth typical to the island but normally cooked in a hole in the ground.
14. Discover the excellent local breweries
While Chile's wine scene rightfully earns plaudits further north, the German roots and modern craft beer wave have combined in The Lakes District to great effect.
Puerto Varas has a number of local brewpubs offering up a wide variety of local suds, including Mesa Tropera (with its excellent pizza and striking lake and volcano views) and Del Mago (a German-inspired beer hall. Just outside of town are Chester Brewery and Cervecería Malta Chocolate, too. Chiloé also has its own outstanding, all-female-run microbrewery Pioneras, in Nercón just south of Castro.
Bear in mind that Chile has a zero-tolerance policy for drink-driving, so make sure to arrange transport beforehand.
FAQs about Puerto Varas
Is Puerto Varas worth visiting?
Absolutely! Of all the tantalizing destinations Chile offers, the Lake District sits firmly at the top. It's got attractions and activities to pique the interest of nearly everyone and has that hard-to-find local authenticity many tourist areas lack.
What is Puerto Varas known for?
Among Chileans, this area is known for its breathtaking vistas, verdant landscapes, German heritage, and outdoor activities. International visitors can attest to its unspoiled natural beauty and laid-back vibe.
What activities are there in Puerto Varas?
The city itself is surprisingly cosmopolitan for its small size. The local foodie scene is blossoming, and it serves as the ideal base from which to explore the surrounding towns and countryside. Visitors can partake in such varied outdoor activities as hiking, mountaineering, skiing, kayaking, or whitewater rafting. Culture vultures should not miss the stupendous Teatro del Lago in Frutillar, Chile's finest performing arts centre.
How is the weather in Puerto Varas?
Many visitors choose to come in summer when temperatures are warm and the days are long. However, with its temperate climate, it is an excellent year-round destination. It rains quite a lot most of the year, but with proper attire and preparation, many find the weather in Puerto Varas a welcome contrast to the dry climate of Central and Northern Chile.
How many days should I spend in Puerto Varas?
Since Puerto Varas is a small city, a couple of days in town should suffice. The surrounding area, however, can keep travelers busy for a week or more, depending on what you want to do. To get a good feel for the region, a minimum of five days is recommended. If adding a trip to Chiloé, you should spend at least a week.
How do I get to Puerto Varas?
The region is served by El Tepual Airport, half an hour away from Puerto Varas. There are several daily flights between here and Santiago. While there are intercity buses, public transport is light on the ground. Most travelers choose to hire a car for the freedom and convenience of exploring on their own; use Rental Cars to get the best prices and insurance documents in English!