In a continent so defined by natural spectacle, South America's lakes are some of the most breathtaking destinations on Earth.
From hidden volcanic craters and calm coastal lagoons to moonscapes framed by salt flats and flamingoes, the lakes here are as amazing as you'll likely find anywhere.
A trip to South America is incomplete without taking in at least one of the following lakes during your travels and you'll likely visit them as part of a trip to one of the continent's most beautiful national parks or just because the lake is so spectacular it's a tourist attraction in its own right.
Read on to discover the most beautiful lakes in South America and you'll find guides across the site for how to visit many of them, too.
1. Lake Titicaca, Bolivia/Peru
Where else to start but with the biggest freshwater lake on the continent? Straddling the border between Peru and Bolivia, Lago Titicaca is the highest navigable lake in the world.
Sitting at a lofty 3,812 meters (12,507 feet) above sea level, it defines the region and local culture to this day, with the island at its heart, Isla del Sol, believed by the Inca to be the birthplace of their God of the Sun.
Titicaca is best accessed through either Puno in Peru or by heading westward from La Paz, Bolivia to Copacabana.
Visitors shouldn't miss Isla del Sol or the floating Uros villages made from reeds, both of which are home to thriving traditional communities and cultures that have existed for hundreds of years. Tours and local homestays can be organized in both Puno and Copacabana.
2. Laguna Colorada, Bolivia
South of Titicaca in the southeast corner of Bolivia is the otherworldly Laguna Colorada. Framed by a Martian landscape of bare mountains under an azure sky, this endorheic salt lake feels like a place out of an Arthur C Clarke novel.
Due to its isolation, travelers to this high plateau often have the place to themselves, with the notable exception of the flamingoes that flock to feed here.
Although it's a mission to get here, the experience is ideal for those wishing to escape the modern world for a while; visitors can join a tour from nearby Uyuni as part of a trip to the world-famous Salar de Uyuni.
For more on the amazing destination that is Bolivia, check out our comprehensive guides.
3. Lake Chungará, Chile
Just across the border from Laguna Colorado in Chile's Atacama Desert is another equally stunning endorheic salt lake known for its wildlife and views of snow-capped Mount Parinacota.
Travelers to Lake Chungará often see flamingos, gulls, llamas, and alpacas in the surrounding area – a testament to the surprising biodiversity of this seemingly arid place.
Lake Chungará makes an excellent camping destination thanks to the promise of frost-covered landscapes at dawn. Campers are advised to come prepared with a warm sleeping bag, as the lake sits at a towering elevation of 4,517 meters (14,820 feet) and nighttime temperatures can drop well below freezing.
Visit either in your own vehicle or as part of a tour from nearby Putre or the coastal city of Arica.
4. Lake Villarrica, Chile
In the far south of this long, sinewy country is one of Chile's prime tourist destinations, the beautiful Lake Villarrica. Situated under the dormant volcano of the same name, the lake and surrounding area attract tourists for the plethora of outdoor activities as well as the lovely views.
Sailing, kayaking, and windsurfing are all popular and can be organized from Pucón, a busy town on the lake's eastern shore. If you're seeking a quieter corner nearby, check out lakes Caburgua and Collico.
5. Lake Llanquihue, Chile
Even further south lies the largest lake entirely within Chile, the gorgeous Lake Llanquihue. Perfectly framed by the imposing Osorno Volcano to the east, the lake is one of the most picturesque places in Chile.
You won't lack activities: Puerto Varas on the western shore offers plenty of things to do to supplement your outdoor adventures.
6. Lake Nahuel Huapi, Argentina
Lake Nahuel Huapi, in the national park of the same name, is just across the border in Argentina from Lake Llanquihue. With unparalleled views of the Andes, this huge lake is a paradise for travelers seeking an alpine outdoor experience.
It sprawls north and west from the travel epicenter of Bariloche, whose name derives from the local Mapuche language and means "island of the puma".
Although puma sightings are rare, the range of fauna is wonderful and includes otters, guanacos, and condors. There are also excellent fishing opportunities for the angling enthusiast.
Local legends tell of a serpentine monster, Nahuelito, which inhabits the lake, not so unlike the Loch Ness monster. We can't promise you'll see it – but don't forget your camera all the same!
7. Lake Argentino, Argentina
The last of our piedmont lakes, this "silver lake", is one of a chain just beneath Torres del Paine National Park, and is a must-see for those visiting Patagonia.
Lake Argentino affords astounding views of the nearby peaks and is part of the dazzling Los Glaciares National Park (best known for its remarkably accessible glacier, the Perito Moreno).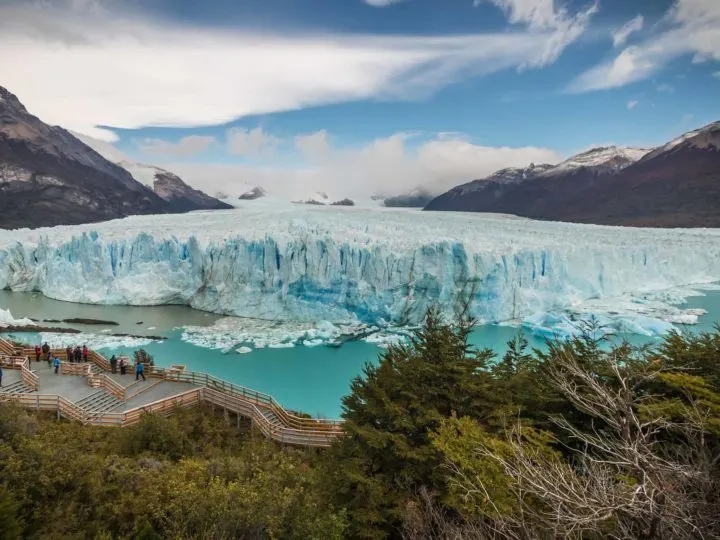 The small city of El Calafate lies on the southern shore and serves as an ideal base for exploration. Travelers keen on exploring more of the area should seek out Lake Pehoé in Torres del Paine National Park for its outstanding views of one of Patagonia's most stunning natural landscapes.
8. Conceição Lagoon, Brazil
From the icy waters of Patagonia, we venture north to the sun-kissed coast of Brazil. On the southern island of Santa Catarina is perhaps Brazil's most traveler-friendly destination: Lagoa da Conceição. Far from the tourist hordes of Rio de Janeiro is this gem of a travel spot, just outside of Florianópolis.
While many visitors come to enjoy the sandy beaches on the Atlantic Ocean, a kilometer inland is a coastal lagoon ideal for swimming, watersports, and sunbathing.
Things really get going after dark, as the local nightlife is legendary and you can stay in the town itself to enjoy the revelry.
9. Lake Maracaibo, Venezuela
This massive body of water, actually a lagoon connected to the Caribbean, is located in northwestern Venezuela. Although Lake Maracaibo suffers water pollution from the local oil industry, visitors come for another reason.
The area at the mouth of the Catatumbo River in the southwest of the lagoon sees the highest frequency of lightning in the world. For much of the year, there are ten-hour lightning storms during the rainy season that illuminate the night sky.
This natural phenomenon has been heavily studied in recent decades and has attracted an increasing number of scientists, as well as visitors keen to spy this dramatic event themselves.
Unfortunately, Venezuela isn't one of the safest countries to visit in South America right now, so we don't recommend planning a trip there.
10. Lake Guatapé, Colombia
Many visitors to the Colombian city of Medellín explore the lively, sprawling Lake Guatapé that lies just two hours' drive east of the city. Outstanding views can be had from El Peñón, a rocky inselberg that stands 200 meters above the lake on the southern shore.

An easy day trip from Medellín, the lake is great for a (brisk) swim, kayaking, sailing, boat tours, wakeboarding, waterskiing, and jet skiing.
11. Lake Calima, Colombia
While this lake is in fact a man-made reservoir, Lake Calima has become a world-renowned destination for windsurfing and kitesurfing due to its strong winds. An hour north of Calí in western Colombia, the lake has an ideal climate for enjoying the water, despite being 1,500 meters (4,500 feet) above sea level.
Visitors can enjoy leisurely activities including swimming and boat tours, and those keen on windsurfing and kitesurfing will find many outfitters offering rentals and lessons. World tour events are staged here for both sports, providing top-notch entertainment.
12. Lake La Cocha, Colombia
Further south lies one of Colombia's lesser-known attractions. The idyllic Lake La Cocha, just east of the city of Pasto, is a great place to enjoy Colombia's Andean wilderness. This volcanic crater lake is high up at 2,680 meters (8,790 feet) above sea level and is the second-largest lake in the country.
The area is known for its wide array of wildlife, which includes mountain tapirs, spectacled bears, and northern pudú deer. La Corota Island Flora Sanctuary, a small national reserve within the lake, is home to rare old-growth Andean forest and is a great place for birdwatching.
13. Lake Cuicocha, Ecuador
Lake Cuicocha, a beautiful body of water in neighboring Ecuador, was an active volcanic crater until around 1,400 years ago. This "lake of the guinea pig" has two small islands, and is important as a ritual site for the annual Inti Raymi sun festival held by local, Quechua-speaking people.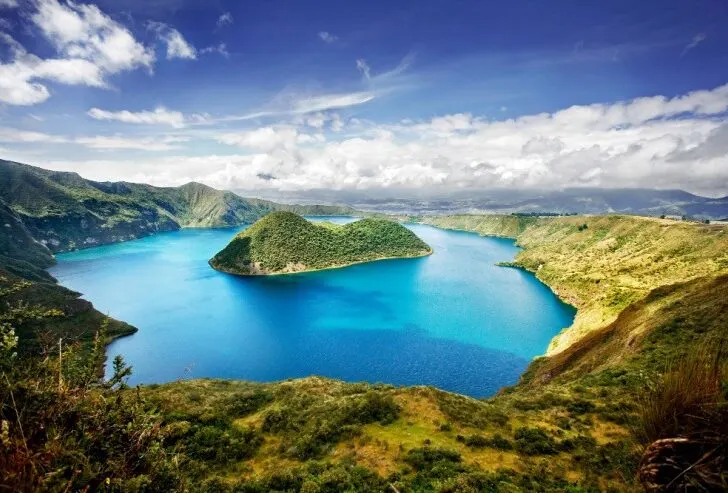 The lake is part of the large Cotacachi Cayapas Ecological Reserve, which provides refuge to many rare Andean animals, such as the Andean fox, ocelots, sloths, and anteaters.
14. Lake Quilotoa, Ecuador
Perched high up in the Andes in central Ecuador is the starkly beautiful Lake Quilotoa. Another crater lake formed after a pyroclastic eruption, Quilotoa sits at 3,914 meters (12,841 feet) above sea level.
Access to the lake involves a short hike, which can be hazardous due to treacherous footing and frequent fog. There are active fumaroles within the crater, but there have been no eruptions since the 13th century.
15. Lake Parón, Peru
Within the spectacular Huascarán National Park is a lake surrounded on three sides by snow-capped mountain peaks. Lake Parón, which sits at a breathtaking elevation of 4,155 meters (13,632 feet), has a dazzling turquoise color, owing to nearby lime deposits.
This region is particularly popular for mountaineering as it hosts some of Peru's highest peaks, while others come for the mountain biking opportunities. The setting and backdrop make this arguably the most beautiful lake in Peru.