Turquoise lagoons perched beneath sharp, granite pillars and reached only by spellbinding hiking trails; chattering Magellanic and king penguin colonies; slow but magical boat journeys through untamed waters; glaciers towering higher than apartment blocks that calve house-sized bergs into icy waters below.
It's fair to say that by choosing to travel to Patagonia, a wealth of unforgettable sights await.
Having found international fame as a truly beyond-the-beaten trail travel destination in recent years, Patagonia – a sparsely inhabited region that comprises the southern stretches of both Chile and Argentina – is increasingly finding its way onto travel itineraries and bucket lists.
A complete Patagonia travel guide
But, as with much of South America, this region can feel like a hard place to travel.
Planning a trip to Patagonia can be a challenge, due in part to just how big it is (at around one million square kilometers, it's roughly the same size as Egypt or twice the size of Spain – although the exact definition of where Patagonia is is open to debate) and a lack of useful logistical information.
The vast majority of emails I receive each week revolve around questions about travel to Patagonia, with the nitty-gritty details of organizing a vacation in Patagonia or a longer-term trip something that my readers complain is hard to find online.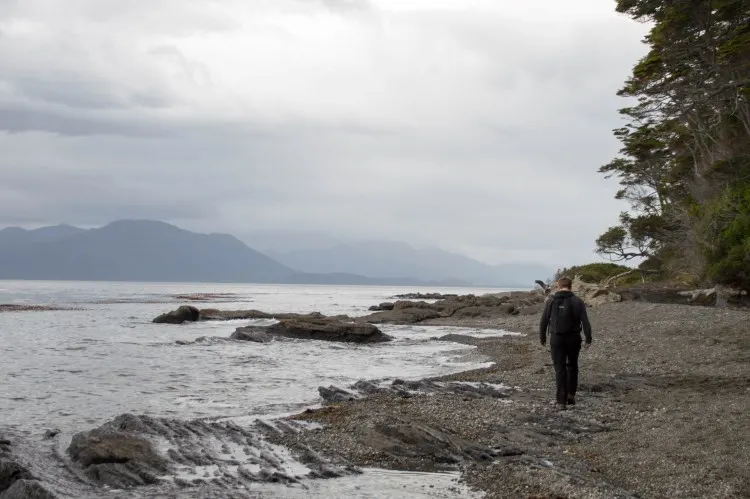 Patagonia is the place I've written most about over the last two years. I've spent around four months in the region, on three different occasions, the most recently on a research trip covering Chilean and Argentinean Patagonia for the new Moon Chile travel guidebook.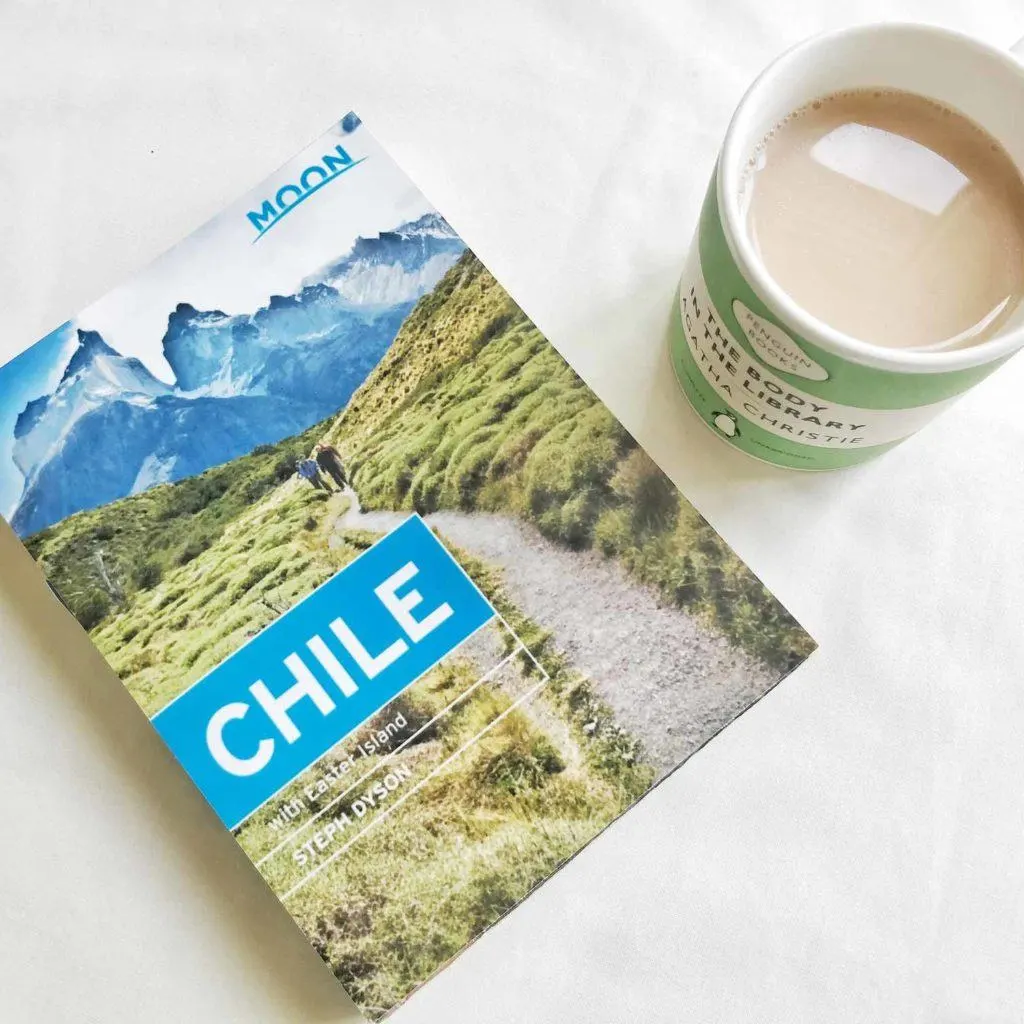 Need more inspiration?
You'll find even more detailed itineraries, off-the-beaten-path gems, hiking routes and accommodation, restaurant and tour recommendations to suit your travel style in my brand-new guidebook, Moon Chile.


I've trawled the entire region, hiked many of its most acclaimed trails, slept beneath expansive, unpolluted night skies, and traveled by boat to almost the very tip of the South American continent.
All of this information has been used to inform this Patagonia travel guide and I've included links to plenty of other articles on Worldly Adventurer that have further details to help you in your trip planning.
In this guide, you can expect to learn about how to actually get to Patagonia, the best times and places to visit, and how to travel or backpack through the region on a budget. I've included as many details as possible to save you time, money, and stress on your trip.
If you've got questions, don't hesitate to comment below or drop me an email.
Planning Your Trip to Patagonia?
Save time, stress & money with a customized travel itinerary planned for you by a Patagonia expert
---
Why go to Patagonia?
Patagonia is a hiker's paradise.
Not only do you have the now world-renowned trails of Torres del Paine National Park in Chilean Patagonia, but across the border, Los Glaciares National Park is becoming an increasingly popular destination, particularly as visitor numbers to the Chilean national park rise exponentially each year.
But Patagonia is more than just hiking trails. Road tripping in Patagonia either along the Carretera Austral (Chile), through the wildernesses of Tierra del Fuego (Chile), or down Ruta 40 (Argentina) are equally memorable experiences.
Hitchhiking is another way of not only exploring Patagonia on a budget but also offers up incomparable chances to meet local people.
And then there's the wildlife, ranging from elusive big cats to humpback whales and penguins and the vast glacier fields, where you can hike over millennial ice or even drink it in a cold glass of whisky.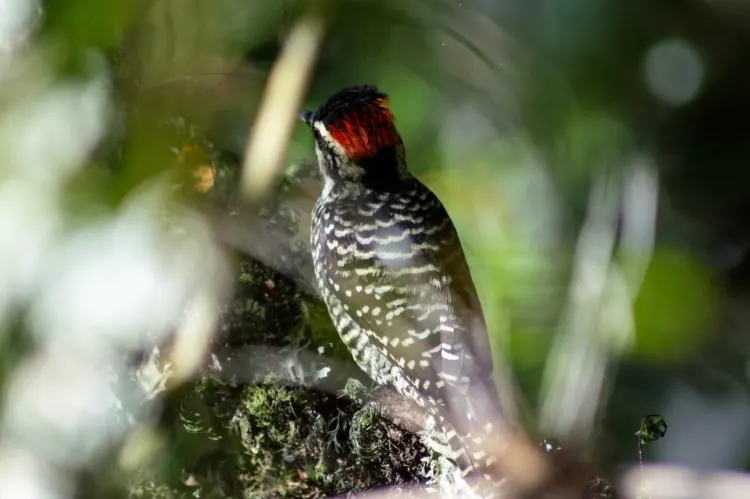 As a region so far removed from the rest of both Argentina and Chile, life here is unique. A local saying, "el que se apura en la Patagonia, pierde el tiempo", sums up everything you need to know about Patagonia: "he who rushes in Patagonia loses time".
To truly get under the skin of this region, time is what you need. At least a month is recommended for seeing as much of Patagonia as possible (you can read my recommended three-week and one-month itineraries here).
However, a shorter trip still offers some time to experience the region (these one and two-week itineraries can help you plan).
Just be aware that you visit Patagonia at your peril; it's the kind of place that you find yourself returning to over and over again.
As they say in Patagonia, if you eat the local Calafate berry (it's particularly delicious in a pisco sour), then you'll be back in the future.
---
How to plan your Patagonia trip
The following information is the product of months of travel in Patagonia and I hope you find it useful for planning yours!
I often get asked: "Do I need a tour to explore Patagonia?". As the information below highlights, then no, it isn't necessary to have a tour.
While Patagonia is vast and the logistics of organizing your trip can be complicated, ultimately it's far cheaper to do so alone.
I have a whole section of the blog dedicated to Patagonia travel, so you can head there for further Patagonia travel resources and guides.
However, if you want more guidance, there are various options available to you.
Firstly, I offer a Patagonia trip planning service, where I plan your full itinerary for your vacation in Patagonia using my expert knowledge of the region. I've had 150+ happy customers since I started offering the service in 2018 and can guarantee that the service will save you time, money and stress.
If leaving all of the planning and booking to someone else sounds even better, I have partnerships with local companies where you can get a discount for being a Worldly Adventurer reader:
Chile Nativo can organize private trekking tours in Torres del Paine National Park (great if you're struggling to book accommodation last minute) as well as across Patagonia. They offer a 5% discount and you need to use the discount referral code "Worldly Adventurer" when you book. Find out more here.
EcoChile Travel run fully custom-made tours across Chile and Patagonia, organizing every step of the process. They also offer a 5% discount to Worldly Adventurer readers; just mention us when you enquire!
When to go to Patagonia
Patagonia's extreme southern location means there are certain months of the year when it's a better time to visit. However, when to travel to Patagonia depends a lot on what exactly you want to do there.
Although the exact limits of Patagonia remain debated (as it's a region shared by two countries and not a nation), it theoretically starts at 41˚ south (Bariloche, Argentina) and ends at 56.5˚ south (Águila Islet, Chile).
As a result, snowfall is relatively common during winter, while blustering westerly winds are an issue throughout the year.
Patagonia in December through February: the Austral summer
The most popular time to visit Patagonia is during the Austral summer. Visiting Patagonia in December, January or February is when temperatures are at their highest, peaking at around 22°C (72°F).
However, because of the winds, which, are strongest in the summer and can hit up to 120 km/h (74 miles/h), the temperature can feel a few degrees cooler.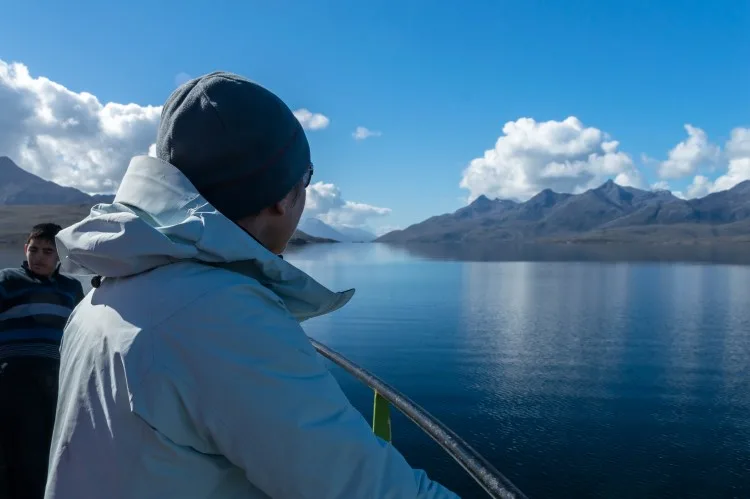 Weather systems also change rapidly, particularly in places such as Torres del Paine National Park, where you can often experience four seasons in one day: namely baking sunshine, cool breezes, rainfall, and even snow.
December, January, and February are also the best months for hiking and other outdoor activities in Patagonia, where it's recommendable to wear layers, so you can layer up when it suddenly turns cold, or strip down if the sun comes out.
It's also a good season for wildlife watching, as penguin colonies at Magdalena Island (Isla Magdalena) near Punta Arenas, Punta Tombo near Puerto Madryn and at Bahía Inútil on the island of Tierra del Fuego, arrive to nest from September until the end of March.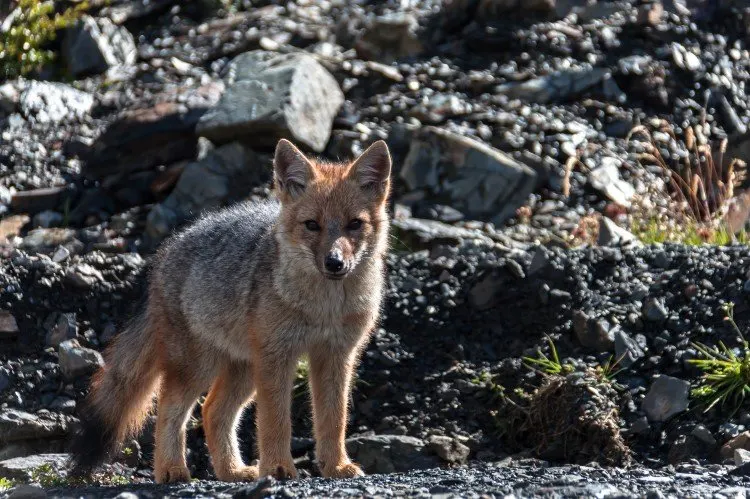 Humpback, minke and blue whales, Commerson's and bottlenose dolphins, toninas (the Chilean dolphin), plus South American sea lions, and even otters can regularly be spied in the waters off the coasts of different parts of Patagonia.
Ferry journeys through Chilean Patagonia, such as the Navimag ferry from Puerto Montt to Puerto Natales or the boat between Punta Arenas and Puerto Williams offer excellent opportunities for seeing marine mammals.
However, these months are when everyone travels to the region. Patagonia in January and February is particularly busy, as this is when most Chileans and Argentineans have their summer holidays.
As a result, buses and accommodations get booked up, trails are heaving with hikers and for those who like a bit of flexibility in their travel plans, it can be difficult to visit the region without having reserved everything a good few months in advance.
Patagonia travel tip: You'll need to book your accommodation and campgrounds in Torres del Paine, at least four months before you plan to hike. Reservations theoretically open in June/July but if you email the companies directly, you can often get a reservation before this time. Get more information about organizing the Torres del Paine W trek without a tour.
Patagonia in September to November and March to May: fall and spring
I'll admit that I've never traveled to Patagonia during the peak Argentinean and Chilean summer season.
Instead, I've always opted for the shoulder season: September through November and March through April.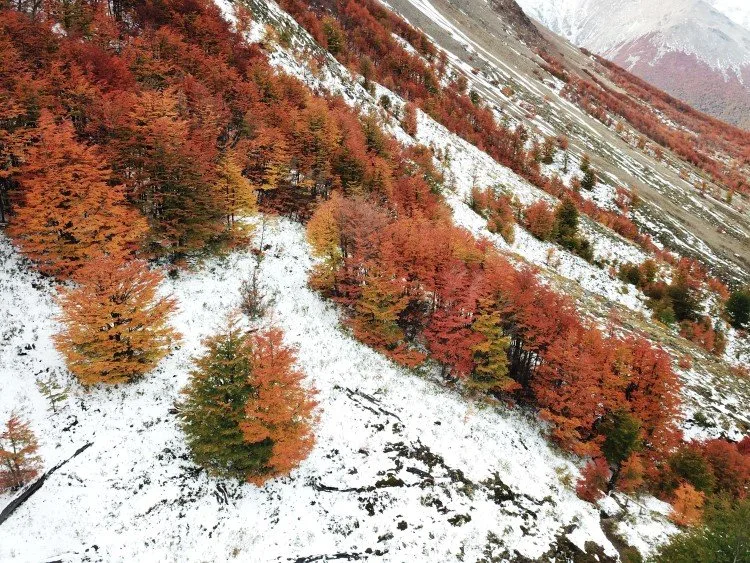 The reason for this is that for me, the magic of Patagonia is in its sense of remote, untouched wildness – something that gets lost when it's full of other tourists.
Personally, I think that the best time of the year to go to Patagonia is in the months that bookend the Austral summer.
Temperatures are still pleasant enough: in spring (October-November) temperatures hit up to 18°C (64°F), while in fall (March-April) they hover around 10°C (50°F), although in my experience, when the sun's out, it can feel a lot warmer.
Overnight temperatures can drop to below freezing during these months, so bring plenty of warm clothing if you're going to be camping.
During both, rainfall is a possibility – but this is Patagonia: rainfall is always a possibility!
September and May are months that I would avoid if you're planning on traveling independently, however. Both are just outside of the typical shoulder seasons and few, if any, tourist facilities are open during these months.
In Torres del Paine National Park, for example, you must hire a guide if visiting in these months, while trails in many other national parks are closed due to snow. The Carretera Austral can also be tricky because of snowfall and ice on the road.
In spring, the landscapes awaken to the prospect of a new year, with plants and greenery covering much of the mountainous west of the region, while in fall, it's a great time for photographers as the lenga and Southern beech forests that cover much of Patagonia turn golden and orange with the approach of winter.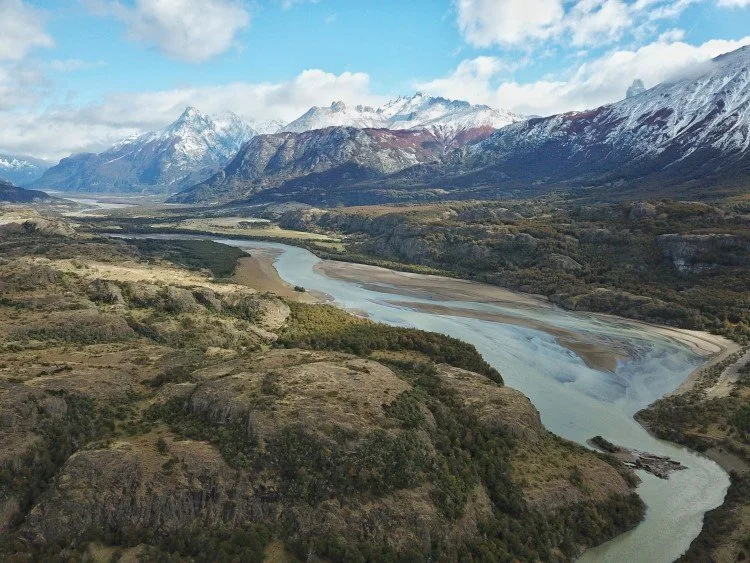 For both of these periods, crowds are fewer. Don't underestimate the difference that this can make.
Following troops of hikers, 20-people deep, around the boardwalks of the Perito Moreno Glacier near El Calafate and elbowing them out of the way when you try and get a shot of the ice, isn't personally my idea of fun.
Outside of peak season, accommodation and flights can sometimes be more inexpensive too and for the former, it's often possible to even turn up without a reservation.
However, bear in mind that particularly in September and October and April and May, many restaurants, hotels and hostels, and tour agencies close for the year, meaning you might find yourself out of luck.
This is particularly the case along the Carretera Austral, where many of the towns seem to go into hibernation outside of summer.
Buses also return to their infrequent schedules, making a trip only possible if you have the time to wait sometimes a few days for the next one.
It's also worth noting that winter sets in fast. On my first visit to Patagonia, I vividly remember shivering next to a wood fire in a hostel in Coyhaique despite wearing practically all of my clothes, so pack for cold weather.
Patagonia travel tip: Every time you arrive in a new place, you'll want to double-check the bus timetables to be sure of when the next one is leaving. In spring and fall in Patagonia, you may find yourself waiting at least a few days for the next departure.
Patagonia in June through August: the Austral winter
Patagonia in winter is a unique experience. Heavy snowfall coats much of the region, particularly on the Chilean side, lending the landscapes a magical atmosphere.
As a result, traveling to and around Patagonia can be very difficult and you'll find buses and even flights into the region have reduced timetables during the months of June through August.
What's more, many hostels and hotels don't have central heating and it can get seriously cold at night, even with access to a wood fire or gas heater.
Hiking trails can also end up being closed as snowfall and challenging conditions make them unsafe. In the last couple of years, Torres del Paine National Park has opened to tourists in winter, however, you must go with a licensed guide.
If you are planning to visit the park during this months, I recommend checking out Chile Nativo, a local operator who organize winter W treks (and give Worldly Adventurer readers a 5% discount if you use the discount referral code "Worldly Adventurer" when you book).
Los Glaciares and Tierra del Fuego national parks in Argentina are both open throughout the year, also be aware that trails often close due to snowfall and you can expect temperatures to drop to only a little above freezing during the day.
National parks along the Carretera Austral on the Chilean side are hard to visit in winter, mainly because much of the road (particularly south of Coyhaique) is unpaved and can be problematic after heavy rainfall or snow. Many of the lodgings outside of Coyhaique close for the winter.
However, Bariloche (theoretically the very northern tip of Patagonia – although this is debated) is home to Cerro Catedral, Argentina's top ski resort – and one of the best in South America. It has modern runs and lifts and plenty of places to stay during the night. You can expect snow between mid-June and September.
Patagonia travel tip: If you are planning on traveling to Patagonia in winter, I would recommend booking accommodation in advance, or at least confirming that hotels and other lodgings are available, as many close down when they don't have guests.
---
How to get to Patagonia
The easiest way of getting to Patagonia depends on the side you wish to visit. Because Patagonia isn't a country but a region divided between Argentina and Chile, there are various different ways to get to Patagonia.
Getting to Chilean Patagonia
Chilean Patagonia can be a bit of a headache to reach. Why?
You'll notice if you look at the south of Chile on a map that the north of Patagonia (connected by the Carretera Austral – a road that goes from Puerto Montt in the north to Villa O'Higgins in the south) is actually separated from southern Patagonia by the Southern Patagonian Icefield.
This means it is virtually impossible to travel by road from Puerto Natales directly to the Carretera Austral.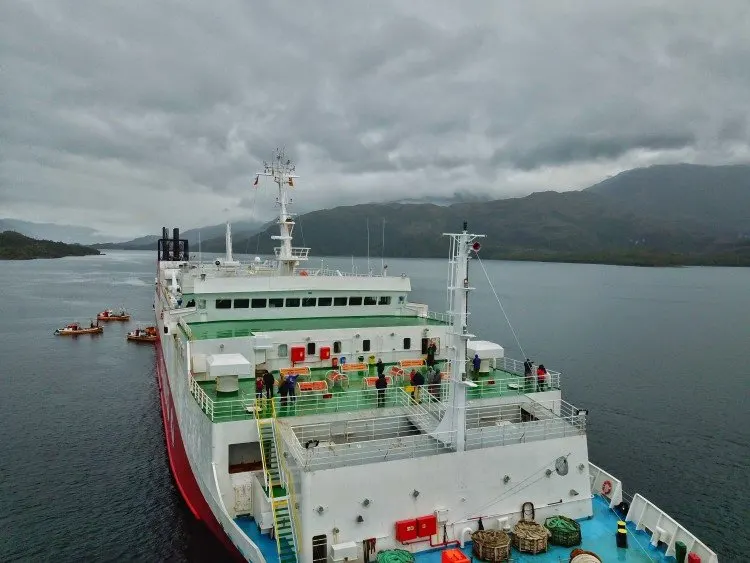 There are ways – which I'll discuss shortly – but bear in mind that if you want to see both Northern Chile and Southern Chile, you will likely have to cross into Argentinean Patagonia at some point. More on that later!
There are various different options for getting to Patagonia from Santiago. The cheapest way to get to Patagonia from Santiago is generally by flying – although it depends on when you book.
I always recommend comparing prices on Skyscanner.com and then booking directly with the companies themselves. This means that if there's an issue with your flight or the timings need to change, you can communicate directly with the company rather than an intermediary.
Where to fly into Chilean Patagonia
Flying into Patagonia is often cheaper on the Chilean side than in Argentinean Patagonia, as Chile has more budget airline carriers.
Jetsmart is the most inexpensive, although it operates fewer flights than other companies and you often have to pay an additional fee for hold baggage.
Sky Airline is medium priced and has regular flights into Patagonia and again, you pay more for hold luggage.
LATAM generally has the highest frequency of departures but they're generally far more expensive. Hold luggage is normally included in the price.
Northern Chilean Patagonia and the Carretera Austral
The easiest way to get to Northern Patagonia and the Carretera Austral is via a flight or bus from Santiago to Puerto Montt (PMC), the latter a city located just at the top of the Carretera Austral and from where there are plenty of onward connections south. The flight time to Puerto Montt is around one hour and 40 minutes.
Flights to this part of Patagonia are operated multiple times daily by the country's three main providers: Jetsmart (very cheap but with fewer flights), Sky Airline (medium priced and with regular flights), and LATAM (highest frequency of departures but expensive).
Often, if you book at least a month in advance, you can get flights for as cheap as $15,000 CLP ($23 USD) one-way.
All three companies also fly directly from Santiago to Aérodromo Balmaceda (BBA), an airport about an hour's drive south of Coyhaique, although Jetsmart only flies to this part of Patagonia between November and February (for prices as low as $7,000 CLP ($11 USD)). Be aware that the cheaper tickets may include a layover.
With the other two flight companies, there are only departures from Santiago to Aérodromo Balmaceda a few times per week and you can expect to pay anywhere between $22,000 CLP ($35 USD) and $66,000 CLP ($104 USD) one-way. Booking in advance is recommended for getting cheaper flights.
Southern Chilean Patagonia
Southern Chilean Patagonia has one main airport, Aeropuerto Presidente Carlos Ibáñez (PUQ), a thirty-minute drive from the city of Punta Arenas.
There are normally around four flights daily in summer operated by LATAM, Sky Airline, and Jetsmart, and slightly fewer outside of these peak months, and the flight time to Punta Arenas is just under three hours 30 minutes from Santiago.
Flights can cost as little as $38,000 CLP ($49 USD) and up to $150,000 CLP ($164 USD) one way.
From the airport, it's possible to pick up a direct bus to Puerto Natales or a transfer service into the city. The latter costs around $7,360 CLP ($8 USD) per person; minivans wait outside the arrivals hall for passengers.
A taxi should charge between $10,000 CLP ($11 USD) and $14,000 CLP ($16 USD).
Aeropuerto Teniente Julio Gallardo (PNT) is a smaller airport, six kilometers north of Puerto Natales.
LATAM have flights here from Santiago between two and four times weekly in the months of November through March; flights are more expensive than to Punta Arenas and start at around $73,000 CLP ($80 USD) one-way.
A taxi into Puerto Natales from the airport should cost around $10,000 CLP ($11 USD).
If you're hoping to continue your journey into Northern Chilean Patagonia and the Carretera Austral, there are weekly flights (normally on Tuesdays) operated by the small airline Aeriovías DAP between Punta Arenas and Aérodromo Balmaceda (near Coyhaique).
Patagonia flights tip: Try and book Chilean flights directly through the Chilean version of the LATAM website, not the US version. You'll notice substantial savings if you do this; unfortunately, the Chilean website is only in Spanish.
How to travel to Patagonia, Chile by bus
Northern Patagonia
Buses can often be the cheapest way to get to Patagonia, although flights can be even better for your budget if booked in advance.
To get to Patagonia from Santiago, take a bus from the Terminal Sur in Santiago, where you can find overnight buses to Puerto Montt ($18-27,000 CLP ($20-30 USD) semi-cama, $78,000 CLP ($85 USD) salon cama; £95,000 CLP ($104 USD) Premium, thirteen hours), from where buses and boats continue south.
Food is not normally included in this service and if you want a better night's sleep, shell out the couple of extra thousand pesos for a cama seat (a 160˚ recline and with more legroom) or the Premium (the new 180˚ recline) rather than for the semi-cama service (a 140˚ recline).
There are generally working toilets on board, although aim to not reserve a seat right next to one! It's also wise to take hand sanitizer and spare toilet roll as hygiene can leave a lot to be desired.
You can generally find space on buses the day before or even the day or travel, although be aware that holidays and between January and February see a lot more locals using the buses – and fewer tickets available.
Southern Patagonia
It used to be possible to travel by bus to Southern Chilean Patagonia. Services used to leave Puerto Montt and travel the entire length of Patagonia (normally via the Argentinean side) and arrive in Punta Arenas, 32 hours later. They used to cost about the same amount you'd spend on the same plane journey. I'm not surprised that they're no longer operating!
Patagonia bus travel tip: Most bus companies in Chile are bringing themselves into the 21st century with bus timetables published online and where you can even book tickets in advance. The main bus companies with the most frequent departures along this route include: Turbus, Pullman Sur, and Cruz del Sur. Websites that collate the bus information and through whom you can also book include Bus Bud, which is also in English, unlike the others.
How to travel to Patagonia, Chile by boat
My personal favorite way of traveling to Patagonia is by passenger and cargo ferry. Similar to arriving by bus, this way of getting to Patagonia is the slow journey – the contemplative way of travel that mimics the arrival of the first indigenous and colonial people to the region.
There are two main companies offering ferry journeys into Patagonia:
The Navimag
The Navimag has one route: departing from Puerto Montt to Puerto Natales (four days/three nights; starting at $590 USD for bunk in shared cabin).
I've taken this journey and would strongly recommend it.
You can read up on the Navimag ferry to Puerto Natales for more price, itinerary, and general information plus a review of the experience.
The ferry is a cargo ship primarily and has been adapted to carry tourists so don't expect a five-star, luxury cruise; instead, see it as a truly Patagonian adventure.
The Naviera Austral
The Naviera Austral has a selection of ferry routes that are used predominately by local people traveling around Northern Patagonia.
One leaves from Quellón in the south of Chiloé and travels down to Puerto Cisnes, about halfway down the Carretera Austral. This ferry leaves from Quellón on Tuesdays (6pm), Thursday (6pm) and Saturdays (5pm). You can buy tickets online or in their Puerto Montt office (Angelmó 1673). There are no cabins on this ferry, instead you purchase a chair, and you'll need to bring your own food or make the most of the (limited) on-board cafeteria. It costs $29,000 CLP ($31 USD) for foot passengers and $170,000 CLP ($184 USD) vehicles and takes 12 hours.
Another ferry leaves from Quellón in the south of Chiloé and travels down to Puerto Chacabuco, further south along the Carretera Austral. This one stops at several small ports en-route, making it the ultimate ferry into Patagonia if you want to see the isolated fishing communities that still populate the edges of the fjords.
It's cheap ($45,000 CLP ($48 USD) foot passengers, $290,000 CLP ($315 USD) per vehicle), long (31 hours), and you get a seat in the boat rather than a bed in a cabin. It leaves from Quellón on Thursdays and Sundays at 1am and again you can buy tickets online or in their Puerto Montt office (Angelmó 1673).
Read more about the Naviera Austral (scroll to about half-way down the article). Food is not included and you'll want a sleeping bag or blanket to keep you warm overnight.
Patagonia boat travel tip: If you're planning to travel to Patagonia in peak season (December through February), you'll want to make reservations for these two ferries at least a couple of months in advance, particularly if you're planning on taking a vehicle (both have space for cars). Bring plenty of warm, waterproof layers for time spent out on the deck watching the scenery and the wildlife pass; whenever you travel, the weather is likely to be changeable and often cold.
Getting to Argentinean Patagonia
Traveling to Argentinean is theoretically easier than getting to a lot of parts of Chilean Patagonia.
Why?
Well, on the eastern side of the Andes Mountains, the terrain is mostly pampa (flat grasslands). On the western side, it's full of dense forests, mountains, glaciers, and fjords.
This means that bus travel from further north in Argentina is straightforward (if mind-numbingly long). Flights are also possible but generally more expensive than on the Chilean side.
Where to fly into Argentinean Patagonia
Unfortunately, flights in Argentina are expensive. However, if you're on a short timeframe, they're certainly worth it as they'll save you from spending hours on the bus that could be used enjoying Patagonia.
From Buenos Aires to Patagonia you have three options of airports:
Bariloche
Aeropuerto Internacional Teniente Luis Candelaria (BRC) receives some five flights daily from the national airport, Aeroparque Jorge Newbury (note this is a different place than the international airport in Buenos Aires).
Your cheapest option is with Fly Bondi, a new low-cost airline in Argentina, who have two daily flights starting from $50USD. JetSmart often have similar prices.
Aerolíneas Argentinas, who are rubbish (they're known for being delayed and losing luggage), also run this route and are the most regular carrier operating flights from Buenos Aires to Patagonia. LATAM also offers this route. Flight times are normally two hours.
El Calafate
Aeropuerto Internacional de El Calafate Comandante Armando Tola, just outside of El Calafate also has flights from Buenos Aires. The journey takes just short of three hours and costs from $114 USD one-way. LATAM also has flights but for around double the price.
Ushuaia
Aeropuerto Internacional Malvinas Argentinas, a 15-minute drive from Ushuaia. Aerolíneas Argentinas and LATAM have five direct flights from Aeroparque Jorge Newbury to Ushuaia. One-way tickets cost from $140 USD.
From all three cities, there are plenty of overland travel routes into other parts of Patagonia (including the Chilean side) and flights.
Patagonia flights tip: Try and book flights directly through the Argentinean version of the LATAM website, not the US version. You'll notice substantial savings if you do this; unfortunately, the Argentinean website is only in Spanish.
How to get to Argentinean Patagonia by bus
From Buenos Aires to Bariloche and the northern tip of Patagonia, it's a 22-hour journey that can cost from $38,000 ARS ($108 USD).
From Bariloche, it's a further 26 hours to 23 hours to El Chaltén ($62,000 ARS ($177 USD), where there are onward connections to El Calafate and Ushuaia.
Cama suites are the top of the range and include a 180˚ recline – like traveling business class. Cama ejectutivo or cama (160˚) and semi-cama (140˚ with little to no legroom) are the other two options and are progressively cheaper – and less comfortable.
When you book, double-check how far your seat reclines as these definitions vary between companies. A blanket and pillow are normally provided for cama suite and cama ejecutivo services.
Food (and even wine!) is normally provided on long bus journeys through Argentina but definitely check this when you book to avoid getting caught out – it can be a long time before you find yourself at a place where you can buy any food!
As with all bus journeys around Patagonia, take toilet paper and hand sanitizer as the bathrooms likely won't be in the state that you would hope.
You can buy bus tickets in bus terminals in all cities, as well as online at Omnilíneas and Plataforma 10. It's worth booking a couple of days in advance for long-distance services.
Patagonia bus travel tip: Check before you buy how long the journey is as this can vary significantly between companies. Longer times indicate more stops along the route – something that can be a pain when you're trying to sleep. It is worth noting that the Argentinian Peso exchange rate is very changeable so do double check prices closer to the time of your trip.
---
The best way to see Patagonia
So you've traveled to Patagonia; now what?
As we've already discussed, Patagonia is one hell of a big region and getting around (and planning how you do it) can feel like another mammoth task.
Let's break it down into the easiest and best ways to see and get around Patagonia.
Best way to travel around Chilean Patagonia
Bus
Bus is the easiest way to get between cities in Southern Chilean Patagonia and also to cross into Argentina.
In Northern Chilean Patagonia, buses generally leave every day between towns and cities, although buses traveling longer distances (such as directly between Coyhaique and Futaleufú or Chaitén), often only have once-weekly departures.
That said, it's normally possible to hop on a bus traveling to the next town (and then onwards) or hitchhike.
The main bus companies in Northern Chilean Patagonia are:
Kemelbus: daily services between Puerto Montt and Chaitén.
Buses Cárdenas (tel. 9/4268 0432): daily services between Futaleufú and Chaitén.
Buses Becker: destinations from Coyhaique north.
Aguilas Patagonicas (tel. 67/2112 88): daily services from Coyhaique to Cochrane south and from Cochrane to Villa O'Higgins (via Caleta Tortel).
Read on for more information about bus transport along the Carretera Austral or get tips about hitchhiking safely in South America.
Patagonia bus travel tip: Book at least the day before, even for short journeys, between December and February. You may need to even book a few more days in advance between Puerto Natales and El Calafate. Recorrido and Voy Hoy can be useful for finding up-to-date bus timetables.
Boat
Some of the activities in Patagonia that I've most enjoyed have been the ferry journeys. Aside from the Navimag and Naviera Austral services into Patagonia, there are also a handful of boats that ply the waters around Patagonia.
The Yaghan: Punta Arenas to Puerto Williams
Off all the boat trips I've taken in Patagonia, I can honestly say that the TABSA-operated Yaghan ferry from Punta Arenas to Puerto Williams was my absolute favourite.
This 32-hour journey is aboard a converted cargo ferry that sets sail twice weekly from the Terminal de Ferry Tres Puentes in Punta Arenas, navigating south through the Strait of Magellan, into the labyrinthine, green-drenched Chilean fjords before joining the Beagle Channel and docking finally at Puerto Williams.
I boarded the ferry at the end of March and we had the most spectacular weather: blue skies and the calmest, crystalline waters that you can imagine.
Every few minutes we spotted more wildlife: Magellanic penguins floating atop the water; South American fur seals and sea lions shrugging their fins at us as they dipped in and out of the water; albatrosses cresting the boat; and finishing with a family of humpback waves leaping out of the water as we entered the Beagle Channel.
What's more, the journey along the Beagle Channel is made even more spectacular by the fact that you pass mid-afternoon through Glacier Alley, a row of tidewater glaciers plunging down the edges of the Darwin Mountains and into the water.
Accommodation is more like a bus than a traditional boat. Foreigners booking in advance (something essential between December and March; aim for at least two months) pay $151,100 CLP ($237 USD) for a cama seat (180˚ recline with a separator between you and the person behind and in front).
Locals and those who snag a spot in the 24 hours before departure (obviously only if there is space left) pay $108,100 CLP ($170 USD) for a semi-cama (160˚ recline and a lot less space).
There are charging sockets on board, hot showers and three, three-course meals per day served in a poky downstairs dining area. They seemed able to cater to most dietary requirements as you're required to indicate this when you book.
Be aware that while the return journey departing from Puerto Williams still promises stunning scenery, the boat passes through Glacier Alley late evening/in darkness. The journey from Punta Arenas south guarantees the best views.
Schedules change monthly and you need to book and pay online on the TABSA website. We left around 6pm in the evening from Punta Arenas and that meant that we were in front of Glacier Alley early afternoon, so bear that in mind when you book your ferry (later times may mean you pass the glaciers during the night).
The Cruz Australis: Puerto Natales to Caleta Tortel
Similar to the Yaghan, the Cruz Australis is a cargo boat that now carries passengers the 42-hour journey between Puerto Natales to Caleta Tortel, a town close to the southern tip of the Carretera Austral and terminating in Puerto Yungay, 43 kilometers east.
This vessel has faced few adaptations for tourists and is less comfortable: for example, the ratio of passengers to showers and toilets is somewhat lower and the food quality and quantity leaves a lot to be desired.
All seats are semi-cama (160˚ recline) and unfortunately, foreigners get to pay $125,160 CLP ($197 USD) per person, five times the cost for Chileans. Blankets are provided but it can get cold, so bring extra layers.
However, this trip feels similarly wild and provides an easy connection between Southern Chilean Patagonia and the Carretera Austral, particularly for those with a vehicle (at an additional cost) or who don't fancy hiking with all their belongings between El Chaltén and Villa O'Higgins.
You also get to stop at Puerto Eden, a magnificent fjord-side settlement home to around 170 people, including the final members of the indigenous Kawésqar group.
The boat leaves weekly from Puerto Natales at 5am, although all passengers and those with vehicles are required to board the previous night. Three meals per day are included, although extra snacks are recommended as portion size and quality is not the best.
You can book and pay for this online directly through the TABSA website.
Patagonia boat travel tip: For both journeys, an eye mask and ear plugs to escape the pesky light and noise of the television screens, and a towel to make use of the hot showers in a small day pack is recommended; you're required to leave luggage in a locked room off the main deck upon entry. You'll get them back when you dock. You'll also want warm, windproof, and waterproof clothes for time spent on dock watching the scenery go past.
Speedboats between Puerto Williams and Ushuaia
This journey isn't exactly a ferry journey but is worth mentioning as it's a useful way of getting between Chilean and Argentinean Patagonia.
Speedboats connect Puerto Williams (the southernmost Chilean settlement in Patagonia), with Ushuaia (the southernmost Argentinean settlement in Patagonia) by crossing the Beagle Channel, with a journey time of around 40 minutes and quite a high chance of spotting whales – we saw a group of humpback whales very close to our boat.
March 2023 update: No speedboats are currently operating between Puerto Williams and Ushuaia. I expect these to restart for the 2023/2024 season, however, I cannot currently confirm this.
The scenery is spectacular on a clear day because of the sharp, sky-spearing mountains that line both the Chilean and Argentinean sides of the channel.
Unfortunately, the journey is exceptionally expensive: $120 USD one-way, $220 USD return. It's also really badly organized, particularly if you're traveling from Puerto Williams to Ushuaia, not the other way around.
Boats leave daily Tuesday through Sunday, normally departing around 9am from the ports in Ushuaia or from the Gobernación building in Puerto Williams; boarding crossing formalities are conducted in both and you'll be guided through the process by the boat staff.
Ferry tickets can be bought in Puerto Williams at Shila, a shop opposite the Gobernación building, or in Ushuaia from Seaboat, an agency located on the Muelle Turístic.
Ferries to Cape Horn
Finally, another popular boat trip in Patagonia is the journey to Cape Horn on Isla Hornos.
This island is mistakenly considered the southernmost point of South America, which is actually the Diego Ramírez Islands 104 kilometers south.
Either way, this trip has long appealed to adventurous tourists as the act of "Round the Horn" was considered the utmost test for sailors over the centuries when Cape Horn offered the fastest route around South America before the construction of the Panama Canal.
This barren, isolated island is inhabited by a member of the Chilean Navy and his family (although only for periods of up to a year) and you can visit with boats from Ushuaia or Punta Arenas, with the chance – if the weather conditions are optimum – to land on the island and visit the lighthouse.
There's also the Cape Horn Monument, which was erected to honor all the sailors who died across the centuries by drowning in the fierce waves that lash the coastline.
Australis is the best-known company offering Patagonia cruise tours, with a focus on adventure over luxury – although their boats are notably more comfortable than the ferry journeys mentioned above.
However, they don't come cheap and you can expect to pay $4,586 USD for two people sharing a twin room on a three-night, four-day cruise, including Glacier Alley, the penguin colony on Isla Magdalena, and Cape Horn.
If you're more interested in a "local" experience (and still incredible views of Glacier Alley), I would strongly recommend the TABSA boat trip from Punta Arenas to Puerto Williams at a significantly more affordable price.
Air
If you've got a shorter trip or don't fancy spending a few days on a boat or bus, you can also take internal flights around Patagonia.
Connecting Southern Patagonia with the Carretera Austral, there are weekly flights (normally on Tuesdays) operated by Aeriovías DAP between Punta Arenas and Aérodromo Balmaceda.
This company also flies two times weekly (normally Wednesday and Saturday, only November through March) between Punta Arenas and Ushuaia and has daily flights (Monday-Saturday) between Punta Arenas and Puerto Williams.
Car rental in Patagonia
Renting a car or a campervan can be a useful way of getting around Patagonia at your own pace and having the chance to explore parts that few tourists see.
Car rental is generally cheaper in Chile than in Argentina and there are plenty of global companies here that add to the competition – and keep prices down.
One of the biggest issues I have faced with car rental in Patagonia and Chile, in general, is insurance. In this country, third-party, rather than fully-comprehensive, is the norm.
Some local rental companies won't even allow you to add extra insurance on top of their basic policy – meaning that you'll be required to pay anywhere from $700,000 CLP ($1,100 USD) to $950,000 CLP ($1,500 USD) as a security deposit (excess) when you book the car – and you won't see any of that money again in the event of an accident.
This is perhaps more normal in the USA, but a shift from what you can expect if you're used to renting in the UK or Europe.
I've previously used car hire excess insurance (sometimes known as excess damage waiver insurance) that protects you from having to use the security deposit to pay the excess if the car is damaged in any way.
This can cost as little as $50 USD a year (or less for one trip) and should prevent you from stumping up whatever excess is written into the insurance policy.
I've rented cars across Chile and I personally recommend using RentalCars.com as I've found them to be the most reliable and consistently offer the cheapest rental, with prices often starting at around $12,000 CLP ($19 USD) per day.
RentalCars.com link you up to budget car rental companies across Chile and also allow you to add on fully-comprehensive insurance when you book
I've rented a car in Patagonia through Europcar and Budget as well, however, I've always ended up paying an elevated price as I've struggled to rent vehicles through their Chilean websites as you often need a RUT (a Chilean identity document) to book – through their international website, prices are often significantly higher.
As a result, I tend to now go through RentalCars.com as it's a) in English so you can be 100% what insurance you're getting and b) in the event of an accident and where you need to claim money back from insurance, you can speak to someone in English – rather than Spanish.
For more tips and tricks, head to my guide to car rental in Patagonia.
Campervan and motorhome rental in Patagonia
If you're planning a trip for one month or longer in Patagonia, renting a campervan can be a good way of saving money on accommodation and transport costs and will also grant you a lot more flexibility.
In Chile, the main campervan rental companies include:
Soul Vans: rent vans from Santiago and Punta Arenas
Wicked: rent vans from Santiago, Punta Arenas, and Puerto Varas in Patagonia
Condor Campers: pick-up from Santiago, plus Punta Arenas and Puerto Varas (the latter of which you'll be charged $380,000 CLP ($597 USD) to do so).
For motorhomes and larger camper vans, check out:
Holiday Rent: pick-up and drop-off in Santiago or Punta Arenas.
Andes Campers: pick-up only from Santiago or from other cities for a fee and with a limit of 250 kilometers daily.
Patagonia car and campervan rental tip: One-way fees (where the pick-up and drop-off are in different places) can be crippling, particularly if you plan on hiring a vehicle in Punta Arenas and dropping it off in Puerto Montt, for example.
If you're traveling out of peak season, it's worth checking out one-way deals offered by campervan rental companies.
These normally come about when they need to shift vehicles at the start or end of the season from one side of the country, and they will give you a significantly discounted price if you drive it for them.
The only problem is you'll need to fit around their dates – but they won't charge you a one-way fee. Check out Soul Vans, who sometimes offer one-way deals.
Rental car and van insurance in Patagonia
Theoretically, you need an international driving license to rent a car in Chile, however, I have never been asked to show this in two years of hiring vehicles here.
In addition to the obligatory car insurance for your vehicle, if you plan to cross the border into Argentina you will need a notarized document from the car rental company to legally allow you to cross:
This costs from $70,000 CLP ($110 USD) to $130,000 CLP ($200 USD) and normally needs to be arranged between seven and ten days in advance of picking up the hire car. This should include third-party insurance in Argentina but double-check exactly what your insurance is going to be when you cross the border.
An extra security bond may also be required by the rental company.
Things to be aware of when hiring a car in Chilean Patagonia:
You may not be covered to drive on some roads in Patagonia if you rent a small, 2×4 vehicle. I was told when I was renting in Coyhaique that I could take a Chevrolet Spark, but it wouldn't be insured for driving on the Carretera Austral! Therefore, you may be required to upgrade (at a significant cost) to a 4×4 if you want to drive outside of cities in Patagonia and on gravel or unpaved roads.
Few companies offer tow-truck assistance if you break down in Patagonia. When it happened to me in Tierra del Fuego, we ended up waiting by the side of the road for about seven hours until they managed to get a new rental car out to us.
Always carry plenty of food and drink and warm clothes in case of breakdowns. A Chilean and Argentinean sim (or one that works abroad) in case of emergency is also essential. I recommend Entel in Chile and Claro in Argentina.
In COPEC gas stations (the most common type in Chile), you can normally find the "Rutas de Chile" COPEC map, which all of the COPEC gas stations in Patagonia marked. It's worth investing in this as it's good for map reading but also knowing where you can next buy gas.
Driving along the Carretera Austral is hazardous not only because of the poor state of the roads (we're talking building-sized potholes) but also the lack of care shown by other drivers on the road. Take it slow to avoid crashing around tight bends and dislodging pesky pieces of gravel that can do serious damage to windscreens.
Always have your drivers licence, insurance papers, and passport on you in case you get stopped by the police. Chilean cops are not corrupt, so don't ever attempt to bribe them. Just be polite and follow what they ask you to do.
Knowledge of some Spanish will make your life easier when hiring a rental car.
Rental car and van insurance travel tip: If you plan to take a Patagonia road trip away from the main cities and into mostly uninhabited territories, such as Tierra del Fuego or into isolated parts of the Carretera Austral, it's always essential to fill up your vehicle before leaving as fuel can be hard to find in some parts.
An additional fuel container (plastic is the only type allowed) is also worthwhile and you can often request these from your car rental company before you depart.
Best way to travel around Argentinean Patagonia
Bus
The Argentinean pampa is a lot easier to navigate than the Chilean side of Patagonia and bus transport is more regular and often more comfortable, making this probably the best way to travel around Argentinean Patagonia.
El Chaltén to El Calafate: From the Terminal de Ómnibuses in El Chaltén, Cal-Tur, and Chaltén Travel have five daily departures to El Calafate (three hours, $600 ARS ($22 USD)).
El Calafate to Ushuaia: TAQSA has daily buses between El Calafate and Ushuaia (16 hours, $2,000 ARS ($75 USD)).
You can buy bus tickets in bus terminals or bus company offices in all cities, as well as online at Omnilíneas and Plataforma 10. It's worth booking a couple of days in advance for long-distance services.
Air
Domestic flights in Argentina are expensive, however, they can be useful when you're on a short trip to Patagonia.
From Bariloche, Aeropuerto Internacional Teniente Luis Candelaria (BRC), Aerolíneas Argentinas have one flight per day ($103 USD; one hour 45 minutes) to El Calafate and one daily to Ushuaia ($104 USD; five hours 50 minutes).
From Aeropuerto Internacional de El Calafate Comandante Armando Tola, just outside of El Calafate, there are normally two flights daily to Ushuaia. The journey takes one hour twenty minutes and costs from $94 USD one-way.
As mentioned above, Aeriovías DAP has twice-weekly (normally Wednesdays and Saturdays, only November through March) between Punta Arenas and Ushuaia.
Car rental in Argentinean Patagonia
All admit that I've never rented a car in Argentinean Patagonia. Want to know why?
Well, several reasons:
It's expensive, particularly when compared with Chilean car rental prices.
Distances in Argentinean Patagonia are vast and actually, once you get out of the main tourist hubs (Ushuaia, El Calafate, El Chaltén), there's not an awful lot to see that you can't reach by bus. Puerto Madryn is the real exception to this – although you can get there by bus, it's just a lot of hassle.
The only place I would suggest it makes sense to rent a car in Argentina is in Ushuaia as it makes it significantly easier (and cheaper) to visit Tierra del Fuego National Park, as you'll save cash on the $20 USD per person bus fare into the park from Ushuaia, and you can tack on a day trip to Estancia Harberton and Laguna Esmeralda too.
However, if you do want to hire a car when you're in Patagonia, I again recommend going through RentalCars.com where you can get a vehicle from $55 USD per day.
Things to look out for when hiring a rental car in Argentinean Patagonia:
Be sure to read your insurance policy carefully to see whether you have third-party or fully comprehensive insurance included – again, another bonus of going with an international company such as this as all of the documents are in English.
You may not be covered to drive on gravel or unpaved roads so confirm this when booking.
If crossing the border into Chile, you will need additional insurance from the rental company. See above for further information.
Check if you have a limit on how many kilometers you can drive per day. This is often capped at 200 kilometers (after which you'll be charged extra per kilometer).
You may be able to negotiate a lower rental price when you arrive to pick up the car.
It's worth photographing pre-existing damage to the rental vehicle to avoid arguments when you return it.
Always have your driving license, insurance papers, and passport on you in case you get stopped by the police.
Knowledge of some Spanish will make your life easier when hiring a rental car.
If you want to rent a camper van in Patagonia, I'd recommend going with a Chilean company.
Patagonia by train
Although train travel is perhaps the most romantic way of getting around Patagonia, travelers will be disappointed to hear that few of the lines that were once used to carry freight remain in operation.
The most famous is the steam-powered La Trochita, aka the 1922 Old Patagonian Express that found fame in Paul Theroux's eponymous travelogue.
Nowadays, it only travels the short 20 kilometers to Nahua Pan, the first station on the train's old route and back again. It costs $900 ARS ($33 USD) for the return ticket.
In summer, it leaves every Saturday, while in winter, it's generally once a month. You can find out more information on the official website.
---
Patagonia road trip itinerary
Many travelers opt to hire a rental car or even buy a vehicle as a way of exploring Patagonia and having the flexibility to visit beyond-the-beaten-trail destinations.
If you're hoping to plan a Patagonian road trip, I would recommend setting aside at least one month – but preferably more.
This will allow you to see the region's most unmissable destinations without feeling like you're on a strict time limit.
Unless traveling with a motorhome or campervan, you'll want to pack decent camping equipment.
This includes a tent that can survive both the fierce Patagonian winds and the unrelenting rains (find out why I love the Big Agnes Copper Spur) and a good cooking kit that can withstand both of these weather conditions too.
A spare petrol can, sat nav or map (I use the free maps.me as it has always worked very successfully for hiking and driving in Patagonia) and knowing how to change a tire are other essentials for a road trip through Patagonia.
In terms of itineraries, it depends where you plan to visit in Patagonia and how long you have to hand. I strongly recommend the following:
The Carretera Austral: Chilean Patagonia's ultimate road trip is from north to south along the region's most isolated road. Construction started during the dictatorship and is still underway as this serpentine road is finally being fully paved – although there's a long way to go. Highlights include Patagonia and Pumalín, two brand-new national parks that were brought into being by Conservación Patagonica (the late Doug Tompkins' foundation); Caleta Tortel, a village connected entirely by wooden boardwalks; and the glaciers of the Southern Patagonia and Northern Patagonia Ice Fields. Read on for my complete travel guide to the Carretera Austral.
Ruta 40: Argentinean Patagonia's most famous road is Ruta 40, a highway that actually transverses the entire country from north to south. The Patagonian stretch starts in Bariloche, slicing through the pampas as it bypasses El Bolsón, Esquel, Perito Moreno, El Chaltén, and El Calafate, before ending in Río Gallegos. It's not for the faint of heart, with blustery winds and poorly-maintained roads making it one where you can't drop your concentration for a minute, but it does promises exceptional views of the Andes Mountains and takes you along the region's most interesting tourist hotspots. For tips on driving it, take a look at this article and this blog post.
Tierra del Fuego: Another Patagonia road trip that you can take, although few people do, is into Tierra del Fuego. Plenty of travelers drive along the eastern half through Argentinean Patagonia and Ushuaia; however, the scenery on the western side, as a lone, unpaved road heads south from the ferry crossing at Punta Delgada, is sensational. Comprising angular mountain peaks (the final stretches of the Andes) interspersed with crystalline lakes and lenga beech forests filled with guanaco and foxes, this is the place to go if you're looking for wild, untouched Patagonia. There's little written about this on the internet yet, so you'll have to stay tuned for when I write a post about it or you download my one-month backpacking itinerary, which already contains some key information.
---
Crossing the border between Argentina and Chile
Most trips to Patagonia involve quite a lot of border crossings, as you'll likely want to move from Puerto Natales over to El Calafate, or from Argentina onto the Carretera Austral.
It's not unusual to sometimes even cross the border multiple times in one day!
This is all perfectly legal, although you must ensure that you've got the necessary visa or pay a reciprocal fee where required (see these lists for Chile and for Argentina).
Upon entry into either country, you are issued a 90-day stamp, which is renewed every time you cross in and out.
As I've indicated above, crossing between Argentina and Chile is relatively straightforward, however, in some cases, it is something that needs to be pre-planned.
Crossing the border with public transport
Crossing the Patagonian border can be a quick, stress-free process (somewhere between 30 and 45 minutes) or a frustratingly long one (various hours). In summer, queues at popular borders, such as Paso Río Don Guillermo (near Puerto Natales) and Paso Integración Austral (near Río Gallegos), can be very long.
If you're on a public bus, you'll be guided through the process by the bus driver, who'll drop you off on one side of the border, wait for formalities to finish, and then allow you to re-board the bus, before taking you across the border and repeating this process.
The time spent at the border can also be increased by the fact that all luggage entering Chile is checked firstly by sniffer dogs and then put through an x-ray machine.
This is because you are not allowed to bring fruit, vegetables, or animal products with you across the border. The customs authorities are very strict about this and you can face a fine if you do attempt to bring any of these items and don't declare them.
Whenever entering Chile, it is much better to declare everything and face having it taken off you, than run the risk of a large fine.
Theoretically, the Argentinean border control should check the same, however, I've never seen this happen, so you are generally fine to take food items if crossing in that direction.
Crossing the border with a rental car
To be legally able to cross the border in a rental car, you will need:
A notarized document from the car rental company to legally allow you to cross.
In Chile, this costs from $70,000 CLP ($110 USD) to $130,000 CLP ($200 USD).
It needs to be arranged between seven and ten days in advance of picking up the hire car.
Your car hire and this document should, theoretically, cover third-party insurance in Argentina but double-check exactly what is included in your insurance when you confirm the car rental.
An extra security bond may also be required by the rental company.
There's a great overview of the different stages of the border crossing here; it's from 2012 but the main information is still valid.
Patagonia border crossing tip: Aim to arrive at borders as early in the day as possible (although they normally don't open until 8am: you can check opening hours on the official border website here. The Aisén and Magallanes Regions are the ones you want for Patagonia border crossings). Public buses begin to arrive from mid-morning onwards and that's when the queues start.
---
Patagonia trip itineraries
If you're looking for suggested travel routes through Patagonia, this is a subject that I've written extensively about.
One week in Patagonia travel itinerary
Although one week certainly isn't enough to get the best out of Patagonia, you can just about fly from Santiago to Patagonia and squeeze in the W hike in Torres del Paine National Park.
Alternatively, starting in Buenos Aires, you can fly to El Calafate to admire the Perito Moreno Glacier, and spend a couple of days hiking in Los Glaciares National Park near El Chaltén.
For full details, read my one-week Patagonia travel itineraries article.
Patagonia in two weeks
Two weeks is definitely a better amount of time to dedicate to a trip around Patagonia. With two weeks, you can sail by ferry down through the Chilean fjords, before visiting highlights of the Carretera Austral (including the Marble Caves, Parque Patagonia, and the Queulat Hanging Glacier).
For hiking aficionados, you can spend just shy of two weeks hiking the O Circuit in Torres del Paine National Park, a challenging but worthy trek through untamed scenery.
For full details, read my two-week Patagonia travel itineraries article.
Three-week Patagonia backpacking trip
With three weeks in Patagonia, you can hike the region's best treks, including the O Circuit in Torres del Paine, various routes through Los Glaciares National Park near El Chaltén, and those in Tierra del Fuego National Park near Ushuaia.
Alternatively, you can day-trip into Torres del Paine, see the Perito Moreno Glacier, hang out in El Chaltén before hiking across the border to Villa O'Higgins in Chile, where you head north along the Carretera Austral, stopping at the Marble Caves, the Queulat Hanging Glacier, and Parque Pumalín en-route.
For full details, read my three-week Patagonia travel itineraries article.
One-month backpacking in Patagonia itinerary
Now we're talking! With an entire month, you can just about see all of Southern Patagonia, both the Chilean and Argentinean sides.
You'll arrive by ferry to Puerto Natales, hike the O Circuit, visit the Perito Moreno Glacier, hike in Los Glaciares National Park, head through Tierra del Fuego via a king penguin colony and explore the southernmost reaches of Chile before visiting Ushuaia and ending your trip with a visit to the volcanic landscapes of Pali Aike National Park.
For full details, download my one-month in Patagonia travel itinerary.
---
What to pack for Patagonia
Your packing list for Patagonia will depend a lot on what activities you plan to do on your trip.
Essentials
Your passport, with at least six months' validity
Your driving license (if you plan on hiring a car)
Day-to-day equipment
Flip flops or light-weight sandals; I'm a convert of Teva sandals; they are lightweight and so comfortable. Check them out on REI|Backcountry|Amazon
Hat, scarf, and gloves; I love the Buff headband that doubles up as a scarf too, check it on REI|Amazon
Compression sacks for keeping everything ordered in your bag; Check them out on REI|Backcountry|Amazon
Universal adapter plug (Type C (Chile) and Type C and I (Argentina)); Check them out on Amazon
Sturdy padlock for use with lockers in dorm bedrooms; Check them out on Amazon
Steripen for use in Argentina or on the trail; Check it out on REI|Amazon or read my honest review of the Steripen Adventurer
Extra batteries (they're very specific for the Steripen); Get them on Amazon
Nalgene reusable water bottle; Check them out on REI|Backcountry|Amazon
Medical kit for emergencies; Check them out on Amazon or REI or you can easily put one together yourself
Sun cream
Hiking equipment
Camping equipment
Road trip equipment
USB cable
In car converter plug; check them out on Amazon
Music
Copec "Rutas de Chile" map; you can pick this up in most COPEC gas stations.
Get a full download of this list, with extra information about my reasoning behind my recommendations over at the complete Patagonia packing list.
---
How much does a Patagonia trip cost?
One of the biggest concerns for travellers to Patagonia is the cost of the overall trip. Patagonia is a notoriously expensive destination to visit, particularly when compared to other parts of South America.
As a rule of thumb, it is possible to backpack Patagonia on a budget of around $50 USD per day.
Staying in budget, dorm accommodation, self-catering and taking public transport, per day you can expect to pay:
Expense
Cost (daily)
Accommodation
$20 USD dorm*
Food
$10 USD
Transportation
$15-20 USD
Total
$45-50 USD per person

*You can reduce this to $10 USD if you swap to camping rather than dorms.
Two people, staying in budget, double accommodation, mostly self-catering and taking public transport can expect to pay:
| | |
| --- | --- |
| Expense | Cost (daily) |
| Accommodation | $45-$55 USD |
| Food | $40 USD |
| Transportation | $35 USD |
| Total | $120 -130 USD = $60-$65 USD per person |
However, don't forget to budget in bus or boat transport or flying to Patagonia. Longer bus trips will cost more and you'll need to budget for any tours that you take, which generally can be quite expensive. National park entrance fees vary, too.
If you plan on hiking in Torres del Paine, the cheapest you can expect to spend is $157,000 CLP ($190 USD): find out how to hike the W Trek without a tour and on a budget.
I've written a detailed article about traveling to Patagonia on a budget but these eight tips cover the main jist:
Use cheaper, budget airlines such as Jetsmart, Sky Airline, and Fly Bondi for cheap flights into and around Patagonia
Use the free Hopper app to find the best window of time for buying flights
Hitchhike, cycle, hire a car between a group of you, or buy your own vehicle for the cheapest transportation in Patagonia
Bring a tent and camp in local campgrounds or choose from budget hostales and residencials (basically local people who rent out rooms) or fully-equipped cabañas if you're traveling in a group to bring accommodation costs down.
Self-cater and buy food in big cities in Patagonia to make traveling to Patagonia cheaper – just don't try and cross into Chile with anything fresh!
Bring US dollars and make the most of a favorable exchange rate and discounts for paying in this currency
Use Western Union for withdrawing money in Argentina. This allows you to get the best exchange rate (known as the "blue dollar") and avoid Argentina's rampant inflation. Full details here.
Book in advance accommodation and destinations such as Torres del Paine National Park if traveling in high season
Avoid unnecessary tours – just pack good quality equipment for your trip (see my recommended gear list for your Patagonia trip with a free checklist download)
For the full, in-depth guide, head over to my article about visiting Patagonia on a budget.
---
What to do and where to go in Patagonia
It's probably become clear by this point that there's a whole lot of stuff to see and do in Patagonia. I've spent months there and there remains a shit load that's still on my list.
But I can condense what I think are the best, most unmissable things to do in Patagonia and so I've distilled my favorite destinations, organized by activity. You can also check out my guide to the best places to visit in Patagonia for further inspiration!
Where to go hiking in Patagonia
Torres del Paine National Park, Chile
Chilean Patagonia's most famous park, it would be strange not to open this list with Torres del Paine National Park.
Although it's possible to take a day trip into the park (either with a tour starting from $40,000 CLP ($63 USD) or by renting a car, both from Puerto Natales), hiking the five-day W or ten-day O Circuit is really the only way to appreciate the vast beauty of this dramatic national park.
I've hiked both, and for me, the O wins easily. With the popularity of the national park increasing exponentially each year (around 250,000 people now arrive annually), the W is frustratingly crowded and this definitely took away a lot of my enjoyment of the hike.
Instead, the O Circuit has a limit of 70 hikers daily and while it's challenging to carry food for ten or eleven days plus your camping equipment, the actual hike is accessible to even those with little experience.
You can also visit for a couple of days and enjoy day hikes in the park – which is great if you've not got much time or have missed out on making campground/refugio reservations for the W.
For further information, check out:
Los Glaciares National Park, Argentina
Although it's certainly lesser-known that its rival park across the border, Los Glaciares National Park in Argentina is a seriously beautiful place to go hiking in Argentina.
Part of the appeal – and what separates it from the increasingly more complicated-to-visit Torres del Paine – is the fact that this protected area has seventeen hiking trails. Many of these connect up and allow you to spend multiple days trekking through the park and camping at basic grounds, without having to return to nearby El Chaltén.
Alongside the challenging Laguna de los Tres, the most famous trek in the park, there's also the increasingly popular Huemul Circuit, a 70-kilometer, four-day trekking that starts and ends in El Chaltén and affords spectacular views across the Southern Patagonia Ice Field.
The most detailed post I've found for those hoping to do this trek (I've not yet done it) is here.
This article from Lonely Planet is a more descriptive overview of what is quickly becoming one of the most sought-after Patagonian treks.
Tierra del Fuego National Park, Argentina
Another top hiking destination in Patagonia is Tierra del Fuego National Park. It's only 12 kilometers west of Ushuaia at the very tip of Argentina, making it easily accessible for a day trip, although there are also a couple of campgrounds in the park if you choose to stay.
Hiking trails are less plentiful than in Los Glaciares National Park but the views from the Cerro Guanaco trail make it more than worth the visit.
It's an eight-kilometer round-trip, but a grueling eight-hour hike in total because you ascend 973 meters in only four kilometers to reach a peak.
From here, expect panoramic views of the Beagle Channel below and views across to Puerto Williams, in Chilean Patagonia, when the weather is clear.
You'll need to download a decent map (I always recommend the free maps.me where you can download maps for offline use) as the path sometimes disappears into a peat bog – and you'll want decent hiking boots too!
The park is also a great spot for seeing the Southern Lights in Patagonia on a cloudless night.
Buses leave hourly from the terminal in Ushuaia, although, at $20 USD per round-trip ticket, if you're in a group, it'll wind up being cheaper (and faster) to rent a car in Ushuaia.
Pumalín National Park, Chile
A newly inaugurated national park, Pumalín was founded by billionaire philanthropist, the late Doug Tompkins (the former CEO of the North Face brand) and is possibly one of the best parks in Patagonia and proves that there's more to hiking in Chilean Patagonia than just Torres del Paine.
Loads of investment has gone into the park's infrastructure, with around seven hiking trails ranging from short, easy wanders to day hikes. My personal favorite was the climb up to the crater of the imposing Chaitén Volcano.
It actually erupted back in 2008, burying the nearby town of Chaitén under lahars of ash and mud and forcing thousands to evacuate from their homes. The views down into the crater and, when the sun is shining, out towards the ocean, are spectacular from the top.
There are plenty of campgrounds in the national park charging $6,000 CLP ($9.5 USD) per person. Be aware that there is no public transport from Chaitén, so you either need to hitchhike, bring a car down from Puerto Montt or take a tour.
You can find more information about this on the park's English-language website.
I highly recommend Chaitén Excursions run by the wonderfully knowledgeable US-expat Nicolás, who runs flexible tours that start from as cheap as $10,000 CLP ($16 USD) per person. He's based in Chaitén.
Cerro Castillo National Park, Chile
Further south along the Carretera Austral, Cerro Castillo is another newly-inaugurated national park that converted from national reserve status back in October 2017.
The area is best known for the spectacular Laguna Cerro Castillo which is dominated by the sharp, torrent-like spires of Cerro Castillo itself ("Castillo" means castle).
It's a climbing, one-day hike up to the lagoon, although there's a growing number of tourists choosing to opt for the 47-kilometer, four-day Cerro Castillo Traverse.
This starts in the east and cuts right through the park west, passing a series of viewpoints for glaciers and lakes, as well as the all-important Cerro Castillo itself.
The most complete guide to this four-day trek can be found via Adventure Alan and it's a challenging hike but one you can do without a guide.
Patagonia National Park and Lago Jeinimeni National Reserve, Chile
I'm still debating over which is my favorite national park in Patagonia for hiking, but Patagonia National Park is definitely in the running.
Another Doug Tompkins-founded protected area, Patagonia has breathtaking scenery, covering everything from mountain-top lagoons to dusty, sun-scorched grasslands and even mountain traverses through river gorges.
I only had the chance to hike the spectacular Lagunas Altas Trail. It's a challenging 23-kilometer day-hike that ascends the south side of the valley in which much of the park is located, climbing into lenga forests past beautiful azure lagoons, before looping back down to the campground where you start.
There's also the three- to four-day, 52-kilometer trek, known as the Traversía Jeinimeni-Avilés or Sendero Valle Hermoso-Valle Chacabuco, that crosses from Patagonia National Park into the Jeinimeni National Reserve.
For more information, the park's website is especially detailed and even in English.
Where to go for spectacular landscapes and natural landforms
Perito Moreno Glacier, Argentina
Patagonia's most famous glacier, Perito Moreno is an astonishingly large glacier just a few hours' drive from El Calafate in Argentina.
Although it's certainly not the largest of the glaciers in Patagonia by any stretch, what is unique about this lump of millennial ice is how close to its snout you can get.
Not only are there wooden boardwalks that allow you to follow the main wall of the ice from left to right, just a few hundred meters from it, but you can also go via kayak or boat to see it from a completely different angle.
You can even join a trekking tour from $110 USD for an hour and a half on the ice, with one of the companies based in El Calafate.
It's fair to say that the walkways get packed with visitors in the summer months, so if you want to avoid the hordes, plan to get the earliest public bus departing from the bus terminal in El Calafate ($24 USD return).
You'll need $25 USD in cash (Argentinean pesos) for paying the entrance fee, too.
Find all the information you need about visiting in our guide to the Perito Moreno glacier.
Villa O'Higgins, Chile
It's a three-and-a-half-hour drive or bus journey down to the very end of the 1,240-kilometre Carretera Austral to reach Villa O'Higgins.
This tiny, 600-inhabitant village is unremarkable; however, in the surrounding area, you can visit the bewitching snout of the O'Higgins Glacier, a 75,000-hectare and 38-kilometer-long slice of dense, compressed ice where spectacular bergs calve at frequent intervals.
Unfortunately, the local operator running these tours closed during the pandemic. We'll update this article when we find out who's now offering this tour.
Glacier Alley, Chile
With its row of tidewater glaciers that hang precipitously over the waters of the Beagle Channel, Glacier Alley is one of those places that you have to pinch yourself to believe you're actually seeing.
I'd long heard about these beautiful ice giants that are only accessible by ship but thought that my chances of seeing them were nil, as the main cruises that pass by cost well over $2,000 USD for the trip.
However, on my ferry ride between Punta Arenas and Puerto Williams, I realised that this magnificent view was one that I could actually afford.
I've written above about taking this very ferry, which normally passes mid-afternoon when the light is perfect.
The captain even slows the boat to allow you to take photos as the glaciers spill water into the ocean below, leaving a trail of milky-coloured, glacial meltwater to create beautiful patterns when it mixes with the saltwater below. See the section "Best way to travel around Chilean Patagonia" above for more information about visiting.
Marble Caves, Chile
The swirling, technicoloured patterns of the Marble Caves in Lago General Carrera are probably the Carretera Austral's most famous sight.
Formed when the winds whip up the spray of the lake and erode the softer limestone, these grottos go back deep back into the rock.
Surreal in their kaleidoscope colouring and only accessible by speedboat or kayak from the closest settlement of Puerto Río Tranquilo (which, in itself, is a good five hours in bus or car from the nearest airport), these caves feel even more special because of the lengths you have to go to experience them and definitely rank among the best places to visit in Patagonia.
The colour of Lago General Carrera changes with the light and pictures are best in the early morning. If you visit between April and June, when water levels are lower, you can pass right through the passageways in the caves and out the other side.
Expect to pay around $10,000 CLP ($16 USD) to go with one of the companies along the shoreline in Puerto Río Tranquilo.
Queulat National Park, Chile
Duck-egg blue and perched precariously on the edge of some mountains, the Queulat Hanging Glacier is an iconic sight along the Carretera Austral.
It's accessed by an hour and a half's hike from the entrance into the Queulat National Park, where you climb slowly through dense, evergreen beech forest to reach a mirador located directly across from the glacier – offering truly magnificent views.
31 kilometres further south on the way to Coyhaique, the Bosque Encantado (Enchanted Forest) offers equally splendid scenery.
A 2.3-kilometer one-way trail climbs through a magical woodland of beech trees that drip with moss, before opening out to a moraine ridge where there's a short climb up to an emerald lake filled by glacial meltwater spilling from the surrounding mountains.
Unfortunately, this part of the park is closed indefinitely due to a landslide.
Covid-19 update: You MUST make a reservation in order to visit the park. You can do this on this website, but you will need to pay in cash (bring small notes) upon arrival. You can only enter the park between 9:00am and 14:30pm (Tuesday to Sunday; you can stay within the park until 16.30pm) and you must bring your reservation code on your phone or printed off to show at the park entrance. Don't forget your passport, which you'll need to show to prove you're not a Chilean resident.
The Queulat Hanging Glacier can easily be reached from a daily bus that leaves in the morning from nearby Puyuhuapi*.
*Because of the pandemic, I am not sure this is still running. Contact Turismo Experiencia Austral who used to run this service to confirm.
Where to go because no one else does
Caleta Tortel, Chile
Caleta Tortel is a magical, fjord-side village almost at the very end of the serpentine Carretera Austral.
There are no roads here; instead, the village is connected by a series of cypress-wood walkways that hang above milky blue meltwaters, which drain from both the Northern and Southern Patagonia Ice Fields. This village is as close as you can get to a fairy tale in Patagonia.
I fell in love upon arrival, as the sun lit up the pastel-hued waters and the morning dew sparkled on the wooden walkways.
From the town, local people run boat trips out to hanging glaciers and the mysterious Isla de los Muertos ("the Island of the Dead").
Here, 33 crosses bear testament to the deaths of the first Chilean people who inhabited the region and who are thought to have been poisoned by the forestry company that employed them.
Again, Caleta Tortel is made more magical by the fact that it is so inaccessible. You can either take the ferry from Puerto Natales (described above) or arrive overland by frequent minibus services from Cochrane, the closest large town on the Carretera Austral.
Chilean Tierra del Fuego
Almost the polar opposite of the tourist-jammed Torres del Paine National Park, Chilean Tierra del Fuego is a true Patagonian wilderness. Practically empty of people – both locals and tourists – this is one of my absolute favourite places in Patagonia.
What makes Tierra del Fuego so tantalisingly refreshing for adventurous travellers is the fact that it's very difficult to access.
To admire its king penguin colony (the only one in the Americas) you can get a tour from Punta Arenas, but to go deeper into its lagoon-dotted and peat-bog laden landscapes, where herds of guanaco shuffle through dense forests and beavers blink at you from road-side streams, you'll need a vehicle.
Rent a 4×4 from Punta Arenas, pack a tent and enough food to keep you going, plus an extra fuel can, and you're ready to go.
This is a subject that'll I'll be writing about in more detail in the future; however, in the meantime, if you want to learn more, you can download my one-month Patagonia itinerary.
Puerto Williams, Chile
Chilean Patagonia's best-kept secret – in my opinion at least – is Puerto Williams. The world's southernmost settlement (nope, it isn't actually Ushuaia), this tiny community sits on the southern shore of the Beagle Channel on Navarino Island.
Puerto Williams is beautiful for its remote, wild feel. Horses roam the street aimlessly and most of the town's residents belong to the Chilean Navy.
However, tourism is on the rise, helped in part by the excellent Museo Martín Gusinde, the most complete museum in Chile about the seafaring, indigenous Yaghan people who have all but been driven to extinction (the final clutch of remaining descendants still live here on the island).
But it's also an increasingly popular place to go hiking in Patagonia, with the Dientes de Navarino trail picking up steam.
Certainly not for novice hikers, the 53.5-kilometer Dientes de Navarino is a difficult, five-day, four-night hike that circumnavigates the mountain range of the same name, passing through peat bog and bleak, exposed rockfaces.
Staggering views across Navarino Island and a feeling of being at the uttermost ends of the earth are included.
I didn't get the chance to hike here and there's still very little on the internet in the way of hiking guides. Wikiexplora have a pretty detailed guide, as do Best Hike.
If you want to hire a guide or just want some up-to-date information, get in touch with local trekking agency, Explora Isla Navarino.
Where to go for an extreme adventure
Futaleufú, Chile
In the north of the Carretera Austral and just on the border with Argentina, Futaleufú is one of Chilean Patagonia's most picturesque towns.
Tucked within a river valley and surrounded by green-drenched mountains, this town, despite its remote location, is globally-renowned – all thanks to the Futaleufú River that rushes past.
This thunderous river actually tumbles through 47 rapids, including class III and IV and the IV+ and is considered one of the best places for white water rafting in the world and it's a great spot for experts and amateurs alike.
You'll want to visit between November through March, although the end of the season has more stable weather conditions and higher water levels, meaning the rapids are even more gnarly and fun.
In the town, there are plenty of agencies that run tours (from $60,000 CLP ($93 USD)), most of whom have international guides and all of which speak excellent English. For the less water-inclined, there are plenty of nearby hiking routes too.
Exploradores Glacier, Chile
Although Perito Moreno is the best-known destination in Patagonia for ice trekking, the Exploradores Glacier, 25 kilometres east of Puerto Río Tranquilo on the Carretera Austral, is perhaps an even better place to do it.
You'll get a wide-reaching panorama of the glacier and the Northern Patagonian Ice Field beyond from the mirador (viewpoint) at the start of the trek (and accessible for those not ice trekking), before hiking onto the glacier for a six-hour experience, climbing moraine boulders and through dripping ice ravines.
You can book onto a tour with a qualified guide in Puerto Río Tranquilo at a cost of around $70,000 CLP ($110 USD).
Want more inspiration? Read about my other top Patagonia highlights.
---
Where to stay in Patagonia
Types of accommodations
Accommodation in Patagonia varies across the region and across Chile and Argentina. These are the main types of accommodation that you can expect to find.
Camping
Cost: $
Camping is popular among Argentinean and Chilean tourists, so you'll find plenty of campgrounds in Patagonia for putting up your tent. If you're budget backpacking in Patagonia, this is your cheapest option.
You can expect facilities to include showers (most often hot, but not always), taps with clean water and, the most important thing (for the locals at least!), barbecue areas.
Most national parks in Chile and Argentina also have campgrounds, although the quality of services vary with those in Torres del Paine National Park among the best and those in Los Glaciares National Park pretty poor.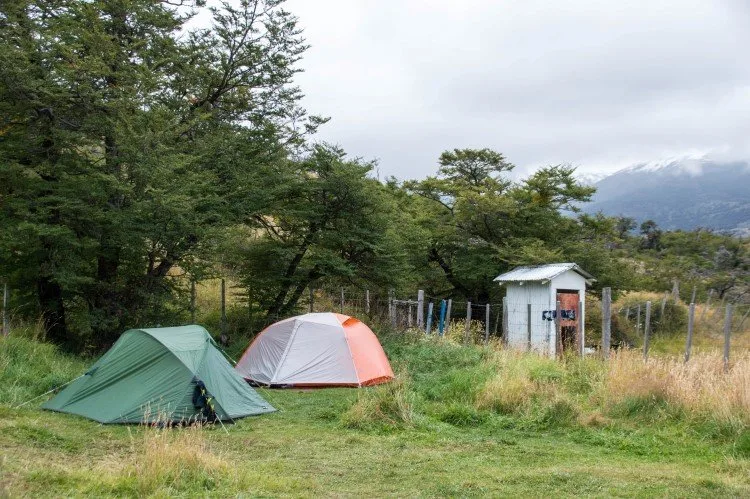 Prices start from upwards of $5,000 CLP ($8 USD).
You can also wild camp in Patagonia, and particularly on the Chilean side, although make sure to ask permission if you're obviously on someone's land (they'll likely say yes) and don't leave a trace.
In Argentina, the exposed nature of the pampa means there's very little protection from the wind for your tent and you might not find it a particularly enjoyable experience being blown over in the night.
Wherever you camp, you'll want a decent tent that's lightweight enough for multi-day hiking trips.
I recommend the Big Agnes Copper Spur: read my honest review of the Big Agnes.
Hostales and Residenciales
Cost: $
Hostales and residenciales are some of the most common types of accommodation in Patagonia, although you've probably never heard of them.
Hostal doesn't mean what we would call a "hostel". It's similar, in that it's accommodation for travellers, although it's rarely with shared bedrooms. Most are private, often with a private bath, and with access to communal areas and occasionally a kitchen. Breakfast is generally included in the price too.
A residencial is similar, but normally within the house of the owner and the facilities are often a lot more basic.
You can expect to pay from $12,000 CLP ($19 USD) for a single bedroom and $22,000 CLP ($35 USD) for a private in a residencial, and $18,000 CLP ($28 USD) for a single and $28,000 CLP ($44 USD) in a hostal, although outside of December through March, prices drop and you can often negotiate.
You rarely find these types of Patagonian accommodation on website such as Booking.com.
To reserve (something essential in summer), look for accommodation on Google Maps and contact the owners directly by telephone.
Cabañas
Cost: $$
Among Chileans and Argentineans, cabañas (cabins) are the accommodation of choice.
Cabañas are normally pretty basic, wooden structures, comprising two or three bedrooms (they're intended for large Chilean or Argentinean families), with a private bathroom, living room and well-equipped kitchen.
For a cabin for four people, you can pay anywhere between $40,000 CLP ($63 USD) and $80,000 CLP ($126 USD).
These make sense if you're travelling in a group, although you'll sometimes find owners open to a reduction in price for a couple, particularly if you're travelling outside of December through March.
Again, an increasing number of Patagonian cabañas are appearing on Booking.com, but I'd recommend you also look up options in a given destination on Google Maps and, where possible, book directly with the owners for cheaper prices.
Hostels
Cost: $$
Hostels, in the traditional sense of budget accommodation with dormitory-style rooms, exist throughout Patagonia, although primary in the larger towns and cities.
They're generally very comfortable, with facilities are as you would expect, with often a communal kitchen and communal areas available to guests.
You can expect to pay upwards of $13,000 CLP ($20 USD) for a dorm bed in a hostel. Privates start from anywhere above $25,000 CLP ($40 USD).
Hostels in Patagonia are best booked in advance in high season, as they can often be full with tourists. You can find them both on Booking.com and Hostalworld.com.
B&Bs and Hotels
Cost: $$$
There is a proliferation of increasingly comfortable B&Bs, and expensive hotels in Patagonia, with everything up to five-star properties in areas such as Puerto Natales and Torres del Paine National Park, El Calafate and Ushuaia.
B&Bs and other small guest houses often start from $45,000 CLP ($70 USD), while hotels range from this upwards.
Again, if you're heading on a short vacation in Patagonia, you'll want to book hotels in Patagonia in advance in high season, at least a few months in advance for January and February. Again, you can find most on Booking.com.
Lodges
Cost: $$$$+
Remote lodges have become a new trend in Patagonia and often offer the most exclusive, luxury accommodation and attention.
Properties such as Explora, Tierra Patagonia and Awasi (all in Torres del Paine National Park) offer complete services of hotel pick-ups, all-inclusive dining and private guides and transportation – but you'll be paying at least $600,000 CLP ($940 USD) per night for this service, with a minimum of three nights standard.
Again, booking in high season is absolutely essential, as these properties are normally small and exclusive.
Booking accommodation in Patagonia
When I travel to Patagonia, I use a combination of advance booking through websites such as Booking.com (which I've found to have the most complete collection of accommodation in Patagonia advertised on it) and Hostelworld.com.
If you're backpacking in Patagonia, you probably want to keep your plans flexible and this is generally possible, although be aware that you might struggle to find cheap or pleasant accommodation if you turn up to a town and start hunting then, rather than booking ahead.
When I'm travelling out of peak season (December through March), I'll often book a couple of days in advance either through these methods or by finding properties on Google Maps and contacting lodgings directly by phone.
The issue with this latter form of booking is that you need to speak Spanish.
In peak season, I would recommend booking at least a week in advance for big Patagonia cities.
Be sure to bring US dollars with you as many types of accommodation offer tax discounts if you pay this way.
---
Where to eat or get food in Patagonia
Food in Patagonia is expensive, due to the fact that it needs to be transported down from further north in Chile and Argentina.
You can expect food to cost at 30% more than in other parts of the two countries.
Supermarkets in Patagonia
You can get most fresh fruits, vegetables and other goods in supermarkets in large towns or cities.
The best range and prices found in Punta Arenas and Coyhaique (and Puerto Montt before you enter Patagonia) on the Chilean side and in Ushuaia, El Calafate and Bariloche on the Argentinean side.
For places such as Puerto Natales, which does have a supermarket, but one that is poorly stocked, and El Chaltén, which doesn't, stock up in the nearest city (Punta Arenas and El Calafate respectively).
In summer, supplies run out quickly and, particularly if you're buying good for hiking the W or O in Torres del Paine, you'll be surprised by how little you can find in Puerto Natales.
In smaller towns, such as those along the Carretera Austral, you will find mostly tinned goods, bread and some meat and cheese but you'll struggle to find fresh fruit and vegetables.
You'll also find prices significantly more expensive than in bigger supermarkets.
Large supermarkets generally always accept debit and credit cards and are normally open every day of the week until 9pm or 10pm, with shortened hours on Sundays.
Self-catering in Patagonia
If you want to keep costs down on your trip to Patagonia, self-catering is the easiest way. As I've mentioned above, you'll want to stock up in bigger towns and cities.
Unfortunately, kitchen access is not a given with all types of accommodation, so I would recommend double-checking this before booking anywhere. Hotels very rarely have these facilities.
Campgrounds occasionally have stoves and cooking equipment, but this isn't the norm; bring your own gear if you plan on camping.
If you're after recommendations for light-weight cooking gear, check out my Patagonia packing list.
Remember that you cannot cross into Chile from Argentina with fresh fruit, vegetables or animal products, so avoid doing a big shop just before you cross the border!
Restaurants and dining in Patagonia
Dining on slow-roasted Patagonian lamb or a perfectly-cooked steak is the ultimate Patagonian dining experience, however it comes at a cost.
Restaurants are similar in price with those in Santiago and Buenos Aires, although quality is often much lower.
It's not unusual to spend over $15,000 CLP ($23.5 USD) for a main and a drink in a medium-priced restaurant in cities across Patagonia and you can expect prices to not be much lower even in small, local restaurants in towns and villages.
However, cheap restaurants offering menu del dia (a fixed menu, normally of two or three courses and sometimes with a drink) can often be found for around $5,000 CLP ($8 USD).
You can always find empanadas in Argentina and Chile for around $1,000 CLP ($1.5 USD) too, which make for a cheap lunch.
---
Money and exchange in Patagonia
Making sure you get a decent exchange rate and can withdraw money are essential things to plan before you go to Patagonia.
Getting hold of money can be an issue, mainly in Argentina, and one that it's worth considering before you leave home.
ATMs in Patagonia
You'll quickly notice in Argentina that getting money out of ATMs can be a real pain in the arse.
I was in Ushuaia when practically all of the cash machines in the entire city stopped functioning for a few hours – not a good thing to happen when you've just crossed the border from Chile and have no money on you.
They also have tendency to run out of cash on weekends and bank holidays and can be petulant and not accept a lot of foreign cards.
There's also a fixed $220 ARS ($8 USD) fee every time you withdraw cash and you're only allowed to do so in batches of $2,400 ARS ($86 USD) making the whole process exceptionally expensive.
You'll find that many hotels and tour agencies don't accept credit cards.
In Chile, withdrawing cash can be costly too. Most banks charge between a $4,500 CLP ($7 USD) and $6,000 CLP ($9.5 USD) fee for using the ATM, although you can withdraw up to a maximum of $200,000 CLP ($314 USD) at a time.
For me (a UK bank account holder), I've found that Scotiabank is the only one that doesn't charge me anything to withdraw cash; unfortunately, I don't know if this only works for European cards. It's also a bank that's only found in cities.
I've never had an issue with Chilean banks in Patagonia not having money, although there always is the possibility of small towns running out of cash on weekends and holiday weekends in summer.
Money exchange
While the days of the "blue dollar" are long gone (when you could exchange US dollars for up to 40% higher on the black market in Argentina than the official rate), Patagonia is still a good place to bring dollars with you.
Not only is it exceptionally safe, so you don't need to worry too much about carrying cash, you'll find that plenty of hotels and even tour agencies on both sides of the border offer discounts if you pay in dollars.
This is particularly the case in Chilean Patagonia and Chile in general where foreigners should get a tax break of 19% anyway, although in practice, smaller lodgings only offer this is you pay in physical dollars, when they should offer it to you for having a foreign card.
Dollars can be exchanged for good rates in exchange houses around Patagonia.
I was surprised to find that no one wanted to give me a good rate on exchanging Chilean pesos when I was in Argentinean Patagonia in April 2018.
You'll also struggle to find good rates on British Sterling and Euros.
---
If there's anything you think I've missed, please add it via the comments below or if you have any further questions, contact me directly at [email protected].
I promise I don't send spam: just tips, inspiration and the tools to make a South American adventure a reality, straight to your inbox!
FAQs about visiting Patagonia
What is the best month to visit Patagonia?
The best months to visit Patagonia are typically November through mid-December and March. Known as the shoulder season, these months see significantly fewer tourists in the region than the high-season months of late December through February and the weather is still pleasant enough for hiking and other outdoor activities.
The weather in Patagonia is always unpredictable and it's always possible to experience all four seasons in one day! However, typically in spring (October-November), temperatures hit up to 18°C (64°F), while in fall (March-April) they hover around 10°C (50°F). Wind speeds are also significantly lower than in summer, where they can read up to 120 km/h (74 miles/h) at their strongest!
Is Patagonia worth traveling to?
Yes, Patagonia is worth traveling to! It's one of my favorite places on the planet and if you love hiking in beautiful national parks with a backdrop of snow-dusted peaks, are keen to spot endemic wildlife species such as guanaco, Andean condors, and pumas, or just want to go to "the ends of the Earth", then Patagonia is a destination for you.
Sure, it's expensive to visit because of its distance from major cities such as Santiago de Chile and Buenos Aires, and it's certainly now on the tourist trail (and not as remote and quiet as many expect), but you won't regret visiting Patagonia.
Where do you fly into to go to Patagonia?
Where you fly into to go to Patagonia depends on whether you're visiting the Chilean or Argentine sides of the country. Most people fly from Santiago de Chile into Puerto Natales or Punta Arenas (for southern Chilean Patagonia, including Torres del Paine National Park), while others fly from Buenos Aires in Argentina to El Calafate or Ushuaia (for southern Argentine Patagonia, including the Perito Moreno Glacier).
If you want to visit other parts of Patagonia, there are alternative options. For the Carretera Austral in northern Chilean Patagonia, you'll want to fly to Puerto Montt or Balmaceda. For Bariloche in northern Argentine Patagonia, you can fly directly there from Buenos Aires.
Is Patagonia better in Chile or Argentina?
As someone who lived for three years in Chile, I'm a little biased in saying that Chilean Patagonia is better than Argentine Patagonia. However, I still think it's true. Chilean Patagonia has a lot more variety of scenery, from the fjords, isolated national parks, glaciers, and lush vegetation of the Carretera Austral, to the spectacular mountain scenery and wildlife of Torres del Paine National Park, it's an exceptionally diverse place.
Argentine Patagonia also has its highlights, however. It's incredible to get so close to El Perito Glacier, and the hiking from both El Chaltén and Bariloche is some of the best in South America. There's also plenty of wildlife, from the penguin colonies and whales near Puerto Madryn to those accessible from Ushuaia.
Want to save this epic Patagonia travel guide for later? Make sure you pin it!