We've all had dreams of the Inca Trail and walking a path so steeped in history and beauty. But the reality is you have to book months in advance and the experience offers very little in the way of real adventure.
If the idea of authentic exploration excites you, consider the Choquequirao trek, the best alternative to Machu Picchu and the Inca Trail.
High on the Quriwayrachina mountain range of Peru lies the Choquequirao archaeological site, and the only way in or out is on foot. Now, this trek is not for the fainthearted, but it's almost unsurpassed in Peru.
With sweeping views of the Andes and opportunities to observe local plant and wild life, including the sacred Andean condor, this trek is a must for any serious hiker.
With the country's popularity growing among international tourists, it is becoming difficult to find an authentic, uncrowded adventure in Peru. The Choquequirao trek is just this.
The Choquequirao route takes you through the steep Apurimac Canyon; as you descend down into this plunging valley, and hike back out the steep other side, you will pass through several microclimates that vary with the altitude.
Surrounded by lush rainforest and snow-capped peaks, the Choquequirao route has new views at every turn and it should come as no surprise that this mountain-top city is being lauded as the "new Machu Picchu" and is widely considered one of the finest treks in South America.
Planning Your Trip to Peru?
Save time, stress & money with a customized travel itinerary planned for you by a Peru expert

What is Choquequirao?
Choquequirao, meaning Cradle of Gold, is an Incan city that was built in the same era as Machu Picchu. Thought to be built by Pachacuti, the Incan Emperor who envisioned Machu Picchu, the city was extended by his son, Tupaq Inka Yupanki.
It's roughly the same size as Machu Picchu and contains a few different architectural styles. Despite covering six square kilometres, only about a third of it has been reclaimed from the jungle.
Choquequirao was built on a flattened hilltop that was levelled centuries ago and ringed with stones to stop it sliding down the mountain. Though much of the city is inaccessible due to the encroaching jungle, a temple and several other buildings around the main square have been cleared, as well as several terraces.
My favourite part of the site is these terraces. On the west side of the summit, huge stepped terraces have the shapes of llamas built into them with carefully carved white rocks.
These are accessible through a clambering jungle path that opens out to breathtaking views. On the east side, below the main site, are the iconic animal shaped terraces, thought to mirror the shape of a guinea pig.
With no people around, and no definitive answers about what everything means or was for, enjoy feeling like a true adventurer exploring a city time forgot.
Why you should go to Choquequirao as soon as possible
Currently, the only way to get to the Choquequirao ruins is the four-day trek but the local Peruvian government is planning to build a Choquequirao cable car through the Apurimac Valley. In February 2018 a company was awarded the project, but the start date of construction hasn't been announced yet.
Many people wonder what's the main difference between hiking to Choquequirao and Machu Picchu. In two words: visitor numbers.
The Choquequirao ruins receive less than a dozen visitors a day – that's only 5,800 a year compared to Machu Picchu's 1.2 million. Unfortunately, once the cable car is functioning, the government is expecting over 200,000 visitors a year.
This fate is already happening to Kuelap, a huge stone fortress perched high in the mountains near Chachapoyas in northern Peru – it won't take long before Choquequirao is overrun with visitors.
So, if you want to enjoy this site, which definitely ranks as one of Peru's top places to visit, go now, before it is too late. This trek is still a quiet and unique experience for those brave enough to hit the trail.
Choquequirao Hiking Route: Four days/three nights
The route is 64 kilometres long with a starting altitude of 2,900m and peaking at 3,050m. While there is only one path, the route can be divided up in a variety of ways, but I have laid out the most common four-day route. It can easily be extended to five days, which will give you a full day to explore the ruins and enjoy your time in the mountains.
Fair warning: the Choquequirao trek difficulty level is high. There is no easy day where you can just stroll along.
While the Choquequirao trail is not at high altitude, there is a 1,500m descent into the canyon, followed by a 1,800m climb the next day. If you are up to this challenge, the trek is totally worth it. You will be able to hike unbothered the entire way and you can explore the ruins practically alone with the most stunning scenic backdrop.
This route begins and ends at Cachora, the town just outside the Apurimac Valley. You can get here from Cusco by bus or private taxi.
Day One (five to seven hours)
The trail begins in Cachora (2,900m) and leads down into the Apurimac Canyon. If you want to save yourself some time, you can catch a taxi to the Capuliyoc Mirador (2,915m), cutting 13 kilometres of road off the beginning of your trek. From this viewpoint, the path plunges down into the Canyon, and so begins the steep descent.
You can either stop overnight at Chiquisca (1,835m) before the bridge or carry on to the quieter Santa Rosa (2,905m) to make the next day easier for yourself.
Day Two (four to six hours)
This is the most difficult day, with 13 kilometres of steep ascent comprising of a series of switchbacks and false summits. Be warned the mosquitoes can be murder on this day and the shade fades quickly as you approach noon. Wear cool, long clothing to protect yourself.
There are streams running down the mountain along the route for water refilling but to be safe have some way to purify the water (we love the Steripen Adventurer that works really well with a Nalgene reusable water bottle: get it on REI|Backcountry|Amazon). Otherwise get water refills at Santa Rosa.
Eventually, you will reach the top and find a flag marking Marampata (2,913m), a small town that overlooks the canyon. Pitch camp here and enjoy playing football with the locals or drink a cold beer while admiring the view.
If you still have energy after the climb, you can continue on the easy path to Choquequirao (2,950m) and spend the afternoon exploring the ruins. There is a campsite below the archaeological site, or you can return to Marampata.
Day Three (eight to nine hours)
Wake up early and wander in the ruins in the beautiful morning light. Then set off back the way you came, unfortunately, there is no alternative route for the return journey unless you want to hike all the way to Machu Picchu (see below). If you would like more time in the ruins, just spend the day there so you can tackle the return journey on fully rested legs.
Be careful not to slip on the steep descent back to Playa Rosalina (lightweight hiking poles such as these are a good investment for this and other South America treks). Continue past the river to the Chiquisca campsite so that you can save your energy for the uphill the next day.
Day Four (two to three hours)
More steep switchbacks will take you back up to the mirador; this is a great area for spotting Condors to keep your mind busy. At the top, have a cold drink before you continue on the easy downhill back to Cachora.
Hiking Choquequirao to Machu Picchu – Nine days/eight nights
If you are looking for an even greater trek, the Choquequirao trail can be extended all the way to Machu Picchu. This route is 100km long with a much greater range in altitude, starting at 2,900m and reaching 4,668m at its peak.
Acclimatisation in Cusco is recommended before taking on this long trek (read our guide to where to stay in Cusco).
The Choquequirao to Machu Picchu trek can't be done the other way around, so if you are interested in both sites, consider this option. On this route, you will see parts of the original Inca Road and see views very few people have experienced.
The first two days of the trek are the same as the above route, with the third day spent in the ruins. On day four, you continue forward on the path, instead of turning back. Hiking poles are recommended on this route to help on the daily steep climbs and descents.
Day Four (six to seven hours)
After a relaxed day exploring the ruins, wake up early and continue over the ridge (3,300m) and down the steep descent to Rio Blanco (1,910m). Here is a great place to swim before tackling the tough ascent which will take you up to Maizal (3,000m).
Day Five (six to seven hours)
Continue to climb up to Victoria Mines (4,200m) where you can see some of the originally paved Inca Road. After the Abra San Juan pass, you will start a long descent to Yanama (3,800m) where you will camp for the night.
Day Six (eight hours)
The route through the Queliqua Valley is a day of light trekking until you reach the Yanama Pass (4,668m) – the highest point on this trek. A slight descent will leave you in Totora (4,100m) for the night.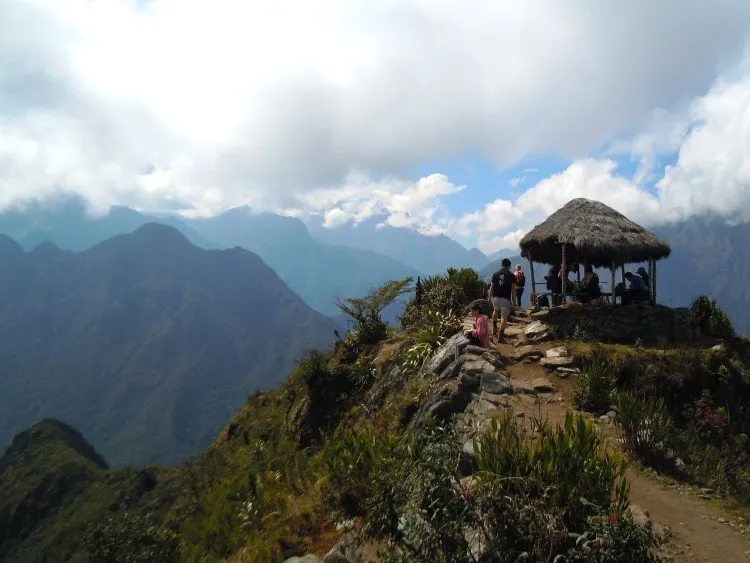 Day Seven (seven hours)
A long, winding descent will take you to Totora River, 2,000m below the village of the same name. Then a slight ascent leaves you at the village of La Playa (2,400m) which has a campsite for you to overnight in. This village has shops for you to restock in as well as hot springs to soothe your tired legs.
Day Eight (six to eight hours)
Here it is possible to take local transport to Lucma, otherwise, continue on your trek. At Lucma, the trail ascends for a three-hour climb to the newly discovered ruins of Llacpacta. From here you can catch a glimpse of Machu Picchu before descending to Hydroelectrica where the train departs for Aguas Calientes and takes about one hour.
Day Nine
Get up early and head to the Machu Picchu gates. Tours will take the bus up to the site, otherwise, you can hike up the hour and a half of stairs – if your legs are still strong enough.
Spend the day exploring the ruins and take the train back to Cusco or Ollantaytambo (you will need to book the train and Machu Picchu ticket in advance).
Go it alone or take a guide for Choquequirao?
Unlike many hikes in Peru, guides on this trek are just to make logistics easier, not to help you navigate. This trek is doable alone, but it is one of the most difficult in Peru and you should make an honest assessment of your own fitness and experience before deciding whether to do the Choquequirao trek solo.
I did not do a tour as I had a Peruvian friend knew the trail and who helped us organise, so I got the best of both worlds. If this had not been the case, I would probably have joined a tour group.
Guided Choquequirao tours from Cusco ($500+ (S/1,600+) to $1,500+ (S/4,900+) per person)
Tours should include transport to and from Cusco as well as many necessities for the trek. They organise your food, camping equipment, mules, water, and emergency horses if you can't make it out on your own. It is obviously a more expensive option but means you only need to focus on the task of hiking the route.
Choquequirao tours are less frequent than the more famous treks but you should be able to find tours from around $500 or S/1600 (for just Choquequirao) and upwards of $1,500 or S/ 4900 (for the route to Machu Picchu). If you want to negotiate down the price, find a group before approaching the tour company.
Our recommended company for this trek are Amazonas Explorer, a British-Peruvian B Corp who have endless experience with challenging treks and other activities in the region and run group treks to Choquequirao every first Sunday of the month.
However, there are endless tour companies in Cusco and any that operate the Salkantay or Inca Trail treks will also offer the Choquequirao trek.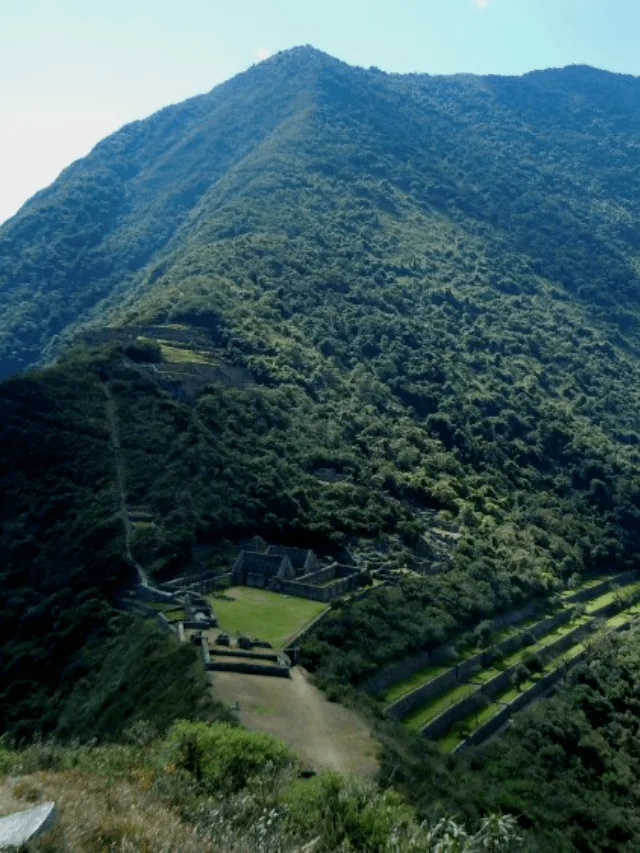 Want a discount on the Choquequirao trek to Machu Picchu?
Amazonas Explorer have a wealth of experience in the Cusco region, including the most challenging treks. As a B Corp, they pay to plant two trees for you each day of your tour in the nearby Lares Valley as a means of reducing your carbon footprint.
They're now offering Worldly Adventurer readers a 5% discount on all of their hikes and activities in the Cusco region – just mention Worldly Adventurer when you enquire!
Guided Choquequirao tours from Cachora ($250+ or S/800+ per person)
Tours operated out of Cachora are far cheaper because they don't include transport from Cusco and they don't get as much business. However, you also don't know what you are going to find there.
Ask in the hotels Inka Dream and CasaNostra about the trek but be sure to check what is included before you agree to leave. Ensure you will have sufficient equipment, meals, snacks and water for the trip.
Choquequirao trek without a guide ($150+ (S/400) per person)
Unlike the Inca Trail, it is possible to take on the Choquequirao trek without a guide. However, this is a very challenging route and you need to make an honest assessment of whether you are up to the task. Navigating the path is not difficult alone, and it means you will truly have the opportunity to experience the valley and the ruins in almost complete solitude.
Organising transport, food, mules, equipment and so on without any local assistance is definitely doable, it just requires more effort and preparation. If you decide to go it alone, you really need to ensure you are well prepared. I would not advise it unless you have experience in multi-day treks and are confident about your level of fitness.
To make the trek a little easier for yourself, consider hiring a muleteer so you do not have to carry your own bags. You will be expected to pay them about S/ 30 ($10) a day (including the time it will take them to return home) and share your meals with them.
Carrying your own gear will make this trek substantially more difficult, and if you doubt your strength (or sanity), you need to make the decision to hire a muleteer before you leave. Consider investing in a good, lightweight backpacking tent (read our review of the Big Agnes Copper Spur) and a water filter (read our review of the Steripen, a personal favourite) – both items that will make your life a lot easier on the trek.
Cachora is the only spot with mules for hire and once you hit the trail, you won't be able to change your mind.
If planning on doing the Choquequirao trek solo, you will need to pre-plan your meals. Though there are little stores and kitchens along the way, they are often closed or short on supplies as everything must be carried in with mules. To save yourself being caught short, bring most of the food you need.
Thinking of trekking to Machu Picchu? Check out hiking the Lares Trek for a unique alternative.
Also, consider a camping stove because you'll be craving warm food at the end of the long days.
When is the weather best for hiking to Choquequirao?
The Choquequirao trek is best done in the dry season, which is May to September, when the weather is clearest. Though this is the high season, the trail is quiet and uncrowded throughout the year – unlike bustling Machu Picchu.
In the rainy season, there are mudslides and the steep descents can be quite treacherous because of a lack of solid footing. Good hiking boots and a waterproof coat are essentials: check out our packing guide for Patagonia which has useful tips for equipment that will serve you well for hiking in Peru too.
What about entry tickets for Choquequirao?
The entrance ticket to the Choquequirao Archaeological Park costs S/ 55 ($16). They are bought upon entry to Choquequirao and do not need to be booked in advance.
Though the ticket is only valid for one day, they might let you back in the next morning if you arrived late the previous day.
There is a sign-in sheet at the ticket stand, so you will be able to see how many people have hiked in that day. When I arrived, there were just four names on that sheet.
Remember, the proposed Choquequirao cable car will be carrying in busloads of tourists in no time, so no time is better than the present.
Don't miss these other beyond-the-beaten-trail adventures in South America for more inspiration.
Did you find this guide to the Choquequirao trek useful? Don't forget to pin it