Within striking distance of the Sacred Valley and Inca Trail to Machu Picchu, Cusco is one of Peru – and South America's – most touristed cities.
It's also a place in which I lived for seven months while volunteering for a local educational charity – and a city that I quickly fell in love with, thanks to its energy and thrilling blend of indigenous Quechua traditions, Spanish architecture, and modernity.
The former capital of the Inca Empire is also a really safe city, particularly if you find a place to stay in the main historic center. This is where you'll find the majority of museums, restaurants, and bars and it's an area that you can get around on foot easily.
What's more, whether you're here for a couple of nights or, like me, hang around for a while longer, there's always something new to do and see.
But where should you stay in Cusco? And which neighborhoods are the safest for spending a few days?
It can feel hard to choose from the plethora of options found online, which is why I put together this guide to help you drill down into which neighborhoods and which Cusco hotels are the best options for your stay.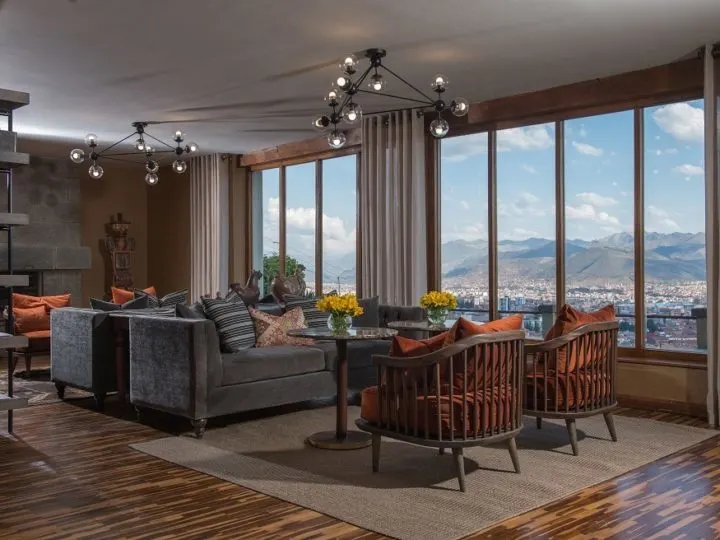 Best areas to stay in Cusco
Cusco is a sprawling city that extends from west to east, shuttling down the Valle de Cusco to Alejandro Velasco Astete International Airport, Cusco's airport, and beyond.
Despite this, the main tourist zones are clustered in and around the flat expanse that houses the Plaza de Armas and main downtown district, as well as into the foothills of the valley sides that are known as the San Blas, San Cristobal, and Santa Ana neighborhoods.
You'll find the majority of the hotels, hostels and other places to stay in Cusco located in these areas and all are within walking distance of the city's main sites.
Where to stay in Cusco: Plaza de Armas and the Centro Historico
The focal point of the historic center, the Plaza de Armas lies on what was formally the Huacapata or ceremonial square in Inca times.
While most of the buildings built under the Inca were lost when the Spanish conquered and evangelized the city, the square's vast size and its fortress-like cathedral and similarly splendid Templo de la Compañia de Jesús make it one of the most striking parts of the city.
Because this is the very heart of the city, accommodation in this part of Cusco is generally more expensive than in other neighborhoods and is the best place to find luxury hotels in Cusco.
Unfortunately, if your lodging gives out onto the square, it can be noisy, particularly during festivals (Peruvians love to celebrate religious events with vigor).
However, the bonus of staying in this part of Cusco is that you have a wealth of restaurants and activities right on your doorstep, meaning you never have to go far for entertainment.
Planning Your Trip to Peru?
Save time, stress & money with a customized travel itinerary planned for you by a Peru expert

Where to stay in Cusco: San Blas
San Blas is a picturesque neighborhood northeast of the Plaza de Armas, which you can reach by taking what was once part of the Inca's famed stone highways, Calle Hathunrumiyoc. This street becomes steps as it climbs into the San Blas neighborhood.
At the top, you reach a pretty place of narrow, cobbled streets, matchbox-sized cafés, and bohemian restaurants.
It's one of the oldest neighborhoods in Cusco and was originally the artisan district. It maintains to this day its bohemian vibe, although you'll notice the influence of hipster ex-pats in the coffee shops and restaurants now located here.
Its main attraction is Plaza San Blas, a square packed with vendors selling traditional handicrafts, and the Iglesia San Blas – a church known for its beautiful carved wooden pulpit.
If you stay in San Blas, make sure you also head up to Parque San Marcos for extraordinary panoramas across the city.
One of the key things to remember about Cusco is that the altitude – 3,399 meters above sea level to be precise – makes walking around the city a far more challenging prospect than at lower altitudes.
When I lived in San Blas, this required over 150 steps from Plaza de Armas to the guesthouse where I lived, and trust me: if you've not acclimatized, this can come as quite a shock to the system.
There are plenty of boutique hotels and cute guesthouses here, with many tucked high up into the valley side and accessed only by steep stone steps.
Therefore, while San Blas is definitely my favorite location for accommodation in Cusco, it's not one of the best places to stay for those who aren't ready to put their legs and lungs to good use.
The roads here are so narrow that it's extraordinarily hard to get to most hotels with a taxi, so you can guarantee that you'll be required to do some climbing uphill at some point.
However, there is one silver lining: the views across the city's rooftops from your bedroom are likely to be spectacular.
Where to stay in Cusco: San Cristóbal
Lying just north (again, up steep flights of steps) from the Plaza de Armas and in the skirts of Sacsayhuaman, the great Inca fortress that dominates the mountain above the city, San Cristobal is another small barrio in Cusco.
Its central point is the Iglesia San Cristóbal, a key landmark that's visible from many parts of Cusco because of its high altitude.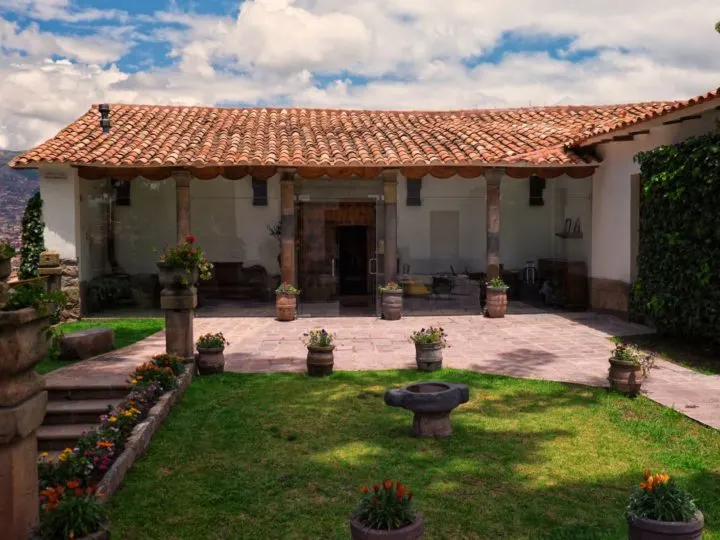 From here in turn you can expect glorious views south across the rooftops to the Plaza de Armas and the rest of Cusco as it snakes down the valley.
Like San Blas, San Cristóbal constitutes one of the oldest of Cusco's neighborhoods, but the roads here are slightly wider. This means it's easier to get to your lodgings here by taxi, while you're also within striking distance (and a fairly short walk) of both the Plaza de Armas and Sacsayhuaman.
Where to stay in Cusco: Santa Ana
The streets lying northeast of the historic center make up the Santa Ana neighborhood, another of Cusco's inclined barrios – although the hills aren't quite as steep here as those in San Blas.
When I first arrived in Cusco, I stayed in a hostel in Santa Ana and was impressed by its central location. It's highly accessible to the restaurants and bars in the center but is still quiet enough for sleeping at night.
You'll find plenty of affordable guesthouses, hostels, and other lodgings located here, many located directly off the gently climbing Cuesta de Santa Ana, the main road that cuts through the neighborhood.
Where to stay in Cusco: San Pedro
Comprising the streets west of Plaza San Francisco (home to the Iglesia San Francisco, which is worth a visit for its catacombs), the San Pedro neighborhood is close to the main historic center but feels more authentically Cusqueñan (local) than many of the other neighborhoods on this list.
What'll you'll quickly notice is how it's faced far less gentrification for the tourists than the historic center or the hipster San Blas.
San Pedro's best-known landmark is the Mercado San Pedro, a colorful, noisy, and downright Peruvian market.
There's nothing quite like wandering through the cavernous hall between stores packed with everything you never realized you needed and chowing down on dishes of hearty local favorites such as empanadas or chairo (thick soup) and painfully sweet milkshakes.
Like the Plaza de Armas and the downtown area, San Pedro is mostly flat and lodgings are also cheaper in this part of Cusco, making this a great option if you want to be close to the action but don't want to blow your budget.
Some parts are a little sketchier than areas closer to the main square, so check with the staff at your hotel or hostel about whether it's safe to walk home at night or whether taking a taxi is a better option.
Best luxury hotels in Cusco
Around the Plaza de Armas and historic center
Belmond Palacio Nazarenas
For understated, tasteful luxury, few places can top the five-star Belmond Palacio Nazarenas ($595 USD double).
Part of the Belmond chain (who run the luxury train to the UNESCO World Heritage Site of Machu Picchu, as well as the Andean Explorer from Cusco to Arequipa), this is truly the top of the top when it comes to lodgings in Cusco.
Built on the foundations of a former Inca palace and with preserved Inca stonework for good measure, this hotel drips with luxury, from the outdoor pool to the spa and oxygen-enriched suites which ensure you're never short of breath and which include four poster beds and private balconies with city views.
Each room comes with your own personal butler who'll book tours of the city, provide room service and even show you how to prepare the ultimate pisco sour.
What's more, with only 55 suites, it's slightly smaller than the Belmond Hotel Monasterio next door, ensuring a more boutique feel to your stay.
Separated from the Belmond Palacio Nazarenas by a private chapel, the Belmond Hotel Monasterio ($360 USD) offers an equally opulent five-star service. Here, rich antique furnishings and high-ceilinged bedrooms decorated with gilt-framed artwork are located in a former monastery just minutes from the Plaza de Armas.
The central courtyard feels like a world away from the bustle of the surrounding city and is the perfect spot for reading a book or taking tea and cake in the afternoon.
Every part of the hotel is imbued with a tangible sense of the colonial history of Cusco, while the on-site restaurant can provide an excellent introduction to Peruvian cuisine in a charmingly atmospheric setting.
Part of the exclusive Relais and Chateaux chain of international luxury hotels, the five-star Inkaterra La Casona ($440 USD double) is housed in a 16th-century colonial mansion and boats just 11 bedrooms – which guarantees a blissfully tranquil stay.
All are suites with freestanding bathtubs, heated floors, open fires, and colorful Andean textiles to capture the rich history and culture of the city.
There's also a spa and restaurant here to ensure absolute comfort during your stay, while a relaxing courtyard provides the opportunity to while away the hours with a book or drink in hand and enjoy the complimentary tea time or happy hour. This is, without a doubt, one of the finest luxury hotels in Peru.
Best boutique hotels in Cusco
Around the Plaza de Armas and historic center
Promising affordable comfort in a charming setting, El Mercado ($210 USD double) is a perfect getaway in the city center. The 32 bedrooms are decorated with modern furnishings and artwork, adding a modern twist to a historic casona.
Plenty of snug areas – filled with squishy sofas and beautiful Andean textiles – make this a wonderful comfortable place to relax and the location is great: just a couple of streets from the Plaza de Armas.
In the evenings, the restaurant serves up top-quality Peruvian dishes against a backdrop of traditional Andean music.
Just four blocks west of the Plaza de Armas, Tambo del Arriero ($180 USD double) is located in an old colonial building (historically used as an inn by mule drivers), with bedrooms clustered around a grassy central patio.
High-ceilinged bedrooms are decorated with antique, gilt-framed mirrors and beautiful furniture in keeping with the historic nature of the building.
A comfortable sitting room with sofas provides a place to relax, while staff of this family-run hotel do everything to ensure you have a great stay – including offering a free airport transfer.
Boutique hotels in San Blas
With a great location just off Plaza San Blas, Antigua Casona San Blas ($244 USD double) embodies the historic nature of the neighborhood, with 26 spacious and beautifully decorated bedrooms – think carved, heavy wooden headboards and antique furniture.
Rooms have balconies that open onto a manicured patio, where cozy chairs and fire pits make this the perfect place to relax in the evening with a cocktail. Their on-site restaurant, spa, and free yoga classes mean you've got access to everything you need in this charming boutique hotel.
Thanks to its location high up in the San Blas neighborhood, Tariq Hotel Boutique ($104 USD double) has some of the best views you'll find in the city from both its bedrooms and the liberal number of balconies dotted around the hotel.
A charming courtyard provides a place to relax after a busy day of sightseeing (the bartender at their on-site bar can rustle up a mean pisco sour!), while the bedrooms blend open brick walls with modern furniture and design, making them comfortable and cozy at the same time.
An old colonial mansion has been lovingly restored to make the beautiful Quinta San Blas ($130 USD double), an understated boutique hotel in a quiet part of the San Blas neighborhood.
Bedrooms have crisp white linens and statement blue decorations and look out onto a sunny courtyard area.
The breakfast isn't the most complete, but wonderfully hot showers and its location close enough to the main sights of Cusco but far away enough to be quiet and relaxed, are huge bonuses here.
Boutique hotels in San Cristóbal
Tucked in the valley foothills below Iglesia San Cristobál, the 22-room Palacio Manco Capac ($134 USD double) is built on the foundations of the former home of Inca ruler (and alleged founder of the Inca civilization) Manco Capac.
This beautiful hacienda oozes history thanks to its terracotta roof and beautiful religious artwork in the traditional Cusqueña style.
The lush gardens and bar have views across the city, showcasing the hotel's privileged setting, just a short walk down to the Plaza de Armas but feeling entirely removed from the busyness of Cusco.
Best budget hotels and guesthouses in Cusco
Around the Plaza de Armas and historic center
Few places offer the degree of comfort and affordability as MOAF Boutique Hotel ($80 USD). The rooms are bright thanks to plenty of natural light and have modern furnishings and pleasant neutral decoration. This helps to enhance the rooftop views available in some bedrooms, as well as in various communal areas.
A pretty, shaded courtyard grants outdoor space to residents, while the fantastic staff go out of their way to ensure that your stay in Cusco is unforgettable.
San Blas
With beautifully restored furniture and polished hardwood floors, Andenes al Cielo ($85 USD) feels a bit like you've gone back to colonial times, but in a positive way.
The historic atmosphere of this beautiful casona is palpable, while the terrace overlooking the city's rooftops brings Cusco and its magnificent setting alive.
An extensive breakfast buffet and its prime location just two blocks from the Plaza de Armas are the cherry on the top.
San Cristóbal
With a pretty garden and a glorious terrace with views down the valley and across the city, Luna House ($47 USD double) is a relaxed guesthouse with plenty of charm and an affordable price tag.
Practically every bedroom has superb views from its large windows, while the general decoration is both modern and understated.
What's more, Antares, the resident dog, helps the human hosts provide first-class hospitality, while a communal kitchen also makes this ideal for those looking to self-cater.
The only downside is it's a bit of a hike up from the historic center – but what else would you expect with views like this?
For a true introduction to Peruvian artistry, head to El Retablo ($122 USD double), a gloriously colorful guesthouse tucked into the San Cristóbal neighborhood.
Rooms are decorated using the vivid colors of the traditional retablos (decorative religious or historical altarpieces) that are traditionally made in the nearby city of Ayacucho, with similarly dazzling Andean textiles throughout the hotel.
The sunny courtyard and breakfast room continue the colorful theme, while some rooms have gorgeous rooftop views from their windows.
Santa Ana
In a quiet location set away from the city in the barrio of Santa Ana, the gorgeous terraced garden is just part of the attraction at El Balcón ($100 USD double).
Rooms are whitewashed and clean, offering superb comfort and pretty hardwood beams, while walls are slung with Andean textiles made by local women (and available to buy as a souvenir of your trip!).
Massages and a laundry service can be arranged for an additional price, making this a superb place to relax after hiking the Inca Trail or enjoying other nearby adventures. Opt for an upper room for more light and privacy.
San Pedro
Yanuy Culinary Guesthouse
As the name would suggest, food is a big part of the experience at Yanuy Culinary Guesthouse ($48 USD double). While the simple bedrooms won't win any prizes for decoration, they're perfectly comfortable and the breakfast and optional dinner are the perfect way to engage with Peruvian dining in a cozy, familial setting.
Best hostels and shared accommodation in Cusco
Around the Plaza de Armas and historic center
Expect simple bedrooms with wonderfully comfy beds at the friendly Mamá Simona ($13 USD dorm, $34 USD double).
Rooms aren't the largest, but have everything you need for a short stay, while dorm rooms include large lockers for your luggage and slouch chairs for relaxing, with a couple of communal living areas thrown in for relaxing and socializing with other guests.
WIFI isn't the strongest (it's only available in common areas), but you'll find the attention and hospitality of the staff hard to beat.
Spacious rooms, many of which have striking views across the rooftops towards the Plaza de Armas, make the Nao Victoria Hostel ($15 USD dorm, $70 USD double) an excellent choice for affordable accommodation in Cusco.
Music can be a problem because of bars down the road (so ask for a room at the back of the house), but you can expect a varied buffet breakfast in the morning, which'll set you up with plenty of energy for the rest of the day.
It's popular with couples and travelers in groups, so solo travelers may struggle to connect with others here.
With a great location just a stone's throw from the Plaza de Armas, Kokopelli Hostel Cusco ($12 USD dorm, $66 USD double) is a great choice for budget travelers thanks to its social atmosphere and spacious if a little tired, dorm rooms with pod-style bunks.
There are loads of communal spaces for swapping travel tips, although these can get a bit noisy at night time, so this isn't a great spot if you want to catch some early shut-eye. If you want to hang out at the hostel, they've got a great bar on-site that serves up food, plus a laundry service and their own tour agency.
A solid backpacker favorite, Puriwasi ($9 USD dorm) has slightly dingy dormitories but shines when it comes to outdoor space, with cozy sun loungers and hammocks in its open courtyard and an outdoor bar for guests – both of which are great places for meeting other travelers.
A continental breakfast is included, but no kitchen facilities – which is fine, because the hostel is so central, you're spoiled for choice when it comes to places for eating out.
San Blas
Attached to the best French creperie in Cusco (if not Peru), there's a reason Backpacker La Bo'M ($10 USD dorm, $35 USD double) is always packed.
A hammock-slung courtyard and colorfully decorated communal spaces provide plenty of chill-out areas, while dorm rooms have large beds and access to plenty of bathrooms.
Private rooms are small but perfectly formed and the general welcoming ambiance (plus crepes for breakfast!) will leave you wanting to stay far longer than you first intended.
San Pedro
Utilitarian dorm rooms give onto colorful communal areas at the excellent Chusay Rooftop Homestay ($6 USD dorm, $20 USD double), where the staff provide the ultimate in warm welcomes and go out of their way to make you feel at home.
Showers are spacious and provide plenty of hot water (quite the luxury in Cusco!), while a shared kitchen and enclosed terrace with city views offer plenty of spaces for those wanting to self-cater. Opt for a room away from the main common areas to ensure a sound sleep!
---
Looking for what to do during your stay in Cusco? We've got a full range of itineraries for exploring Cusco, as well as a guide to what to do (and where to stay!) in the Sacred Valley. Heading onwards to Machu Picchu? Read our guides to the Inca Trail and the alternative Machu Picchu trek, the Salkantay.