Are you craving unique scenery, authentic cultural experiences, and the flavors of traditional Argentine dining? Look no further than the far northwestern region of Argentina and the city of Salta.
Surrounded by dramatic hills of sparse vegetation, colorful canyons of exposed sedimentary rock, and emerald green agricultural valleys, Salta is home to some 700,000 people who live at the lofty elevation 1100 meters above sea level (3,700 feet) in the arid foothills of the Andes Mountains.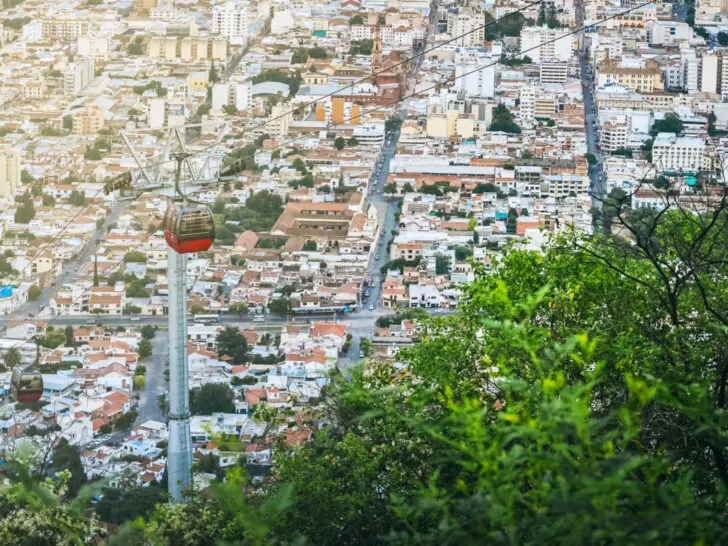 This region has a chequered history. Settled originally by pre-Columbian civilizations, it then became an important thoroughfare along an Incan road.
When the Spanish conquered the area, they founded the city of Salta in 1582 and continued to use the valley as a connection between Peru's modern-day capital, Lima, and Buenos Aires, Argentina.
Because of this historical infusion of both Spanish and Indigenous influences, the Province of Salta, and its neighbor Jujuy (pronounced who-whoey), have retained a unique mixture of foods, music, arts, traditions, architectural styles, and clothing found nowhere else in Argentina.
Planning Your Trip to South America?
Save time, stress & money with a customized travel itinerary planned for you by a South America expert
What previous clients have said:
Going to a new and exciting place is an adventure AND has its challenges. Being able to carve out an in-depth plan with someone that has been there and whom you can trust was extremely helpful.
We felt comfortable embarking on a six-week backpacking trip with kids ages 8 and 11 with Steph on our team. Her expertise and ability to hear what we wanted gave us a great jumping point for planning. Her advice and wide array of options also allowed us to be flexible. It also gave us peace of mind knowing that we had someone we could call if our plans went awry.
Every one of Steph's recommendations panned out to be incredible pieces of our trips and we would highly recommend her!
JORDAN AND KAYLEIGH
Traveled to Peru, Bolivia, Argentina and Patagonia
Visitors are taking note, and flocking to these northwest provinces. After a few days here, you, too, will understand how Salta got its nickname La Linda, or The Beautiful. Here are my recommendations for the best things to do in the city of Salta and beyond – perfect for getting right under the region's skin.
1. Take a walking tour through the center of Salta
What better way to get oriented to a new place than to take a walking tour? Salta Free Tour offers two-hour English walking tours daily at 6pm. The tour focuses on the history, culture, architecture, and cuisine of this historic, yet cosmopolitan city. Guides work for tips, and no reservations are necessary.
2. Enjoy the pulse surrounding Plaza 9 de Julio (July 9th Plaza)
Like every other colonial city, the tree-covered central square of Plaza 9 de Julio is the heartbeat of the city. Walkways lead you past fountains and statues, while numerous museums and cafes are tucked under the historic arched arcades that surround this square.
Towering above one side of the park is the pink, ornate Cathedral of Salta. Built in the 1800's by the Roman Catholics, its intricately painted and gilded interior is worth your time. And, if your visit is in the fall, you may encounter a grove of bountiful orange trees along the side patio of the cathedral that offer a free treat to those who find them.
3. Learn Salta's history in a variety of museums
If you only have time for one museum, I highly recommend Museo Arqueológico de Alta Montaña (The High Mountain Archaeological Museum) known as MAAM.
This interesting archaeology and cultural history museum houses the famous Mummies of Llullaillaco, three Inca children mummies and their possessions who were preserved within a mountain for over 500 years. Really, how often do you get to see that? Although not all displays are in English, the museum is well worth the effort.
Another key museum lies opposite the cathedral in the historic town hall or 'cabildo'. Restored from the 1700's, this building is now the Museo Histórico del Norte (History Museum of the North) with exhibits on Argentina's colonial and revolutionary history. Be sure to use your Google Translate App to help you with the Spanish-only displays.
On the sides of the square, you'll also find the Museo de Arte Contemporáneo (Museum of Contemporary Art) and the American Cultural Center, both of which are free to enter and also have interesting art and cultural exhibits to enjoy.
4. Shop the pedestrian streets of Balcarce, Alberdi and Caseros
Salta has many blocks of tree-lined pedestrian streets. Alberdi and Balcarce are the main places to eat and shop; benches and public art also make them an appealing place to wander.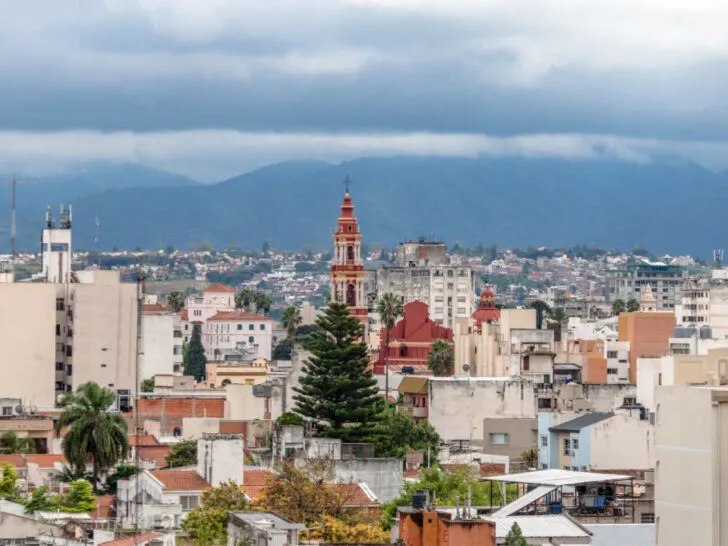 If you're planning to travel outside of Salta (which I highly recommend you do – scroll down for my top suggestions), you'll find the majority of travel agencies located on Caseros Street. If you crave adventure sports such as river rafting, mountain biking, trekking, or touring in a 4×4, Salta offers several unique experiences. Compare the deals displayed in the windows of the various agencies along this pedestrian street.
5. Step back in time inside the Basilica de San Francisco
Built in the mid-1600s, the intricately designed and colorful Basilica de San Francisco (San Francisco Church) is now a National Historic Monument. Visitors are welcome to enter for free, but for a small fee, you can take a tour of its museum and climb to the bell tower for great views of Salta from above.
6. Relax in Salta's green spaces
The center of Salta boasts a few different parks and plazas, but the largest of all is Parque San Martín (San Martin Park). This large natural area features many walkways, monuments, gardens, a playground, a lake for paddle boats and a popular natural sciences museum, Museo de Ciencias Naturales.
Located next to the bus terminal, Parque San Martín is also where you'll find the cable car to summit San Bernardo.
7. Head up the hill on the Teleférico San Bernardo (San Bernardo Cable Car)
This 10-minute cable car ride will take you to the cerro, or summit of San Bernardo, where a lovely view awaits of Salta and its mountainous surroundings. Head up there at sunset and you won't be disappointed! Tickets can be bought round trip or one-way if you'd rather hike the 45-minute path, which starts behind the cable car station.
8. Savor the regional cuisine of Salta
In addition to being beautiful, the Salta region is equally cherished for its gastronomy. With a healthy blend of Spanish and Indigenous flavors, Salta's cuisine is unique within Argentina.
The most popular go-to meals include juicy meat and potato empanadas, as well as tamales, a savory concoction of cornbread stuffed with meats, onions, and peppers wrapped artistically in a corn husk package. For a larger meal, try the locro, a hearty stew of beef or pork with pumpkin, corn, and beans, which is served alongside a variety of sauces and spices to add as you wish.
Salta also boasts local cheeses and varieties of local wines to top off your regional meal. Trust me when I tell you that Argentinian food does not disappoint!
To try the very best of these dishes, head to Adobe Cocina Regional, with tables overlooking Plaza 9th de Julio, or just two blocks away is the popular Doña Salta serving up their very best to locals and visitors alike.
9. Find Salta's night-life along Balcarce Street
Salta is brimming with late-night restaurants, hip bars, casinos and pubs. The best variety of music and local drinks can be found along several blocks of the lively Balcarce Street near Plaza General Don Martin Miguel de Güemes. Remember, the night in Argentina gets started quite late so pace yourself.
10. Join in the fun at a traditional peña folklorica
For the richest of cultural experiences, spend an evening at a traditional peña, featuring traditional food, wine, music, and dance in honor of the life of the gaucho, Argentine's revered cowboys. The party gets started with a lively stage show of quintessential folk music and dance where spectators are encouraged to sing, stomp, and generally get involved in the fun.
For the most authentic peña in Salta, La Casona del Molino is a fan favorite with different styles of music in every room. Get there early for a table.
To the south of Salta
Now you've thoroughly enjoyed Salta's city center, head out of town to discover the other treasures of this region.
11. Spend a day or two in Cafayate
Situated three hours south of Salta, Cafayate's attraction is the plethora of bodegas and restaurants serving up crisp white wine made locally from the torrontés grape. Malbecs and cabernet sauvignons are popular in this region, too. Just outside town, you can tour the Museo de la Vid y Vino to learn more about the process of making wines at 1600 meters (5,200 feet).
When you're not sipping, enjoy a wander around the Central Plaza, and the church, Iglesia Catedral Nuestra Señora del Rosario, or find plenty of unique souvenirs such as pottery, leather products, and local food specialties at the Mercado Artesenal.
To get to Cafayate, Route 68 leads travelers from Salta along the greenest of agricultural valleys and into the most impressive part of the drive, the Quebrada de las Conchas. This canyon is dotted with panoramic vistas, and a variety of impressive rock formations including El Anfieteatro, and La Garganta del Diablo. Keep your cameras ready!
One and two-day tours, or transportation on public buses, are available from Salta, leaving you stress-free to enjoy the roadside views and the wine. That said, if you're able to rent a car and stay in Cafayate yourself, the journey and the destination are worth at least two days of your time.
To the west of Salta
12. Make a getaway to Cachi
Cachi is a lovely high-in-the-hills colonial village with white adobe buildings and tree-lined plazas. You can spend hours meandering along Cachi's ancient cobblestoned streets, which connect oodles of restaurants and artisan shops.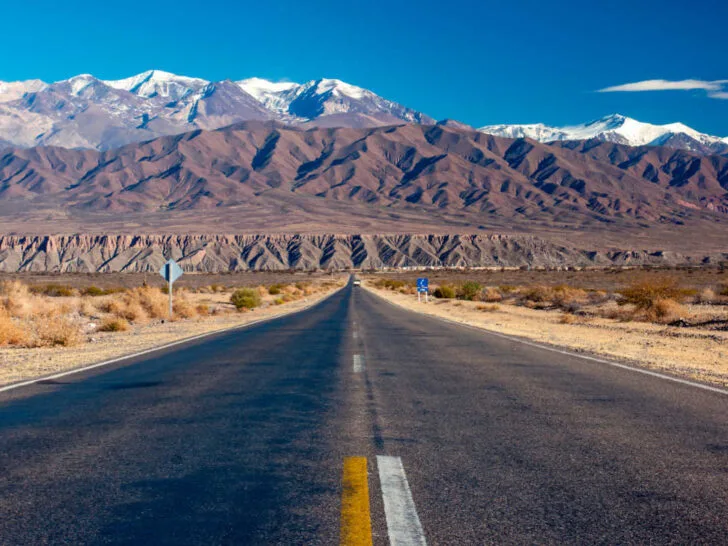 At the heart of town lies the tree-lined Plaza 9 de Julio (July 9th Plaza), and the Catholic church, Iglesia San Jose, the latter with a preserved interior made from the Cardón cactus. If you're interested in the archaeological history of the area, check out Museum Pio Pablo Diaz adjacent to the plaza.
Is natural beauty more your thing? Just a few minutes from the center, a gravel road climbs up to a mirador for a panoramic vista of the green Calchaquí Valley. While you're there, explore the colorful and windblown cemetery documenting the inhabitants of long ago. To reward your efforts, stop at Nueve Cumbres, the new winery you passed at the bottom of the hill.
To get to Cachi, hop on a local bus, book a day tour or take a shared taxi from Salta; the drive is a stunningly scenic three hours along the gravel switchbacks of Ruta 33, which ascends the Cuesta del Obispo syncline, travels across the arid, treeless highlands and through Los Cardónes National Park.
This national park was created in 1996 to protect the ecosystem and the giant Mexican cactus, or cardónes, that stand at attention across the hills.
13. Hike in Parque Nacional Los Cardónes
If you have your own vehicle and want to stretch your legs on the route between Salta and Cachi, you'll find a handful of trails in Parque Nacional Los Cardónes (Los Cardónes National Park).
For a short wander, the 20-minute Ojo de Cóndor is a great choice to immerse yourself in this arid cactus-filled ecosystem, while the Valle Encantado trail takes almost two hours. Bring water and sun protection.
14. Ride the Tren de las Nubes
Near the small pueblo of San Antonio de los Cobres, one of the highest railways in the world offers a different way of traversing the region. The historic Tren de las Nubes (Cloud Train) line was built in the 1930s to connect Salta to the community of La Puna and it's possible to ride a short section of this famed route.
The trip itself lasts about two hours, with the highlight being a stop at the Polvorilla Viaduct (Viaducto of la Polvorilla). At over 13,000 feet, this 207-foot steel bridge is unique because of its upward-curved section, which offers wide panoramic views of the Andes Mountains.
To visit the Tren de Las Nubes, you can take a long day tour from Salta. You'll visit the Campo Quijano (to learn the history of the Tren de las Nubes), Viaducto del Toro (to see one of the longest rail bridges along the route), and the village of El Alfarcito (to eat a traditional breakfast). After the train ride, you'll also explore the pueblo of San Antonio do los Cobres.
On the way back to Salta, some tours stop at the UNESCO World Heritage archaeological museum of Santa Rosa de Tastil, an important community along an ancient Inca road. All in all, this day tour is a long trip with a lot of time spent on a bus. But the tour is popular and often sold out, so many believe it is worth the effort.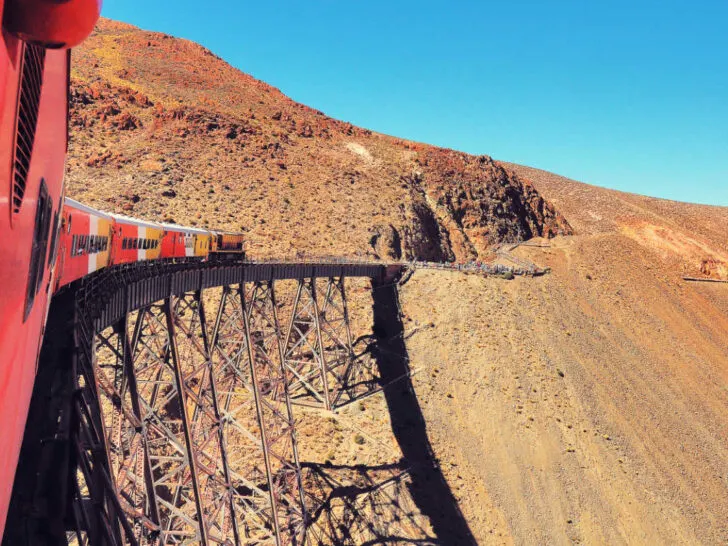 If you choose to find your own transport to San Antonio de los Cobres, individual tickets for just the train ride can be bought ahead of time through tour agencies or online here.
To the north of Salta
To the north of Salta lies the province of Jujuy. Pronounced who-whoey, this province is equally stunning thanks to its rich cultural history.
There are several locations worthy of exploration and many tour companies in Salta offer long day trips; but to save yourself hours traveling there and back, it's worth basing yourself in this northern region for a couple of days.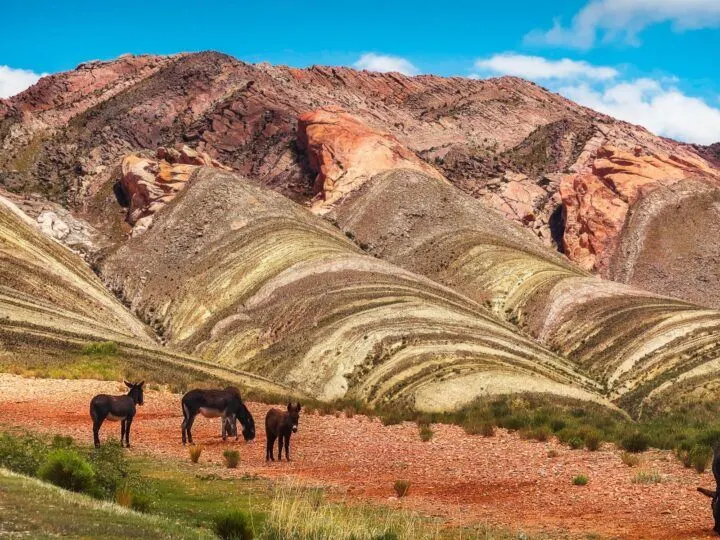 Much of the sites are located within the Quebrada de Humahuaca, a 155-kilometer-long mountain valley with the town of Humahuaca at its heart.
15. Putter a while in Purmamarca
To wander the cobblestone streets of Purmamarca and admire the colorful adobe houses is to step back in time. Although tourists cram the streets around the 9 de Julio Plaza (July 9 Plaza), the artisan craft tables and the centuries-old church of Santa Rosa de Lima are worth a wander. Grab a tortilla rellena, a bread-filled snack from a street vendor, and enjoy the scene.
The real draw to Purmamara is the Quebrada de Siete Colores (Mountain of Seven Colors), literally a sedimentary mountain with multi-colored layers. It rises up just behind the town and is best photographed in the morning light from the town center or along the nearby trail called the Paseo de los Colorados.
16. Get some perspective at the Salinas Grandes Salt Flats
To the west of Purmamarca, Salinas Grandes dominates the landscape. At 212 square km (82 square miles), Salinas Grandes is the largest salt flat in Argentina. When you drive upon it, you think it might be a lake, but it's purely a bed of salt.
From Purmamarca, it's easy to find a formal tour, or you can drive to Salinas Grandes in your own vehicle. For an inexpensive option, head to the corner of Libertad and Rivadavia streets and listen for taxi drivers offering up a shared ride.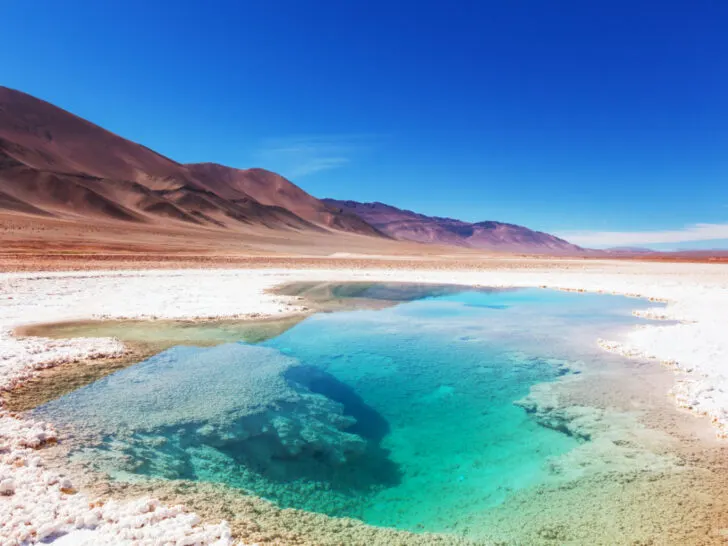 The 90-minute drive through the treeless and pink-hued mountains is gorgeous – although the curves are not for the faint of heart. Once you arrive at the salt flats, employees of the salt mining company are available to interpret this area for free, giving you an explanation of how this thick crusty layer of salt came to be.
Of course, what visitors really love to do is take copious amounts of photographs playing with the light and perspective of this vast, seemingly limitless expanse of white. Bring a water bottle or something comical that can be used in the foreground of these perspective shots to add to the fun!
17. Wander the sites of Tilcara
While traveling north from Purmamarca, Highway 9 continues into the red-walled Quebrada de Humahuaca, which is now a UNESCO World Heritage Site preserving the cultural history of the people and the pueblos (villages) throughout the valley.
One such pueblo worthy of a stop or stay is Tilcara. The main street and plaza offer unique shops, a plethora of artisan craft booths, and a historic Catholic church to peruse.
For a hike, check out the four-kilometer (two and one-half miles) exposed but colorful trail to Gargantua del Diablo waterfall, or visit Pucará de Tilcara, a pre-Incan fortification with views of the valley.
18. Scramble in the canyons around Uquia
As you continue north up Highway 9, the sides of the Quebrada de Humahuaca close in and become more intense in red, white, and grey hues. While this canyon is certainly beautiful, the explanation for its striking hues is equally fascinating.
For a small fee, knowledgeable guides will take you for a short hike through the slot canyons of Quebrada de Las Tres Señoritas in tiny Uquia, recounting the human and geological history of the area along the way. To avoid the heat of the day and get the best photographs of the stunning rock, visit during the morning or late afternoon.
19. Immerse yourself in Humahuaca
The village of Humahuaca is the crown jewel of the Quebrada de Humahuaca. Spend at least a morning strolling the cobblestone streets, taking in the murals and looking at stalls filled with locally-made textiles, pottery, and wool garments.
At the village's heart, you'll find Plaza 25 de Mayo, the main square, which is surrounded by government buildings and historic monuments. Take note of the architecture here: the pock-marked wood of the ancient cardón cactus was used for beams, windowsills, and benches throughout.
Because this cactus is now a protected species, examples of it in architecture are increasingly rare, with buildings, like those in Humahuaca, now lovingly preserved throughout the region.
20. Head out to the Hornocal Syncline or Mountain of 14 Colors
Every afternoon, around the bus station in Humahuaca, taxi drivers gather to sell a shared ride up to the spectacular Hornocal Syncline: a mountain range with 14 layers of intense hues. If you have a vehicle, it is easy to drive yourself. Either way, the late afternoon sunshine illuminates this not-to-be-missed natural work of sedimentary processes, so don't be late for the show!
21. Come for Carnival in February
Throughout the month of February, the traditions of Carnival are celebrated in various communities across the provinces of Salta and Jujuy. Parades, music, and vibrant traditional clothing are all part of the festivities which draw crowds from across the region and beyond.
Accommodations can get booked up early – particularly in Salta and other large towns – so be sure to plan your visit in advance.
Frequently Asked Questions
When's the best time to visit Salta?
Salta has a year-round temperate climate with four distinct seasons. The best time to visit is during Argentina's spring (September-November) or fall (March-May) when the days are generally warm and the skies are clear. In the winter months of June and July, the dry weather continues, but the nights can be quite cold in this mountainous region.
I recommend you avoid visiting this region during the months of December, January and February as they are the hottest and rainiest. Torrential rains and road closures are not uncommon throughout the region during this time.
Is Salta, Argentina worth visiting?
Yes, Salta is worth the effort! The region oozes a unique cultural heritage, stunning landscapes, and delicious traditional cuisine. Salta is a not-to-miss destination in Argentina!
Where is Salta and how do I get there?
Salta is the capital city of the Salta province and is located in the northwest corner of Argentina, near the border with Chile. Thanks to Salta's Martín Miguel de Güemes International Airport, this region can be easily reached with domestic flights from other cities throughout Argentina.
How long do I need in Salta?
I would recommend a day or two in the city of Salta, two to three days for the south and west of the city, and two to three more days exploring the province of Jujuy in the north.
How do I travel around the region?
Public transportation is available and easy to use between destinations. Additionally, tours and shared taxis can take you to the sites around most towns and villages. That said, if you'd like to be on your own time schedule, renting a car in Salta is a popular thing to do. Check out Rental Cars for your options.
Is Salta safe?
Salta is a very friendly and walkable city, which generally feels safe throughout the city center. Of course, like anywhere, take precautions when you're in a crowd and enjoying the nightlife.
Where should I stay?
The historic center in the city of Salta is a great place to start your exploration. From this city, you can take day tours to the other sites throughout the region.
However, if you have the time, you might want to spend a night or two in Cafayate, and/or Cachi to explore the southern and western parts of the region, as well as a few nights to the north in the province of Jujuy. There, the villages of Purmamarca, Tilcara, and Humahuaca offer a variety of traditional and modern accommodations.
---
Ready for your trip to Argentina? Plan your three-to-five-day trip to Buenos Aires using these expert-written itineraries, explore the best times to visit Argentina, and find out how safe Buenos Aires is to visit.