South America is a truly unique travel experience, with myriad landscapes and cultures. Many new South American travellers become intimidated by how much there is to do and how little of it is familiar.
Don't worry, once you get going, you'll quickly fall in love with the towering mountains, long beaches, lush forests, old towns and much older ruins. Top it off with friendly people, new foods, a little craziness, and you are bound to have a great time.
When I first landed in the continent, I knew absolutely nothing about traveling here and realised I should have planned where to travel in South America, so I drew a map of the continent and started plotting potential routes.
I've laid out the best South America backpacking routes for you to get the most out of the time you have.
Whether you have two weeks or a month in South America, a shoestring budget or a lavish lifestyle, one of these routes will get you started with your trip ideas and help you discover all that South America has to offer.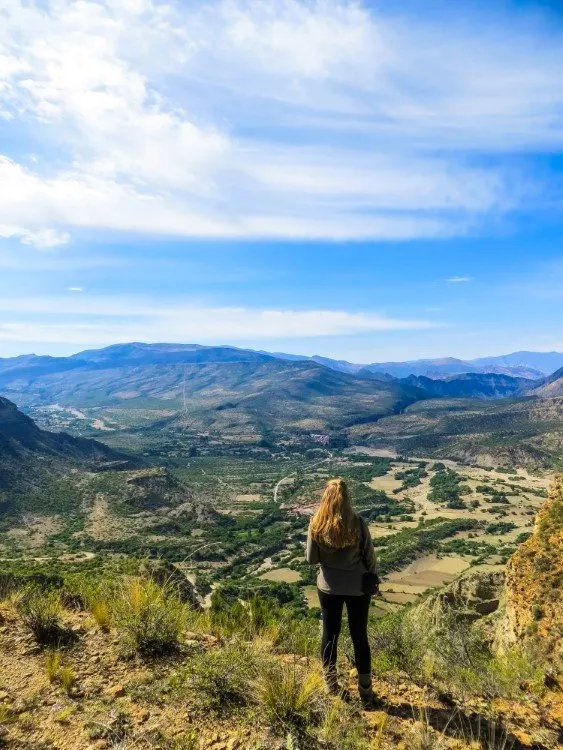 Before you dive in, it's also worth checking out our article about what to pack for South America – a guide written after seven years of exploring the continent – as well as work out which are the best countries in South America to visit for the different interests you have, whether those are hiking, archeological sites, football or wine.
What should you consider before planning your South America backpacking route?
Budget: 'How much can you spend traveling in South America' and 'how much should you spend traveling in South America' are two very different questions, and both are important. Traveling South America cheaply is possible; the cost of backpacking here is far cheaper than in most other parts of the world and it's relatively easy to stick to a budget of $50 USD per day. My main tip would be to have a budget so that you don't overspend but also avoid keeping the purse strings so tight that you miss out on amazing experiences. Identify what is important to you and set aside part of your budget for it before you start.
Where you will land: This is not only important for the route you pick but also relevant when looking at flight costs and visa restrictions. Hubs such as Lima, Santiago, São Paulo and Bogota generally have the cheapest connections with countries outside of South America, as well as plenty of direct flights between these and other parts of the continent.
The best time to go to South America: Remember to also think about the seasons; the best time to go to South America really depends on exactly where you're heading. The northern countries are usually best visited in the dry season (May to September) and the southern countries in summer (October to April). Read our article for more detailed information about the best time to visit South America.
What do you want to do: Do you want to do a five-day hike in Patagonia, learn to surf in Peru, walk the streets of Buenos Aires or dance salsa in Cartagena? Remember to consider what is important to you to see or do, not only how much time and money you have.
Is it dangerous to backpack in South America? No, it's not. Travelling to South America – or any part of the world in fact – requires pre-planning and thought, so you know how to get from A to B safely and without issue. Learning Spanish before you go is helpful but not essential; what you'll find is that many travellers follow similar South America travel routes, so you'll quickly find and make plenty of new friends along the way.
The best itinerary for South America: Ultimately, there is no best itinerary. What matters is that you spend your time and your money seeing destinations and having experiences that will last you a lifetime. All of the South America backpacking routes and places to visit outlined in this post have been tried and tested by myself and other backpackers, so it's really a choice of deciding which one most appeals to your imagination.
Planning Your Trip to South America?
Save time, stress & money with a customized travel itinerary planned for you by a South America expert
Ten days in South America
Very short trips to South America can be difficult. Cities and tourist attractions are far apart and fast travel (aka flying) is expensive. Good planning will help you make the most of it.
I've laid out one itinerary below, but you can also get inspired by the two-week itineraries for Peru and Colombia, as these can easily be adapted to a shorter duration.
Ten Days in Brazil
Brazil is huge, but this ironically, makes it a great destination for a short South American trip – let's face it: you would never be able to see it all anyway!
This ten-day Brazil itinerary will give you a taste of the fun, flare and beauty of this vast and extraordinary country.
Days One to Three: Start your trip in Rio de Janeiro, a city that is an absolute must-see on any Brazil trip. There is so much to do here that you will need to plan your activities in advance.
Definitely set aside some time to sun yourself on the beaches of Copacabana, Ipanema or Leblon. Hike or train up to the Christ the Redeemer statue for panoramic views of the hilly city and the glittering Atlantic Ocean below.
Inside the city itself, Santa Theresa is a great artistic neighbourhood to explore and Lapa is the area to experience the nightlife of Rio.
Days Four to Six: Next, take a four-hour bus to Paraty, a colonial coastal city with a laid-back atmosphere and plenty of islands only a day trip away. The old city is a UNESCO World Heritage site and is also popular amongst Brazilian holidaymakers.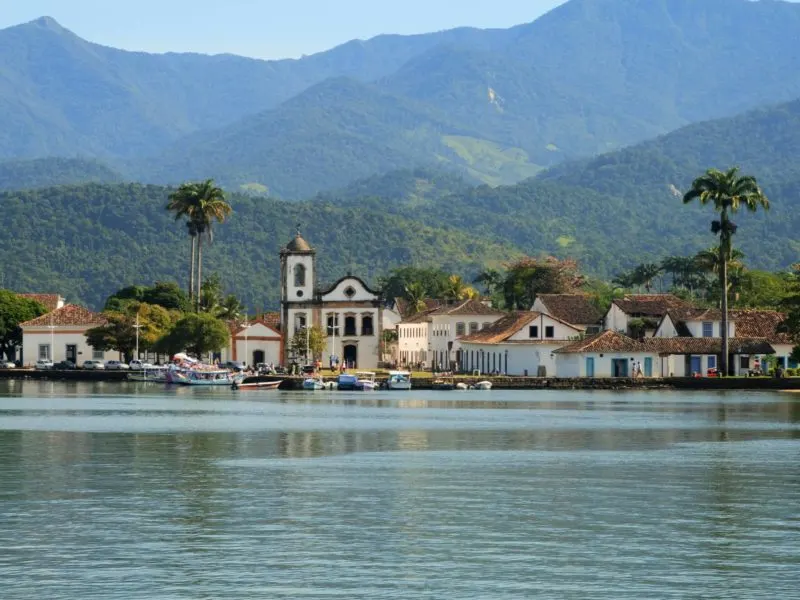 You'll have no problem keeping yourself busy thanks to the rage of gorgeous streets, nearby waterfalls, fine restaurants and interesting boat trips.
Days Seven and Eight: Head south to Florianopolis for some relaxation. You can either take an overnight bus from Paraty or take the bus to Sao Paulo and fly from there. Once you arrive, don't stay in Florianopolis City; instead, head straight to the island to enjoy its clean and stunning beaches.
You can easily use public transport or rent a car to explore them and the equally striking corners of this gorgeous island.
Days Nine and Ten: Your last stop is Foz do Iguacu (Iguazú Falls), an overnight bus journey from Florianopolis. Another must-see, these falls are a wonder of the natural world and are jaw-droppingly powerful.
On the border with Argentina, they can be viewed from both sides but the Brazilian side is famous for panoramic views of the entire waterfall complex, with various pathways allowing you to catch sight of all 275 falls.
The bottom line: Brazil is too vast to see on any trip that doesn't span months, but this itinerary gives you a good snapshot of what this beautiful country has to offer.
Two weeks in South America Itinerary
While two weeks is not a lot of time for traveling in a continent as huge as South America, with some forward-thinking, you can still see a lot.
Top tip: Pick one country to explore rather than spread your time too thin. Peru and Colombia are both great places to explore in short periods of time because both are jam-packed with compelling attractions, all of which aren't very far away from each other.
Two-week Peru Itinerary
Peru is one of the most intriguing countries to travel to in South America – it's no surprise that it makes most travellers' bucket lists. Between beautiful cities, fantastic food, awe-inspiring Inca ruins, and rich indigenous culture, you are bound to fall in love.
For a short trip to South America, this is definitely one of the most rewarding destinations as there are so many things to do here in Peru – in what is actually a relatively small country.
What's more, Peru has a little for everyone: everything from culture, fine dining, ancient history and jaw-dropping scenery.
Top tip: It's best to plan your trip in the dry season, which is May through September. This time of year is peak season in Peru but guarantees sunny days that won't interfere with your plans.
Days One and Two: Start in Lima, the vibrant capital of Peru. Spend some time exploring the boardwalk in fancy Miraflores, the old colonial buildings in the old city centre, and the street art scene of Barranco. If you're not on a budget, Lima is home to three of the world's best restaurants: Central, Maido and Astrid y Gastón, where you'll modern and innovative takes on typical Peruvian dishes.
If you're counting the pennies, try ceviche (a local dish of raw fish, lime and chilli) in Barranco and chifa (Peruvian Chinese food) anywhere.
Days Three to Five: From there, fly to Cusco, the oldest continuously inhabited city in the world. It can get pretty crowded with tourists but is definitely worth it.
Spend a day or two in a city whose history is everywhere you look thanks to the Inca (who built it) and the Spanish (who colonized it). Free walking tours are great for budgets, while souvenir shopping is not so much.
For accommodation tips, read our guide to where to stay in Cusco.
Days Six to Eight: Once you've acclimatized to the altitude, take a tour of the Sacred Valley, and, of course, visit Machu Picchu. The most efficient way to see the ancient Incan citadel is to take the train: it might be expensive, but it's the fastest option for a short trip. You can stay overnight the Sacred Valley at one of its many hotels and guesthouses, too.
Alternatively, sign up for a two-day bus tour with an agency in Cusco or add an extra day to your itinerary and take an Inca trail hiking tour instead.
Days Nine and Ten: Take a spectacular train ride from Cusco to Puno on the shores of Lake Titicaca. Spend a day visiting the Uros floating reed islands or kayaking on what is the highest freshwater lake in the world.
Days Eleven and Twelve: Catch a bus to Arequipa, a beautiful city nestled below El Misti Volcano. Arequipa's dazzling white and historical centre is another of Peru's UNESCO World Heritage sites.
Days Twelve and Thirteen: Bus north up the Pacific coast to Nazca, where you can fly over the famous Nazca Lines and get back to Lima by bus in the afternoon. If you're on a tight budget, it might be better to spend a few more days in Cusco and the surrounding areas, instead.
Day Fourteen: Get ready for the journey home and have one last plate of ceviche and a pisco sour to bid farewell to your trip South America backpacking trip.
Adapting this itinerary: If you want to make this a shorter trip, cut out Puno and Nazca, and instead head from Cusco to Arequipa and then fly back to Lima. For more details, check out our guides to visiting Machu Picchu (and the Inca Trail), the Sacred Valley, and all things Peru. Alternatively, extend this trip with a 31-day immersive Spanish language class, which includes accommodation, the Inca Jungle trek to Machu Picchu, visits to the Sacred Valley and Lake Titicaca, plus 80 hours of small-group Spanish language classes across four and a half weeks. Use the promo code WorldlyAdventurer to get a 5% discount!
Two weeks in Colombia
Colombia is one of the best backpacking spots around. It's cheap, beautiful and Colombians are largely extremely welcoming and friendly.
It's up to you whether you prioritise nightlife, beaches or history but, whatever you choose, Colombia is a fantastic destination. Before you go, read our guide to the best time to travel to Colombia.
Day 1-4: Start in Bogotá. Colombia's capital is a diverse, vibrant city filled with bright colours and a dark history. Explore the street art, old buildings, great coffee, and surprising array of brilliant restaurants in Bogota, while the world-class Museo del Oro (Gold Museum) can't be missed.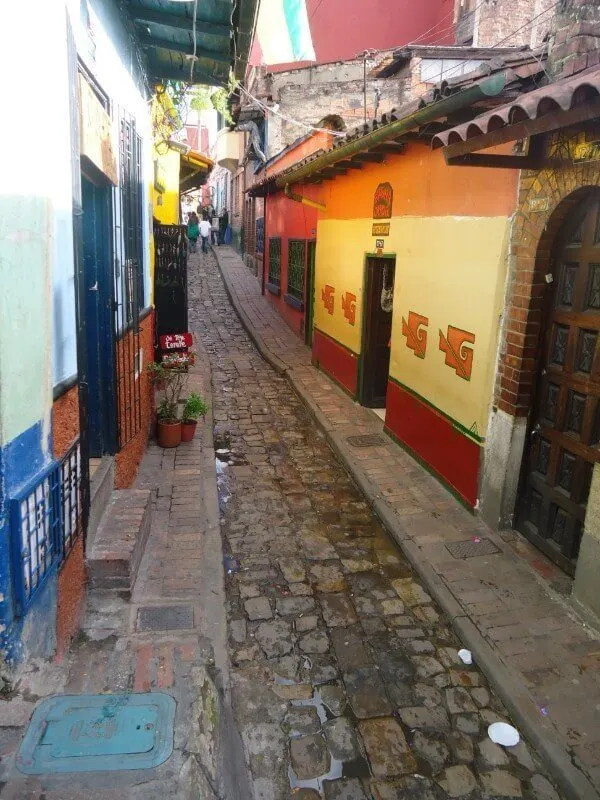 If you like to party, Bogotá boasts some of the best nightclubs in South America and day trips should hinge around Villa de Leyva, a beautiful colonial village, as well as the Salt Cathedral in Zipaquirá.
Alternatively, book yourself onto an incredible tour flying out of Bogotá to San Vicente Del Caguán visiting a part of southern Colombia that was, until recently, inaccessible for travel because of the armed conflict.
Truly adventurous travellers can join the three-day Rafting For Peace tour, where you take on the rapids of the Río Pato alongside ex-FARC militants who've found rafting a credible means of bringing peace to the region.
Support sustainable, responsible tourism in Colombia – and learn a tonne about the country's chequered history along the way- by booking the Rafting for Peace tour with IMPULSE Travel Colombia and get a 5% discount by using the code WORLDLY5 at checkout.
Days Five and Six: Fly to Pereira or Armenia where you can either stay in the colourful town of Salento or in a hacienda in one of the surrounding coffee plantations.
Be sure to do a coffee tour and to play the local game of tejo, a fun traditional game that involves throwing disks at a target, with the bull's eye being a tiny packet of gunpowder. It's great fun.
Spend a day hiking in Valle de Cocora National Park, where you can see wax palms towering up to 60 metres above your head.
Days Seven to Nine: Fly to Medellin, a city famous for its tragic past of gangsters and cocaine. While it was once one of the most dangerous in the world, Medellin is now an innovative modern city, where the weather always feels like spring.
Explore the beautiful parks and some great museums, such as the interactive science museum, Parque Explora.
Read our guide to where to stay in Medellin for further inspiration for visiting the city.
Days Ten to Fourteen: Fly up to Cartagena. The Caribbean city of Cartagena de Indias was declared a UNESCO World Heritage site for its incredible colonial old quarter.
You can spend days wandering the picturesque cobbled streets and flowering bougainvillaea. There is a lot of music and food on these busy streets, or you can take a unique tour to learn about the hidden history of Cartagena on a sustainable weaving tour with indigenous Zenú guides.
There are also several beaches and islands nearby that can be visited for a night or just a day trip from the city. We've also written all about our favorite places to stay in Cartagena to help you plan your time there.
Adapting this itinerary: If you haven't had enough, or had a different trip in mind, check out what to do on the Caribbean coast in our one-month Colombia itinerary further down or explore this guide to the best places to visit in Colombia.
Two weeks in Chile
Chile is another rewarding destination to spend a two-week vacation in South America.
While it's certainly one of the more expensive destinations on the continent, its diverse landscapes and reliable network of flights and buses make it a perfect place for a short South America trip.
And, despite protests back in 2019 and 2020, Chile is a safe and welcoming place to visit.
Days One to Three: Fly into Santiago, the Chilean capital city and spend a day exploring its wealth of museums about historic pre-Colombian cultures, sipping on delicious Chilean wine and getting to grips with the city's thriving gastronomic scene in award-winning Boragó or Restaurant 040.
Take a bus out east to the quirky, street-art daubed streets of Valparaíso, a bohemian university city cascading over a coastal hill. Take a free walking tour or graffiti tour and spend an afternoon appreciating the views from Nobel Prize-winning poet Pablo Neruda's former residence.
Days Four to Six: Return to Santiago and take a plane six hours west across the Pacific Ocean to the fabled volcanic island, Easter Island.
Here, you can hire a car or take tours out to see the stoic moai statues that line the shore, each representing the ancestors of the local Rapanui people, as well as see the quarry from which each and every last one was carved.
Catch a performance of Polynesian traditional dance in the main town, Hanga Roa, hike around the north-western coastline to see ruins that receive few – if any – visitors or kick back on the white sands of Anakena, a tropical beach in the island's far north.
Stay overnight in one of Easter island's comfortable hotels, guesthouses or campgrounds.
Days Seven to Nine: Fly back to Santiago and take an overnight bus to Pucón, southern Chile's adventure capital. Trek up the rock-strewn and snow-dusted slopes of Volcán Villarrica before easing yourself into the hot thermal springs that dot the surrounding area.
Spend a day in nearby Parque Nacional Huerquehue for glorious views of lakes and gushing waterfalls.
Days Ten to Fourteen: Hop on an overnight bus and wake up the next morning in the bustling capital of the Chiloé archipelago, Castro. Catch the city's houses on stilts – palafitos – in the early morning light for striking photographs.
Afterwards, take rattling, old public buses between the brightly painted churches of Tenaún, Chonchi and Dalcahue and join the locals for a steaming bowl of curanto (seafood stew) in the latter's market.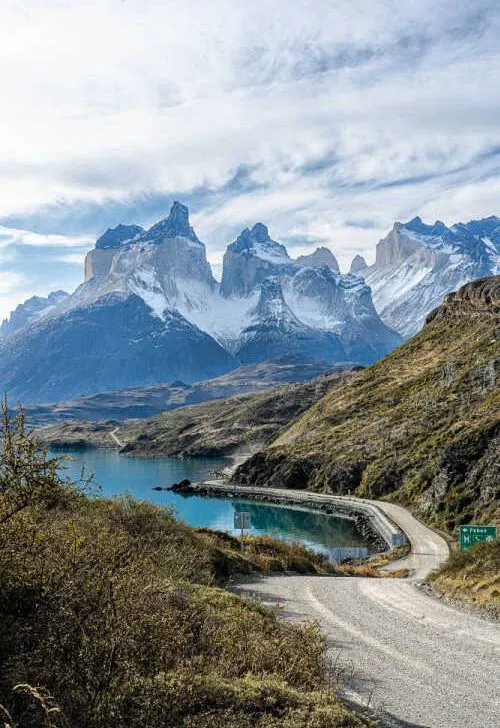 Want a custom-made Chile itinerary, but without the effort of planning it?
Get it planned by an expert (me!) with my travel itinerary planning service; you'll give me an overview of your ideal once-in-a-lifetime trip to Chile and/or Patagonia, and I'll put together a custom itinerary just for you using my expert knowledge of the destination.
Alternatively, if you're looking for a local operator to plan and book your trip, I recommend our trusted partner EcoChile Travel. They design and book tours throughout the country, such as this 12-day highlights of Southern Patagonia itinerary – and offer Worldly Adventurer readers a 5% discount on their services!
Book here to claim your discount.
Take the bus out to Parque Nacional Chiloé to hike in lush temperate rainforest and admire the island's most startlingly empty beaches and follow the path to the Muelle de las Almas for a photograph at a cliffside side pier where you can hear the howls of the dead echo through the air.
Return to Castro and fly back to Santiago.
How to adapt this itinerary: We've written more about Chile and how to explore this country – with plenty of alternative suggestions – in this two-week Chile itinerary and you can find itineraries to suit your budget and travel style in my brand new guidebook, Moon Chile. For the best accommodation along the way, read this guide to the best hotels in Chile.
One-month South America Backpacking Routes
My recommendation for a one-month South America itinerary is to not try and fit too much in. You don't want to burn yourself out by trying to cram everything in, but also you need a little wiggle room for the inevitable late bus or great location that throws off your schedule.
Leave yourself a few days unplanned to use when you need a day off or you just can't resist spending one more day somewhere.
One-month South America travel itinerary: Peru, Northern Chile and Bolivia
This is a perfect trip for seeing some of the greatest highlights of South America. This backpacking route will take you through the most beautiful and historic sites on the continent.
However, be aware that if you're looking for a super low-budget trip, this isn't it. Between the tickets to Machu Picchu and the many tours you will want to do in Bolivia and Chile, this is for someone who's seeking an action-packed trip and is happy to pay for more expensive tours and transport options.
Week One
Start your trip flying into Lima, the capital of Peru. It's both busy and huge, and possibly a little intimidating, but it's a good introduction to traveling in South America!
Walk the beachfront of Miraflores at sunset, explore the trendy Barranco neighbourhood, and be sure to eat some ceviche, local dish of raw fish, lime and chilli.
It is also worth visiting the Larco Museum to get a better understanding of Peruvian history, the beautiful 18th-century villa houses a large collection showing 5 000 years of pre-Columbian art.
From there, fly or bus it overnight to Arequipa. This beautiful colonial-style city is a UNESCO World Heritage site that sits beneath a volcano. Be sure to do a city walking tour (free, except you will have to tip your guide) to see its detailed, baroque architecture carved from white volcanic stone.
Explore what the city has to offer with our comprehensive guide to what to do in Arequipa and find a comfortable place to stay with our guide to accommodation in the city.
From here you can also take a two- or three-day trip to hike Colca Canyon, the second deepest canyon in the world.
Week Two
Your next stop is San Pedro de Atacama, Chile. Take the morning bus from Arequipa to Tacna, cross over the border to Arica in Chile and then the overnight bus that brings you the next morning to this small desert town on the Chilean-Bolivian border.
While this place is a tourist trap of note, it's worth visiting because it is the base for a plethora of surrounding activities. My favourites were Valle de la Luna, a truly surreal sand valley of salt and cliffs, and the stargazing tours.
You cannot understand how expansive the universe is until you see a desert night sky with absolutely no light pollution, allowing crystal clear skies with the Milky Way branching above you.
None of the tours are cheap and tour agencies will do their best to overcharge, but you can often negotiate better prices if you are in a group or booking multiple tours with one company, and it's advisable to ask for more than one place for a quote.
Make friends in your hostel and see who's found a good deal or is interested in the same tours you are.
San Pedro de Atacama is also the departure point for the three-day trip to the Salar de Uyuni, the picture-perfect salt flats that lie just on the other side of the border in Bolivia.
You can do a one- to four-day tour from Uyuni in Bolivia, but why not use it as a way to travel to Bolivia rather than starting and ending in the same place?
From San Pedro de Atacama, it's a three-day tour across the border and through the blinding white plateau of the Bolivian salt flats, an experience that is definitely worth it but is far from a luxury travel experience.
The trip is entirely done in a cramped SUV-type vehicle that would have done the trip many times before you arrived and the accommodation is basic. However, the landscapes, lakes and hot springs are some of the most beautiful scenery I have seen anywhere in the world and this experience should not be skipped.
Once you make it to Salar de Uyuni, your tour will give you a day to enjoy the expansive salt flats and then take you to Uyuni before dark. Spend the night in Uyuni, get warm, have a good shower and then a bus to Sucre the next day.
This will be probably one of the worst bus rides of your life – I don't want to lie to you, as Bolivian buses largely suck. Almost all the buses are old, with no heating, and uncomfortable seats.
Couple these with the narrow, winding rows of the Bolivian Andes, and you get quite a combination. Wear warm clothes and try not to sit at the front.
Week Three
Bolivia's capital Sucre is a colonial city with great markets and a range of cool things to do. Try and find the hilarious zebras of the zebra crossings: volunteers who dress up as zebras to direct pedestrians across the busier streets.
There is also a two-day hike to the Maragua Crater, where you can see the geological formations that formed around Sucre, including some truly fascinating fossilized dinosaur footprints that were exposed by an earthquake.
If you aren't interested in the hike but want to see fossils, head over to Park Cretácico, a dinosaur museum just on the outskirts of Sucre that offers tours to the base of an entire wall of hundreds of dinosaur footprints, which was discovered accidentally in still-functioning quarry.
From Sucre, you can either fly or take the bus to La Paz. The capital of Bolivia, La Paz is the highest capital city in the world, sitting at 3,640m above sea level. Don't underestimate this altitude: it will knock the wind out of you, so take it slow.
Explore the Witches Market, take a whirl at bicycling down the infamous Death Road, or just explore the endless street markets and try my favourite, api morada, a spiced purple corn drink that is drunk warm for breakfast.
Next stop is Lake Titicaca, the highest freshwater lake in the world. Copacabana is a small town on its shores and is famous for being a Catholic pilgrimage site. While the town is a bit of a tourist trap, the glittering blue lake and the expansive sunsets are definitely worth a visit.
Spend a day or two on the Isla del Sol, believed by the Incans to be the birthplace of the sun. This tranquil island has a walking path that crosses the length of it and is dotted with ruins and fishing villages.
It is now time to return to Peru. Take a tourist bus from Copacabana to Cusco. You can stop along the way in Puno on the Peruvian side of Lake Titicaca to see the floating reed villages of the Uros people.
There is also an option to take a cultural bus tour from Puno where you can learn some Peruvian history and see some pre-Incan sites along the way.
There are a few companies offering the service but Inca Express are what we'd recommend.
Week Four
You should be acclimated by the time you make it to Cusco, the oldest continuously inhabited city in the world. Spend a day or two here exploring the cobblestone streets and local Inca sites, like Sacsayhuaman.
Free walking tours are great for budgets, and it is a fantastic place for some souvenir shopping, but watch out for inflated tourist prices.
Cusco was once the capital of the Incan Empire and a large centre during Spanish colonial rule. The city has retained archaeological and architectural elements from its complex history, meaning there is so much to explore.
Be careful to leave enough time at the end of your trip to really enjoy it. You could very easily spend a week here and still have things to do every day.
When you have soaked up Cusco, head out on a tour of the Sacred Valley or stay over in Ollantaytambo. Home to a massive Incan fortress, it's a great base for exploring the most unmissable sights and attractions in the Sacred Valley.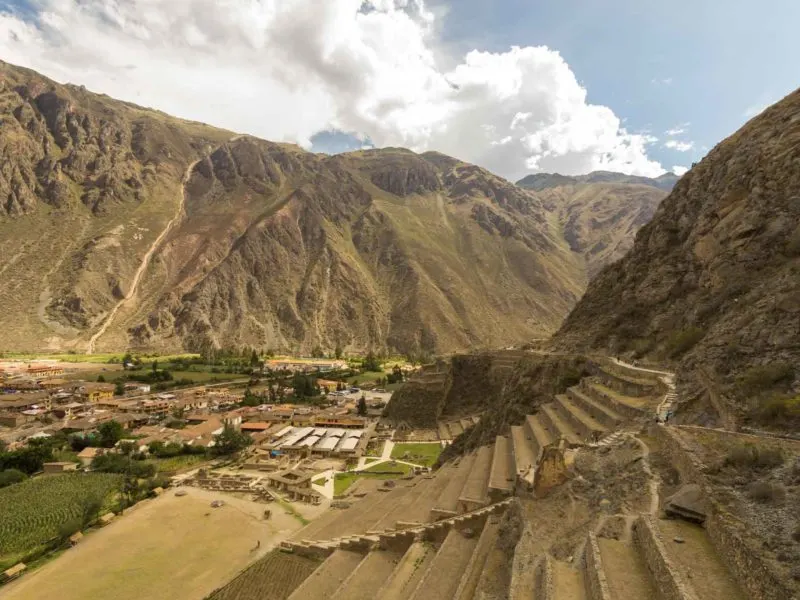 This itinerary sees you saving the best for last – the purpose for most people's trips: Machu Picchu. The most efficient way to get to the ancient Incan citadel is to take the train.
While expensive, this method will save you a lot of time as the alternative involves multiple busses and a long walk; alternatively, consider hiking the four-day, famed Inca highway, the Inca Trail instead.
Have a day exploring the ruins and then either spend the night in the nearby town of Aguas Calientes or head back to Cusco.
The bus back to Lima is a long one, so if you can afford the flight back I would recommend it.
The bottom line: And then that's it! It's a lot to fit into a month but you'll really have covered some ground and made the most of your trip thanks to this one-month South America backpacking route.
One-month South America travel itinerary: Colombia
If I had one month to travel in South America, I would choose to spend it in Colombia. It is fun, beautiful and rich in history. This trip will show you the sights and leave a lot of room for enjoying the culture of this colourful country.
Seriously: Colombia should be on every backpacker's South America wish list!
The two-week Colombia itinerary above can easily be extended to become one month in the country. Once you have completed this two-week route and ended up in Cartagena, spend the extra two weeks on the Caribbean coast.
The northern coast is the beautiful, picture-perfect shoreline of your beach holiday dreams. As you head east along the coast the distances between towns are small and easily crossed by local bus.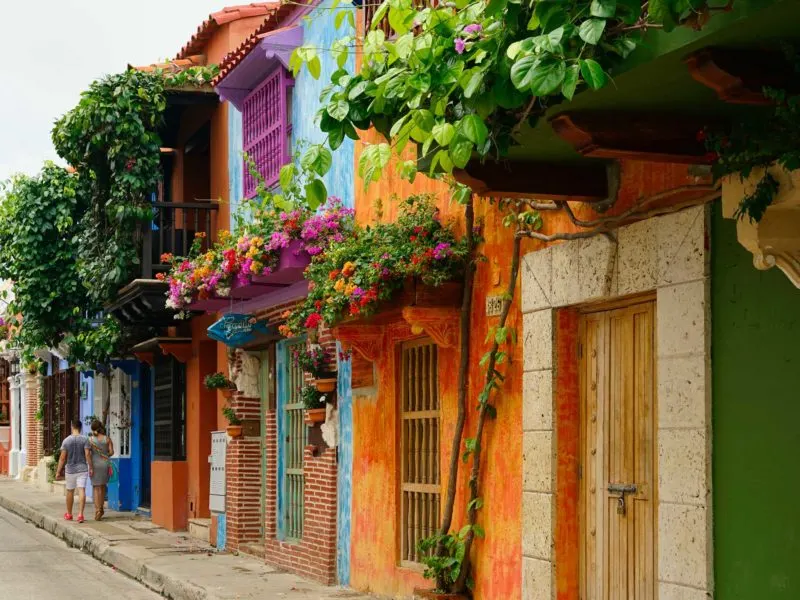 Week Three
Now you've explored central Colombia and made it to Cartagena, you have a number of options of where to go next. If some relaxation is what you are after, consider visiting the San Bernardo islands (or one of the other attractions that are a day trip from Cartagena).
Located only an hour's boat ride from the mainland, this island is also home to the marvellous Casa En El Agua, an eco-hostel built as an island in a national park.
Otherwise there's Isla Fuerte, once a hiding place for pirates and drug smugglers, which is now filled with a sleepy village, many donkeys and great open-air bars.
If relaxation doesn't strike the right tone for you, instead, from Cartegena head east up the coast to Santa Marta for some scuba diving and to use it as a base for visiting the surrounding areas.
Just down the road is the world-famous Tayrona National Park, a gorgeous protected area where the Sierra Nevada de Santa Marta mountains meet the coast. Palm-covered coves, thick rainforest, lagoons and white sand beaches support rich biodiversity. You can hike, swim and even stay overnight in this expansive park.
Week Four
If the Caribbean heat is getting to you, take a jeep from Santa Marta to the cooler climate of Minca, a jungle mountain village with some incredible hostels and waterfall hikes.
Your next stop should be Palomino, a beachfront town of cocktails and relaxation. You can tube down the river and swim offshore from long, sandy beaches.
Continue on towards the desert in the North Eastern corner of Colombia. A great stop along the way is Los Flamencos Natural Reserve to see flamingos and other bird life. The last destination is Cabo de la Vela, a beach town where it almost never rains – it is in the desert after all.
Learn how to kitesurf and dine on the local langostino, a type of crayfish. Take a day trip up to Punta Gallinas, the northern tip of South America, and see the beautiful dunes of northern coast.
From there, bus back to Santa Marta and fly back to Bogota to catch your flight home.
The bottom line: This varied backpacking travel itinerary is for someone looking for a rich combination of history, beaches – and plenty of fun!
One month in Patagonia
We're obsessed with Patagonia on this website, and we've got plenty of itinerary ideas to sink your teeth into.
Week One
Fly from Santiago south to Puerto Montt, where you can pick up a hire car (get the low-down on driving in Patagonia before you do).
Drive south down Carretera Austral, South America's finest road trip and stop to hike and admire the landscapes of lush, temperate rainforest, steaming volcanoes and pristine fjords.
Spend a few days trekking and relaxing in hot springs in Parque Nacional Pumalín before driving southeast to Futaleufú to experience the best white-water rafting in South America.
Continue the drive south via Puyuhuapi, to see the truly remarkable Queulat Hanging Glacier, and then on to Parque Nacional Cerro Castillo, for a day or even four-day traverse through one of Patagonia's newest national parks.
Covid-19 update: You MUST make a reservation in order to visit Parque Nacional Queulat where the Queulat Hanging Glacier is located. You can do this on this website, but you will need to pay in cash (bring small notes) upon arrival. You can only enter the park between 9:00am and 14:30pm (you can stay within the park until 16.30pm) and you must bring your reservation code on your phone or printed off to show at the park entrance.
Week Two
Continue on your way south, cruising along this southern highway to reach Puerto Río Tranquilo where you can take a speedboat or paddle a kayak out to the candy-cane marble caves.
Spend an extra day either ice trekking on the Exploradores Glacier or – if your budget is big enough – taking a day cruise out to the Glaciar San Rafael.
Do a loop of the mesmerizingly blue waters of Lago General Carrera, stopping at Chile Chico to visit the northern sector of Parque Nacional Patagonia, Sector Jeinimeni, for shorts hikes and outstanding scenery, before taking the boat north across the lake and return your car to Balmaceda airport.
Week Three
Fly from Balmaceda to Punta Arenas and take the bus north to Puerto Natales, where you can organize your equipment and food for the four- or five-day W trek (or, if you've got more time, the 10-day circuit) in Parque Nacional Torres del Paine.
If you've got more time, board the 32-hour TABSA ferry from Punta Arenas to Puerto Williams, the world's southernmost settlement ($151,110 CLP ($196 USD).
It sails through the Beagle Channel and its most dazzling section: Glacier Alley – a stretch of water lined by hanging tidewater glaciers. Very expensive cruise ships normally ply this route; instead, the Yaghan ferry is the local form of transport (and priced accordingly!).
From Puerto Williams, which is home to plenty of hiking, you can cross the Beagle Channel and spend a day or two in Ushuaia before flying up to El Calafate.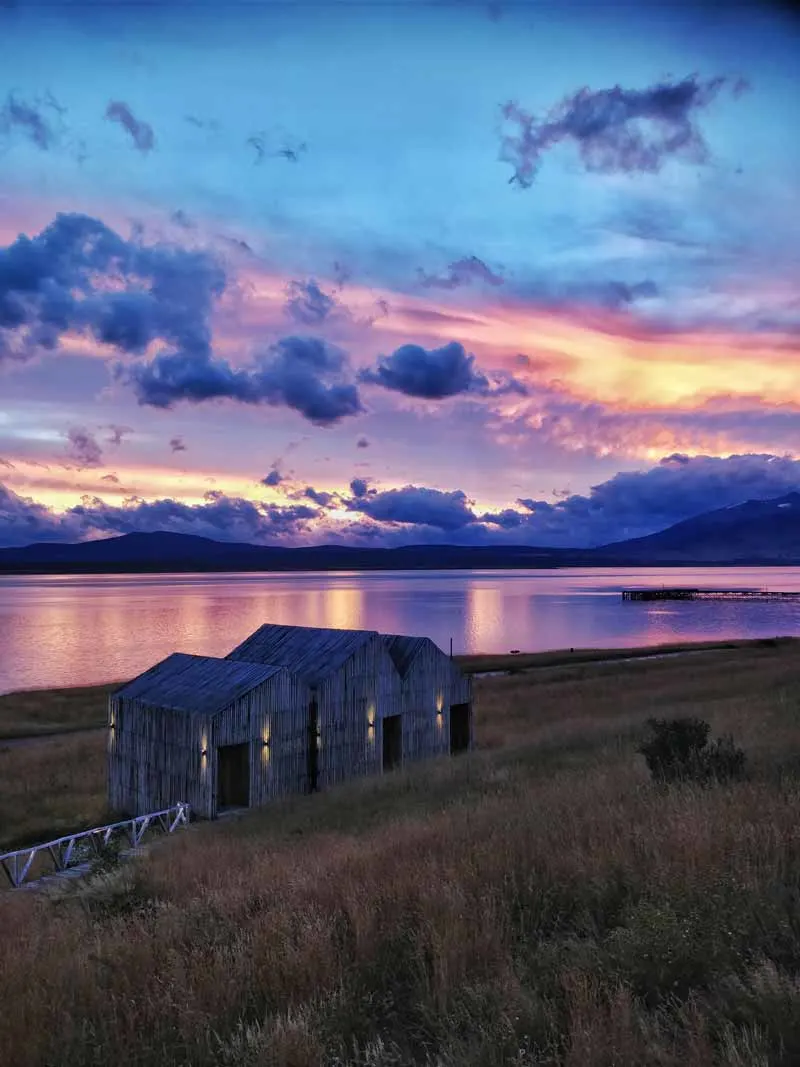 Week Four
When you've accomplished the challenge of hiking in the remote Patagonia scenery near Puerto Natales, board a bus across the border to El Calafate, a small town in striking distance of the awe-inspiring Glacier Perito Moreno.
Take the public bus for a day tour out to the boardwalks that sit beneath the glacier's snout.
Back in El Calafate, take a bus north to El Chaltén, Argentine Patagonia's hiking capital.
Set on the very outskirts of Parque Nacional Los Glaciares, this town makes a great place from which to approach a range of day hikes, including to Laguna de los Tres and Laguna Torre, both of which boast splendid mountain reflections in sparkling glacial lakes.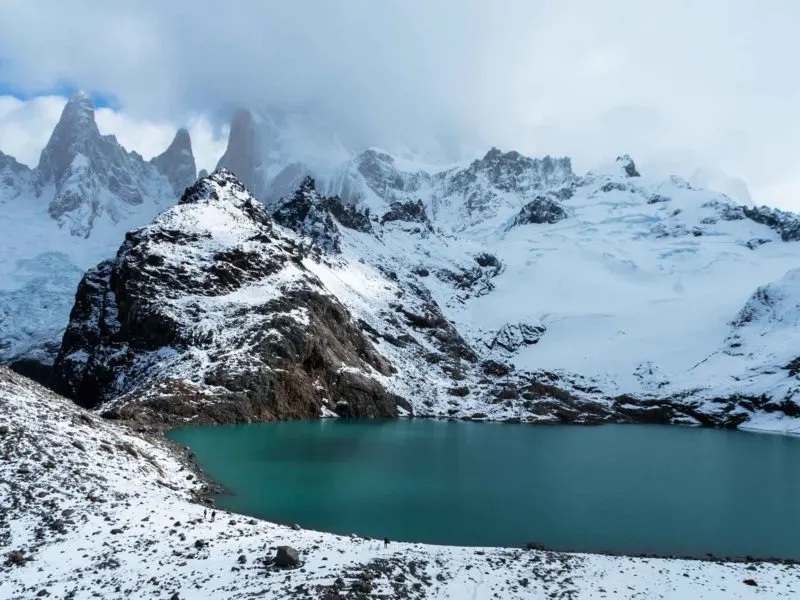 If you've more time and are an experienced hiker, embark on the four-day Huemul trek, which takes you in a loop of the park with stunning vistas of the Southern Patagonia Ice Field.
Return by bus to El Calafate and fly to Buenos Aires or continue on from here back to Santiago.
How to adapt this itinerary: If you've got less time, it is possible to explore Patagonia in just a one- or two-week vacation. For more information, we've gone into more depth about visiting both the Chilean and Argentine sides of this region, including the best national parks, road trip destinations and most remote areas in this comprehensive post about Patagonia backpacking itineraries. You can also add on a trip to Antarctica (check out this cruise from Ushuaia to the Antarctic Peninsula from the highly-recommended company Swoop Antarctica), just be aware the season for cruises is limited. This guide to when to visit Antarctica can help you plan.