With its 887 moai – the angular stone heads that have long fascinated archaeologists and the world alike – Easter Island (or Rapa Nui as the island is called by the local people)* is a fascinating place to visit and a destination that can be added onto a trip to Chile and Patagonia if you're got a spare few days.
Increasing numbers of tourists now head to this island, which lies in the middle of the Pacific Ocean, some 3,746 kilometers west of the Chilean mainland. As a result, the options for where to stay on Easter Island have increased threefold.
Whether you're looking to enjoy a luxurious stay on this tropical island, fancy kicking back in a guesthouse run by a Rapanui family to learn more about their culture, or need the most affordable digs possible, this guide is designed to help.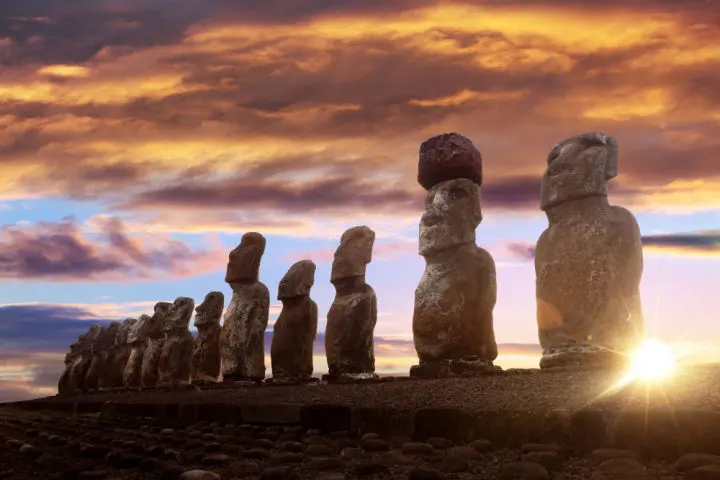 Bear in mind that accommodation on Easter Island isn't cheap – and neither is food nor flights. Plus, new rules meaning you can only visit the island's archaeological sites with a registered local guide have pushed the prices of a trip to Easter Island even higher. You can learn more about visiting Easter Island with our comprehensive guide and this article about the best time to visit Easter Island.
Where are accommodations on Easter Island located?
Covering just 163 square kilometers (63 square miles), with the longest shoreline measuring a tiny 23 kilometers (14 miles) long, Easter Island is a small place and home to only one settlement: Hanga Roa.
As a result, most of the accommodations and restaurants are located in and around this town in the southeast of the island, with most within walking distance of most facilities and a short drive from the airport, Mataveri.
The most exclusive luxury hotels on Easter Island, of which there are a handful, are typically located outside of this area, offering more privacy.
Planning Your Trip to Chile?
Save time, stress & money with a customized travel itinerary planned for you by a Chile expert
Steph's help laying out an itinerary for Chile was huge toward us having a great trip. She listened to our interests and compiled a framework that we could follow to make our plans. She included many practical tips as well as numerous options. She truly saved us many, many hours of research.
Jeff Mullens
Traveled to Chile and Patagonia June 2022
All accommodations – regardless of price – have extremely poor WIFI, so don't expect to be doing much more than catching up on a few emails while you're here.
Because of the size of the island, none of the accommodations are more than a 30-minute drive to key locations within Rapa Nui National Park, including the iconic Ahu Tongariki (which is best for sunrise), the quarry from which the moai were carved, Rano Raraku, and the tropical paradise that is Anakena Beach.
How can you get to Easter Island?
Currently, the only way to reach Easter Island is with a six-hour flight from Santiago, the capital of Chile (and the country of which the island is part).
LATAM operates flights at least a couple of times per week (prior to Covid-19, there were up to two flights daily), with flights costing from $500 USD return – although you should budget for at least double that during the peak months of October through April. During February, when the annual Tapait Rapa Nui Festival takes place – an incredible display of culture and sporting prowess – flights can cost even more.
Before boarding, you'll be required to show that you have made accommodation reservations with registered lodgings. New rules also mean you're only allowed to stay on the island for up to 30 days.
The best luxury hotels on Easter Island
Nayara Hangaroa
A standout hotel on Easter Island is the Nayara Hangaroa ($470 USD double standard, $605 USD double suite), a beach-facing, sensitively built hotel, and probably what springs to mind when you imagine a five-star hotel on Rapa Nui.
The low, grass-topped rooms – a feature that helps keep them cool in summer – have private terraces and access to an extensive multiplex of facilities.
A spa, restaurant – one of the best on the island – and sunset-ready swimming pool complement their vast bedroom suites, which mimic the style of traditional Rapanui housing and come complete with deep stone tubs, huge king-sized beds, and aircon.
Ask for a room between 1 and 44 for a terrace and ocean views. The hotel also operates private tours for guests.
Explora Rapa Nui
The five-star service and expertise of their English-speaking guides make Explora Rapa Nui ($1,990 double with sea view) a truly stand-out choice for lodgings on the island and was my absolute favorite place to stay when I visited Easter Island.
Situated in the southwest of the island, not far from the island's east coast, 30 large, modern rooms have been built discreetly into a hillside overlooking the ocean. A spacious bar and restaurant act as the centerpiece of this luxury hotel. The latter serves gourmet Rapanui cuisine using seasonal ingredients from their organic farm.
Packages are all-inclusive, and their range of tours that focus predominately on hiking, mountain biking, and other active pursuits offer a truly unique way of seeing the island. Many follow the old trails used to transport the moai from the Rano Raraku quarry to the different ahu.
It's worth noting that there is a three-night minimum stay.
Want to avoid the hassle of organizing your flights, accommodation, and tours to Easter Island?
EcoChile Travel is a brilliant Chilean tour operator run by local experts based in Chile and Argentina.
Their four-day trip to Easter Island costs from $1,130 USD per person (and you get a 5% discount if you mention Worldly Adventurer when enquiring!).
They'll help you with everything from booking those all-important flights to sorting accommodation and finding you a brilliant guide to take you to the island's remarkable historic sites.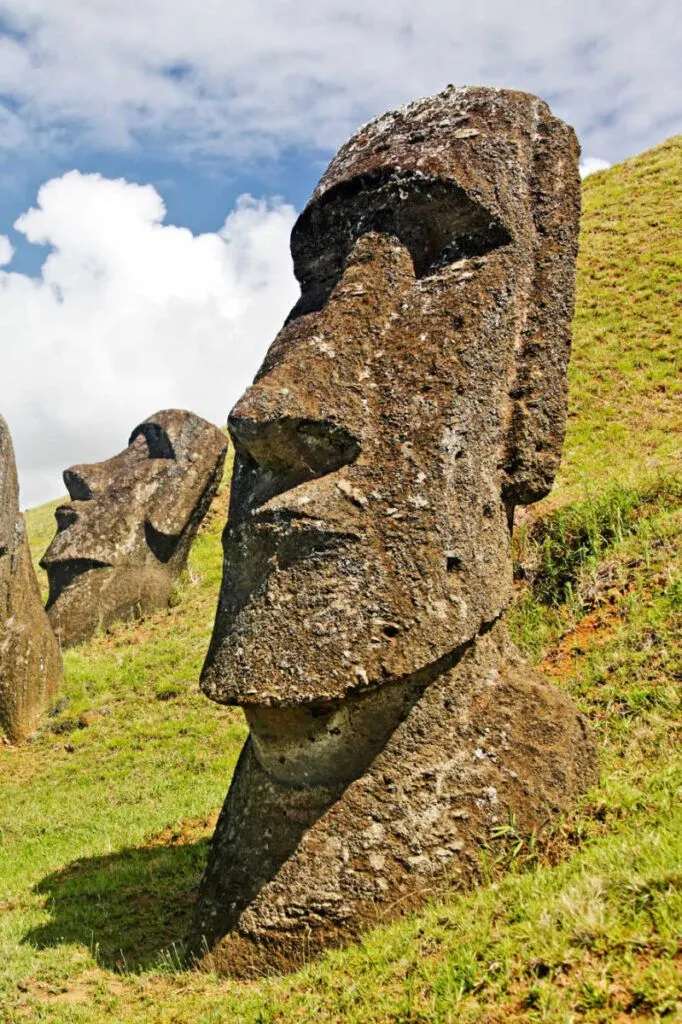 The best boutique hotels on Easter Island
Hotel Boutique La Perouse
The stunning sea views from certain suites and bungalows make Hotel Boutique La Perouse ($210 USD suite; $288 bungalow) an excellent choice for accommodation on Easter Island.
Bedrooms are tastefully decorated, with simple wooden furnishings, and most come with air conditioning – all conducive to an excellent night's sleep.
Situated right at the heart of Hanga Roa, but with a tranquil setting, this is a great place to relax after a day of touring the island, while a delicious breakfast will ensure you've got the fuel you need.
It's definitely worth opting for a room with ocean views – you won't regret it.
Hare Nua Hotel Boutique
Located along the main road in Hanga Roa and within easy walking distance of a glut of restaurants, Hare Nua Hotel Boutique ($360 USD double) is a really comfortable, family-run hotel with large bedrooms set around a verdant garden. Decor is modern and reflects the lush, tropical green vegetation of the island.
There's also a large swimming pool and a gorgeous communal lounge area where you can catch the sea breeze. Book a deluxe room for air conditioning and a balcony – others come with just fans.
Hotel Hare Uta
With beautifully landscaped gardens and a tempting salt pool, Hotel Hare Uta ($433 USD double) promises an oasis of relaxation after a busy day exploring the island.
Its nine spacious bedrooms are built within larger houses, each with a shared lounge area and terraces, from where views of the ocean – thanks to the hotel's elevated position – are idyllic – and even more so with a cold drink in hand.
A breezy bar and restaurant area is open to guests and is useful if you don't want to head into Hanga Roa, with the hotel a 30-minute walk or short taxi journey into the town.
Massages are also available at an additional cost, while bikes can be borrowed for free to explore the surrounding area.
The best mid-range hotels on Easter Island
Hotel Manavai
Bedrooms are certainly old-fashioned at Hotel Manavai ($152 USD double), but once you look past the wooden interiors, you'll find a welcoming and very comfortable hotel. Lush gardens surround an outdoor swimming pool, while the open-air breakfast area gives you a cooling breeze and lovely views of the surroundings each morning.
What's more, the spacious bedrooms are fitted out with welcome air conditioning, and each comes with a small seating area outside. The owners are also extremely welcoming and will go out of their way to help you organize tours and activities across the island.
Located just off Hanga Roa's main street, you can't get much more central than here, with Hotel Manavai just a short walk from the majority of the island's restaurants.
Hotel Ohana
With its slick, modern design and huge bedrooms complete with a balcony or terrace, Hotel Ohana ($348 USD suite) will appeal if you're looking for plenty of space.
This does come at a slight cost: the hotel's located 2.5 kilometers (1.5 miles) from Hanga Roa, so you'll want a vehicle or bike if you're planning on heading out to restaurants for dinner.
All bedrooms come with air conditioning; however, opt for a suite with a sea view for sensational views from your bedroom.
Inaki Uhi Hotel
With large, airy bedrooms and surprisingly good WIFI (most places on the island have terrible connection!), Inaki Uhi Hotel ($180 USD double) is an incredibly welcoming hotel, with a cozy garden, modern facilities, and really helpful hosts.
Rooms are set within a leafy garden, with covered outdoor seating areas where you can enjoy a cooling breeze during the evening. There's also guest access to a fully equipped kitchen, making this a great choice for self-catering.
What's more, it's right at the heart of Hanga Roa, but maintains a quiet atmosphere nonetheless. A free airport transfer is also offered by the property.
The best guesthouses on Easter Island
Takarua Lodge
With views across Ahu Tahai and the ocean beyond – the island's pick for a sunset spot – Takarua Lodge ($170 USD double) is perhaps the Easter Island hotel within the closest proximity of one of the island's famed moai.
Rooms come with air conditioning and terraces and are simply decorated – but more than comfortable for your stay, with mini-fridges an excellent addition for storing cold drinks to take the edge off the heat. If you want views of Ahu Tahai from your bedroom, pick a sea view; you'll even get breakfast delivered to your terrace.
The lodge organizes free shuttles to the airport, while it's a short walk to the beach – where you can take a refreshing dip in the ocean – and Hanga Roa's main thoroughfare, with its ample array of restaurants.
Teanehi Bed & Breakfast
Bedrooms are a little old-fashioned at six-room Teanehi Bed & Breakfast ($82 USD double), but the enthusiastic staff, beautiful garden, and varied breakfasts more than make up for this.
You also get ocean-facing terraces – great for appreciating the sunset – and truly tranquil surroundings due to its location. At two kilometers (1.2 miles) north of the center of Hanga Roa, it might be a little far for some, but if you're not bothered by the distance, promises a welcome reprieve from the town.
Hotel Maea Hare Repa
If you're after a simple but clean bedroom that won't break the bank, Hotel Maea Hare Repa ($82 USD double) is a very affordable family-run guesthouse on Easter Island and offers an excellent location at the heart of Hanga Roa.
All rooms have air conditioning and the owners are welcoming and will go out of their way to recommend tours and things to do on the island.
The best cabins on Easter Island
Rangi Moana
With its cute wooden huts and grassy garden, Rangi Moana ($80 USD two-bedroom cabin) is a brilliant self-catering option, as the cabins (not the one-bed huts) include fully equipped kitchens with refrigerators.
A large outdoor swimming pool sits within its expansive grounds and is perfect for a spot of afternoon swimming. You'll also want a dip after walking into town, which is a sweaty 20-minute walk away but ensures the tranquility of this accommodation.
Hire a bike in town if you plan on spending your evenings outside of the hotel.
Kona Koa Lodge
Oozing modernity and with fully equipped kitchen areas to boot, the cabins at Kona Koa Lodge ($300 USD two-bedroom cabin) are an upscale choice for those seeking to self-cater.
Each cabin has a shady terrace with comfortable lounging chairs and views of the ocean. Its distance from the center of Hanga Roa (3.5 kilometers (two miles) and a 35-minute walk) means you can catch unimpeded views of the stars at night – plus a wonderfully peaceful sleep.
Hareswiss
Easily the best thing about the accommodation at Hareswiss (double cabin $92,000 CLP ($140 USD), single occupancy of cabin $65,000 CLP ($99 USD) has to be owner and Swiss expat Peter, whose grasp of five languages and counting, combined with his knowledge of the island and superb hospitality, makes him the perfect host.
The three cabins are spotless and come with a small kitchenette with a hotplate and fridge; a superb breakfast is available at an additional $4,500 CLP.
The only downside is the 25-minute walk (or $3,000 CLP ($4 USD) taxi journey) you'll need to get into town; although for many, with its remote feel and sublime sunset views, this is more of a highlight.
Book well in advance; Peter can also arrange tours with advance notice.
Cabañas Christophe
The simple cabins at French-owned Cabañas Christophe ($100 USD double; $135 USD two-bedroom cabin) are excellently run by long-term expat Christophe himself, who's available to help out guests throughout their stay and speaks English, Spanish, and French.
All cabins include a dining table, fridge, and basic kitchenette, with a breakfast spread of scrambled eggs, fresh bread, and jams delivered daily, plus small terraces.
It's about a 20-minute walk to the main part of Hanga Roa, as the cabins are 2.5 kilometers away on the road towards O'rongo, offering peace, quiet, and poor cell service. Book well in advance.
Cabañas Raupa
The cabins at Cabañas Raupa ($125 USD one-bedroom cabin) are spacious, with ample cooking facilities, plus comfortable balconies from which to eat and survey a lush garden.
Bedrooms are more modern than some options on the island, while the cabins are spotless and extremely comfortable, with the experience made even better by the personalized and friendly attention of the owners.
The best hostels and campgrounds on Easter Island
Mihínoa Camping
One of the cheapest and consistently good budget options on Easter Island and the place for camping is Mihínoa Camping ($54 USD double, $23 USD dorm, $15 USD to rent camping equipment, $12 USD camping with your own equipment).
A 15-minute walk from Hanga Roa and with beautiful sea views, this well-equipped campsite and guest house has three kitchens (the one for the campers is similar in stature to a mess hall), a lounge area decked out with lime green furnishings and a large grassy garden for pitching up.
Dorms and doubles are simple but a lack of fans can be a drag on a hot day. Spotty WIFI only works in the lounge area; showers are heated by solar panels.
Be aware that this place gets booked up very quickly, particularly between January and March, so you'll need to make reservations well in advance.
La Casa del Kori
With a hostel feel plus modern decoration, La Casa del Kori ($86 USD double, $35 USD dorm) was my favorite budget accommodation on the island and has quickly become a popular hangout for backpackers and the budget inclined.
Sturdy bunk beds in large rooms with lockers characterize the reasonably-priced dorms, while doubles are similarly ample in size, with en-suites with spic-and-span white bathroom suites.
It's set to a backdrop of chipboard walls and laminate flooring, but you can't sniff at the freshness of the facilities nor the friendliness of the English-speaking owners, Marcela and Kori.
Camping y Hostal Tipanie Moana
If price is your number one factor when it comes to finding accommodation on Easter Island then look no further than Camping y Hostal Tipanie Moana ($57 USD double room with shared bathroom, $14 USD camping).
Offering private rooms (some with shared bathrooms), it's hard to quibble over the price here, which grants you clean and spacious bedrooms – some with mini-fridges – and a sociable atmosphere among the other guests staying here.
The owner can provide excellent suggestions for restaurants and tours to take, while there's access to a shared kitchen, plus free transfers to and from the airport.
It's a 10-minute walk from the center of Hanga Roa, but at this price point, it's hard to complain.
---
Looking for more travel inspiration for Chile? Check out our Chile travel itineraries, recommendations for where to stay in the Chilean capital, Santiago, and our extensive guide to Torres del Paine National Park, Chilean Patagonia's most renowned protected area.
*I've used "Easter Island" because that's the name that you probably used to find this article in Google. The most politically-correct term for the island is Rapa Nui, as it's the name used by the local inhabitants, not one given by a white guy from Europe who turned up and claimed it for himself. When visiting, be sure to refer to the island as Rapa Nui if you want to have a better reception from the local people who are fiercely proud of their culture and island.