When I first visited Patagonia in March 2016, I didn't know what to expect. Sure, I'd read Bruce Chatwin's "In Patagonia" and heard tales of this almost mythical land of guanacos and giants.
But when it came to actually deciding what needed to go into my backpack, I didn't have a clue; despite the excess of cat videos on the internet, a useful Patagonia packing list was nowhere to be found.
To be fair, on that visit to Patagonia, the contents of my rucksack were dictated by the fact I'd already been travelling a year and a half in South America.
I had clothing for all weather eventualities plus a lightweight backpacking tent and a four-season down sleeping bag that I'd been using for wild camping and other hiking adventures when I was living in Bolivia and Peru.
The second and third times that I visited Patagonia I was far better prepared. I've now spent a grand totally of around four months in the region (you can read my epic 15,000-word post that gives you everything you will ever need to know about travelling to Patagonia and this article about my 25 favorites places to visit in Patagonia) and consider myself a bit of an expert when it comes to packing for Patagonia.
My suggested Patagonia packing list
I know how invaluable others' experiences of planning and travelling somewhere can be, which is why I've put together this Patagonia packing list.
PATAGONIA PACKING FOR DIFFERENT SEASONS: Packing for Patagonia's seasons can be difficult, which is why this packing list is for Patagonia in spring, summer or fall – all three seasons have similar climates, because Patagonian weather is so unpredictable! In spring and fall, temperatures can drop to between 5°C (41°F) and 15°C (59°F), with higher rainfall (particularly in September and April). In summer, you can expect temperatures that hover between 7°C (45°F) and 8°C (46°F); just remember, it always feels warmer than this when the sun's out and you're hiking!
It's aimed at travellers who are planning on travelling around and hiking in Patagonia (such as the W trek in Torres del Paine) or camping in Patagonia and should cover you whether you're travelling one month or three. I've also split this Patagonia packing guide into essentials and luxuries; everyone has a budget for travelling.
A lot of backpackers are keen to keep costs down and I'm of this persuasion on most occasions; however I'm always keen to travel as lightweight as possible, even if technical gear for camping and trekking can have a steep price tag.
I know from painful experience that it's a lot more comfortable to hike long-distance trails such as the Circuit in Torres del Paine National Park with slightly more expensive equipment. You get what you pay for and you don't break your back along the way.
For this reason, I would strongly recommend you check out some of my camping gear suggestions. Believe me, carrying a 1.5kg rather than 3kg tent for eight days really does make a difference.
Planning Your Trip to Patagonia?
Save time, stress & money with a customized travel itinerary planned for you by a Patagonia expert
A final point: this Patagonia packing list is written by a girl. I know I travel more heavily than guys, particularly as I'm not a fan of wearing the same underwear four days straight.
However, all of these suggestions can be easily adapted to both sexes.
And don't forget to check out my other articles to help you plan a trip to Patagonia:
Visiting other parts of the continent beyond Patagonia. Read our complete South America packing list to help you plan what goes in your backpack.
Rucksacks and suitcases
Suitcases
Some people will want to travel with a wheeled suitcase for ease of getting around. If this is you, then I highly recommend the LEVEL8 suitcase. Not only is it roomie – it comes in 41L, 68L, and a whopping 108L – but it has three different zipped compartments, making it very easy to pack your belongings (and know where they are!).
The frame itself doesn't weigh too much, either, which ensures it's easy to wheel around and also doesn't use up too much of your weight allowance! Mine has been brilliant and it's easy enough to pack a small rucksack inside this suitcase for day trips.

Rucksacks
If you plan on doing any multi-day hikes in Patagonia or moving around a lot, you'll probably want a rucksack for your belongings.
When I was initially searching for rucksacks, it became clear that only a few were fully adjustable and as someone with a small back, I knew that unless I had a bag that fitted properly, backpacking and hiking would be extremely uncomfortable.
Before I started my first trip backpacking around South America in October 2014, I bought my Berghaus Torridon Women's 60 litre and my Lowe Alpine Eclipse 22l, both of which have served me excellently during my travels.
I've had the same bag for the past six years and what I particularly like about the Berghaus Torridon 60-litre rucksack is that it's a women's fit and has an adjustable back system.
It also has a rain cover and various pockets (including large side pockets that fit two-litre water bottles when you're hiking). Although it's perhaps slightly bigger than I've needed for backpacking, bear in mind that if you're planning on hiking with full camping gear in Patagonia, a 60-litre rucksack really is the perfect size.
Unfortunately, if you're a reader from the States, Berghaus might be tricky to find (although you can find it here on Amazon).
Instead, Osprey is a great brand that's a little more expensive but known for being exceptionally reliable and long-lasting.
---
Patagonia packing list: rucksacks and suitcases
Wheeled suitcases: LEVEL8 wheeled cases come in three sizes – 41L, 68L, and 108L – and are a great way of keeping your things in order when you travel.
For her: While my Berghaus rucksack is no longer sold by the company, a newer model with the same fully adjustable back system is available on Amazon in the UK. Osprey rucksacks are a great alternative: REI|Osprey|Amazon
---
Day packs
The Lowe Alpine 25-litre has also been ideal day pack for day hiking or wandering around town and also fits my camera and laptop so can be used as hand luggage when traveling overnight on buses in Patagonia.
What I also find so comfortable about this rucksack is the adjustable waist strap, a feature that is invaluable when you're hiking. It also comes with a waterproof rain cover and smaller pockets for keys or lip balm.
However, you might find it a little small if you're planning on doing a multi-day hike.
As with Berghaus, Lowe Alpine is a brand that's hard to find in the US, so I recommend you again check out some good Osprey daypacks.
I would recommend nothing larger than 40l, which should be enough for day hikes but also for hiking the W in Torres del Paine National Park (but only if you plan on staying in refugios and going self-catered).
---
Patagonia packing list: day packs
For her: You can check out the Osprey Sirrus 36, which is packed with pockets, has a waistband and rain cover, and is easy to adjust: REI|Amazon
---
Clothing
Tops and sweaters
The key to surviving Patagonia's notoriously unpredictable weather is layering.
When I travelled there in March 2016, February 2017 and March 2018, I found that a range of long and short-sleeved tops and a couple of light fleeces were the key. With this combination, you can take on or off layers quickly and easily to respond to changes in temperature or weather conditions.
I also packed a long-sleeved shirt, which can be used both for hiking and as a slightly nicer top to wear when going for dinner or wandering around town.
A Gore-Tex waterproof jacket
Be aware that it does rain in Patagonia and often without warning. A good quality, Gore-Tex waterproof jacket is an essential item of clothing, as not only does it keep you dry, but the material is very breathable so that you don't get too hot or sweaty, even when hiking.
My Sprayway Gore-Tex jacket was a great investment but is no longer available to buy. Instead, I recommend the Patagonia Storm10. It's good for trekking in Patagonia, particularly as you can pull the hood tight around your face which helps to keep the rain off my face. It's also a three-layer waterproof (read: extremely dry) made from 100% recycled nylon. It's very thin, which makes it light but also easy to layer up using a down jacket or cosy fleece beneath.
For men, the men's version of the Patagonia Storm10 or the Patagonia Torrentshell 3L are also good options, although I've heard great things about Arc'teryx as a brand in general (but be ready: it's very expensive).
For cheaper budgets, North Face is always a good choice, too. Their Alta Vista jacket (for women and men) is a breathable, lightweight option at an affordable price point.
You can find many waterproof jackets at decent prices these days, particularly if you check out REI's own-brand jackets such as this one.
If you're in the UK, I would highly recommend Alpkit more, as they provide affordable and extraordinarily good-value hiking clothes and equipment.
---
Patagonia packing list: waterproof jackets
For her: I love the Patagonia Storm10 Jacket as it's an ultralight, easy to pack but fully waterproof jacket (Patagonia); the North Face Alta Vista Jacket (Amazon|REI) is significantly cheaper but offers good weather protection.
For him: The Patagonia Storm10 Jacket is a good option (Patagonia) or the Patagonia Torrentshell 3L (REI|Backcountry|Patagonia); if you want something more affordable, the North Face Alta Vista (Amazon|REI) is a good shout; if you're looking for something that'll last you a decade, check out pricey but industry-leading Arc'teryx (REI|Amazon)
---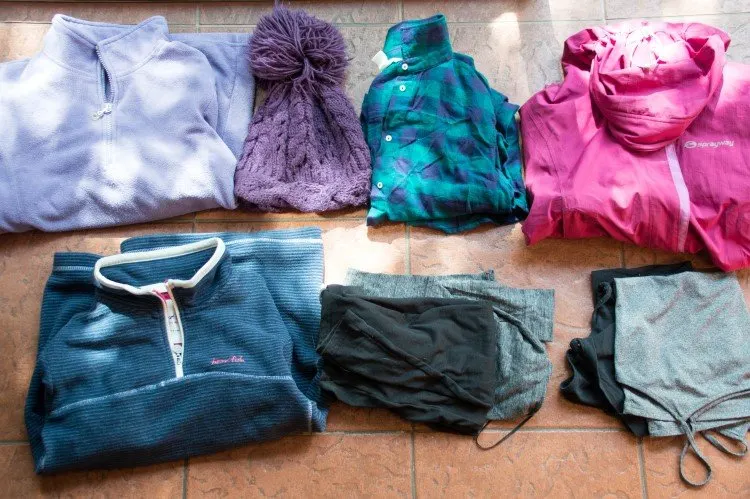 A warm fleece layer
Fleece is a great material for keeping you warm and happy hiking in Patagonia. Not only is a fleece sweater great at trapping body heat, but it's very lightweight – making it an essential addition to your packing.
I personally never go hiking (even in summer!) without access to a fleecy sweater or jacket, because you just don't know when the weather will turn and you'll want that extra cozy layer. This is particularly the case in Patagonia!
---
Patagonia packing list: fleece sweater
---
Down jacket
I also have a lightweight synthetic down jacket (not pictured) that serves as a useful additional layer and packs very small and light – making it a great option for cold evenings and to wear for an extra layer underneath a waterproof jacket. I've been wearing a Jack Wolfskin down jacket, which is packed with responsibly sourced down with 700-fill (a number that basically puts it at the top of the range when it comes to warmth). It's also extremely light, so excellent for shoving in your pack for when you need it.
Again, you can spend hundreds of dollars on a down jacket, opting between synthetic fibers or real down (goose/duck feathers) and it can be hard to know what to look for.
REI have a handy guide to buying a down jacket, but ultimately you want to make sure it's either water-resistant down (pricey) or synthetic down (cheaper but heavier) because there's a strong chance of your jacket getting wet in Patagonia… and goose feathers DO NOT cope with damp weather!
---
Patagonia packing list: down jacket
---
Trousers, shorts, and leggings
Ok, I'll admit it: I really love zip-off hiking trousers (sorry fashion police!). They're comfortable and allow you to strip off quickly if the sun comes out. It's for this reason I've included two pairs in my Patagonia packing list.
It's also a good idea to invest in hiking trousers that are quick-dry as there is nothing more unpleasant than hiking in damp trousers.
prAna are known for the durability of their women's hiking trousers, while for men, REI have some great options for men.
I also never travel anywhere without leggings and have three in my rucksack: two pairs are for hiking (one which can go beneath shorts as an extra layer, one pair which can be worn alone) and one for sleeping.
I've also found them indispensable for traveling in Patagonia, particularly on long bus journeys as they're both warm and comfortable.
---
Patagonia packing list: hiking pants and leggings
For her: get convertible hiking pants on REI|Amazon or normal trekking pants on REI|Backcountry|Amazon). For leggings, REI has some affordable options, while prAna does some really comfortable pairs (REI|Amazon)
For him: REI Co-op Sahara Convertible Pants (REI) is a great option.
---
Other essential clothing
Although I won't be hiking with a scarf, I've included one in this Patagonia packing list. Throughout my travels in South America, it's been really useful as an extra layer, whether on a bus ride or when it's really windy and I just want something to cover my face.
I also use a versatile Buff headband; made of lightweight fabric, they can be worn in several different ways and will be excellent for protecting my head from the sun or just keeping my neck a bit warmer when it's windy.
I love my microfibre travel towel (you can also find them cheap on REI) and I couldn't recommend it enough as a lightweight alternative to a bulky bath towel, as it dries quickly and can be stuffed back into your rucksack.
I honestly bought the cheapest one I could find and while I'm never going to want to use it at home, it does the job when I'm traveling!
I also pack a warm hat, gloves (not pictured) and four pairs of liner socks, and three thicker outer socks to wear when hiking. I always wear two pairs to avoid extra friction and blisters when trekking, but it really depends on how your hiking boots fit – so be sure to try out different pairs of socks on short hikes at home before you decide what to take!
Merino wool socks are good as they help to wick away moisture quickly from your feet.
I love the brand Bridgedale for socks, but a good US alternative is Darn Tough.
Finally, my rucksack contains underwear, bras and a bikini for any hot spring bathing opportunities that arise!
Doing laundry can be expensive and not necessarily work within your timeframes, if you've only got a day or two in a place. I've been using the Scrubba for years now and it's the perfect way to wash your underwear, t-shirts, and even larger items such as trousers quickly and effectively. It doesn't leave your clothes all soapy, like when you wash them in the sink, either.
---
Patagonia packing list: other essential clothing
---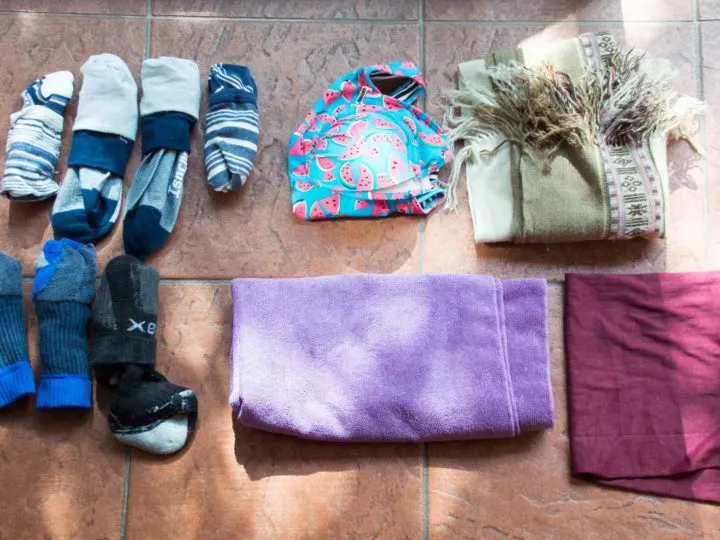 Thermal underwear
Although these are certainly not essentials, if you feel the cold or plan to camp in shoulder season (September-November or March-May), thermals are useful. Under Armour are a great brand specializing in thermal underwear for outdoor adventures.
Temperatures in Patagonia can get down close to zero at night. I was very cold when I was camping in Queulat National Park along the Carretera Austral and I took thermals when I hiked the Circuit in Torres del Paine National Park as it was very, very cold at the Paso campsite and at night!
---
Patagonia packing list: thermal underwear
---
Footwear and packing accessories
Footwear
One of the most controversial features of any Patagonia packing list will always be your hiking footwear. At the beginning of my two-year backpacking trip to South America, I made the decision to invest in full hiking boots.
However, not everyone does; as they have ankle support and thicker soles, they're a far heavier option than a hiking shoe. I've met plenty of backpackers who've instead opted for the latter.

Hiking Boots
I'll always be an advocate for hiking boots. For me, the extra ankle support that they provide is essential. In fact, when I was in Ushuaia last year and I twisted my ankle while wearing my Salomon hiking boots, I shudder to think what more damage I would have done if I hadn't been wearing them.
I've also found that my Salomons don't give me blisters (this has always been a problem that I've faced before), possibly because they have a narrow fit which is far more comfortable for me.
They're also made of a fabric outer shell, which means they're waterproof (don't jump into puddles or rivers and they should be fine) and a lot lighter and with better breathability than those made from leather.
Ultimately, if you're on the fence about whether you need hiking boots or hiking shoes, it's important to consider how much hiking you actually plan on doing when you're visiting Patagonia.
If you're only expecting to wander around the towns or take short day hikes, you'll probably be ok, however, for longer hikes, I would really recommend making an investment in a decent pair of hiking shoes.
Remember, if you take care of them, they will far outlast your backpacking trip.
It's also important to consider the types of terrain you'll be trekking. Hiking hot spots such as Torres del Paine National Park and the trek to Laguna de Los Tres near El Chalten have sections of uneven ground where you do need additional ankle support.
I would also strongly recommend popping into a shop to try the boots on before you buy or order online so that you can try them and send them back if they don't fit.
Just walking around your house for 10 minutes wearing the socks you would plan to wear with the boots should give you a sense of how well they fit – or don't.
Never go on a long-distance trail with brand-new hiking boots; trust me, it's a recipe for disaster (and fierce blisters!). Break them in with a number of shorter hikes beforehand!
In addition to my hiking boots, I've recently invested in a pair of Teva sandals. These are a life changer. Not only are they incredibly comfortable and ideal for walking around cities and the countryside, but they're great for getting up in the middle of the night to go to the toilet when you're camping, as well as for water – whether crossing a river or at the beach.
Finally, a set of trekking poles are also invaluable as they can help take some of the pressure off your hips and feet when you're walking, particularly along parts of the W trek and other steep trails.
I'll be honest, I don't know a lot about trekking poles and how to make sure they fit you properly, so I'll defer to the staff at REI who have a great guide.
Patagonia packing list: footwear essentials
Hiking boots; I love my Salomon hiking boots
Sandals; My Teva sandals are sooo versatile and I know they're going to last forever.
Trekking poles; Check out REI's guide to selecting trekking poles or try Black Diamond from REI|Backcountry|Amazon
---
Packing accessories
One essential part of this Patagonia packing list that few backpackers consider before their trip is how to keep their belongings dry when they're hiking or even just traveling between cities.
During my travels in South America, I've found a couple of dry bags to be an invaluable way of keeping my electrical items protected; they were so good that I even used one for my passport, phone, and camera when I was rafting down an Amazon tributary in the Bolivian jungle!
I pack three dry bags: the largest is to protect my down sleeping bag from water, the second largest is big enough to fit my laptop and the smallest is for my other electrical items. Sea to Summit are a great brand for dry bags.
I also love compression sacks, which I used for my clothes as they allow me to pack it down really small. I also have a survival bag, something that is great for sitting on when lunching outdoors, can be used as an inner liner for your rucksack, and is ideal for any emergency situation that might arise when hiking.
---
Patagonia packing list: essential packing accessories
Compression sacks; Great for packing down clothes and can be bought affordably from REI|Backcountry|Amazon
---
Technology
I'm a big fan of having the best – and not necessarily the most expensive – technology for travel (check out my guide to free apps you must download for adventure travel in South America if you want to know more).
I'll admit, I get most of my recommendations from my dad as he knows SO MUCH MORE than I do. However, I'm the one who's had the time to test out what really works when backpacking in Patagonia.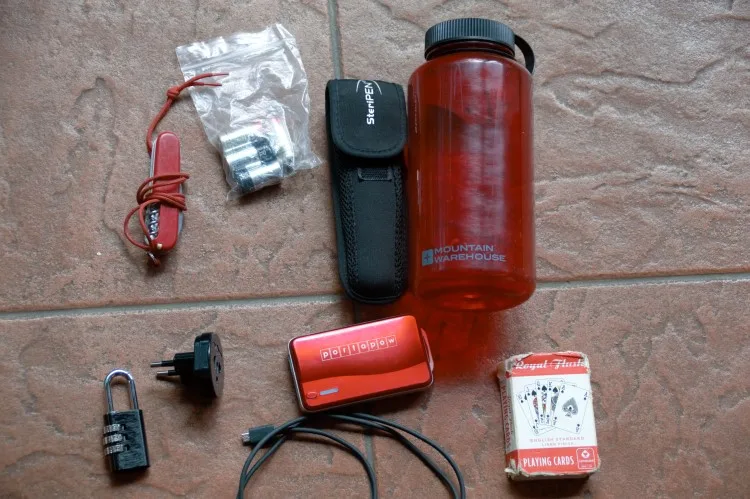 Firstly, a power bank for charging up your mobile and a high-speed charging cable are absolute essentials and have saved my bacon on a few occasions when I've needed my phone for navigation purposes.
It's also essential to have an adaptor plug (which has both two rounded and two flat pin settings as some places in Argentina have the latter, while Chile has the former: Type C (Chile) and Type C and I (Argentina)).
I love my Swiss Army knife as it has scissors, a bottle opener and a selection of different blades and I always carry a padlock for hostel lockers, a headlamp (Black Diamond are a great brand) and, the least technological item on this Patagonia packing list – a pack of cards.
In terms of cameras, I travel with my Sony A7iii, a mid-level DSLR, with a great, all-around travel lens, the 24mm to 105mm Sony lens.
However, unless you're really keen on photography or are a professional photographer, I would stick to a classic point-and-shoot camera. Not only do they weigh considerably less, but you save a lot of time messing around with lenses.
My recommendation would be the Canon Powershot as not only is the image quality incredible but it's compact and very easy to use. They are also often very good deals on buying this camera, particularly when Canon have just brought out a new version.
Patagonia packing list: technology essentials
I've tried various different water filters during my time adventuring in South America and hands down, the Steripen Adventurer is the best.
Ok, it's certainly not cheap, but having used water filters where you have to manually squeeze the water through a filter into a special bag (and which are very breakable, believe me!), it really is the quickest and easiest method of filtering water and is cheap after the initial outlay of buying the pen.
It treats water by simply inserting the Steripen lamp into a 0.5 or 1 litre container of water; you have to follow the instructions for how long you need to zap it. What is great is that the batteries last up to 50 liters.
However, they are a slightly unusual type of battery, so I would recommend that you purchase a spare set before you leave.
You also need a water bottle with an opening of at least 38mm (I have a Nalgene bottle) so I would recommend getting hold of one of these too.
If you're not convinced, the Grayl Geopress also performed well when I tested out half a dozen water filters for travel.
In Patagonia, most of the water is potable anyway, however, if you're combining your trip to Patagonia with visiting other countries in South America, a water filter is definitely a worthwhile and environmentally-sound investment, not least because it'll completely cut your dependence on bottled water and save you money in the long-run.
---
Patagonia packing list: water filter
A portable water filter; The most reliable and safe for travel are the Steripen Adventurer (REI|*Amazon) or Grayl Geopress (REI|Amazon)
Extra batteries (they're very specific for the Steripen); Stock up from Amazon
Nalgene wide-mouth water bottle; Check them out REI|Backcountry|Amazon
*Since I had my Steripen Adventurer, many outdoor shops are no longer stocking it and instead have the Steripen Ultra UV Water Purifier. I would also recommend this Steripen, so I have also included links to this product.
---
Assorted essentials
Reading material and guidebooks
My Kindle Paperwhite has been one of my favorite items to pack in my rucksack. I'm an avid reader, and although it has taken some time to get used to reading on a screen, my Kindle has saved me so much room as I no longer have to carry bulky books.
The only issue is you need to remember to charge your Kindle regularly; I've found that the Paperwhite and other versions with a touch screen have a far shorter battery life than the original.
The Kindle Paperwhite doesn't have backlighting, but combine it with your head torch, and hey presto, you can read your book in any dorm room!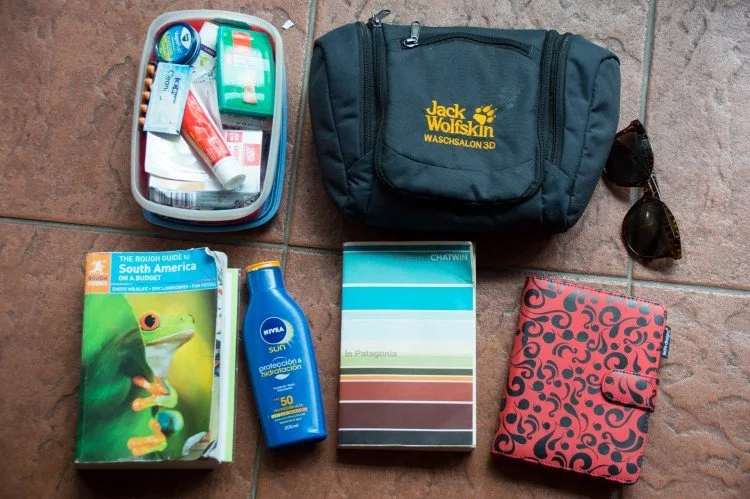 Before you go, pick up a copy of "In Patagonia" on Kindle, Bruce Chatwin's classic travelogue where he explores Patagonia, starting out to find the rest of the brontosaurus that he discovered in his grandmother's cabinet and instead stumbling upon the fascinating richness of Patagonian society.
The new edition came out in March 2019 (I worked on parts of the Peru coverage and all of Paraguay) and is a great investment if you plan on going to other parts of South America on your trip.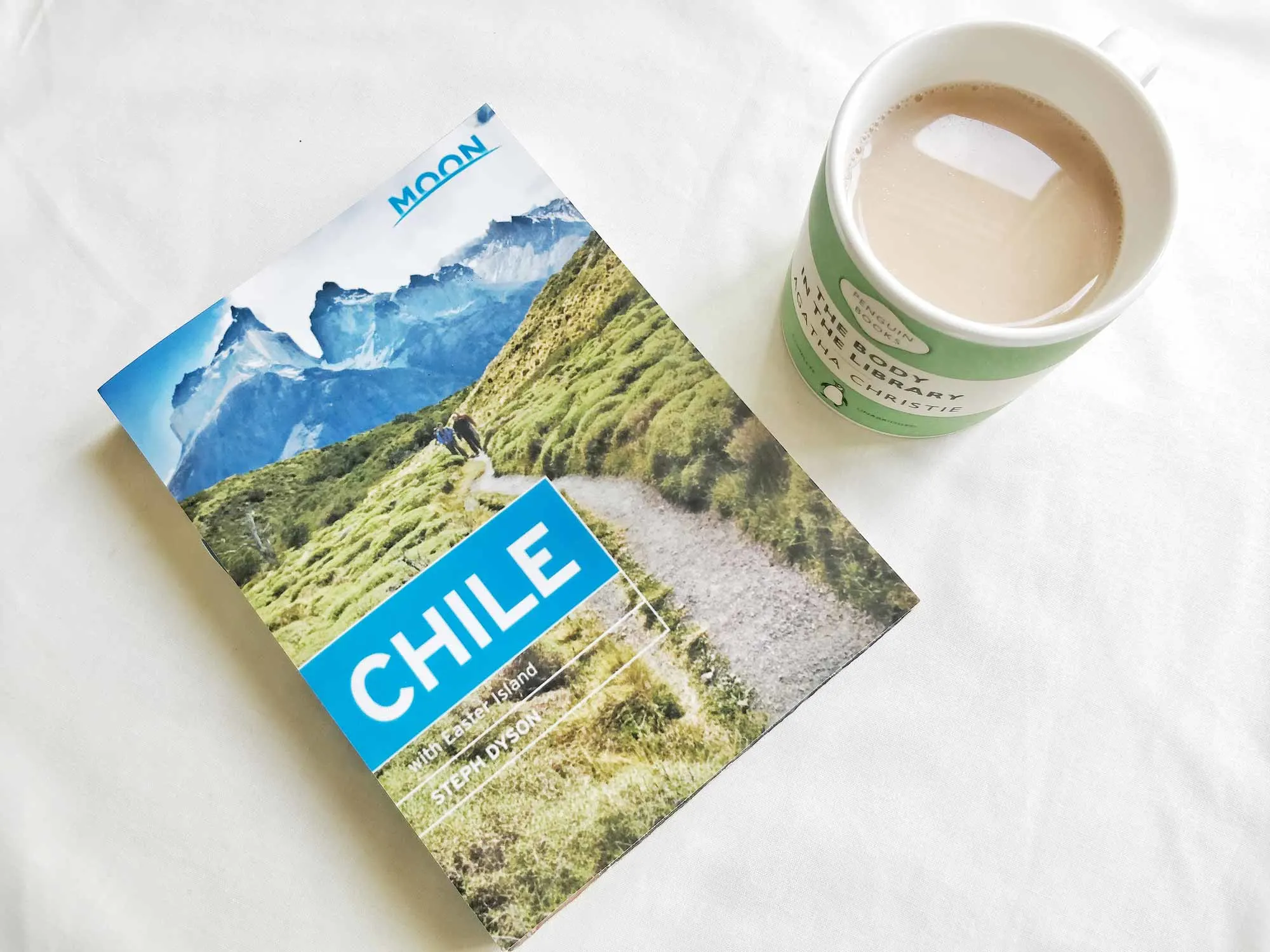 If you're just going to Chile, I would recommend investing in my brand new book, Moon Chile (released July/August 2020), which covers all of Chilean Patagonia and most of Argentine Patagonia. You can supplement it with Lonely Planet Argentina (updated 2022).
Lonely Planet South America is the most up-to-date South America guidebook if you're heading elsewhere, too.
---
Patagonia packing list: reading material and guidebooks
---
Toiletries
Sunglasses and sunscreen are essentials as you never quite know when there will be sun, and with fierce winds prevailing in Patagonia, it's very easy to burn.
I also pack hard shampoo and conditioner bars as they take a lot less space and weight in my rucksack and are better for the environment.
However, I would recommend trying them out at home before you commit – I've really struggled to find shampoo bars that don't leave my hair feeling greasy and it might take a few different brands to find one that really works for your hair.
My medical kit includes ibuprofen, paracetamol, plasters, a bandage for sprains, arnica cream, blister plasters, cream for insect bites and stings, rehydration sachets, hydrocortisone cream, and allergy tablets.
---
Patagonia packing list: toiletries and reading material
Sunglasses
Sunscreen
Solid shampoo and conditioner; Ethique is a brand with lots of options for solid shampoo and conditioner, while Etsy has lots of brands selling them too.
---
Equipment for camping in Patagonia
Tent
If you're planning on doing some serious trekking on your trip, your Patagonia packing list should include a lightweight tent that is able to withstand high winds.
For the Torres del Paine National Park treks, you can rent gear but if you want to travel lightweight and plan to do plenty of hiking, bringing your own gear is a good idea.
When I hiked the Circuit in Torres del Paine National Park, I took the Big Agnes Copper Spur HV UL2. It is an expensive tent, but I was thoroughly impressed with how light it is (only 1.4 kg (3 lbs. 1 oz)!) and how it managed to withstand the notoriously extreme Patagonian climate.
If you're looking to invest in a tent that'll be ideal for backpacking in Patagonia (and outlast the trip), I would recommend reading my review of the Big Agnes HV UL2 to see exactly why I think it's an excellent buy.
Alternatively, a much more affordable option that I recommend is the North Face Stormbreak 2 or the Stormbreak 3, the latter of which is for three people but is a lot more comfortable for two people with hiking rucksacks inside the tent.
---
Patagonia packing list: tents
---
Sleeping bag
The Nemo Disco 15 sleeping bag is a great choice. It's filled with down and appropriate for three-season camping, meaning it's comfortable down to 25 degrees Fahrenheit (-4°C) and a good choice for traveling in Patagonia during spring, summer, and even the shoulder seasons (September through November, and March through May) when the night time temperatures start to fall.
It also only weighs 2.6 lbs (1.21g) and packs down small enough to fit in the bottom section of my Berghaus rucksack. It's available for men and women and is a great investment for both camping in Patagonia and other parts of the world.
---
Patagonia packing list: sleeping bag
---
Sleeping pad
Small, comfortable, and durable sleeping pads are really hard to find, but will ensure that you stay comfortable when you're camping.
You can get a basic, thin foam one very cheaply. Alternatively, a bigger investment is in an inflatable pad – that gets you off the ground a little, keeping you warmer and more comfortable during the night.
Patagonia packing list: sleeping pads
Pots, pans, and cutlery
When it comes to pots and pans, ultimately what you want is something lightweight, versatile and that cleans easily.
You don't want to overpack either; we cooked for four people with just two pots. You can get pots like this fairly easily in most camping stores, but a good brand is always MSR for camping cooking equipment.
I was also really impressed with the Sea to Summit collapsible bowl that my brother brought. It has flexible silicone walls and a thicker nylon base, allowing it to pack down flat and save space in your rucksack.
Don't forget a durable, plastic or metal mug and a titanium spork with a long handle is sturdier than a plastic spork (we actually broke one towards the end of the hike), and you can also use it to stir your food as it cooks
Patagonia packing list: pots, pans, and cutlery
Cooking stove
Another recommendation from my dad is the MSR Dragonfly, a portable cooking stove that we used on our trip backpacking around Peru and, more recently, on our hike around Torres del Paine.
Not only is it really tiny and lightweight, but it uses unleaded petrol – a fuel that can be purchased very easily and cheaply all over South America and which saves you the hassle of trying to find gas canisters.
Thanks to a metal windshield that comes with the stove, it's possible to cook even in some of the most adverse weather conditions, particularly as the stove has a lot of power.
A more affordable option is the MSR PocketRocket 2, which is also smaller but does need you to buy gas canisters (which you can find around Patagonia).
---
Patagonia packing list: cooking stove
---
Did you find this Patagonia packing list useful? If so, PIN IT!