As one of Chilean Patagonia's top adventure travel destinations, Torres del Paine National Park attracts thousands of hikers each year. But despite its burgeoning popularity, it can be difficult to find all the information you need about what to pack for your trip.
It's for this reason that I've compiled this Torres del Paine trekking equipment list to help you in your preparations for hiking the Circuit or 'O', Patagonia's most adventurous multi-day walking route.
This hiking equipment list is also a good guide for if you're planning on trekking the W, the shorter route around Torres del Paine.
Find a complete guide to the W trek here, an essential guide to the O Circuit here or read up on the 14 essential things to know before embarking on the O Circuit.
Torres del Paine Trekking Equipment List
As I've written previously in my packing list for adventure travel in Patagonia, the quality of your camping equipment for Torres del Paine can mean the difference between a rucksack that weighs 16kg and one that's well over 20kg.
A bag as heavy as the latter is guaranteed to give you sore shoulders and make the whole experience of hiking in the stunning Torres del Paine National Park one you'll remember for all the wrong reasons.
When we hiked the Circuit in March 2017, we planned carefully exactly what equipment we needed in terms of camping, clothing and food. This is a list of exactly what we carried in our rucksacks (with a handful of this I wish we'd had thrown in).
Want a free pdf download of the full gear list for trekking in Torres del Paine National Park? Scroll to the bottom to get access to the link!
Essential Equipment for Camping and Hiking in Torres del Paine National Park
Remember that you can rent all gear from shops in Puerto Natales and for around $76,500 CLP ($114 USD) per person for the duration of the hike and the equipment is generally reasonable quality – although you'll want to check it thoroughly before committing.
For us, we wanted lightweight gear that would make the hike more pleasant and we were also planning on camping in other parts of Patagonia during our trip. We also had a lot of this equipment before we went to Patagonia, so don't feel that you need to buy absolutely everything on this list.
It's a guide for you if you're willing to invest in some good quality hiking gear that will making hiking in Torres del Paine a really enjoyable experience and outlast your trip – meaning you can use it on your next vacation.
So, here's an overview of exactly what we packed.
Planning Your Trip to Chile?
Save time, stress & money with a customized travel itinerary planned for you by a Chile expert
Rucksacks
All of us had 60-litre rucksacks, which was entirely sufficient to pack all of our items for the trek.
I found 60 litres was perfectly big enough for hiking the full O Circuit – any bigger and you can start to overpack to fill the space.
I highly recommend Berghaus, a brand that I've personally been using for the past five years. Their bags have fully adjustable back systems and are available on Amazon.
Unfortunately, they're a British company so harder to get in the US. Instead, I've heard fantastic things about Osprey (and have one of the 40-litre packs myself), so these are a great alternative. They have rucksacks for women on REI|Osprey|Amazon and for men on REI|Osprey|Amazon.
Tents
Between the four of us, we carried two lightweight tents.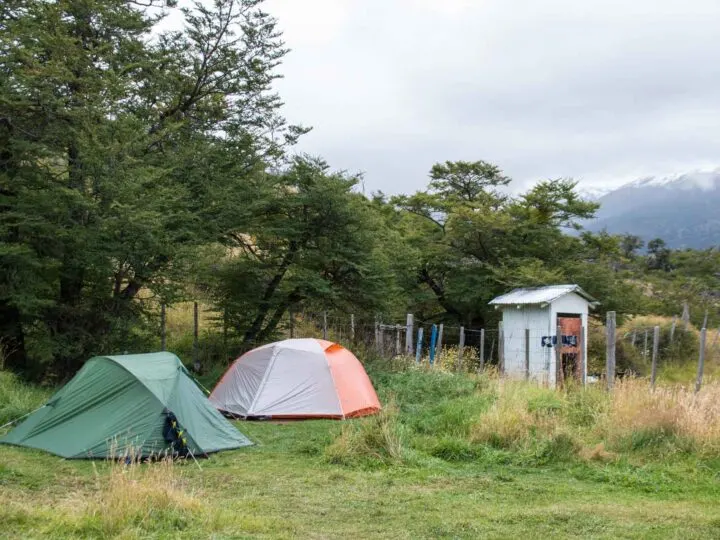 I was in this, a two-man tent that we bought specifically for the Torres del Paine hike and it is seriously one of the best quality tents for backpacking on the market.
You can read my full review of the Big Agnes Copper Spur HVUL for more information, but the salient points are that a) it withstood the strong Patagonian winds with barely a flinch, b) it was very waterproof (believe us: it was tested well!), c) it's super light and packs small and d) it's very quick and easy to put up and take down.
My dad and brother were in the Terra Nova Superlite Solar 2, which is unfortunately no longer available to buy.
It's actually the two man tent is the predecessor to my Wild Country Zephyros 2 (1.81Kg/3lb 16oz), a tent I love because it's both incredibly lightweight, very quick to erect and has kept me dry and warm during all my times camping in South America. The company just makes excellent tents at very affordable prices.
It's cheapest for readers in the UK, but you can find it on Amazon in the US and other countries, too. If you're in the US or Canada, I recommend checking out the North Face Stormbreak 2 (buy it on REI|Backcountry|Amazon.
I've heard great things about it as a lightweight backpacking tent – although it's cosy for two people! You can find the North Face Stormbreak 3 (which is roomier for two) on REI.
Sleeping equipment
We had a range of sleeping equipment between the four of us, but this what I packed in my rucksack.
This is a very cosy 3-4 season sleeping bag that withstood even the coldest temperatures when we slept at Campamento Paso – directly next to the Southern Patagonian Icefield.
It's down filled (so don't let it get wet!) and packs down small so that it fits into the bottom of my rucksack and only weighs 1.24kg (2.7bs), which is really light for a down sleeping bag. However, it's hard to find outside of the UK.
If you're in the States or Canada, the Nemo Disco 15 sleeping bag is a great choice. It's filled with down and appropriate for three-season camping, meaning it's comfortable down to 25 degrees Fahrenheit (-4°C) and a good choice for travelling in Patagonia during spring, summer, and even the shoulder seasons (September through November and March through May) when the night time temperatures start to fall.
It also only weighs 2.6lbs (1.21g) and packs down small enough to fit in the bottom section of my Berghaus rucksack. It's available for men and women and is a great investment for both camping in Patagonia and other parts of the world.
Therm-a-rest sleeping mat (510g/18oz)
Therm-a-rest make sleeping pads at a variety of price points.
You can find the Therm-a-Rest ProLite, which comes well recommended (REI|Backcountry|Amazon).
A cheaper option is a more basic foam sleeping pad: you can easily find them on REI|Backcountry|Therm-a-Rest|Amazon.
Cooking equipment
There are covered areas in all of the campgrounds for cooking and also sinks for washing up your equipment.
You can also buy standard gas canisters in some of the campsites along the Circuit (we saw some in Refugio Chileno but don't count on finding them everywhere) but it's worth making sure you have enough fuel to keep you going.
I love the MSR Dragonfly Stove (396g/14oz)!! We used this on a previously trip to Peru and also found it to be extremely efficient when camping in Torres del Paine National Park.
It's tiny and lightweight and uses unleaded petrol, which you can buy very easily from all fuel stations in Patagonia. It also has a metal shield that comes with the stove, which is very useful in windy conditions and allowed us to cook despite some fairly poor weather on the trail.
You can also buy extra fuel bottles (we had two that lasted us between four people for the eight days).
We also used the Quechua Camping Pots with Heat Diffuser (382g/13oz) which are regular camping pots but with a twist: they have a heat diffuser underneath which means it allows the contents to heat far quicker than normal pots – while saving you fuel.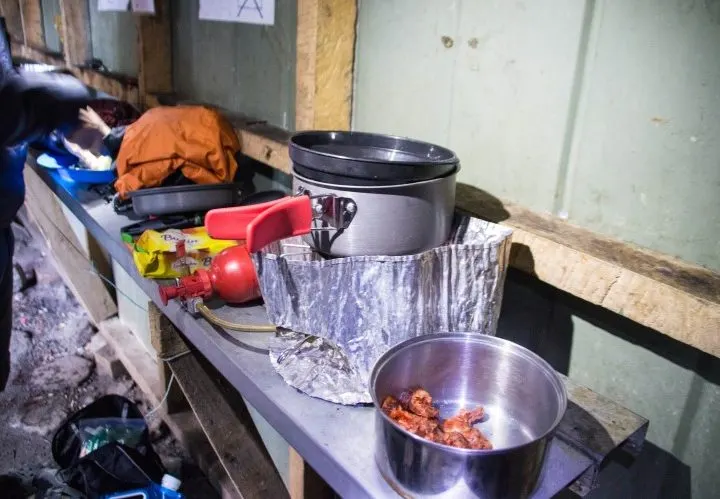 This set includes a large pot suitable for boiling water or cooking a meal and a frying pan that doubles as a lid. We also had a smaller pan for cooking pasta and rice. Unfortunately, they're only available to buy in the UK.
Luckily, you can get pots like this fairly easily in most camping stores, but a good brand is always MSR pots: check them out on Backcountry| Amazon.
My brother had a collapsible bowl (88g/2.8oz) and it was a great choice. It has flexible silicone walls and a thicker nylon base, this bowl packs down flat when not in use and was excellent for saving space in his rucksack. Find them at REI|Backcountry|Amazon.
You also need a camping mug (around 62g/2oz), which are easy to pick up in most supermarkets or camping stores and you should opt for a cheap, plastic or metal, and durable one. Find them on REI|Backcountry|Amazon.
You'll also want a spork. A titanium spork with a long handle is sturdier than a plastic spork (we actually broke one towards the end of the hike), but you can also use it to stir your food as it cooks. You can find them on REI|Backcountry|Amazon.
Camping and cooking packing essentials for the O Circuit:
Clothing and footwear for hiking the Torres del Paine Circuit or 'O'
We aimed to keep our clothing to a minimum for this Torres del Paine hike, while also making sure we stayed warm and dry.
When we were there in March, temperatures reached as low as 5˚C (41˚F) and we just about avoided some of the worst rainstorms they've had in the park for the past 20 years! (Read more about the weather with this handy guide).
Salomon Quest hiking boots
I have been using Saloman hiking boots for the past four years (I have these Salomon Quest hiking boots; they are seriously comfortable, provide excellent ankle support and survived 2+ years of heavy wear. They finally gave up as we were finishing the hike – and I've since replaced them.
The hike back down the John Gardener Pass is very very steep and can be horribly slippy with mud so I strongly recommend investing in good-quality hiking boots. Once you've bought a pair that fits well (and has a little bit of room at the end of your toes to stop them getting squashed), break them in by first wearing them around the house and then taking them on a couple of short day hikes.
This will teach you how many pairs of socks you need (I personally always use two: a thin pair as a base layer and a thicker pair as an outer layer) to stop them rubbing and whether you need to break them in further – along with some Compeed on your heels.
For Torres del Paine, if you only wear one pair of socks, three in total should be sufficient – just remember to give them a wash every few days!
Most shoes rub when I first wear them and my second set of Salomons did this (the first fitted perfectly!), so I've got in the habit of just putting compeed on my heels before I start hiking as a preventative measure.
You can find Salomon hiking boots on REI|Backcountry|Amazon.
Trekking Poles
Given the steepness of the descent from the John Gardner Pass, hiking poles are an excellent investment for the walk as they'll give you a little more support – something really useful in muddy conditions.
Again, you can hire these in Puerto Natales, or you can get some inexpensive ones on the internet. I recommend some from Black Diamond (REI|Backcountry|Amazon).
Other shoes
I've invested in Teva sandals and found that, unlike my flip flops, they didn't try and slip off my feet when fording a river in Torres del Paine National Park.
Admittedly the river was swollen because of torrential rain – so it's unlikely you will face these conditions, however, they were also far more comfortable to wear with socks at night when you just wanted to have your feet out of your walking boots!
General clothes
The trick with packing for Torres del Paine is to avoid overpacking. I kept my clothing to a minimum and had the following:
Basic short-sleeved top (x2) and long-sleeved top (x2).
Because the weather is extremely changeable in Patagonia, you want plenty of layers that you can put on or strip off in response to the weather.
Fleece jumper (x2) and down jacket
Again, keep the chill out (it gets cold at night, particularly around the back of the Circuit near all of the glaciers) by layering up with a warm fleecy jumper and a down jacket for when it gets extra chilly.
Hiking trousers, zip off at the knee (x2)
I almost hate to admit this, but I love my zip off hiking trousers! They are much more versatile than carrying a pair of shorts and trousers. You can also find those that don't zip-off; prAna does a great line in women's hiking trousers.
I feel the cold, so thermal underwear was essential for me at night time when temperatures can drop close to zero degrees Celsius (32 Fahrenheit). You'll likely want both a thermal top and bottoms.
Again, leggings are excellent for layering purposes and are good for sleeping in too.
Gore-Tex waterproof jacket and waterproof trousers
I almost didn't take waterproof trousers but they were an excellent decision! I also loved my Sprayway Gore-Tex jacket, but I've since upgraded it to the Patagonia Storm10 Jacket. It's ultralight, extremely easy to pack and impressively windproof and waterproof given how lightweight it is. It's also very breathable – which is important as you don't want to get too warm when you're hiking.
For cheaper budgets, North Face is always a good choice, too. Their Alta Vista jacket is a breathable, lightweight option at an affordable price point.
For waterproof trousers, you can find inexpensive ones in hiking gear shops, but be aware that the more plastic feeling they are, the less breathable they will be – and they hotter they'll make you when hiking. These Marmot rain pants are great.
Warm hat, gloves and scarf or a Buff
Keep your head, neck and hands warm and protected from the wind. Buffs are great because of how versatile they are; they can be used as head bands, sweat bands and scarfs.
Hiking boots; You want some that are comfortable and that you've broken in so that they don't give you blisters! Check out my Salomon hiking boots on REI|Backcountry|Amazon or the men's version on REI|Backcountry|Amazon.
Base layer hiking socks (x3 pairs): Get them on REI|Darn Tough|Amazon
Outer layer hiking sock (x2 pairs); Get them on REI|Darn Tough|Amazon
Gore-Tex waterproof jacket; For her: I love the Patagonia Storm10 Jacket as it's an ultralight, easy to pack but fully waterproof jacket (Patagonia); the North Face Alta Vista Jacket (Amazon|REI) is significantly cheaper but offers good weather protection. For him: check out the men's version of the Patagonia Storm10 Jacket on REI|Backcountry|Patagonia, the more affordable North Face Alta Vista (Amazon|REI) or the industry-leading Arc'teryx (REI|Amazon)
Trekking trousers (x2) or shorts; The prAna hiking pants (REI|Backcountry|Amazon) are great for women; for men, the Columbia Silver Ridge is a good option (REI|Backcountry|Amazon)
Trekking poles; You don't need to spend loads on them but you do want some that pack down small so they can fit in your suitcase on the plane over to Patagonia and ones that are sturdy. Check them from Black Diamond (REI|Backcountry|Amazon)
Sandals; They don't look very stylish but they serve a purpose! I'm a convert of Teva sandals. Find them for women on REI|Backcountry|Amazon and for men on REI|Backcountry|Amazon
Basic short-sleeved top (x2)
Long-sleeved top (x2)
Fleece jumper (x2) or down jacket; Check fleece jackets out for women: REI|Backcountry|Amazon; for men: on REI|Backcountry|Amazon. I also love my new Jack Wolfskin down jacket (Amazon), as it's extremely warm and lightweight
Insulated down jacket; I'm no expert on down jackets but REI have a great selection and a helpful guide to choosing one. Find them here: REI|Backcountry|Amazon
Thermal underwear; For women: Top (Under Amour) and bottoms (Under Amour|Amazon) and for men: Tops (REI|Amazon) and bottoms (REI|Amazon)
Top Tip: If hiking earlier or later in the season like we did (October/November or March/April), it is colder than you think in Torres del Paine. Pack more clothing than you'd planned so as to avoid being caught out. We found that at night it got very chilly and I was struggling to find enough layers to wear!
Other equipment for trekking the Circuit or 'O' in Torres del Paine
Other equipment
These are other essential items that you will need for hiking in Torres del Paine National Park:
Dry bags; You want to keep your sleeping bag and any electronics nice and dry when it rains. Many people just line their backpacks with a bin bag but these can easily tear. I always travel with dry bags and have never had an issue with valuables getting damp. Check out the Sea to Summit dry bags (REI|Backcountry|Amazon)
Lighter (x2); Matches run the risk of getting wet
Headlamp; This is easier than a torch for when you're getting up or going to bed in the dark. Get one from REI|Black Diamond|Amazon
Pack of cards or even a book; We got to the campsites each day at no later than 4pm and while the camp shelters where you cook are great for meeting other hikers, a pack of cards or something to read would have been a good idea to soak up some of the free time.
Cable ties; I carry these EVERYWHERE I go when hiking. They can fix anything, including my hiking boots!
First aid kit; Including plasters (and blister plasters), a bandage for sprains and a gauze dressing for wounds, hydrocortisone cream for insect bites, ibuprofen and paracetamol. You can easily make one of these up by yourself, otherwise find them on REI|Amazon
Face or body wipes; Some days you may not be able to get a shower
Toiletries; I've found that hard shampoo and conditioner have saved me plenty of weight in my rucksack. I've tried those by Lush but I have to admit that I've struggled as they seem to make my hair greasy. You can find plenty of different brands now on Amazon so I suggest you trial one before leaving for your trip and see how you get on.
Microfibre travel towel; These towels are super light and there are some showers along the O Circuit (hurray!) so you'll definitely want one. Find them on REI|Amazon
Washing powder; A small plastic bag with washing powder is useful for giving your underwear and socks a good wash every few days (your feet – and friends – will thank you!)
Washing pegs and a washing line; I used this for hanging up clean socks at campsites overnight.
Hand sanitizer; There's not much soap to be found in toilets around the campsites and some of the toilets are grim.
Toilet paper; We generally found this in most campsite toilets but better safe than sorry.
Sun glasses, sun cream and insect repellent; When it's sunny in Torres del Paine, it's really sunny. During summer, you can also expect to be savaged by insects so bring some spray.
Steripen or purifier for silt water; Our first night (at Refugio Serón) the water system had broken due to a huge storm that had basically drowned the park in rain. As a result, there was no clean water, except from some very silty stuff that you could take from the stream. We had my steripen, but this wasn't hugely useful in the situation (although it has been perfectly good for all the other camping experiences I've had in South America). I genuinely think this was an unusual situation, and so I still highly recommend the Steripen for your trip – buy it on Amazon or the newer Steripen UV Ultra at REI. You'll need a wide-mouth water bottle, such as the Nalgene (buy it on REI|Backcountry|Amazon) to go with it. If you want to consider bringing a different water filter with you. I've used both the Sawyer Water Filter (get it on REI|Amazon) and the Grayl filter (get it on REI|Backcountry|Amazon) and you can read my reviews of travel water filters, too. Remember that you can find clean water at all of the campsites along both the 'O' and 'W' Torres del Paine hikes so this is really just for emergencies.
Universal adaptor plug and phone or camera charger; We found that there are plug sockets in Paine Grande and Los Perros campsites. Get a universal adaptor plug from Amazon.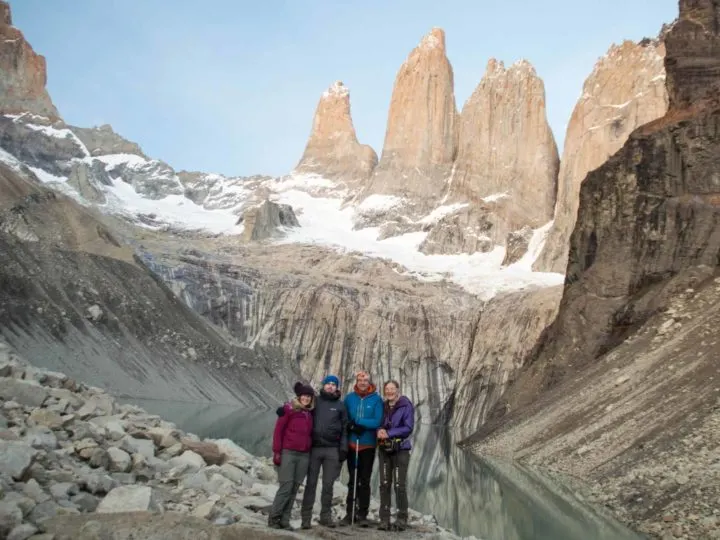 Get the Torres del Paine trekking equipment list as a PDF
All you need to do is subscribe to Worldly Adventurer and you'll receive this Torres del Paine trekking equipment list as a free PDF download!
And if you want a guide to what to take on your trip to Chile and Argentina, check out this checklist for packing to travel in Patagonia and get tips on how to have a Patagonian adventure.
Was this trekking equipment list for camping in Torres del Paine useful? Pin it to help other adventurers!