As a territory that only comprises two main roads, starting in Puerto Montt and Bariloche in the respective Chilean and Argentinian sides, it's fair to say that Patagonia is inaccessible.
But that's all part of its spellbinding allure; in parts, rugged and deliciously wild and where you're more likely to encounter the delicate cousin of the llama, the guanaco, than other tourists.
With a plethora of places ripe to be discovered, Patagonia is one of the finest part of South America for intrepid adventurers.
If you're keen to discover how you can see it at its best, read on for the only tips you'll be needing for adventure travel in Patagonia.
1. DON'T just travel by land
Patagonia's unrivalled back country deserves to be explored voraciously: I was left reeling by Parque Nacional Tierra del Fuego near Ushuaia, the hanging glacier in Parque Queulat near Puyuhuapi, and Monte Fitzroy in El Chaltén.
My time spent hitchhiking along the Carretera Austral was also a real highlight of my trip to Patagonia; those looking for a real Patagonian adventure need look no further than this 1240km road trip.
But the options for adventure travel in Patagonia don't just end there. With Chile's spectacular fjords on the west coast and Argentina's eastern coastline teeming with penguins and other marine wildlife, Patagonia is just itching to be explored in other ways too.
2. DO explore by boat
Whether it's a short, guided tour of whales, elephant seals, and pods of orcas off Puerto Pirámides on the Valdés Peninsula, or a passenger ferry cruising through the Chilean fjords, the Patagonian coast is a heavyweight when it comes to spectacular coastlines.
I took the Navimag ferry from Puerto Montt to Puerto Chacabuco, a 24-hour trip that is famously late in leaving (we set sail at 8pm when originally scheduled for 8am), but is perhaps the most authentic local type of transport.
At $43.000 CP (£43) including a cabin and three meals, it's not the cheapest way of travelling, but offers a full day of scouring the water for a tell-tale fin and attempting to make out the outlines of the 12 volcanoes visible from this route (unfortunately for me, the cloud cover in mid-April hid the majority of the landscape).
The Naviera Austral is another company exploring the Chilean coast from Quellón in Chiloé to Puerto Chacabuco further south. Costing around $15.000 CP (£15) for a seat, the trip is a mammoth 28 hours.
But, according to another traveler who took the route, that's 28 hours of sighting whales, penguins, sea lions, and dolphins – and he had perfect weather, just the week following my trip in April.
3. DON'T just hike the Torres del Paine 'W' trek
I have to admit to being somewhat disappointed by my experiences of Torres del Paine National Park. As I was visiting as part of a tour, I had no choice but to hike the Torres del Paine 'W' trek with a guide.
Upon arrival, it became clear how unnecessary this was, given how well-marked the trails are and the fact that you're probably more likely to be eaten by a puma than trek the 'W' alone – believe me, there are plenty of other tourists!
Yes, the landscape of Torres del Paine National Park is magical: watching the wind whip up the water of Lago Nordenskjöld and make it dance across the surface was something else.
Surmounting the final stretch of boulders to arrive at the route's finale, the eponymous Torres, was a rewarding moment, and I can completely understand why backpackers come here in their droves.
But since having spoken with others who avoided some of the crowds, I know there is another way.
4. DO check out the 'O' instead. Or other top Patagonian hiking destinations
The Circuit, or 'O' hike is a 140 km route that encompasses the 'W;, but also visits the area of the park behind the towers, which is lesser-hiked and more spectacular as a result.
With fewer other walkers, you're more likely to come across rare wildlife (such as pumas, guanacos, and the endangered Chilean huemul or South American deer).
Disappointed doesn't cover how I felt at not having taken this route.
Luckily, I returned in March 2017, so check out my article reporting back on my experiences and top tips for trekking the Circuit, a hiking trail that must be one of Patagonia's absolute finest.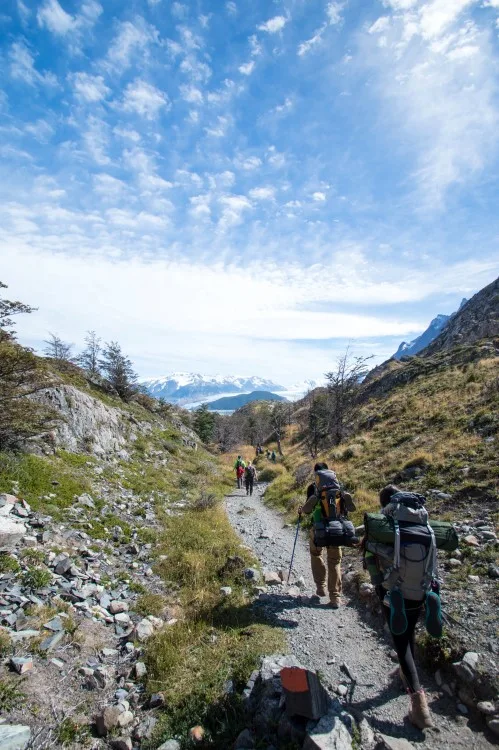 But while Torres del Paine dominates backpacker walking circuits, other Patagonia hiking options merit investigation.
Parque Pumalín, near El Chaitén at the north tip of the Carretera Austral has 12 trails and an ascent of the active, recently erupted Volcán Chaitén.
Valle del Cochambó, (slightly further north of Pumalín) with its lack of car access, impeccable conditions for climbing, and dense, untouched forest, is another spellbinding destination for walkers wanting to escape the crowds.
Wherever you chose, hiking in Patagonia is an activity not to be missed.
5. DON'T try and camp without the correct gear
As someone carrying everything necessary to freelance on the road (a heavy laptop and my newly acquired, much-loved, but still painfully weighty Nikon d3200), I declined the offer of a camping stove to complete my gear.
With a tent, sleeping bag, and mat already loaded into my rucksack, I felt I was already at a breaking point with weight.
While it certainly couldn't fit into my bag at the time, it would have made a lot of sense when I tried to hitchhike along the Carretera Austral.
Here, being able to choose to leave your lift and wild camp alongside an aquamarine lake or in the middle of a seemingly enchanted forest is the luxury of carting that heavy camping gear around, and a lesson that I learned at my own expense.
6. DO travel well-equipped and choose to hitchhike
Thankfully, I made useful friends who, for some parts at least, travelled with me and meant we could explore freely – and have a hot dinner and a toasty water bottle afterwards.
Being self-sufficient and able to camp at will was the best part of the trip, and certainly what most backpackers whom I met were raving about.
Alongside this comes the opportunity to hitchhike: my favourite part of travelling in Patagonia.
Although mostly fleeting encounters, I met a whole host of local people and felt like I learned more about their lives and their country than I ever did in Bolivia, despite being in Bolivia for a significantly lengthier period of time.
Yes, now being fluent in Spanish obviously helped, but hitchhiking in Patagonia really proved that it lives up to the hype: the people here will probably be some of the most friendly you'll meet on your travels.
Not only this, but hitchhiking throughout Patagonia is a wonderful opportunity for cultural exchange, the swapping of travel tales, and, in our case, the very liberal sharing of a delicious handful of toffees which were much appreciated on our later hike. Yum.
If you're tempted, check out my post that gives you all the tips you need to hitchhike safely through Patagonia and beyond.
---
Find this article inspiring? Share the love and Pin Me!