Craggy, snow-dappled mountains; deeply grooved glaciers that burst into waterfalls; isolated, wind-ravaged national parks: this is Patagonia, one of South America's most wild, yet mesmerizing destinations.
Despite a definite surge in tourists visiting the region in the past decade, it remains an iconic symbol of the savage beauty of South American terrain and a rewarding trip for the intrepid few who venture this far south.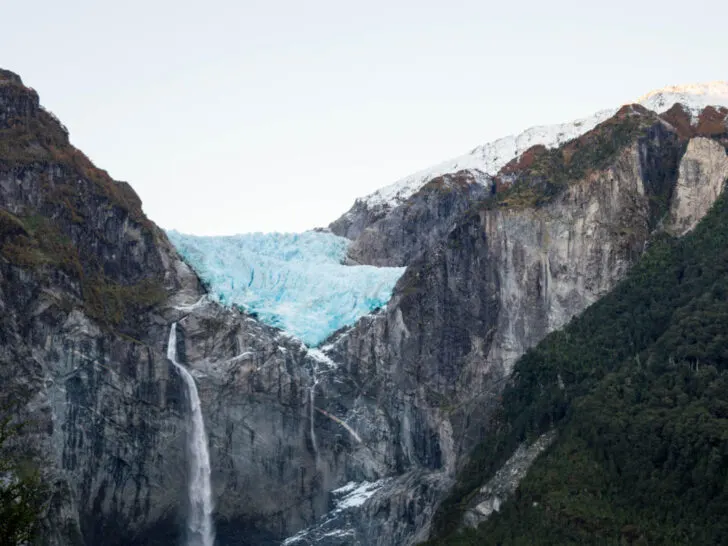 Ever since I first arrived in South America in 2014, I've been transfixed. This is a bewitching but utterly strange part of South America: Welsh tea houses nestle alongside typical Argentine estancias, the black fins of orcas can be spotted from isolated, Atlantic shores, and egg-blue glaciers hang precipitously above hidden lakes.
Patagonia is vast, achingly beautiful, and, in many parts, perilously wild.
My first visit came back in 2016 after I won a travel writing competition (here's my winning entry if you're interested), giving me a place on a 34-day overlanding tour, a trip that gave me plenty of ideas about the top places to visit in Patagonia.
Planning Your Trip to Patagonia?
Save time, stress & money with a customized travel itinerary planned for you by a Patagonia expert
What previous clients have said:
Steph at Worldly Adventurer was amazing! It is clear that Steph has the experience and knowledge of travel in South America to help us customize a once-in-a-lifetime trip itinerary! She was responsive and friendly and really cared to understand what we wanted out of our experience. Steph did not just give us a 'cookie-cutter' itinerary but really tweaked and provided recommendations based on what we wanted out of the trip. I highly recommend using Steph for your travel planning to South America!
Laurie and Kevin
Traveled to Argentina, Chile, and Patagonia in Feb '23
Since then, I've been back multiple times over the years, each time wowed by the incredible landscapes, history, and wildlife that this remarkable place has to offer.
The unmissable places to visit in Chilean and Argentine Patagonia
From acapella-singing king penguin colonies to national parks right at the end of the world, Patagonia is absolutely everything I had hoped for – and then some. I guarantee it will be the same for you.
It was a hard task to trim down my favorite places in Patagonia, but here they are.
Northern Patagonia
Patagonia is split into two distinct sections: northern and southern, with vast distances between the two. Read my guide about where Patagonia is to help you better understand the geography of this vast region straddling Chile and Argentina and to work out exactly where all of the places I mention below are located.
1. Bariloche and Nahuel Huapi National Park, Argentina
Argentine Patagonia's northernmost tip, Bariloche (sometimes known as San Carlos de Bariloche) is the country's self-declared capital of hiking.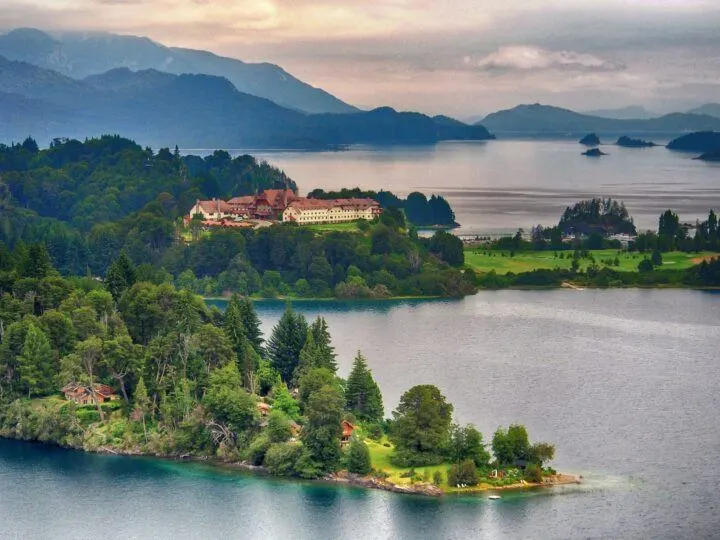 Situated on the cusp of the Andes Mountains within the vast expanse of Parque Nacional Nahuel Huapi (Nahuel Huapi National Park) and within the Argentine Lakes District, it's truly an adventurer's playground.
Hikes up into the mountains that tower above the town are the main attractions here, although cyclists will delight in Bariloche's road and mountain trails, many of which circumnavigate the gorgeous lakes for which the region is known.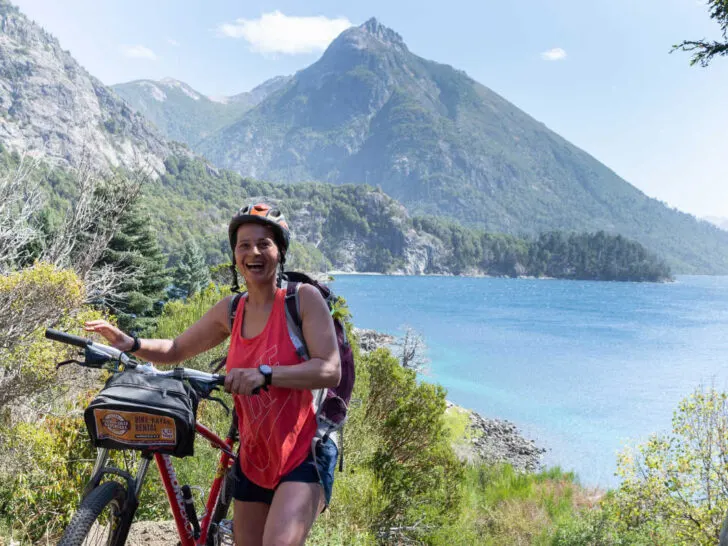 If more sedate adventures hold more interest for you, the Ruta de los Siete Lagos, a 110-kilometer drive that skirts seven of the region's most picturesque lakes as it passes through thick pine forests and beneath the 2,000-meter snow-drizzled mountains, is one of Patagonia's best.
How to visit Bariloche
It's easy enough to reach Bariloche thanks to frequent flights from Buenos Aires (two hours) or by hopping over the border from Puerto Varas in Chile.
Long-distance buses from El Chaltén (24 hours) are not for the faint of heart.
High season here is December through February (like much of Patagonia), so book accommodation in advance.
Outside of these months, Bariloche becomes one of Argentine's prime skiing resorts.
2. The Valdés Peninsula, Argentina
Tucked on the Atlantic Coast of Argentina are some of the country's finest wildlife treasures. Península Valdés (the Valdés Peninsula) is a UNESCO World Heritage Site thanks to its abundance of wildlife, with everything from sea lions and elephant seals and Magellanic penguins found on its shores.
Inland, its plains are dotted with guanaco and rhea – species you'll also find in southern Patagonia.
But the real stars of the show are the endangered southern right whales, who come to the waters off the coast of the peninsula to breed between June and the end of the year.
And, if you're lucky, you might even spot the pod of orcas that migrate here between mid-February and mid-April to implement hunting techniques not seen anywhere else on the planet: they intentionally beach themselves in order to snatch baby sea lions directly from the shore.
You'll also find South America's largest Magellanic penguin colony, Punta Tombo, a two-and-a-half-hour drive south when you can walk between the burrows of the over one million penguins that nest here.
How to visit The Valdés Peninsula
The closest town to the peninsula is Puerto Madryn and this is the best place from which to organize a tour out onto the ocean or across the peninsula itself.
These cost from $100 USD and typically only take place between September and March. The best months for wildlife watching are September through November, when sea lions, penguins, and dolphins are present. Whale watching is only possible between June and November, however.
3. The Welsh Villages, Argentina
Argentina's Chubut Province lays claim to one of Patagonia's most curious cultures. The towns of Trelew and Gaiman were founded by 153 hardy Welsh settlers, who traveled across the Atlantic in 1865 to make this remote part of Patagonia their home.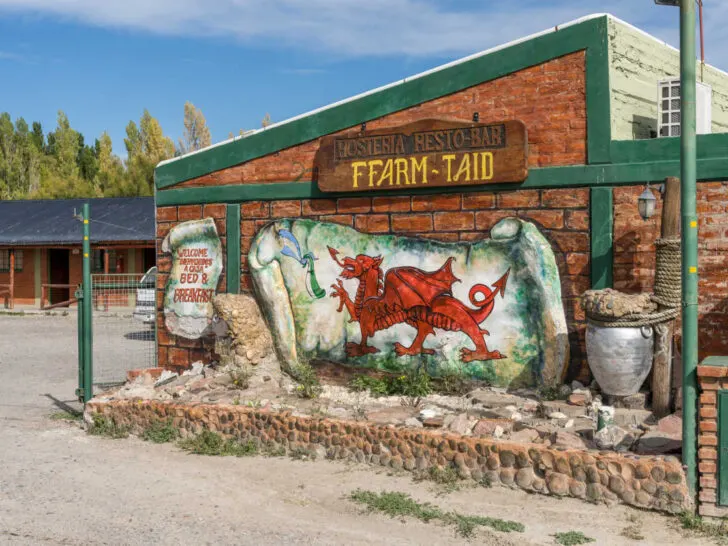 While the towns themselves have grown throughout the subsequent century, they remain a hub of Welsh-Argentine culture.
You can stop at a quintessentially Welsh tea house where you'll find Welsh dressers dripping with tea towels printed with the Welsh flag and hear the local people still conversing in Welsh (although they also speak Spanish, too).
How to visit Trelew and Gaiman
The two towns lie an hour's-drive south of Puerto Madryn and can be easily reached with a tour.
You can also reach the towns by bus and stay in one of the handful of B&Bs located here.
4. Puerto Varas, Chile
On the banks of Chile's second-largest lake, Lago Llanquihue, and with views of the perfectly conical Volcán Osorno and Volcán Calbuco, Puerto Varas is the most vibrant and visited of the towns in Chile's Lake District.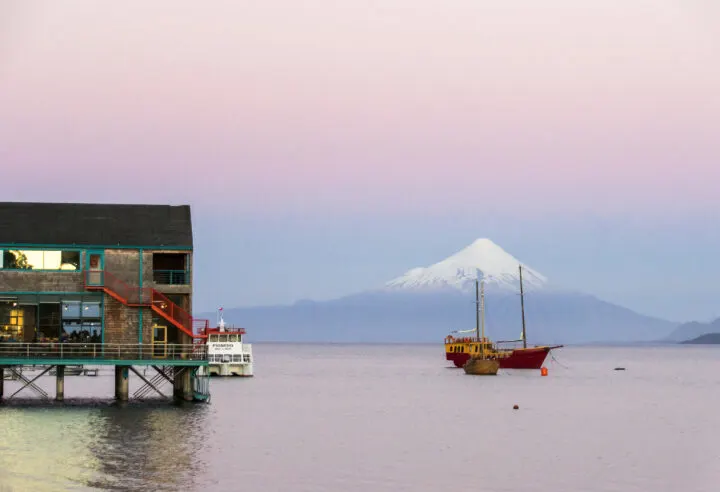 German-inspired architecture and pretty lakeside surroundings are just a part of the attraction; as one of Chile's prime adventure hotspots, Puerto Varas also within easy reach of a wide variety of activities.
These span everything from cycling (the 100-kilometer loop of Lago Llanquihue, or a shorter stretch, is a popular excursion) to white-water rafting in Class III and IV rapids on the Río Petrohué.
Hikers will also find plenty to keep them busy, whether summiting the 2,654-meter peak of Volcán Osorno or going for a shorter stroll in Parque Nacional Vicente Pérez Rosales (Vicente Pérez Rosales National Park).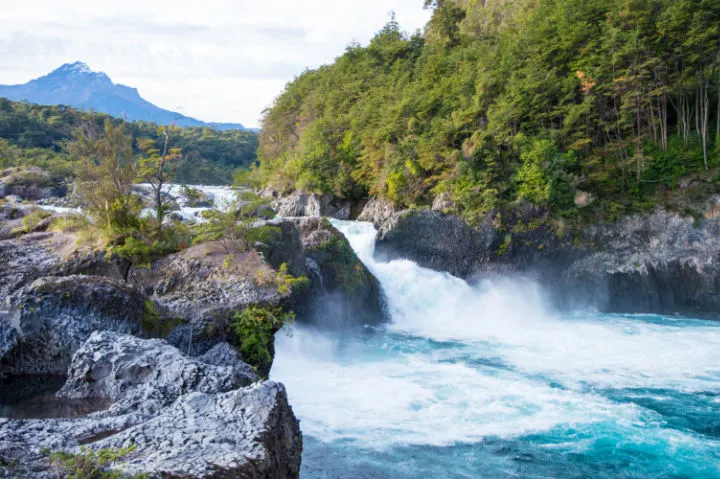 At the end of January, the annual music and theatre festival is held in nearby Frutillar, whose pretty theatre hangs on wooden stilts over the lake and is host to some of the best international acts – many of whom don't even perform in the Chilean capital, Santiago.
How to visit Puerto Varas
Puerto Varas is only a 20-minute drive from Puerto Montt's El Tepual Airport, one of the main transport hubs for Patagonia.
Multiple flights per day connect with Santiago (two hours), Balmaceda (one hour), and Punta Arenas (two hours). Less frequent departures fly to Puerto Natales (two hours).
Read our complete guide to Puerto Varas for more inspiration.
5. Chiloé, Chile
Separated from mainland Chile by the Chaco Canal, the magical Chiloé Archipelago dances to the beat of its own drum. Their relaxed pace of life combines with a fierce pride in their roots as residents of these islands, where you'll find a remarkable blend of unique architecture, stunning old-growth forests, and rare native wildlife.
The archipelago's best-known attractions are its remarkable churches. Built entirely from wood and without a single nail (the islanders' skills with woodwork are a part of their culture of boat building), the 60 remaining churches are a true sight to see.
Many are painted in startlingly bright colors and 16 have been designated as UNESCO World Heritage sites.
But the churches aren't the only curious features of Chilote architecture. Along the Gamboa River estuary of the islands' capital, Castro, you'll find wooden, former fishermen's dwellings known as palafitos hovering above the waters. Similarly painted in a kaleidoscope of bright colors, many of these homes have been converted into unique boutique lodgings.
Further afield and a scattering of national parks and reserves preserve the lush, unique ecosystems of Valdivian temperate rainforests harboring rare endemic species, including the pudú, the world's smallest deer.
Combine this with a rich culture of food – including a traditional fish stew known as curanto that is cooked in the ground – and Chiloé is one of Chilean Patagonia's most unique destinations.
How to visit Chiloé
It's a four-hour drive from Puerto Montt's El Tepual Airport to reach Castro, the islands' capital.
The easiest way to explore the island – which is Chile's second largest – is with your own car as public transport between the towns and more remote areas is both slow and infrequent.
A stay of at least two days is recommended to explore this magical place – it's easily one of my favorite parts of Chile!
6. Pumalín Douglas Tompkins National Park, Chile
Offering a glimpse of Patagonia at its most unspoiled and the results of conservation of a mammoth scale, Parque Nacional Pumalín Douglas Tompkins (Pumalín Douglas Tompkins National Park) is a unique natural treasure.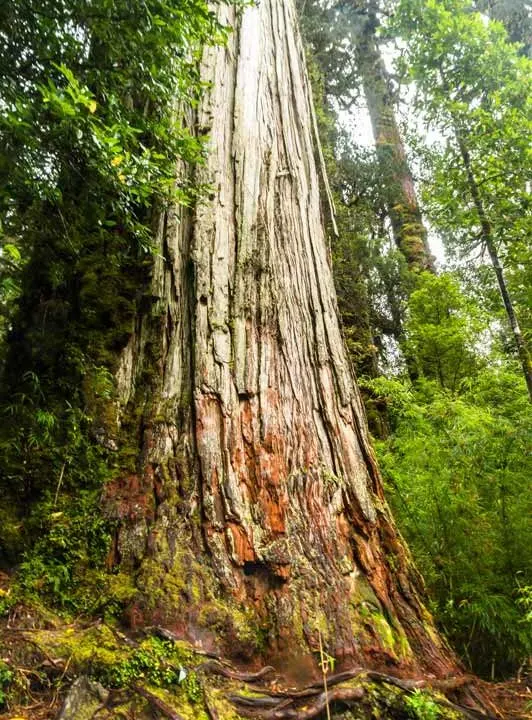 It protects virgin Valdivian temperate rainforest, millennia-old groves of towering alerce trees, and the still-steaming cone of Volcán Chaitén.
Here, carefully planned trails pass waterfalls, earthy forests of southern beach, myrtle, and laurel, and dramatic viewpoints of the mountains and volcanoes that dot the skyline.
It's easily one of my favorite national parks in Patagonia, not just for its accessible hiking but for its remarkable scenery. Nature lovers are guaranteed to be in their element here.
If you only do one trail here, make it the trek up to the crater of Volcán Chaitén. With striking views and a sense of the dramatic damage caused by the 2008 volcanic eruption, this route climbs up to the edges of the volcano.
The views across its 3.5-kilometer crater and behind you across the forests of the national park to the Chilean fjords beyond are possibly some of the most incredible in Patagonia.
How to visit Pumalín Douglas Tompkins National Park
The nearby town of Chaitén is the gateway to the national park, offering basic lodgings and a handful of tours. Facilities within the park itself including campgrounds and cabins.
You can reach Chaitén and the park via a handful of different ferry routes. From Hornopirén – which marks the northern tip of Ruta 7 or the Carretera Austral – and Puerto Montt in the north and Castro and Quellón in the southwest.
More information about the park and its trails here.
7. Futaleufú, Chile
Wedged in a river basin 10 kilometers from the Argentine border, Futaleufú is a charming town that takes pride in its unofficial designation as Chile's white-water rafting capital. After all, its 47 world-class rapids – with names including Inferno, Purgatory, and the Angel's Dance – attract rafters the world over.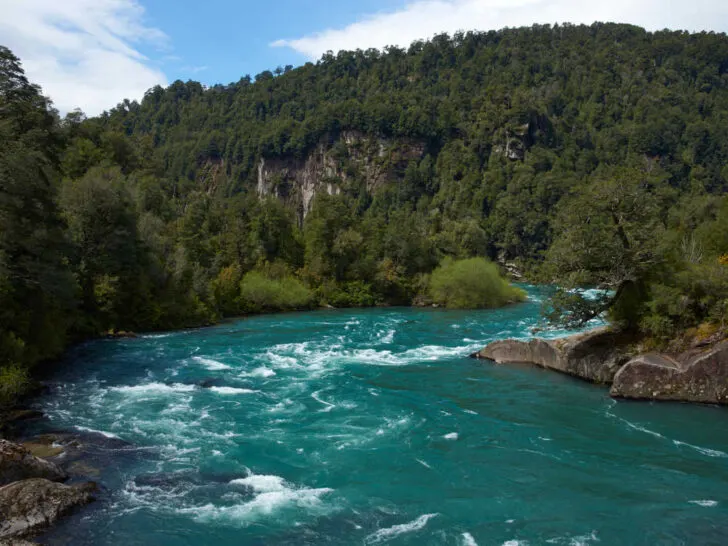 However, you don't need any experience in rafting to take on the Río Futaleufú. Brilliant local outfitters – many run by safety-conscious US ex-pats – can give you a taste of the river's world-renowned waters, just without the sense of peril that the most experienced white-water rafters seek.
White-water and more relaxed kayaking and hiking in the surrounding hills (which form the foothills of the Andes Mountains) are other good reasons to visit, even if you're not too keen on rafting.
How to visit Futaleufú
With its proximity to the Argentine border, Futaleufύ can be reached by bus from Esqual (two hours), the largest town in the area.
From Chile, it's a 3.5-hour drive east from Chaitén, with daily buses connecting you to the Carretera Austral and the towns south.
White-water rafting costs from $75,000 CLP ($92 USD) and I recommend local operator Patagonia Elements who have robust safety measures and brilliant guides.
8. Queulat National Park and Puyuhuapi, Chile
With fewer than 800 inhabitants, the sleepy little fishing village of Puyuhuapi feels like rural Germany – or a fairy tale – with its clutch of historic Bavarian-style wooden houses. Founded by four Germans in 1935, but only connected to the rest of Chile by road in 1977, Puyuhaupi has an alluring remoteness.
While most will find themselves stopping overnight on a road trip north or south along the Carretera Austral, the true attraction of this part of Chilean Patagonia is Parque Nacional Queulat (Queulat National Park).
The park's most bewitching sight is the dramatic egg-blue Ventisquero Colgante del Queulat (Queulat Hanging Glacier) clinging precariously to the mountain above the park.
The glacier's exaggerated blues are perfectly contrasted against the dark green of the forest. Evergreen southern beeches line the hills around icy Laguna Témpranos, the lake at the heart of the park – and which captures the great hunks of ice that splinter from the glacier's snout.
From the park entrance, there's a short hike up to a viewpoint from which you can spy the glacier in all its magnificence. When you reach the end of the trail, stop and breathe: this is the remote, bewitching Patagonia you've been seeking.
If you need to relax sore legs after the hike, then spend a night or two at the nearby Puyuhuapi Lodge & Spa ($375 USD double), which is tucked away into the fjords and can only be reached by boat.
How to visit Queulat National Park and Puyuhuapi
Puyuhuapi is a 2.5-hour drive south of Chaitén or a 4.5-hour drive north of Balmaceda, the only airport in this part of Patagonia.
Balmaceda is served by a couple of daily flights from Santiago and Puerto Montt.
Experiencia Austral can organize tours into the park from Puyuhuapi, as well as bike rental if you wish to get there under your own steam.
More information about the park and its trails here.
9. Cerro Castillo National Park, Chile
Dubbed the "new Torres del Paine", Parque Nacional Cerro Castillo (Cerro Castillo National Park) has a lot of similarities with its better-known, southern park – but it's a quieter, far less crowded version.
The landscapes here are dominated by metamorphic basalt rock, which reveals the region's origins and comes to a head in the knobbled spires of the eponymous Cerro Castillo (Castle Hill) – which, yes, is shaped a bit like a castle.
Throw in cyan lagoons, Calafate bushes, lenga forests that turn deep red in a fall, and craggy ridges and you've got a still mostly off-the-radar adventurer's playground.
And, whether you're keen on a challenging but worthwhile one-day hike up to the base of Cerro Castillo, or a five-day trek that traverses the more remote parts of the park, the hiking here is some of the best in Patagonia.
How to visit Cerro Castillo National Park
The town of Villa Cerro Castillo sits at the southern reaches of the park and is the best place to stay if you're planning on hiking. Trailheads for both the one-day Sendero Mirador Laguna Cerro Castillo and the five-day Cerro Castillo Traverse are out of town, so you'll need your own transportation – or rely on hitchhiking – to get to them.
Villa Cerro Castillo is served by all buses heading between Coyhaique (north) and Cochrane (south), which tend to leave once daily.
A far easier way to visit is with your own vehicle; it's just a one-hour drive southwest of Balmaceda, the region's only airport, and where you can organize car rental.
10. The Marble Caves, Puerto Río Tranquilo, Chile
Visiting the Marble Caves (Capillas de Mármol) had been top of my list of where to go in Patagonia before I started traveling – and visiting certainly didn't disappoint.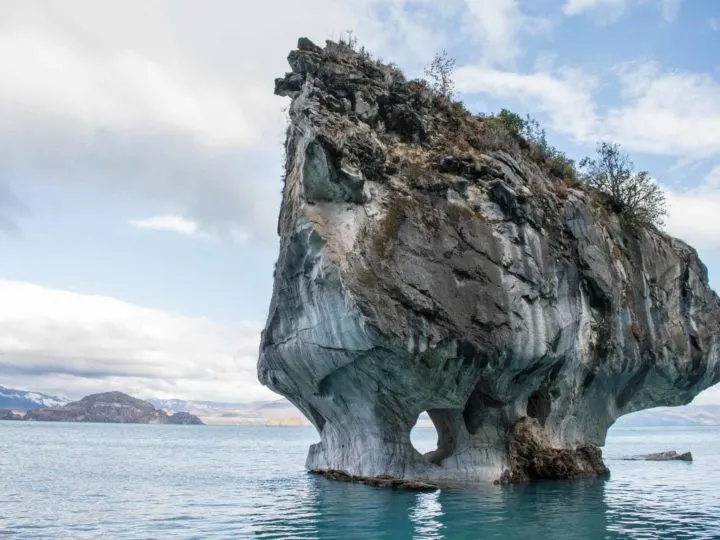 These dreamlike rock formations are a collection of rainbow-hued rock caves, where softer limestone has been eroded by the wind and waves of Lago General Carrera to leave a series of grottos.
You can reach the caves in either a speedboat or by kayak from Puerto Río Tranquilo and you'll be close enough to touch the rock, whose veined grey, black, white, and blue hues are a reflection of the equally dazzling lake waters beneath.
Both seem to change color according to the temperament of the weather.
The town of Puerto Río Tranquilo is itself small and unassuming, but you can head east towards the coast and into Parque Nacional Laguna San Rafael (San Rafael National Park) for ice trekking on the 18-kilometer-long Glaciar Exploradores or to take a boat ride out to the dramatic Ventisquero San Rafael, a glacier famed for its regular calving and tucked deep in the Chilean fjords.
Taking a boat (or a kayak tour) allows you to get close enough to touch the strange, dappled marble – that's apparently a few million years "undercooked" when compared with the marble that we conventionally use.
How to visit the Marble Caves
Speedboat and kayak tours depart from Puerto Río Tranquilo, from where it's a short journey to reach the caves. Operators offering both line the lake shore in town.
The light is best in the morning, although high winds can cause tours to be canceled due to dangerous conditions on the lake.
Puerto Río Tranquilo is most easily reached via hire car as part of a road trip along Chile's Carretera Austral, however, daily buses do pass through the town heading both north and south.
11. The Cave of Hands, Argentina
A surprising addition to my top list of highlights in Patagonia, La Cueva de las Manos (or the Cave of Hands) is a remarkable, 13,000-9,500-year-old set of cave paintings close to the town (not the glacier) of Perito Moreno, Argentina.
The stone walls of the main, and several, smaller caves are littered with inverse handprints: paint made from natural minerals is believed to have been blown through hollow animal bones to create the effect of spray paint.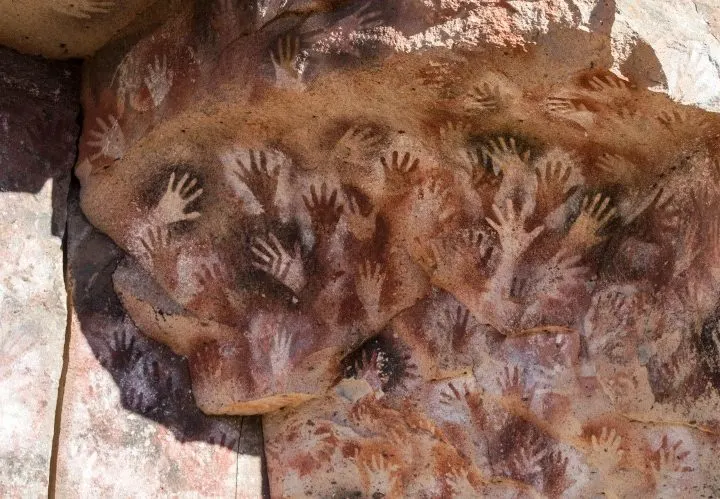 There are literally thousands of ancient hand prints whose changing styles and forms mark the varying artistic tastes of the different tribes who over the course of almost 4,000 years made this, presumably, sacred place their home.
This incredible mural features additional images of guanaco hunting scenes (an animal similar to the llama), representations of the sun, and slightly trippy, enormous Shaman images.
There's also the fascinating inclusion of a number of six-fingered hands, as well as the outlines of tiny, baby hands, which those working at the site assume must have belonged to children of significant tribe members.
A designated UNESCO World Heritage Site, it's certainly worth the detour from the main road.
How to visit the Cueva de Las Manos
The Cave of Hands is pretty far off the beaten path, a two-hire drive south along Ruta 40 from the town of Perito Moreno (not the glacier – that's 400 kilometers south!). Some of the drive here is along a dirt road, too.
Entrance costs $8.5 USD and includes a guided tour of the site. The guides are also very informative – although you'll be lucky if they speak a lot of English.
It's possible to take a tour to reach the cave from Los Antiguos, a 2.5-hour drive north. It's far easier to visit with your own hire vehicle.
The official site has further information.
12. Patagonia National Park, Chile
I can't understate this: Parque Nacional Patagonia (Patagonia National Park) is one of the finest national parks along the Carretera Austral if not all of Patagonia. You could spend weeks roaming the mountain and admiring the park's lakes, many of which are bluer than the sky.
Like most of Patagonia's national parks, hiking is the main draw, with a truly outstanding array of single and multi-day hikes that promise an eclectic mix of terrain and the possibility of interaction with many of the region's endangered animals, including guanaco puma, Andean condors, pampas cats, and the huemul deer.
Slightly complicatedly, the park is split into three sections: Sector Jeinimeni, which is only accessible from the village of Chile Chico, on the border with Argentina; Sector Valle Chacabuco, which is an hour's drive north of Cochrane; and Sector Tamango, which is a short drive east of Cochrane.
Each promises different, but equally magical, landscapes, but if you've only got time for one, head to Sector Valle Chacabuco. At its heart is the sweeping Río Chacabuco valley that's bounded by mountains dripping with southern beech forests in the west and arid steppe in the east. The hiking here is fantastic.
How to visit Patagonia National Park
It's not possible to drive between the different sectors within the park itself and the entry points to each are far from each other. Multi-day hikes (only for experienced trekkers with camping gear and GPS) allow you to cross between the different sectors, however.
Sector Valle Chacabuco has the most infrastructure, with an ultra-luxury hotel, visitors' center, restaurant, and campgrounds with restrooms and solar-panel heated showers. The road is unpaved but easily navigable by car.
Sector Jeinemini has a handful of short trails plus an interesting blend of mountains and stark, desert-like terrain. There's a basic campground here, too. You can arrange tours in Chile Chico or drive by yourself; you'll need 4WD.
Sector Tamango has ten well-marked trails and a basic campground.
More information about the park and its trails here.
13. Caleta Tortel, Chile
Nothing quite prepares you for Caleta Tortel, easily the most magical of the settlements along the Carretera Austral.
This village clings to a green-fringed hill along the turquoise waters of the Baker Channel, which is fed by the electric-blue Rio Baker and glacial melt from the Northern and Southern Patagonian ice fields.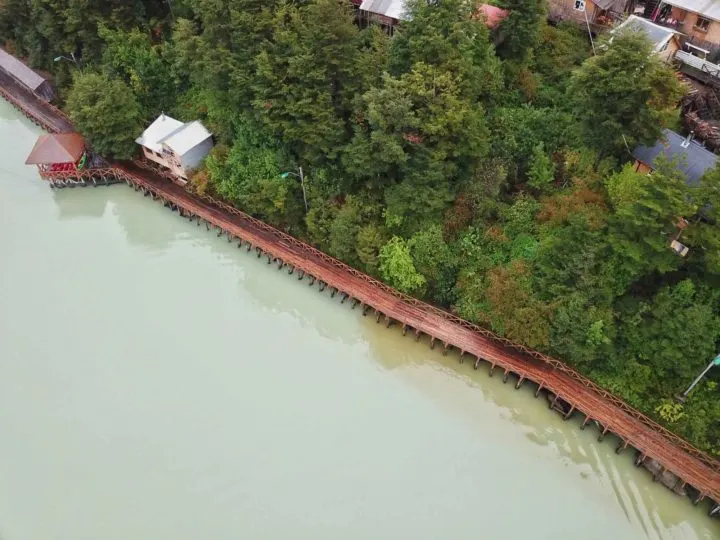 But the most unusual fact about Caleta Tortel is that there are no roads; instead, of pavement are 10 kilometers of cypress-wood walkways, at some points seemingly hovering above the water. At intervals, pretty hexagonal wooden platforms with roofs provide a welcome breather and a vantage point to appreciate the magic of this unique settlement.
The village's quirky boardwalks are the main attraction and a short day trip here is often enough to feed your curiosity. However, if you stay longer, you can visit the nearby Steffens and Jorge Montt Glaciers or go kayaking on the remarkably hued waters of the channel.
A less picturesque excursion is to visit the bleak Isla de los Muertos, where 33 cypress crosses bear testament to the pioneers of the region, who died in mysterious circumstances.
Theories abound about their untimely end, including a scurvy epidemic or their accidental poisoning with arsenic, and boat tours can take you to visit the tiny cemetery on this abandoned island.
How to visit Caleta Tortel
There are buses a couple of times a week from Cochrane, a 2.5-hour drive north, as well as daily from Villa O'Higgins (a 3.5-hour drive south).
Accommodations and restaurants are extremely basic in Caleta Tortel, so if you're planning on staying, it's worth using Google Maps to find accommodation (little of it is on Booking.com) and contact the owners directly using Whatsapp.
If arriving with your own vehicle, there is a free car park at the entrance to the village.
14. Villa O'Higgins, Chile
From Caleta Tortel, the gravel Carretera Austral continues southeast, running along the mountains as deep river valleys open up beneath.
This 98-kilometer final stretch, the most remote and wild, includes a short ferry crossing at Puerto Yungay, before you continue to the very southern tip of the Carretera Austral. Remarkably, Villa O'Higgins was only connected by road in 1999; before that, it was only possible to arrive in a light aircraft.
Few places are imbued with the same feeling of mystique as this remote village, emphasized by the fact that few of the Carretera Austral's many travelers ever make it here.
Although there's not much to see in the village, it's a gateway to hiking trails through virgin lands, boat trips of nearby glaciers, plus Patagonia's most extreme border crossing.
How to visit Villa O'Higgins
15. The Patagonian Fjords, Chile
The stark wildernesses of Patagonia are likely what first caught your eye about this destination. And while many of the region's national parks hint at the drama in the remotest corners of Patagonia, if you really want to find it, a boat journey is the best means.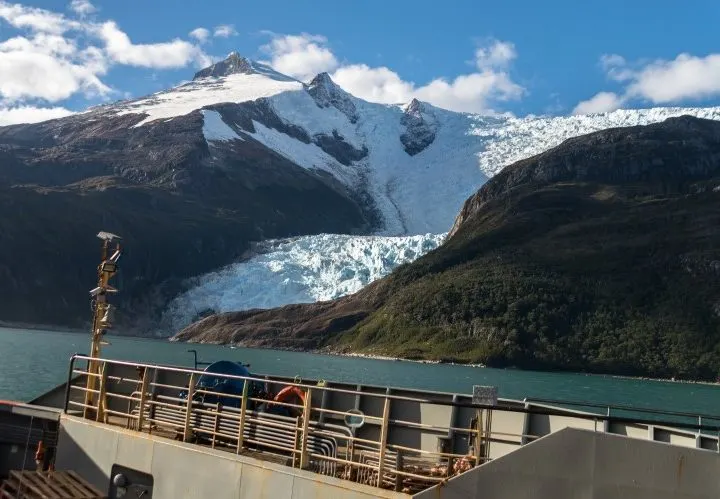 The Chilean fjords are some of the most spectacular places I've ever visited. In the north, these narrow channels disappear into thick vegetation masking endemic species of deer, hummingbirds, and, in the air above, even Andean condors.
As you head south, tidewater glaciers drip down from the shoreline, dolphins splash in the waters surrounding the boat, and whales surface, approaching your vessel curiously. Each day on board, the landscape is constructed of the grey ocean against the rich green of the coastline.
I've taken almost all possible passenger ferries around Patagonia, which, while more basic than the expensive private cruises, give you an affordable means of seeing the region at its most special.
Those of note include the TABSA ferries from Caleta Tortel/Puerto Yungay (the southern end of the Carretera Austral) to Puerto Natales and their sailing from Punta Arenas to Puerto Williams, which includes the incredible Glacier Alley, a row of eight tidewater glaciers that spill down from the Darwin Ice Field.
The Navimag ferry from Puerto Montt to Puerto Natales is a much more expensive affair – but still worth it for the incredible views. You can read my experiences of this Patagonian boat journey.
How to visit the Patagonian Fjords
Passenger ferries used by local people moving between remote parts of Patagonia are some of the most affordable ways to travel and ensure access to some of the most jaw-dropping scenery in the region.
They're also an excellent means of traversing long distances in Patagonia.
Many include space for cars; all require advance booking at least a few weeks in advance (and more in January and February).
Southern Patagonia
Southern Patagonia is generally more visited than Northern Patagonia (aside from Bariloche and Puerto Varas) and is home to some of the region's most celebrated destinations. Find out the best way to reach these destinations in my guide to how to travel to Patagonia.
16. El Chaltén and Los Glaciares National Park, Argentina
Frontier town El Chaltén was founded in 1985 to strengthen Argentina's sovereignty. It has since transformed into one of Argentine Patagonia's most visited towns due to its access to – and magical views of – the thick granite spires of Monte Fitz Roy. These rise out of the northern sector of Parque Nacional Los Glaciares (Los Glaciares National Park).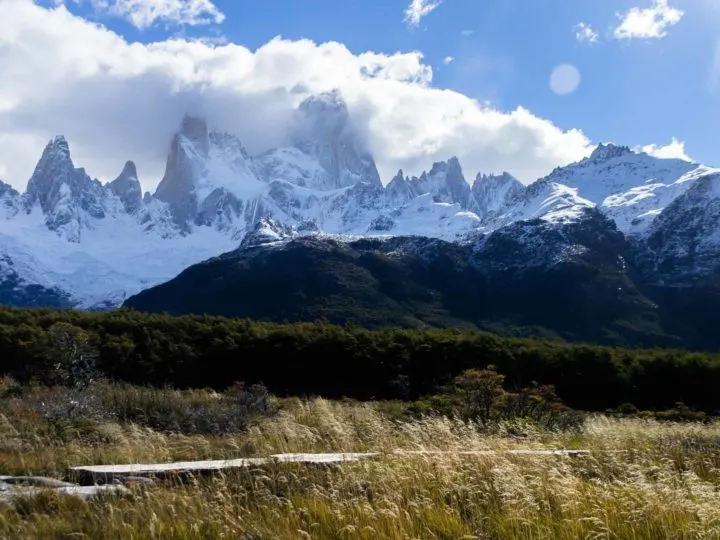 While glaciers are the park's calling cards – the most famous of which is the Perito Moreno (see above) – hiking is its other huge draw.
The iconic shape of 3,375-meter Monte Fitz Roy (Mount Fitz Roy) is more than memorable; and the hiking route up to the lake that sits beneath – Laguna de los Tres – a challenging but utterly worthwhile effort.
There's plenty more hiking to satisfy even the most adventurous Patagonian travelers and the more you roam around the park, the higher your chances of spotting its wildlife, which range from pumas and rare huemul deer to armadillos and Andean condors.
Photographers can also delight in the changing light across the three prongs of Monte Fitz Roy – although with frequent cloud cover over this mountain, the best photos require patience.
How to visit El Chaltén and Los Glaciares National Park
El Chatén is well-connected by bus to El Calafate – but it's a much longer schlep overland to the northern Patagonian towns of Los Antigous and Bariloche.
Hiking the trails in Los Glaciares National Park is easy enough to do independently; more challenging routes such as the four-day Huemul Circuit require significant hiking experience.
El Chaltén heaves with tourists between December and February, so always make hotel reservations well in advance if arriving during these months.
17. El Calafate and the Perito Moreno Glacier, Argentina
On the milky-green waters of Lago Argentino, the small town of El Calafate is on many people's Patagonia itinerary for one reason and one reason only: the dramatic Glaciar Perito Moreno.
Located just over an hour's drive west and within Parque Nacional Los Glaciares (Los Glaciares National Park), this 25,000-hectare glacier knees in the gray-blue waters of Lago Argentino, calving with remarkable frequency stark blue bergs of ice. This might not be even close to one of Patagonia's largest glaciers, but trust me: it's incredible.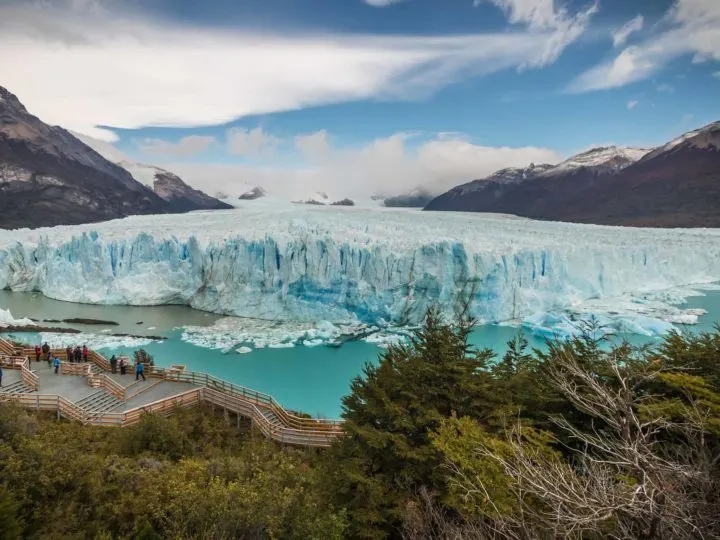 You can get within a few hundred meters of its snout thanks to various boardwalks that offer views from a multitude of different angles. If that's not enough ice for you, you can join a trekking tour on the ice itself; it's a demanding activity but allows you to peer into the yawning crevasses that cover the glacier.
Beyond the Perito Moreno Glacier, El Calafate hasn't got that much else to offer, unless you're keen to learn more about the region's gauchos – Patagonian cowboys – and dine on a traditional feast of roasted lamb.
A number of working ranches with tourist accommodation now give you the opportunity to stay in beautiful locations and learn more about this part of Patagonia's history. I highly recommend Estancia La Estela, which is located a 1.5-hour drive north of El Calafate on the shores of Lago Videma.
How to visit El Calafate and the Perito Moreno Glacier
El Calafate is easily reached by a three-hour flight directly from Buenos Aires, while bus links connect it to El Chaltén further north and to Puerto Natales, just across the border in Chile.
Various bus companies run between El Calafate and the national park for around $30 USD return and it's easy enough to explore the boardwalks independently.
Read our complete guide to visiting the Perito Moreno Glacier for further information.
18. Torres del Paine National Park, Chile
Soaring granite peaks and sparkling crystalline lakes with mirror-like reflections of jaw-dropping mountains — the sublime scenery of Parque Nacional Torres del Paine (Torres del Paine National Park) has become a symbol of Patagonia at its wildest and most beautiful.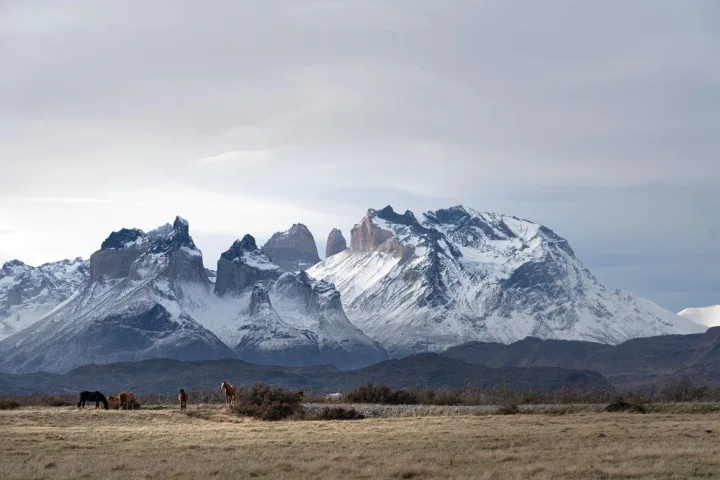 This park's most prominent feature is the Paine Massif: crooked peaks that are part of the Andes and around which the park's main hiking routes traverse. On the east side of the Paine Massif, beyond a deep river valley, three weathered spires of rock known as the Torres del Paine are what draw the vast majority of visitors.
I've visited the park three times through the years, experiencing the epic array of adventure activities that await. You can trek either an O-shaped circuit or a W-route around the Paine Massif, as you stumble upon everything from the park's glaciers and hidden, mountain valleys to the torres (towers) themselves.
Wildlife is also rich here, with herds of guanaco (the smaller wild relative of the llama) nibbling grass on the park's vast open plains, often stalked by the puma whose numbers mean the park now has one of the largest concentrations on the planet. They pose little danger to visitors – but are profoundly exciting sightings for wildlife lovers.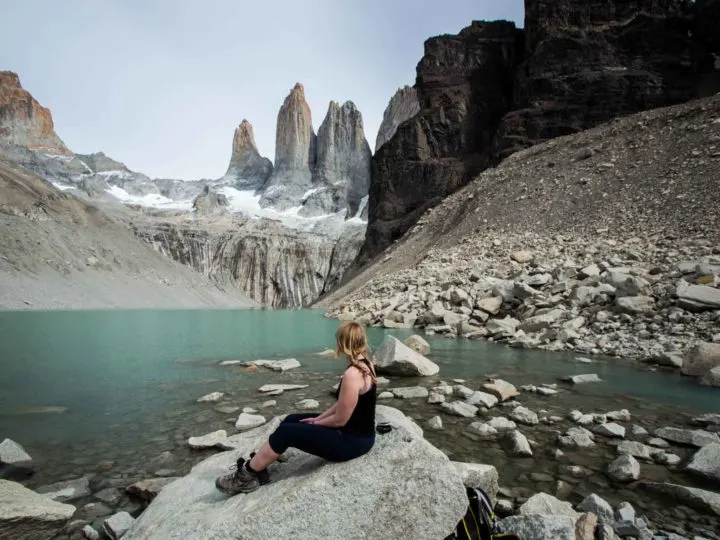 Kayaking among icebergs, boating out to the face of glaciers, horseback riding along the shores of one of the park's many lakes: adventure takes many forms here. And for those looking for a gentler, more luxurious adventure, the park's array of hotels – some of which rank among the best in the country – won't disappoint.
Honestly, if there's just one place you visit in Patagonia, make it this one.
How to visit Torres del Paine National Park
The closest town to the national park is Puerto Natales, from where it's possible to take a bus or rent a car to get into the park.
The cost of entry depends upon how long you stay; for up to three days, it cost $35 USD for adults and $17 USD for children. For stays over three days, the entry price is $49 USD for adults and children.
Logistics vary wildly depending on whether you're planning a day trip, multi-day hike, or multi-day stay in one of the park's excellent hotels. The best place to start is with this comprehensive guide to Torres del Paine National Park.
It's easy enough to visit independently, but if you're looking for more help, I offer a travel planning service for the region and can also highly recommend Chile Nativo, a local operator that offers a 5% discount if you use the code WorldlyAdventurer as a referral discount.
Find out how to hike the W or the O trek.
19. Puerto Natales, Chile
On the eastern shore of Seno Última Esperanza (Last Hope Sound), the small town of Puerto Natales has impressive views west across sprawling Peninsula Antonio Varas and the knife-edge peaks of Parque Nacional Bernardo O'Higgins (Bernardo O'Higgins National Park), one of the most remote in Patagonia.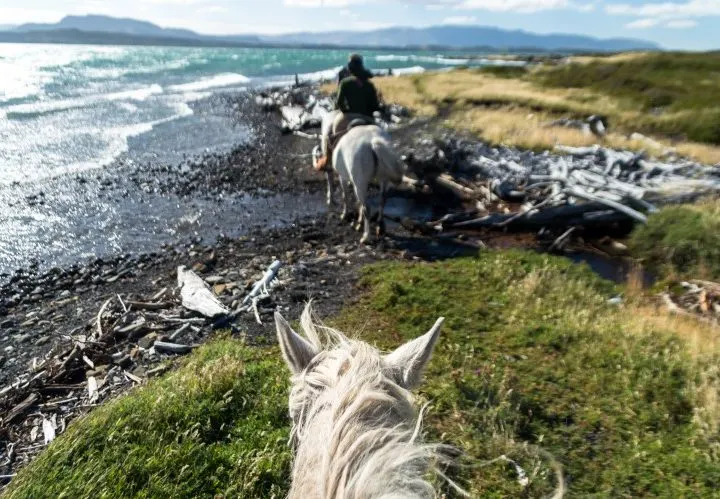 While most will merely pass through on their way to Torres del Paine National Park, Puerto Natales is worth a day or two in its own right. This town played a major role in the sheep and wool trade when the surrounding steppe was dotted with estancias (ranches).
Some still remain, showing visitors sheep shearing and sheep dog demonstrations, taking them on horseback rides, and feeding them the ultimate Patagonian meal: cordero al palo (barbecued lamb).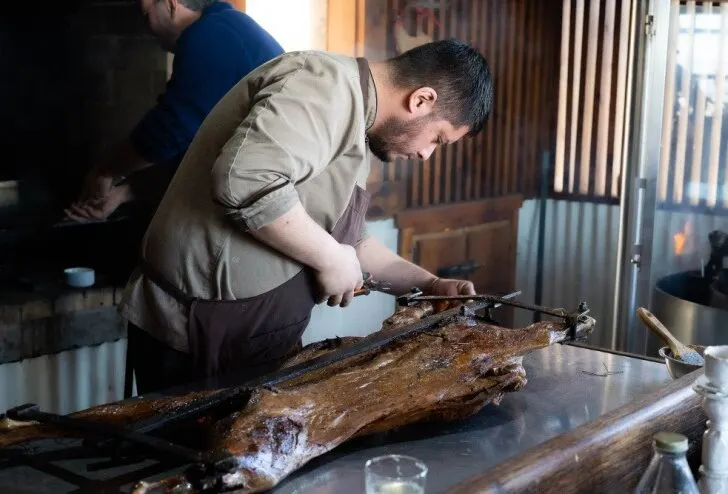 Watery adventures into the fjords also await here; you can head deep into Parque Nacional Bernardo O'Higgins to see the Balmaceda and Serrano Glaciers in a protected area that only receives 35,000 annual visitors but is Chile's largest.
How to visit Puerto Natales
Puerto Natales is easiest reached by bus from Punta Arenas (three hours) or from El Calafate (five hours), across the Argentine border. The latter only operates once per day in high season (occasionally twice) and you must reserve at least a couple of days in advance.
Most of the attractions surrounding Puerto Natales can be visited as part of a tour; read my review of visiting Estancia La Peninsula, a typical Patagonian ranch.
Only a handful of companies offer the tour into Parque Nacional Bernardo O'Higgins; Turismo 21 de Mayo is one of them.
20. Punta Arenas, Chile
Along the strait of Magellan, Punta Arenas, the capital of Chile's southernmost region doesn't quite have the romance or mystic appeal you might envisage. After all, it's often harassed by grisly weather – there are ropes in the main square to help when the wind blows strong enough to take you with it. Look a little harder, though, and you'll find it has a certain charm.
Around the central plaza, decadent old mansions, a legacy of Punta Arenas's wool boom, spread into the side streets. Many less grandiose buildings are painted in a kaleidoscope of colors, offering a sharp contrast with the gunmetal gray of sea and sky.
This town is the gateway to southern Chilean Patagonia (mostly notable Torres del Paine National Park), but it's still a destination in its own right.
At the center of the city, the Palacio Sara Braun features 19th-century furniture that crossed the Atlantic, while the Museo Regional de Magallanes is in another neoclassical palace, preserving original furniture from its wool days, as well as exhibits touching upon the region's indigenous history – and their near extinction at the hands of the European colonizers.
Driving out west from town along the final few kilometers of Ruta 9 before the road ends and nothing but ocean and the toothy mountains of Tierra del Fuego beyond is another highlight. It's one showing you that it is, in fact, possible to find the magic that you were expecting from a town here at the very tip of the South American continent.
Just beyond – and accessible with a tour from the city, Parque Marino Francisco Coloane (Francisco Coloane Marine Park) receives migrating humpback whales, who come here between December and May – in what is their only non-polar feeding location.
How to visit Punta Arenas
Punta Arenas is the major transport hub for Southern Chilean Patagonia. Flights from Santiago (3.5 hours) and Puerto Montt (two hours) land here multiple times per day and buses depart for Puerto Natales every hour.
It's also possible to take the long, long route to Ushuaia by bus (11 hours), with departures normally once per day in high season.
A handful of operators run trips out to Francisco Coloane Marine Park. Solo Expediciones operate one-day tours, while Far South Expeditions have three-day expeditions.
21. Chilean Tierra del Fuego
Sparsely inhabited and barely developed, Tierra del Fuego is separated from the Strait of Magellan and is the largest island in both Chile and Argentina. Most infrastructure is concentrated in the latter – which means intrepid visitors looking to explore the former are in for a treat.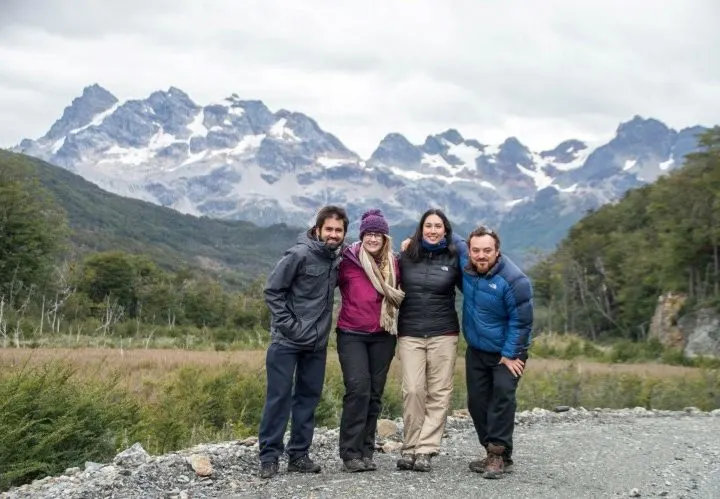 The Chilean side of Tierra del Fuego is a version of Patagonia that has barely changed since the time of its original indigenous inhabitants. The steppe is made heavy with sharply defined low clouds and the terrain soon because ragged, with chiseled mountain ranges and deep valleys thick with peat bog, where wilderness is king.
A road trip through Chilean Tierra del Fuego is the ultimate journey. The handful of towns that dot this largely uninhabited terrain have only passing interest for most visitors; it's the landscapes that bewitch, with the extremely remote Parque Nacional Yendegaia (Yendegaia National Park) a place where few hikers even traverse its trails.
The king penguin colony at Bahia Inútil is another major attraction, home to a population of around 60 birds and the only such colony in the Americas.
How to visit Chilean Tierra del Fuego
A handful of companies offer adventures deep into Tierra del Fuego, but expect to pay a premium for the experience. I highly recommend Chile Nativo's tours (get a 5% discount when you mention Worldly Adventurer as your referrer), a local operator with decades of experience in Patagonia.
It's also possible to travel independently into Tierra del Fuego, which is what I did. You need a 4WD, food and water to last, a Chilean Entel sim card, and GPS. There's only one gas station when you go south from San Martin. For more information, download this guide.
22. Ushuaia, aka The End of the World, Argentina
Ushuaia has come to be known as "The End of the World", with a sign claiming as such in its downtown. While that's not entirely true – Puerto Williams across the Beagle Channel takes that trophy – it does feel like you've reached the very extremes of the South American continent.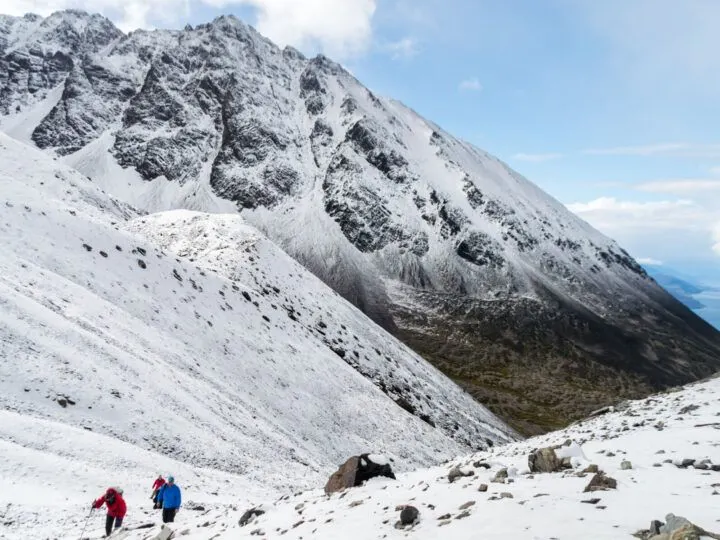 For many years, Ushuaia was a mere Argentine backwater housing prisoners transferred here from Buenos Aires (it's worth heading over to the Museo Marítimo y del Presidio in what was the prison to learn more), but now it's a buzzing city and the embarkation point for most cruises to Antarctica.
One of its main draws is its location: backed by the snowy teeth of the Martial Mountains and giving onto the frigid waters of the Beagle Channel, it's a dramatic place.
It's also a hub for hiking. You'll want to head southwest to Parque Nacional Tierra del Fuego (Tierra del Fuego National Park) for some of the best scenery, although a couple of hikes, such as to Glaciar Martial, are accessible directly from town.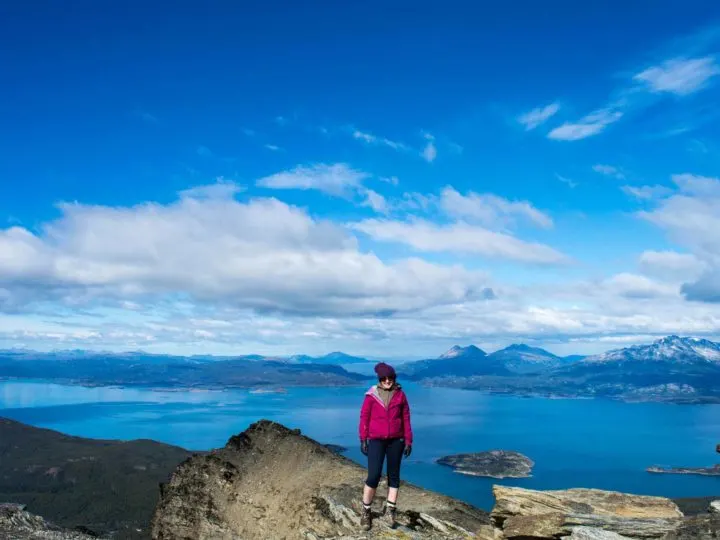 Wildlife lovers will also be in their element. Nearby, bountiful colonies of Magellanic penguins, sea lions, and fur seal colonies can be reached by boats from Ushuaia's port.
How to visit Ushuaia
It's a bit of a pain to get here: either an 11-hour bus ride from Chile's Punta Arenas or a one-hour 15-minute flight from El Calafate.
Prices are high in Ushuaia because of the influx of wealthy tourists heading to Antarctica and hotels can get booked up quickly during high season (December through February).
Read our Patagonia travel itineraries article to learn more about how to fit a trip to Ushuaia into your itinerary.
23. Puerto Williams, Chile
Clinging to the southern shores of the Beagle Channel on the largely uninhabited Isla Navarino, the town of Puerto Williams is overshadowed by the bright lights of Ushuaia, 50 kilometers northwest across the water.
With 2,900 people living here, it is the southernmost settlement in the world, although few tourists venture this far.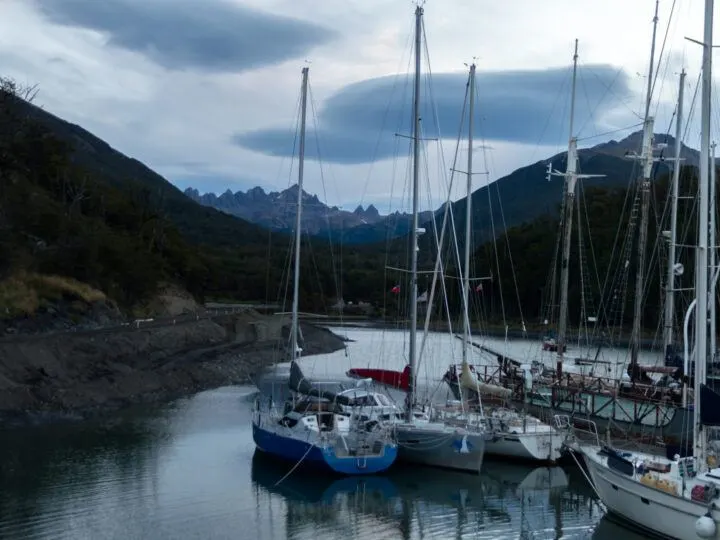 There are reasons for this: it's challenging to reach and, when you have, it can feel like there are more horses than people – you'll see horses foraging in people's front gardens.
But this remote and often rain- and windswept corner of Chilean Patagonia offers the region's wildest and most spectacular hiking in the Dientes de Navarino, an extremely challenging five-day trek, which circumnavigates the toothy mountain ridge behind the village.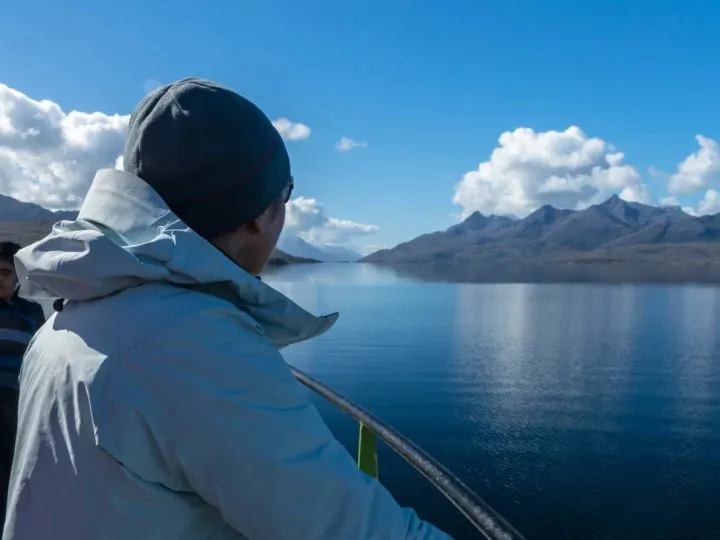 For a true glimpse of Patagonia, few places can compete with Puerto Williams. Getting here by speedboat, plane, or the 32-hour ferry is part of the adventure.
How to visit Puerto Williams
10-seater Twin Otter plans operated by local carrier DAP connect Puerto Williams with Punta Arenas six days a week; because of their small size, they can be booked up weeks in advance.
My favorite way of reaching Puerto Williams is aboard the TABSA Yaghan ferry, which plies the fjords down from Punta Arenas, including passing the incredible Glacier Alley.
You can hike the Dientes de Navarino trail independently (info here), but extensive trekking experience is recommended. Alternatively, organize your trip with a local operator such as Explora Isla Navarino.
24. Cape Horn, Chile
Only 10,000 visitors a year stand on Cabe Horn, the famed headland of the treeless Isla Hornos (Horn Island).
Cruises that venture through the Chilean fjords normally attempt to dock here, at what has been mistakenly called the southernmost point of South America (Águide Islet of the Diego Ramirez Islands, 112 kilometers southwest actually takes that crown).
Much of the thrill of the experience is overcoming the odds – and the often brutal winds and waves – at this remote island's shores, a feeling of conquering the might and majesty of nature's most powerful and violent forces; this is where the Pacific and Atlantic Oceans meet, after all.
Once you land, a wind-battered trail clambers up to an exposed cliff top with a seven-meter tall steel memorial in the shape of the silhouette of an albatross to remember mariners who died "rounding the Horn".
Despite not being the official end of the Americas, standing on this headland looking out over the roiling ocean beyond, the end of the earth doesn't feel far off.
How to visit Cape Horn
The easiest way to visit Cape Horn is aboard a cruise ship with Australis. All of their cruises attempt to land on the island and depart from either Punta Arenas or Ushuaia.
25. Antarctica
The White Continent, aka Antarctica, with its mind-numbingly vast landscapes of ice reflected to infinity in the glittering ocean beneath, is the stuff of travelers' dreams.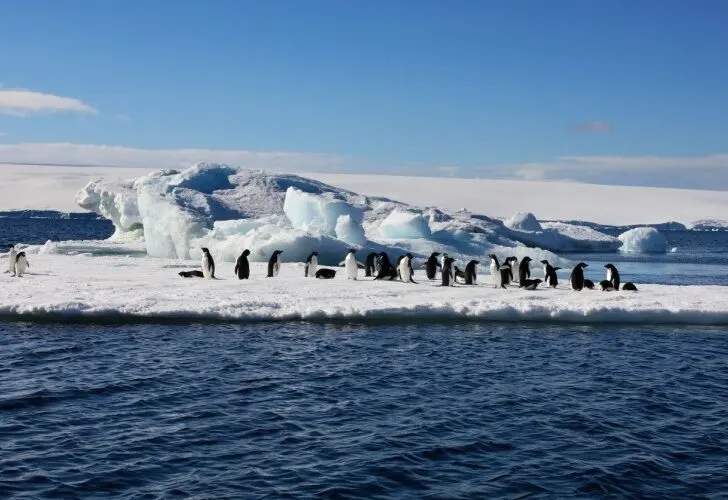 Few can ignore the pull of this unblemished landscape, rich with an incredible variety of wildlife, that ranges from seven different species of whales to Gentoo, Chinstrap, and Adelie penguins (plus king penguins if you head to South Georgia) and six species of seal.
But it's not just the thrill of spotting wildlife in this raw habitat; it's the experience of treading on land where few others go and finding yourself face-to-face with the vastness of the world — and what we stand to lose as a result of the climate crisis.
How to visit Antarctica
---
Looking for more Patagonia travel inspiration? You've come to the right place! After multiple visits to Patagonia over the past eight years, I've written a wealth of information about the region. Start with these Patagonia itineraries, learn when the best time to visit Patagonia is, and consider planning a road trip in Patagonia with our detailed guide.