It's been an awfully long time since I was last on horseback – over twenty years to be precise. But I feel surprisingly in control of Dali, my stead for a day of horse riding in the wilds of Patagonia.
According to Marco, one of the ranch hands at Estancia La Península, there's a basic hierarchy between the horses. Mine, a small male even by criollo horse standards, is very keen to follow the horse in front; something lucky for me given how unconfident I'm feeling about being in charge.
Setting off from the ranch through the sun-scorched Patagonian grasslands, it turns out that the biggest threat to my stability is every time I try and unhook my camera from where it's slung over my arm.
I can't resist trying to capture our surroundings; as we meander slowly across the Patagonian plains, they seem to change, minute by minute, as if swept away by the wind to reveal a new, crisp, autumnal landscape beneath.
These winds are nothing to scoff at. Fierce would be one way of describing them; Patagonian, another.
Located on a peninsula along the Seno Última Esperanza (translating as "Last Hope Sound" because it was considered by 16th-century Spanish navigators to offer the final chance to get to the Strait of Magellan), this working ranch is a 30-minute speedboat journey from Puerto Natales.
It sits on the skirts of Torres del Paine National Park, where wind speeds can reach up to 90mph in summer.
It seems today the weather is keen to give its finest demonstration of furious might.
Despite this, the horses are beautifully well-behaved; all thirty are white and superbly trained to be ridden, even by the least experienced. Nana, the marketing and sales manager of Estancia La Península, tells me that they all start life as working horses on other ranches in the area but, "when they're older and calmer, we buy them.
Most of the horses are 10 or 11 years old. We've even got one that's 31 but he's retired; we only use him when we need an extra one."
Each plods reassuringly along following a route that they clearly know very well – and don't even attempt to eject any of their charges into the various rivers that we cross along the way.
It helps that Marco, our guide for the day, is a dab hand with the horses. As one of the ranch workers – there are around 1,000 sheep and ten staff living here year-round – he knows the area like the back of his hand.
From Punta Arenas originally, he's worked with horses practically all of his life and is an integral cog in the functioning of the ranch.
After about an hour, we reach the furthest point of the ride, a midden containing shards of arrow-shaped basalt. We're told they were carved by the Kaweskar, the indigenous people who inhabited the region before the Spanish and later Europeans arrived.
They also left behind sea shells and guanaco bones; as Marco passes them around, I wonder how little this landscape must have changed in the intervening centuries.
The whole area is empty of settlement apart from the handful of buildings used for the daily workings of the ranch and feels so remote from Puerto Natales further along the fjord.
Planning Your Trip to Patagonia?
Save time, stress & money with a customized travel itinerary planned for you by a Patagonia expert
What previous clients have said:

Steph did a great job! I have never used such a service before and I wish there were more of them!
Getting off the beaten track was important to us and with Steph's knowledge we were away from the crowds. The information is very detailed and she knows some great places to stay! Thank you Steph!
Justin and Lisa
Traveled Patagonia, Bolivia and Peru in Jan '19
Like in many of the unpopulated parts of Patagonia, I'm struck by a sense that we have found ourselves in a place lost in time, changed by the might of the elements, not the forces of man.
Our horses turn back to head south, where we ride along the very edge of the fjord, blown sideways by the wind and the sheer magnitude of the unfolding landscapes.
Behind us, the icy peaks of the southernmost stretches of Torres del Paine National Park peer down, obscured by clouds that shuttle across the sky as if captured in a time-lapse movie.
Back at the estancia, we're welcomed into the warmth of the main building which serves as the dining area, where a feast of roast lamb awaits.
Cooked to perfection "al palo" (on an iron spit) by the ranch's resident barbecue expert, the meat is tender and juicy and accompanied with salad and an ample supply of red wine – as is the Chilean way.
It is a simple but truly Patagonian meal that is exactly what we're all after following a few hours' horseriding in the bracing wind.
Over lunch, Nana talks us about the horses that they use at Estancia La Península: "They're criollo," she explains, referring to a breed native to the South American pampa (grassland) that descend from the horses originally brought to the continent in the 16th-century by the Spanish.
They're specially adapted to the needs of living in such extreme conditions: "With a criollo, it's a mix of all kinds of horses, including Arab horses. Arabic horses are very athletic, they have some of the most endurance in the world. That's what we need with these horses as they need to walk a long time and we need them to be strong as they live outside all year around."
When we arrived in the speedboat from Puerto Natales, the horses were waiting demurely outside in a pen.
Nana explains, much to my amusement, that while the horses are sent out to roam the plains in the afternoon and night time, when there are visitors to the ranch, the staff have learned that they have to bring all of the horses in, "so that they don't get clever and realise if they stay further away, they won't be selected to go on a ride." Sneaky indeed.
Lunch finished and we hed back outside for the final activity of the visit: a sheepdog demonstration. Marco introduces us to his two assistants, the calm and composed Petaca (which means "hip flask" in Spanish) and the seven-month-old trainee, Lenga.
They're both magellan barbucho or Magellan sheepdogs, a breed descended from the border collie and especially developed to withstand the harsh climate of southern Patagonia.
All the dogs they have on the ranch are slightly different in colour and hair length as they've been bred for capacity, not aesthetics.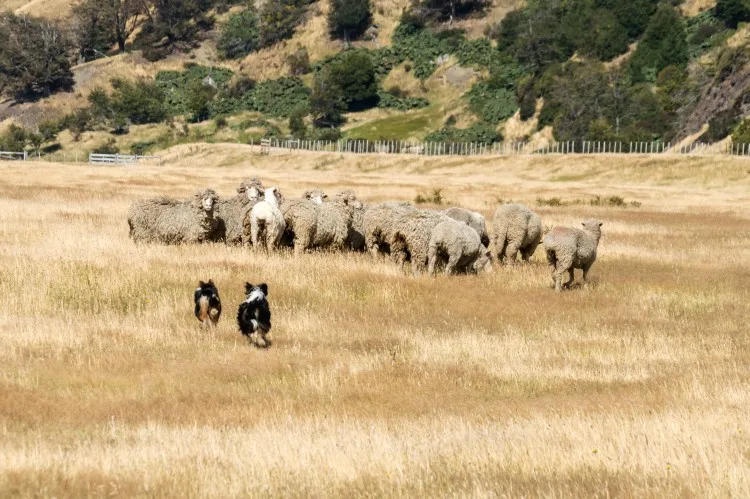 Marco talks us through the different whistles that he uses to direct the dogs: a long whistle means stand still, while many short ones instruct the dogs to bark. It becomes evident during the demonstration that Lenga is driven by fits of enthusiasm and lacks the quiet expertise that the more experienced Petaca has acquired.
Lenga, perplexed and more than a little excited, conducts full circuits of the herd of sheep, while Petaca dutifully follows instructions, masterfully shuttling them across the field to the sheering house and responding instantaneously to Marco's whistles.
Lenga will eventually get the hang of things, we're told. Either way, both dogs are wonderful to watch.
With the sheep safely shut away, we enter the sheering house, which is still used every September during sheering season. The old machinery that dates back to over 70 years old still hangs from the walls and Marco hands us a forty-year-old razer to get a sense of its weight.
"Imagine using that for eight hours a day!" he says, before conceding that the new razors aren't much lighter, nor any safer.
"It's a hazard of the job that if the machine goes wrong or breaks, you might lose a hand." I hope that this won't be the case in the upcoming display.
Luckily, Marco's expertise extends far beyond his horse riding and dog whispering skills and within the space of a few minutes, one of the sheep has lost around two and a half kilos in wool and is returned naked to its pen, while its wool is stretched out in one single piece on the table at the centre of the room.
We're shown how to check its quality, with the finest being around four fingers in length and crimped in texture; wool showing these characteristics can fetch up to 15 US dollars per kilo.
Most produced on the ranch is shipped to China to be turned into clothing, but back in the main building, a room is dedicated to showcasing the cosy cardigans, hats and other items that are knitted from this wool by local designers Le Mouton Vert.
As we return to the speedboat, I can't help but feel like we're about to be whisked back to a different age; to return to modernity with a bump.
From a morning of roaming the wilderness on horseback, learning about the daily work on the estancia and dining on a delicious, typical Patagonian meal, we've had the chance to escape from the demands of modern life.
Away from the towns that have sprung up to claim the region as their own, we've been granted the opportunity to connect more simply with what Patagonia is really all about – a place where, in many ways, little has changed for centuries.
How to book horse riding in Patagonia at Estancia La Península
Full day tours, leaving from Puerto Natales and including hotel pick-up, speedboat transfer, horse riding, trekking or a trip around the ranch in a 4×4, a lunch barbecue and sheepdog and shearing demonstrations, cost $154,700 CLP ($260 USD) per person.
Estancia La Península also offers two-day horseriding tours and two-, three- and four-day trekking tours in and around the ranch, starting at $364,000 CLP ($612 USD) per person.
You can get more information about their tours by heading to the Estancia La Península website.
Recommended Puerto Natales accommodation
Our extensive guide to Puerto Natales' best hotels provides an overview of our favorite accommodations across a variety of budgets and styles.
The best budget hostels in Puerto Natales
I loved the beautiful design of VinnHaus (double with private bath $55,000 CLP ($90 USD), dorm $16,000 CLP ($27 USD)), which managed to combine elegant decoration with utilitarian touches (for example, all of the plug sockets are international, which means you don't need an adapter plug!).
Most of the furniture is unique and the dorm bedrooms are huge with brand new, modern bathrooms, while the double bedrooms have large windows overlooking the garden. The only downside is there's no kitchen, although they do have a small cafe and where guests receive a discount.
If you're looking for budget Puerto Natales accommodation with kitchen access, my favourite would be Yaganhouse (double with shared bathroom $38,000 CLP ($64 USD), double with private bathroom $45,000 CLP ($76 USD), dorm $15,000 CLP ($25 USD)), which is equally beautifully decorated, superbly clean and has a huge, sunny kitchen and living area.
They also rent gear for those planning on hiking in Torres del Paine without a tour.
My favourite hotel in Puerto Natales
I stayed a night in the spectacular Simple Patagonia (standard double room $150,000 CLP ($250 USD)) in Puerto Natales, a brand new hotel with stunning views of the Seno Última Esperanza thanks to its vast, floor to ceiling windows in the dining/living area and in the bedrooms (particularly eight and eleven, which have the best views of all).
The outside of the building blends effortlessly into the surrounding grassland with its design reflecting a traditional barn, while the inside is elegantly modern.
They also serve a three-course dinner for an additional cost and the hotel is a two-minute walk from the dock, where you can catch the speedboat to Estancia La Peninínsula.
I visited Estancia La Península as a guest, although all opinions in this article are, as always, my own. For more information about their tours and to book trekking or horse riding in Patagonia tours, visit Estancia La Península or find them on Facebook.