On my first trip along the Carretera Austral, I made it as far as the azure waters of Lago General Carrera in the Aysén Region of Chile.
Few people have heard of this lake; but it's the location of the almost fantastical, swirling-blue coloured Cavernas Marmoles or Marble Caves, easily visited in a speedboat from nearby Puerto Río Tranquilo.
I didn't make it any further – and, on my most recent trip, I realised what I'd missed; namely the views from Mallin Colorado Ecolodge on the southwestern shore of the lake.
Luxury in the sunniest corner of the Carretera Austral
From the Carretera Austral that passes just a few meters below the lodge, it's not possible to appreciate the hotel's stunning vantage point.
Planning Your Trip to Patagonia?
Save time, stress & money with a customized travel itinerary planned for you by a Patagonia expert
What previous clients have said:
"You literally made my trip happen. I could not have done everything needed to pull off such an incredible trip and would have likely had to bail for lack of advance planning.
Worldly Adventurer is the perfect trip planning service. Everything you need, nothing you don't. Unbiased, responsive, and a great value. I wish they could plan all my vacations!"
Joel
Traveled to Patagonia, November to December 2019
All of its bedrooms and cabins face east, where the lake – the colour of which is fickle, changing hourly in accordance with the light – gives on to a low, forest-speckled hill and beyond: to distant, angular and snow-tipped mountains.
I spend two nights in the annex, Casa Lenga, which was built in 2016 and now hosts six bedrooms built in a neat row, sandwiching a central living room between three rooms on each side.
All are slung with chunky, locally-sourced woollen wall hangings, lampshades handcrafted using branches from the surrounding native forests and, the pièce de résistance: floor-to-ceiling windows.
You could sit in your bedroom or the living area for hours absorbing the views across the ever-changing waters of the lake; something I do, sunk into a low armchair as I inhale the feeling of absolute remoteness that the lodge exudes.
It's only later when I leave and head further north, observing how the onset of autumn manifests itself in chilly breezes and incessant rain, that I begin to appreciate the weather in this part of the Carretera Austral.
Lago General Carrera is one of the few places in Chile where the Andes Mountains lie on the western side of the land, thus creating a barrier against the whirling westerly winds that bring unusually high levels of precipitation to other parts of Patagonia.
As a result, Mallin Colorado Ecolodge and the surrounding area experience up to 300 sunny days per year and the lowest rainfall in Chilean Patagonia. If you're looking to escape poor weather elsewhere, the lake is a reliable place to hunker down and enjoy the atypical climate.
In the evenings, the main house acts as a place to snuggle down in front of a log fire, as well as the dining area, where breakfast and dinner (and lunch, if you ask) are served. Every night it's a three-course set menu cooked by the lodge's staff and sometimes even one of the owners themselves.
Mallin Colorado Ecolodge is family-run and during my stay, I have the opportunity to meet the bubbly and welcoming Paula. She recounts the story of how her parents bought the land back in 1995, using it for summer vacations when their family of nine would all cram into the six-bed Cyprés cabin – which they now rent out to guests.
She grins as she talks about their holidays and the realisation that: "the location was just too special not to share with others. So, we opened the lodge".
Nowadays, the seven children take it in turns to work alongside their full-time staff. Being looked after by one of the owners definitely contributes to the lodge's personal and intimate feel – something you can't help but notice when you stay.
Top-notch Patagonian dining
Dinner is delicious, served in the cosy, low-lit dining room. The menu changes nightly, but normally revolves around a soup, followed by a main dish (I'm served vegetarian crepes) and finished with a traditional Chilean dessert.
Wine is included and I can barely put my glass down without it being filled by the waiting staff, who are extremely friendly, as well as knowledgeable about the food.
When the lodge is full or they have big groups, a traditional Patagonian asado of lamb spit-roasted over an open wood fire is offered to guests.
Unfortunately, there are not enough people staying when I visit, but Paola shows me the quincho where the lamb is prepared. An asado is an event as much as a meal as I found out at Estancia La Peninsula near Puerto Natales, and I'm sorry to have missed the chance to experience it here.
Breakfast is equally abundant and even features homemade bread and jams, the latter of which are made from the rosehip plants that grow like a weed around the property and along the shores of Lago General Carrera.
Activities and excursions during your stay at the lodge
Located just 47 kilometres south of Puerto Río Tranquilo, Mallin Colorado Ecolodge is an ideal distance for a day trip to the marble caves, particularly as it's far more comfortable than the over-priced guesthouses in the town itself.
But they have a minimum two-night stay, which is perfect for enjoying the other activities within both the immediate surroundings of the lodge and further afield.
Hiking trails through native woodland
From the back of the dining room, a four-hour-return trail leads steeply up into the forests behind the lodge, climbing through native lenga and ñirre for panoramic views east across the mountain-fringed Lago General Carrera. When I was there, it was spectacular despite the clouds; I can only begin to imagine the views on one of the region's characteristically clear days.
But the real highlight of this trail is when you finally reach the rocky outcrop that juts out from the forest, providing a vantage point for Lago Bertrand and Lago Plomo, beyond which the looming ridges of the Andes Mountains and the Northern Patagonia Icefield can be seen.
Although I went on foot, you can choose to get there on the back of one of the lodge's superbly well-behaved horses.
Within the grounds of Mallin Colorado Ecolodge, there are two further short trails, including one that climbs behind the lodge for broader views of the lake, as well as a two-hour path down to its shores, where there's a private beach.
Other attractions around Lago General Carrera
Most visitors here, due to its remote location, arrive in a rental vehicle (Coyhaique and Balmaceda Airport are the cheapest places to hire a car nearby) and this certainly gives you a lot more flexibility when it comes to the activities available to you.
If you don't have a car, the lodge can also arrange excursions, while if you do, it's well worth talking to them to leverage their extensive local knowledge.
My favourite trips to take from Mallin Colorado Ecolodge include:
Puerto Guadal, the "Pearl of Lago General Carrera"
11 kilometres east around the lake, Puerto Guadal was a surprisingly charming – and utterly tiny – lakeside village that's known as the "Pearl of Lago General Carrera" because of its quite incomparable views. There are a handful of things to do here, so it's worth popping over for a morning's visit.
Mercado Guadal
Every Saturday from 9am during the summer months, they hold a farmer's market, Mercado Guadal, where local producers bring their wares, including home-infused teas of maqui (a Chilean berry) and rosehip, juices and olive oils, plus bites to eat, such as empanadas, sopapillas (deep-fried pumpkin batter) and, easily the star attraction (they'd run out before I had a chance to order), pizzas. There's also beer on tap from local brewery Arisca.
It makes for a great place to stop and meet Puerto Guadal's residents, a surprising proportion of whom come from Colorado in the USA and appear to have moved here on mass. With the village's relaxed vibes and spectacular location, I can understand why.
The Cemetery
On the north-east edge of the village on a headland thrusting out into the lake, the cemetery also makes for an interesting stop in Puerto Guadal, with rickety, old wooden headstones giving on to newer, concrete tombs and you can wander between them, reading the surnames of the many European and Chileans who now lie here. As resting places go, bathed in sunshine and overlooking a ridge of white-topped mountains, it's not half bad.
La Mina Escondida
Just a ten-minute drive from a turnoff, one kilometre after you leave Puerto Guadal in the direction of Chile Chico, you'll find the abandoned Mina Escondida (Hidden Mine).
Follow the road that turns off right to its completion, where it's a short walk uphill to reach the decaying buildings and rusted machinery of the old, French-owned mine.
Lead, zinc, lead and copper were extracted (with the wastewater from the process polluting water sources nearby) until the mid-1980s, after which the buildings were left to fall into disrepair.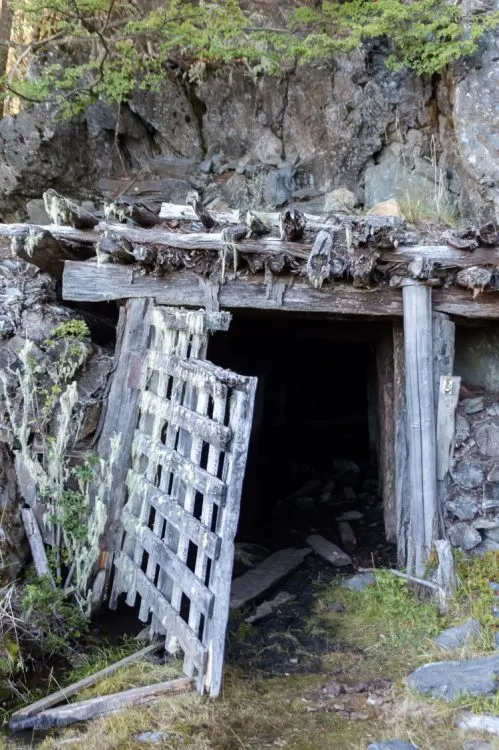 If you follow the path around to the right of the collapsing main building, you climb up to a viewpoint of the lake and a graveyard of the machinery once used to transport the minerals from deep inside the pit. From here, continue towards the hill where the gate of the disused mine hangs open.
I personally wouldn't recommend entering – you have no idea how well supported the roof is, nor what else might be in there – but it's certainly atmospheric to stand outside.
The whole area exudes a complete sense of abandonment, while at the same time seeming to somehow be trapped in history.
The important stuff
How to get to Mallin Colorado Ecolodge
It's 265 kilometres and around a six-hour drive from Coyhaique, the largest nearby city, to Mallin Colorado Ecolodge.
In Coyhaique or at Aerodromo Balmaceda, the airport 55 kilometers south of the town, you can rent a car (I recommend one of the international companies as I've always found them cheaper and far more reliable than local companies – particularly if you book via RentalCars.com) for exploring the Carretera Austral, a choice that gives you significantly more flexibility than using the local network of buses.
If arriving by bus from Coyhaique ($12,000, six hours) or Cochrane ($7,000, 2.5 hours), four companies travel the route between Coyhaique and Cochrane (further south of the lodge), leaving between 8.30am and 9.30am daily from Coyhaique and passing just outside the lodge.
Buy bus tickets from the bus station in Coyhaique (Lautaro 109) or Cochrane (Río Maiten 197) and ask your driver to drop you off at the driveway.
Between December and February, the double rooms in Casa Lenga, each with an en-suite bathroom and lake views, cost $101,000 CLP/$160 USD per night while the two-person Coigüe (which they use as the honeymoon suite) is $158,000 CLP/$250 USD. The six-bed family cabins cost $380,000 CLP/$600 USD per night.
All prices drop by around 20% out of season and the hotel is closed between May and October, although they're looking at extending the months that they're open in the near future. A minimum stay of two nights is required.
I was a guest of Mallin Colorado Ecolodge, but all of the opinions expressed in this article are my own. For more information about their tours, visit their website or book directly through booking.com.