Saying that 2020 hasn't panned out how any of us expected might go down as the biggest understatement of the year.
And the thing is, no one yet knows what the next six months of this year will bring, particularly when it comes to travel, an industry that has been devastated by a 44% drop in tourist arrivals in the first four months of 2020.
While European countries tentatively open their borders and travel in the USA – for better or worse – is still a possibility for domestic visitors, South America remains resolutely closed. Analysts argue that the region has yet to reach the peak of the infection curve.
As a continent that gets a considerably smaller degree of international coverage than others, South America has featured in fewer analyses of the future of travel.
But there are still many of us keen to visit and I've received plenty of emails from readers asking me to speculate on the future. In the kindest way possible, this really just begs the question "where is my crystal ball?".
It's certainly too soon to say. However, there are signs of life in the global tourism industry and destinations are doing their best to encourage domestic travel.
But if you're hoping to visit South America, this is a while off yet. Governments are tentatively slating September as the month international flights will re-open across some parts of the region. However, most people in the industry are remaining cautious as to whether this will feasibly be possible – and whether there will even be an appetite to travel again.
I would personally be surprised if travel was a reality until at least the very end of 2020, if not later.
Again, this is pure speculation, but I would recommend if you are trying to rebook a trip that was cancelled or are planning one for the future, it's wise to hold off make any non-refundable reservations as of yet.
But, rather than peer into the muggy future of a year that is beyond unpredictable, this post instead aims to delve into some of the considerations you need to make when planning a future trip to South America.
This article is published in conjunction with several others: one that covers the current travel restrictions across South America; another that focuses on the experiences of Worldly Adventurer readers fleeing countries when the first wave of lockdowns began in March 2020; and a final one discuss whether ethically, you should be even considering travel when borders open.
So, from travel restrictions, to quarantine protocols and the mostly impenetrable world of travel insurance terms and conditions, there are plenty of things to think about before booking any travel to South America in the age of COVID-19.
1. What are COVID-19 test rules in the country you're visiting?
While it remains early days, one of the biggest ways that travel is likely to change going forward is the need for passengers to show proof of a COVID-19 test at the airport prior to boarding their flight.
Ecuador currently allows international tourists to enter and require visitors to show proof of a negative result from a Polymerase Chain Reaction (PCR) test for COVID-19, taken up to 7 days prior to departure. Other countries around the world instead require a PCR test taking up to 72 hours prior to departure.
A quick Google search here in the UK indicates that these will cost you upwards of £150 ($193 USD) from a private clinic, with results delivered within 48 hours.
However, The Points Guy has reported on difficulties securing a PCR test in the USA under these timescales. They've found waiting times for results to range anywhere from three to five days (or even more). They've also pointed out the ethical issue of a non-symptomatic person getting a test for a leisure activity, potentially in lieu of someone with actual symptoms.
The speed at which it's possible to get a test may well change as travel becomes more common, again. However, it's worth considering the logistics and costs associated with being able to show you are COVID-19 free.
2. What are the current quarantine restrictions in the country you're visiting?
Another important consideration is quarantine restrictions. While Europe has opened up quarantine-free travel corridors, there's no guarantee that South America will follow suit.
As a whole, the continent has been exceptionally cautious with regards to lockdowns. Colombia closed down the very same week as the UK, for example, while Argentina stated from the April 28th that international flights would be suspended until September 1st.
I therefore wouldn't be surprised if quarantines were introduced by governments keen to limit ongoing transmission.
This is because South America faces challenges that Europe doesn't. Firstly, there is a particular need to protect remote and often indigenous communities in South America.
Guyana, where I travelled last year, has a tourism infrastructure based around remote, jungle-based lodges, accessible mostly by boat or light aircraft.
As Tony Thorne, Managing Director of my local partner Wilderness Explorers, told me recently, the consequences of a traveller bringing coronavirus into these communities could be fatal.
Therefore, a robust system of fast testing and quarantine upon arrival would be necessary for communities to safely re-open to tourists.
Secondly, health care varies wildly across the region. While Colombia has been ranked among the top countries for healthcare in the world, with 40% of the highest ranked hospitals in South America, this isn't the case in each country.
Destinations such as Chile, Peru, Bolivia and Ecuador barely feature in the above rankings and destinations.
What's more, even though places such as Patagonia might seem like an excellent place to avoid the pandemic as social distancing is relatively easy in national parks, urgent health care is limited and can be difficult to access – which could be a problem for you and anyone you unintentionally infect if you do get sick.
On a personal level, if you do choose to travel, you should also be opting to self-quarantine even if it's not officially required. Obviously this lends itself better to longer-term visitors or those who are planning on staying in one place at a resort, but it's the most responsible act that you can do right now.
3. What cover does will your insurance company offer you in the event of cancellation or illness?
I always travel with insurance and while I've never needed it, the fact of having it has always been a reassurance. However, travel insurance companies have been mixed in their responses to the pandemic.
Worldly Adventurer readers who told me about their experiences of fleeing the continent as lockdowns began had, on the whole, very poor experiences with travel insurance companies.
The majority did not expect to get a single cent from their insurance. This is because many policies had clauses that specifically excluded any claims related to pandemics.
I travelled with British insurance company True Traveller for my visit to Colombia and was impressed that they continued to provide cover and would have extended my travel insurance policy for up to three months if I was still stuck in the country.
However, I wasn't able to claim back the cost of my expensive (£800 ($1,020 USD)) flight back to the UK under their rules because the FCO wasn't advising against travel to Colombia at the point at which I flew home – yeh, go figure.
Unfortunately, all this has proven is that you need to read the details of your travel insurance policy more carefully than ever. Travel insurance companies are now beginning to cover coronavirus-related claims, but it's your job to read through the detail of the policy to work out exactly what this means.
You need to look for:
If you're covered for contracting COVID-19 after booking but before departure (few policies offer this, but it is possible to find)
What cover they offer for medical repatriation costs if you contract COVID-19
Whether they cover you if the official advice for visiting a country changes before you depart (which is not normally covered by policies)
Whether you will be covered for an extension of your trip because you had to be quarantined
World Nomads, for example, do not have a "pandemic exclusion for policies purchased by U.S. residents, which means that you may make claims arising from the COVID-19 for the benefits specified in your policy."
However, they also say that "You can't get reimbursed for expenses related to canceling or interrupting your trip because a travel ban is announced or when travel services such as flights or tours are canceled because of COVID-19", which isn't very helpful if things change just before you go – something we've learned can happen very quickly! (Read their full terms and conditions for US residents here).
If you're in the UK, "there's no coverage for any travel impacted by coronavirus (COVID-19)" available from World Nomads. (Read their full terms and conditions for UK residents here).
Money Saving Expert, however, has a thoroughly detailed guide to getting refunds from travel companies and what you can hope to claim on travel insurance if something does go wrong.
I've found it very difficult to find anything in the US that helps break down the "new normal" when it comes to travel insurance, so let me know if you find any good resources. This article from Forbes does cover some of the main mistakes not to make in the age of post-pandemic travel, but it's a bit thin on specifics.
A final point is that prices of travel insurance are increasing; the Financial Times reported an increase of around 15%) on pre-pandemic levels. Make sure you budget the extra expense into your trip planning.
4. What happens if you have to curtail or cut your trip short?
Similar to above, readers' experiences of getting refunds for curtailed or shortened trips was a mixed bag.
Companies in Torres del Paine National Park were not forthcoming with refunds as Tom from the UK and a number of other readers found out: "Neither campsite provider [Vertice/Fantastico Sur] offered a refund, even after firm requests, although Vertice (the cheaper one) offered 50%."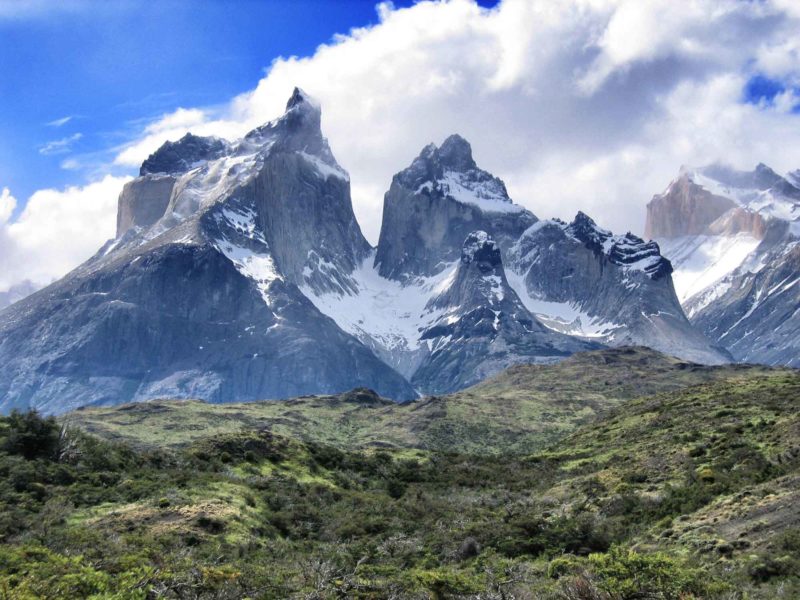 Both have rebooked him for next March without issue, however "the booking conditions imply I lose everything if I can't travel then, but hopefully I can defer again."
Editor's note: Vertice Patagonia and Fantastico Sur
Vertice Patagonia shared with me these terms and conditions.
They illustrate that, if you cancel 31 days prior to your intended stay, you will receive a full refund; within 31 days of your stay, you will receive nothing. However, they do state clearly that they are not responsible for cancellations or no show due to "impossibilities in arrivals or access to refuges or campings due to external causes, such as…natural phenomena, problems with air connections [or] delay of transfers."
So even if you are unable to travel to Torres del Paine due to governmental lockdown restrictions, if you're trying to cancel within 31 days of your stay, you'll receive no refund. However, given readers' experiences, it seems likely you well be able to reschedule.
Fantastico Sur haven't responded to my repeated requests for information.
Most readers did find, however, that companies such as Booking.com, who generally offers refundable offers on hotel reservations, were able to give them refunds because of this. Terms do depend on your booking, but the full explanation of what they offer is here.
As with everything right now, it's is essential to read the cancellation policies of everything from hotel reservations to flight bookings and car rental.
If you're in the process of planning a trip to South America for later this year, I personally wouldn't recommend booking anything that is not refundable right now.
It's also a good idea to book directly with airlines and hotels, rather than through aggregate sites. While I do make money through hotel bookings on this site (which allows me to run this site!), I would recommend booking directly as it makes it far easier to communicate with the company on the ground if you are forced to make last-minute changes to your plans.
Finally, if you're forced to cancel everything, you want to know that your travel insurance covers this type of eventuality.
5. What happens if you get caught in a lockdown?
As I found out, getting caught in a lockdown is a supremely stressful event. Not only can it be difficult to follow the latest guidelines if they're issued in a language that you don't speak, but arranging flights home and knowing whether you're covered by your travel insurance – or will be forced to cover all costs out of your own pocket – is similarly onerous.
In my experience, getting a flight out of Colombia was tricky. As it became clear that Europe would shortly be closing its borders to anyone coming from South America, prices ramped up into the thousands of dollars.
Many readers found their flights home cancelled without warning – and without being rebooked onto another flight. Others spent hours and, in some cases, days waiting in the airport on standby.
The main ways I would suggest preparing for this is:
Ensuring that your travel insurance provides robust cover if you're forced to curtail your trip because of new lockdowns or if your flight is cancelled without warning.
In this new era of travel, I would also highly recommend registering with your country's embassy when you arrive, so that they can keep you in the loop if anything changes.
I've also found that expat groups on Facebook are the ideal source for official information, as there is generally someone sharing governmental announcements and also translating them.
Finally, if you find yourself stuck in a lockdown and unable to go home, you'll need to have enough money to afford to stay put. Be aware that many hostels and hotels closed following local lockdowns. Airbnb (a company I generally do no advice because of its ethical practices) ended up being the best platform as their self-contained apartments operated by local people were generally still available to rent.
6. What will happen if you get sick?
While younger travellers might be less concerned about getting sick, as someone who has spent a lot of time in countries where the healthcare system is unreliable and expensive, I am personally not interested in spending time in a hospital in South America.
Coronavirus still poses a risk to younger people, so finding out what the healthcare system of the country you're visiting is like – including how many ICU beds they have and whether they have access to emergency evacuation helicopters if you find yourself ill in a rural location – is an important factor before choosing to travel.
Again, this comes down to having robust travel insurance that will cover you for coronavirus-related health emergencies.
7. What does the situation look like on the ground?
Coronavirus hasn't just decimated the travel industry, it's left companies and families across the globe struggling to make ends meet.
South America is no different; the IMF has predicted a regional contraction of 9.4% for Latin America as a whole, with almost every country in recession.
A July 2020 UN report showed that poverty is expect to rise from 30.3% of the region's population (2019) to 37.2% in 2020 – an increase of 45 million people.
This is in a context of vast levels of inequality and a region that was seeing pronounced protests prior to the arrival of coronavirus in March 2020. The likelihood of social unrest occurring in different countries remains high as a result.
After months of protests against the government, a referendum on the Chilean constitution was originally planned for April 2020; it has now been pushed back to October 25th 2020. The chances of further social unrest around the referendum and even beyond – particularly if the date is postponed again – are high.
Bolivia also faces possible social unrest. Former left-wing president Evo Morales resigned under military pressure in October 2019 following international calls of irregularities in their presidential election.
The interim president, right-wind evangelical Jeanine Áñez, has postponed planned election from May until October 2020, with critics denouncing her actions as a crude power grab.
Therefore now, more than ever, it's essential to keep abreast of any protests occurring in the countries you plan to visit.
Aside from potentially invalidating travel insurance if you visit a country that your foreign office advises against, demonstrations can turn violent and it's a good idea to steer clear of cities experiencing them.