Built to fend off pirate attacks from the Caribbean Sea, the immense walls of Cartagena, and the city within, are an increasingly popular destination for travelers across the globe.
Within Cartagena's UNESCO World Heritage Old City, you'll find a glut of great restaurants, bars, and, of course, some of the best hotels in Cartagena.
Choosing where to stay in Cartagena depends on your travel preferences. Different areas offer different atmospheres and experiences, but by being based right at the heart of Cartagena – and within striking distance of the city's picturesque streets showcasing dramatic colonial architecture – you're never far from the city's action.
Air conditioning – an essential in Cartagena's blazing heat – is typically included in more expensive hotels but not guaranteed in budget options, so be sure to read the room description carefully.
Here are our top picks for the best Cartagena neighborhoods, as well as the best luxury, boutique, and budget hotels, guesthouses, and hostels for travelers.
Best areas to stay in Cartagena
Cartagena is a sprawling city, with the tourist area right within the historic center, an area in the northwest, and right on the Caribbean Sea. Staying in neighborhoods within the walls is the most popular choice among travelers.
Not only does it provide the easiest access to Cartagena's best restaurants, bars, and main attractions – nothing's ever more than a short walk away – but it's also where you'll find most of the best things to do in Cartagena.
Many hotels are also within converted historic buildings making your experience of staying in this beautiful city even more magical.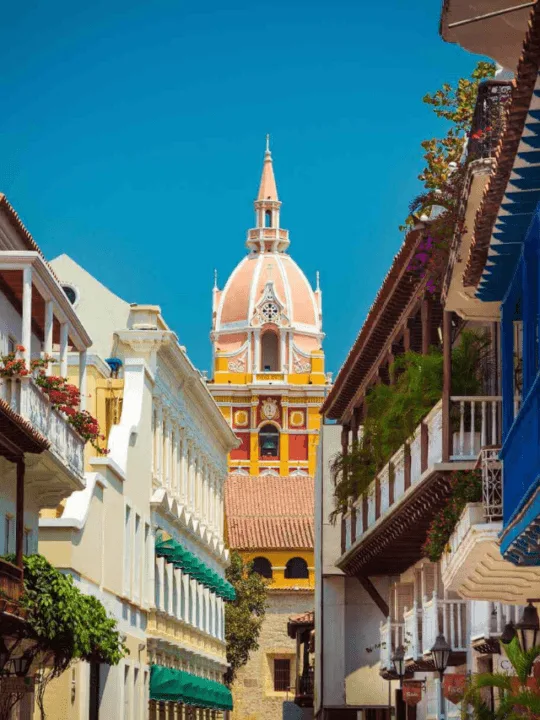 On the other hand, areas outside the walls are cheaper and offer an experience more closely aligned with that of Cartagena's residents; after all, the glitzy hotels and expensive restaurants of the Old Town don't really reflect the reality of life in Cartagena.
If you're traveling alone – or if you're a first-time visitor – we'd still recommend staying in the walled town. Being in a popular tourist area has its perks: a police presence. Other areas outside the walls that receive heavy tourist traffic also share this perk.
With that said, Cartagena in general is relatively safe as long as you follow common protocols such as taking taxis rather than walking around the streets at night, not wearing flashy accessories, and keeping an eye on your belongings.
If you still wish to explore Cartagena beyond the comfort of the walled town, we recommend signing up for a local tour. Consider a tour to learn more about the city's indigenous people, the Zenú; founder Steph did this during her visit to Cartagena and found it a fascinating insight into the city's oft-forgotten history.
So, which are the best neighborhoods for travelers staying in Cartagena? We've picked the following areas based on their accessibility, security, and popularity.
Where to stay in Cartagena: El Centro
Also called the Historic Center, Centro is renowned for its well-preserved colonial architecture, featuring colorful buildings with beautiful balconies slung with bougainvillea.
It's where you'll find Plaza de los Coches, a bustling square that's also one of the main entrances to the walled city.
This is also where you'll find popular bars, restaurants, luxury hotels, and shops filled with tourists. But all of those come with a catch: Centro can be quite crowded with tourists – and accommodations expensive – especially during peak travel seasons.
Where to stay in Cartagena: Getsemani
A neighborhood located inside Cartagena's walled town is the bohemian Getsemani.
Offering a far more relaxed atmosphere than the otherwise frenetic energy of Centro, it's still a semi-residential neighborhood and the only part of Cartagena's Old City that still retains a scattering of homes belonging to Cartagena residents.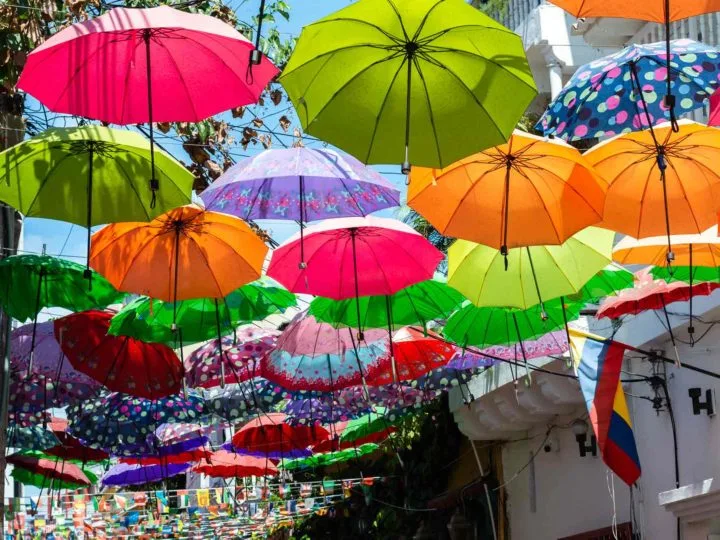 Though you may find it a bit rough around the edges, Getsemani is a favorite among backpackers and locals for one reason: its affordable cost of living and dining.
Tourists and locals alike flock to the streets at night for street food, including tasty snacks and cheap booze, plus live music and street performers in the Plaza de Trinidad. It's also the best area to see the city's most eye-catching street art.
Where to stay in Cartagena: Bocagrande
Connected to Cartagena's Old Town by a highway heading due south, Bocagrande is a glitzy, part of the city dominated by high-rise hotels.
Here, upscale shopping malls, resort casinos, and international boutiques within the neighborhood's towering skyscrapers compete to provide visitors with luxurious places to stay in Bocagrande.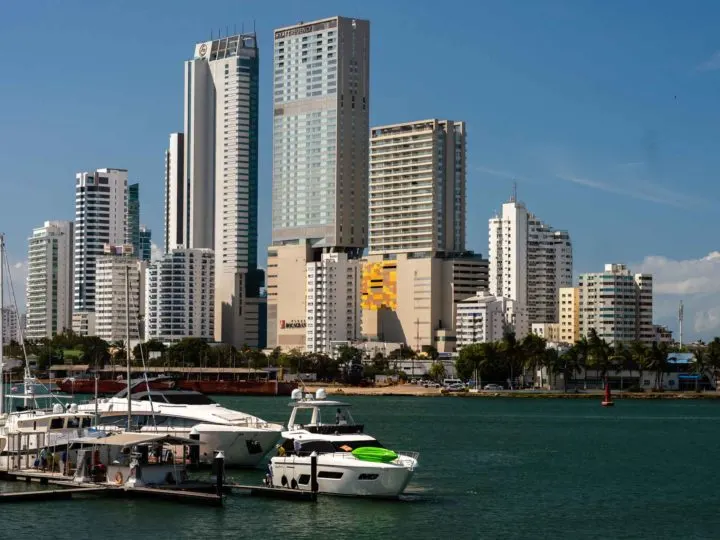 Wedged by the sea on both the west and east side, Bocagrande houses some of the best beach hotels in Cartagena, which are scattered south along its curved shoreline.
Its super modern architecture and high skyline make it feels like the little Dubai of Cartagena and it's one of the best places if you want modern luxury with easy beach access.
Other areas to stay in Cartagena
Besides those three main tourist areas, a handful of other neighborhoods are worth considering. Those seeking a true getaway experience can choose Zona Norte, north of the old town, which includes La Boquilla and Manzanillo del Mar, with their mix of modern developments, beachfront locations, and upscale residential areas.
Help support sustainable, responsible tourism in Cartagena by booking the Zenú Indigenous Heritage Tour with IMPULSE Travel Colombia and get a 5% discount by using the code WORLDLY5 at checkout.
Closer to the airport, you'll find Crespo and Marbella, where budget accommodation is emerging amid beachfront hotels that cater to travelers in transit.
Laguito, on the tip of Bocagrande, is also a more secluded version of its neighbor and a good choice for those seeking modern comforts but a quieter location.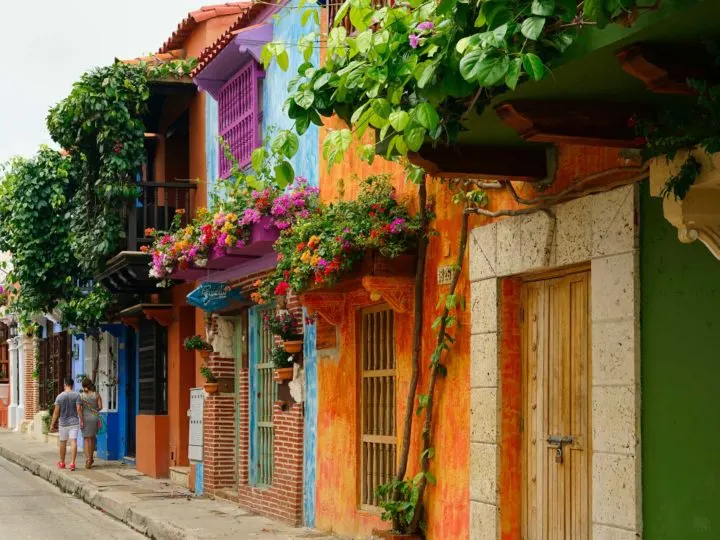 Though small, El Cabrero, a neighborhood that runs northeast along the coast from the Old City, is a strategic option as it connects the old town with Marbella and the airport.
Lodging options are limited, but spending nights by the big lake provide an excellent alternative for those who prefer a serene waterfront experience.
Best luxury hotels in Cartagena
Bastión – El Centro
Blending a 16th-century colonial house with contemporary design ensures that Bastión ($417 USD or $1,840,000 COP double) secures its spot as one of the best hotels in Cartagena de Indias.
Think common areas connected with big arches, chaise lounge chairs in bedroom corners, and shady terraces perfect for whiling away the afternoon.
The heart of this hotel, however, lies on the fourth floor, where you'll find a rooftop pool and terrace, both of which overlook the ocean below.
Located in the Centro – the center of Cartagena's old town – puts Bastión within walking distance of popular attractions, such as Parque Fernández Madrid, a pretty park lined with street food stalls, plus plenty of dining options.
However, the hotel's restaurant should also be on your list. Led by chef Viviana Lievano, El Gobernador boasts its take on local delicacies, including delicate ceviches and rich coconut fish stews.
Estelar – Bocagrande
Estelar ($149 USD or $665,000 COP double) is a luxury hotel designed to give you the ultimate Colombian vacation. Imagine pampering yourself with a spa and Turkish bath, soaking up the sun in its infinity pool facing the Caribbean Sea, and savoring local dishes at one of the three on-site restaurants.
Rooms are sleek, minimalist, and painted in neutral, sleep-encouraging colors, but still equipped with state-of-the-art amenities, such as a 43" LED TV.
Nestled right on the neck of Bocagrande means Estelar has easy access to both the walled old town and striking ocean views. Appreciate them from the bedroom, the restaurant on the 12th floor, or the rooftop jacuzzi. The choice is yours!
Sofitel Legend Santa Clara – San Diego
What is now among the top five-star hotels Cartagena offers was once a convent for the Order of Saint Claire.
That fact alone makes Sofitel Legend Santa Clara Cartagena ($382 USD or $1,450,000 COP double) a hotel that should be on your list, not to mention its prime location; it's surrounded by vibrant, multi-colored buildings, making it the focal point of all the attractions in the area.
Upon arrival, you can take a complimentary guided tour of this converted monastery and see why UNESCO declared it a World Heritage in 1984.
Although the buildings are four centuries old, luxury prevails even from the moment you walk in. Expect grandeur with a twist of history in every corner.
The bedrooms are large and decorated with calming pastel shades, while some rooms overlook the Caribbean Sea and others face the tree-lined outdoor swimming pool, which sits at the very heart of the hotel. Did we mention it's the biggest pool in the old town?
Best boutique hotels in Cartagena
OZ – Bocagrande
OZ ($76 USD or $340,000 COP double) provides things you'd expect from luxury hotels in Cartagena's historic walled city but without the hefty price tag.
Sleek rooms with floor-to-ceiling windows that let you gaze across the city's skyline during the date, and a restaurant specializing in modern Colombian cuisine and a rooftop terrace for a sundowner.
Staying here, you're just 150 meters away from Playa Bocagrande, one of the most popular beaches in Cartagena. This prime location puts OZ close to upscale restaurants, boutiques, and the Plaza shopping center.
What's more, all 33 rooms in OZ are equipped with a soundproofing system to ensure a good night's sleep.
Alfiz Hotel – El Centro
Spending your vacation at Alfiz Hotel ($131 USD or $495,000 COP double) gives you a chance not only to stay at one of the best boutique hotels in Cartagena but also to dig deeper into the city's remarkable literary history.
This boutique hotel boasts a library dedicated to more than 200 works by Colombia's most renowned writer, Gabriel Garcia Marquez.
Each of the only eight guest units is decorated to represent a particular period of Colombian history. For instance, "The Republic" – a split-level family suite with two bedrooms – represents the beginning of Colombia's regeneration under President Rafael Nuñez, a native of Cartagena.
This attention to history is a result of the hotel's 300-year-old building, which has gone through several restorations. Some historic pieces have been salvaged along the way: you'll see pottery, cannonballs, and amphora top on display.
GHL Hotel Armería Real – Getsemani
With its façade standing out even among the already-colorful Getsemani neighborhood, GHL Hotel Armería Real ($113 USD or $505,000 COP double) is a boutique choice that emphasizes the colors of Cartagena.
This extends to all of its 50 guest bedrooms, some decorated in earthy tones and others in subtle splashes of turquoise.
The hotel's common areas are no less attractive. A shaded courtyard provides a lovely green place for guests to sit, while a rooftop infinity pool and bar, with views across the Marina and the Castillo de San Felipe de Barajas, add to the incredible setting.
Blue Apple Beach House – Isla Tierra Bomba
Located on an island a 30-minute boat journey from Cartagena's port, Blue Apple Beach ($288 USD or $1,309,000 COP double, $344 USD or $1, 560,000 COP cabin) is like the little Ibiza of Colombia.
While most come over to the Tierra Bomba, the island on which the guesthouse is located, for just a day trip from Cartagena, those keen to relax and party will want to stay for much longer.
Although remote, don't expect the tranquillity you'd usually get from staying at a beach resort. In fact, Blue Apple isn't a resort but a five-star boutique hotel with nine rooms and cabañas and a lively beach bar as its epicenter and one of the most friendly guesthouses in Cartagena.
We recommend upgrading to a cabin with a plunge pool ($366 USD or $1,660,000 COP) for an even more luxurious experience.
If you're looking for a relaxed stay, this isn't the right place for you. In fact, travelers flock here to party in the evenings, especially on weekends. And since there's not much to do on the island to escape the noise, consider this hotel only if you're young and heart and seriously on board with late nights.
Best budget hotels and guesthouses in Cartagena
Madisson – Bocagrande
Located within the upscale area of Bocagrande, it's fair to say Madisson ($92 USD or $410,000 COP double) is one of the best budget hotels in Cartagena.
It's surrounded by many shopping and dining options, including the Plaza Mall, and, although the beach is a block further – which means no ocean views – the price is still a great deal.
You can also expect a very welcoming stay and, with its large swimming pool, it's the perfect place to laze away the heat of the day.
Best hostels and shared accommodation in Cartagena, Colombia
The Clock Hostel – El Centro
Ask young backpackers where to stay in Cartagena, Colombia and they'd be unanimous in saying The Clock Hostel ($48 USD or $217,000 COP private double).
This lively hostel isn't your run-of-the-mill: antique-style furniture and bold decor make it seem a world away from the basic, grotty accommodation so often masquerading as budget digs.
Private rooms include two sizeable doubles, plus single and double beds in shared dorms. For more privacy on a tight budget, opt for the "cubícle doble VIP", which has curtains and is on a platform above the other beds. This is, by far, the best hostel in the city.
Best vacation home in Cartagena, Colombia
Casa de Guerrero – Getsemani
Within a restored, 17th-century house, Casa de Guerrero ($800 USD or $3,560,000 COP) is well-situated in the walled city of Cartagena, just a few steps from the hub of Getsemani: the eye-catching, banana-yellow La Iglesia de la Santisima Trinidad.
With six individually-decorated rooms, it can sleep 20 people and house gatherings in its big, brightly-furnished common spaces.
You'll have the entire house, along with its enclosed swimming pool and rooftop jacuzzi. The host also provides you with housekeeping service at no additional cost. Besides keeping the house clean during your stay, the maid is available for grocery shopping and cooking if required.
---
Looking for more inspiration for your trip? Read our guide to things you can't miss in Cartagena, where you should eat in the city, and the best day trips from Colombia's most popular city. We've also got a piece about safety in Cartagena to ensure you have a hassle-free – and brilliant – trip.