In a country infamous for its past struggles with drug violence and political unrest, it's natural to worry about safety. However, many parts of Colombia, like Bogotá, Medellín, and Cartagena, have seen significant improvements recently.
As a result, Colombia has seen a major increase in visitor numbers across the past decade, with many lured by this country's epic access to nature and relaxed, welcoming culture.
Is it safe to travel to Cartagena, however? In short: yes. However, as with traveling to any destination in Latin America and beyond, there are always safety concerns to keep in mind, such as the safety of food purchased from street vendors, to scams and petty crime around popular tourist spots.
We'll also discuss the safest areas of Cartagena and nearby islands, whether you're looking for a place to stay or just exploring.
Common safety concerns in Cartagena, Colombia
Colombia ranks last on our list of the safest South American countries to visit. However, this should only increase your level of caution while visiting, rather than preventing you from visiting altogether.
Crime and safety: How to safely explore Cartagena
Like any part of Latin America (or, indeed, the world), it's necessary to take precautions when you're traveling in Cartagena to avoid becoming a victim of theft, crime, or scams. Here are our top tips:
Stay in well-reviewed accommodations in safe areas. These include the walled city, Getsemani, or Bocagrande, where most of the things you need are within walking distance.
Keep an eye on your belongings. As with any tourist destination, pickpocketing and theft can be a concern in Cartagena. Be vigilant and don't leave your belongings unattended. Use a money belt or hidden pouch to carry important items like passports, credit cards, and cash.
Avoid flashing valuable items. Keep expensive jewelry, cameras, and other valuables out of sight when walking around the neighborhood.
Stick to well-populated areas. Cartagena is generally safe during the day, but it's a good idea to stay in the busier areas and avoid deserted or dimly lit streets, especially at night.
Be cautious at night. While Cartagena's nightlife is one of its main attractions, it's essential to exercise caution after dark. Stay in groups, use reputable transportation services, and avoid accepting drinks from strangers.
Use reputable transportation. When traveling to and from tourist destinations, use authorized taxi services or ridesharing apps like Uber. Avoid unregistered or informal taxis.
Be aware of local scams. As in any tourist destination, there may be individuals trying to take advantage of tourists. Be cautious if someone approaches you offering "deals" or "special tours," and always book through reputable companies.
Keep emergency contact information handy. Make sure to have the local emergency phone numbers and the address and phone number of your accommodation with you.
Follow general travel safety tips. These include not carrying large amounts of cash, making copies of important documents, and sharing your itinerary with friends or family.
By following these safety measures and remaining alert, you can significantly improve your safety while enjoying the numerous attractions and experiences Cartagena provides.
Getting around (safety and accessibility)
Within the walls of the city, getting around is relatively safe, and it's easy to find a taxi. Outside the walls, it's not as simple.
Although there are pockets of touristy areas and public transportation options like buses and Transcaribe (an integrated bus system throughout the city) are easily accessible, it's best to take a taxi or Uber.
Avoid walking around at night alone at all costs, as neighborhoods outside of touristy areas can be unsafe.
Things to avoid: Asking for directions
While it's true that local hospitality is excellent – the warmth and friendliness of Colombians can't be overstated – looking like a lost tourist is never an ideal position in which to find yourself in Colombia.
Using Google Maps (or memorizing where you're going) is preferable to asking around for directions. I learned this on my first day in Cartagena when I was looking for a place to have lunch. A young man approached me and asked where I was going. I mentioned the restaurant, and he said he'd lead the way.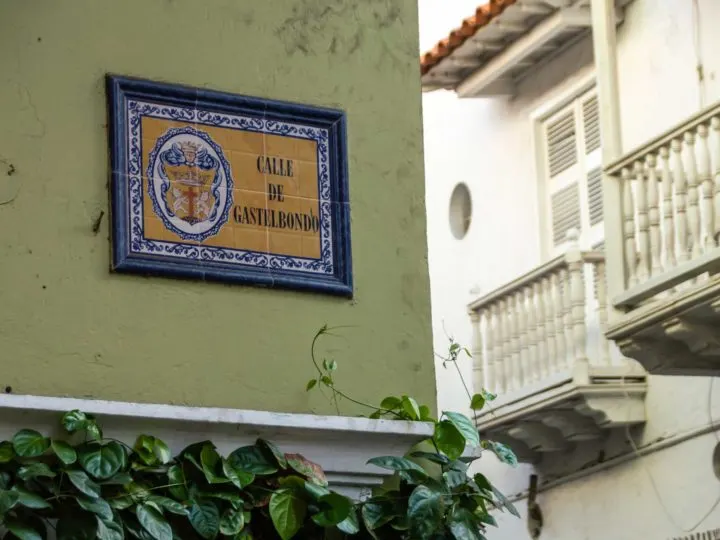 Unfortunately, instead of pointing me to the right place, he took me from one restaurant to another, door to door, presumably hoping to receive a commission if I chose a restaurant he recommended.
Once I realized what he was doing, I politely refused, thanked him, and walked away.
Undeterred, he continued to follow me, offering me other stores and tours; by then, another man with a binder of information had also joined the conversation. Eventually, he left me alone after I firmly showed no interest.
What I learned from this interaction is that being approached by locals offering tours and activities is common among tourists, but you should be prepared to refuse politely. Even if you're actually interested in what they're selling, it's still a good idea to refuse as you may well end up overpaying for their services.
To find tours and services that you can guarantee are a fair price, ask your hotel or use reputable companies such as Colombian experts IMPULSE Travel.
Is it safe to take a taxi or Uber?
Official yellow taxis are typically safe; however, they do not have meters. Drivers usually have a fixed rate, and it is best to agree on the fare before getting into the taxi.
With that said, we recommend asking your hotel to arrange your transport when needed, instead of flagging one down on the street. They usually have regular taxi drivers who are reliable and who won't overcharge.
Scams
One of the first things you'll notice as you step into the walled city is the Palenqueras: local ladies wearing colorful dresses, sometimes with a bucket of fresh fruit on their heads. They are known to approach tourists and ask them to dance or take a photo together.
Although it may seem like a kind gesture at first, be aware that they expect to be paid for the photos. Many consider this a scam, but unfortunately, this is how most tourist "services" operate in Cartagena. So, the rule of thumb is: if anyone offers you anything, never assume it is free.
Another common issue visitors report as a scam is on the beaches around Cartagena.
Some locals set up sunbeds along the beach, often in front of cafes and beach bars, and, if you choose to take one, you'll be expected to pay extra to use them, in addition to the cost of your food and drinks.
Before lying down, check with the cafe or bar as to whether there's an additional charge for use of their sunbeds.
Restaurants and eating out
While many smaller restaurants require payment in cash, well-established places – such as our list of the best restaurants in Cartegena – will generally accept credit or debit cards. Street vendors will only accept cash, so it's worth withdrawing a small amount of cash for use around the city.
When it comes to dining at street food stalls, you may well have concerns about hygiene standards.
The rule of thumb when it comes to dining at street vendors is to pick places where you can see all of the food being prepared and it's frequented by plenty of local people.
Not only can you see for yourself the hygiene practices being used by the vendor, but you can get a sense of whether it's high on locals' lists of their favorite street food stalls.
Is drink spiking a thing in Cartagena?
Drink spiking can be a concern in many tourist destinations, including Cartagena. However, the prevalence varies depending on the specific area and establishment.
You may have heard of Scopolamine – also known as "devil's breath" – a substance used often to spike drinks and cause drowsiness, disorientation, and amnesia when ingested, and its usage in Colombia has been documented.
To reduce your risk of being a victim of drink spiking, you should be cautious when accepting drinks from strangers and never leave your drink unattended. For extra safety, go out with a group of trusted friends so you can look out for each other.
Common illnesses
Tap water
If there's one thing you shouldn't try in Colombia, then it's the tap water. Inadequate water treatment, poorly maintained infrastructure, and contamination mean that it can leave you with a serious case of traveler's diarrhea, regardless of whether you're drinking it from a hole-in-the-wall restaurant or from an apartment in the luxury skyscrapers of Bocagrande.
Even if the water is treated, it may still contain trace amounts of harmful substances or microorganisms that can cause illness. Using a travel water filter that removes all bacteria, viruses, and other nasties from the water is recommended (and will cut down your reliance on single-use plastic bottles).
Mosquitoes and other tropical illnesses
Like many tropical and subtropical destinations, mosquitoes in Cartagena can be a concern due to their potential to transmit diseases. To minimize the risk of mosquito-borne illnesses, take the following precautions:
Use insect repellent on exposed skin. We recommend Nopikex, a soap-like product that has proven effective in protecting against mosquitoes and sandflies in Santa Marta and Minca;
Cover as much skin as possible with long sleeves and long pants;
Avoid areas with stagnant water, where mosquitoes breed;
Stay in air-conditioned accommodations and close the doors and windows before it gets dark outside.
Dengue and Chikungunya, two illnesses also transmitted by mosquitos, can also be a concern when traveling to Cartagena.
Hot days and cold nights lead to conditions favorable for mosquitos and an increase in the likelihood of transmission of these two illnesses, which can both be fatal if not treated quickly.
Transmission is highest between May and November in the months during and following the rainy season. The same precautions as above should be adopted to avoid the risk of contracting these viral infections.
Weather
Not only does Colombia's Caribbean coast have dazzling beaches, but its warm tropical climate promises year-round sunshine.
The average temperature ranges from 25°C (77°F) to 32°C (89.6°F), and the closer you are to the coast, the hotter it feels and the higher the humidity.
The rainy season typically runs from May to November, with heavy downpours in the afternoons and evenings. But don't let this deter you.
Rain usually only lasts a few hours, often bringing a welcome break from the heat – just be sure to bring a rain jacket or umbrella to stay dry when sightseeing and hiking.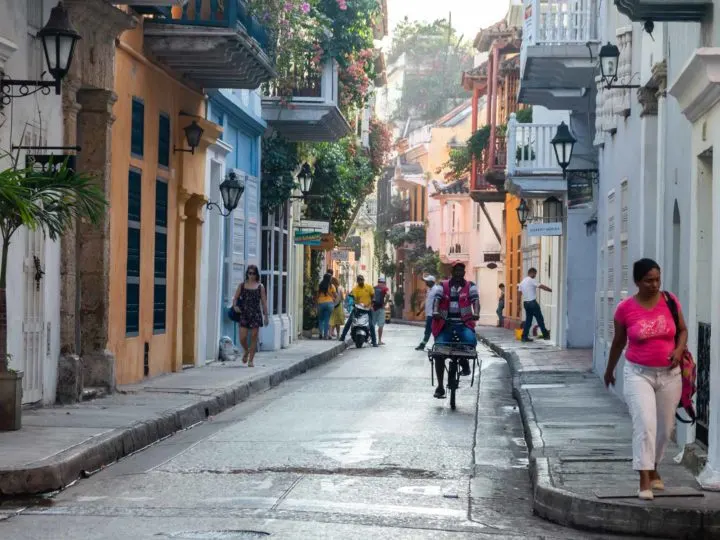 However, if you plan on snorkeling, diving, surfing, and exploring the beaches, it's best to visit during the dry season from December to March (and you can read about this in more detail in our guide to the best time to visit Colombia).
The best time to explore Cartagena is the dry season from December to March. During these months, you can expect blazing sunshine and few – if any – rainy days.
Although temperature-wise, there's no significant difference between the dry and wet seasons along this stretch of Colombia, in January and February, you may not see rain at all.
Bear in mind that this is the high season for travel, and the beaches along the Caribbean Coast are guaranteed to be packed with both local and foreign tourists.
Protect yourself from the blazing sunshine by applying sunscreen liberally before you go out and every two hours thereafter. If you happen to get sunburnt, apply aloe vera gel at night to help soothe the discomfort. Both products are easily available at mini-markets or convenience stores across the city.
The safest places and neighborhoods to visit in Cartagena, Colombia
The walled city of Cartagena is a popular choice among travelers and for good reason. Not only does it offer easy access to many things to do in Cartagena, but it's also a safe area for tourists.
The downside, however, is that things can be pricier and perhaps less authentic compared to areas beyond the walls.
If you're traveling solo or visiting Colombia for the first time with a group, we'd recommend not venturing too far from Cartagena's Old Town. This UNESCO World Heritage Site is a popular tourist spot, which comes with its own benefit: police presence.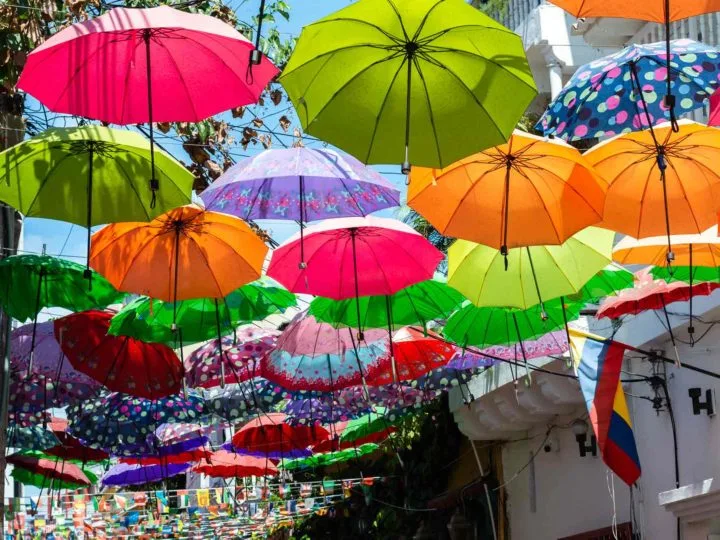 Other areas outside the walls that see a lot of tourist traffic also enjoy this perk. Taking safety into account, here are some places we'd suggest:
Getsemani
Situated within the walls, Getsemani is a safe place to stay for those eager to dive into a colorful Colombian experience. The laid-back atmosphere and food stalls selling fresh, exotic fruits make it worthwhile leaving your cool hotel room to explore this part of town.
Though you may find it a bit rough around the edges, Getsemani is a favorite among backpackers and locals alike, mainly due to its affordable cost of living and dining.
Even the locals still flock to the streets at night for tasty street food and cheap drinks!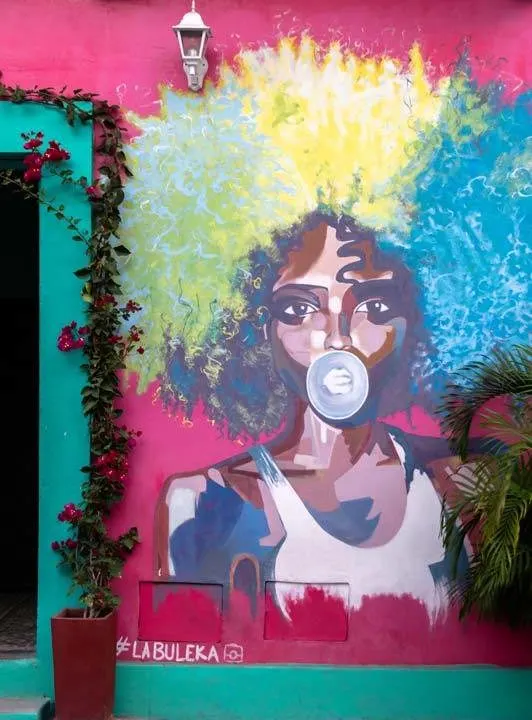 In recent years, it has transformed from a gritty, working-class neighborhood to an increasingly popular area for tourists, known for its street art, narrow streets, and lively nightlife.
As with most urban areas, it's important to be aware of your surroundings and take the security precautions outlined at the start of this article.
Bocagrande
Connected to the main island only by a highway, Bocagrande has a somewhat secluded feel. Flanked by the sea on both the west and east sides, it's home to some of Cartagena's best luxury hotels along the shore, stretching all the way to El Laguito.
With upscale malls, resort casinos, and international chains competing to provide visitors with luxurious accommodations, this area feels like the little Dubai of Cartagena.
Being an upscale neighborhood, Bocagrande is generally considered a safe neighborhood in Cartagena, but it's always important to stay vigilant.
Other touristy areas with relatively low crime rates
Aside from the main tourist spots, these neighborhoods are relatively safe. Those seeking a true getaway can opt for Zona Norte, which includes La Boquilla and Manzanillo del Mar, upscale neighborhoods, and tourist destinations north of the old town.
Closer to the airport, Crespo and Marbella offer budget accommodation amid beachfront hotels and cater to travelers in transit. Laguito, at the tip of Bocagrande, is a more secluded version of its neighbor.
Though small, El Cabrero is a strategic option as it connects the old town with Marbella and the airport. Lodging options may be limited, but spending a night near the big lake promises a unique experience.
Nearby islands and their safety concerns
Colombia's Caribbean Coast offers many places to visit and things to do. We only highlight three of the most popular (and the safest) in this article. If you wish to know more about the nearby islands and towns, read our guide to the best day trips from Cartagena.
It's important to note that the walled city of Cartagena has been developed to cater to tourism, which the locals economically depend on to a great extent.
While this has a positive impact on safety, it doesn't necessarily contribute to an authentic experience. In fact, what businesses label as an "authentic experience" within the walls is often superficial and has been curated for tourists.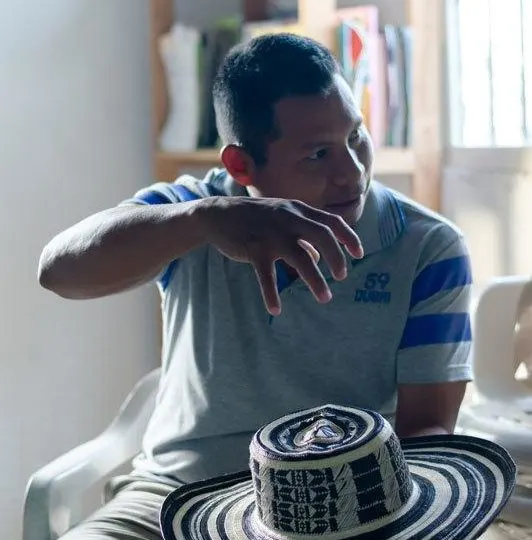 Meanwhile, those who have ventured beyond Cartagena know that the city feels somewhat disconnected from the rest of Colombia. To uncover the hidden reality of Cartagena, consider taking a tour arranged by locals.
You can read about Steph [the founder of Worldly Adventurer]'s first-hand experience of a sustainable tour of Cartagena (something we highly recommend taking).
Islas Del Rosario
Comprising 28 different islands, this archipelago is protected as the Parque Nacional Natural Corales del Rosario y San Bernardo. It's renowned for snorkeling and scuba diving, both activities which let you explore its crystal-clear waters, coral reefs, and numerous shipwrecks.
While traveling to and from the Islas del Rosario, it's important to use reputable boat operators to ensure the boat has safety equipment, such as life jackets, on board.
And while exploring the water, always remember to follow safety guidelines, only swim in designated areas (preferably not alone), and pay attention to local warnings.
Playa Blanca
Located in Isla Barú, a peninsula 30 kilometers southwest of Cartagena's old town, Playa Blanca has only been developed for tourism in the past decade. Due to its distance from Cartagena, it boasts pristine waters and stunning white sands.
At night, some parts of the coast attract bioluminescent plankton that turns the water a glowing blue. Don't worry, they're not shy of human touch, so you can swim around them safely!
In general, Playa Blanca is considered a safe destination for tourists, but it's still essential to take some precautions to ensure your safety and enjoyment during your visit.
Be cautious while swimming and avoid venturing too far from the shore, as there may be strong currents in some areas. Don't swim alone or at night, and keep your belongings secure and in sight while at the beach.
Isla Tierra Bomba
Often considered Colombia's little Ibiza, this island attracts visitors looking to party, especially on weekends. There's not much to do here other than drink and dance, and here at Worldly Adventurer, we're not too keen on the islands due to issues surrounding sustainable tourism.
Isla Tierra Bomba is a small island with limited waste disposal facilities or infrastructure. As a result, waste accumulates on the beaches. This negatively impacts the environment and the overall experience, and can also pose health risks for beachgoers.
So, instead of visiting Isla Tierra Bomba, sail further to the Islas del Rosario for a more tranquil experience, or stay within the walled city and enjoy the equally interesting nightlife of Getsemani.
FAQs
Is it safe for US citizens to travel to Cartagena?
According to the latest travel advisory from the US State Department, US citizens are advised to reconsider travel to Colombia, while Arauca, Cauca, Norte de Santander Departments, and the border with Venezuela are at Level 4: Do Not Travel.
That said, the government issues this type of travel warning mainly due to its limited ability to provide emergency services to citizens in case something bad happens. If you decide to travel, you do so at your own risk.
It is crucial to avoid protest areas, stay up-to-date with the political situation, and have an emergency plan. This Traveler's Checklist from the US government should help you plan your trip better.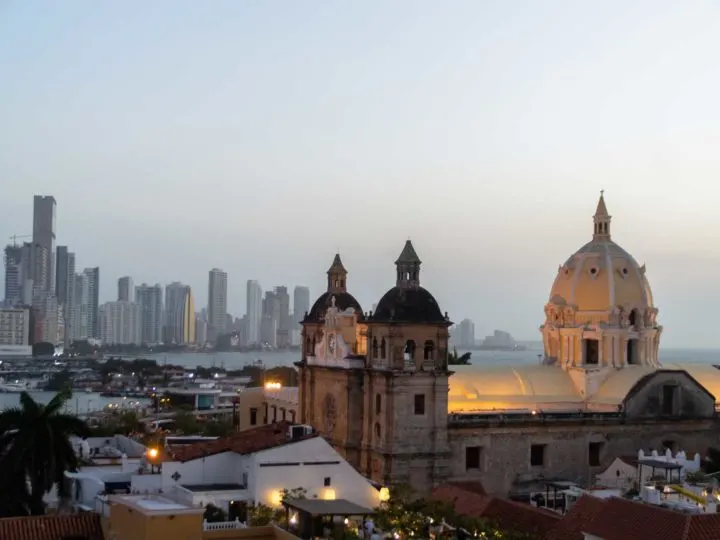 Don't forget to invest in travel insurance, which should cover you in the event of an accident or falling victim to crime.
Is Cartagena safe to travel to right now?
Yes, Cartagena is safe to trawl to right now! Colombia might have a bad reputation when it comes to safety, however, everywhere except the Arauca, Cauca, and Norte de Santander departments, and the border with Venezuela, are safe for tourism.
Bear in mind that the crime rate is still high in Colombia, so you should follow government travel advice to minimize the risk of encountering problems.
Is Cartagena worth visiting?
Cartagena is definitely worth visiting! This city is known for its charm, historical significance, and beautiful natural surroundings. Not only does it offer many things to do and sights to see, but Cartagena is also an excellent base for great day trips to surrounding areas, including to one of Colombia's most famous national parks, Parque Nacional Tayrona.
All these reasons should be more than enough to visit Cartagena. By following the steps below for safely exploring the historic city, you should be able to enjoy your time without issue.
---
Ready to plan your trip to Colombia? Read our expert itineraries for Colombia, discover the places you can't miss in Cartagena, and plan your accommodation with our round-up of the best hotels in Colombia.