The city of Cartagena has the feeling of a film set. At the heart of its walled old town, a grid-like structure of narrow cobbled streets extends in ruler-straight lines, framed on two sides by enchanting, bougainvillaea-decked colonial mansions. Restored and painted in the sharpest of colour palates, they're a paradise for photographers.
As you explore further, every bend in the road reveals an even more colourful – and more fantastical – corner of the city.
You find swanky, five-star hotels tucked into decadent old buildings and designer clothing stores conducting an unabated trade with wealthy tourists.
You may even take a speedboat out to one of the growing number of all-day party resorts, where white sand beaches are lapped by crystalline, Caribbean waters and packed with moneyed revellers.
You'd be forgiven for finding yourself charmed by what must surely be one of South America's most beautiful cities, or dazzled by its hedonistic pleasures.
Help support sustainable, responsible tourism in Cartagena by booking this Zenú Indigenous Heritage Tour with IMPULSE Travel Colombia and get a 5% discount by using the code WORLDLY5 at checkout.
But, as you soon learn if you venture beyond Cartagena, this glamorous city feels at odds with the rest of Colombia.
This is a country where 27% of the population lives in poverty; it's a place still dealing with the fall out of nearly sixty years of violent, internal conflict between the government and paramilitary groups.
Many tourists spend two weeks inside the fortified walls of Cartagena, blissfully oblivious to the fact that this elegant, stylish slice of the city is but a superficial, manicured part of a grittier whole.
Tourism is no silver bullet, but sustainable tours can help
Tourism has brought benefits to Colombia to the tune of 1.9 million jobs created in the industry over the past 10 years. In Cartagena, it's instilled a local pride in the city's grand architecture.
Prior to UNESCO designating parts of Cartagena as a World Heritage site in 1984, this wasn't the case. "People used to steal bits of the city's walls for building materials," my translator and tour guide for IMPULSE Travel Colombia's Zenú Heritage Tour of Cartagena, Kate Garcia Velasco, admits.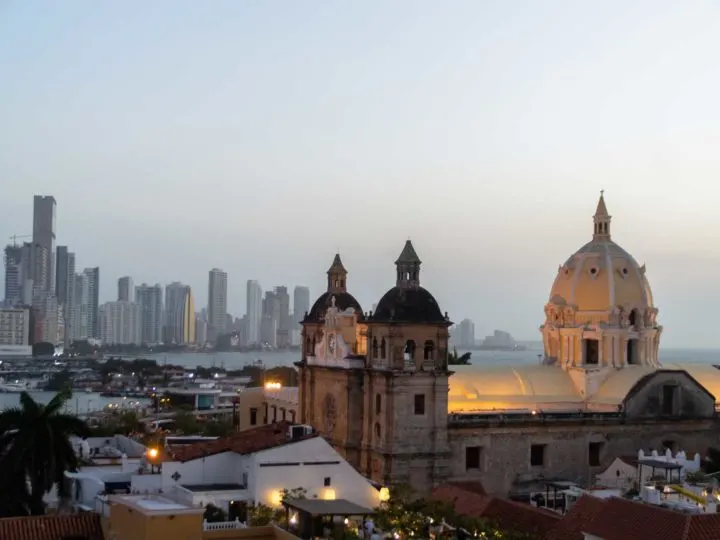 However, tourism is no silver bullet. According to a UN Heritage report, 30% of Cartagena's residents live on or below the poverty line, despite some half a million visitors arriving in the city each year.
Neighbourhoods such as the now colourful, street-art emblazoned Getsemani – the last residential neighbourhood in the "old town" – have been gentrified to the point where hotels and hostels now number at least three per street. Most rarely employ local residents,
As a consequence, fewer and fewer locals born in what is now one of the city's prime stretches of real-estate can still afford to live there.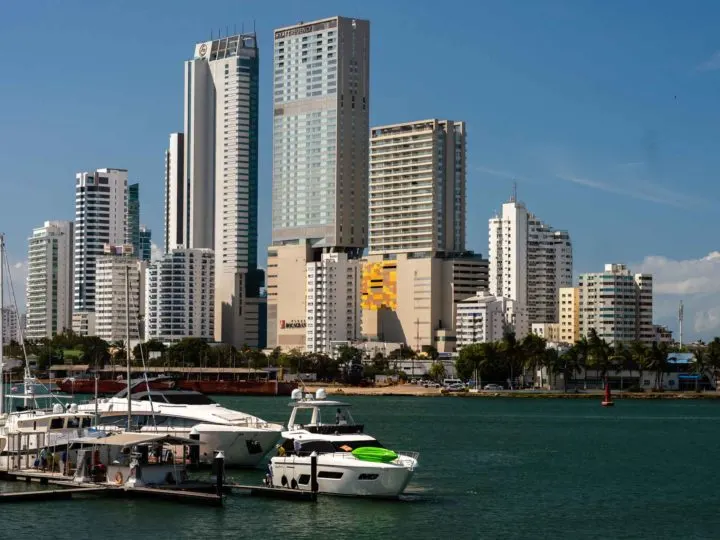 Recognising this juxtaposition are Bogotá-based IMPULSE Travel Colombia, a company committed to promoting environmentally sustainable and culturally ethical travel.
They seek out marginalised groups to help them design tours, thus granting a platform where communities can tell their stories. What's more, it grants the opportunity to finally reap the transformative economic rewards that tourism offers but so rarely distributes equitably.
Seeing Cartagena through new eyes
Kate takes me to meet Wilfrido Perez Lucas, who'll be our Zenú guide for the afternoon. As leader of one of the city's cabildos (indigenous organisations advocating for the Zenús' rights), he has an insight into the struggles of his people in Colombia.
We cower from the scorching afternoon sun in the shade of the Torre Reloj or clock tower, one of the entrances to the fortified old town. Here, in the Plaza de Los Coches, Wilfrido points out the statue of city founder Pedro de Heredia as he recounts the histories of Cartagena and the Zenú.
It was de Heredia's men who first landed on these shores in 1533, invading an area inhabited by the indigenous Caribes. After enslaving or exterminating those that didn't flee, they founded the city of Cartagena, building elegant churches and sumptuous mansions using the forced labour of Black slaves brought across the ocean from Africa.
The Afro-Caribbean descendants of those that survived now make up some 10% of Colombia's population and face increasingly levels of racial discrimination and violence.
The arrival of the Spanish also had profound consequences for the Zenú. Prior to this, the Zenú had lived for millennia on the wetlands along the Caribbean coast south of Cartagena.
An affinity for their natural environment made them masterful farmers: they canalised 600,000 hectares of land in a complex system of irrigation and drainage.
They were also skilled weavers and expert goldsmiths. Later on our tour, Wilfrido shows me around the Museo de Oro with pride, pointing out the delicate gold figurines of spoonbill ducks and herons that were crafted by Zenú hands.
These traditions were thrown into disarray. Greedy for gold, the Spanish ventured south, desecrating Zenú burial mounds and forcing many of the Zenú into servitude. Those who remained on their lands fared better until large haciendas began infringing on their territory in the 1800s, driving them away.
Later, the violence of paramilitary guerrilla groups, drugs lords and the government that ravaged Colombia in the 1990s disproportionately killed indigenous groups and forced the Zenú to flee for their lives, with some 6,000 settling in Cartagena in 2000.
As Wilfrido guides me around the city towards the Museo de Oro, we bump into another member of the Zenú community. He's a tinto (coffee) seller, who combs the streets for trade, dispensing, for the equivalent of around 10 cents, tooth-achingly sweet coffee from a battered flask. He gives us a grin before continuing along his way, as Wilfrido turns and explains that "if we didn't sell coffee, we wouldn't eat."
While indigenous groups across Colombia have benefitted from reforms that have seen indigenous senators voted into Congress and legislature that has placed 30% of national territory into indigenous reserves, the Zenú still face discrimination.
"We have few opportunities despite the fact we're now in the 21st century," Wilfrido sighs. "We're excluded from the progress experienced by the rest of Cartagena".
Despite the boom of jobs and possibilities brought by tourism in the past few decades, job opportunities are limited for the Zenú. Men typically sell coffee, while women find work as maids and domestic servants in wealthy homes. Unlike tinto selling, it's a stable job, but has its own challenges: women are granted just one day's leave per month to return to their own families.
From what Wilfrido tells me, being able to guide tourists and teach them about the lives of the Zenú provides an alternative and reliable source of income.
It's also a chance to benefit from the wealth and prosperity that tourism has brought to the region.
Cultural revival through caña flecha
I'm driven south through Cartagena, past neighbourhoods of high-rise apartment blocks and squat, concrete dwellings. Battered cement pavements are lined with dented yellow taxis and the occasional towering palm granting a sliver of shade from the blaring sun.
In the far south of the city lies the 20 de Julio neighbourhood. It's the expanse of land that the displaced Zenú community found to occupy when they moved to Cartagena in the early 2000s.
Now, it's a tumbling mass of humble, one-floor concrete houses clambering up into the hillside. A piecemeal path of splintered paving slabs and building rubble acts as a street between two rows of houses.
Here, with funding from Cartagena-based non-profit FEM, the local people built a community centre. It's a two-roomed, utilitarian building decorated with vivid murals depicting Zenú women and traditional geometric patterns.
Inside, an old treadle Singer sewing machine sits beneath the window and a low bookcase stacked with children's books occupies another corner.
I meet Saudith Carpio, Yamile Chima and Dilia Florez, who run the second part of the tour. All three are of Zenú heritage and form part of the 11-member weaving collective, the Asociacion de Mujeres Indigenas "Aso Maiz".
Their purpose is to reconnect the now urban-inhabiting Zenú with their culture of weaving, a tradition that has been mostly lost due to their forced urban migration.
From the community centre, the women now make and sell handicrafts to tourists. Their main product is the sombrero vueltiao, a traditional Zenú hat consisting of concentric circles of white and black strands and patterned sections of woven caña flecha – a local palm fibre now used prolifically in Colombian weaving. Taking up to 15 days to be made, the hat has become a national symbol of Colombia.
Through the process of setting up the collective, the women realised how much of their culture had been lost in their displacement to an urban environment.
Only a handful of the community, the "grandmothers or the mothers" Dilia explains, remembered how to make many of the patterns of the traditional sombrero vueltiao. Saudith and other weavers have since patiently learned how to recreate them.
It's skilled work. As part of the tour, you can try your hand at weaving. Yamile shows me how to make a simple numero once (number eleven), a woven braid named as such for the eleven strands of caña flecha used. In practice, it's much harder than it looks and Yamile admits with a giggle that it's generally a pattern taught to children.
My own weaving might not look much, but the sombreo vuletiao is a piece of art. It "communicates traditional activities through its designs", Kate explains, as Saudith and Dilia point to intricate motifs of dots and arrows of cream that cut through the black and represent dominoes, a funerary symbol for the Zenú.
In forked threads of material, black against white, lie the shape of a fish tail, while everything from corn to rice and tools used in the fields are depicted in this simple material.
More profoundly, this hat acts as an important lifeline connecting the community with its cultural traditions. Indigenous leaders such as Wilfrido have spent years petitioning the Colombian government to return their ancestral lands in Cordoba and Sucre, so that those who've been forced into cities can return.
Until this happens, the women of 20 de Julio, whose mothers and grandmothers once grew their own caña flecha, must continue to buy it in order to be able to weave their own cultural heritage.
But the weaving collective has enriched the lives of the women, their families and the wider community. It's been an empowering alternative to domestic employment; instead of serving others, "now, we can do this instead," Saudith tells me, thankfully. "There's less unemployment than there was before."
"This place," Kate continues, "has made these women more independent, more powerful, in charge of their own culture and more aware of what it means to be indigenous."
More than that, for many of the women, it's personal. Saudith went to work as a domestic helper at the age of 12. Now, her own son is 19 and will soon start his studies in medicine. Her eldest daughter, aged nine, wants to study English and become a teacher.
The money earned through the collective will have a fundamental impact on all of their lives. "My goal," she tells me, "is that my children don't have to go through what I did."
As I return to Cartagena, I'm dropped back off where we started, at the Torre Reloj. The streets swarm with tourists, many of whom are heading into picture-perfect mansions where rooftop bars are perfect for catching the sunset.
After an afternoon delving into the city's chequered history, Cartagena doesn't seem any less magical – but it certainly feels more real.
How to learn about the Zenú and try your hand at weaving
IMPULSE Travel Colombia's Zenú Heritage tour is a half-day tour that explores the city centre and the Museo de Oro before heading out to the 20 de Julio neighbourhood. Here you'll experience a weaving demonstration and enjoy a snack prepared by the women of the weaving collective.
Prices start from $149 USD per person, with the cost decreasing incrementally for larger groups. Worldly Adventurer readers get a 5% discount off ALL IMPULSE Travel Colombia tours with the code WORLDLY5.
If you want to buy a sombrero vueltiao, be aware that Chinese-made fakes are readily available in Cartagena's street markets. You're better off taking the tour so that you can buy directly from the collective and ensure that their labour is fairly recompensed.
I was a guest of IMPULSE Travel Colombia on this tour, but the experiences, opinions and unfettered enjoyment of the trip are my very own. I don't promote tours or experiences that I don't believe to be 100% sustainable, ethical or high-quality.