Waking up late after a big night out, you step outside and taste the salty air blowing in from the Caribbean. The day begins with some tropical fruit that you buy from a smiling lady in a vibrant, colorful dress.
A cup of some of the best coffee you've ever had follows, fueling you for a day of exploring the cobblestone streets of this historic city. These are just a few of the many things to do in Cartagena, Colombia.
Here's a closer look at what this city on the coast of Colombia has to offer.
An intro to Cartagena
Cartagena was the first Spanish colony in the Americas, and its location on the Caribbean Sea made it a vitally important port city.
From here, the conquistadors shipped the treasures they had pillaged from native cultures back to Spain, while at the same time importing slaves from Africa.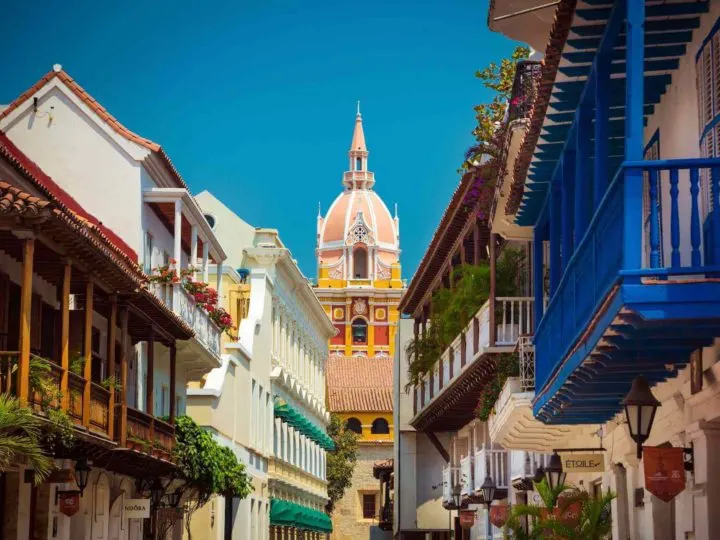 In order to defend the city and its wealth of stolen goods from pirates, they built a huge stone fortress.
The city would remain under Spanish rule for around 275 years. Cartagena led the charge for breaking free from Spain, declaring its independence before the rest of the country on November 11, 1811 with the help of the great liberator Simon Bolivar.
If you should find yourself in the city around this time, you can expect a massive fiesta full of parades and street parties.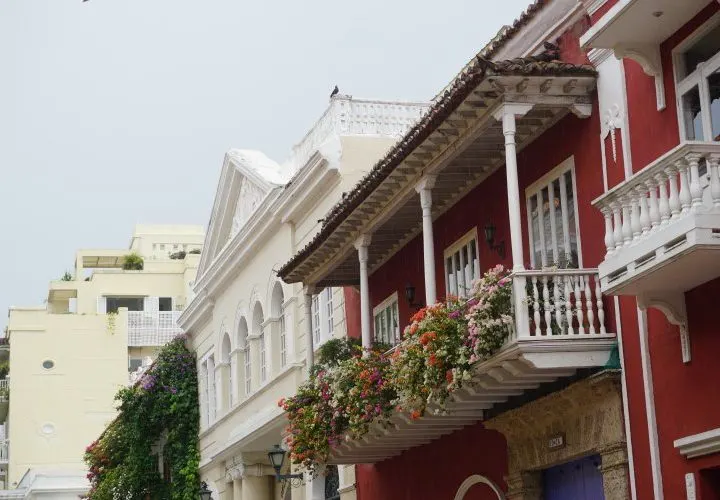 In 1984, the walled city of Cartagena was declared a UNESCO World Heritage Site as an eminent example of military architecture. That's not all people come here to see, though.
Cartagena is an unmissable place to visit and Colombia's most popular city for tourists, thanks not only to the colonial buildings but also to the sandy beaches, mouth-watering cuisine, and raucous nightlife.
If you're wondering what to do in Cartagena, you've come to the right place.
Planning Your Trip to South America?
Save time, stress & money with a customized travel itinerary planned for you by a South America expert
Things to do in Cartagena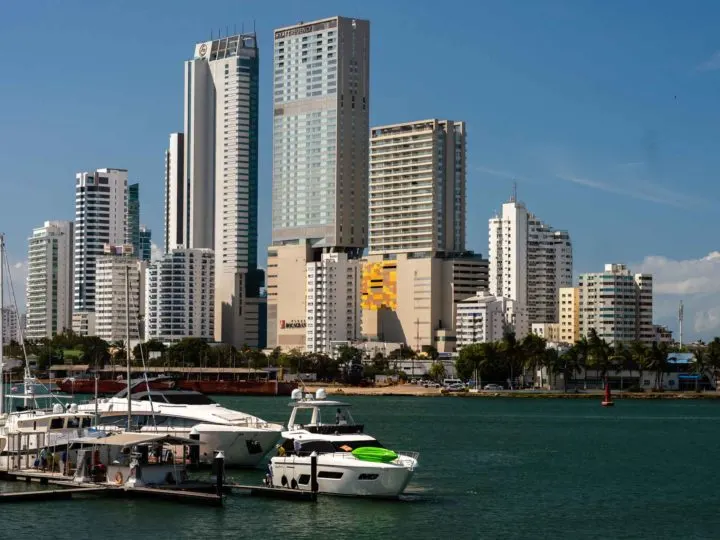 Take a free walking tour
The best way to see the Old City of Cartagena is on one of the free walking tours. With a knowledgeable local guide, you'll spend a few hours meandering through the city streets while learning about its fascinating history.
For example, you'll learn why some door handles have lizards while others have a lion. I won't spoil the surprise – you'll just have to sign up to find out for yourself.
Tours are typically offered twice a day at 10AM and 4PM in both English and Spanish, and you'll want to book in advance as they limit the space to keep it more personal.
Climb the San Felipe Castle
This is the most famous landmark in Cartagena, and it's pretty hard to miss. It was built way back in 1657 to protect against pirates looking to make off with the silver and gold that was bound for Europe.
Wait until later in the day to head up here and explore the maze-like tunnels and enjoy the views of the city off to the side.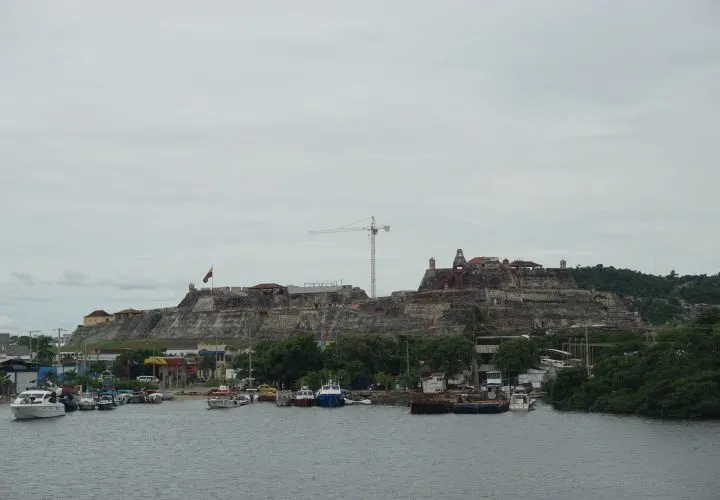 Wander around Getsemani
At first glance, the Getsemani neighborhood appears a bit rough around the edges, shall we say. While it's true that the area was once a hub of drugs and prostitution, it has morphed into somewhat of a hipster enclave.
You'll find some incredible street art around here, as well as plenty of shops, cafes, restaurants, and bars. The main square here fills up at night with a mixture of backpackers and locals enjoying the finer things in life – street food and cheap booze.
Buy fruit from the palenqueras
Take a walk around Cartagena, and one of the first things you'll notice is the groups of women dressed in vibrant colors balancing bowls of fruits on their heads.
Known as the palenqueras, these fruit vendors are very much a fixture of the city and an important part of its history.
They originally came from San Bassilo de Palenque, which is a small town just south of Cartagena. This little village was actually one of the first places in the Americas to be freed from slavery.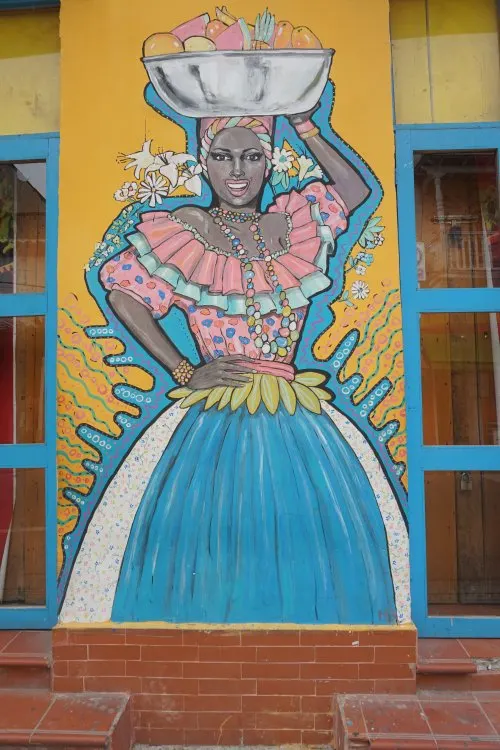 Be sure to pick up some fresh fruit from one of them, and please leave a little tip if you want to take photos.
Learn about Cartagena's indigenous people
Gain a unique perspective of Colombia with a sustainable Cartagena city tour led by the Zenú, an indigenous people who have been forced out of their homes through the centuries and now survive selling coffee on the streets of Cartagena.
Few tourists ever even hear about the Zenú. Not only will you see the city in a different light as your guide narrates the story of Cartagena from an indigenous perspective, but you'll learn about their struggles for justice and exceptional prowess when it comes to craftsmanship.
For the latter, you'll visit their workshop to see how caña flecha is woven into the famous Colombian hat, the sombrero vueltiao.
Help support sustainable, responsible tourism in Cartagena by booking this Zenú Indigenous Heritage Tour with IMPULSE Travel Colombia and get a 5% discount by using the code WORLDLY5 at checkout.
Go beach bummin'
One of the main Cartagena tourist attractions is its access to sun and sand. The easiest option is visiting the Bocagrande area of the city, but it's not exactly the picturesque Caribbean beach you were hoping for.
It's fine for an afternoon of lounging around, drinking cheap beer and eating seafood, but you'll have to travel a bit further to find the really nice beaches.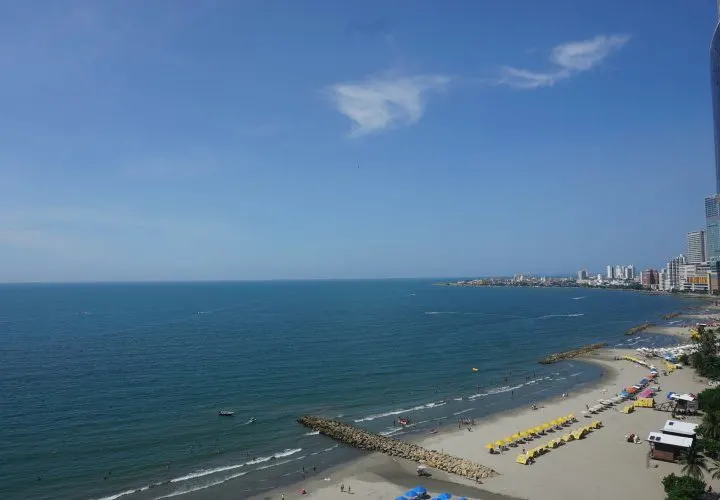 Your best bet is Playa Blanca, which can easily be visited on a day tour. Here you'll find that powdery sand and turquoise water after all. You can even stay overnight if you want to really relax and enjoy it.
Head island hopping
One of the most popular things to do in Cartagena is to take a boat tour around the Rosario Islands. This archipelago is located about 100 km off the coast and is a natural national park.
The park was created in order to protect one of the most important coral reefs in the Caribbean.
It's not hard to get yourself on a tour to visit the islands, but be aware that many of these tours come with very bad reviews.
It's best to do your research to find a reputable company, or just get enough people together to rent your own boat and do things your way.
Alternatively, read our guide to the best day tours from Cartagena to learn more about your different options.
Stay in a floating hostel
When researching what to do in Cartagena, we came across a place that bills itself as a floating eco-hostel. Upon seeing a short video for the Casa en el Agua, we knew we had to get there to check it out.
It was actually the first thing we did on a seven-month backpacking trip around South America, and it was an awesome way to start the trip.
Sleep in a hammock over the sea, spend your days SUPing or snorkeling, and enjoy fresh seafood and tropical cocktails with your new friends.
Bookings open up 60 days in advance and the place fills up fast, so make sure to plan accordingly. For more, read our comprehensive guide to staying at the Casa en el Agua.
Feast on seafood
Thanks to its location, it should come as no surprise that Cartagena is home to some fantastic seafood.
On the budget end, you can easily find a set meal in a local joint where you'll get some fried fish, coconut rice, patacones (fried plantains) and a salad for just around 12,000-15,000 COP ($3-4 USD).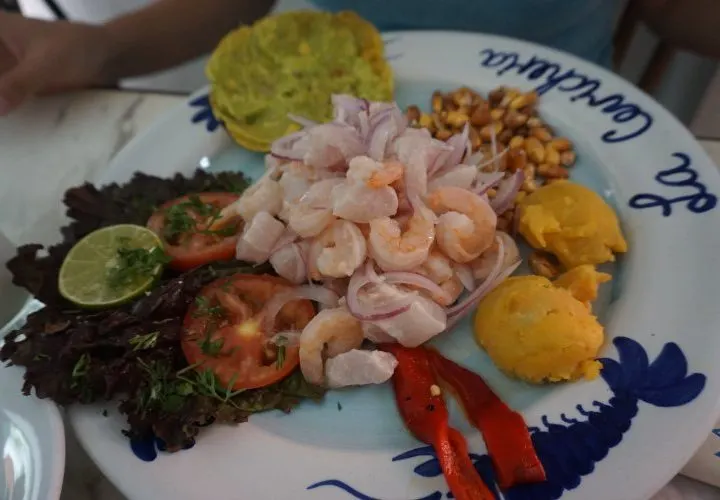 If you're willing to spend a bit more, I highly recommend checking out La Cevecheria. The late, great Anthony Bourdain once ate here on an episode of his former show "No Reservations," and you'll still see his picture up on the wall.
We've got more recommendations for where to eat in the city in our guide to Cartagena's best restaurants.
Study Spanish
Since Cartagena is located right at the top of South America, it's the perfect place to start an extended trip around the continent. Of course, you're going to need to work on that horrible gringo Spanish of yours before doing so.
Studying Spanish is one of the top things to do in Cartagena, as there are numerous schools offering classes at very reasonable prices.
Toucan's Cartagena school is excellent. Colombians pride themselves on their clear and standard Spanish, and I can speak from experience that Colombia is one of the best countries to study the language in.
Put on your dancing shoes
If you're like me and you've got two left feet, learning how to dance is one of the best things to do in Cartagena. Dancing is an integral part of Caribbean culture and a favorite pastime for locals. Salsa is king here, but you can also learn Merengue or Bachata.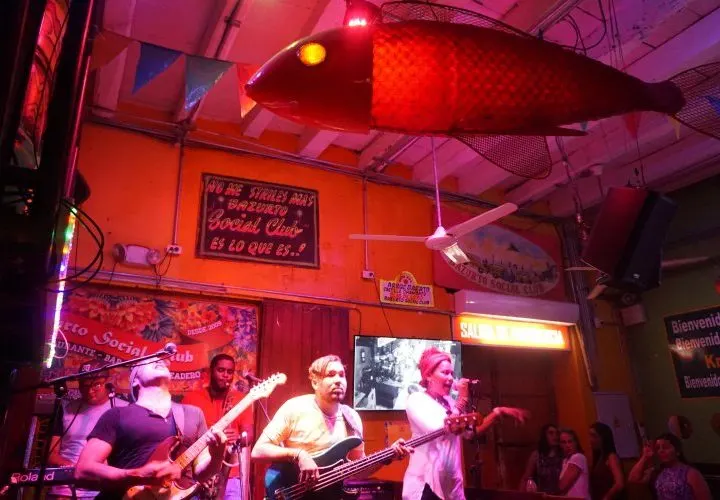 Sign up for some lessons first, and then hit the dance floor to show off your newfound moves. If you're a bit of a wallflower, a couple of rum drinks will surely help to loosen you up!
Cafe Havan is perhaps the most popular place, but it also comes with a long line, pricey drinks, and crowds. A more local spot to boogie to a live band is Bazurto Social Club.
Enjoy sundowners on the wall
For drinks with a view, look no further than Cafe del Mar. Sitting right on top of the historic city wall, this bar is the best place to enjoy a Caribbean sunset with a tropical drink in hand.
Drinks are pricey (around 43,000 COP ($15 USD)), but it's worth it to have one just for the photo opportunities.
For those of us who prefer ballin' on a budget, you can simply grab beers from local vendors and hang out on the wall. The view isn't quite as great, but you'll still be able to hear the live music from the bar.
Party 'til the sun comes up
Cartagena likes to party, plain and simple. In addition to the hordes of backpackers and packaged tour groups who come here looking to let loose, the locals enjoy a rowdy night out just as much.
Every night is a good night to go out here, as there's a wide variety of bars and clubs to satisfy any party style.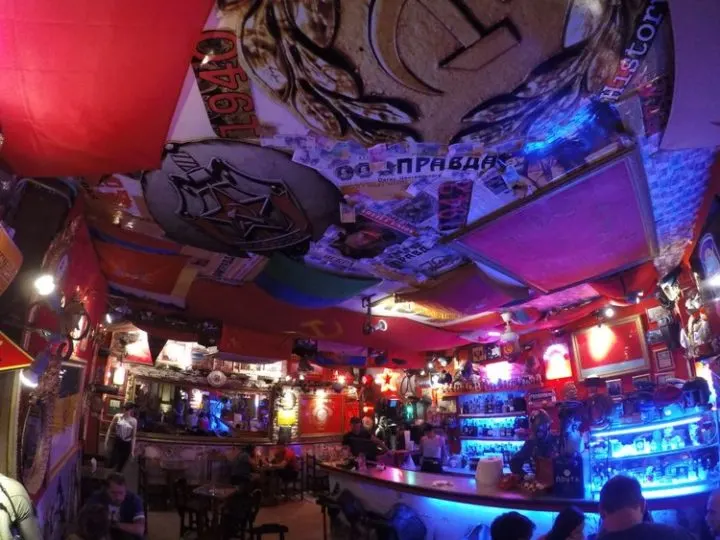 Start your night out at the funky KGB Bar, which is decked out in Soviet-era decorations, and see where the cool Caribbean breeze takes you.
If you decide to go hard and stay out all night, you can rest easy knowing that some fresh fruit and strong coffee await you, as does a beach chair.
With its gorgeous Old City, funky neighborhoods, picturesque beaches, and top-notch culinary and nightlife scenes, Cartagena checks all the boxes for that Caribbean vacation you've been longing for. It's also the perfect jump-off point for an epic South American adventure.
If you're going that route, you might as well stick around for a while and learn how to speak Spanish and dance salsa before hitting the road. Trust me – they'll both come in handy as you make your way around the continent.
Where to Stay in Cartagena
Cartagena has tons of options for accommodation, ranging from party hostels all the way up to all-inclusive resorts and everything in between. We've got a whole guide to the best hotels in Cartagena, with information about the different neighborhoods across the city.
Backpackers tend to stay in the Getsemani area as it's home to plenty of cheap hostels and budget hotels.
We thoroughly enjoyed our stay at Patio de Getsemani ($182,000 COP ($62 USD) double room) where you can get a private double room with a/c and a substantial breakfast for a really affordable price.
The owners are super nice and even let us store our bags there when we went out to the Casa en el Agua for a few days.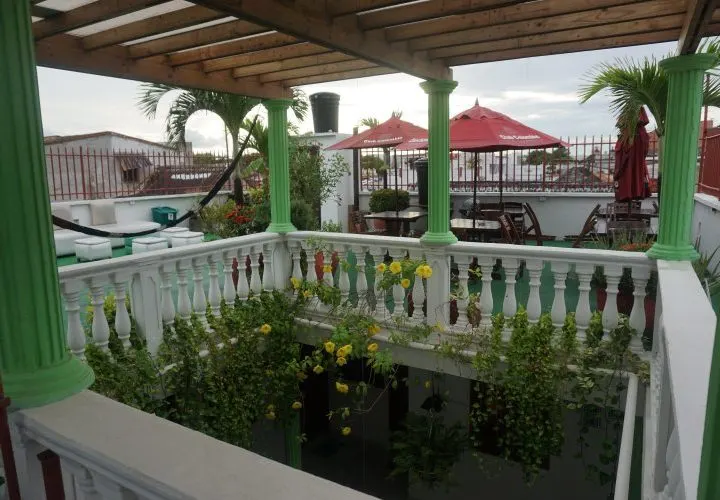 If you're looking to stay in the Old City, then the Bourbon St. Boutique Hostel (58,000 COP ($20 USD) dorm) is an excellent option.
It's listed as one of the top 10 hostels in all of Colombia and has some pretty amazing views. With a pool, a bar, and a billiards table, it's a great place to be social.
Those wanting to spend more time on la playa can check out the Madisson Inn Hotel (224,000 COP ($77 USD) double room) in Bocagrande. You can enjoy a buffet breakfast, walk 100 meters to the beach, and come back to chill by the pool during the hottest time of the day.
Alternatively, if you want to splash some cash – and enjoy the pool – Sofitel Legend Santa Clara ($1,450,000 COP ($382 USD) double) is a converted monastery and hospital, with rooms that overlook the Caribbean Sea and others facing the tree-lined swimming pool – the biggest one in town.
Pin to your favourite Pinterest board: