From emerald-green Andean summits to historical old towns and dazzling Caribbean islands, Colombia is packed with superb destinations to visit. However, a good night's rest between activity-filled days is a must to make the most of your trip.
While decent accommodation will suffice, staying at the best hotels in Colombia can make your trip far more memorable – particularly as your cash can go a long way in this country.
I spent a few months living in Colombia, and have since returned on a couple of occasions to travel widely across the country. As part of these travels, I've discovered everything from a unique natural lodge in Tayrona (see #12) to the best luxury hotel in Medellin – and compiled them into this handpicked list of the 13 hotels all over the country.
Some are located in Colombia's most popular places, and some are tucked away into parts of the country that few visit. But each is good value for money, offering a singular hotel experience in some of Colombia's most beautiful parts.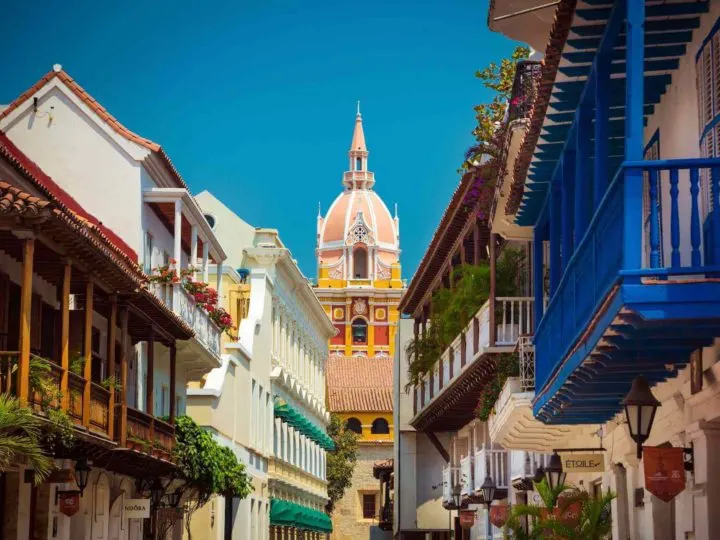 The best hotels in Bogotá
1. BOG Hotel
Amid the chaos of Colombia's capital city lies BOG Hotel ($186 USD or $698,000 COP double). Don't be fooled by its modest exterior; this hotel is one of Portuguese designer Nini Andrade Silva's creations.
What otherwise would have been just another minimalist hotel is a work of art. You'll see touches of gold and emerald intricately placed across the hotel's interior, but not too much to ruin the peaceful ambiance. The guestrooms are also minimalist, decorated in grey and soft purple colors.
The hotel's focal point is the heated rooftop pool, a blessing on cold days. In the same area, you'll find the on-site bar, BOG Terrace, serving cocktails and food – best enjoyed at dusk.
From here, you can admire the La Cabrera area from above – after all, it's one of the city's trendiest neighborhoods and close to some of the finest bars and restaurants.
2. The Click Clack Hotel
Your first impression of The Click Clack Hotel ($119 USD or $450,000 COP double M/superior double) will be how thoughtfully built and decorated it is.
Though its façade looks like stacked glass and metal, the interior is stunning. From wooden boxes to exposed brick walls, The Click Clack Hotel exudes an urban industrial vibe.
Straying further from the conventional theme, this hotel offers rooms in sizes: XS (economy double), S (standard double), M (superior double), L (junior suite) and XL (suite).
We recommend booking at least the M, which has access to a leafy terrace and has air conditioning and heating (something smaller rooms have upon request only).
Its XL rooms make The Click Clack Hotel one of the best hotels in Bogota. Located on the top floors, you see the Parque de la 93 areas unobstructed from the rooms' floor-to-ceiling windows.
The best hotels in Medellín
3. The Charlee Hotel
Live large within the center of the action at The Charlee Hotel ($200 USD or $760,000 COP double). This hotel combines luxury with the vibrant nightlife of Poblado's Parque Lleras.
And by "vibrant," we mean on-site pool party and D.J. set. With just 42 rooms available, it's one of the best boutique hotels in Colombia for party-goers.
Needless to say, those who seek tranquillity should consider other options. But those who understand what Poblado offers to its visitors are welcome to step into the hotel's lobby, which is decorated with contemporary art.
This edginess is in line with the building's geometrical twist of wood and concrete that sticks out amid the red bricks of Medellín.
The Charlee's heart is its two-story rooftop pool and bar, Envy. But the party vibe extends to all guest rooms. Each has a private semi-open balcony, some with a large hot tub and some with a well-furnished seating area.
4. 23 Hotel
Dubbed "the perfect setting for a full life in the tropics," 23 Hotel ($122 USD or $457,000 COP double) is the place to boost your Vitamin D intake.
All rooms come with floor-to-ceiling windows so you can soak up as much sunlight as possible. You're also spoiled by the mountain and city views, which are only obstructed by surrounding trees.
What makes 23 Hotel one of the best hotels in Medellin lies in its details. Colombian artisans contributed to the hotel's design and décor, which feels tasteful 70s in style. As a result, 23 Hotel catches everyone's attention at first glance.
Select rooms come with a window nook where you can sit and relax, while suites have bathtubs with splendid views from their spherical windows.
The best hotels in Cartagena
5. Sofitel Legend Santa Clara
What is now one of the best five-star hotels in Colombia was once a convent for the Order of Saint Claire. That fact alone makes Sofitel Legend Santa Clara ($382 USD or $1,450,000 COP double) a sight to behold, surrounded by multi-colored buildings and one of the things you'll want to see in Cartagena: the walled city.
Upon arrival, explore the converted monastery and hospital with a complimentary guided tour. It's a great way to see what made UNESCO declare the area a World Heritage Site in 1984.
Although the buildings are four centuries old, luxury prevails even when you walk in. Expect grandeur with a twist of history in every corner!
The guest rooms are predominantly decorated in white, blending beautifully with the wooden flooring. Some rooms overlook the Caribbean Sea, while others face the tree-lined swimming pool. Did we mention that it's home to the biggest pool in the old town?
6. Blue Apple Beach House, Isla Tierra Bomba
Located on an island 30-minutes off Cartagena's port, Blue Apple Beach House ($160 USD or $712,800 COP double) is like the little Ibiza of Colombia.
Although it's in a remote location, don't expect the tranquillity you'd usually get from staying at a beach resort. In fact, Blue Apple is not even a resort. It's a house converted into nine rooms and cabañas with a lively beach bar as the epicenter.
The beach house is decorated in blue and white hues, with bold paintings and eye-catching textiles here and there.
Some of them are left by the artists who stayed here through the "residencies for gifter sharers" program. This program allows you to stay here for free as long as you contribute with your creativity.
As one of the best hotels in Colombia, it should come as no surprise that visitors flock here to party, especially on weekends.
And since there's not much to do on the island to escape the noise – which is also affected by the island's waste issues – consider this hotel only if you don't mind the crowd and loud music.
7. Alfiz Hotel
Spending a night at Alfiz Hotel ($131 USD or $495,000 COP Double) gives you a chance not only to stay at one of the best boutique hotels in Cartagena but also to dig deeper into the city's history, especially in literature.
On-site, you'll find a library dedicated to Colombia's most renowned writer, Gabriel Garcia Marquez that holds over 200 of his works.
The hotel's 300-year-old building has gone through several restorations that salvaged a few pieces of the past. Among them are pottery, cannonballs, and Roman-style amphora jars, which you can see on display at the hotel.
To further celebrate the historical theme, each of the eight rooms is decorated in such ways as to represent a particular part of Colombia's history.
For instance, "The Republic" – a split-level family suite with two bedrooms – represents the beginning of Colombia's regeneration under President Rafael Nuñez, a native of Cartagena.
The best hotels in Cali
8. Movich Casa del Alférez
Besides all the things you'd expect from the best hotels in Cali, a prime location is what Movich Casa del Alférez ($83 USD or $314,000 COP double) offers.
It's in the Granada area, known for its high-end shops and restaurants. Popular attractions, such as Mirador de Cali and the Park of the Poets, are within a short walking distance.
The hotel's façade boasts its modern colonial style, which they claim to be inspired by Colombia's very own Jorge Isaacs and his romantic writings.
You can see the arched windows and doors leading to small, private balconies from the street. This design extends to the hotel's interior with its high, open ceilings and dramatic spiral staircases.
The best hotels in San Andrés and Providencia
9. Deep Blue Hotel, Providencia
It's unfortunate that Deep Blue Hotel ($212 USD or $800,000 COP Double) is temporarily closed for restoration due to a category five hurricane in late 2020.
There's no beach getaway like the one you'd experience here, on Colombia's incredibly remote Providencia Island. Not only is it secluded, but the only way to reach it is by a 15-seater plane.
That, plus the hotel's location right on the island's edge, makes Deep Blue one of the best beach hotels in Colombia.
As if trying to blend in with its surrounding, the hotel is a tour de force of natural materials, from its building, furniture, and to guest rooms.
Varying in size, the rooms have lovely wood-paneled doors and windows. Some come with a private plunge pool on their balcony, which overlooks the glittering blue waters of the Caribbean Sea.
But the star of the hotel is its common areas. The rooftop infinity pool offers even more majestic views of the seven-colored sea.
The restaurant – serving local seafood dishes – is the best on the island. And the dock, perfectly set up with ample seating areas, gets you closer to the sea. We cannot wait for the hotel to finish its restoration!
10. Casa Harb, San Andrés
Sitting on the edge of the island's northern skirts and just 10 minutes from the airport, with the center of the main urban area of the island just a stone-throw away, Casa Harb is one of the best hotels in San Andrés.
What's more, with buggies for hire from the hotel, you can easily explore the waterfront area of one of the most popular Colombian islands.
Exclusive this hotel is, with only five rooms available. Each is individually designed and decorated, making them entirely different: from the wooden floor to checkered tiles, marbled bathroom to elegant claw tub, and wicker-framed to a four-poster bed.
Some rooms have floor-to-ceiling windows overlooking the pool area. Even if you don't feel like swimming, you should spend some time relaxing on the poolside sunlounger.
The white walls and arches of the hotel meet blue pool tiles and pink bougainvillea in the pool area, making sitting here breathing in the beauty and experience of its own.
The best hotels in Santa Marta and Magdalena
11. Gitana del Mar, Buritaca
Immerse in peaceful, eco-friendly living at Gitana del Mar ($378 USD or $1,430,000 COP double). Each of its six individual cottages sits on the sandy beach at the foot of the jungle-blanketed Sierra Nevada range, thus bringing you even closer to nature.
All units have thatched roofs and wooden walls, which blend perfectly into the hotel's leafy surroundings.
Yoga classes are available every morning and evening, in line with the hotel's theme of peaceful, mindful living, while their commitment to eco-friendly living is carried through into a decisive lack of air conditioning and water heaters – so you'll rely on the natural breeze and freshwater during your stay here.
Due to its strategic location, Gitana del Mar is an excellent choice among other best hotels in Santa Marta if you plan on visiting the Ciudad Perdida.
12. Ecohabs Bamboo Tayrona, El Zaino
The term "nature getaway" is taken to another level at Ecohabs Bamboo Tayrona ($100 USD or $380,000 COP Double). It's the only lodging inside the Tayrona National Park that isn't a campsite.
It consists of only 18 private huts, all nestled deep within this 15,000-acre protected area on Colombia's Caribbean coast. Each hut is surrounded by lush greenery thanks to the jungle on whose edges they sit, which you can admire through its 360o-shuttered windows.
Ecohabs Bamboo Tayrona is remote, with no accessible shopping and dining options except for what the hotel provides. Outside the hotel's private beach, you need to walk three hours to reach the next public beach and campground.
Plus, the path to the guest huts is only accessible on foot or on the back of a donkey – which is common to hire to carry your luggage.
These aspects might not make this hotel convenient, but if you're a nature seeker craving a getaway, you will find Ecohabs Bamboo Tayrona one of the best places to stay in Colombia.
Except for the Earle Grey toiletries, the huts are entirely traditional, with native wood walls, floorings, and palm leaves roofs.
Rest in a hut inspired by the indigenous Tayrona people on the edges of Cañaveral Beach and wake to the sound of monkeys chattering in the treetops and the waves crashing down at the bay.
Other regions of Colombia
13. Hacienda Venecia Coffee Farm Hotel, Manizales
Hear one of the finest morning choruses and rise to the smell of freshly-brewed coffee when you stay at Hacienda Venecia ($77 USD or $290,000 COP double).
This is not your ordinary luxury hotel but a coffee farm that invites guests to dig deeper into its 100-year-long caffeine tradition.
What draws most guests here is the opportunity to explore the farm on bike or foot, and you can stop to see where the superior Arabica beans grow and how they journey from the plantation to your cup.
Set across a vast area are the traditional Colombian houses that provide various types of lodgings; from a hostel to a five-room private house, you can rent individually or in its entirety.
All accommodations are adorned with wooden windows and doors painted vibrant red for a chic but rustic look.
We recommend opting for the Coffee Lodge as the rooms here offer private balconies overlooking this picturesque farm's trees and rolling hills.
---
Looking for help planning your trip to Colombia? Discover our favorite places to visit in Colombia, read our guide to the best restaurants in Cartagena and Bogota, and plan your route using our Colombia travel itineraries.