Medellín, nestled in the picturesque narrow valley of the Andes Mountains, is renowned for its year-round temperate climate. Dubbed the "City of Eternal Spring", it attracts millions of tourists each year, eager to experience its many attractions and take their pick of its best hotels.
But before deciding where to stay in Medellín, let's explore some of the best areas to suit your travel preferences.
Planning Your Trip to South America?
Save time, stress & money with a customized travel itinerary planned for you by a South America expert
Steph's help laying out an itinerary for Chile was huge toward us having a great trip. She listened to our interests and compiled a framework that we could follow to make our plans. She included many practical tips as well as numerous options. She truly saved us many, many hours of research.
Jeff Mullens
Traveled to Chile and Patagonia June 2022
Where to stay in Medellín
Despite a troubled past with drug violence and political unrest, Colombia's second-largest city has recently undergone significant redevelopment. It is now a thriving metropolis with many safe places to stay.
With that said, it is advisable to avoid downtown areas such as La Candelaria they tend to be overcrowded and not the safest, especially for first-time visitors.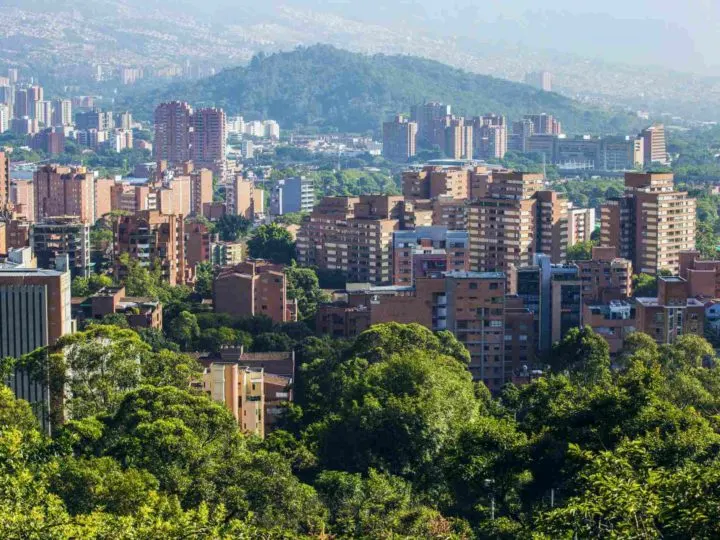 But we still recommend visiting this historic neighborhood for its museums, colorful murals, and important places, including Plaza Botero (with its engorged statues by Colombia sculptor Fernando Botero), Museo de Antioquia, and Parque de Las Luces.
First of our top picks for Medellín neighborhoods is Poblado, the most popular area in Medellín, where you will find most digital nomads and a large expatriate community. Here, many hotel and restaurant staff members are fluent in English.
Next is Laureles, a more laid-back residential area, home to middle-to-upper-class paisas. For those seeking convenience, La Setenta (La 70) is the ideal choice. Located along the Carrera 70 road, hence the name, this area offers everything you need within walking distance.
Besides safety and convenience, easy access to public transportation is another crucial aspect in choosing these neighborhoods. Medellín's world-renowned metro system makes getting around a breeze. Most hotels we have selected are conveniently located near a metro station.
And, even if a metro line does not run directly to the area, you'll have no trouble catching a bus or hailing a taxi to your destination.
Best luxury hotels in Medellín
Click Clack Hotel, Poblado
Your first impression of the Click Clack Hotel ($170 USD or $817,000 COL Double X.S.) will be how thoughtfully built and decorated it is. Though its façade looks like stacked glass and metal, the interior is stunning. From exposed concrete walls to metal accents, Click Clack nicely exudes that urban industrial vibe.
Straying further from the conventional theme, this hotel offers rooms in sizes from the smallest to the largest: X.S. (Economy), S (Standard), M (Superior), L (Junior Suite), XL (Suite), 2XL (Deluxe Suite), to 3XL (Suite Duplex).
Even though every room comes with comfortable beds, complimentary breakfast, and a free minibar, the 3XL ($315 USD or $1,500,000 COL Double 3XL) is the perfect place for a truly indulgent stay. Spread over two stories, this room boasts a spacious seating area and a modern private bathtub.
Hotel Dann Carlton Medellín, Poblado
Located right in the heart of El Poblado, just outside Patio Bonito, Hotel Dann Carlton ($102 USD or $488,000 COL Double) is a good option for all types of travelers. Whether you're planning to seek great food and coffee shops or hit the city's best nightlife spots, this hotel offers the perfect base from which to do it all.
And, for those who prefer to stay in and relax, the hotel's stunning pool awaits. With a design reminiscent of an oasis, the pool area is the right place to lounge in the warm sun, lose yourself in a good book, or sip a refreshing cocktail.
The hotel's high ceilings and gleaming marble tiles ooze sophistication, as do the guestrooms. Each one has a seating area and a dining area; these are more spacious in more expensive rooms. The on-site restaurant is something else.
The scenic glass-walled dining area lets you have that picture-perfect candlelit dinner with the city's twinkling lights in the background.
Hotel Cavalta, Laureles
Finding luxury hotels outside central Poblado can be a challenge, making Hotel Cavalta ($77 USD or $378,000 COL Double) in Laureles a great find at the best price.
Despite its three-star classification, the property's décor exudes the grandeur of a five-star hotel, with elegant wooden paneling, plush leather couches, and tastefully arranged lighting.
Do not let its compact size fool you; Hotel Cavalta's guestrooms offer big, comfortable beds. And the beautifully appointed bathrooms, some of which feature luxurious bathtubs, add an extra touch of sophistication.
But the real showstopper is the hotel's rooftop terrace, complete with a fantastic restaurant, inviting hot tubs, and panoramic views. All in all, it is an excellent choice for where to stay in Medellín.
Hotel Cavalta's location is a great place to start discovering the local culture. Along Avenida 33 and its surrounding areas, you will find some of the best restaurants, including Alma Natura, which serves plant-based dishes that are both nutritious and packed with flavor.
Moreover, Hotel Cavalta is also conveniently located behind Unicentro, one of the city's largest shopping centers, and just a short walk from Nutibara Hill.
Hotel San Fernando Plaza, Poblado
Hotel San Fernando Plaza ($100 USD or $490,000 COL Double) is where hotel luxury and apartment comfort collide. Each room comes with full hotel amenities and homely coziness, while the suites boast spectacular views of the Antioquian skyline.
Satisfy your culinary cravings without ever leaving the hotel thanks to the on-site restaurant and bar. For added convenience, there is even a supermarket located on the building's lower ground.
And, if you're looking to explore the city, El Poblado Park is just a short walk away. Or treat yourself at the on-site spa, where you can indulge in rejuvenating treatments and soak in a traditional Turkish bath.
Best boutique hotels in Medellín
The Charlee Hotel, Poblado
Live large within the center of the actions at The Charlee Hotel ($127 USD or $600,000 COL Double). This hotel combines luxury with the vibrant nightlife of Poblado's El Parque Lleras. And by "vibrant," we mean on-site outdoor pool party and D.J. set. With just 42 rooms available, it is one of the best boutique hotels for party-goers.
Needless to say, those who seek tranquillity should consider other options. But those who understand what expat-favorite Poblado offers to its visitors are welcome to step into the hotel's lobby, which is decorated with contemporary art.
This edginess is in line with the building's geometrical twist of wood and concrete that sticks out amid the red bricks of Medellín.
The Charlee's heart is its two-story rooftop pool and bar, Envy. But the party vibe extends to all guest rooms. Each has a private semi-open balcony, some with a large hot tub and some with a well-furnished seating area.
Hotel Bolivariana Plaza,Laureles
Hotel Bolivariana Plaza's ($73 USD or $358,000 COL Double) emphasis on contemporary decor with bold colors is true to its promise of creating spaces to feel your best during your stay.
Start your day with a complimentary breakfast served on the hotel's top floor. Not only will you have a satisfying meal, but you'll also be able to take in the views of the surrounding area; though you should not expect spectacular views since this is a residential area.
With that said, Hotel Bolivariana Plaza's location is perfect for a peaceful stay that doesn't sacrifice convenient access. It's located across from a university football field and just off the tree-lined streets of Avenida Nutibara. Here you will find many local restaurants serving Bandeja Paisa.
Celestino Boutique Hotel, Poblado
With a tasteful décor that blends natural materials and modern design elements, Celestino Boutique Hotel ($118 USD or $580,000 COL Double) offers an ambiance unlike conventional hotels.
Expect earthy tones, warm wood accents, and textured fabrics all throughout the property, paired with sleek metal fixtures, large artwork, and bold geometric accents. Some guest rooms even feature private balconies, providing a tranquil outdoor space for you to relax and take in the hotel's unique design.
Make some time to see the property's rooftop terrace, where you will find the on-site café, Alta Provenza, which shares the area with a sundeck and Jacuzzi. It's a great spot to enjoy coffee and cocktails while taking in the panoramic views of the city.
A more popular choice of relaxation would be the hotel's spa. Celestino Spa is dedicated to providing a luxury experience through deep tissue massages and soothing aromatherapy.
23 Hotel, Poblado
Dubbed "the perfect setting for a full life in the tropics", 23 Hotel ($147 USD or $700,000 COL Double) is the place to boost your Vitamin D intake. All rooms come with floor-to-ceiling windows so you can soak up as much sunlight as possible. You're also spoiled by the fantastic views of the mountain and city, which are only obstructed by surrounding trees.
The best thing about the 23 Hotel lies in its details. Colombian artisans contributed to the hotel's design and décor, which feels tastefully 70s in style. As a result, 23 Hotel catches everyone's attention at first glance.
Select rooms come with a window nook where you can sit and relax, while suites have bathtubs with splendid views from their spherical windows.
Best cheap hotels and guesthouses
Hotel Dorado La 70,Laureles
La Setenta, where Hotel Dorado La 70 ($49 USD or $240,000 COL Double) is located, is bustling with street vendors and cheap eateries, which is why this area is popular among budget travelers. Moreover, many bus routes run through this street, and Estadio Metro Station is just a stone's throw away.
To counter such buzzing street activities, Hotel Dorado La 70 promises soundproof guest rooms. Combined with a minimalist yet cozy setting, you can rest easy.
Some rooms have small, private balconies while others only have windows facing the hallway. If this is a big deal for you, make sure you request the room you prefer when booking.
If you're not lucky enough to secure a room with a private balcony, don't worry! The hotel's rooftop bar on the 12th floor is perfect for relaxing and taking in the views. Enjoy a drink while listening to live music and let the city's skyline set the scene.
La Campana Hotel Boutique, Poblado
La Campana Hotel Boutique ($59 USD or $290,000 COL Double) offers two things that are usually hard to find in Poblado: tranquillity and free parking (private but unenclosed). Each of the 14 individually-decorated rooms, spread across two stories, exudes a quaint and cozy atmosphere.
From the moment you step inside, you will notice the beautiful artworks that perfectly complement the warm, inviting furniture.
The charm does not stop there. You get to soak in the lush greenery of the hotel's gardens while enjoying your complimentary American breakfast, served by the friendly staff.
Some rooms are even situated directly in front of one of the property's many green spaces, offering an unexpected escape from the busy atmosphere of Poblado.
La Campana Hotel Boutique also offers city tours at an extra cost. We recommend the Silletero Tour to travel to Santa Elena and learn about the traditional art of silleta-making, where intricate wooden frames are crafted to hold bouquets of flowers.
Rango Hostel Boutique, El Poblado
Although it's called a hostel, Rango Hostel Boutique ($60 USD or $296,000 COL Double) caters to all types of travelers, not just those who enjoy partying or have a youthful spirit. Old souls can relax in one of the property's many private rooms, each one decorated in a particular theme. For instance, Our favorite room, La Aurora, boasts two double beds and ample space.
The hotel's rustic décor and vintage elements will catch your eyes the minute you step into the lobby. The design is inspired by the western cowboy theme, creating a unique and fun atmosphere.
This ambiance extends to the rooftop terrace, lounge area, bar, and communal kitchen, which are all popular hangout spots for guests and can be used regardless of the type of room you are staying in.
Rango Hostel Boutique is situated right next to Parque Lineal La Presidenta, one of the largest green spaces in the neighborhood. On the same street, you will find Zaaika, considered by many to be the only authentic Indian restaurant in the city.
Hotel Alcaravan, Itagüi
Itagüi, where Hotel Alcaravan ($37 USD or $182,000 COL Double) is located, is just south of Medellín. Its proximity to Medellín, well-connected metro system, and lower instances of petty crime make Itagüi a fantastic alternative to where to stay in Medellín.
Among several best places to spend the night here, we think Hotel Alcaravan is the best option for its great value.
The rooms at Alcaravan are neat and simple with wooden furniture and nature-inspired accents. Choose from three room types – standard, twin, or triple – all equipped with amenities such as a small workspace and cable television. Keep in mind, twin rooms feature two queen-sized beds instead of single beds.
Another thing to note is that these rooms are not equipped with air conditioning; instead, have wall-mounted fans. Despite this, the region's average annual temperature of 22°C (72°F) means this should not be an issue.
For more information on the weather conditions in different regions of Colombia, check out our guide to the best time to visit Colombia.
Best hostels and shared accommodations
The Wandering Paisa, Laureles
The Wandering Paisa ($8 USD or $40,000 COL Single), known for its relaxed and friendly atmosphere, claims to be the best hostel in Medellín. Located in the upscale neighborhood of Laureles, this hostel offers a quieter space compared to those on Carrera 70, while still being just a block away from the convenience of the La Setenta neighborhood.
Choose from a variety of dormitory-style rooms with four, six, or eight beds, or opt for a cozy private room; each one decorated with bright colors and local artwork. Keep your belongings secure with lockers in the shared rooms, though note that they may not fit larger backpacks.
The hostel's communal spaces – including a bar, a cozy reading corner with hammocks, and a well-appointed courtyard – provide a great spot to unwind, socialize, and connect with other travelers. While it may not be our best pick, it is certainly an excellent option for budget-conscious travelers looking for a comfortable and affordable stay.
Medellín Vibes Hostel, Poblado
Medellín Vibes Hostel ($16 USD or $80,000 COL Single) is strategically located in Poblado's "zona rosa" or pink zone. With just a five-minute walk to the largest supermarket in the neighborhood, Éxito, and a 10-minute walk to the Poblado Metro Station, you're in the perfect spot to explore the city. It's worth noting that the area is known for its nightlife and may not be suitable for children and young adults.
That said, adults and those young at heart will enjoy staying at the Medellín Vibes Hostel. The hostel's public spaces are decorated in tastefully crafted woods, stones, and irons, which pay tribute to the region's heritage. The guestrooms are simple, adorned primarily in white with soft, earthy hues.
The dormitory-style rooms at Medellín Vibes Hostel offer a choice of four, six, or eight bunk beds, each complete with spacious lockers plus individual lights and power outlets for added convenience.
The beds are equipped with thick curtains for privacy and security railings for peace of mind. For those seeking a little bit more privacy, the hostel also offers private rooms. There's also a refreshing swimming pool for relaxing after a hot day.
International House Co-Living, Laureles
Unlike most shared accommodations, The International House $22 USD or $100,000 COL Double) provides private rooms only, but with shared bathrooms and common areas. That way, you can say goodbye to sleepless nights caused by noisy roommates and hello to a comfortable and social stay, although we should note that the property is right next to a hostel and a sports complex.
Moreover, International House Co-Living also offers fantastic monthly deals, starting from $367 USD or $1,800,000 COL per month.
If you're a digital nomad or a long-term traveler looking for a more affordable and comfortable alternative to budget hotels in Medellín then we highly recommend their best room with a private bathroom, priced at $490 USD or $2,400,000 COL double.
The rooms at International House Co-Living are on par with cheap hotels throughout the entire city of Medellín. Each room is equipped with comfortable queen-sized beds, rotating office chairs, work desks, and Smart T.V.s, with some even featuring private balconies.
With only 19 bedrooms but 12 bathrooms (all with hot water!), everyone gets their own privacy when needed.
---
Looking for more expert-written guides to help you plan your trip to Colombia? Check out our Colombia itineraries to help you plan how you'll spend your time, our guide to what to do in Cartagena and the surrounding area, and our guides to destinations including coffee town Jardín and stunning national park, Los Nevados.