So your trip to Colombia has been every bit of the adventure you had hoped for. You've enjoyed the sights and the buzz of Cartagena and Medellin, but you're ready to switch gears and see a more traditional side of Colombia. Look no further than the guide to Jardín Colombia (har-DEEN).
Of Colombia's many can't-miss destinations, Jardín ranks among the very best for its laid-back tranquillity, well-preserved colonial architecture, ideal natural backdrop, and friendly local population.
Colombia has other beautiful colonial-era towns, including Villa de Leyva, Barichara, and Santa Fé de Antioquía, but unlike the others, Jardín remains largely unchanged by the tides of modern-day mass tourism.
As soon as you arrive, you'll notice that the traditional hamlet of Jardín is a world apart from urban Colombia. Readers of Colombia's Nobel laureate, author Gabriel Garcia Marquez, may picture Jardín as a mountainous version of Macondo, the setting of his most famous novel, One Hundred Years of Solitude.
It has a timelessness often sought but rarely found. This is a place to turn off your phone and settle in a while.
While Jardín, Colombia, is the perfect place to kick back and relax, the town and surrounding area are full of activities and attractions to keep you busy. From architectural gems and rustic home-style restaurants to rejuvenating hikes and visits to coffee farms, Jardín has a lot going for it. Without further ado, here is our complete guide to what to do in Jardín, Colombia's best colonial town.
1. Take in the stunning Basilica Menor
As you arrive in town, the first building that draws the eye is the Basilica Menor de la Inmaculada Concepción. An imposing neo-gothic structure, the church towers over the rest of the town and has an ornate and colorful marble and turquoise tile interior.
During festivals and religious holidays, the basilica is decorated and illuminated at night and makes the centre of town that much more beautiful.
Planning Your Trip to South America?
Save time, stress & money with a customized travel itinerary planned for you by a South America expert
What previous clients have said:
Going to a new and exciting place is an adventure AND has its challenges. Being able to carve out an in-depth plan with someone that has been there and whom you can trust was extremely helpful.
We felt comfortable embarking on a six-week backpacking trip with kids ages 8 and 11 with Steph on our team. Her expertise and ability to hear what we wanted gave us a great jumping point for planning. Her advice and wide array of options also allowed us to be flexible. It also gave us peace of mind knowing that we had someone we could call if our plans went awry.
Every one of Steph's recommendations panned out to be incredible pieces of our trips and we would highly recommend her!
JORDAN AND KAYLEIGH
Traveled to Peru, Bolivia, Argentina and Patagonia
2. While away an afternoon in the Plaza Principal
Every town of note in Colombia has a central plaza, and Jardín is no exception. Its well-manicured Plaza Principal was re-designed after a 1979 earthquake despoiled most of the original. Directly facing the basilica, the plaza is the geographical and social hub of the town.
The street surrounding the square is partly pedestrianized, as cafes put out colorful tables and chairs for locals and tourists alike to sit and enjoy coffee and a snack. Within this perimeter, the plaza is centered on a fountain framed by well-kept beds of roses.
Scroll down to continue reading our guide to jardín Colombia article.
3. Wander town with your camera
Once you drop off your bags and begin walking around town, you'll notice just how photogenic a town Jardín is. Locals take pride in maintaining their property, with most colonial-era buildings showing off skilled carpentry and a fresh coat of bright paint. The town was constructed in a grid, offering straight lines that highlight the backdrop of the surrounding mountains.
There is no bad time to venture out to take photos, but the sunrise, dusk, or following the afternoon rain are ideal times. The blocks in the vicinity of the basilica are obvious places for good photo opportunities, but streets with less foot traffic further from the centre, as well as the hills overlooking the town, offer their own charm.
4. Take in the local ambiance with a local cup of coffee
Seeing as this is coffee country in a nation renowned for its robust and flavourful beans, any time of day is a good time for a cup of the real deal. You can either do as the locals do and sip a hot cup of thick, strong tinto, or go next-gen with an espresso, latte, or cappuccino. The product is all local here; you'll be hundreds of miles from the nearest Starbucks.
There are several cafes surrounding the Plaza Principal, and no matter where you are in town you're never more than a few steps away from your coffee fix. For people watching and a local experience, pick any place with street-side seating.
5. Enjoy a performance at the Municipal Theater
Another surprise up Jardín's sleeve is its understated but charming Teatro Municipal de Jardín, the Municipal Theater. Performances include classical and contemporary music, dance, lectures, and cinematic exhibitions. The theater is located on the corner of Calle 9 and Carrera 2.
6. Visit the local botanical garden and nature park
On the small road heading north out of town (at the end of Calle 13), is Mi Jardín Encantado, a small but lovely garden run by its friendly and knowledgeable owner. Visitors can enjoy the wonderful array of flowers, including many varieties of orchids, as well as many varieties of birds including cock-of-the-rock (rocas), tanagers (tangaras), and hummingbirds (colibrí).
On the opposite end of town, you'll find Jardín Natural de Rocas, a lovely escape just under the town and next to the river. The owners have transformed what was a pasture into a garden full of flowers that attract butterflies and birds, especially the gallito de rocas, aka the tangerine-breasted Andean cock-of-the-rock. To reach the garden, walk south on Calle 9 until just before the river, where a path leads to the entrance.
7. Ride a cable car for an aerial view of Jardín
It may surprise visitors that the little village of Jardín has not one, but two, cable cars leading up to the surrounding heights. Better yet, these two cable cars could not be more different.
The first, La Garrucha, was built to transport people and supplies beyond the difficult terrain south of town. Although it continues to serve this purpose, it sees more use as a tourist attraction these days.
At first, glance, riding La Garrucha may not seem the safest of activities, and those of a nervous disposition may opt to take a pass on this one. That said, it's totally safe and quite the experience to ride what looks like a wooden tool shed dangling far above the ground. This cable car leaves from the southern edge of town, at the end of Calle 12, and costs around $4,000 COP ($1 USD). At the viewpoint, there's a cafe with light bites.
The second cable car, the newer Cable Aero de Jardín, is closed indefinitely but will hopefully open again soon. It's located at the north end of town.
8. Ride to a cave and waterfall on horseback
Horses aren't just for tourists here; they're part of the traditional way of life. It's not uncommon for farmers and ranchers to ride a horse into town, and many locals offer excursions in and around Jardín.
Your hotel can help organize a tour, or you can simply arrange it yourself with the Caballeros (horsemen) around the Plaza Principal, some with horses and others with mules. Alternatively, Aramacao Tours is an experienced, locally run venture, and can make all the arrangements for your horseback day trip.
A popular day trip is to Cueva del Esplendor (Cave of Splendour), which has a gorgeous waterfall at its heart. Another great ride leads to the nearby Cueva de Los Guacharos (Cave of the Birds), set just behind a spectacular multi-level waterfall. Tours run from $50,000 to $100,000 COP ($13-$26 USD) per person.
These trips can also be made by a tour on local jeeps, which leave from the Plaza Principal.
9. Go on a dawn or dusk bird-watching hike
While bird-watching might not seem the most exciting activity on the list, take into consideration that Colombia has the second most species of birds on the planet – The variety of colorful and unique birds here never fails to impress. While you can see a number of species at the previously mentioned gardens near the town, a walking tour outside of town will reveal the more elusive species.
Birders regularly spot toucans, parakeets, hummingbirds, woodpeckers, falcons, owls, and Andean cock-of-the-rocks. We again recommend Aramacao Tours, whose experienced guides are knowledgeable and informative. Binoculars are included in the tour.

10. Visit a coffee plantation
If you're a coffee drinker, you can't visit Colombia and not sample the national drink straight from the source. This region is rightly famed for its ideal soil for growing coffee beans, and unlike elsewhere in the world, many of the Fincas (plantations) are still worked by smallholders on family plots of land.
Finca La Florida offers excellent tours in English, explaining the process that goes into cultivating, harvesting, and roasting their all-organic beans (they also make their own honey). Visitors can also join in picking beans during the tour or learn the basics of beekeeping.
While larger coffee producers have increasingly mechanized and industrialized their production to meet export demand, small operators still do everything by hand. La Florida is located a 20-minute moto-taxi ride northwest of town.
11. Where to eat in Jardín Colombia
The regional food in this part of Colombia is known for its fresh ingredients and hearty portions. It's food meant to keep a farmer on their feet from dawn till dusk. Visitors here will find good value rather than pretension on their plate.
Although there are many pizza and pasta restaurants sprouting up around town, the local fare generally consists of some combination of rice, beans, arepas, eggs, pork, plantains, or avocado with a small salad, served with fresh fruit juice mixed with either water or milk.
A great-value option to satisfy some serious hunger is Donde Andrés Restaurante, on the south side of town on Carrera 7. They offer the standard options, plus sancocho (hearty chicken soup with potatoes, yuca, corn, and plantains) and bagre (catfish).
Around the corner from Donde Andrés on Carrera 6 is La Parrilla de Mi Pueblo, which features steaks and grilled trout, in addition to decadent chicharrón (deep-fried pork belly) and morcilla (blood sausage).
Just behind the cathedral on Carrera 5 is the more upscale Óleo Bistro, offering a wide range of dishes from grilled bass to pork loin with blue cheese. Their back patio is a lovely setting for dinner.
For dessert, head over to Cocoa Café Francés on Calle 8, which specializes in ice cream, sweet crepes, hot chocolate, and coffee. If a pastry or slice of cake is more to your liking, try Café Macanas Dulcería Jardín, on the south side of the Plaza Principal. Their arequipe (caramel sauce) comes in several flavors, including coconut and fig.
Jardín doesn't have much in the way of nightlife, but for a cold beer, rum, or aguardiente, El Balconcito is on the north side of the plaza and stays open late.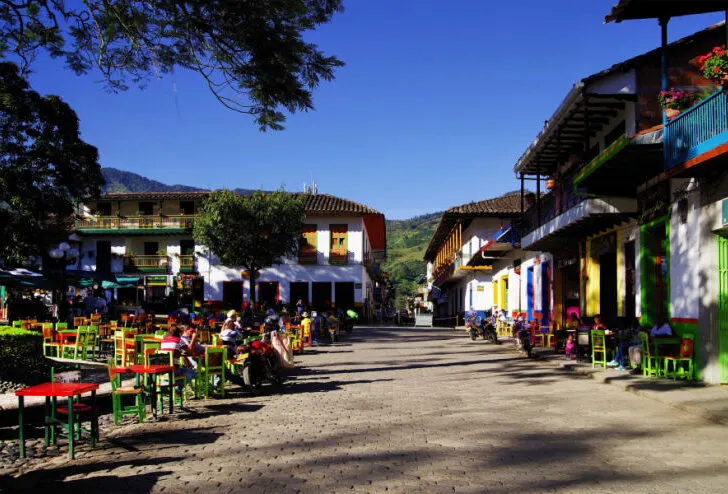 Where to stay in Jardín Colombia
As Jardín grows in popularity, its accommodation options continue to grow. Whether you're looking for a boutique hotel with modern touches or a well-kept rustic hotel with local character, there's a good option for every traveler.
Hotel Jardín Antioquía ( $45,000 COP ($12 USD single), $80,000 COP ($21 USD) double and $240,000 COP ($63 USD) apartments) is a wonderful bargain, with both private rooms and apartments available at the right price. The brightly-painted property is built around a lovely courtyard with a fountain, and there are spacious common areas for socializing. Rooms and suites are well-furnished and have lovely artistic touches. The hotel is right beside the basilica on Carrera 3.
If you're looking for an upscale option, look no further than Hotel Plantación ($39,000 pesos ($90 USD) double). The well-appointed rooms have modern bathrooms, plenty of natural light, and modern creature comforts to ensure a comfortable stay. The owners seek to make their business an environmentally-conscious venture, being a part of, rather than an obstacle to, the natural environment. The property is on Carrera 9, just around the corner from La Garrucha.
Another great pick is Casa Passiflora Hotel Boutique ($350,000 pesos ($92 USD) double), a comfortable oasis in the centre of town. Highlights include a heated plunge pool set in a tranquil patio with comfortable seating. Perks include modern bathrooms, huge smart TVs, and a good breakfast buffet. The hotel also includes the aforementioned Óleo Bistro.
How to get to Jardín
The isolated town of Jardín is located a three-hour drive southwest of Medellin. The roads wind through the mountainous terrain, making for a scenic drive. Visitors can arrive by bus or car.
Buses leave several times a day from Terminal del Sur right in front of Olaya Herrera Airport in Medellin. Rapido Ochoa operates six daily buses each way and tickets are $64,000 COP return ($17 USD).
Another option is to rent a car and make the journey yourself. We recommend Localiza Rent a Car, which has branches in Belén, El Poblado, and both airports, and tends to be far better value than the big international chains; you can find all options by using Rental Cars, a company that provides insurance documents in English.
The highways between Medellin and Jardín are secure and in good condition, but keep in mind the drive will be almost entirely on twisting, two-lane roads.
Some travelers choose to head south from Jardín to Eje Cafétero (The Coffee Axis), which comprises the region surrounding the three cities of Manizales, Pereira, and Armenía. Early morning buses leave Jardín for Manizales, but you may need to change buses in either Riosucio or Supia. Inquire at your hotel for details on the day your plan to travel. If visiting Eje Cafétero, make sure to check out the incomparable Los Nevados National Park.
When to visit Jardín
Although Jardín is a great year-round destination, many choose to visit during the bi-annual dry seasons from December through February and July to September. During the wet months, rain usually falls in the afternoon and evening. The town can get a bit busy during the holidays in late December and January. Mid-week is ideal, as most tourists visit at the weekend.
FAQs
Is Jardín a safe destination?
Yes, the town and surrounding area are quite safe. Solo travelers are safe on their own, and visitors have reported feeling safe after dark. Some travelers have reported stray dogs outside of town, so make sure to stick to marked paths. As always, visitors should exercise common sense and mind their belongings, but you are unlikely to encounter any serious problems during your visit.
What should you bring with you to Jardín?
Because you'll likely spend a fair amount of time outdoors, it's advisable to bring a comfortable pair of walking shoes or boots, and a rain jacket. Evenings get cool, so a sweater is a good idea as well. Sunscreen is a must, as UV levels are high at this altitude.
Cash is king here, so outside of hotels and a few restaurants, plan on paying in pesos (COP). There are a number of ATMs in the centre of town in case you need to take out money.
For more on this amazing country, check out our guide for the best places to visit in Colombia and the best one and two-week itineraries for Colombia.