Fancy heading to a country which has it all? Colombia is the place for you. Whether you love sitting on a beach and swimming in warm tranquil waters, climbing mountains, tasting delicious food, chocolate or coffee, exploring ancient ruins or trekking through jungles – Colombia has something for everyone.
Visiting Colombia is perfect for a vacation or make it a longer adventure backpacking through Colombia.
As a huge country, it does require you to move around if you want to appreciate all of its diversity and the following Colombia travel itineraries aim to help you do just that!
The routes below for traveling through Colombia help you to navigate all of the most fascinating places to see and things to do, with options for a week, ten-day or two-week stay.
All are aimed at being both accessible and helping you to minimize your travel time. To help you travel as sustainably and environmentally-friendly as possible, I've tried to keep flights far and few between.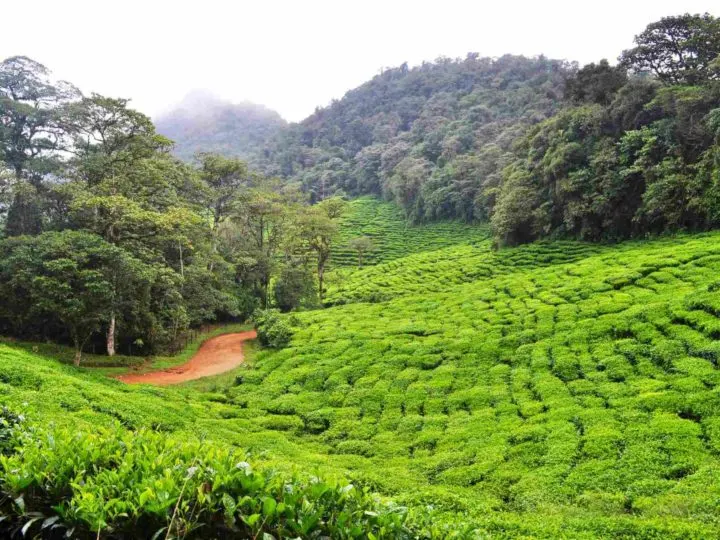 How to plan a trip to and travel around Colombia
Colombia is a big place. Whenever travelling remember: less is more. Plan your Colombia itinerary to allow you to take your time and get to know the culture and the places you are visiting before jumping on a bus or plane to your next spot.
Flying is a relatively affordable means for traveling through Colombia, particularly if you book in advance. It can save you a lot of time, too. There are a few different airlines and most routes are serviced by more than one. It is not uncommon to find a one-way flight between Santa Marta and Medellin for as little as $40-$60 USD, for example. Key airlines: Copa, Avianca, Satena and LATAM (Check for the best prices via Skyscanner.com) Some will include baggage in their fare but others won't. Be sure to check this before you book!
Buses are also really reasonable in price per distance traveled. However, a lot of the routes are very long and some are notorious for pickpockets. I never had any problems but we did meet people who had had items stolen from their bag whilst they were sleeping on the route between Cali and the Ecuadorian border. To keep yourself and your items safe, carry a money belt (applicable for any travel in Colombia), and if you have to take a night bus, make sure your valuables are on your person at all times.
Wherever you are coming from, you may well have to fly into Bogotá. Colombia has so many incredible places to see; sadly Bogotá is not one of them. If you can, try to begin your trip in Medellin, Cartagena or even Cali. If you are flying into Bogotá, you can easily take a connecting flight elsewhere.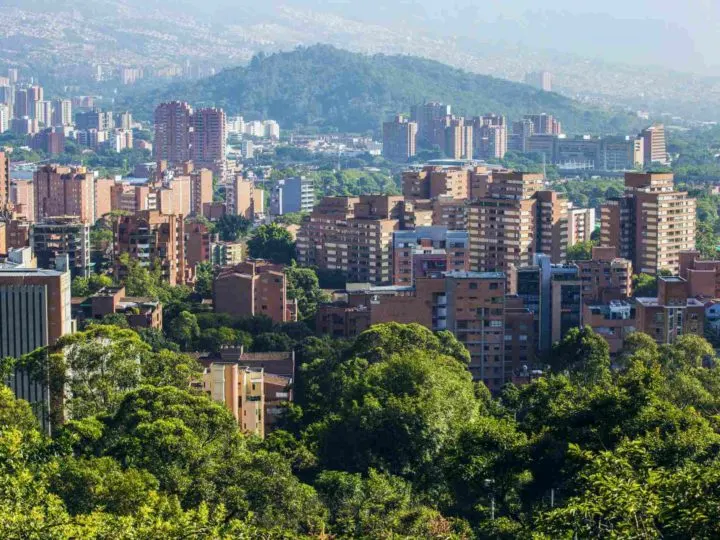 One week in Colombia itinerary
Medellin – Guatape – Jardin – Salento
There is so much to see and do in Colombia; however, for me, the area around Medellin is the absolute highlight.
This Colombia travel itinerary couples the country's most interesting city with the coffee-growing mountains around Salento and Jardin.
If you are looking for a Colombia itinerary to help you explore this glorious country in one week, this is where to head.
Days One and Two: Medellin
Medellin is one of the most notorious cities on the planet and also one of my absolute favorites. It's a vibrant, youthful city that is the capital of the Paisa region – whose people are known for their remarkable hospitality.
Book yourself in advance on the walking tour with Real City Tours for your first morning in Medellin. The tours start at 9.14am, 10.24am or in the afternoon at 2.19pm (yup, seriously) and are free but, like most others in cities across South America, run on tips – which you will definitely want to do.
The guides are engaging, personable and thorough in their explanations of the journey of Colombia for the past 100 years or so. They are frank and mainly from Medellin so they have first-hand stories of the tragedies that have taken place here.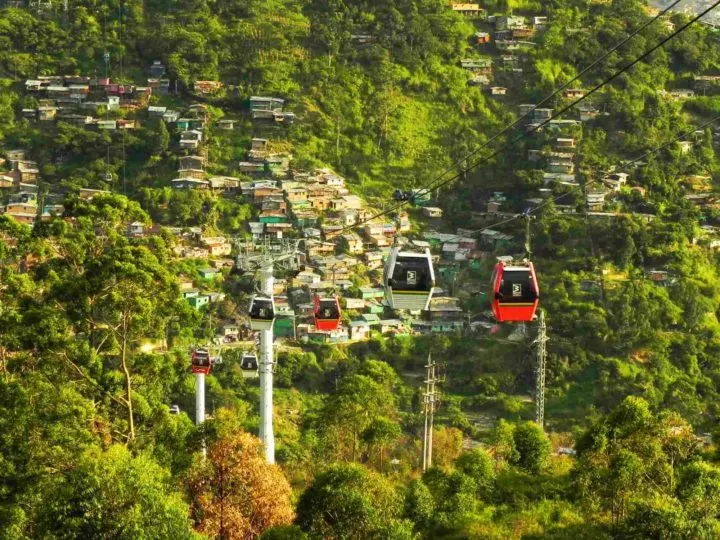 In the afternoon, head out to the gondola, which takes you up into Park Arvi for a spectacular view over the city. To get there, take Metro line A up to Acevedo before changing onto line K (the gondola). Once you get to the end of line K, you'll transfer again onto line L. A ticket on this gondola is $6,000 COL ($1.80 USD) each way.
Top Tip: If you only want to ride up and straight back down again, you only need one ticket. If you get off the gondola and want to walk around the park, you'll have to pay again.
Medellin is well known for its lively nightlife. If you're staying in El Poblado, you'll be right near the heart of the action. Check out three great bars: El Social (Carrera 35#8a-8) has a more local vibe, Mad Radio (Calle 8a # 33 – 40) has good and sometimes live music (it is a radio station too!) and great cocktails, and Panorama (Calle 8 # 34 – 33) also has great cocktails and a lovely view of the city.
For later on there are many clubs offering loads of different music styles. Try Calle 9+1 for everything from underground house to disco and techno.
On your second day in Medellin, head to Comuna 13, which was the nucleus of the cocaine empire that once existed in this city until the early 90s.
It's now perfectly safe and boasts a newly installed set of escalators, which takes you up the hillside and graffiti from some of the most talented street artists from Colombia and across the world.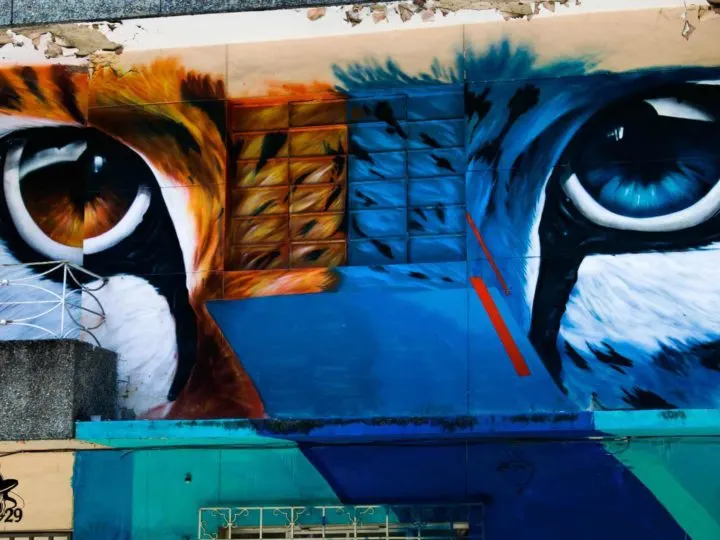 There are plenty of free tour options. Or, if you've already been on the Real City walking tour, I'd recommend heading to Comuna 13 by yourself and exploring it on foot.
To get there, hop on the Metro to San Javier (orange line out of San Antonio) and then punch in "Escalator Comuna 13" on Google Maps, or click here. It's perfectly safe during the day to walk around (you'll see plenty of other tourists) or you can hop in a local taxi or Uber.
Top Tip: as you head up the hill towards the start of the escalators along Carrera 109, make sure you stop off at the small empanada shack with a blue sign above it. The lady selling them is delightful and so are her empanadas!
In the afternoon head to the botanical gardens to see the nicest park in the city, full of beautiful flowers attracting plenty of birds. To get there, take the Metro to Universidad.
Feeling peckish? Check out the restaurant in the middle called IN SITU for good food in a sea of tranquillity – a great escape from the madness of the city.
Depending on when you are in Medellin, you may be able to catch an Atletico Nacional football match. The team aren't amazing but the atmosphere is incredible. Tickets are super reasonable ranging from around $18,000 – $40,000 COP ($5-$12 USD). You can buy them at the stadium before the game.
Where to stay in Medellin: There are plenty of brilliant places to stay in Medellin; we recommended the art-inspired 23 Hotel, with its spherical windows and mountain views from the bathroom!
Day Three: Guatapé
On the third day of this Colombia travel itinerary, you'll want to head out on a day trip to the beautiful town of Guatapé. Sitting on a lakeside, this quaint town is just two hours from Medellin and is perfect for a day trip.
The highlight here is a hike up to the top of El Peñol for spectacular views of the huge lake, considered one of the most picturesque in all of South America. It costs 18,000 COP ($5.30 USD) to hike El Peñol and you can buy drinks and snacks at the bottom or at the cafe at the top. Spend the rest of your day wandering the beautiful streets or grab a coffee and chill in one of the plazas.
To get to Guatapé take a bus from Terminal Norte, which is located next to the Caribe Metro Station on Line A. Tickets are sold at either booth #9 or #14 in the terminal and shouldn't cost more than $15,000 COP ($4.50 USD). Once on the bus you can choose to be dropped in the town center or at El Peñol.
Days Four and Five: Jardín
From Medellin, hop on a bus to Jardín. Tickets should be $27,000 COP ($8 USD). It takes three hours or so and departs from Terminal Sur.
Jardín was one of my absolute favorite places in all of Colombia (read our complete guide to Jardín). It is delightfully set in the mountains, surrounded by the greenery of the banana and coffee plantations. The town is quiet and rustic and the plaza in the middle is completely idyllic – perfect for grabbing a coffee or two and sitting for a few hours in the morning.
After some lunch head off on an easy stroll up through the banana and coffee plantations to the old yellow gondola, Garrucha. Here is a route map.
Chill out for a bit in the cafe at the top of the gondola, which boasts lovely views over the town and the surrounding mountains. Head back down in the gondola $7,500 COP ($2.30 USD) per person, as it rattles just over the top of a plantation. It's quite an experience!
A great way to spend an hour or so wandering around and getting your twitching fix is in the Parque Nacional Jardin de Rocas. You can see the strange but beautiful (and wonderfully named!) Andean cock-of-the-rock, as well as hundreds of smaller and beautifully colored birds dancing around the flowers and fruit left out for them to eat.
Entrance is 10,000 COP ($3USD). The website claims you should contact them in advance to book a spot to visit, however, we just turned up rang the bell and the owner came out and greeted us with a warm smile.
If you fancy a sweet treat in the late afternoon, head to Dulces Del Jardin, a family-run dulceria which is famous for its arequipe, a sweet spread a lot like dulce de leche. They also do a cracking pana cota and arroz con leche (rice pudding).
Days Six and Seven: Salento
Nestled in the Los Nevados mountains, the beautifully picturesque town of Salento is surrounded by lush green fields and plantations. This is the beating heart of Colombia's coffee-growing region, where you can learn why this is one of the best places on earth for coffee beans.
Take a jeep from the plaza in the center of town and head out to one of the many fincas (coffee estates). Don Elias is a small, family-run finca, with a short but personal tour that leaves hourly. Finca El Ocaso is bigger, with a longer tour which goes into more detail about the coffee-making process, from berry to cup.
Both give you a good idea of how it all works. All the cafes around Salento will serve great coffee if you just want to drink as much as you can.
Another top thing to do in Colombia is play the national game, tejo. This game is essentially throwing rocks at gunpowder and Salento is supposedly where it comes from. Head to one of the two best spots: Bar Danubio (pool upstairs, tejo downstairs) or Los Amigos.
Don't be afraid to get involved. The laws of the game are written in English and the people working there are super friendly and helpful. Most importantly, the beers are cheap and the rum measures are large! Plus, if you hit that gunpowder, it's utterly exhilarating.
Finally, the Cocora Valley hike is one of the highlights in all of Colombia. Here you can walk amongst the tallest palm trees in the world. The trail is essentially a loop with a small detour halfway to a gorgeously situated finca that sells wonderful coffee and hot chocolate for you to sip on as you watch hummingbirds dancing around you.
Read our complete guide to Los Nevados National Park for more information.
To get here:
Get an early jeep from Salento (they leave at half past the hour every hour from 6.30am from the main square and cost $3,600 COP ($1USD)); you will avoid the tours this way.
Begin the loop by heading down the right side. The track up this side is narrow and a bit muddy and there is one point where you have to negotiate a steep hill. By starting on the right, you go up the narrow, occasionally muddy track instead of down – something you'll likely find easier.
Top Tip: Get a jeep ride over to Filandia for an afternoon of people-watching and coffee-drinking in the quaint, beautiful plaza and get amazing views up the mirador tower just a short walk from the town.
From Salento you can either get a bus back to Bogotá or to Medellin. If heading to Bogotá, you'll have to go back to Armenia and catch a connecting bus. You can also fly from Armenia to Bogotá, as there are three flights a day.
If heading to Medellin, there are a number of direct buses from the bus terminal in Salento. The timetable changes regularly so head to the terminal a day or so before you plan to leave to check the times and buy a ticket as the most popular buses can sell out.
10 Days in Colombia: Travelling through the south
Cali – Popayan – San Agustin – Tatacoa Desert – Salento
If you have 10 days in Colombia, start in Cali, heading south on a largely untrodden tourist path.
Here, you can discover the mysterious, ancient pre-Columbian civilizations, watch the sunset over the colonial city of Popayan, star gaze in the desert, and finish in the coffee plantations of Salento.
Days One and Two: Cali
Spend your first few days of this ten-day travel itinerary getting to grips with Colombia by learning how to salsa like the best of them in Cali.
By day, wander the streets of Barrio San Antonio (the bohemian district in Cali) dotted with cafes and bars and explore the nearby Iglesia de San Antonio (Carrera 10). In the evenings, dance the nights away in the party capital of Colombia.
For the best music, make sure you check out: Zaperoco Salsa Bar (Ave. 5 Norte #16), one of the oldest institutions with great music, so either sit back and listen or get on the floor and dance! La Topa Tolondra (Calle 5 #13-7), is another bustling bar with live music.
Cali isn't safe to walk around at night, so always take a taxi – Uber works here.
Days Three and Four: Popayan
Heading south, catch a bus from Cali to Popayan (2.5-4 hours). It follows the Panamerican Highway so the journey is smooth and easy. Multiple services run each day from the bus terminal in Cali.
Spend a day wandering Popayan and exploring its cobbled streets, delightful churches and a picturesque plaza, Caldas Park. The food here is really good too, as it's home to the particularly moreish empanadas de Pipian, which are filled with potato and served with a delightful peanut and chilli dip. The best place to try them is La Fresa (corner of Calle 5 and Carrera 9).
For sunset, grab a few beers and head up Cerro El Morro for a spectacular view over the city. The climb up the grass bank is pretty steep if you head up from the main street so bring appropriate footwear! Otherwise, you can take the gentler path via Calle 1BN.
For your second day, you have two options:
Visit the famous market in Silvia
Head to the market in Silvia where people from villages in the surrounding mountains congregate every Tuesday. This is more of a food market so you'll be able to try some local delicacies and empanadas, but the best part is just wandering around, talking to the locals and generally soaking up the atmosphere.
Most hostels and hotels advertise tours for Silvia, however, the cheapest and best option is to hop on a bus from the Popayan bus terminal. Look for the bus company Coomotoristas.
Buses are frequent throughout the day but it will take over an hour to get to Silvia so head off early to catch the best of the market in the morning.
Purace National Park
Want to see a condor up close? The Purace National Park is home to three condors as well as a really interesting variety of wildlife. The park ranger will put out some meat on a rock, which juts out from the edge of a cliff to bring the condors closer.
Unfortunately, bus timetables make this trip impossible to do on your own if you want to really enjoy the park. Therefore, the best option is to take a tour. There are a number of tour operators running these but they appear to change quite often.
We went into the tourist office just off the main plaza in Popoyan and got all the information we needed from there (FYI the tourist office on Google maps is incorrect. You'll find it on the west side of the plaza). If you want to book in advance, Popayan Tours run day trips.
Days Five to Seven: San Agustin
San Agustin is the best spot in all of Colombia for archaeology. Here, a civilization that we unfortunately know little about existed for some 1,000 years from around 1 AD has left us with hundreds of beautifully carved and well-preserved statues, which are well worth the arduous journey to reach.
To get to San Agustin from Popayan on what is a slow but scenic drive (roughly four hours), there are a number of departures from the bus terminal in Popayan. The times are subject to change so head to the bus terminal the day before and purchase a ticket.
Note that, while you have a ticket to get you to San Agustin, the bus will not take you all the way there because it will most likely carry on to Pitalito. Don't panic, the driver will get out and flag down one of the regularly passing collectivos for you, which will take you the rest of the way, for no extra cost.
The following day, head out to the Archaeological Park. It's located around five kilometers from town so it is perfectly possible to walk.
Otherwise, it is relatively inexpensive to take a bus or taxi from town. The park is split over a number of different sites and has a brilliant museum, which is a great starting point for any visit.
A walk up to Chaquira for a bit more archaeology and some great views is highly recommended.
For your second day in this beautiful town, take advantage of a horseback or jeep tour of the other sites around the town. Both take you out into the beautiful countryside and could include: visiting the highest waterfall in Colombia – 'Salto de Bordones' – or some of the other amazing archaeological sites in the area, such as Alto de los Ídolos and Alto de Las Piedras.
Most hostels or hotels will be able to set this up for you so ask at reception. If they don't, there are tour agencies just off the plaza in town.
Horseback tours should cost between $50,000 COP-$70,000 COP ($15-$20 USD) per person depending on whether you have a private or group tour. For a jeep tour, it will cost between $40,000 COP-$50,000 COP ($12-$15 USD) per person.
Day Eight: Tatacoa Desert
From San Agustin, head north to visit the sparse desert-like landscape near Neiva, the Tatacoa Desert. Here, you can cycle through the barren lands in the day, swim in a pool in the middle of the desert and star gaze from an observatory at night.
The Tatacoa Desert is split into two parts: the red and grey. In the morning, cycle out into the grey desert. Aim for the Los Hoyos, which is where the swimming pool is. Next to the pool is a 30-minute walking loop you can do out into the desert to get close to eccentric-shaped sand banks.
Most hotels and hotels rent bikes for around $4,000 COP ($1.30 USD) per hour. Another option is to hire a tuk-tuk, which will cost around $60,000 COP ($18 USD) for a round trip.
After 4pm the sun will have calmed down a bit so head out into the red desert. Take the trail from the back of La Guaca hostel. There is a map and it is well-signposted along the way.
Later that day, book yourself onto an evening tour of the Astronomical Observatory Tatacoa for a bit of stargazing.
To get to the Tatacoa Desert from San Agustin, it's a bit of an adventure, but completely worth it!
First take a jeep as early as you can from San Agustin to Pitalito, they depart from the corner of Calle 3 and Carrera 11 and cost between $5,000 COP ($1.50 USD) and $7,000 COP ($2 USD) per person.
Upon arrival at the Pitalito bus station, take a bus north towards Neiva (four and five hours, $25,000 COP-$38,000 COP ($6-$11 USD)).
From Neiva, take a jeep to Villavieja with the bus company Coomotors. Jeeps leave hourly until around 6pm and cost $8,000 COP ($2.50 USD) per person and take two hours. Once you have made it to Villavieja, jump in a tuk-tuk and head into the desert to your accommodation.
Days Nine and Ten: Neiva to Salento
From the desert, head back to Villavieja and onto Neiva. The jeeps depart from the square in the middle of Villavieja where you were dropped on the way here. There is a Coomotors bus from Neiva to Armenia which departs at 12.30pm and $60,000 COP ($18 USD) per person. The bus takes six-seven hours.
Once you make it to Armenia, there are buses, which run to Salento or Filandia and go regularly between 5.30AM and 8PM. You don't need to buy a ticket from inside the terminal for this bus as it is considered a local service.
Follow the signs for the local buses and once outside keep walking around to the right and you'll find a bus with 'Salento' on the front. It costs $4,000 COP ($1.20 USD). If you arrive late or don't fancy the bus, taxis are readily available from the terminal and should cost around $20,000 COP ($6 USD) to Salento.
Spend your final day in Salento as per the itinerary above.
Two Weeks in northern Colombia
Cartagena – Rincon – Caribbean Islands – Minca – Tayrona National Park – Palomino
Colombia's northern coast is home to one of the most beautiful and romantic cities in the world, with crystal blue waters, white sandy beaches, and deserted islands.
On this Colombia vacation itinerary, spend two weeks beach-hopping, exploring Cartagena and the beautiful Tayrona National Park.
Days One and Two: Cartagena
The beautiful, walled city of Cartagena was made for a few days of wandering its streets – although given the heat, which is unbearable by midday, you'll want to get out early and enjoy a mid-afternoon siesta. We've got a full guide to Cartagena on the site, but you can also keep reading below for some further great suggestions.
Start by heading to the castle to learn about the conflict between the Spanish and English (and pick up an audio guide, which is both hilarious and informative).
After that, head back across the river and into the streets of the beautiful neighborhood Getsemani. Stroll around streets packed with colorful buildings and look out for street art.
For lunch, grab an arepa on the go, from Colombitalia Arepas. Arepas are a corn tortilla and are everywhere in Colombia. Served with breakfast, lunch and dinner. Here you can get one with pizza toppings on – delicious!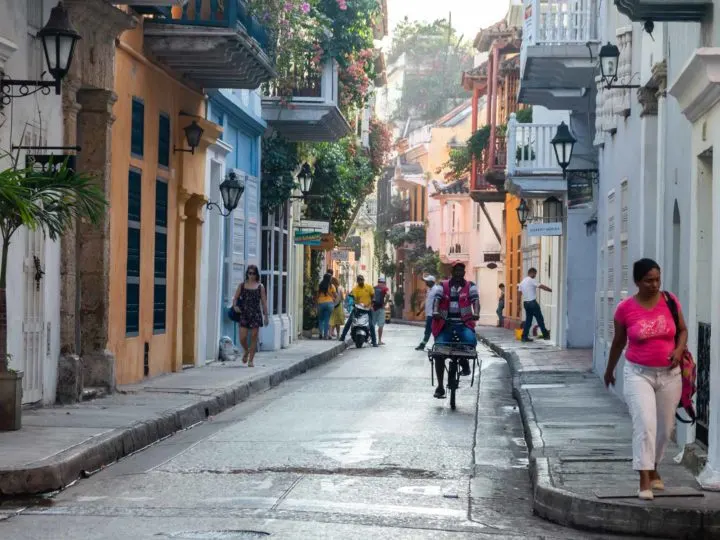 In the evening head into the old town for a stroll around the cobbled streets. High-end shops and fantastic ice cream sellers (check out Gelateria Tramonti) are the main attraction here.
For sunset, get to the famous Cafe del Mar on the city walls early to grab a table. Otherwise, just hang out anywhere along the wall and people will come around and offer you a beer if you fancy.
For dinner, swanky restaurants abound but for something really special, check out Interno, the first restaurant in the world to be run from inside a women's prison, where practically all staff are prisoners.
The food is excellent – you'll pay $90,000 COP ($26 USD) for a set menu. For fantastic steak, check out Quebracho.
Stay overnight in one of our favorite hotels and guesthouses in Cartagena, whatever your budget.
The next day, gain a unique perspective of Cartagena and Colombia with a tour led by the Zenú, an indigenous people who have been forced out of their homes through the centuries and now survive selling coffee on the streets of Cartagena (read all about founder Steph's experience of this sustainable Cartagena tour).
Few tourists ever even hear about the Zenú. Not only will you see the city in a different light as your guide narrates the story of Cartagena from an indigenous perspective, but you'll learn about their struggles for justice and exceptional prowess when it comes to craftsmanship, as you visit their workshop to see how caña flecha is woven into the famous Colombian hat, the sombrero vueltiao.
Help support sustainable, responsible tourism in Cartagena by booking this Zenú Indigenous Heritage Tour with IMPULSE Travel Colombia and get a 5% discount by using the code WORLDLY5 at checkout.
Alternatively, head outside the city; our guide to the best trips to take from Cartagena can get you started.
Days Three and Four: Rincon
Just a few hours away from Cartagena, is the quaint fishing town of Rincon del Mar. Here you can fall out of your accommodation onto the beach and spend the day lazing in a hammock and swimming in the tranquil, warm waters of the Caribbean Sea.
Get a room at Dos Aguas Lodge, by far the best spot in Rincon with a beautiful quiet beach right outside your door.
Rincon is also a fantastic spot to launch yourself into the San Bernardo Islands (you can see them from the shore!). If you don't have much time, take a day trip out to the islands leaving at around 8AM and returning at 2PM (Colombian time of course…things are very relaxed here and don't always run on time).
Tours cost $60,000 COP ($18 USD) per person and can be booked from any of the families living along the beachfront.
To get to Rincon, take a 25-minute taxi journey to the bus terminal outside Cartagena. Hop on a bus to San Onofre (2-3 hours, $20,000 COP-$30,000 COP ($6-$8 USD)) and let the bus driver know you want to get off in San Onofre (it continues further).
When you arrive, take a moto for $10,000 COP ($2.5 USD) or a taxi for $20,000 COP ($6 USD) to get you to Rincon – there is no bus for this route. If it's night, a taxi is safer.
Days Five and Six: Find your paradise and stay a night or two on a deserted island
From either Cartegena or Rincon, you can sail out to paradise and live on a private island. Head to Isla Baru or Playa Blanca for white sandy beaches, palm trees, crystal clear waters, go snorkeling or just sunbathe in this heavenly escape.
Isla Grande: Pick up a local guide to explore secluded beaches, chill on the beach and relax by a bonfire as the sun sets.
Days Seven to Nine: Minca
Minca has become a must-visit for anyone taking a trip along Colombia's north coast. An inland town surrounded by forest, it makes a strong contrast to the seaside stops along this route.
While in Minca, you can go bird watching with Jungle Joe, head up to the beautiful waterfalls at Pozo Azul (walk up the track on the left of the first pool for a quieter spot and some rock jumping!), have lunch on the deck of the Lazy Cat restaurant and look out for the iguanas in the trees.
Finally, if you aren't staying there already, head up to Casa Loma hostel for sunset. They have a beautiful deck and bar set up for watching the sun go down. Minca is known for its dramatic and colorful sunsets.
To get to Minca, you need to travel through Santa Marta. You may decide to stop in Santa Marta to break up the journey.
Buses run to Santa Marta from Cartagena bus terminal and it will take between five and seven hours (it took us six and a half). They depart regularly throughout the day so you'll be able to turn up and buy a ticket when you are ready to go.
From Santa Marta you can take a collectivo jeep from the town at the corner of Calle 12 and Carrera 9 and will cost between $7,000 COP-$8,000 COP ($1-2 USD). You can also take a taxi for $40,000 COP-$50,000 COP ($12-15 USD). The journey will take between 45 minutes to an hour.
Days Ten and Eleven: Tayrona Park
The Tayrona National Park is one of the most famous spots in all of Colombia. It hugs the Caribbean coast of Colombia and is home to some of the most beautiful beaches in the world. Think white sand, crystal clear waters, and beautiful palm trees. The best bit is that roads only get you so far which means much of the park remains an untouched wilderness for you to explore.
Because of the inaccessibility of the park, and the fact it is basically rainforest, it is very hot and very humid and the accommodation is very basic. Because of this, it's recommended to only do either a day trip or stay just one night in the park.
For a day trip, the best option is to stay the night in one of the many accommodations lining the road near the main entrance and then head into the national park the following morning.
Either Eco Hostel Yuluka (they have a swimming pool with a slide!) or Villa Del Rio (the father of the guy who runs it will give you a lift to the park entrance in the morning for free!) are great choices.
For an overnight stay in the park, book a cabin at Playa Brava – a white sandy beach where a family run a small hotel with cabins.
All the other options in the park are either sleeping in hammocks (pretty close together) or tents (these get incredibly hot!).
You can also stay at Cabo San Juan, which has a few camp spots, hammocks, and cabins. For both sets of accommodation, it is incredibly important to book in advance.
Days Twelve to Fourteen: Palomino
Palomino is a delightful sleepy beach town, perfect for taking some time to chill out, do a bit of tubing in the river, and generally relax by the sea. There is one main street, which runs all the way from the main highway down to the beach.
Most of the places to stay and eat line this one street and it takes around 10 minutes to walk. As you stroll down to the beach, you'll find people selling the tubing experience if you are interested.
The town is known for its excellent fish: eat at 7 Mares (reserve a table and get a free dip selection on arrival!), Bitacora and La Frontera Pizzeria.
Casa Colibri is a great place to stay; the rooms are excellent, large, light and comfortable, some of which have air conditioning, the breakfast is amazing, a medley of breakfast dishes, pancakes, eggs, yogurt, granola, and Joe, the owner, is informative and lovely.
To get to Palomino, take a taxi from the exit of the Tayrona National Park, or flag down one of the buses that pass every 30 minutes or so along the road. You'll be picking them up as they run from Santa Marta to Riohacha.
To return to Bogotá or Medellin for your flight home, return to Santa Marta by taxi or bus.
Optional Extras for any Colombia travel itinerary
Bahia Solano – Six Days
My favorite place – and a truly unmissable place to see in Colombia – is Bahia Solano, an under-visited and largely untouched paradise on the Pacific coast of Colombia. Here you can meet humpback whales, see dolphins from the shore, trek into the jungle, swim with bioluminescent plankton, and relax on your own private beach.
There are a lot of options for places to stay in the Bahia Solano area and in El Valle (a town 30 minutes south of Bahia Solano) but without a doubt the best possible place to stay is at Mecana Beach Eco Hotel.
From its location on Mecana Beach, you can hike into an area of jungle that is protected by the hotel and is packed with interesting wildlife or visit a local indigenous community.
What's more, between June-October every year, up to 14,000 humpback whales migrate to the area to mate, reproduce or nurture young calves.
For the best chance to spot them, take a tour with the lovely people at Mecana Eco Hotel ($350,000 COP ($105 USD) for two people, less if in a group), the biologists and Madre Agua ($150,000 COP ($45 USD) per person), or with a local captain (this is the cheapest way – although prices vary).
Normally, I always want to support the local economy wherever possible but I have to recommend that you go with either Madre Agua or Mecana Eco Hotel.
The reason being you go out with people who study whales and love the whales. You get more scientific information about their behaviors and the Madre Agua crew even have a microphone they can put in the water so you can hear the whales.
But most importantly, by going with either of these two, you will ensure that your visit does not interrupt the natural habits of the whales. As both have biologists in the team, they know where a boat should be and how far away it should be to ensure this.
To get here you have two options:
Take a boat from Buenaventura; this takes nine hours and is the cheapest option. However, Buenaventura is the main export port for the cocaine trade in Colombia. We met many people who traveled through here. However, it is still one of the more dangerous cities in Colombia.
Take a flight from Medellin. This is the best option and the most enjoyable. You can either fly with Satena (one or two flights per week) or with San German. Crucially, San German is only available to buy direct from them, they will not pop up on Skyscanner. The flight takes around one hour and is normally in a very small 12-seater plane!
Top Tip: the San German flights go from the smaller city center airport in Medellin, called Olaya Herrera.
La Guajira – Four Days
At the very northern tip of South America lies La Guajira, an arid peninsula that feels a world away from the lush, water-rich landscapes of the rest of Colombia. Its indigenous people, the wayuu, were never conquered by the Spanish, and they retain a clear identity of their own, while their land is one of stunning contrast, framing untamed sand dunes against the deep blue Caribbean ocean.
Tourism is increasing here, slowly, and most come for the golden, powdery sand beaches along the very northern coast (Playa Taroa is perhaps the most beautiful) and the world-class windsurfing available at Cabo de Vela.
Tours leave from Riohacha, a full day's drive south of the northernmost tip of the peninsula and are the best ways of exploring the region – particularly as public transport is practically non-existent. One of the poorest parts of Colombia – indeed, three-quarters of La Guajira families face food insecurity – jobs are scarce here, which is why it's so important to visit using a reputable local operator.
You can do this by taking a four-day tour with Macuira Tours ($290 USD pp). Indigenous-owned, their guides really know the region and will give you a fascinating insight into the daily life of those who live in one of the most extreme environments in Colombia.