Colombia has a wealth of national parks to explore, but there's one in particular that should be on your list to visit: Los Nevados National Park (Parque Nacional de los Nevados).
Although not as frequented as the likes of Tayrona National Park, it's a hidden treasure in the heart of Colombia and a place you should add to your travel plans.
With a visit to Los Nevados, you can expect stunning scenery, towering wax palms, secret natural hot-springs and one of Colombia's highest and most active volcanos 'Nevado del Ruiz'.
The park is also nestled in the infamous coffee region, where farm tours can be found in abundance and make for an excellent add-on to a day or two of hiking.
Where is Los Nevados National Park?
Located in the Cordillera Central of the Colombian Andes and bordered by the cities of Manizales to the north, Pereira to the west, Ibague to the south and the town of Líbano in the east, Los Nevados National Park is surrounded by places to base yourself if you only plan on day-tripping there.
Two of my favourite places to stay are the small Colombian towns of Salento and Murillo.
Salento is a more popular tourist destination located 36 kilometres southeast of Pereria and allows for easy access to the Cocora Valley – home to some of the most interesting hiking trails.
Murillo, on the other hand, is located 23 kilometres southwest of Líbano and feels very much off-the-beaten-track, offering a much more authentic Colombian experience as a consequence.
Ultimately, where you base yourself will depend on the type of activities you wish to partake in and how far into the back-of-beyond you want to venture.
Hiking in Los Nevados National Park and the Cocora Valley
One of the main activities to do in Los Nevados National Park is hiking, although it's not for the faint-hearted due to the region's fluctuating weather and altitude – the latter of which can reach up to 5300 metres above sea-level.
How to get to Los Nevados National Park
Salento is the nicest place to start from because of its vibrantly coloured buildings, quirky Willy's Jeeps, cute markets and selection of local foods to try. Also, it's a small town, not a busy city and it's situated at a comparatively reasonable altitude – only 1895 metres above sea-level.
From here, you can easily reach the Cocora Valley (Valle de Cocora).
It's easy enough to reach Los Nevados National Park without a guide. From the centre of Salento in the main square, there are plenty of Willys Jeeps (aka U.S. army trucks) ready to take people, for a small fee (3,000-4,000 COP/ $1-$1.30 USD), to the nearby Cocora Valley, 11 kilometres away.
The journey takes about 25-30 minutes.
The jeeps are fantastic to look at and are also authentic – a bonus factor for four-wheeled fanatics, just remember to stay safe: I wouldn't recommend hanging off the back of one like I've seen some people do.
Organised jeeps leave at 6:10 am, 7:30 am, 9:30 am, 11:30 am, 2:00 pm, and 4:00 pm, however, if you just turn up, there are always other jeeps ready to leave once they're full.
You will be dropped off at the foot of the Cocora valley where there are some small stalls to buy refreshments and lots of horses you can take a ride on if you wish (for a fee of course).
Option one: Day hike to Estrella de Agua
Depending on your walking pace, you can make it the seven kilometres to Estrella de Agua (approximately 890 meters height gain from the park entrance, coordinates 04.62252, -75.43145) and return to the Cocora Valley (Valle de Cocora) in one day.
The trail isn't well marked, so it's highly recommended to get a print-out of a map from your hostel in Salento – this will save you from the unpleasant experience of getting lost!
From the drop-off point in the Cocora Valley, follow the tarmac road and you'll soon see a person in a field on your right under a little gazebo (GPS coordinates 04.64198, -75.48241), waiting to take a few COP from you to enter El Bosque de Palmas (a forest of towering, Quindío wax palm trees). We paid 3,000 COP ($1 USD) each.
Note: The official entrance to Los Nevados National Park is further on at Estrella de Aguas, however you should not be charged an additional fee here.
The path then zig-zags all the way up the hill, with some incredible views of the wax palms all around, plus lots of different birds and wildlife. I would recommend getting there before 10am to avoid the huge swarms of people that arrive at this time.
For an even more beautiful hike, take one and a half hour diversion to go to Acaime, around two-hours into the walk.
Here you'll find La Casa de Los Colibris (the House of the Hummingbirds), a hummingbird sanctury. The entrance costs 5,000 COP ($1.70 USD) and often includes a drink and this make for a picturesque spot for lunch.
From Acaime, follow the path named Cocora-Estrella de Agua about three kilometres, all the way to Estrella de Agua.
Here you will find a small farm, where you can buy a traditional hot agua panela drink (sugar cane water) and is the official entry point to Los Nevados National Park. Here you should turn around if doing a one-day hike.
Option Two: Three-day, two-night hikes (and more)
If you plan on hiking for more than a one, follow the path from Estrella de Agua (now named Estrella de Agua – La Primavera) all the way to La Primavera, a distance of approximately 16 kilometres.
At La Primavera, you can find dorm beds and meals – ringing ahead to confirm is recommended (+57 312 211 7677/+57 310 832 7879).
Otherwise, continue about twenty minutes further to Finca Aquilino (La Playa) where there are also dorm beds and meals available (+57 321 284 7975). Finca Aquilino is a lot more welcoming to hikers, especially if you do not have a guide.
There are also dorm beds available at the Humming Bird Sanctuary near Acaime if you need a rest.
You can expect to pay between 10,000-20,000 COP ($3.50-$7 USD) for meals, depending upon whether you want breakfast, lunch or dinner.
From Finca Aquilino, there are several different hikes to choose from:
One of the most popular is heading north-east to Laguna el Encanto (3,350 metres altitude, coordinates 04.68060, -75.36379) and then back to either La Primevera, approximately a 14-kilometre round trip.
Another option is to Finca La Aquilino, approximately a 10-kilometre round trip.
If you want a little bit more of a challenge, you can also walk another two kilometres south-east up the path called Al Helipuerto from Laguna el Encanto to 'El Calvito' (4200 meters altitude, coordinates 04.67042, -75.35040) right below the beautiful snow-capped volcano 'Nevado del Tolima'. The following day you can then make your way back, or you can camp at the lake and return to La Primevera/La Aquilino the next day, before heading on to Cocora.
The final option is to hike to the Termales Cañón, (coordinates 04.68319, -75.31070), some hot springs accessible by a hiking trail that circuits the northern edge of Nevado del Tolima, passing 'El Calvito' and then branching off left. It is about six kilometres from Laguna el Encanto. It's also possible to camp there for about 10,000 COP ($3.50 USD) per person. There are no dorm beds so if you do not have camping gear, stop at Laguna el Encanto and return to one of the Fincas.
Recommendations for Los Nevados hiking :
The hike to Estrella de Agua in the Cocora Valley is best done with welly boots (rubber boots) as the whole area can be horribly muddy. You can normally rent them cheaply in your hostel in Salento.
Give yourself at least three days to enjoy the hikes available; it's well worth having more time to explore the national park.
Check alerts for the volcano activity before you set off. The volcanoes in Parque Nacional Los Nevados have erupted in living memory – and with tragic consequences. Nevado del Ruiz currently has strict regulations due to its recent activity. It killed 23,000 people back in 1985 in what's now called the Armero Tragedy. Visit the Volcano Discovery website, which is written in English, for up-to-date information.
If there's dense fog, wait it out. It's not worth the risk. Hikers have been known to get lost.
If there's been a lot of rain recently, try to wait until there's been a couple of days of dry weather before starting out. Routes can be very muddy.
Many tourist establishments will tell you it's not possible without a guide, however it is not illegal to do so.
There is a tourist office in the main square in Salento offering some information, or ask for information from local travel agencies. Getting detailed maps of the park can be problematic, however.
Maps.me and Pocket Earth apps are good for the main paths.
You can also find downloadable maps on the Parque Nacional Natural Los Nevados official website.
Having a guide can help less-experienced hikers, particularly due to the challenges of the terrain, fluctuating weather and high altitude. You'll learn more about the park by having someone knowledgeable around. One company with excellent reviews is Crested Outdoors. They have many different hiking itineraries starting from Salento/the Cocora Valley.
Manizales is also another popular starting point for hikes into Los Nevados National Park. This is definitely an option worth checking out if you're not going to Salento and want to hike to the Santa Isabel or Nevado del Ruiz glaciers. For both of these treks, you will need a guide
Avoid Los Nevados National Park during the rainy season for the best trekking experience. The dry season runs between December and February and July to August (learn more about when you should plan your trip to Colombia), although it's likely you'll still experience some rain, as the weather in the Andes can be unpredictable!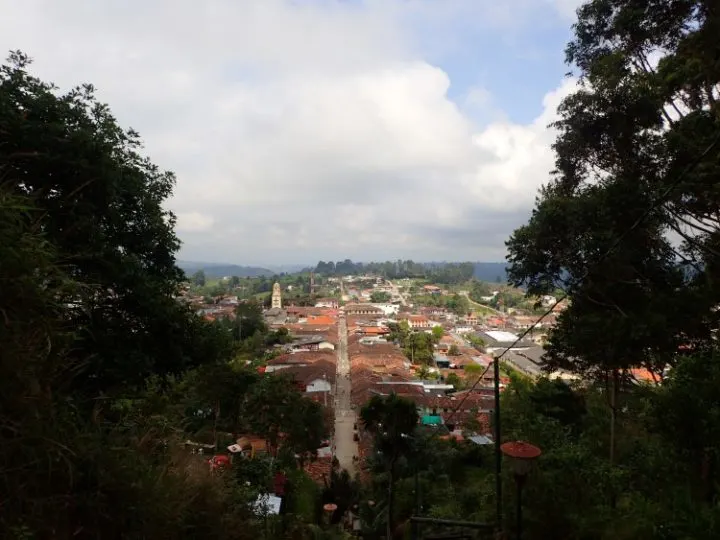 What to take with you to Los Nevados National Park and the Cocora Valley:
Where to stay in Salento, Colombia
We visited Salento a couple of times during our stay and our Salento hostel was Hostal El Zorzal (Calle 6 Parque de Aguas, double $81,000 COP ($28 USD)). Located just on the outside of the main town, it's a peaceful and quiet place to kick back.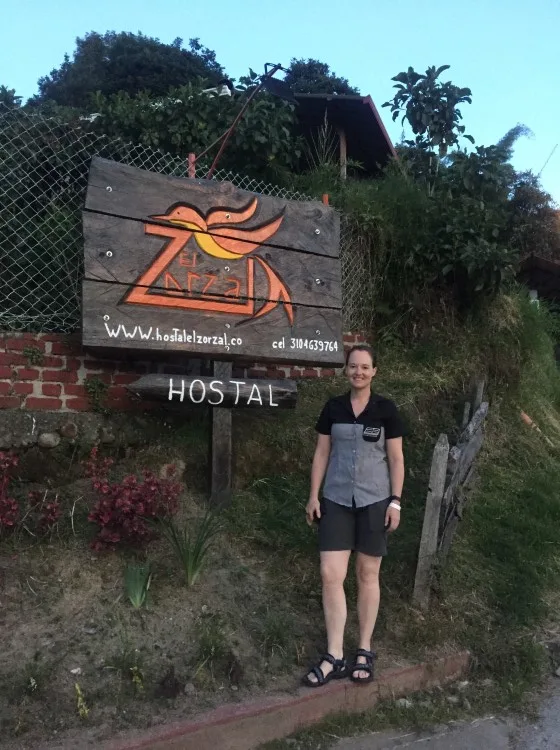 The Plantation House (Alto de Coronel, Calle 7 1-04, dorm $30,000 COP ($10 USD), double 75,000 COP ($26 USD)) is another popular option for accommodation because of its beautiful views and extremely friendly and helpful staff.
A place not to miss in Salento is Brunch Cafe. This cafe is highly recommended, especially if you like homemade peanut butter and peanut butter milkshakes!
Beyond-the-beaten-trail: Murillo
The most amazing experience we had was travelling from Murillo into Los Nevados National Park. Despite being a little tricky to get to, I would definitely recommend travelling to this small, typically Colombian town.
Here, you'll find ladies making fresh empanadas (pastry snacks filled with beef or pork), locals having Tejo competitions and people riding around on horseback.
Things to do in and around Murillo: El Sifon
30 kilometres from Murillo, we found a small place named El Sifon, where the main attraction is a completely natural hot spring river. Having a late afternoon bathe is best when it's deserted, so camping is recommended so you can get the most out of your time there.
If you go yourself like we did, you can then arrange with the owner to let you hike down the small dirt road to the natural thermal river. He will guide you to an area where the water is hot (but not too hot) and then leave you to bathe for as long as you want.
When we went it was mid-afternoon and not another soul in sight. It was a pleasant change to the usual thermal baths where there are hordes of people. This place was magical, natural and untouched – a truly fantastic experience.
We also talked to him about camping there, and he even made us a fire in the evening. We found that cold drinks and coffee were also available, but there was nowhere to buy food so bring your own.
Things to do in and around Murillo: La Cascada el Silencio
If you do venture to Murillo, don't miss the beautiful waterfall that is tucked away in the valley below the town.
Called the Cascada El Silencio, this waterfall is reached by walking past the cemetery, several inquisitive cows and down a steep path with numerous steps.
I would advise to take a picnic with you and enjoy the day in this tranquil place.
How to get to Murillo and where to stay
To get to Murillo, you'll need to reach Libano and then take a cheap collectivo (minibus) to Murillo.
There are only a few hostels in Murillo. We stayed at, Hospedaje La Posada del Turista (Camino Calcarrupe s/n, dorms 30,000 COP ($10 USD), double apartments 35,000 COP ($12 USD)). Opposite the hostel, you'll find a small cafe where you can buy a warming brandy con leche: steamed milk with a shot of brandy – it's surprisingly good!
It is possible to camp at El Sifon for a fee, but be warned, it sits at about 4000 meters above sea-level, which can make sleeping a little tricky at times. Make sure you have a warm sleeping bag!
We paid 50,000 COP ($17 USD) for the two of us, including our visit to the hot spring. To get to the hot springs, ask at the hostels in Murillo about transport; it's a two-day hike or there are which go there as well.
Failing that, Cordillera Verde Travel in nearby Libano offer day tours to El Sifon.
So, all-in-all, it's a great area to visit and I would highly recommend it. The more time you can spare the better. Enjoy!
Found this guide useful? Pin it.