From dazzling churches to relics of ancient civilizations, Peru has more than its fair share of striking natural landmarks and historic monuments.
Although there are certainly a few well-known spots in among the others in this list of places to visit in Peru, we've added some barely-visited alternatives that promise the same mix of history and spellbinding scenery – just without the crowds.
So read on for our guide to the 41 most spectacular places to visit and things to do in Peru – many of which you'll probably never have heard of before.
Eighteen Places to Visit in Northern Peru
Máncora
Renowned as a place for long, hot days on the beach and frenzied parties at night, Máncora appeals to a lively backpacking crowd.
It's also a hugely popular tourist destination for surfing and kite-surfing – the latter of which is best between April and November, months when most of the crowds disappear.
Having started out as a quiet fishing village before transforming into a hippy hangout, there are still slices of tranquillity to be found, if hedonism isn't quite your cup of tea. Luckily, the region has quite the clutch of glorious beaches – many of which are practically deserted.
Most of the region's luxury hotels are situated two kilometers south at Las Pocitas, or Punta Sal, the same distance north, where white sand beaches and far fewer crowds point towards a truly affordable paradise.
Try the stunning cabins of KiChic (S/900 ($270 USD) double) or the truly remote bungalows at Yemaya (S/420 ($126 USD) double) – both of which are right on the beach.
Lobitos
If you're planning a trip to Peru and seeking sea, sand, and – mostly importantly – surf, few destinations can compete with Lobitos.
Situated 72 kilometers south of the better-known Máncora, Lobitos is Peru's most up-and-coming surfing destination.
It also offers a welcome escape from the hordes of tourists now covering the beaches of the former.
There's not much to do here other than appreciate the coral-white sands and crystal waters at the beach or rent a board and enjoy consistent swells of up to 7ft, with June the month with the biggest waves.
There are plenty of cozy guesthouses, many, such as the spectacular Buenavista (S/100 ($30 USD) double), that is run by former pro-surfers and offer irresistibly relaxed atmospheres.
Iquitos
Accessible only by boat or plane, Iquitos, the biggest city of the Peruvian Amazon, is something of an island.
But this chaotic, river-bound city is much more than just a gateway to the jungle and has plenty of things to do.
It's full of wonderfully eclectic surprises, from the casa de fierro, designed by none other than Gustave Eiffel, to the opportunity to sample local delicacies such as suris: fat and juicy tree worms enjoyed stewed, roasted, or skewered…
What's more, from here you can jump on a boat for an organized tour of the jungle or head downriver toward Brazil or Colombia to continue your Amazon adventure.
Cajamarca
Cajamarca is one of northern Peru's finest cities to visit. It found its place in Peruvian history as the city where the Inca Emperor Atahualpa was captured and killed by Spanish conquistador Francisco Pizarro and his forces.
Nowadays, this photogenic colonial city is jam-packed full of tourist attractions.
Head to its wide, landscaped Plaza de Armas to admire several elaborately carved Plateresque Baroque churches before continuing onto the final surviving Inca relic, a small, stone room where – legend has it – the ransom to free Atahualpa was stored.
Thousands of gold artifacts were brought here, purportedly reaching up to the line still visible on the aged walls.
Although most traces of the Inca have long since disappeared, you can still bathe like Inca royalty in the nearby Baños del Inca, a site containing pre-Inca thermal pools for a relaxing plunge.
Back in the city, the private collection at the Casa Museo Nicolás Puga takes you far further back into Peru's pre-Hispanic times with its spellbinding array of Nazca, Paracas, Mochica, and Chavín stone artifacts and textiles.
Finally, a range of peñas (a classic Peruvian bar filled with liquor and criollo beats) brings you right up to modern-day Peru.
Planning Your Trip to Peru?
Save time, stress & money with a customized travel itinerary planned for you by a Peru expert
What previous clients have said:

Steph did a great job! I have never used such a service before and I wish there were more of them!
Getting off the beaten track was important to us and with Steph's knowledge we were away from the crowds. The information is very detailed and she knows some great places to stay! Thank you Steph!
Justin and Lisa
Traveled Patagonia, Bolivia and Peru in Jan '19
Santuario de la Virgen del Rosario de Polloc
You probably wouldn't think to stop at the tiny rural village of Polloc, a forty-minute bus journey on the road out of Cajamarca towards Chachapoyas. But trust me – you should.
Tucked away from the main road, the murals adorning the Santuario de la Virgen del Rosario glint in the sunshine, which reflects off the thousands of small ceramic and glass tiles that wrap its external walls.
This tiny, colorful church definitely ranks among the most spectacular things to see in Peru – and one of the most hidden.
Designed in greens, blues, and golds, a vast mosaic depicting nativity scenes and other religious events decorates the church's exterior walls, continuing inside for a dazzling spectacle.
Interestingly, these striking murals are evidence of over ten long years of work – all completed by the patient hands of the church (and adjoining school's) students.
Ventanillas de Otuzco and de Combayo
Burying the dead has taken many forms across different cultures through the ages and those employed by the Cajamarca culture were particularly unusual.
Located eight kilometers east of Cajamarca, the Ventanillas de Otuzco is a fascinating necropolis of 337 windows chiseled out of the overhanging volcanic rock.
Here, the bodies of important leaders were buried, with the oldest dating back to 200 AD.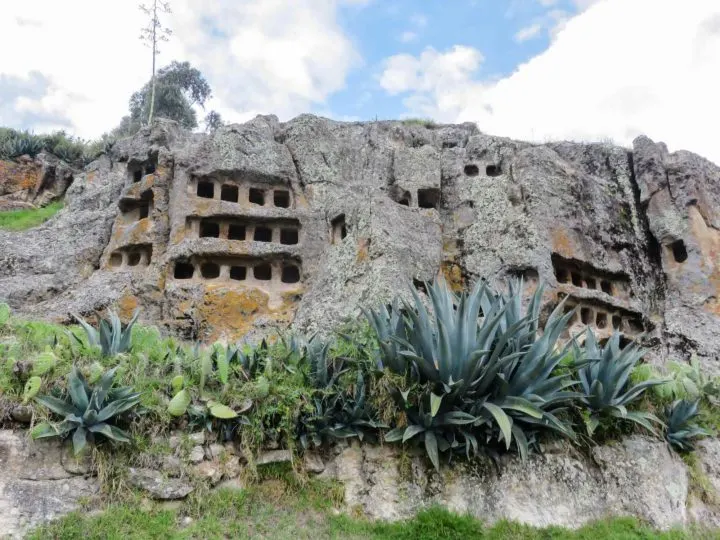 It's truly a sight to behold and, while no remains are left, you can wander around the burial ground, admiring the painstaking work to make these funerary niches.
Twelve kilometers continuing east are the Ventanillas de Combayo, another larger site, where you can be guaranteed to meet few, if any, other visitors.
Leymebamba
On a trip to Peru, you soon learn that there's one thing you can expect to see in practically all museums you visit: mummies. And for the oddest collection, the Museo de Leymebamba is the winner.
This pretty village just 80 kilometers south of Chachapoyas is home to a troop of 219 mummies – buried by the Chachapoyas people some 800 years ago.
Although most remain wrapped in their original textile coverings, others are bare and seem to make eye contact with you through the (secured!) glass window.
The museum has a range of other artifacts, spanning the Chachapoya and later the Inca.
What's more, you can still visit the site where the remarkable collection of mummies was discovered. Laguna de los Cóndores is a 38-kilometer hike from the town and the clifftop tombs where the mummies were originally interred are still visible.
Chachapoyas
Hidden away back from the coast in the Andes mountains of the northern Amazonas region, Chachapoyas is one of the country's most up-and-coming tourist destinations and an unmissable place to visit on your trip to Peru.
This small market town lacks much of the colonial charm of more famous cities in the region, but it offers an almost incomparable array of nearby natural and pre-Colombian attractions.
In addition to Gocta and Yumbilla Falls and Kuélap (see #10 #11 below), there's also the dramatic sarcophagi of Karajia.
What's more, a short taxi journey north brings you to a mirador overlooking the Cañón del Sonche, a dramatically deep canyon where vultures hover in the skies above and the whole landscape turns exquisite and golden-hued at sunset.
San Pedro de Mendoza
Tucked deep into the lush green hills of the Amazonas Region is something you probably wouldn't expect to find in Peru: coffee fincas.
In and around the small town of San Pedro de Mendoza, most of these plantations are owned by local farmers, some of whom have clubbed together to form coffee cooperatives to guarantee steady and fair prices for their crops.
While the scenery in this nook of Peru is spectacular and green thanks to the region's high rainfall, it's the experience of touring the coffee farms that's the main attraction.
Join a tour and visit a local farmer for lunch before helping them to collect ripe berries from their land, before learning about the full process of coffee production – from bean to roast – at the cooperative headquarters.
Gocta and Yumbilla Falls
Plunging a dramatic 771 meters from clifftop to valley floor, Gocta Falls are a treasure of nature tucked deep into Northern Peru and quickly becoming one of the most popular tourist attractions in the country.
Interestingly, tourists have only been visiting Gocta for the past 15 or so years after these falls were revealed to the outside world by a German explorer – although, they obviously had been known to the locals for far longer!
Although the view from nearby Cocachimna is spectacular in itself, the six-hour hike to the forceful spray at their base is definitely worth it – although the route can be particularly muddy.
For even more intrepid, Indiana Jones-types, nearby Yumbilla Falls is similarly dramatic – and receives far less footfall.
At 896 meters, these waterfalls are actually higher than Gocta and it's a short five kilometers on foot from the trailhead to reach the base of the first section of falls.
Kuélap
For treasure seekers, Peru's long history of developed civilizations doesn't end with the likes of Machu Picchu and other Inca sites in the south – and explains why we think Peru is one of the best countries in South America to visit for those seeking fascinating archaeological sites.
UPDATE: Unfortunately, since late 2022, it has been impossible to enter the main Kuélap site because of the external wall collapsing in parts. Currently you can take the cable car up to the top of the mountain on which it is located and view the outside walls of the site – which isn't quite the same experience as walking around the remains of the houses inside. There is no current confirmed date for reopening the full site.
The jewel in northern Peru's crown is the archaeological site of Kuélap, a partially-restored citadel installed on a lofty plateau in a mountain above the Uctubamba Valley.
The city's construction dates remain unknown, but it's thought to be anywhere up to 1,000 years older than the country's more famous Inca constructions.
It also boasts enormous 20-meter-high stone walls surrounding what was formerly an extensive city.
Around 500 circular stone houses, many decorated with relief motifs remain. On a tour of the site, you learn about how, at the center of these buildings, a stone cellar would have been used to store the mummies of their dead.
One of the main things to do here is take the new cable car system up to the fortress or you can even arrive how the Chachapoya would have done – with a sweaty and steep four-hour climb from the valley below.
Tarapoto
On the fringes of the Amazon jungle, Tarapoto is a laid-back town where motos zip through the dusty streets and palms wave in a gentle, humid breeze.
As tourism has increased in Iquitos, Tarapoto has become the destination of choice in Peru for health and wellness tourism – namely yoga and Ayahuasca.
For the former, there are plenty of chilled-out ecolodges where you can go to relax and restore your chakras: Chirapa Manta, with its hammock-slung, riverside terrace is one of the finest, while Tambo Ilusión specialise in multi-day yoga, vegetarian cooking, and SUP retreats.
The latter run eight-day Ayahuasca retreats where you can try this hallucinogenic drug, made from a combination of the ayahuasca vine and a shrub called chacruna, in a safe and protected environment.
Museo Tumbas Reales de Sipán
All things that glitter aren't gold – well, that's what they say, at least. In the Museo Tumbas Reales de Sipán, a museum in the town of Lambayeque, you can be guaranteed that practically everything you see is in fact gold.
Dedicated to the Mochica culture, which flourished along the northern Peruvian coast between 100 and 700 AD, this museum is considered one of the finest in South America.
It contains three floors of remarkable gold and silver jewelry, headdresses, and other artifacts that were buried in the tomb of El Señor de Sipán – a Mochicha ruler. A recreation of his tomb is one of the museum's main exhibits.
You can even visit the original archaeological site located south of Chiclayo, although the museum contains just replicas of the artifacts shown in Lambayeque.
Bosque del Pómac and Batán Grande
Tucked deep into the Santuario Historico Bosque de Pomac is one of Peru's little-known archaeological sites but an important landmark in the country.
The Pomac Forest is a striking jungle of algarrobo trees right in the middle of a desert plain and merits a visit if purely to encounter a 500-year-old tree thought to have magical powers.
There's also plenty of wildlife, so keep your eyes peeled for birds such as burrowing owls digging in the sandy soil.
Deeper into the forest lies Batán Grande, thought to have been the source of anywhere up to 80% of the gold artifacts found in Peru.
A series of adobe pyramids rising out of the sand are all that remains of this stronghold, which belonged to the Sicán Culture between 800 and 1100 AD.
Although the pyramids have been well and truly plundered, you can walk among them and even on top of one in order to see the mottled, eroded lumps of other pyramids stretching out into the surroundings.
Trujillo
Peru's northern capital Trujillo is perhaps the country's most charming city that you've never heard of. A pretty, palm-dotted Plaza de Armas gives on to streets filled with colonial churches and restored old mansions painted in cheerful pastel shades.
You can enjoy views of the yellow cathedral from the affordable yet smart Costa del Sol (S/300 ($90 USD) double) and sample the city's finest dining on a restored, 18th-century wooden balcony at El Celler de Cler.
But it's beyond the city's boundaries where Trujillo's truly fascinating history lies, in the form of an array of ancient, pre-Inca archaeological sites.
The most famous is the UNESCO World Heritage Chan Chan, the largest adobe city ever discovered on earth, thought to have been home to 60,000 people as part of the Chimú Empire around 850 AD.
Nowadays, you can explore the site, observing the fish and bird motifs on its restored mud walls.
South of Trujillo, the huacas de la Luna and del Sol are two Moche temples, the former of which contains striking relief murals depicting grizzly religious ceremonies; the Moche were known for their use of human sacrifices to appease the gods.
Huanchaco
Just a short taxi ride from Trujillo, Huanchaco is a lazy backpacker's beach town and a great place in Peru for kicking back and relaxing.
The real attraction here is its coastline, with long left-hand point breaks that are perfect for both beginners and more advanced surfers alike.
For those with more experience, there are plenty of tour companies that lead day trips out to more challenging waves in the vicinity.
At the beach, Huanchaco is also home to what is possibly an ancient type of surfboard. Caballitos del mar are rafts made from expertly tied totora reeds (the same stuff used for building the floating islands on Lago Titicaca) that were designed by the Mochica, and you can catch a ride with a local fisherman out into the bay.
This corner of Peru is just begging for you to stay a few days. Luckily, accommodation options abound, including the glorious tranquil yoga hostel, ATMA (S/22 ($7 USD) dorm, S/70 ($21 USD) double).
Huaraz
Forget the Inca Trail in the south of Peru: the Cordillera Blanca and Parque Nacional Huascarán make Huaraz the country's hiking and climbing capital.
Jagged, ice-sheathed mountains bow into aquamarine lakes and high-altitude hiking trails climb up between the two, offering truly spectacular scenery and a glimpse of delicate vicuña and soaring condors.
The region's most popular hikes include the one-day Laguna 69 trail and the four-day Santa Cruz trek, both of which climb into the mountains to reach picturesque – and truly photogenic – glacial lakes.
For more experienced hikers, consider heading south to the far less visited Cordillera Huayhuash, where the 14-day (and 186-kilometer) Huayhuash Trek promises high-altitude passes and stunning mountain scenery.
All can be reached from Huaraz, where comfortable mountain lodges offer lodgings.
Chavín de Huantar
Built sometime around 900 BC, the UNESCO world heritage Chavín de Huantar is a spectacular temple complex pertaining to the Chavín cult, which once housed around 3,000 priests at its peak in 300 BC.
This cult was established around the worship of a fanged, feline deity and its followers were enthusiastic takers of hallucinogenic drugs, namely the San Pedro cactus.
Many of the relief carvings still dotted around this vast archaeological site depict drug-inspired beings. However, to see the Tello Obelisk and Estela de Raimondi, pillars of polished granite with intricate carvings demonstrating the Chavín cult's exceptional craftsmanship, you'll have to head to the Museo Nacional de Arqueología, Antropología e Historia del Peru in Lima.
Although some parts of the ruins are in a poor state due to earthquake and flood damage, Chavín de Huantar is one of the country's finest – and most important – sites.
It certainly merits the bumpy and terrifying at times four-hour bus journey from Huaraz – which also offers dramatic views of the Callejón de Conchucos.
---
Nine Places to Visit in Central Peru
Lima's dining scene
Visiting Peru without spending some quality time in its capital would be a damn shame. A chaotic, concrete jungle intertwined with majestic colonial architecture, pre-Colombian remains, and a buzzing cultural scene, Lima is well equipped for a charm offensive.
Eat your way across South America's gastronomic capital (pisco sours and ceviche are just the beginning…), being sure to venture beyond the sprawling beach and luxury shops and bars of tourist-popular Miraflores to the colonial city center and the hipster hangout of Barranco (craft beer included) to experience the other faces of this charismatic city.
Make sure you stop in for lunchtime ceviche (Peru's stable dish) at La Mar and enjoy some criolla music at the famed Del Carajo, a peña (a late-night traditional music venue and bar) packed with local Limeños.
And check out our review of Selina for your guide to where to stay in Lima.
Museo Larco, Lima
40,000 ceramics jostle for space on the shelves of the singular Museo Larco in Lima's Pueblo Libre neighborhood.
If you're curious about Peru's history of pottery, there's no better place to slake your interest, with the exhibits covering a staggering 4,000 years of Peruvian civilization.
But, what the museum is perhaps better known for is its collection of Mochica erotic pottery.
Yup, the Mochica had a penchant for recreating sexual acts through ceramics and you're guaranteed to spend a few hours chuckling at some of the more explicit pieces.
The Marcahuasi "stone forest"
The human and animal shapes that can be spotted 4,000m above sea level among the eroded rocks of the Marcahuasi volcanic plateau have won this place small fame as one of the "seven wonders of Peru".
This is no Mount Rushmore, but what the shapes lack in distinction due to their immense age they make up for in mysterious appeal: to this day, their exact origin remains unknown.
Wonderfully undiscovered, Marcahuasi doesn't have substantial tourist infrastructure: while reachable by car from Lima in 3 hours, the bus takes longer and passes infrequently, so come prepared to camp or spend the night at Chosica or San Pedro de Casta.
Caral
If you thought you knew anything about Peru's ancient civilizations, then think again. Situated just inland in the Supe Valley, a three-hour bus journey north of Lima, Caral is the oldest city in the Americas.
Dating back to around 5,000 years old, it's thought that construction started here around the same time as the Great Pyramid of Giza – although archaeological work didn't begin until 1996.
The Caral culture was officially the oldest civilization ever uncovered in the Americas.
Since then, six stone pyramids, many with a ceremonial purpose, and another 14 other buildings have been uncovered – with most of the site remarkably preserved for its age.
It's easiest to visit with a tour from Lima, although public transport to Supe and then onward to Caral is also possible.
Huancayo
Although recently crowned Peru's happiest city, Huancayo doesn't often make it onto tourists' Peru bucket lists.
The city is worth a visit for those wanting to experience authentic Peru and visit nearby attractions including the Torre Torre rock formations, the myth-shrouded Laguna de Paca, and the high-Andean villages of Cochas Chico and Cochas Grandes, famed for their intricate artisan gourds.
For spectacular views, catch the high-altitude train connecting Huancayo to Huancavelica, a 128km route that's been running since 1926 and remains one of the highest in the world.
Paracas National Reserve
A four-hour bus journey from Lima brings you to Paracas, one of the largest desert reserves in South America and which also encompasses coast and ocean, making it the perfect place to escape the chaos of the metropolis.
Explore hidden coves with turquoise waters and relax on the red-hued sandy beach of Playa Roja or keep your eyes peeled for abundant bird life, including pelicans and even flamingos on the northern coast of the reserve.
Just outside the reserve, boat excursions take you to the Islas Ballestas to spot Humbolt penguins, sea lions, humpback whales, and many other species.
Ica's vineyards
While Argentina and Chile might be South America's best-known wine-producing countries, Peru also has its own vineyards – even if the grapes are used for a different purpose.
Pisco is one of Peru's most important exports. This grape brandy also forms the base of the country's ubiquitous cocktail, the pisco sour. If you've never heard of this sweet drink then you clearly need to be hopping on the very next flight to Peru.
Trust me: this delicious cocktail of pisco, egg white, lime juice, and sugar syrup is morish – and can be somewhat lethal after you've drunk a few.
To get to grips with Peru's favorite alcoholic drink, head out to the vineyards around Ica, where you can sample pisco and wine directly from the bodega (wine cellar) before enjoying a hearty lunch.
Head to Tacama or Tres Generacions for some of the best pisco.
Huacachina's sand dunes
If you've ever wanted to wizz your way down a sandy hillside, surrounded for miles by undulating, golden folds of sand dunes, there's one place in Peru that's just for you: Huacachina.
This oasis village sits around the shores of a small lagoon and is flanked on all sides by towering sand dunes.
They've become popular in recent years thanks to the growing selection of sandboarding and sand buggy tours – the former where you strap a sandboard to your feet and the latter where you motor through the dunes, taking steep slopes at a nail-biting pace.
Unfortunately, increased tourism and the driving of vehicles over the sand dunes are doing some pretty serious environmental damage. What's more, the lagoon is looking worse for wear due to unscrupulous visitors throwing rubbish into it.
If you want to still visit the dunes, a lower-impact activity is to hike up them at sunrise or sunset for spellbinding views (and no burns to the soles of your feet as you can expect walking on the sand during the day.
You can also ease the pressure by avoiding Huacachina between May and August when it's at its most packed.
Ayacucho
Ayacucho rewards those who make their way off the beaten track with a glimpse of authentic Andean Peru.
Take a day bus here from Cusco, Huancayo, or Pisco for an unforgettable journey winding through the mountains, then discover the city's colonial architecture in the Plaza de Armas and the surrounding streets, where 33 churches give nearby Cusco a run for its money when it comes to colonial grandeur.
Even more fascinating is the city's strong history of Peruvian folk art, notably the colorful retablos or mini altars that date to colonial times and are still made by artisans in the city.
They depict everything from religious scenes to folkloric festivals and – the most bizarre fact – is that they're made from potato mixed with plaster of Paris! They make fantastic souvenirs and you're unlikely to find them in many other parts of the country.
Outside of the city, there's plenty to see as well. Make sure you venture into the surrounding countryside to explore the pre-Incan Wari ruins and tiny pottery town, Quinua.
Fourteen Places to Visit in Southern Peru
The Nazca Lines
The UNESCO-World-Heritage-Site Nazca Lines trail Machu Picchu for the title of Peru's most iconic tourist attraction.
To get an eyeful of these baffling, gigantic, ancient geoglyphs etched into the floor of the Nazca desert, first reach Nazca – a 7-hour bus journey from Lima – then arrange your viewing method of choice (options include from viewing tower, nearby mountains, or plane).
Cusco
Cusco is the centerpiece of Peruvian tourism, both in its own right as the ancient Incan capital and as a pit-stop on the way to the South American tourist's holy grail, Machu Picchu.
As Peru's most popular city for tourists, Cusco's eccentric charm is born from a bizarre fusion of colorful Andean tradition and contemporary intensive tourism.
In between gargantuan Incan stone walls, spot brightly adorned, sour-faced llamas, vaguely traumatic stacks of roasted guinea pigs, and local entrepreneurs pushing their wares, from sports massages to (fake) alpaca jumpers.
While it's hard to find an unexplored inch in the old town, the Baratillo market on a Saturday is an opportunity to escape the throngs of tourists and experience Cusco like a local, while the city's historic sites – particularly Q'orikancha, an Inca temple overlaid with a 17th-century church – are well worth the visit. Read our recommended Cusco itineraries for further inspiration.
There are also world-class rapids in the nearby Apurimac and Urubamba rivers (we recommend going white water rafting with local experts and B Corp, Amazonas Explorer – mention Worldly Adventurer for a 5% discount on all of their tours).
Awana Kancha Llama Sanctuary
A stone's throw from Cusco, Awana Kancha is a small reserve for llamas, alpacas, and guanacos.
Hop off the bus en route from Cusco to Pisaq to get up close and personal with South America's woolly icons and learn about the different species and traditional textiles.
Once you've had your fill of llama selfies (if that's even possible), walk up the road to the Cochahuasi animal sanctuary, a local, family-run organization that rescues and cares for mistreated and endangered animals, such as the magnificent Andean Condor.
Need help planning your trip to Peru?
My custom-designed itinerary planning service is all you need to plan a trip of a lifetime to one of South America's most beguiling locations. Check out my Peru trip planning service for more information about how it works.
Alternatively, if you're looking to book your trip to Peru through a local operator, check out this 15-day Best of Magical Peru tour from our trusted partner in Peru, Valencia Travel.
Hitting the country's absolute highlights, this incredible tour will take you to unmissable Peruvian destinations including Machu Picchu, The Sacred Valley, Arequipa, Puno, and the Amazon Jungle.
The Sacred Valley
The fertile valley sprawling outwards from the Urubamba river is famed for its arresting beauty and – for some – its healing energy.
The valley is peppered with wellness retreats offering everything from yoga and meditation to plant healing ceremonies such as the notorious ayahuasca, as well as fascinating Incan ruins and picturesque towns.
While the town of Ollantaytambo is a key destination on the local tourism circuit (and an interesting place to visit in the Sacred Valley) as it's the starting point of the Inca Trail, Pisac hosts a great market and an epic foam fight during the annual Carnival celebrations – which are more interesting than those in nearby Cusco.
You'll also find plenty of places to stay in the Sacred Valley, which, at a lower altitude than Cusco, is a great place to acclimatize to the high elevations of the region.
Machu Picchu
Easily the most famous place to visit in Peru and the Goliath of South America's tourism hotspots, the Incan citadel of Machu Picchu perched high up in the Andes has topped many a bucket list.
There are several options for getting to Machu Picchu – not all of them expensive – but most pass through Aguas Calientes, the small and nowadays hugely touristy town crouched at the base of the mountains.
A self-guided two-day tour from Cusco via minibus coming in as the cheapest way to get to Machu Picchu.
The Inca trail is the most well-known but by no means the only or best hiking route to get there; other adventurous options include the Salkantay and Lares treks.
Before you plan, read up on when you should visit Machu Picchu for the times of the year with the best weather and finest views of the citadel.
Choquequirao
If you don't want to share your Incan experience with 2,500 other tourists, skip Machu Picchu and head off the radar to Choquequirao – Peru's least-known mountain-top fortress.
Although it was once a magnificent site thought to be around the same size as Machu Picchu, only 30% of the site has yet been excavated and it's distinguished by its huge terraces decorated with white-stone llamas.
Getting here is a tough but magnificent four-day round trek that sets out from the town of Cachora, but the infrastructure is currently being constructed to make Choquequirao more easily accessible – so if you want to have this place to yourself, get there ASAP.
It's fair to say that it's one of South America's best – and most unmissable – hikes. To do it, we recommend Amazonas Explorers, who have scheduled departures on the first Sunday of each month.
They aren't the cheapest company available, but they offer a really high level of service, a committed to sustainability as a B-Corp, and have English-speaking guides. Mention us for a 5% discount on their tours.
The Rainbow Mountains
A relatively new discovery for Peru's tourism industry, most of the time you only hear about one "rainbow mountain": Vinicunca.
Day trips from Cusco bus 1,000 tourists here every day armed with smartphones to snap that Instagram-perfect picture of the mountain's colorful sedimentary stripes (filters abound).
This breakneck baptism into mass tourism has not come without some unpleasant side effects, including poor-quality tours, a rapidly degrading trail, and the destruction of natural habitats.
A one or preferably two-day trip to Palccoyo, the "other rainbow mountain", offers a more sustainable – and enjoyable – experience. Again, Amazonas Explorers are a brilliant responsible operator with whom to do this trip (and will give you a 5% discount if you mention Worldly Adventurer when enquiring).
Puerto Maldonado and the Tambopata National Reserve
Puerto Maldonado, the small, sweltering city where the Tambopata and Madre de Dios rivers converge, is perhaps the most quickly accessible point of entry to the secluded rainforests of the Amazon basin, particularly for those on a short Peru vacation.
An overnight bus or short plane journey from Cusco brings you to the humid city, before motoring upstream to a jungle lodge.
Stay at the fantastic Tambopata Research Center ($236 USD double), located in the Tambopata National Reserve, for piranha fishing, nocturnal hiking, birdwatching, ayahuasca rituals, and more.
Just a word to the wise: don't forget your mosquito repellent.
Manu National Park
This UNESCO World Heritage Site is an area of globally unrivaled biodiversity, uniquely located at the meeting point of the tropical Andes and the Peruvian Amazon basin.
Reachable from Cusco by plane or a lengthy (over 17 hours) but incredibly scenic route via road and boat, or from Puerto Maldonado (4-6 hours by boat), entrance to the park is only permitted through an established tour operator.
Visitors are in with a chance of spotting elusive big cats and rare species including the giant armadillo and the giant river otter.
Arequipa
Signature white buildings set against a skyline dominated by the deceptively serene-looking Misti volcano make Arequipa Peru's picturesque urban gem.
The country's second biggest city, though just a tenth the size of sprawling, chaotic Lima, Arequipa holds its own in terms of heritage, culture, and – importantly – cuisine: pop into a local picantería to sample regional favorites such as chupe de camarones and rocoto relleno.
Find out other things to do in Arequipa in our extensive travel guide to the city and pick your accommodation with this article about where to stay in Arequipa.
Volcan Misti
Volcano Misti has become both an icon of Arequipa and gained infamy as the fourth most dangerous volcano in the world.
Misti stands at an impressive 5822 meters above sea level but is nevertheless one of Peru's most easily accessible summits.
Adrenaline seekers can hike to the top in roughly two days to check out the sizzling crater and enjoy stunning views over Arequipa and the Laguna de Salinas.
The Cañón del Colca
Twice as deep as the Grand Canyon but not nearly as famous, Cañon del Colca (Colca Canyon) boasts dramatic scenery and pre-Colombian agricultural terraces built into its sheer sides and has quickly established itself as a Peruvian landmark that you don't want to miss.
It is one of the best places in South America to spot endangered Andean Condors, which can be seen gliding between rocky cliffs in the skies above, most visibly from the Mirador Cruz del Condor.
As an entry point to the western side of the canyon, the small town of Cabanaconde may be reached by a 3.5-hour bus journey from Arequipa, and from here, a two-day hike sees you plunge down into the depths of the canyon.
In the evening, take a relaxing dip in the swimming pools of the lush Paraiso Las Palmeras Lodge (S/133 ($40 USD) double) before an early – and lung-busting – climb back out again the next morning.
The Reserva Paisajística Subcuenca del Cotahuasi
The Cotahuasi Reserve is a paradise for those looking to get truly off the beaten trail in Peru's tropical Andes. Its sierra landscape is dotted with Inca and Wari ruins, gushing waterfalls, and tiny villages.
You can raft down rapids, bathe in thermal springs, and visit the world's deepest canyon – although nearby Colca canyon, being more easily accessible, gets way more limelight.
As a starting point, the town of Cotahuasi can be reached in 10-12 hours by car or bus from Arequipa.
Lake Titicaca
The colossal Lake Titicaca (Lago Titicaca) – one of the biggest in South America and the highest navigable lake in the world – is a must-stop on any tour of Peru.
The small city of Puno is a popular choice for tourists launching a day trip to the "floating islands", hand built from reeds by the Uros people, but the lake is full of secluded corners to explore ancient ruins, discover local traditions, and take in the fresh air and ruggedly beautiful landscape.
A homestay on Amantini island is a great way to experience (non-floating) island life firsthand.
---
FAQs about visiting Peru
Which part of Peru should I visit?
Most visitors head to the south-east of Peru in order to head to the Sacred Valley and spend time at the archaeological wonder that is Machu Picchu, before potentially heading across to Lake Titicaca or down to Arequipa to explore the surrounding volcanic landscapes and Colca Canyon.
However, if you're looking for a destination with far fewer tourists, consider visiting the north of Peru. This region is packed with archaeological sites, such as Kuélap, that receive far fewer visitors but are significantly older than Machu Picchu!
What is the prettiest place in Peru?
It's hard to pick just one! Machu Picchu is definitely a dramatic sight to see, regardless of the season, while the surrounding Sacred Valley is particularly pretty and green during the months of April and May following the rainy season.
Another pretty place is the Pacific Coast, where white sand beaches in the resorts of Mancora and further north look out onto azure ocean.
What is the best place in Peru?
It really depends on what you want to do! If you're into archaeological sites, then Machu Picchu and northern Peru (particularly around Trujillo, Chiclayo, and Chachapoyas) are the best places to visit. If you want to hike, the high mountains of the Cordillera Blanca that are accessible from Huaraz will be more up your street.
The Peruvian Amazon, particularly the Manu Biosphere Reserve close to Madre de Dios, is the best place in Peru for spying wildlife, including chatty monkeys, bizarre pink river dolphins, and even secretive jaguars.
What is Peru famous for?
Peru is most famous for Machu Picchu, a stone citadel located high in the mountains above the Sacred Valley that was built by the Inca. Peru is also famous for its cuisine; it's considered to be home to some of the finest dishes in the world, including ceviche and even roast guinea pig.
Want more?
Get more inspiration with our guide for a two-week to two-month and get all the information you need for planning a trip to Peru with The Rough Guide to Peru, for which, Steph, the founder of Worldly Adventurer, was one of the contributors.
If you're considering visiting Peru and want to escape the crowds or just want expert advice about the best destinations, hotels, and activities to do during your vacation, check out the Worldly Adventurer travel planning service for a custom-made itinerary tailored exactly to you and your upcoming trip.
You can also read our guide to when to visit Peru for information on the weather you can expect during different parts of the year and which month is best for planning your trip.
Add a bookmark to your browser or pin this to your Peru travel Pinterest board!
---