If you're feeling drawn to the ever-popular Inca Trail and its mesmerizing focal point, Machu Picchu, you're not alone. Every day, thousands of people flock to the lost city, whether they are luxury or budget travelers.
Peru caters to everyone, regardless of budget. Indeed, it's one of the top cheap places to travel in South America. However, the cost of traveling in Peru depends on what you want to experience and when.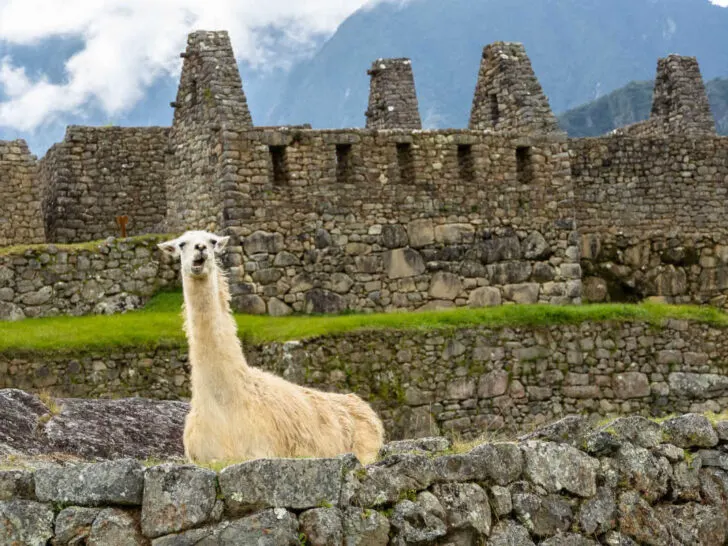 We've delved into the details to give you the lowdown on the cost of traveling in Peru.
Key things to know about traveling in Peru
There are only a few direct flights within Peru that don't go via Lima. Most flight routes involve a stop in the capital city.
There are many bus routes throughout the country, although it's always wise to pay for a more expensive bus company, as cheaper operators can be dangerous. We recommend using companies such as Cruz del Sur, Oltursa, TEPSA, Movil, and Civa for their higher safety credentials. Bus Bud is a great site for finding bus tickets before you travel, but they are often cheaper when bought at the bus station directly.
Bus rides within Peru are typically long and grueling, winding through the mountains. If you tend to suffer from motion sickness, do bring medication. For Cusco and other cities at high elevations, altitude sickness can also be an issue, so consult your doctor for medication before you travel.
Traveling by bus can be a lot cheaper than taking domestic flights. For instance, if you're traveling from Lima to Cusco, a bus ticket can cost as little as $27 USD for a 140-degree reclining seat, or $45 USD for a much more comfortable 160/180-degree reclining seat (although 180-degree reclining seats are only typically available on routes between major cities). By contrast, flying can cost almost double that amount. These buses tend to cover long distances, however, so you can face up to 22 hours on a bus between Lima and Cusco!
If you can spare at least one week in Peru, you might want to consider Peru Hop. Rather than simply going from point A to B, Peru Hop offers a unique journey where you can hop on and off at interesting destinations along the way. A three-day adventure through Paracas and Nazca with Peru Hop, for instance, costs $179 USD. Although it may be a bit more expensive, it's definitely worth every penny and one of the best ways to travel in Peru for those who don't speak Spanish, as you'll have a local English-speaking guide accompanying you.
Some local establishments, such as shops and restaurants, do not accept payment by card. It's best to carry some local currency (Peruvian Nuevo Sol or PEN).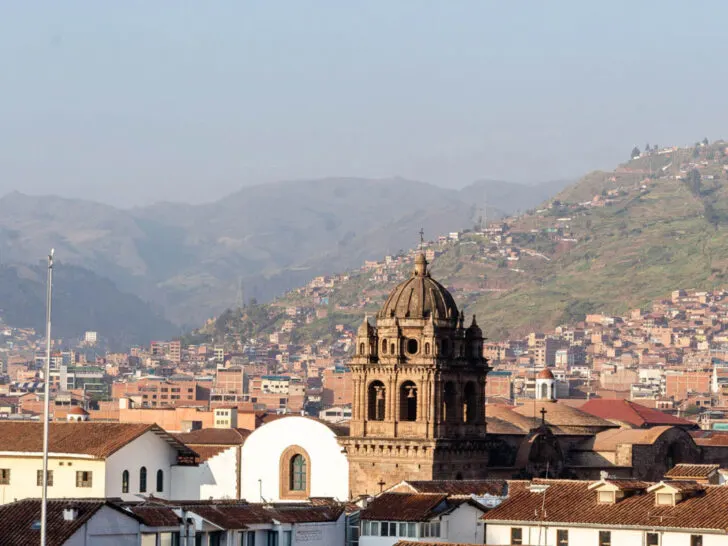 The 2023 protests had a significant impact on tourism in the area. Some sites are currently closed, while others can only be visited with a local guide.
Although the Peruvian Sol remains relatively stable, prices may fluctuate due to volatile exchange rates. Prices for tours are typically quoted in US dollars, however.
It's becoming increasingly easier to pay using your credit card across Peru. ​Some restaurants and guesthouses still only accept cash, however, so always have a reserve of Sols on hand.
Tap water isn't potable and bottled water can cost from $1 USD for a liter. To save money, it's wise to invest in a travel water filter (such as my favorite, the Steripen) and a reusable Nalgene water bottle.
Planning Your Trip to Peru?
Save time, stress & money with a customized travel itinerary planned for you by a Peru expert

What previous clients have said:

Steph did a great job! I have never used such a service before and I wish there were more of them!
Getting off the beaten track was important to us and with Steph's knowledge we were away from the crowds. The information is very detailed and she knows some great places to stay! Thank you Steph!
Justin and Lisa
Traveled Patagonia, Bolivia and Peru in Jan '19
Recommended daily travel budget for Peru
For budget travelers: around S/100 ($27 USD) per day
If you're planning to explore Peru on a tight budget, don't worry about giving up comfort. Many hostels offer cozy dorms or shared rooms without breaking the bank: you can snag a spot for around S/50 ($13.5 USD) per person per night. Take Selina Arequipa, for example: they've got shared dorms with comfy bunk beds and privacy curtains for only S/54 ($14 USD) per person.
Eating on a budget is also doable; most budget-friendly accommodations will have a shared kitchen where you can whip up easy meals and buying ingredients from local markets is an easy way to keep costs down. But if you're feeling adventurous, check out the local restaurants. The cost of food in Peru is relatively cheap: you can grab a satisfying meal for around S/10 ($3 USD).
Street food and snacks are even cheaper – around half the price! It's a steal considering the amazing culinary scene here and the cheapest way to eat. You can find mouthwatering Peruvian dishes even at street food stalls.
When it comes to getting around, you can go super cheap by doing what the locals do: hop on a colectivo. A colectivo is a public transportation minivan that fits around 20 people. Depending on the distance, a ride will set you back around S/2 to S/10 ($0.5 to $2.7 USD).
For example, a colectivo ride from Cusco to Pisac, a charming town in the Sacred Valley 20 miles (32 km) away, costs around S/6 ($1.6 USD).
For mid-range travelers: around S/350 ($96 USD)
If you're looking for a more comfortable yet still economical way to experience Peru, budget around S/250 or $68 USD for a day, and treat yourself to an upgraded lodging option that offers better amenities and a well-appointed room, as the cost of accommodation in Peru is typically very affordable.
One great option is Quinta San Blas ($130 USD double) in Cusco, a mid-range hotel that offers incredible value for money. The nature-inspired rooms have crisp white linens and overlook a sunny courtyard. For more choices in the $50-$150 USD range, check out our guide to the best hotels and guesthouses in Peru.
Treat yourself to a delicious dish every now and then, costing around S/20 ($6 USD) per plate. One must-try is "Arroz con pato" which literally translates to "Rice with duck." You can find this delightful dish at local restaurants, but for the ultimate experience, head over to Nanka in Lima, where they serve it marinated in "leche de tigre" ("tiger's milk," a spicy, citrus-based marinade).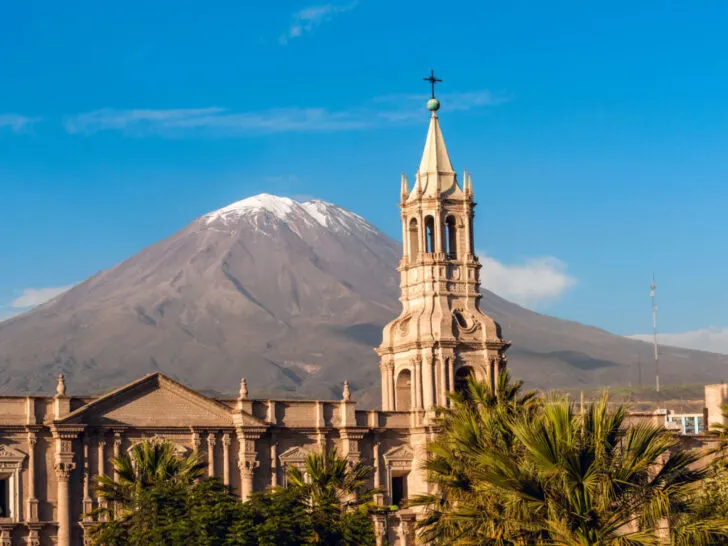 When it comes to getting around, you can opt for local taxis instead of buses or colectivos. The quality of cars varies, so you might end up in a less-than-stellar one even though the fare remains the same.
Typically, a one-kilometer (0.6-mile) trip costs around S/4 ($1 USD). Note that taxis are unmetered, so it's best to ask and agree upon the fare amount before you set off.
For luxury travelers: around S/1500 ($406 USD)
If you're prepared to splurge in Peru, get ready for a treat: many tourism companies go all out to provide visitors with the best of the best.
Picture yourself in a luxurious suite in the cloud forest of Machu Picchu; Inkaterra Machu Picchu Pueblo ($548 USD double) offers just that. If you're feeling adventurous, spend the night in a suite capsule suspended 400 meters above the ground at Skylodge Adventure Suites ($400 USD per person).
For the fine-dining aficionados out there, you'll be pleased to know that enjoying the best Peruvian dishes doesn't have to break the bank. A three-course meal typically costs around S/100 ($27 USD) excluding drinks.
One must-visit spot is Piedra & Sal, an exclusive restaurant in Cusco, which serves some of the most delicious dishes I've ever tasted. My personal favorite is the slow-cooked lamb, Seco Norteño – simply divine!
While taxis are readily available in Peru – especially in big cities like Lima, Arequipa, and Cusco – consider renting a car with a driver or arranging your pickups through your hotel, as it's a safer and more convenient option. To be on the safe side, budget around $50 USD per day for transportation expenses.
What does it cost to explore Peru?
The cost to travel to Peru can vary greatly depending on your desired destinations and activities. Below, we provide you with information on eight popular places to visit in Peru and their associated costs.
1. Lima
Like most capital cities, Lima can be expensive if you don't know where to go: just because a hotel is expensive, it doesn't guarantee top-notch service. It's wise to follow recommendations and consider spending a few extra dollars for peace of mind if necessary.
If you're looking to indulge, budget around $120 USD per night for accommodation. For that price, you can enjoy the top-tier "Unique" room at Selina Lima, complete with a private balcony.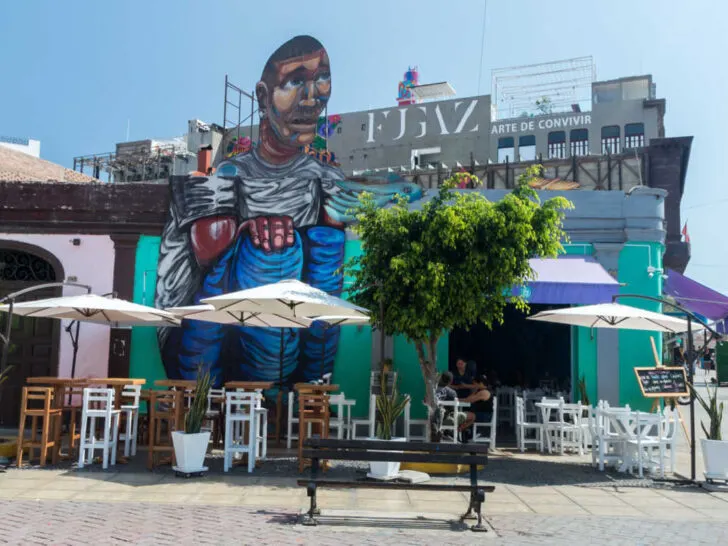 When exploring Lima's restaurant scene, it's best not to skimp on budget: the city has many fine seafood dishes, including parihuela and ceviche. While there are numerous ceviche spots in Lima, the one served at La Mar Cevicheria stands out from the rest. Lima is the perfect place not just for flying into Peru but also to dine out frequently and treat yourself to exceptional food experiences.
You'll also find plenty of museums and activities to do in Lima, such as visiting the incredible Museo Larco (packed to the rafters with gold and other treasures from pre-Columbian civilizations). Entrance fees for visiting locations such as these typically start from $5 USD.
The center of Lima (the area around the Plaza de Armas) is only seven miles (11 km) from the airport. A quick 30-minute taxi ride, costing approximately S/45 ($12 USD), can take you directly to the city center.
2. Cusco and the Sacred Valley
As we mentioned earlier, you can either get on a bus or fly from Lima to Cusco. Traveling by bus can be a lot cheaper than taking domestic flights. A bus ticket can cost as little as $27 USD for a seat with a 140-degree recline, or $45 USD for a much more comfortable 160/180-degree reclining seat.
By contrast, flying can cost you almost double that amount (an average cost of around $70 USD with LATAM Airlines).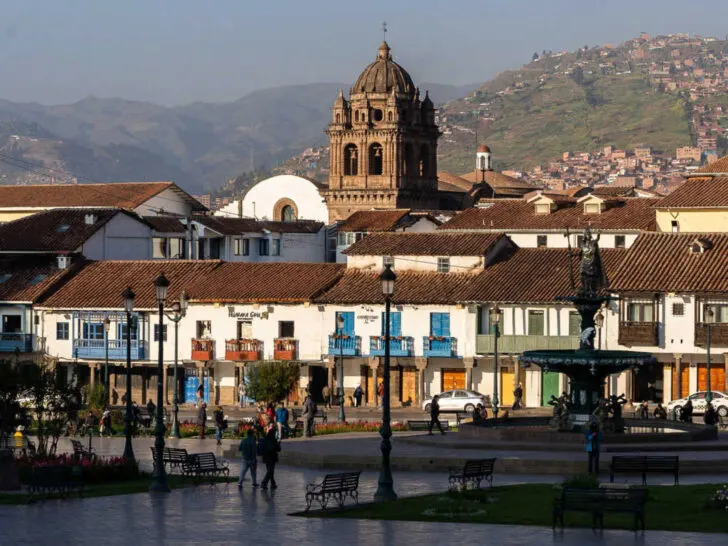 Living costs in the Sacred Valley are relatively inexpensive. Despite its popularity among tourists and its slew of tourist attractions, this region has retained much of its original character, allowing you to experience a simple and humble lifestyle alongside local people.
Dining at restaurants, even the high-end ones, is affordable. Entrées tend to cost no more than S/20 ($5 USD), although you will certainly not find the same quality of restaurant as you will in nearby Cusco.
Accommodation can cost from as little as S/20 ($5 USD) or as much as $400 USD, depending on the type of hotel, guesthouse, or hostel in which you stay. Luckily, there are plenty of hotel choices in the Sacred Valley to match your budget.
The only public transport available in the Sacred Valley is a colectivo, a small van that operates from Cusco to Chinchero and Cusco to Urubamba and Ollantaytambo. One usually passes every five to ten minutes and stops at every town in between. They will also take passengers from the street if there are any empty seats.
3. Machu Picchu
Despite its increasing popularity, Machu Picchu remains secluded, with no cities near the site. The nearest city, Cusco, is 72 miles (115 km) away; the distance from Lima to Machu Picchu is more than 600 miles (965 km).
Therefore, when planning a visit to Machu Picchu, most of your budget will go on transportation, in addition to the S/152 ($42 USD) entrance ticket.
Want a cheeky 5% discount on the Inca trail or Salkantay trek?
Alpaca Expeditions are not only one of the most sustainable companies offering Salkantay and Inca trail treks to Machu Picchu, but their guides, porters and chefs are the ultimate hosts.
They're now offering Worldly Adventurer readers a 5% discount on all of their hikes – just mention Worldly Adventurer when you enquire!
Flights from Lima to Cusco are typically priced around $70 USD for a one-way journey. From Cusco, you have a few options to reach Aguas Calientes, the gateway to Machu Picchu.
The cheapest public transport option is to take a colectivo to Ollantaytambo and continue the journey by train, which costs approximately $58 USD per person.
In my opinion, however, it's best to take a direct train from Cusco to Aguas Calientes, even though it costs $70 USD. This option offers a less complicated and more convenient trip for just $12 USD more.
There are also trekking routes available to reach Machu Picchu from Cusco, such as the Inca Trail and the Salkantay Trek. However, these treks are not free and require several days to complete. Therefore, you'll have to allocate extra budget for accommodation along the way.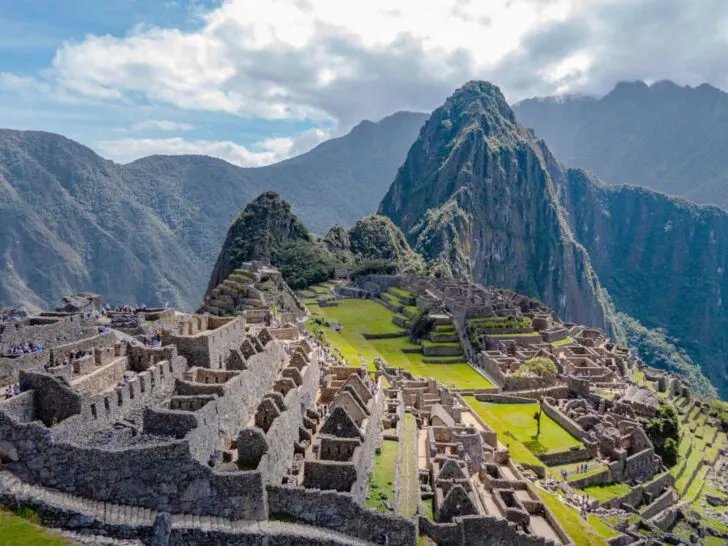 For more detailed information on the cost of visiting Machu Picchu, I recommend checking out our comprehensive guide to Machu Picchu costs.
4. Arequipa and the Colca Canyon
If you decide to undertake the hike to Colca Canyon – the second deepest canyon in the world and a grueling but worthwhile hike – the hike itself is free of charge if you do it independently. Your budget here will mainly go toward transportation, food, and accommodation.
Fortunately, flights between Lima and Arequipa are frequent and reasonably priced. For example, LATAM Airlines offer one-way trips starting from $50 USD (excluding checked baggage fees).
Alternatively, it's easy to hop on a bus from Cusco to Arequipa (10 hours; book online through Bus Bud or at the bus station in Cusco), which should cost around $24 USD.
For a self-guided three-day/two-night hike, you can expect to spend around $150 USD for two people in a double room. This cost covers accommodation (one night each in Llahuar and Sangalle), colectivo fares to and from Arequipa, and meals at the lodgings.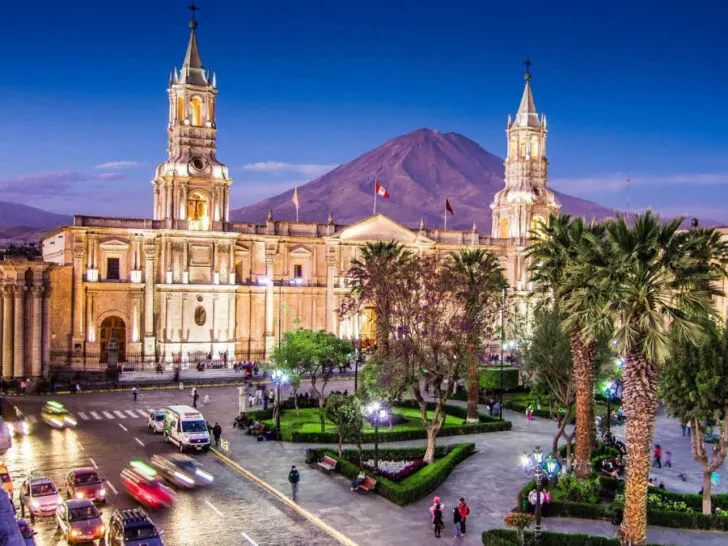 Joining a guided tour may offer cost savings, as they usually provide dormitory-style accommodation, although some may allow you to upgrade to private rooms at extra cost. The prices of tours range from $30 USD to $100 USD per person per day, depending on the services and amenities provided by the tour operator.
5. Rainbow Mountain
Vinicunca – or Rainbow Mountain as it's better known – has gained popularity among visitors to Peru, attracting thousands of tourists daily. While the entrance ticket is only S/10 (around $3 USD), the overall cost of visiting can be quite high.
In addition to the $70 USD required for a flight from Lima to Cusco, the closest city to Vinicunca, you will also need to arrange transportation to reach the mountain. A taxi ride covering the 66 miles (106 km) distance can cost approximately $100 USD; joining a tour bus package starts at $20 USD per person.
However, it's important to note that Vinicunca is not on our list of recommended things to do in Peru. The area has been affected by environmental and cultural issues due to the influx of outsiders, including tourists, visiting and crowding the region.
Instead of visiting Vinicunca, we suggest exploring other destinations that are equally beautiful but have a significantly lower impact on the environment and local communities.
One alternative is Palcoyo, which offers breathtaking scenery with a fraction of the crowds found at Vinicunca. Amazonas Explorer offers a hiking tour to this "other" Rainbow Mountain and provides a unique and less crowded experience. Get a 5% discount if you mention Worldly Adventurer when enquiring.
6. Southern Coast
Make your trip from Lima to Cusco a lot more exciting by making stops at Pisco, Paracas, Huacachina, and Nazca, where you'll find massive geoglyphs.
Start your adventure by taking a four-hour bus ride south from Lima to Pisco, with tickets starting from $10 USD. Pisco is famous for its namesake drink, a distilled grape brandy that's a must-try while you are in Peru.
Once you've had your fill of Pisco, continue your journey with a quick 30-minute bus trip to Paracas, one of the most popular destinations to visit in Peru, which will only cost you around $5 USD. This is where the boat trip to Ballestas Islands, aka the Peruvian Galapagos, starts.
Another $5 USD bus ride – this time over an hour long – will take you to the Huacachina Oasis. But if you're pressed for time, skip Huacachina and head straight to Nazca. The bus ride from Paracas to Nazca takes about four hours and costs approximately $10 to $20 USD.
Each bus ride is a separate leg of the journey, so you'll need to purchase tickets individually – either online or offline at the bus station. Most bus operators in these areas don't speak English, so communication might be a bit challenging.
If all this sounds like too much hassle, Peru Hop offers a more convenient option. For just $179 USD, you can embark on a three-day adventure from Paracas to Nazca and all the way to Cusco.
It's not just a bus trip, but a unique experience where you can hop on and off at interesting destinations along the way. Plus, you'll have a local English-speaking guide to accompany you throughout the journey.
7. Lake Titicaca
Puno – as mentioned in our extensive Peru guide – is the gateway for all destinations in the Lake Titicaca area. Though small, this city has several accommodation options for travelers. If you're flying from Lima, you can catch a domestic flight to Inca Manco Cápac International Airport: prices usually range from $30 to $60 USD.
The downside is that the airport is quite far from downtown Puno: about 64 miles (102 km) away. Unfortunately, there's no convenient public transport available, so your best option is to hop in a taxi, but it'll cost you around $100 USD.
It's easiest to reach Puno using a public bus from Cusco (6.5 hours; book online through Bus Bud or at the bus station in Cusco) which should cost around $19 USD.
When it comes to accommodation, you can't beat GHL Hotel Lago Titicaca ($88 USD double), which sits on the tiny Isla Esteves and is connected to the mainland by a road bridge. If you're on a tighter budget, consider going for a homestay experience on Amantani Island instead.
8. Northern Peru
While often overlooked by tourists, Northern Peru offers a unique and captivating experience that rivals the popular destinations in the country. Imagine stunning landscapes almost untouched by civilization, where you can appreciate the beauty without having to jostle with crowds of tourists.
It's true that the northern side doesn't immediately come to mind when thinking about what to do in Peru. However, this is actually a positive aspect for the region: fewer visitors mean that it's less touristy.
As a result, you'll find that food costs are cheaper here compared to Lima and other parts of Peru. Plus, you can book a suite at a luxurious beachfront hotel in Máncora for less than half the price of other beach destinations in the area.
To explore Northern Peru from Lima, make your way to Trujillo, where you'll find fascinating archaeological sites that predate the Inca Empire.
You have two options to get there: a nine-hour bus journey for $25 to $50 USD, or a quick 45-minute flight costing $85 to $125 USD, followed by an easy taxi ride into the city.
Worldly Adventurer founder, Steph, has put together a comprehensive list of recommended tours in Northern Peru, to tempt you to spend a few extra days in this part of the country.
When is the cheapest time to visit Peru?
Just like other popular travel destinations around the world, Peru has its high season and low season, and costs can vary accordingly. During the high season, hotel rates are considerably higher than in the off-season.
Typically, if you book your accommodation several months in advance – six months or more – you can secure cheaper hotel rates. However, for Peru's most popular spots like Machu Picchu, this strategy may not work as most hotels already set their high season rates well in advance. The same goes for flight costs.
That being said, there are certain areas in Peru that don't experience a significant influx of visitors during the high season, and have weather conditions that remain relatively stable throughout the year. In such cases, the best time to visit Peru might align with the cheapest time to fly there.
If you want to learn more about when to visit Peru, I recommend checking out our piece on the best time to visit Peru for valuable insights that will help you plan your trip.
Peru trip cost: Is Peru an expensive place to visit?
So, is Peru cheap or expensive to travel to? The simple answer is that it's cheap, but it ultimately depends on your personal preferences and chosen destinations.
If you're comfortable sharing accommodation with fellow travelers and opt for inexpensive meals, you can manage with a budget as low as $27 USD per day.
But if you're looking for a more comfortable yet still economical way to experience Peru, budget around S/250 or $68 USD for a day.
---
Need more inspiration for your trip to Peru? Read our guide to the best places to visit in Peru or get your planning off to a quick start with our detailed Peru travel itineraries.