Machu Picchu, hidden away in the lush peaks of the Peruvian Andes, is a magnificent Inca citadel and a must-see for many. But getting there isn't a walk in the park, nor is it cheap.
You'll need to factor in many costs – travel, entry tickets, accommodation, food, and possibly a guide. Many travelers, however, believe it's worth every dime.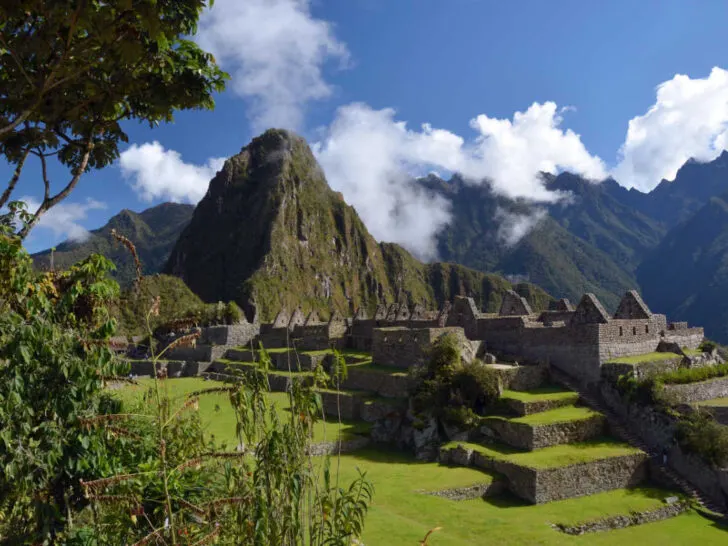 So, how much does a trip to Machu Picchu cost? Here, we break it down into different factors including entry tickets, transport, accommodation, and fees for recommended tour operators. Knowing what you're in for, cost-wise, can really help you plan a memorable, stress-free trip to Machu Picchu.
How to get to Machu Picchu
Machu Picchu, despite its growing popularity, remains secluded thanks to the efforts of the Peruvian Government and local communities, which protect its value and integrity as a UNESCO World Heritage Site. Consequently, you won't find any cities in close proximity to the site; the nearest city, Cusco, is 72 miles (115 km) away.
To reach Machu Picchu from Cusco, you have several transport options: the train, which is the easiest and most popular choice; a bus or van; or the adventurous, multi-day option of hiking along the ancient Incan pilgrimage routes.
Along the way, there are several charming towns between Cusco and Machu Picchu that make for great places to stop and explore. If you have extra time, take a leisurely tour from one town to another and enjoy a stay at one of these fantastic hotels on the way to Machu Picchu.
Planning Your Trip to Peru?
Save time, stress & money with a customized travel itinerary planned for you by a Peru expert

What previous clients have said:

Steph did a great job! I have never used such a service before and I wish there were more of them!
Getting off the beaten track was important to us and with Steph's knowledge we were away from the crowds. The information is very detailed and she knows some great places to stay! Thank you Steph!
Justin and Lisa
Traveled Patagonia, Bolivia and Peru in Jan '19
Unless you choose to follow in the footsteps of the Incas and hike to the Sun Gate, your final destination will be Aguas Calientes: a small town at the foothills of cloud forest mountain ranges, where Machu Picchu is located. It's important to note that there are no roads connecting Aguas Calientes to other towns; only train tracks provide access.
Some adventurous travelers opt to hike along the train tracks from Ollantaytambo – a town in the Sacred Valley located 34 miles (55 km) from Aguas Calientes – but this route is not recommended due to safety concerns, particularly during the rainy season. Although it offers a free and relatively easy option, you'll need to exercise caution.
The final leg of your journey to reach Machu Picchu involves a 3.7-mile (6 km) winding road up the mountain. You can choose between a steep, 2-hour climb or a quicker 20-minute bus ride.
1. Getting to the Cusco (from within Peru)
Cost of a trip to Cusco
The closest airport to Machu Picchu is Alejandro Velasco Astete International Airport in Cusco. While you may find direct flights to Cusco from your country of origin, it's advisable to consider first visiting other cities at lower altitudes – such as Lima and Arequipa – before heading to Cusco. This will allow you to better adjust to the high altitude.
Here are the estimated average prices for round-trip domestic flights to Cusco (excluding baggage fees) with the main airlines in Peru:
Cost of accommodation in Cusco
Cusco sits at an altitude of 11,200 ft (3,400 m). If you are arriving from a much lower altitude, you'll likely experience altitude sickness. While it typically takes about two weeks to fully overcome altitude sickness (known as soroche to Peruvians), even a couple of days of adjustment can be helpful.
Regardless of your budget, Cusco offers a range of options to accommodate your needs during those initial days of rest and acclimatization.
A mid-range boutique hotel near the Plaza de Armas, such as the MOAF Boutique Hotel, typically costs around $80 USD per night.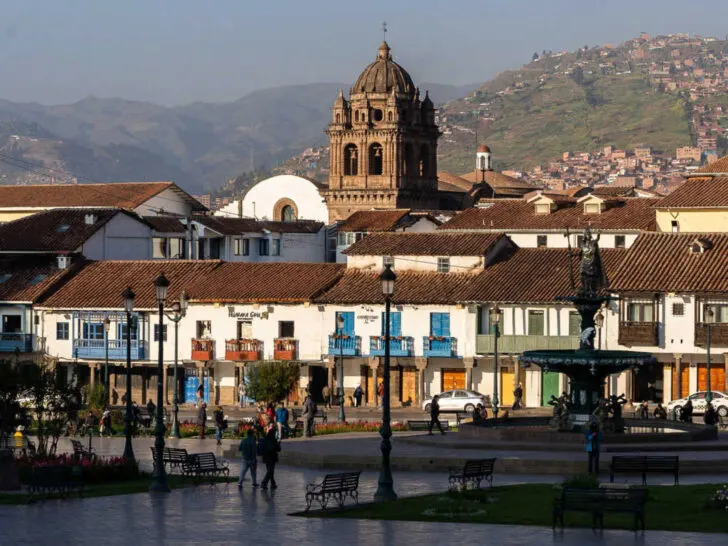 For those seeking a more luxurious experience, there are options like Inkaterra La Casona ($440 USD Double), a 16th-century colonial mansion with only 11 bedrooms.
For more choices, refer to our curated list of the best accommodation in Cusco, which also provides information on the best neighborhoods to stay in.
We recommend staying in Cusco for at least two nights: one night before your visit to Machu Picchu and one night after. This means you should budget around $160 USD for a comfortable stay in the Cusco area.
2. Getting to Aguas Calientes (from Cusco)
Transportation
As mentioned earlier, the only way to reach Aguas Calientes – other than walking – is by train. You can either take a direct train ride from Cusco or ride a minibus across the Sacred Valley of the Incas to the town of Ollantaytambo, which is the closest town to Machu Picchu accessible by road.
Many travelers choose the latter option as it is more affordable. Minibus tickets from Centro, Cusco to Ollantaytambo cost around S/35-S/60 (approximately $10-$16 USD).
Another cheaper (though slower) option is to take a local public transport called a colectivo, which is a small van that can accommodate 20 passengers. The colectivos to Ollantaytambo depart from Calle Pavitos. The fare for this trip should not exceed S/10 ($2.7 USD); be aware that there are several private van operators that may charge higher prices.
From Ollantaytambo, you have two options: you can either board the Machu Picchu train at the Ollantaytambo train station (which is the same train that departs from Cusco), or you can join a 4-day, 3-night guided tour of the Inca Trail trek.
There are two companies operating the Machu Picchu trains: Inca Rail and PeruRail. Here's a comparison of their services:
Standard One-Way Services
From Cusco
(San Pedro Station)
From Ollantaytambo Train Station
Facilities
Panoramic windows
Luggage storage
Food on board
Inca Rail
FromS/263 ($71 USD)
From S/240 ($65 USD)
YES
YES
Available for purchase
PeruRail
From S/256 ($69 USD)
From S/200 ($54 USD)
YES
YES
NO
Both Inca Rail and PeruRail offer different types of trains to cater to various traveler preferences; the prices listed here are for their standard trains.
Luxury trains, such as the Vistadome or the Hiram Bingham train, are available at higher prices; the cost depends on the additional services you choose. Visit their websites to learn more.
The alternative route to Aguas Calientes
Not many people are aware that there is an alternative route to reach Aguas Calientes from Cusco, aside from going through the Sacred Valley. This alternative route is ideal for independent travelers aiming to minimize their Machu Picchu expenses.
On the opposite side of Machu Picchu, there is a small settlement called Hidroeléctrica. Minibuses operate a six-hour trip through Ollantaytambo, Santa Maria, and Santa Theresa, with a one-way fare costing around $20 USD.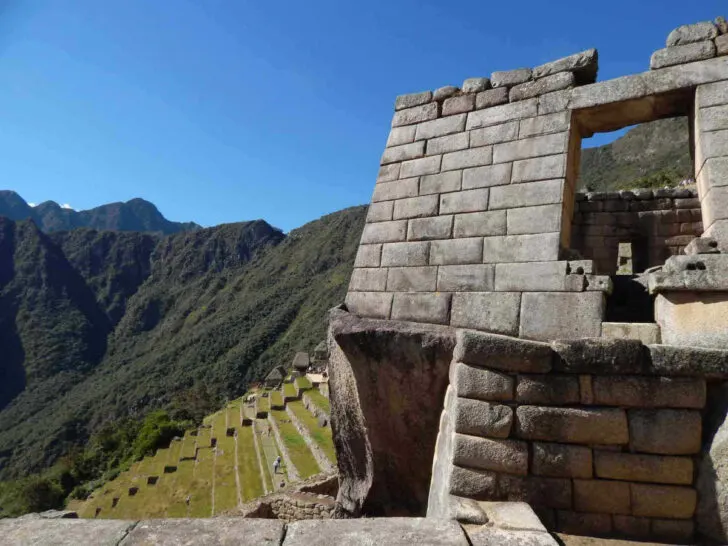 From Hidroeléctrica, you have two options. You can either walk to Aguas Calientes along the edge of the railway, which takes about three hours (although this is not recommended during the rainy season), or you can choose a train service from PeruRail for approximately $35 USD.
Taxis are usually available at the train station, but be cautious as some may overcharge, especially during the high season when walk-in passengers may have to wait for hours before boarding the train.
Cost of accommodation in Aguas Calientes
As the closest settlement to Machu Picchu, the town of Aguas Calientes sees a high number of daily visitors. However, there isn't much to do in the town itself, apart from shopping and relaxing at the parks along the river.
As a result, visitors come and go throughout the day, making it relatively easy (and inexpensive) to find accommodation.
Aguas Calientes offers a range of accommodations from hostels to luxury hotels, with prices for a single night ranging from $30 to $1,000 USD. A small and cozy guesthouse with private bathrooms typically charges around S/250 ($68 USD) per night, which includes breakfast and luggage storage (the latter is useful if you plan to stay out past the check-out time).
During my visit in 2021, I stayed at Susanna Inn Machu Picchu Hotel ($70 USD for a double room). I chose this hotel for its convenient location, comfort, and affordability.
An alternative place to stay is Tierra Viva Machu Picchu Hotel ($113 USD double), an affordable and strategic Peru hotel in Aguas Calientes that offers fantastic cloud forest views, while still being within walking distance of the town's artisanal market and restaurants.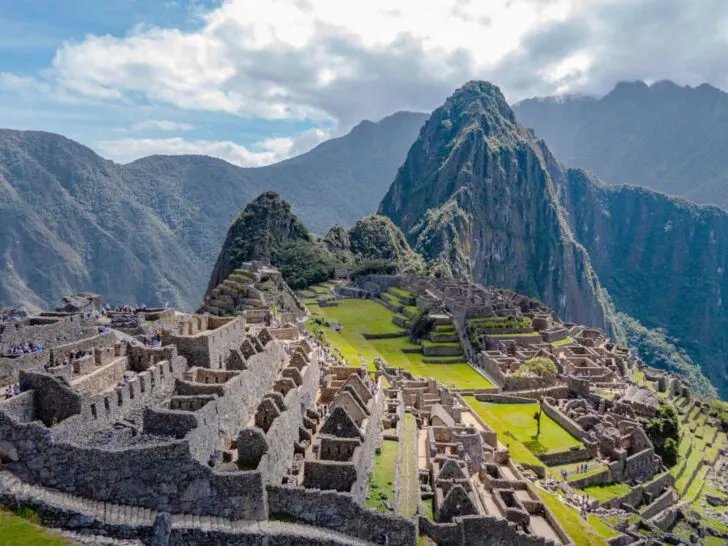 Most Aguas Calientes accommodation options offer round-trip packages to Machu Picchu at additional cost (starting from $50 USD). You can choose whether or not you need a guide and decide between a private tour or joining a group.
My English-speaking guide charged S/150 (around $41 USD) for the entire private tour, excluding bus tickets.
It's advisable to book your accommodation well in advance to secure your spot, as most hotels are fully booked during peak season. Additionally, this will help you avoid unexpected increases in hotel rates during the high season.
3. Getting to Machu Picchu (from Aguas Calientes)
Bus tickets to Machu Picchu
To fully enjoy Machu Picchu without the crowds, it's essential to be among the first to enter the site. One option is to hike the 3.7-mile (six km) trail from Aguas Calientes; however, unless you can hike uphill continuously for one to two hours, you may not be able to beat the crowds.
The best strategy is to take the earliest bus to the entrance and hike the path back down to Aguas Calientes on your return to save money. Catch the bus that departs at 5:30 am from Avenida Hermanos Ayar, located by the river.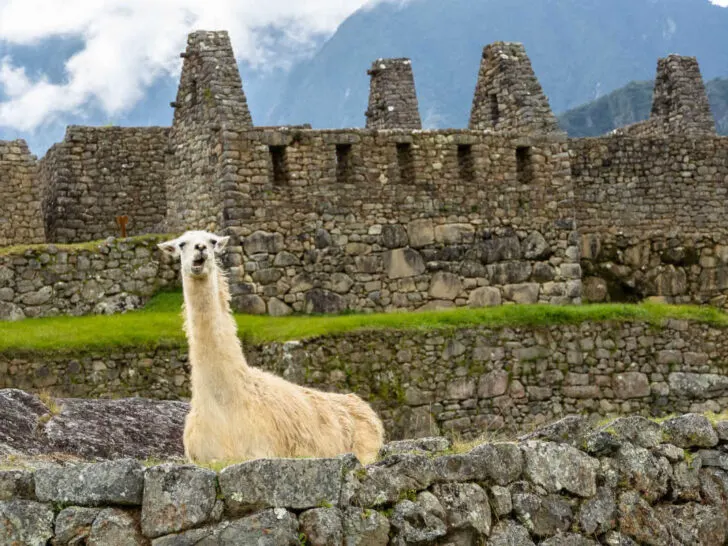 Although some refer to this location as a "bus station," it's essentially a street where all the buses park and depart. Different bus providers operate along this street, but their seat prices should be the same: $12 USD (approximately S/44).
While you can purchase the tickets on the day, it's advisable to book them in advance to secure your spot (you can do so here). I noticed that those who purchased theirs on-site had to wait for the following bus, even though they were likely aiming to catch the first bus.
Cost of day tickets to Machu Picchu
Machu Picchu entrance tickets can only be purchased from the official website, where you register your name and select your preferred date and time of visit from the available time slots.
Since Machu Picchu reopened after the Covid-19 lockdowns, the Peruvian government has implemented a daily visitor limit of around 5,000 people. Therefore, it is necessary to buy your tickets in advance.
The price of the entrance tickets varies depending on the trekking route you choose. Additionally, there is a special discount for students and children aged three to 17 years. Below is a breakdown of the cost of Machu Picchu tickets:
Circuits
General (adult)
Student
Children (age 3-17)
Time slots
(at one-hour intervals)
Llaqta de Machu Picchu(Circuit 1, 2, 3, or 4)
S/152
($42 USD)
S/77 ($21 USD)
S/70 ($19.2 USD)
6 a.m. to 3 p.m.
Circuit 4 + Wayna Picchu
S/200 ($55 USD)
S/125 ($34 USD)
S/118 ($32.3 USD)
7 a.m. to 10 a.m.
Machu Picchu + Circuit 3
S/200 ($55 USD)
S/125 ($34 USD)
S/118 ($32.3 USD)
7 a.m. to 9 a.m.
Circuit 4 + Huchuy Picchu
S/152
($42 USD)
S/77 ($21 USD)
S/70 ($19.2 USD)
7 a.m. to 1 p.m.
Circuit 1 or 2 + Puente Inka
(Inka Bridge)
S/152
($42 USD)
S/77 ($21 USD)
S/70 ($19.2 USD)
7 a.m. to 3 p.m.
Visitors can select one of four circuits to explore Machu Picchu. Each circuit has the same entrance and exit but covers different areas of the site, requiring varying amounts of time to complete. Here are the details of each circuit – click the links to view the official map.
| | | | | |
| --- | --- | --- | --- | --- |
| Main Area | Circuit 1 | Circuit 2 | Circuit 3 | Circuit 4 |
| Approximate hiking time (hours) | 2 | 3 | 1.5 | 2.5 |
| Platforma Inferior | YES | YES | – | – |
| Platforma Superior | YES | YES | – | – |
| Foco Seco | YES | YES | YES | YES |
| Conjunto Espejos de Agua (Water Mirror) | YES | YES | YES | YES |
| Mirador Templo del Sol (Sun Temple) | YES | YES | – | – |
| Pyramid of Intiwatana | – | YES | – | – |
| Roca Sagrada | – | YES | – | YES |
| Templo del Condor (Condor Temple) | – | YES | – | YES |
| Plaza del Pisonay | YES | YES | YES | YES |
| Reserva Arqueólogico | YES | YES | YES | YES |
Note: All circuits are one-way walking routes.
4. Cost of trekking the Inca Trail and alternative treks
Cost of the Inca Trail (4D/3N on foot)
If arriving at Machu Picchu by train doesn't feel ceremonial enough for you, there's another option: trekking the Inca trail. This allows you to relive the pilgrimages undertaken by the Incas themselves and offers a unique experience.
Want a cheeky 5% discount on the Inca trail or Salkantay trek?
Alpaca Expeditions are not only one of the most sustainable companies offering Salkantay and Inca trail treks to Machu Picchu, but their guides, porters and chefs are the ultimate hosts.
They're now offering Worldly Adventurer readers a 5% discount on all of their hikes – just mention Worldly Adventurer when you enquire!
Unlike the main Machu Picchu entrance gate, the Inca Trail allows you to access the citadel through the Sun Gate, which sits high above the city.
The Inca Trail typically takes four days to complete and is a challenging trek due to the high altitude, reaching a peak of 13,828 feet (4,215 meters). Joining a guided tour is mandatory for this trek.
This route is typically hiked as part of a four-day, three-night tour with a group of up to 16 people. You can expect to pay from $750 USD per person.
This price includes various amenities and services such as hotel pick-up, a knowledgeable tour guide, a personal porter to carry up to 15 lbs (7 kg) of your belongings throughout the hike, a cooking class, a satellite phone for emergencies, a portable private toilet, a tent, the Machu Picchu entrance ticket, chef-prepared food, and water.
We recommend Alpaca Expeditions, a local tour operator. Not only are they indigenous-owned, their staff comes from across Cusco and the Sacred Valley, ensuring profits go directly to families around the region. Use the code "WorldlyAdventurer" at checkout for a 5% discount.
Cost of the Salkantay Trail (5D/5N on foot + bus)
For those seeking a more off-the-beaten-path experience, the Salkantay trek is an excellent option. This 66 km (41-mile) hike begins in Soraypampa and ends in Aguas Calientes.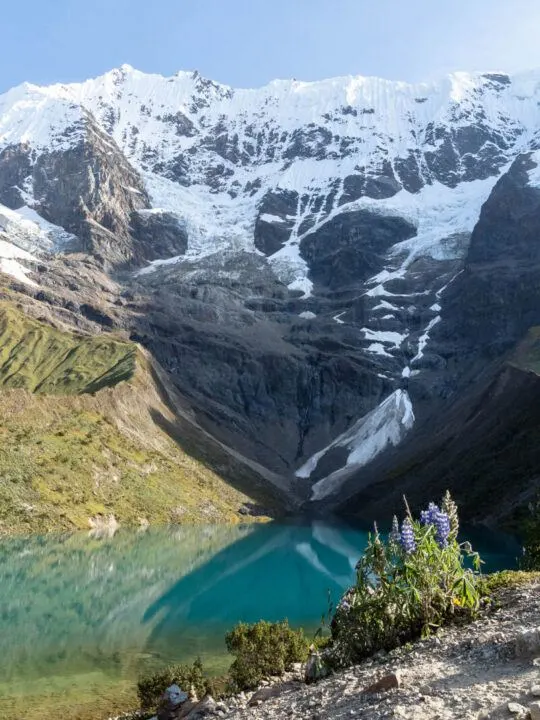 Unlike the Inca Trail, there are no daily limits on the number of trekkers allowed on the Salkantay trek. However, due to the various route options available, you won't encounter many hikers other than those in your group (up to 16 people).
The classic Salkantay trek takes five days and five nights and costs from $650 USD per person. You're accompanied by a tour guide and porters, plus a chef for your group, while accommodation is in comfortable tents at campgrounds along the trail (if you hike with Alpaca Expeditions, this includes cute Hobbit huts one evening!).
This fee should also include a pick-up service, a satellite phone for emergencies, a tent, a bus ticket from Aguas Calientes to the citadel, the Machu Picchu entrance ticket, delicious Peruvian food prepared by a chef, and water.
You can read a detailed account of Worldly Adventurer founder Steph's experience on this tour and receive a 5% discount with Alpaca Expeditions by using the code "WorldlyAdventurer" at checkout.
Cost of the Choquequirao Trail (6D/5N on foot + minibus + train)
In addition to Machu Picchu, there are other Incan ruins worth exploring, such as Choquequirao. This expansive complex spans 1,800 hectares and overlooks the Apurimac River canyon at an elevation of 4,760 ft (1,450m).
The Choquequirao trek is a six-day, five-night adventure that takes you to this remarkable site before continuing to Machu Picchu.
The journey begins in Cusco, where you'll take a minibus ride to the trailhead at Capuliyoc. From there, the trail leads you through Chikiscca, Santa Rosa, Marampata, and finally to Choquequirao, where you'll have a full day to explore.
Afterward, you'll continue onwards towards Machu Picchu via barely-hiked trails, arriving in Hidroeléctrica from where you can board a train to Aguas Calientes or hike beside the railway tracks.
You can generally find tours starting from $825 USD per person, with tours of up to 16 people. They'll typically include a pickup service from your hotel, an experienced tour guide and personal porter plus a horse (for assistance if needed).
You can also expect them to cover the cost of your entrance tickets for both Choquequirao and Machu Picchu, transportation back to Cusco, one night of accommodation in Aguas Calientes, and all meals and water throughout the trek.
With group departures leaving every first Sunday of the month and highly experienced trekking guides, Amazonas Explorer is our recommendation for hiking this route. Again, if you mention Worldly Adventurer when enquiring you'll receive a 5% discount on your trip.
Cost of the Lares Trail (4D/3N on foot + train)
The Lares Trek offers a unique experience that sets it apart from other treks. It provides an opportunity to immerse yourself in Andean culture by visiting a village located 64 km (40 miles) north of Cusco.
Along the way, you'll also have the chance to explore the thermal baths, Quiswarani waterfall, and the Maras salt pans. The Lares Trek is particularly suitable for novice hikers as it offers a slightly slower pace.
Generally hiked as a four-day, three-night group tour, the Lares Trek costs from $600 USD per person. The see tours generally include a pickup service, tour guide, porter, horsemen, one night of accommodation in the Lares village, one night at a hotel in Aguas Calientes, train tickets, a round-trip bus ride to Machu Picchu, a satellite phone for emergencies, and food and water.
Again, we recommend local operator Alpaca Expeditions, whose tours are affordable and operated by local and highly-experienced guides. Receive a 5% discount with Alpaca Expeditions by using the code "WorldlyAdventurer" at checkout.
So, how much does a trip to Machu Picchu cost?
While it is possible to visit Machu Picchu on a budget of $100 USD or less, the cheapest option may not always provide the best experience.
To help you make your final decision, here is an overview of the estimated costs for a trip to Machu Picchu:
Cost (in USD)
Notes
Flight to Cusco
$100
From Lima airport
Accommodation in Cusco
$160
Two nights at a mid-range boutique hotel
Transport Cusco-Aguas Calientes(one-way and vice versa)
Train
$70
Standard service by Inca Rail or PeruRail
Minibus + train
$69
Train ticket from Ollantaytambo to Aguas Calientes starts from $54 USD
Colectivo + train
$58
Alternative: Transport Cusco-Ollantaytambo (one-way and vice versa)
Minibus
$15
Followed by a three-hour walk along the train track (free) or Inca Trail tour ($750 USD)
Colectivo
$3
Accommodation in Aguas Calientes
$70
This cost is included in your tour price if visiting with an operator
Machu Picchu entrance ticket
$42
Circuit 1, 2, 3, or 4 (without Huayna Picchu Mountain)
Bus ticket to Machu Picchu (one-way and vice versa)
$12
From Aguas Calientes
Tour guide
$40
This cost is included in your tour price if visiting with an operator
Inca Trail
$750
This cost includes transport to and from Machu Picchu, Machu Picchu entry ticket, and accommodation along the trek and in Aguas Calientes.
Salkantay Trail
$650
Choquequirao Trail
$825
Lares Trail
$600
Note: Tour and transport operators (except for colectivos) typically charge in US dollars for their services. However, it's possible to request payment in Peruvian Soles if you prefer. Payment with a debit or credit card is accepted for online purchases.
Here are the estimated costs for a trip to Machu Picchu based on different routes, including round-trip transportation from Cusco and two nights of accommodation in Cusco:
| | |
| --- | --- |
| | |
| Train and bus all the way to Machu Picchu | From $465 USD (excluding food, drink, and IFAK) |
| Inca Trail | From $910 USD (all-inclusive) |
| Salkantay Trail | From $810 USD (all-inclusive) |
| Choquequuirao Trail | From $985 USD (all-inclusive) |
| Lares Trail | From $769 USD (all-inclusive) |
Costs for tours and transportation remain relatively stable throughout the year, but hotel rates may vary depending on the season. It is advisable to avoid the peak of the high season for a more affordable stay.
For more information, refer to our article on the best time for travelers to visit Machu Picchu and get inspiration for your time in Cusco before you head to Machu Picchu with our Cusco itineraries.