The beautiful province of Guanacaste in northwestern Costa Rica is one of the best-known provinces in the country, thanks to its diverse geography and smattering of picture-perfect beaches on the Nicoya Peninsula.
While Guanacaste might not be along Costa Rica's Caribbean coast, the province's beaches still rank among some of the most alluring in Central America.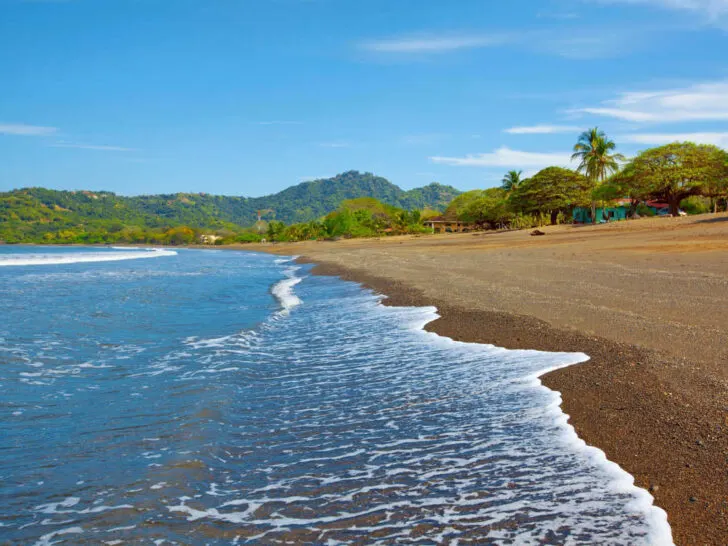 With an endless variety of nature-based and cultural activities available, Costa Rica is one of the best places to visit in Latin America – and Guanacaste is likely to be a highlight of any Costa Rica trip.
So, when is the best time to visit Guanacaste? Read on to find out – but first, here's a summary of the conditions you can expect throughout the year.
January: The first month of the year is part of Costa Rica's peak season – many North Americans head to Costa Rica to escape the cold temperatures in their home countries. It's a popular time to visit because you can expect clear skies and hardly any rainfall, making January one of the driest months in Guanacaste. With average temperatures of around 80°F (26°C), January is a great time for wildlife viewing, as humpback whales can be spotted throughout the area.
February: The second month of the year continues the high season but is less busy than January. Temperatures hover around 86°F (30°C); with warm temperatures and reduced tourist numbers, it's a great time to hit the beach – particularly as Guanacaste is home to some of the best beach towns in Costa Rica.
March: Travelers head to Guanacaste in March for spring break, marking another surge in visitors. If Easter falls during March, Guanacaste becomes very busy and filled with tourists. Temperatures are still hot, with little rain and little to no humidity.
April: This month sees the end of the dry season and also marks the end of the peak travel season. It's the hottest month of the year: temperatures soar to 95°F (35°C), making it the perfect time to enjoy a day out at one of Guanacaste's gorgeous beaches. If Easter (Semana Santa) falls in April, Guanacaste's tourist numbers will once again peak. April is a good month to catch humpback whales and olive ridley sea turtles.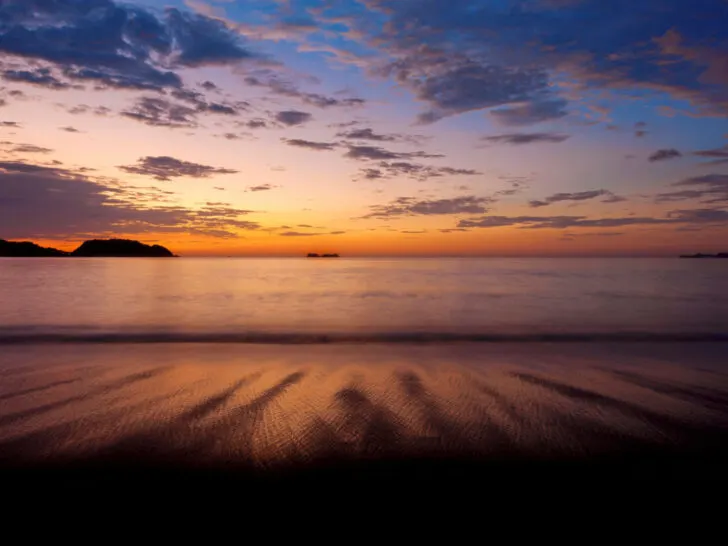 May: This is considered a transition month as it leads up to Costa Rica's wet month, which is also called the green season. Temperatures remain relatively high during this time, but there is a dramatic increase in rainfall, with heavy rains on the cards. It's officially Costa Rica's low season, making it an excellent time to visit the beach and explore some of Guanacaste's national parks where fewer crowds are the norm at this time of the year.
June: This is the official start of the wet season, with around 15 days of rain throughout the month. Temperatures start to drop slightly, but it remains fairly warm.
July: The wet season is in full swing from July; you can expect about 13 days of rainfall, with high humidity levels. There are a few days in the month with brief pockets of sunshine and no rain – Costa Ricans call these Veranillo, or "Little Summer."
August: Generally, August is a good month to visit Guanacaste because the weather is reasonably good. There's a slight increase in tourist numbers, as it's the school holidays for families in the northern hemisphere – but some people are deterred by the rain, so you can expect lower prices for hotels and flights. This is a good month for exploring Guanacaste's gorgeous national parks.
September: This is the wettest month of the year, with 17 days of rain. As a result, this is one of the quieter months in Guanacaste. Temperatures in September drop to the 70°F (20°C) mark, with the average temperature being around 77°F (25°C). This is a good time to visit if you want to escape the extreme heat and tourists, but you'll have to brave the rain.
October: October marks the end of the wet season – and, like September, also sees about 17 days of rain. Temperatures remain in the 70°F (20°C) range. You'll see few other tourists at this time, and you might even have the beach to yourself. It's a good time for bird-watching and turtle spotting.
November: Like May, November is another transition month, when locals start preparing for the large number of visitors that arrive in December. Rain is minimal during November, with only around eight rainy days. You have a good chance of seeing leatherback turtles, hawksbills, and green sea turtles.
December: December marks the start of Costa Rica's dry season. The weather is unpredictable at the start of the month – but, come mid-month, the skies are clear of any clouds. As rainfall decreases, parts of the green tropical forests start turning light brown. There's a good chance you'll see humpback whales along the Pacific Coast around this time.
What you need to know about visiting Guanacaste:
While climate is an important factor when planning your trip, there are other essentials you'll need to know:
As of 13 January 2023, there are no special COVID-19-related requirements for travelers to Costa Rica.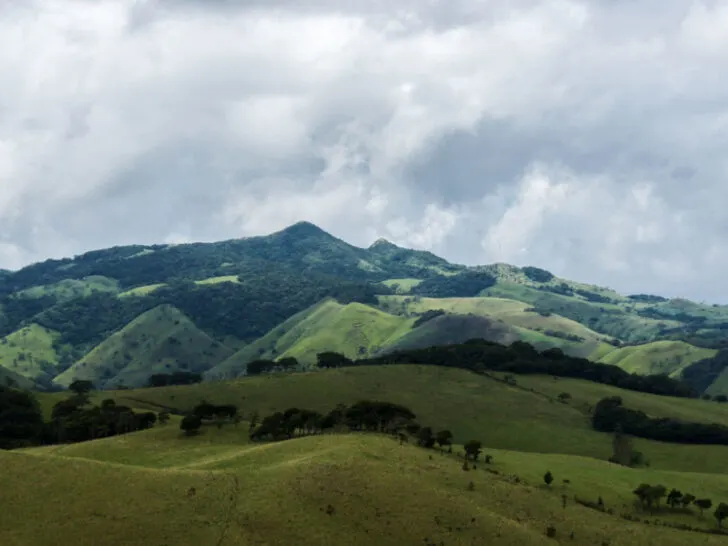 As of 2007, Costa Rica requires that travelers entering Costa Rica from any of the following countries produce a yellow fever vaccination certificate: Angola, Benin, Burkina Faso, Cameroon, DR Congo, Gabon, Gambia, Guinea, Liberia, Nigeria, Sierra Leone, Sudan, Bolivia, Brazil, Peru, Colombia, Ecuador, Guyana, and Venezuela.
You will need a return flight or bus ticket when entering Costa Rica. An immigration officer will ask for it upon your arrival into the country.
The best way to get to Guanacaste is through a direct flight to the capital of the region – Liberia. Guanacaste Airport is the second busiest in Costa Rica and receives many domestic and international flights.
The dry season in Costa Rica is also peak season and the most popular time to visit the country, with many visitors coming from the northern hemisphere to escape the cold temperatures. Accommodation and ticket prices increase considerably during this time, so be sure to book your trip well in advance.
Guanacaste's climate
Guanacaste is the driest and hottest part of Costa Rica and experiences a tropical savannah climate. Guanacaste's climate is seasonal and is shaped by wind patterns, temperature, and precipitation. Due to its lack of humidity, this province sees the least rainfall in the county.
Guanacaste is divided into two regions: the highlands and the lowlands. The highlands consist mainly of mountains and tropical forests. This area typically sees more rainfall and slightly higher humidity than the lowlands – perfect conditions for growing Costa Rica's famous coffee.
As a result of Guanacaste's climate, the highlands are home to unique tropical dry forests. This means that the vegetation is much less green than in the lowlands, especially during the dry season.
However, this changes when the wet season hits and the area becomes more green. Along the upper Pacific Coast, however, the Guanacaste Cordillera remains green all year round.
The lowlands experience less humidity and cooler temperatures than the highlands and remain lush and green throughout the year.
Which seasons offer the best weather conditions for visiting Guanacaste?
Here's a quick breakdown of Guanacaste's seasons and what to expect:
Dry season (December – April)
The dry season in Guanacaste lasts from December to April. There is almost no rainfall during these months; expect clear skies and long, sunny days.
Mornings during the dry season have clear skies and relatively moderate temperatures, starting at about 71°F (22°C). By midday, temperatures reach 95°F (35°C). Evenings in Guanacaste are slightly cooler. April is the hottest month of the year, with temperatures of up to 95°F (35°C).
Like the rest of Costa Rica, Guanacaste experiences around 12 hours of daylight regardless of the season. In the dry season, the sun rises at around 05:30 and sets at around 17:50.
This is the best season to visit Costa Rica if you want an idyllic beach vacation. However, the dry season is Guanacaste's busiest season, with tourists flocking to the region from the northern hemisphere.
This is the best time of the year to see turtles hatching, though this can be unpredictable as there are different breeds of turtles, and hatching locations and times are non-specific. From January to March, in the coastal areas of Guanacaste you also stand a good chance of spotting humpback whales.
Shoulder season (May, June, November)
May is considered a transition month: it follows the end of the dry season in April and is just before the wet season. You'll start to see an increase in rainfall, with a dramatic jump from almost no rain to about 12 days of scattered showers.
Temperatures are still moderately warm and tourist numbers drop considerably. This means that you can still enjoy a day at the beach or visit Guanacaste's national parks. You can enjoy activities such as bird-watching, hiking, and swimming.
June, on the other hand, marks the start of the wet season – though it doesn't get into full swing until mid-June. There are about 15 days of rain in June, making it the third-rainiest month. Temperatures are still pleasant, ranging from 68°F to 86°F (20°C to 30°C).
November is another transition month because it marks the end of the wet season, with a sharp decline in the number of rainy days; there are about eight days of rain in Guanacaste in November. This is the last quiet month of the year as locals start prepping for the vast numbers of tourists that begin arriving in December.
As a result, you can go to the beach or visit the national parks in Guanacaste without the crowds. Remember that the weather can be unpredictable in the shoulder months.
Wet season (July – October)
The wet season in Costa Rica typically starts in May and ends in October. In Guanacaste, however, the unique climate means that the rainy season here runs from July through to September. This is when the area is at its greenest.
Costa Ricans consider the wet season their "winter," even though temperatures average around 80°F (26°C). During the wet season, Guanacaste receives around 17 inches (450 mm) of rain per month.
Despite this, July and August are popular months for tourists because of the school vacation in the northern hemisphere. This is also when you're most likely to see humpback whales coming from Alaska and California.
September and October see the most rain, with each month having about 20 rainy days or more. There are few tourists in Guanacaste in September and October, so if you're traveling on a budget, this is an ideal time to visit. Hotel and flight prices are extremely reasonable around this time.
Which months are better for avoiding crowds in Guanacaste?
The best times to avoid crowds in Guanacaste are the shoulder seasons, which cover the months of May, June, and November.
November falls just before the dry season and is the last quiet month for the year, as locals start preparing for the high numbers of tourists that will arrive in December. You're more likely to find great deals on accommodations and tours during these months.
How to get to Guanacaste
Here are the main ways to get to Guanacaste.
Plane
Guanacaste Airport is in the region's capital city, Liberia. It's the second-busiest airport in Costa Rica and receives several domestic, regional, and international flights. From here, you can easily rent a car and start exploring.
Car or bus
Guanacaste is part of the Pan-American Highway, which spans 19,000 miles (30,000 km) across the United States, Mexico, Guatemala, Honduras, Nicaragua, and Costa Rica. The road extends further into Ecuador, Colombia, Chile, and Argentina. So, if you're planning an epic road trip or traveling by bus from one of these countries, it's easy to reach Guanacaste.
Alternatively, Guanacaste is a three-and-a-half-hour drive by car or bus from Costa Rica's capital, San José.
Things to do in Guanacaste
Here are some of the top things that you can do on your visit to Guanacaste:
Hit the beach: One of Guanacaste's biggest draws is its beaches. Some beaches worth visiting include Flamingo Beach, Playa Conchal, Playa Hermosa, and Matapalo Beach.
Explore Rincón de la Vieja National Park: This park is home to the impressive Rincón de la Vieja Volcano. It also has many beautiful waterfalls, lakes, and hot springs.
Discover Tenorio Volcano National Park: This park is home to the world-famous Río Celeste Waterfall, known for its exquisite turquoise pool. It also has the eponymous volcano and a hiking trail.
Go bird-watching in Palo Verde National Park: There are hundreds of species of birds in Guanacaste. The Palo Verde National Park is a great place to find most of them, including the scarlet macaw. The Sendero La Roca hiking trail takes you to a lookout point over Palo Verde Lake.
See nesting sea turtles: Costa Rica is known for its leatherback turtle hatching. October through April is generally the best time to see them, but the exact timing can be unpredictable.
Head out whale watching: If you plan on visiting between October and April, you'll have the unique opportunity to spot humpback whales arriving in Costa Rica's warmer waters.
So, when is the best time to visit Guanacaste?
There isn't a "perfect time" to visit Guanacaste. The weather is enjoyable all year round, so it depends on the type of vacation you want. If you plan to visit the beach, the dry season is your best bet: temperatures are warm, and there's almost no rainfall. Remember that the dry season is also Guanacaste's busiest season.
If you'd like to dodge the crowds, are traveling on a budget, or want to experience Guanacaste's lush greenery, then it's best to visit in the shoulder or wet seasons. However, the weather in the shoulder season is highly unpredictable and you're likely to see a lot of rain. No matter when you choose to go, you're bound to have a unique experience.
Check out our South America packing list to see what you'll need for your adventure to Costa Rica.