Argentina is a big country and because it's so far from everywhere else, it can seem like a good idea to cram your trip full of all the trekking, glacier-watching, and wine-drinking that you can during your precious few days of vacation.
But, for the most fulfilling experience, it's best to slow down, pick a few locations and spend a while absorbing this beautiful culture. One such not-to-miss spot is Buenos Aires!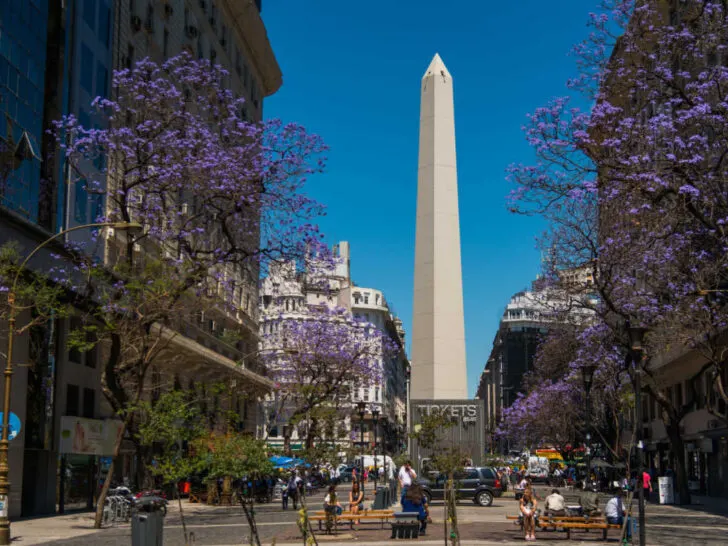 Known as the "Paris of South America", Buenos Aires merits at least three days for wandering the distinct neighborhoods, eating fabulous food, and enjoying the public art and green spaces. During my first visit, it didn't take me long to realize that "BA" could quickly become my new favorite city in the world.
Recommendations for traveling in Buenos Aires and how to use this itinerary:
Buenos Aires is the capital of Argentina and is one of the largest cities in Latin America. However, if you spend your time in the tourist-safe city center, it doesn't seem like such a big city. With so many parks and interesting shopping streets connecting all the distinct neighborhoods, and an easy to use system of subways, it is a very manageable – and worthwhile – city to explore.
Buenos Aires is an amazing destination all year round. Although it's quite warm and humid during the summer months of December through March, and nights are chilly in June and July, the rest of the year offers moderate temperatures and mostly dry conditions.
Planning Your Trip to Patagonia?
Save time, stress & money with a customized travel itinerary planned for you by a Patagonia expert
I engaged Steph's help during a very busy time in my life, as I was determined to travel without a tour, but had become overwhelmed trying to piece it all together. Steph absolutely nailed the brief. She understood exactly what we wanted to do, and made exceptional recommendations. Steph was also super quick to answer emails and find solutions when needed. I just feel so incredibly grateful to have read about Steph's planning service, and our Chile bible….Moon Chile (Steph's travel guidebook) was with us every step of the way.
Jo & George Lennon
Traveled to Patagonia March 2023
Arriving in Buenos Aires is easy. There are two airports – so don't get confused when you land! Most international travelers arrive into Ezeiza International Airport, while most domestic flights and a few international flights land in Aeroparque Internacional Jorge Newbery.
In order to enjoy all the historic city center has to offer, there are a few key neighborhoods to stay in. These include Recoleta, Palermo, Retiro and San Telmo.
US dollars reign king thanks to Argentina's fluctuating economy. It is easy to get money from ATM's, or "cajeros" all over the city, but using your credit card gives you a much better exchange rate. For the best exchange rate, however, bring US dollars to exchange along Calle Florida or send money to yourself safely through the Western Union App, and pick it up at any location throughout the city.
Transportation in Buenos Aires is very easy. Official black and yellow taxis and private transfer services are available at a fair price. Uber is legal, but it's more common to use Cabify, another ride-hailing app. Either way, it is important to know that these apps are not well appreciated by local taxi drivers and using them to initially get from the airport can sometimes be difficult.
Once you're in the city, the most economical option for transportation is to ride the subway (Subte) or bus. These transport systems are clean, safe and easy as well! To ride either, you need to buy a Sube Card. The best place to inquire about buying a card is at tourist offices and subway stations that are not in touristy spots. Sometimes these cards are difficult to find, but if you're staying in Buenos Aires for more than a few days, it's really worth it to buy one.
Once you have a Sube Card, it's easy to add money to it using machines in subway stations or at corner "kioskos" all over the city. To understand the Subte and bus routes, download the app Moovit, and you will be moving yourself all over the city with ease.
Buenos Aires is a safe city to visit – as long as you take common sense precautions. Avoid looking too much like a tourist, avoid carrying lots of cash, and don't flash valuables such as a iPhone.s
Buenos Aires is just one of the incredible destinations we recommend visiting in Argentina. Read our expert guide to the unmissable places to visit in Argentina.
The Perfect Three-Day Buenos Aires Itinerary
Day One: Exploring the history and architecture of the historic center
On this first day, get to know the history of the city center. From 1860 through the 1930s, Argentina was one of the wealthiest countries in the world. To rise to these standards, Buenos Aires underwent a massive urban expansion which transformed the center into a stunning landscape of beautiful architecture, tree-lined streets, and plazas for everyone to enjoy.
Start your day in Plaza Lavalle: three square blocks of huge gomero trees and stunning examples of architecture including the Corte Supreme (Supreme Court), Templo Libertad (the Buenos Aires Jewish Museum), Teatro Cervantes (once a private home) and the infamous Teatro Colón.
Known for its amazing acoustics and gorgeous interior, Teatro Colón is considered one of the ten best opera houses in the world. Wander into its ground-level passageway for a café or to buy tickets for a guided tour. English language tours are available.
Insider tip: For just a few dollars more, you can buy tickets for a concert or theater production here. For me, it didn't matter that I didn't completely understand the production, the experience in this stunning historic theater was worth it!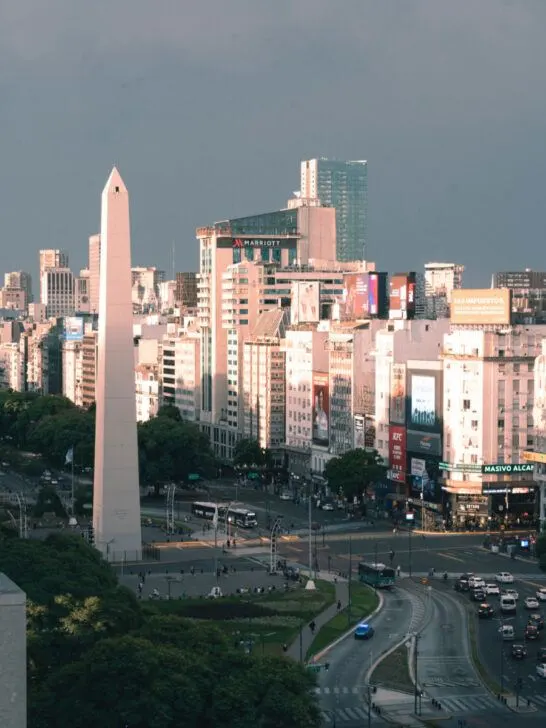 Next, head towards the Obelisk, the center-point of all roads and celebrations in this part of the city. Take the perfect Buenos Aires photo with the letters of the city at its base.
From here, continue your walk and gawk at the gorgeous buildings along Avenida Presidente Roque Sáenz Peña/ Diagonal Norte, a diagonal route connecting the Obelisk and Plaza de Mayo. The architecture of Buenos Aires is dominated by neoclassical, art nouveau, and art deco styles. You'll see many examples of all of these along your walk today.
Before you reach Plaza de Mayo, turn left on Calle Florida, and stroll the length of this pedestrian-only street. At the far end, you'll encounter the impressive Plaza San Martin in the fancy neighborhood of Retiro.
Calle Florida is a great place to munch on empanadas, popping into cafes and shopping galleries on your way. Don't miss Galerías Pacífico and Galería Güemes for their lavish architecture and stores.
Insider tip: If you don't mind a short narrow, winding staircase, Galería Güemes has a panoramic view from the 14th floor. Take the elevator under the sign "Entrada Mitre", pay a small fee, and enjoy this 360-degree rooftop view of Buenos Aires. Better yet, arrive late in the day and have a drink at the Florida 165 Rooftop Bar.
While walking on Calle Florida, you'll be approached many times by representatives from tour agencies. This is THE place to book tickets for a bus tour around the city, private tours outside of the city, or a quintessential Tango Show for your second or third night in BA.
There are many tango shows offered throughout this city and it's hard to know which to choose. All shows will give you an option of transport from your hotel, a big Argentinian dinner, lots of wine and an hour-long jaw-dropping show of stunning tango dancing. Whatever price you bargain for, it will be worth it!
Insider tip: If you'd rather buy your tickets directly with a theater and manage transport for yourself, visit the box office of the Teatro Astor Piazzolla in the Galería Güemes. From experience, I know this is a fabulous show!
Now, head a few blocks east of Paseo Florida to an area called Puerto Madero. This is a chic area of walkways along the marina and Río Dique. Enjoy the view from Puente de la Mujer (Women's Pedestrian Bridge), or from one of the many restaurants lining the river.

After your stroll, circle back around to Central Cultural Kirshner. Located in the former Central Post Office, it is now the largest cultural center in South America. Like all cultural centers in Buenos Aires, the art exhibitions and daily events are free. At the entrance, you will be able to download a QR code for an event list.
Insider tip: If you're interested in Argentina's political and social history, there's a permanent exhibit dedicated to the work of Evita Perón on the fourth floor. Or, if you'd like to learn more about tango, visit this Arts Center during a "Milonga", or community tango dance. Everyone is welcome to watch the dancers and try it for yourself!
Next, it's just a short walk up the hill to Plaza de Mayo where you'll find Casa Rosada, the Presidential Palace. As you stroll around the plaza, be sure to take a moment to enter the gorgeous Cathedral Metropolitana (where Pope Francis officiated mass for more than twenty years) and the interesting Museo Histórico Nacional del Cabildo as well.
Plaza de Mayo has so much historical and political importance for the people of Argentina, especially during the time of their Dictatorship and Dirty War. On any day that you visit, you'll probably witness a demonstration, too. If you'd like to learn more about this important area of the city, I highly recommend taking a tour such as Free Walking Tours.
Each day at 3:00pm, Free Walks Buenos Aires starts their Free Historical Walking Tour in front of the capitol building, the Congreso de la Nación Argentina. This daily tour is a two hour-plus walk back along the stately Avenida de Mayo from the Congress Building to the Plaza de Mayo, which includes the Palacio Barolo.
Tour guides work for tips and will teach you so much about the history, politics and current economies of Argentina. For me this experience was really worth the extra effort so late in the day.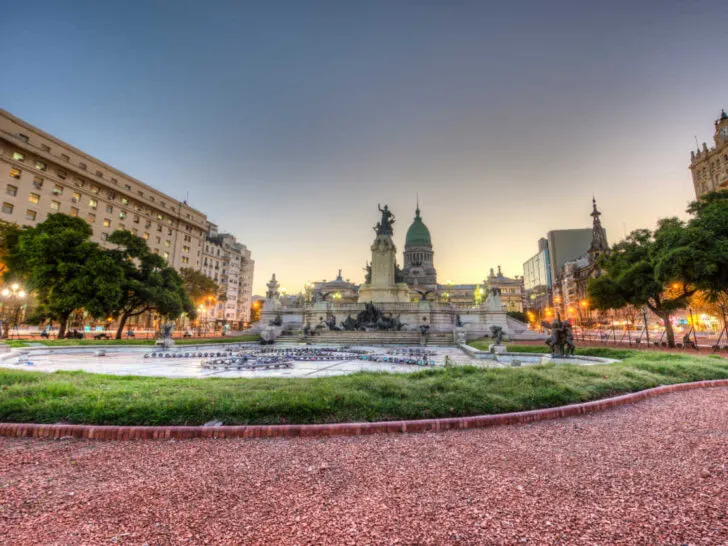 Insider tip: From Plaza de Mayo, take the Subte Line A to easily reach the Plaza del Congreso, the meeting point for the walking tour.
If you need an after-tour cafe, visit Cafe Tortoni, the oldest, and most-famous, establishment in Buenos Aires. Or for a more substantial dinner, wander back past the Obelisk and check-out the sites on Avenida Corrientes. With a nod to the Italian immigrants who transformed this city, this street is packed full of bars and Italian eateries that serve the very best pastas and pizzas in South America.
Try the local favorite Pizzería Güerrín and dig into the creamy mozzarella and fugezza, or Napolitan pies. In the evening, one side of Avenida Corrientes is always closed off and street performers and tango dancers put out their hat and give you a show. True to form in Argentina, things really start picking up late in the evening.
Day Two: Exploring the posh and parks of Palermo
The hip and modern neighborhood of Palermo is a great place to start and end your day. The areas around Palermo Soho, Plaza Serrano and Hollywood Palermo are known for their small boutiques, decadent restaurants, and fabulous night-life. If a mall is more your style, you can spend your morning at the Distrito Arcos Premium Outlet, or the lavish Alto Palermo.
Plaza Italia along Avenida Santa Fe is a good central starting point for shopping. It's also, ironically enough, the entrance to Jardin Botánico Carlos Thays (the Botanical Gardens) and the more historic and natural side of the city. First stop, Ecoparque!
Ecoparque is a wonderful surprise right in the middle of Buenos Aires. This historic city zoo has now turned into an environmental education park with lush gardens and a few animals to observe (some roaming freely!). It's free to enter and is a beautiful route to get from Plaza Italia and the bustle of Palermo, to the green spaces along the massive boulevard Avenida del Libertador.
After enjoying an hour or more in Ecoparque, head out the north entrance along Avenida del Libertador. From here, the Jardin Japonés (Japanese Garden), is across the park to your right. For a small fee, you can stroll some of the largest and most peaceful Japanese Gardens in the world outside of Japan.
Across the park to your left lies Parque 3 de Febrero, which features a rose garden and paddleboat rentals on a lake, plus several interesting restaurants and ice cream parlors. Known as the best in Argentina, the parlor Lucciano's serves up decadent ice cream for your afternoon in the park.
Behind this line of restaurants, it's easy to make a brief stop at the Plaza de la Shoá, a small monument honoring the victims of the Jewish Holocaust.
Then, just beyond this, is the entrance to the Hipódromo de Palermo, which is considered one of the best racetracks for horse racing in the world. Races occur here year-round. But whether there's a race or not, the gardens and grandstands are lovely and open free to the public. It's definitely worth a stroll!
For the evening, enjoy your dinner and the tango show, or return to Palermo and discover all it has to offer. If it's early, fabulous cocktails can be found at Tres Monos. For one of the best steak houses, or "parrillas" in Buenos Aires, try the famous Don Julio. But if the line is too long there, a few blocks away are other equally beloved restaurants, the Calden del Soho Grill or La Cabrera.
Day Three: The flavors and charms of Recoleta
For your last day in Buenos Aires, take in the charms and the flavors of the old neighborhood of Recoleta – my favorite part of the city!
Start your stroll along Avenida Santa Fe, a busy street with unique stores, and wonderful cafes. You'll see many signs advertising the Argentinian breakfast special: a coffee and a medialuna. These flaky, heavenly croissants, or any other sweet "factura", are a great way to kickstart the day.
For the very best offerings in the city, head to the corner of Junín and Juncal. Sasha Pasteles is a local favorite for all things sweet, while Goüt serves up gluten-free delights such as salads, sandwiches and pasties.
Insider tip: Avoid the lines by going early for breakfast, or early in the afternoon for a post-lunchtime treat.
Back along Avenida Santa Fe, you'll encounter the favorite tourist stop of El Ateneo Grand Splendid Bookstore. Once a beautiful theater, it's now an impressive bookstore and wonderful coffee shop, too.
Also, don't miss my favorite park in Buenos Aires, Plaza Vicente Lopez y Planes. Take a few moments to sit under the massive gomera tree to watch Buenos Aires at its most quintessential for a while.
From here, head down any street toward Recoleta Cemetery. This is the heart of Recoleta where all the beautiful buildings tower above with massive doorways and iron balconies. Keep an eye out for quaint cafés and restaurants that'll give you an excuse to return for dinner, or you can always head straight to dessert with an Italian gelato at Valence Recoleta.
Recoleta Cemetery is a sight to behold. As one tour guide put it, while you walk around the neighborhood of Recoleta, you see the style in which the historically wealthy of Buenos Aires wanted to live. Once you see the elaborate tombs in this cemetery, you'll understand how the wealthy wanted to die.
It is true, Recoleta Cemetery is a bit of a tourist attraction. But if the line isn't very long, paying the entrance fee is worth it. They only accept credit cards. You can also buy tickets ahead of time here.
If you're craving stories of the different war heroes and presidents that are buried in Recoleta (including First Lady Eva Perón), be sure to organize a guided tour ahead of time, such as through Guru Walking Tours.
Next to the cemetery is the Recoleta Cultural Center. This center is free to visitors and you can enjoy the art installations, the view from the patio, and the university students practicing their performance art in the passageways. If you come any day between Thursday and Sunday, you'll find an extensive artisan-fair that fills the park in front.
Depending upon the time and your stomach rumblings, there are many park-side eateries offering a variety of lunch offerings. If the menus here don't suit you, go east on Avenida Presidente Manuel Quintana where you will find many more cafes and restaurants serving up all of Argentina's delights. Let yourself get lost – that's part of the fun!
After you've re-energized, just down the hill from the cemetery and the cultural arts center are a lineup of fabulous museums and public art along the grand Avenida del Libertador. First, the Museo National de Bellas Artes (National Museum of Fine Arts) is a wonderful free museum with originals from Rodin, Van Gogh, Picasso, and more.
Insider tip: To be able to read the Spanish-only signs throughout the museum, download a free app like Google Translate that allows you to aim your smart-phone camera at a sign and the words will transform into the language of your choice. It's not perfect, but it helps!
A few blocks away is the Flóralis Genérica, and the Museo Nacional de Artes Decorativo.
Circling back up the hill through Plaza Mitre, notice how many Argentinians are enjoying Buenos Aires' ample parks to have a picnic and drink of mate – the ubiquitous caffeinated Argentinian hot drink – with others. It's a wonderful tradition bringing together family and friends to share a moment together.
If you're feeling peckish too, return to the Recoleta neighborhood and find just the right spot to enjoy some flavors of Argentina as well.
For the most luxurious cocktail and sunset view of Recoleta, head to the Alvear Roof Bar at the top of the Alvear Palace Hotel. For dinner, head to nearby Roux, popular for its premier wines and fresh Mediterranean seafood dishes. For a nod to Argentina's Spanish Roots, the nearby favorite El Burladero cannot be beat.
The Perfect Five-Day Buenos Aires Itinerary
After three days in Buenos Aires, you will have seen (and walked!) a lot. But Buenos Aires is so big and diverse, you could easily stay several weeks and never run out of things to do. With more time in the city, there's much more to enjoy! Here's my best recommendations for five-days in Buenos Aires.
First, use the above three-day itinerary but split Day One into two separate days, giving you the time to explore more of what the historic center has to offer.
Day One: Exploring the history and architecture of the historic centro- northwest
Spend Day One exploring Plaza Lavalle, Teatro Colón, the Obelisk, Calle Florida, the Free Walking Tour starting from Congreso de la Nación Argentina to Plaza de Mayo, with dinner along Avenida Corrientes.
Day Two: Exploring the history and architecture of the historic centro- southeast
Start your day a little south of the city at the original port of La Boca. This working-class immigrant neighborhood is known as the birthplace of tango. Nowadays, it's a lively place to enjoy a typical meal, watch some street performers, and take your favorite photos in front of the colorful buildings.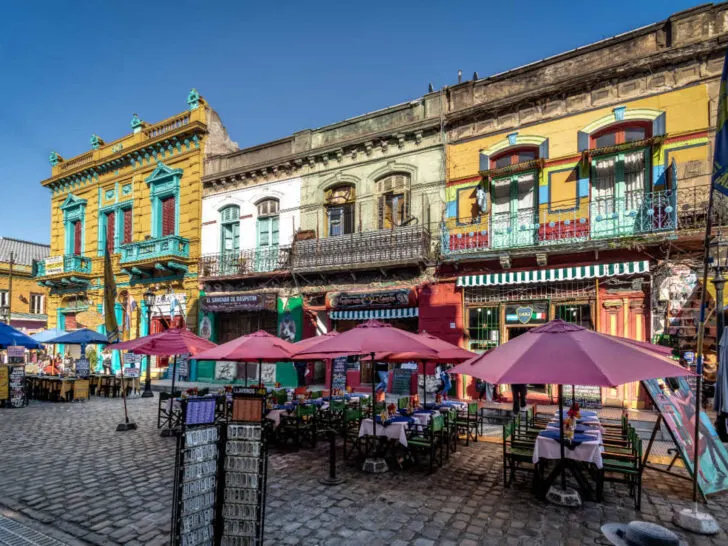 The neighborhood will really be hopping if the Boca Juniors Fútbol Club is playing a home game at their nearby stadium, La Bombonera. If you're a soccer fan and would like to see a home game, one option is to buy tickets here or here. Or, to really learn more about the important history of this entire neighborhood, take the almost-free guided tour at 11am with Free Walks Buenos Aires.
After enjoying La Boca, head to the historic neighborhood of San Telmo, centered around Defensa Street just south of Plaza de Mayo.
San Telmo is the oldest part of Buenos Aires and its charming cobblestone streets, huge cathedrals, and antique dealers call for a wander. Even though the streets are a little quiet on weekdays, don't be fooled; there's plenty to do.
If the history and remarkable architecture of this area is interesting to you, you might want to visit El Zanjón de Granados or the Buenos Aires Museum (BAM). Both museums provide guided tours or signage in English.
If you're looking for some Argentinian specialties, head to the restaurants in and around the Mercado San Telmo and try a typical meal of milanesa (chicken or beef schnitzel), bandiola (pork shoulder), choripan (grilled sausage sandwich), or locro (traditional squash stew).
For dessert, you can't miss the sweet shops lining Defensa Street offering up the famous alfajor. This chocolate-dipped cookie sandwich filled with dulce de leche (caramel sauce), or other delicious concoctions is moreish: it's best to buy one for now and another for later!
Finally, don't forget to get your picture taken with Mafalda, a famous Argentinian cartoon character sitting on a bench at the corner of Defensa and Chile streets.
On Sundays, especially in the summer, Defensa Street is filled to the brim with the San Telmo Street Fair. The streets come alive with music, street performers, and block after block of local artists selling their wares.
Insider tip: During the street fair, restaurants along this street line up their tables outdoors to watch the street performers, so take a seat whenever you can. If you'd rather have a more quaint and local experience, try restaurant El Argento de San Telmo for authentic dishes and live Argentinian music throughout the afternoon.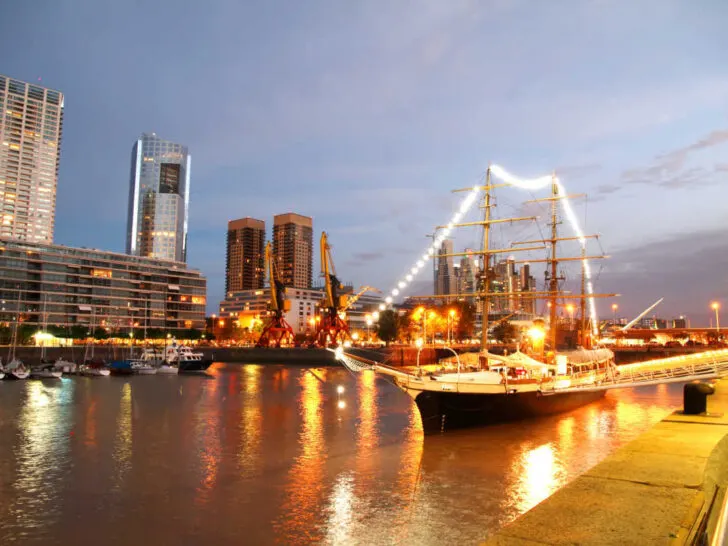 To end your day, turn east from San Telmo to wander the boardwalk and restaurants along Puerto Madero, and Puente de Mujer. There might even be a free event to enjoy in the evening at Centro Cultural Kirshner.
Day Three: Exploring the posh parks of Palermo
For this third day, continue to follow Day Two of the Three-Day Buenos Aires Itinerary. This itinerary explores the natural side of the city with visits to Ecoparque, the Japanese Garden, Parque 3 de Febrero, and the Hipódromo de Palermo.
Day Four: The flavors and charms of Recoleta
For this fourth day, continue to follow Day Three of the Three-Day Buenos Aires Itinerary. This itinerary encourages you to wander and sample the flavors of Recoleta while visiting the Recoleta Cemetery, the Recoleta Cultural Center, the Museo Nacional de Bellas Artes, the Flóralis Genérica, or the Museo Nacional de Artes Decorativo.
Day Five: Choose your own adventure
For your last day in Buenos Aires, get a little further out of the historic center to see a different side of this region. The best day trips include:
Option One: Visit a traditional estancia in nearby San Antonio de Areco
Estancias are Argentine ranches where you'll lunch on a delicious asada of assorted meats, listen to traditional music, and perhaps ride a horse like a real gaucho (Argentinian cowboy).
A day in the country awaits at the beautiful Estancia El Ombu de Areco. They offer a field day in the country including a traditional asada, a folkloric show, and transportation from Buenos Aires.
Another option is to rent a car and drive out to the community of San Antonio de Areco yourself. I rented a car in the city center from Hertz, drove out into the countryside, and thoroughly enjoyed my day at Estancia La Florita. This family-run estancia entertained us with a horseback ride around the property, some gaucho tunes, and a delicious Argentinian asada.
Option Two: Take a train to Tigre
Tigre is a quiet tropical town situated in the river delta north of Buenos Aires. Although it's small, Tigre is packed with a full day's worth of entertainment. To get there, it is easy to catch the Mitre-Tigre train that leaves every 15 minutes from Terminal Retiro. Sit on either side for this scenic one-hour journey.
Once in Tigre, head to the dockside area to take a boat tour around the islands and discover how people live throughout the delta. Then walk along Paseo Victorica beside the Luján River, and enjoy lunch at any number of restaurants along the way.
I also recommend visiting Puerto de Frutos, an interesting and busy port-side mercado, as well as the bohemian art galleries along Boulevard Sáenz Peña. If you have little ones in tow, the riverside Parque de la Costa is Argentina's best amusement park.
Option Three: Get a new passport stamp in Colonia de Sacramento, Uruguay
It is easy to book a day trip across the river delta to the loveliest of colonial towns, Uruguay's Colonia de Sacramento. This UNESCO World Heritage Site is heavily influenced by its Portuguese and Spanish history. Use the Buquebus or Colonia Express ferries from Puerto Madero ($105 USD round-trip). Don't forget your passport, because you will be passing through migration and will get a stamp from Uruguay!
Once off the ferry, the historic center is to your left and where you'll find cobblestone streets, bougainvillea-drenched archways, charming boutiques, and a variety of local restaurants offering choices of grilled meats and delicious seafood. For a great view of the water, don't miss the Bancos del Muelle, a pier on the north side of the historic center.
Where to stay in Buenos Aires
There are plenty of wonderful hotels in Buenos Aires, offering a range of accommodations to suit every budget. While they're dotted across the city, our favorite neighborhoods for hotels are Palermo, Recoleta, and San Telmo.
Where to stay in Palermo Hollywood and Palermo Soho
Palermo Hollywood and Palermo Soho are two hip neighborhoods within the larger area of Palermo, where all the best shopping, steakhouses, cafes, and nightlife are located. This area is a little further away from Buenos Aires' main sights, but taxis are cheap and you've got plenty of evening activities on your doorstep.
To be in the center of it all, look no further than the very lovely Miravida Soho Hotel & Wine Bar ($320 USD double) is a great choice. Alternatively, with a gorgeous swimming pool area and modern rooms, you can't go wrong with the beautiful Mine Hotel ($230 USD double). Despite being on the doorstep of some of the city's best nightlife, it's a really relaxing place to stay, with extremely accommodating staff.
For film buffs, BE Jardin by Coppola ($323 USD double) is the place to stay. The former residence of director Francis Ford Coppola, this beautiful boutique hotel has a courtyard and welcome swimming pool.
If you'd prefer budget accommodation, the quiet and charming Palermo Viejo Bed and Breakfast is ready to welcome you ($60 USD double).
Where to stay in Recoleta
Recoleta is filled with quaint cafes and old-world charm and is home to some of the most luxurious hotels.
Probably the most luxurious of all is the Palacio Duhau ($600 USD double). It's set within a restored 1930s neoclassical palace, with a sunny terraced garden, three fine restaurants, and two top-notch bars. It's very pricey, however.
For a mid-priced, but no less sophisticated option in Recoleta, check out Hub Porteño ($220 USD Double).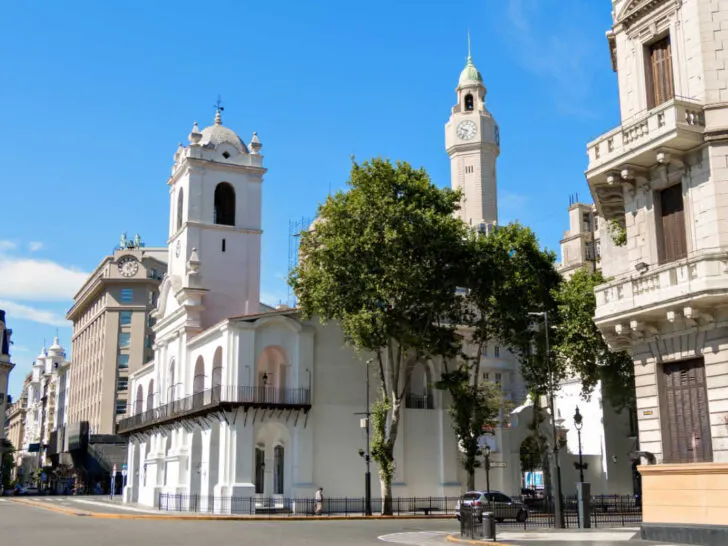 For a budget option in the heart of Recoleta's parks and museums, try the well-appointed Up Recoleta Hotel ($95 USD double)
Where to stay in the San Telmo neighborhood
Once a down-on-its-heels neighborhood, San Telmo is a bohemian area that's home to some of the best tango shows, as well as its famed market every Sunday, and it's really beautiful. Safety can still be a little bit of an issue; check with your hotel about which parts of the neighborhood are still a bit rough and should be avoided.
For some old-world charm a little south of the center, book a room at Anselmo Buenos Aires ($136 USD double), a slick hotel that's part of the Hilton Chain.
With its spacious and very comfortable rooms, the French-inspired L'Adresse Hotel Boutique ($74 USD double) is a very affordable hotel right in the heart of San Telmo.
---
Looking for more inspiration for your trip to Argentina? Read our guide to the best places to visit in Argentina, including our favourite Argentine national parks, and get ready to explore the south with our complete guide to traveling in Patagonia.