Argentina ranks as the eighth largest country in the world, measuring up at about a third of the USA in size.
It's no wonder that this country is an absolute hotbed of natural diversity, which ranges from the rugged coastline of Tierra del Fuego National Park on its southern tip, to the mountain peaks of the Andes in the west and the thunderous waters of the Iguazu Falls in the far north.
Argentina's national park system was established in the early 20th century, with the creation of the oldest national park, Nahuel Huapi, in 1934. Since then, the network has grown to include over 30 parks, covering millions of hectares of land and sea.
If you plan to visit Argentina's national parks, there are three main things to remember. Firstly, weather conditions may vary from one park to another, so it's essential to pack appropriate gear.
Secondly, some parks can be difficult to reach, so consider hiring a guide or joining an organized tour to make exploring easier.
Lastly, these parks require officially purchased entrance tickets from the national parks administration. The updated fees are included below, but please refer to the Argentine Government's official page in case of changes.
So let us dive into the best national parks in Argentina.
Planning Your Trip to Patagonia?
Save time, stress & money with a customized travel itinerary planned for you by a Patagonia expert
1. Nahuel Huapi National Park
When to visit: Summer, from December through March, is the best time to go. It's when the landscapes return to an abundance of green mountains and crystal-clear lakes. Avoid winter at all cost, since roads and hiking treks are closed as they are covered in snow.
Must-have gear: Moisture-wicking clothing for the hot and humid weather (20oC (68oF) on average) and a sun hat, sunglasses, and sunscreen to protect yourself from the intense sun.
Do I need a guide? No. You may explore the park's network of trails and paths on your own. However, certain areas, such as Cerro Tronador of San Carlos de Bariloche, require permits.
Entrance cost: $3,500 ARS ($17.5 USD)
Nahuel Huapi National Park (Parque Nacional Nahuel Huapi) lies right on the border with Chile, which explains its appeal to the hiking set.
Within what is one of Argentina's most visited national parks you'll find stunning scenery, which incorporates a chain of dazzling lakes and the snow-laden peaks of the Andes Mountains.
Best of all, it's a mere stone's throw from adventure capital, Bariloche.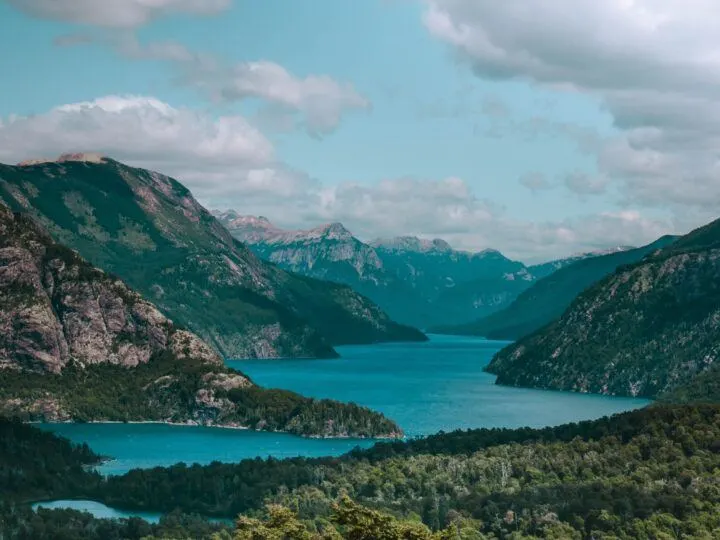 Visit Argentina's oldest and largest national park when the snow melts, creating a stunning landscape as spring takes hold. Bariloche is famous for its Alpine-style wooden buildings, which have been transformed into vacation rentals and hotels and serve as an excellent base for those who want to explore the surrounding area.
Activities abound. Hiking is one of the most popular attractions of Nahuel Huapi National Park, with a range of easy day and hikes and more challenging multi-day treks.
One of the most accessible hikes that offers unequaled views of the surrounding area is the route to Refugio Frey, a mostly flat, 9.5-kilometer (5.9-mile) hike that grants views of the towering peak of nearby Cerro Catedral and can be turned into a two-day trek if you're feeling adventurous.
Alternatively, if you're better on two wheels, consider hiring a bike and cycling the Cerro Circuito, a 27-kilometer (17-mile) loop that follows Route 77 around the Llao Llao peninsula for dazzling lake and forest views.
2. Los Arrayanes National Park
When to visit: Spring to autumn (September to May), and summer as an alternative. Although the park can be crowded during the summer months, there's a daily visitor limit in place to protect the fragile ecosystem. To ensure entry into the park, booking your visit in advance by purchasing your ticket online at the official park website is important.
Must-have gear: With an average 14°C (57.2°F) temperature – cooler than its surrounding area – it's best to wear light layers for warmth and cover your arms and legs to protect yourself from the intense sun. A hat, sunglasses, and sunscreen are essential additions.
Do I need a guide? No, it's easy to access the park, and you can explore Bosque de Arrayanes on your own since the trails are well-marked.
Entrance cost: $3,500 ARS ($17.5 USD)
Los Arrayanes National Park (Parque Nacional Los Arrayanes) lies just north of Parque Nacional Nahuel Huapi and was created to protect rare arrayán trees. Access the site by boat from the small town of Villa La Angostura to admire these flowering trees that range between 300 and 650 years old.
As an alternative to the boat ride, you can take the scenic forest trail that begins at the port of Villa La Angostura. This hiking path – that can also be explored on a mountain bike – takes you through a unique and beautiful forest of Arrayanes trees.
The hike is approximately 12 kilometers (7.5 miles) one way and can take around three to four hours to complete, depending on your pace.
3. Los Glaciares National Park
When to visit: Even though the park is open all year round, the summer months, from October through April, are perfect for trekking. That said, since it's a popular destination – the closest town El Chaltén is considered the national trekking capital – aim for the shoulder months of November, December, and March to avoid crowds.
Must-have gear: Warm clothes are necessary; we recommend a light fleece and a Gore-Tex waterproof jacket to survive the unpredictable weather of Patagonia while keeping yourself warm, and a lightweight headband to protect your head from the sun or your neck from the wind. See our complete Patagonia packing list for a more extensive guide.
Do I need a guide? Self-guided hiking and trekking are only allowed during summer. If you plan to visit in other seasons, you must sign up with a tour provider.
Entrance cost: $3,500 ARS ($17.5 USD) – cash only; usually not included in the tour fee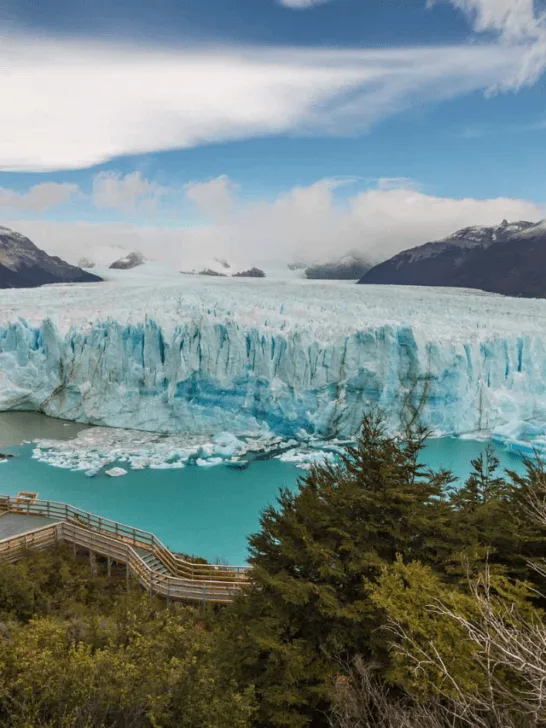 When it comes to Patagonian national parks, few are as famous as Los Glaciares (Parque Nacional Los Glaciares). Situated deep into Argentine Patagonia near the Chilean border, this park stretches north to south along the eastern edge of the Hielo Sur, which is one of the earth's largest glacial ice fields and covers a whopping quarter of the national park.
One of the most popular attractions in the southern section of Los Glaciares National Park is the Perito Moreno Glacier. This ice giant spans 30 kilometers (19 miles) and covers a total area of 250 sq-km (97 sq-mi).
Not only is it a sight to see, but it plays an important part in the earth's sustainability as the third largest freshwater reserve in the world.
Soak in the spectacular views of the Perito Moreno Glacier from the boardwalks at its snout, take a boat ride up to the ice, or experience a challenging ice trek on the glacier itself. You can read our visitor's guide to the Perito Moreno Glacier to learn more.
A three-hour drive north to the town of El Chaltén lies the northern section of Los Glaciares. Here, trailheads lead off into the park, with the most popular the steep, 23-kilometer (14-mile) clamber up to Laguna de los Tres, a beautiful lake that sits at the feet of the toothy, 3,405-meter (11,171-foot) Monte Fitz Roy.
4. Tierra Del Fuego National Park
When to visit: Summer months, from October to April, are best for their long hours of daylight (up to 17 hours), warmer temperatures, less rainfall, and full availability of bus routes. Early April is best to avoid crowds.
Must-have gear: A waterproof fleece jacket is a must to keep yourself dry and warm with temperatures around 0o-10oC (32o-50oF) year-round. Other things you'll need are sunglasses, sunblock, a warm hat, a good pair of hiking shoes, and walking poles.
Do I need a guide? Technically, no. However, considering how vast and remote this area is, novice trekkers should hire a guide or join an organized tour. You can reach the park by car, on board the El Tren del Fin del Mundo's train to Austral Fueguino Station, or by bus from Fadul and Maipú intersection in downtown Ushuaia.
Entrance cost: $5,500 ARS ($28 USD) – tickets are sold at the visitor center in Ushuaia.
Tierra Del Fuego, which literally means "Land of Fire", is often described as the "very ends of the earth". Situated off the southernmost tip of South America, the archipelago attracts adventurers in their droves, keen to explore a variety of hiking trails around the city of Ushuaia or to take boat trips along the Beagle Channel.
With spectacular coastlines, forests, glaciers, lakes, mountains, and waterfalls, it's undoubtedly one of the best places to visit in Argentina.
Its national park, Tierra del Fuego National Park (Parque Nacional Tierra del Fuego) covers an area of over 600 sq-km (230 sq-mi). In the park's southwestern part lies Lake Roca (now known as Acigami), one of the most stunning glacial lakes thanks to its backdrop of the Andes Mountains.
Wander along the shores of the lake on the three-hour Hito XXIV trail for a relaxed approach to the park.
Alternatively, the more challenging, eight-hour Cerro Guanaco is worth the steep ascent to the top of this hill, where you'll find breathtaking 180-degree views of the Beagle Channel and the surrounding mountains.
5. Talampaya National Park
When to visit: In the spring (March to May), when the temperatures range from 20°C to 25°C (68°F to 77°F) and the landscape is blooming with colorful wildflowers.
Must-have gear: Lightweight and breathable clothing that covers your arms and legs to protect from the sun and insects, layers that you can easily remove or add, and sturdy hiking boots or sneakers.
Do I need a guide? Yes. Visitors are not allowed to explore the park without a guide or tour.
Entrance cost: $3,500 ARS ($17.5 USD)
Talampaya National Park (Parque Nacional Talampaya), a five-hour drive north of Mendoza, covers appeals to visitors thanks to its pink-hued monolithic rock formations and desert landscapes.
Its main attraction is the Shimpa Canyon, a narrow, sandstone gorge between enormous 80-meter-high (262-feet) walls that measures just seven meters (23 feet) wide at its tightest point.
You can explore the canyon by driving through it on a 4WD vehicle. The park offers guided tours, which you can book through Talampaya's official website.
6. Ischigualasto Provincial Park
When to visit: Dry season from May to October. Avoid the rainy season, as some parts of the park may be closed due to safety concerns.
Must-have gear: Protect yourself from sunburn with a wide-brimmed hat and sunscreen; carry a daypack with a water bottle or a hydration pack.
Do I need a guide? Not required. But since the park is remote, no public transportation is available to reach it. This guide on driving in Patagonia may be helpful if you wish to arrive without the assistance of a tour guide.
Entrance cost: $2,500 ARS ($12.5 USD) and an additional $1,000-2,000 ARS ($5-10 USD) for alternative circuits (Bicycle Circuit, Morado Hill, Salado River or Quebrada de la Peña, and Night with Full Moon)
Ischigualasto Provincial Park (Parque Provincial Ischigualasto), also known as Valle de la Luna, is not far from Talampaya National Park. While it's not officially a national park, it's worthy of mention for its moon-like desert landscape that feature striking geological formations.
The Painted Valley is famed for the way rich minerals within the rock have given the valley a rainbow of colors ranging from deep reds and oranges to greens and grays. Another, known as the Bowling Field or Cancha de Bochas, is filled with almost perfectly spherical stones, resembling bowling or bocce balls.
This park is renowned for its late Triassic Period sedimentary deposits, which date to 245-208 million years ago and contain fossilized remains of a slew of animals and plants.
These include dinosaur remains that have been invaluable in helping paleontologists understand evolution. You can view some of these fossils in the park's on-site museum.
Trace the dinosaur tracks through the dry riverbed to an emerald-colored lagoon, or take in the panoramic view of the region from 1,800 meters above sea level at the highest peak of the park, Cerro Morado.
Only visitors with reservations through the Ischigualasto website or WhatsApp to +54 264 457 0879/+54 264 418 6119, may enter.
7. Iguazu National Park
When to visit: For the best views of the waterfalls, aim for the second half of October as precipitation increases. However, early September is best for a safer and easier trekking experience. Alternatively, you can consider visiting between April and May.
Must-have gear: Insect repellent and breathable clothing are essential to protect your skin from insect bites; a light rain jacket or poncho is a must, as you should always anticipate at least a little bit of rain even in the "dry" season.
Do I need a guide? No. Iguazú National Park can be accessed without a guide. In fact, you can explore the park by taking a slow train that stops at the entrances of the Lower Walk, Upper Walk, and Devil's Throat. However, longer treks in the park are more enjoyable or safer to do with a guide.
Entrance cost: $5,500 ARS ($28 USD) – 15% discount if purchased online here.
The UNESCO World Heritage Iguazú National Park (Parque Nacional Iguazú) is home to the stunning Iguazú Falls. Covering a vast 677-km2 tropical Atlantic rainforest, the park boasts an array of natural wonders.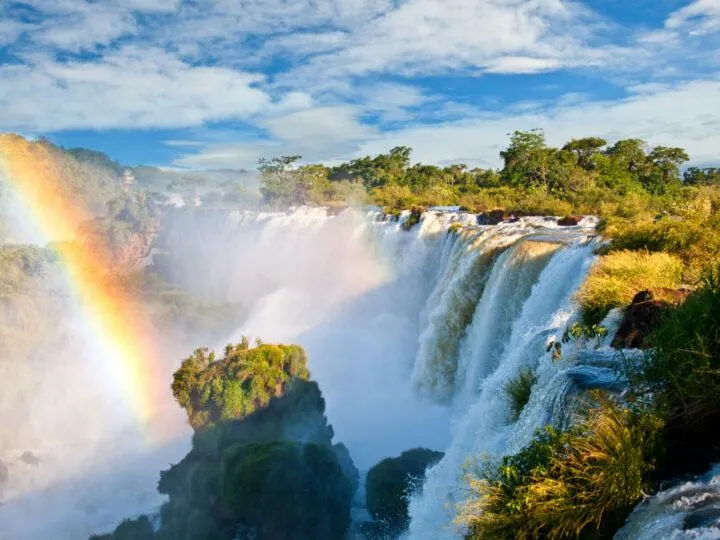 Although you cannot see all 275 cascades that make up this thundering torrent of water from the Argentine side, you can hike the three main paths around the park (Upper, Lower, and Devil's Throat trails) and catch glimpses of indigenous wildlife, such as toucans and South American coatis.
The most popular trail, which arguably offers the best view of the waterfall, is the Devil's Throat Trail. A viewpoint perched above the waterfall offers unforgettable views of the cascading water as it roars down with a deafening sound.
8. El Palmar National Park
When to visit: Fall (March to May) or spring (September to November) months when the weather is mild (temperatures averaging around 20-25°C (68-77°F)) and the park's flora is in full bloom. That said, winter months are best for bird watching.
Must-have gear: A waterproof tent and sleeping bag if you plan on camping; a camera and binoculars to capture the beautiful scenery and species of birds.
Do I need a guide? Not required, but a guide can assist you in navigating the park's trails and ensure your safety. Furthermore, the most convenient way to reach the park is from the closest city, Colón, where you'll find tours that usually include a charter and a guide.
Entrance cost: $3,500 ARS ($17.5 USD)
Located in the province of Entre Rios in northeast Argentina along the border with Uruguay, El Palmar National Park (Parque Nacional El Palmar) is known for its grasslands dotted with palm groves and wetlands – plus the accolade of being one of the country's smallest national parks.
El Palmar is named after the yatay palm tree, a native tree that rises high above the otherwise flat grasslands of the park to reach up to 20 meters (65 feet) tall, creating a landscape that has real similarities with Colombia's Cocora Valley.
Mountain biking and hiking are the top things to do here. One of the best is the 13-kilometer (eight-mile) Yatay trail, which takes you through palm groves and past lagoons.
If you're more interested in wildlife, especially woodpeckers, take the short, 10-minute Los Loros Trail for a chance to spot them. You might also have luck and spot foxes, viscachas, and the world's largest rodent – the capybara – here.
9. Los Alerces National Park
When to visit: Spring months (September to November) are perfect to see the park's natural beauty at its best. The lakes and rivers are also at their highest levels, providing ample opportunities for water activities.
Must-have gear: Insect repellent and a lightweight, waterproof jacket are a must. Since the park offers many activities, from kayaking to horseback riding, it's best to have a versatile, water-resistant backpack that's easy to carry but still big enough to store your gear.
Do I need a guide? No, since there are bus routes to the park from Esquel and other nearby towns, and the park is quite accessible, as shown in this service map. Direct flights to Esquel from Buenos Aires are available for around $10,000 ARS ($50 USD) one way.
Entrance cost: $3,500 ARS ($17.5 USD)
Los Alerces National Park (Parque Nacional Los Alerces) in Argentina's Chubut province is named after its native flora, the Alerce tree, a towering conifer tree species that can live for thousands of years.
This vast Patagonian national park contains huge lakes and the foothills of the Andes covered in swathes of temperate rainforest. This gives refuge to endemic species such as the pudú – one of the world's smallest deer – and the huemul, another type of deer.
The best way to explore the park and absorb the incredible height of the alerces, which can reach up to fifty meters (164 feet) in height, is through its numerous hiking trails, while many of the park's lakes, such as Lake Menéndez and Lake Futalaufquen, offer opportunities for boating and kayaking.
What's more, with a license, visitors may pick up their hooks and lines for sport fishing.
10. Lago Puelo National Park
When to visit: Spring (September to November) when the weather is mild, and the park comes alive with new growth and blooming flowers. This is an ideal time for hiking and birdwatching, as the crowds are typically smaller than in summer.
Must-have gear: Comfortable and sturdy shoes that can handle uneven terrain, a warm jacket or sweater for cooler mornings and evenings, and lighter clothing for warmer days.
Do I need a guide? No, but it is advisable to acquaint yourself with the area before embarking on a hiking journey.
Entrance cost: Normally $2,500 ARS ($12.5 USD). Currently, there is no admission fee being charged for the park. However, visitors are provided with tickets that grant 72-hour access to the park.
Encompassing 2,674 sq-km (1,032 sq-mi), Lago Puelo National Park (Parque Nacional Lago Puelo) is another mountain-dominated protected area, which sits on the border with Chile in Argentina's southern Cubut Province.
This park centers around the crystal clear glacial lake of Lago Puelo, which is encircled by thick forests and the snow-covered Andes mountains from which its waters flow. Explore this dramatic Patagonian scenery through the park's many trails.
Popular ones include easy day hikes, as well as the challenging 33-kilometer (21-mile) path, Los Hitos, which clambers up into the mountains surrounding the lake to reach the Río Puelo just on the Chilean border.
Additionally, the park is renowned for its stunning native species of flora, which includes the arrayán tree, with its striking cinnamon-colored bark.
11. Lanín National Park
When to visit: Summer's shoulder months (November and March), when the weather is pleasant (temperatures ranging from 5°C to 20°C (41°F to 68°F)), and the park is less crowded.
Must-have gear: Waterproof clothing to protect you from rain and snow, insect repellent to ward off mosquitoes (which can be prevalent near waterways), and a map for those who plan to explore the area independently.
Do I need a guide? Only if you plan to climb Volcán Lanín (which requires a guide) or go backcountry camping, both of which also require a permit. A guide is not necessary for other main activities within the park, such as hiking, fishing, and wildlife watching. Moreover, getting to the park on a bus from nearby towns is easy. Check out MoovitApp for a detailed schedule.
Entrance cost: $3,500 ARS ($17.5 USD)
Nestled in the westernmost region of Argentina in Neuquén Province along the rugged ridge of the Andes Mountains, is Lanín National Park (Parque Nacional Lanín).
Its main highlight is Volcán Lanín, a 3,776-metre volcano from the summit of which you can see 24 surrounding lakes. While hiking to the top can be challenging, the reward is well worth it. For a sneak peek, check out this 360-degree view of Lanín.
Another key feature of the park is its groves of araucaria or monkey puzzle trees, which are unique to this part of Patagonia.
Hiking and mountain biking are some of the most popular activities here, although gorgeous views across its ample lakes and inviting hot springs should tempt those seeking a calmer approach. The pretty town of San Martín de los Andes is nearby and makes a great place to stay.
12. Los Cardones National Park
When to visit: Anytime outside of the summer months (which can be very hot and crowded). The shoulder seasons, from March to May and September to November, offer the best weather conditions. However, during the winter months of June to August, you can experience clear, crisp nights with excellent visibility for stargazing.
Must-have gear: Personal medication to help cope with altitude sickness; a winter tent, sleeping bag, and small telescope to camp out under the stars; and plenty of water to keep yourself hydrated.
Do I need a guide? No. The park is easy to access and explore independently.
Entrance cost: Free
One of the favorite national parks in Northern Argentina among nature lovers, Los Cardones (Parque Nacional Los Cardones) offers a unique, beautiful landscape like no other. This desert region is situated over 2,500 meters (8,202 feet) above sea level, forming a breathtaking blend of cactus groves and velvety mountains.
Embark on one of the numerous trails to Quebrada del Toro, a narrow canyon adorned with colorful rock formations, or enjoy a scenic drive through some of the park's most beautiful areas. You can use this official map of Los Cardones to plan your visit.
13. El Impenetrable National Park
When to visit: Dry season from May to September, when exploring the park's trails and observing wildlife is easier. Due to frequent heavy rains and flooding, steer clear of the wet season (October to April).
Must-have gear: Lightweight, breathable clothing as the temperature can reach 30°C (86°F) and strong insect repellent to protect against mosquitoes and other insects.
Do I need a guide? Yes. Access to the park is limited, and visitors must obtain permits and be accompanied by authorized guides.
Entrance cost: Free.
El Impenetrable National Park (Parque Nacional El Impenetrable), the latest addition to the best national parks in Argentina, is one of the world's most significant nature reserves.
The park is situated in the Gran Chaco region, which is characterized by its flat topography, hot, dry climate, and dense, practically impassable vegetation. Here you'll find dry forests and savannas with a diverse range of plant species that have adapted to these harsh conditions.
The park spans over 1,279 sq-kilometers (494 sq-miles) and is inhabited by numerous species, such as tapirs, jaguars, and anteaters. As the name implies, a substantial portion of the park consists of an impenetrable forest.
In addition to promoting eco-tourism, El Impenetrable serves as a crucial hub for scientific research and education.
Explore the park with its unique flora and fauna with an authorized guide as is required by the park administration. Although access is still limited, this national park is home to a remarkable tract of wilderness unlike any other in Argentina.
---
Seeking more travel inspiration for Argentina? Read our guide to the places you must visit in Argentina and these itineraries for heading into Argentine and Chilean Patagonia.