The wild and barren yet beautiful nature of Patagonia has never failed to enchant travelers from all over the world. It is, after all, a region unlike any other.
However, as most residents of Patagonia will likely tell you, it's possible to experience all four seasons in one day here, thanks to often unpredictable weather conditions. I've been sunburned in late winter and soaked to the skin in mid-summer: the only thing you can rely upon in Patagonia is that there are never any guarantees!
Add into the mix this region's increasing reputation as one of the most exciting adventure travel destinations in the world – and the number of tourists this brings – and it's essential to consider when is best to visit Patagonia.
I've traveled here in many different months of the year and explored some of the remotest parts of the region as part of my research for the Moon Chile guidebook.
So let me guide you through the region – and ensure that your trip to South America's southern frontier is unforgettable!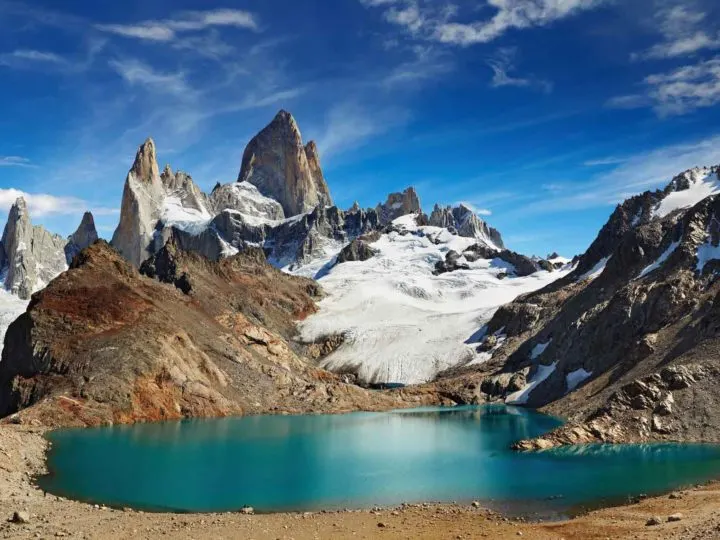 Patagonia's climate month by month
January: During this peak season, it's best to visit a more secluded area of Patagonia, such as the Chilean side of Tierra del Fuego. Another way to explore the region is to cruise through the Patagonian fjords. El Chaltén and El Calafate in Argentina are also great alternatives during this month, while Antarctica is at its busiest.
February: Chilean Tierra del Fuego is still the best option for the second month of summer's peak season. Or go further south for extreme adventure in Puerto Williams or into Antarctica, where it's peak whale-watching season.
March: Drive down for a scenic road trip on the Carretera Austral. As summer ends, Torres del Paine is best during this month for fewer crowds, or go to Bariloche for hiking in Argentina's most splendid national park.
April: Visit Ushuaia and Tierra del Fuego National Park in Argentina on earlier dates for the best wildlife experience. A road trip through the Carretera Austral is another excellent option.
May: Most tourist facilities begin to close, but you can still visit the Perito Moreno Glacier in El Calafate, which should be empty of crowds.
June: Visit Ushuaia for the ten-day winter solstice celebration.
July: Although the peak of winter offers challenging weather conditions in Patagonia in July, Torres del Paine is open year-round and accessible to more intrepid travelers with a guided tour.
August: Despite the peak winter crowds, now is the time to hit the slopes at the world-famous ski resorts of Bariloche.
September: As the snow piles up and the peak season winds down, this is the best month to visit Bariloche, the winter wonderland of Patagonia.
October: Go to Ushuaia and Tierra del Fuego National Park in Argentina later in the month for the best wildlife experience, like spotting penguins.
November: The road trip along the Carretera Austral road trip is best to take this month, while secluded Puerto Williams awaits with its challenging trails. You can also cruise through the Patagonian fjords, while the season for cruising to Antarctica begins as the sea ice starts to break up around the White Continent. Expect pristine snow and plenty of icebergs.
December: Expect settled weather, fewer crowds, and the best hiking conditions in Torres del Paine, El Chaltén, and El Calafate before the peak summer season arrives. The season for Antarctica cruises hits full swing, with 24-hour sunlight and the arrival of penguin chicks.
The four seasons of Patagonia
The best time to visit Patagonia depends on what you're trying to get out of your trip – and it's certainly a location that experiences all four seasons.
Spring (September to November)
Spring brings with it fewer visitors, an increase in accommodation options, and comfortable trekking conditions.
If you're planning on hiking in Torres del Paine in September, you will need to be accompanied by a licensed hiking guide (but it's worth it: I loved being one of the only people in the park!). This is the second quietest season in Patagonia, so it's a brilliant time to visit if you want to see the region in its quiet splendor or want to hike up to the torres (towers) of Torres del Paine at dawn (which, in winter, can be as late as 7am, but in summer, it can be as early as 4am).
Because of the lack of footfall and vehicles in the region during these months, it's also the perfect time to spot Patagonia's most acclaimed wildlife, which includes everything from guanaco and rhea to condors and – my personal favorite – pumas.
October onwards is also a great time to visit the northern part of Chilean Patagonia: the Carretera Austral. While this part of Patagonia doesn't get anywhere near as busy as the locations further south, October is still a good time to beat the inevitable increase in tourists that the summer brings.
During these spring months, highs average around 16°C (60°F) and can drop to 3°C (37°F) at night – so bring plenty of layers, including thermal underwear if you plan on camping in the national park and a three- or four-season sleeping bag.
Summer (December to February)
This is the peak time for tourism, and many accommodations sell out ahead of time (so make sure to book early – at least three months in advance, or for the W, five or six is best). Prices are also more expensive, particularly around Christmas and New Year, but everything is open and all tours are now running.
Torres del Paine National Park is at its busiest, with dawn much earlier – so if you're planning on hiking up to the torres (towers) from Torres Central (four hours) or Chileno (two hours), then you can expect an early start.
Temperatures hit 20°C (68°F), and drop to 8°C (46°F) overnight, while winds can reach up to a whopping 120 km/h (74 mph) – meaning the weather can actually be much less stable than in the rest of the year. As a result, you'll want plenty of layers for when it gets cold or hot (both are a possibility!), plus a waterproof jacket and trousers.
Autumn (March to May)
The second shoulder season, and arguably the most beautiful of all, autumn sees the high visitor numbers begin to dwindle – just like the temperatures, which drop to highs of 13°C (55°F) during the day and -3°C (27°F) at night. The trees across the landscape are by now changing color, and while the weather can be unpredictable, the fall colors make it worth the risk.
In Torres del Paine, the O Circuit closes to hikers at the end of March, while the W may stay open a few weeks longer – although, this decision is often made last minute. From mid-April through May, you'll need a licensed guide to do the W trek or any of the day hikes and many of the hotels, restaurants and tour operators will begin closing for the season.
Winter (June to August)
In winter, most accommodations, restaurants and tours close – which also means a huge decrease in the number of tourists.
If you choose to visit Torres del Paine, you'll need to have a licensed guide with you and be aware that the O Circuit is completely closed to hikers. The W is only possible if you're hiking with a local tour operator and you'll typically have to camp as the refugios will be closed.
While it's more expensive to visit in the winter, the national park is truly spectacular – with plenty of snow and a stillness that comes with there being very few other visitors.
Other national parks in the region tend to be fully closed for the winter, with trails in Parque Nacional Los Glaciares in El Chaltén, Parque Nacional Tierra del Fuego near Ushuaia, and those along the Carretera Austral often closed due to snow. While it theoretically is possible to visit during these months, you may find it impossible to do any hiking – and, for safety reasons, it's sensible to hire a local guide to ensure you don't stray off the paths.
Pack your thermals and warm layers, as temperatures average around 8°C (46°F) and drop to -3°C (27°F) at night.
Each part of Patagonia has its own climate and high season, so read on as I go through the best time to visit each region.
Planning Your Trip to Patagonia?
Save time, stress & money with a customized travel itinerary planned for you by a Patagonia expert
What conditions can you expect in different parts of Patagonia?
The geography of Patagonia goes some way in explaining its differing climate.
The Carretera Austral is typically wet and humid because of both the westerly winds and the fact that it captures the rain before it hits the Andes. It's also much further north than Southern Patagonia (where you'll find El Chalten, El Calafate, Puerto Natales, and Ushuaia), which, whilst it can still be cold due to its latitude, can get quite warm in the summer.
The Argentine side of Patagonia, meanwhile, is much drier as the Andes stops it from receiving much rain. As a result, much of the terrain on the Argentine side is a lot less exciting than on the Chilean side – so, if you're looking for lush forests and glaciers, the Chilean half of Patagonia or on the very far western edge of Argentine Patagonia where it meets the Andes is the place to go.
Different parts of Patagonia are also busier than others. The main rule of thumb is that Southern Patagonia (Torres del Paine, El Calafate, El Chalten, and Ushuaia) are the most visited. Other places, such as the Carretera Austral annd Puerto Madryn are much quieter because they're harder to get to.
Let me go into more detail about each of the destinations.
Torres del Paine National Park (Chile)
With multiple routes to choose from and breathtaking sights to see, this national park in the southern part of Chile is the ultimate trekking destination in Patagonia. It is so popular that it is packed during the peak months of January and February, although it's actually accessible throughout the year.
The best time to visit Torres del Paine – and the nearby town of Puerto Natales – is between October and April.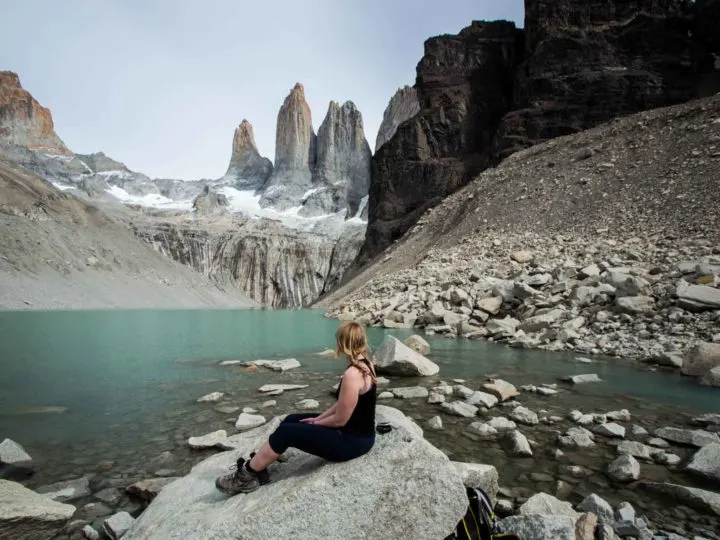 Torres del Paine from October through April
Though open year-round, self-guided activities – such as hiking the W trek without a tour – are only allowed during this period. This is also the peak season when all facilities are accessible.
From October to April, the weather in Torres del Paine is mostly mild: between a high of 18oC (64.4oF) and a low of 4oC (39.2oF). During summer (December to March), it is drier and warmer. However, you should not rule out rainy and windy days, which are common in this region.
Torres del Paine in winter
Due to the harsh conditions, you need to arrange a guided tour if visiting outside of these months. Expect snowy and windy weather from June to September, where the temperature often drops below freezing.
To avoid this, visit Torres del Paine in the off-peak month of May with a local guide. Though the weather can be cold, the scenery is generally stunning, and day hikes for all abilities are available.
Ironically, winter in Torres del Paine National Park is often less windy than in the summer months, and while it's often very chilly, with some luck you can get plenty of bluebird days.
El Chaltén and El Calafate (Argentina)
Overlooking Los Glaciares National Park, El Chaltén is a summer destination. Experience the best time to hike in Patagonia here from October to April. If you are visiting Torres del Paine, stop by El Calafate first, where you can find the remarkable ice giant, Glacier El Perito Moreno, just a short distance from town.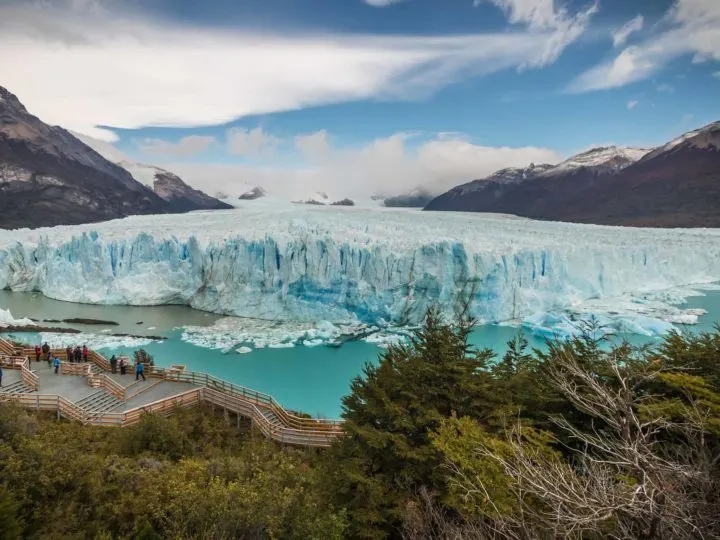 El Chaltén from October through April
Summer days in El Chaltén are perfect for self-guided hiking and trekking. All you need is this itinerary for one or two weeks in Patagonia, and you are good to go. The daytime temperature stays between 7.5o C and 19oC (45.5o – 66.2oF).
That said, you should still pack warm clothes as nights can get as cold as 5o C (41oF). The warmest month is January, which is also the height of the peak season, so opt for the shoulder months of November, December, and March for world-class hiking without tourists.
El Chaltén in winter
El Chaltén is open all year round, even during winter (from June to September) when the days are short. Most tour facilities are closed, but hotels and stores remain open. Since self-guided activities are not allowed during this time, you need to sign up with a tour provider to explore this region. If you don't mind the colder days – averaging 4oC (39.2oF) – visiting El Chaltén in May would be best.
Ushuaia and Argentine Tierra del Fuego (Argentina)
If there is any place you can call at the edge of the world, this is it. Located off the southernmost tip of South America's mainland, the Tierra del Fuego archipelago offers many outdoor activities, including the brilliant hiking destination of Tierra del Fuego National Park, and is one of the best destinations to explore in Argentine Patagonia.
Though this region has all four stages of the Patagonian seasons, the temperature stays around 0o-10oC (32o-50oF) year-round.
With that said, the best time to go is from the end of October through early April when the weather is better. If this is your first visit to Ushuaia or any area within Tierra del Fuego, this extensive 15,000-word guide on planning a trip to Patagonia should be helpful.
Ushuaia from late October through early April
Spring through to autumn is the best time to visit Ushuaia, although you can expect flurries of snow at the start and end of this period. Experience warmer temperatures with less rainfall and longer days – up to 17 hours of sunlight in total. Usefully for those seeking to travel around the region, this period is when all the bus routes are open and it's easiest to get to and from Ushuaia.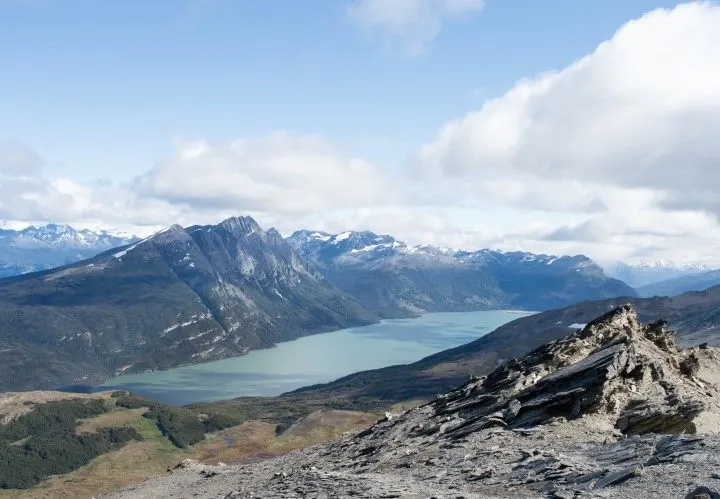 The peak of summer – January to February – is also the high season. Therefore, the best time to visit Argentine Patagonia is in December or March when the weather is cooperative, but places – such as one of Argentina's best national parks, Tierra del Fuego – are not packed with tourists.
But if you are here for the wildlife, aim for the end of October or early April, when you can spot species unique to this area, from terrestrial mammals – such as guanaco and Andean fox – to austral parakeets and Andean condors. Keep in mind that Patagonia's weather in April is more wet and windy than in the summer months.
Ushuaia in winter
Ushuaia celebrates the winter solstice with a three-day festival in June, while music and shows follow for up to 10 consecutive days in June. As a result, you may find hotels fully booked around this time, even though it is in the middle of the low season.
The Carretera Austral (Chile)
Bearing the name "the Southern Highway," the Carretera Austral spans 1,240 kilometers through Chilean Patagonia, from its northernmost point at Puerto Montt to Villa O'Higgins in the south.
Surrounded by stunning scenery, it has been dubbed Patagonia's most magnificent road trip. The best time to go to Patagonia along this scenic route is between November and April.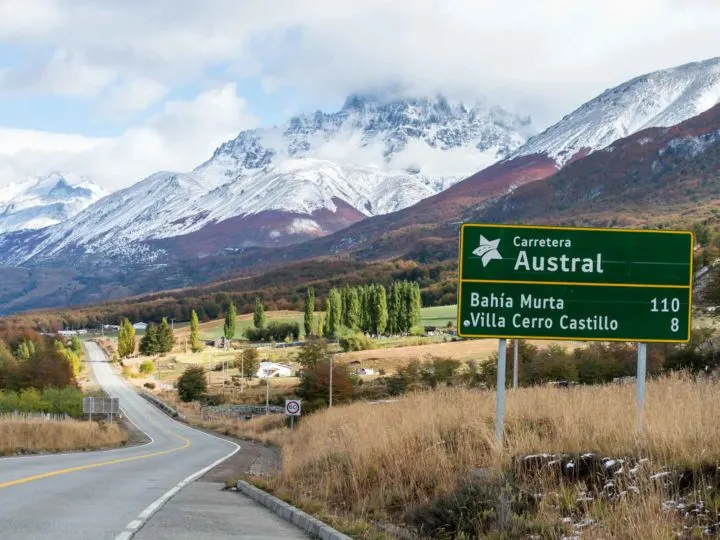 The Carretera Austral from November through April
Some of the best Patagonia weather is in November, with summer just around the corner. The warmest and driest time is January and February. As a result, these months are also the peak season when all tour operators are open, and hotels are usually packed.
Avoid visiting Carretera Austral between May and October. As it's the off-peak season, these months can be dangerous for driving, and some roads are impassable in fall and winter. Also, bus routes are usually not available.
Keeping this in mind, the best months to visit off-peak are the shoulder season months of November (as spring is ending) or March and April (right at the end of summer) when it is not so crowded, and the weather is good for the most part.
Regardless of which month you choose, prepare yourself with car rental info and road trip itineraries for Patagonia to ensure your safety and comfort.
Bariloche (Argentina)
If Patagonia winter is what you are after, Bariloche is the region to visit. With up to two meters of snow coverage, this is indeed the winter wonderland of Patagonia. For the best winter activities, aim to visit between July and September. However, in the Austral summer, it's also a key hiking destination.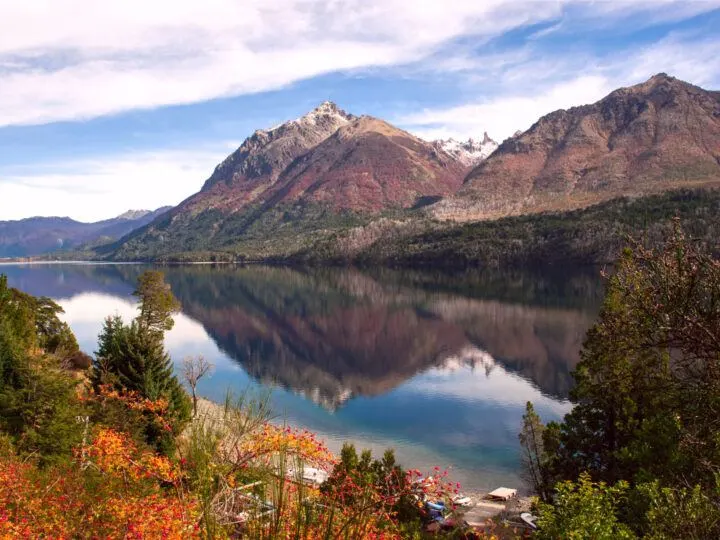 Bariloche from July through September
Patagonia winter truly begins in July, when the ski resorts are fully operational. During the day, average temperatures sit at 4oC (39.2oF), though it will feel colder when it rains. The largest downpours are usually around August. September is drier, which makes it the best time to visit Bariloche.
During this month, the temperature is slightly warmer (at 7oC or 44.6oF on average), while the snow coverage at the resorts is at a maximum.
Though most roads and walking trails are covered in snow – which means, as a result, hiking and trekking activities are not available – you will not have a hard time accessing the ski resorts from the Bariloche airport via taxi, bus, or rental car.
Bariloche from December through March
For those looking for the best time to hike in Patagonia, don't exclude Bariloche. In fact, do include it! As the snow starts to melt, spring takes over the once-barren landscape. The temperature can reach 20oC (68oF), and trails are open, including the striking mountain range of Nahuel Huapi, which offers dazzling views of Bariloche and the lakes beyond.
If you would like to avoid the peak season, March is your best option.
Chilean Tierra del Fuego (Chile)
Further south of Torres del Paine, you'll find the Chilean part of Tierra del Fuego. Unlike northern Chilean Patagonia, this region offers dramatic natural landscapes where few tourists ever venture – despite it being one of Patagonia's most incredible places to visit.
Summertime from December to March is the best time to visit and experience the stark natural beauty of this truly remote hinterland.
Chilean Tierra del Fuego from December through March
The region's low population is one of the main reasons behind its quiet surroundings. Another reason is that it's very difficult to access; as a result, avoiding peak season is not an issue. To get here, you'll need to rent your own 4×4 and make careful plans for accommodation and fuel.
Download our one-month Patagonia itinerary for expert guidance for planning a trip to this part of the region.
Since you don't have to worry about running into a pack of tourists, anytime between December through March is an excellent time to visit Chilean Tierra del Fuego; after this and road conditions can become unsafe. So go ahead and visit during the peak season of Patagonia in January and February.
While there aren't many tourist facilities, those that do exist are open, the region's treks are accessible, and you can be guaranteed a trip far beyond the beaten trail.
You need to keep in mind that this region is not for novice adventurers, and we highly recommend you look into our travel planning services to get you started.
Puerto Williams
Exploring South America's southernmost town is not for the faint-hearted. Puerto Williams lies on a wind-swept island with 150 kilometers of challenging trails. Though there is no drastic temperature change throughout the year, summer is still the best time to visit for less rainfall.
Puerto Williams from November through December or February through March
The best time to visit Patagonia for a wider range of activities is, without a doubt, the summer. Summer in Puerto Williams runs from December through March. However, you may want to skip January as it is the peak of the tourist season and has the greatest chance of rain.
Outside of these months, Puerto Williams' trails are not accessible. Even with the mercy of summer, exploring with an experienced group or a local tour guide is highly recommended. There is no sugar-coating it; these trails are tough.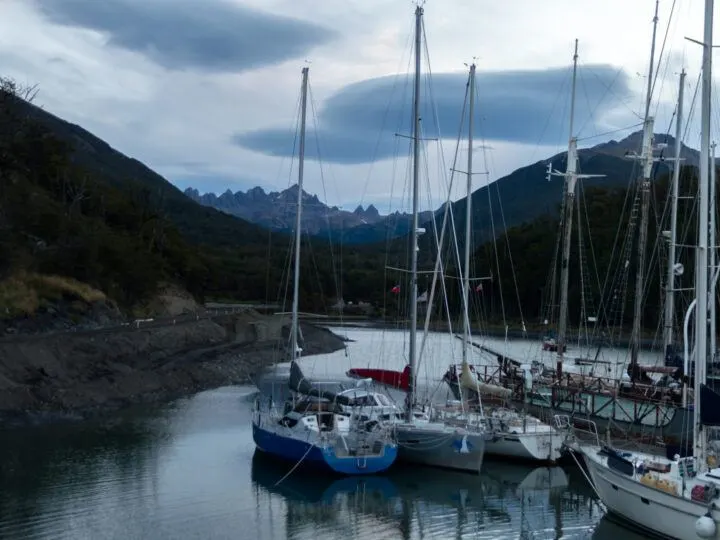 The temperature during summer is around 5o C to 13oC (41o – 55.4oF). To make your hike easier, it's best to go during the driest summer month, February.
If you prefer avoiding peak season, late November is your next best option. These months' conditions also guarantee a smoother boat trip aboard the Yaghan ferry, which is one of the best ways to get to Patagonia.
Antarctica
Cruising into the White Continent is the stuff of dreams for most adventurers. While you can take a flight from Punta Arenas in Chile directly to Antarctica, most opt for the more scenic choice: a small-ship expedition cruise from Ushuaia (Argentina).
There are plenty of different operators to choose from, with some incorporating the Falkland Islands and South Georgia into their trips (known for their remarkable abundance of wildlife, including penguins, seals, and marine birds), while others head into the Polar Circle to explore the lesser-visited part of the Antarctic peninsula.
Looking to head to the White Continent? I highly recommend the brilliant Swoop Antarctica. Their staff have extensive, first-hand experience of sailing to Antarctica and, because they sell cruises for all the well-known companies, they can give you handy, impartial advice for choosing the one that best suits you. What's more, they specialize in small ship expedition cruises, which means you'll be allowed to get off the boat at every stop on the itinerary (which is not the case for large ships!) and you won't pay a cent more by booking through them rather than directly with the cruise company themselves. Ready to be inspired? Check out their classic cruises to the Antarctic Peninsula, or their more unusual trips to wildlife-rich South Georgia and the Falklands, or go further than most on a cruise to the Antarctic Circle.
Antarctica from November through March
Sea ice prevents visitors from reaching Antarctica outside of the brief months of November through May. November is perhaps the best month to visit Antarctica if you're a photographer, as it is the start of the season and landscapes remain pristine – there have been no tourists to churn up the snow yet. Icebergs calving off the sea ice are also still around, making for truly sublime scenery.
December through January see the lion's share of the tourists arrive and it's also an easier time to visit as some of the snowbanks that make trails challenging have started to melt. You'll also begin to see chicks hatching during the final weeks of December, although this peaks during January – the month that also sees the most settled weather in Antarctica.
If you want to catch sight of the humpbacks and orcas that have traveled to these waters, February is the best month – although expect the once-white snow to have turned mushy and brown underfoot thanks to visitors and the guano of the breeding penguins.
At the tail end of the Antarctica season is March, which is peak whale-watching season. During these final few weeks of travel to Antarctica being possible, you might even catch some snow as the cold weather draws back in for the winter.
We've gone into this topic in much more detail in this article about when to visit Antarctica – so head there for to learn more. You can also read our roundup of the best Antarctica books for inspiration!
Patagonian Fjords (Chile)
Exploring the narrow ocean channels that sit between the winding fjords of Patagonia is best done on a cruise or cargo ferry.
Ferry operators such as Australis are available with four-day to one-week excursions from late November through March, which you can book in advance, although the cargo boat from Punta Arenas to Puerto Williams is far cheaper and offers a similar route.
Patagonian Fjords from November through March
From the end of spring and throughout the summer is when to visit Patagonia on a ferry. Expect warm days with an average high of 20oC (68oF) and a low of 6oC (42.9oF). Since you will be on a ship, avoiding the crowd is not an issue, but you can expect boats to be booked up well in advance.
One of the most common ferry rides along the Patagonian fjords is accessible from Puerto Montt, the southernmost major city of Chile. Regardless of what they advertise, these vessels are usually cargo ships that also take passengers. One of the best providers is the Navimag. Read this review of the Navimag Ferry ride from Puerto Montt to Puerto Natales to better understand what to expect from this Patagonian fjords trip.
Alternatively, go even more remote with a journey from Puerto Montt to Puerto Williams aboard the Yaghan ferry. Also a cargo ship, this boat takes you through Glacier Alley, a channel where tidewater glaciers cling to the sides of the fjords and feed slowly into the water.
After 32 hours, and frequent sightings of penguins, seals, and even whales, you'll dock at Puerto Williams, the southernmost settlement on the planet.
Outdoor activities in Patagonia and when to do them
Camping
Camping in Patagonia truly is spectacular – but be mindful of when you choose to go.
Spring (September to November) tends to bring cold but generally clear weather; you will need thermals and a four-season sleeping bag if you plan on camping during these months. Most national parks and campgrounds don't necessarily open until October (Torres del Paine) or November, so bear this in mind when planning your travels. This is the lower season, so there is less competition for camping spots along the W trek in Torres del Paine until the week of Thanksgiving in November.
Summer (December to February) is warmer, but also the windiest and busiest time of year – especially in Torres del Paine National Park, and Los Glaciares National Park (Argentina). With this being peak season, make sure to book your camping pitch in advance to avoid disappointment. For the W and O treks in Torres del Paine National Park, you'll need to book at least five or six months ahead if you plan on hiking during these months.
The weather starts cooling off in autumn (March to May), but is otherwise generally relatively settled. You might experience more rain during this season, but the parks are quieter. Bear in mind many trails start to close at the end of April (the O and the W), while other campgrounds may close for the winter if early snowfalls.
Most camping spots close over winter (June to August), along with many hotels, tour agencies and restaurants.
Watersports
You'll be spoilt for choice when it comes to water sports in Patagonia.
Kayaking
In Northern Patagonia
On the banks of Chile's second-largest lake, Lago Llanquihue and with views of Volcán Osorno and Volcán Calbuco, Puerto Varas (Chile) is the most vibrant and most visited of the towns in the Lakes Region. It's a favorite amongst adventure travelers, with one of the main draws here being its access to an abundant supply of lakes and rivers. Kayaking on nearby lakes and rivers is at its best between October and May, after which the winter weather sets in and it can be very cold to be in the water.
Further south in Puerto Rio Tranquilo (Carretera Austral, Chile), between January and April, you can kayak through the Capillas de Mármol (Marble Caves), which are a collection of rainbow-hued rock caves.
In Southern Patagonia
In Torres del Paine (Chile), kayaking only takes place during the main tourist season, which extends from October through April. Wind speeds tend to pick up in January and February, which can make conditions on Lago Grey – the main location for kayaking – more challenging.
The story's the same across the border in Parque Nacional Los Glaciares, with kayaking in front of Argentina's most famous glacier, the 25,000-hectare Glaciar Perito Moreno, possible during the same months.
Further south in Punta Arenas (Chile), Solo Expediciones also have a truly unique option for kayaking with the whales that swim to Parque Marino Francisco Coloane during the summer to feed. December through May are the best times to see the whales, however, local operators such as Solo Expediciones only run these tours between December and March.
Rafting
The Chilean Lakes District isn't just known for its kayaking opportunities. In fact, the most popular watersport in Puerto Varas, is white water rafting. Operators tend to only offer rafting between August and May, however, as the sunshine begins to melt the icepack in the Andes above, the rivers grow, reaching their peak in around November and December – which many therefore consider the best time to raft in the area.
It's a similar story a little further south, where the Río Futaleufú has some of the most exciting Class III-V white-water rapids in the world. The water tends to be at its peak here around October, with the rafting season only running from this month until March.
Fishing
Both the Chilean Lakes District and the Aysén region further south are ranked among the most coveted destinations on the planet for fly fishing, thanks to astoundingly pure rivers and lakes ringed by virgin terrain of snowy peaks, lush native forests, and few other anglers.
November and December are best for fishing streamers, large dry flies and nymphs for large trout, while January through April is best for fishing dry fly patterns of all sizes and styles. Fishing lodges tend to only operate between these months.
Trophy-size fish are the norm, from 80-centimeter brown trout to 20-kilo chinook salmon. Fishing is catch-and-release, and the main season is October-April.
Photography
For the shutterbugs, late March and April are the best times for autumn colors in Patagonia, making them the months when photographers around the world descend upon the region. My good friend Kevin (aka Shutter Safari) has a Travel Guide and Map from his time shooting in Patagonia and features one hundred must-visit locations for the best photography opportunities throughout Patagonia. It's a great book for planning your photography trip and gives advice on capturing the best images across the region's dramatic landscapes.
Booking accommodation in Patagonia
Prices can triple between December and early February, and sell out in advance, so make sure you book early if traveling during these peak months.
Many hotels shut down between the end of April and August (or even sometimes September), so bear this in mind when planning your trip. September and October are a good time to visit Torres del Paine and Southern Patagonia, as hotels are at their cheapest, and rarely booked up – although you will have to factor in the additional cost of hiring a guide if you plan on hiking in the area.
Booking tours in Patagonia
For tours across Patagonia, I recommend Chile Nativo – mention Worldly Adventurer and you'll get a 5% discount on your tour.
Alternatively, if you'd like to arrange a 19-day self-drive tour of the Carretera Austral, with both guided and self-guided adventures, I recommend EcoChile Travel, one of my partners in the area. Wave goodbye to the planning and logistics that can come from having to do it all yourself, and let the experts do it for you. Get a 5% discount by mentioning Worldly Adventurer when you book.
---
FAQs about Patagonia
How many days do you need for Patagonia?
Ideally, you need a minimum of one week to explore Southern Patagonia and cover the region's highlights: Puerto Natales, Torres del Paine National Park, the Perito Moreno Glacier, and the hiking trails of Los Glaciares National Park near El Chaltén.
If you've got two weeks, you could add in Ushuaia and Bariloche on the Argentine side, or spend the entire time in Chilean Patagonia along the Carretera Austral before heading down to hike in Torres del Paine. As this region is vast and trying to cover great distances can be laborious, it's better to slow down and choose a handful of places in which to spend your time.
Is Patagonia better in Chile or Argentina?
Chilean Patagonia has a wider variety of ecosystems than Argentine Patagonia: think the lush, temperate rainforests and glaciers clinging to mountains of the Carretera Austral; the icy fjords packed with marine wildlife along the west of Chile; and the snow-topped mountains lined with southern beech forests of Torres del Paine National Park. As a result, if you want to adventure into a range of different environments, then Chilean Patagonia is a better match.
The Chilean peso is also significantly more stable than the Argentine peso; rampant inflation in Argentina is causing tours, accommodation, and dining to be extremely expensive. That said, Argentina is home to its own incredible sights, including the iconic Monte Fitz Roy near El Chaltén, the vast Perito Moreno Glacier near El Calafate, the penguin colonies of Puerto Madryn, and the lake-stippled landscapes of Bariloche.
When should I go to Argentine Patagonia?
The Patagonia travel season is short, with visitors only arriving in the region from late October through early April during the Austral summer. This is because of the cold, inclement weather that the Patagonian winter brings.
However, with December and January the peak season for visitors, it's better to explore Argentine Patagonia during the shoulder seasons: October through November and late February through March. Prices will be cheaper, accommodations easier to book and hiking trails quieter.
Is October a good time to visit Patagonia?
October marks the very start of the Patagonia travel season. Because it's the tail end of spring, you might find that weather remains cold and there's still a possibility of snow – although weather is so variable in Patagonia that there's always a possibility of snow! That said, you can expect the landscape to be erupting in an ocean of flowers and greenery following its dormancy over the winter – making this a very beautiful season to visit Patagonia.
During the day, temperatures can peak at 14°C (57°F) before dropping to 1°C (34°F) at nighttime; you'll want layers for the day and a warm, cozy sleeping bag for the night. However, as winds are at their strongest during the summer, you'll likely escape the worst of Patagonia's infamous gusts!