Antarctica is one of the least-visited places on Earth, but not for a lack of awe-inspiring experiences. Its abundant wildlife, history of brave explorers, striated ice towers, and polar ice cap exceed every visitor's imagination.
Although there are many factors in determining the best time to visit Antarctica, ice and weather play a crucial part. Outside of Antarctica's warmer months (October to March), ships cannot travel through the compacted sea ice. The same applies to harsh weather conditions that may involve strong winds, blowing snow, whiteout, and blizzards, even in summer.
January: One of the best places to spend the Antarctic summer is on the South Shetland Islands. This is when the islands buzz with activity: penguin chicks are learning to survive without their parents and winterovers (people who spend winter at the South Pole) are relishing the warmer days before the harsh season sets in.
February: This is when you can catch sight of the humpbacks and orcas that have traveled to these waters, although the snow turns mushy and brown underfoot thanks to visitors and the guano of the breeding penguins.
March: The tail end of the Antarctic season is marked by the whale-watching peak. You might even catch some fresh snow as the cold weather returns for the winter.
April to September: Winter approaches and average temperatures are beginning to drop well below freezing, reaching -60°C (-76°F) or lower. The pack ice thickens, and all cruise ships depart. Antarctica is plunged into almost complete darkness; the sun comes close to the horizon but not above it, resulting in twilit days.
October: Visiting in October, you'll be among the first to arrive in Antarctica for the tourist season. Alternatively, visit the Falkland Islands to spot penguins before the breeding season begins.
November: This month is ideal for observing adult penguins breeding and building nests – mostly on South Georgia Island – as the icebergs calve and sea ice breaks up.
December: This is the beginning of peak season with the warmest temperatures, longest days, and most abundant wildlife. You'll begin to see chicks hatching during the final weeks of December.
Planning Your Trip to Patagonia?
Save time, stress & money with a customized travel itinerary planned for you by a Patagonia expert
I engaged Steph's help during a very busy time in my life, as I was determined to travel without a tour, but had become overwhelmed trying to piece it all together. Steph absolutely nailed the brief. She understood exactly what we wanted to do, and made exceptional recommendations. Steph was also super quick to answer emails and find solutions when needed. I just feel so incredibly grateful to have read about Steph's planning service, and our Chile bible….Moon Chile (Steph's travel guidebook) was with us every step of the way.
Jo & George Lennon
Traveled to Patagonia March 2023
The best weather conditions
What you need to know about visiting Antarctica
Antarctica is a snow desert; it remains cold and dry throughout the year. The continent experiences only two seasons: winter and summer. During the winter months, temperatures are extremely low, with the temperature at the South Pole averaging -60°C (-76°F). As winter progresses, daylight hours decrease until the sun sets almost entirely for months. In contrast, summer months bring longer days and relatively warmer temperatures, although they tend to remain below freezing.
Due to its extreme southern location (and the effects of climate change), even warmer weather can change rapidly. It can reach as high as 9°C (48°F) on the coast but drop to much colder temperatures the following day.
The summer and winter of the Antarctic season occur at opposite times of year compared to the northern hemisphere. Therefore, don't try and plan a trip during your summer vacation if you're in the northern hemisphere – you won't find any cruises running!
Beyond the sea ice thickness, weather conditions can make or break your trip to Antarctica. With temperatures regularly dropping to -34°C (-29°F) in the coastal regions and -60°C (-76°F) in the interior during the winter months, from late spring to the end of summer is the only reasonable time to visit.
The Antarctic coasts – where you will most likely visit – hover around 0°C (32°F) from October to March. Therefore, any time after the first full sunrise in August until late March should be a great time to visit.
With 24 hours of daylight and the arrival of penguin chicks, December is peak time for Antarctic cruises. If you don't mind visiting during the peak season, this is the best month to visit, weather-wise.
The best time to visit different regions in and around Antarctica
Antarctic Peninsula
The peninsula is the most visited part of Antarctica, not only because it is the closest to South America, but also because of its unparalleled beauty.
Set sail for the peninsula during November – perhaps the best time to visit Antarctica – when the landscape is at its most dramatic and the wildlife emerges after the long winter.
Looking to head to the White Continent? I highly recommend the brilliant Swoop Antarctica. Their staff have extensive, first-hand experience of sailing to Antarctica and, because they sell cruises for all the well-known companies, they can give you handy, impartial advice for choosing the one that best suits you. What's more, they specialize in small ship expedition cruises, which means you'll be allowed to get off the boat at every stop on the itinerary (which is not the case for large ships!) and you won't pay a cent more by booking through them rather than directly with the cruise company themselves. Ready to be inspired? Check out their classic cruises to the Antarctic Peninsula, or their more unusual trips to wildlife-rich South Georgia and the Falklands, or go further than most on a cruise to the Antarctic Circle.
Antarctic Circle
The Antarctic Circle's relatively harsh conditions – and the effort involved in getting there – make it the least visited part of Antarctica. However, venturing to the most southerly place on Earth promises an unforgettable experience.
Though the wildlife in the Antarctic Circle may not be as abundant as in other regions, it plays a crucial role in maintaining ecosystem integrity. The area is home to unique, rare sponges that live for nearly half a millennium; it's also the only region inhabited by the Antarctic toothfish.
Due to the unique conditions, it's best to book with a specialist operator. Swoop Antarctica has extensive first-hand experience and offers a 6-day cruise to 66 degrees south – the edge of the Antarctic Circle – aboard a comfortable and spacious vessel.
South Shetland Islands
Ships bound for Antarctica often stop in the South Shetland Islands to give their passengers a taste of the White Continent, or to take a break from a turbulent journey across the Drake Passage. One of the most popular landing sites is the Arctowski Station on King George Island.
As they're just north of the Antarctic Peninsula, the best time to visit the South Shetland Islands is typically the same as the best time to explore the main continent. However, if you're only planning to visit this archipelago and not venture further into Antarctica, January is an excellent time to visit, as it's when wildlife is most active.
South Georgia Island
South Georgia Island is home to numerous penguin colonies; you'll spy thousands of these magnificent creatures throughout the summer months. The spectacle is particularly captivating in December when chicks begin to hatch. Like most parts of Antarctica and its surrounding islands, it's best to visit during the Southern Hemisphere's summer months. If you want to avoid the December peak season, consider November as an alternative. You'll still have the opportunity to observe penguins breeding and nest-building on the islands.
Falkland Islands
The Falkland Islands often feature in Antarctic cruises departing from South America and are home to millions of animals and only thousands of humans. Among its most arresting sights are the penguin colonies atop cliffs that descend to pristine beaches.
Five species call the archipelago home but you'll likely encounter the Gentoo most often, as the Falklands have the largest population of Gentoo penguins on Earth.
Typically, I would recommend visiting during the breeding season – which starts in November – to see the greatest number of penguins. However, given that millions of them inhabit an area of just 4,700 sq mi (12,000 km2), there's still a good chance of spotting them earlier.
For this reason, I suggest visiting in October to avoid the crowds and to fully enjoy the time leading up to your arrival in Antarctica.
Although wildlife is undoubtedly the main attraction, there are also interesting sights and activities inland. Pay a visit to the Dockyard Museum or take a stroll around Whalebone Arch Square to see the impressive arch made from real blue whale jawbones.
So, when is the best time to visit Antarctica?
To see penguins hatching
According to the Australian Antarctic Program, there are at least nine species of penguin in the Antarctica region (out of only 17 discovered worldwide); the most common are King penguins, Adélie penguins, and Emperor penguins. The latter is the only one breeding during the Antarctic winter when the continent is closed to visitors.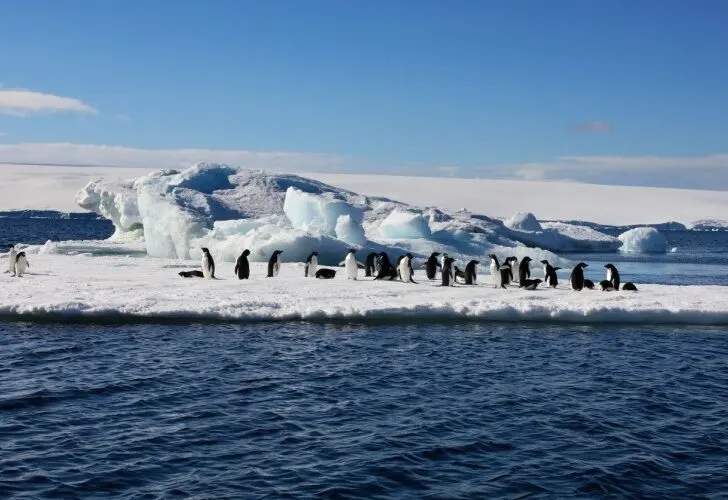 King penguins have a long breeding cycle: they lay eggs from November to April. As long as you visit within this time window, there's a good chance you'll see not only eggs hatching but also the parents incubating them on their feet (unlike most penguins, which build nests).
Adélie penguin chicks, like most penguins in Antarctica, begin to hatch in mid-to-late December. They stay with the adults for another month until they are large enough to be left alone. When their adult feathers fully grow in February, they can feed themselves.
As thousands swim into the ocean to hunt fish and krill, they attract other, larger animals, such as humpback and minke whales.
To see whales
Although the peak of the whale-watching season falls in March, February is actually the best month to catch sight of the humpback whales and orcas that have traveled to these waters to feed. However, the snow will have turned mushy and brown underfoot due to visitors and the guano of the breeding penguins.
Most tours to Antarctica include whale-watching activities. Swoop Antarctica expeditions offer several options: watching from a ship on the open sea; from a guided Zodiac inflatable boat tour that gets you closer; or even from a kayak, watching their movements in complete silence.
To see seal pups
Spotting adult seals can be a challenge, let alone seal pups. Seals live most of their lives underwater, only coming up to breed on the sea ice. In addition, some species – such as Ross and Leopard seals – tend to be solitary.
The longest time span seals spend above water is raising the pups, which is when you can spot them basking in the sun. You'll see young fur seals, elephant seals, and most other species on sub-Antarctic islands (mostly on South Georgia); you're more likely to spot crabeater and leopard seals on large pack ice in the Antarctic waters.
Most species give birth from September to December. Although the adults are usually nonchalant (though sometimes curious) around humans, the seal pups can be shy and hide from visitors, so it's best to schedule your trip in October to see the pups before the crowds swarm in. However, significantly fewer ships sail to Antarctica in October.
To avoid the crowds and see unblemished landscapes
The early summer season (October to November) has excellent snow and ice conditions. It is the best time to visit as landscapes remain pristine – there have been no tourists to churn up the snow yet. Moreover, you may witness the spectacular sights of icebergs calving and sea ice breaking up.
Mid-November is also the mating season for Adélie penguins; you may see them building their nests. Although the whales aren't as easy to spot during these months, you can see seals and their pups on South Georgia Island.
---
Looking for further inspiration for your trip to Antarctica? Read our guide to the best books about Antarctica and look at our Patagonia itineraries to plan your adventures before heading down to the White Continent.