Argentina is a dream destination, thanks to its ample selection of mountains, glaciers, beaches, wildlife, historic pueblos, and amazing food. But, while its attractions continue to entice visitors, you might be wondering if the Argentine capital, Buenos Aires, is a safe place to visit – or one you should skip entirely.
Because it is the hub of all air travel getting in and out of the country, Buenos Aires is likely already part of your itinerary. But is it safe to spend a few days there?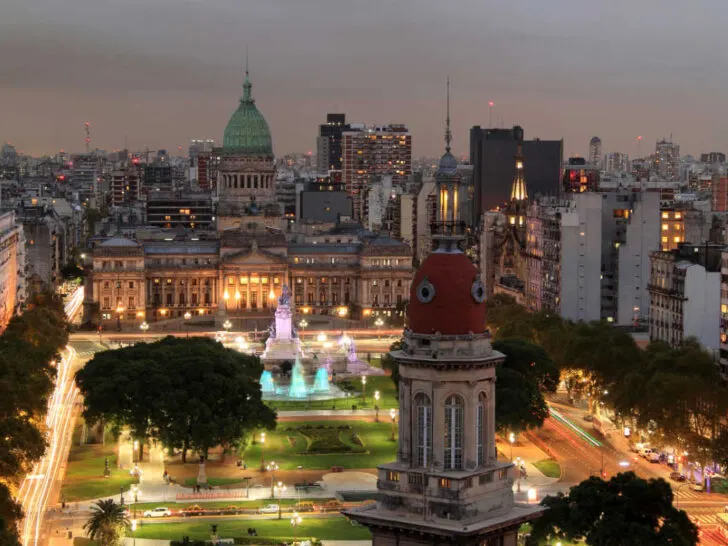 The answer is a resounding "Yes!"
Buenos Aires is at once an old-world and cosmopolitan experience. The city is filled with beautiful European architecture, museums, parks, and cafes that will more than serve a couple of days exploring its tree-lined streets.
And, when it comes to safety, like any city around the world, it's essential to take common-sense precautions; here are our top recommendations for staying safe in the Argentine capital.
Safety in Buenos Aires FAQs
Is Argentina safe to visit in 2023?
Argentina's economy is currently struggling and this has created a wide gap of inequality among its citizens. Therefore, large cities have a high crime rate and petty theft does occur.
That said, Argentina is considered a politically stable country and the Global Peace Index, which ranks countries according to security and safety, designated Argentina as the 54th most peaceful country out of 163 countries worldwide in 2023.
Planning Your Trip to South America?
Save time, stress & money with a customized travel itinerary planned for you by a South America expert
What previous clients have said:
Steph at Worldly Adventurer was amazing! It is clear that Steph has the experience and knowledge of travel in South America to help us customize a once-in-a-lifetime trip itinerary! She was responsive and friendly and really cared to understand what we wanted out of our experience. Steph did not just give us a 'cookie-cutter' itinerary but really tweaked and provided recommendations based on what we wanted out of the trip. I highly recommend using Steph for your travel planning to South America!
Laurie and Kevin
Traveled to Argentina, Chile, and Patagonia in Feb '23
The chances of tourists being involved in violent crimes, such as armed robbery, are statistically small. As of June 2023, the US State Department declared Argentina a "Level 1: Exercise Normal Precautions".
For up-to-date travel advisories, or to join the Smart Traveler Enrollment Program, visit the website of the U.S. Department of State's Bureau of Consular Affairs, or the equivalent agency in your home country.
Because of these high rankings, we added Argentina to our list of South America's safest countries in 2023.
Is Buenos Aires safe to visit in 2023?
Generally, it is very safe to move around the city center and tourist and upscale neighborhoods such as Recoleta, Palermo Hollywood, Palermo Soho. However, as in any city around the world, it's worth taking precautions to keep you and your belongings safe.
Don't look like a tourist or an easy target. Pay attention to how locals dress, how they carry their possessions, and what they do with their phones. In Buenos Aires, you'll generally see locals dressed in a chic and conservative manner.
In Argentina, it is very common for both men and women to wear a cross-body satchel, or fanny-pack across their chest. The purpose of this is to keep their phone and money safe. For additional protection, people zip a jacket up over the bag, or a backpack facing the front – therefore making it impossible for somebody to cut the straps and steal it away. If you don't have a fanny pack, money belts can also be used.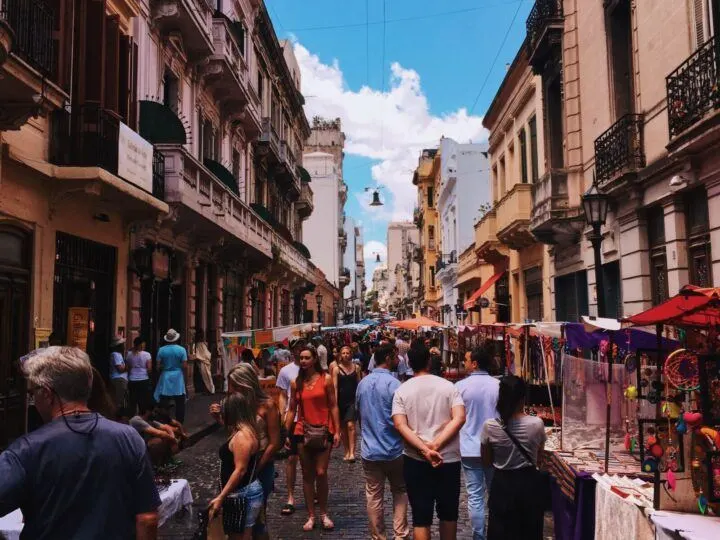 Smartphones and iPads are expensive in Argentina, so are targets for thieves. It is common for them to be grabbed out of your hand, from your pocket, or off the table at a restaurant. Therefore, don't look at or use your phone in the street, or on public transportation. Always step into a shop, café, or into a corner where your body can protect it from being grabbed. Never set your phone on the table at a restaurant.
Don't wear fancy jewelry like necklaces and watches, or cameras around your neck. These make you an easy target.
Don't carry large amounts of cash. Consider stashing small amounts of bills in different places (like zippered pockets or in your shoes) on your body. Consider carrying a "dummy wallet" filled with a few small bills so you can hand it over quickly if forced, leaving you with the bulk of your cash and credit cards in your real wallet.
Take a photo of your passport. You can then leave this, and other important documents in your hotel rooms. Only carry your debit and credit cards when you know you are going to use them and don't let credit cards be carried out of your sight when paying at a restaurant or store.
Stay in popular areas and only walk on well-lit and busy streets. If you need to move between areas – and aren't sure how safe the places between are – then take a taxi.
Stay alert and trust your instincts. Decline an offer when something doesn't feel right and pay attention to your surroundings: people on motorcycles, scooters, skateboards, or the nicely dressed person next to you on the subway can grab your bag and get away.
If using a taxi, be vigilant to unscrupulous business practices. Negotiate the price ahead of time, or ensure they are using their taxi meter. Alternatively, take an Uber or Cabify.
Stay away from protests, because they can turn violent. It's best to not get involved nor remain in the vicinity of any type of protest.
How safe are the Recoleta, Palermo, and Retiro areas of Buenos Aires?
These upscale neighborhoods are some of the safest in Buenos Aires, however, normal precautions still apply – especially if you're leaving the popular bars and restaurants of these areas late at night.
Generally, the wealthier neighborhoods north of Corrientes Avenue have lower crime rates than the neighborhoods south of Corrientes. That said, stay alert around the Retiro bus and train terminal at all hours of the day.
Is Buenos Aires safe to walk around at night?
Buenos Aires has a reputation as a city that never sleeps. Bars, restaurants, tango halls, and dance clubs don't even start hopping until after midnight. As a result, because there is often safety in numbers, the popular and tourist areas of Buenos Aires are generally safe to walk around at night – although taking the precautions outlined above is also sensible.
That said, after the stores close, the streets around Florida Street in the San Miguel neighborhood, 25th de Mayo Avenue in the Montserrat neighborhood, Plaza de Mayo and streets in the San Telmo neighborhood become empty and less safe.
Even the streets just north and south of the very hopping Corrientes Avenue become ominously dark and quiet in the night. It's also worth noting that, as a tourist, it is not advisable to spend your evening in La Boca.
If going out at night, pre-arrange a taxi or take an Uber or Cabify. Avoid taking public transportation if it seems there's no one else around. Stay alert and listen to your instincts.
How safe is Buenos Aires for American tourists?
American tourists are not targeted in Buenos Aires any more or less than tourists from other countries. However, your US Dollars are a desired commodity.
If you bring US dollars into the country, take normal precautions and try not to be a target. Specifically, find a safe and discreet place to exchange your dollars (your hotel or apartment host can help you with this), and don't carry US dollars regularly around the city with you.
Is Buenos Aires safe for female travelers?
Argentinians are considered very friendly and I know from experience that they will look out for you. However, throughout the world, female travelers have to take extra precautions to stay safe.
Buenos Aires, and Argentina in general, are no different. Here are some key annoyances to be aware of:
Argentina has a 'machismo' culture. Because of this, some catcalling or over-interested advances can occur. Remember, it is not impolite to say "no" or lie if you have to in order to stay safe.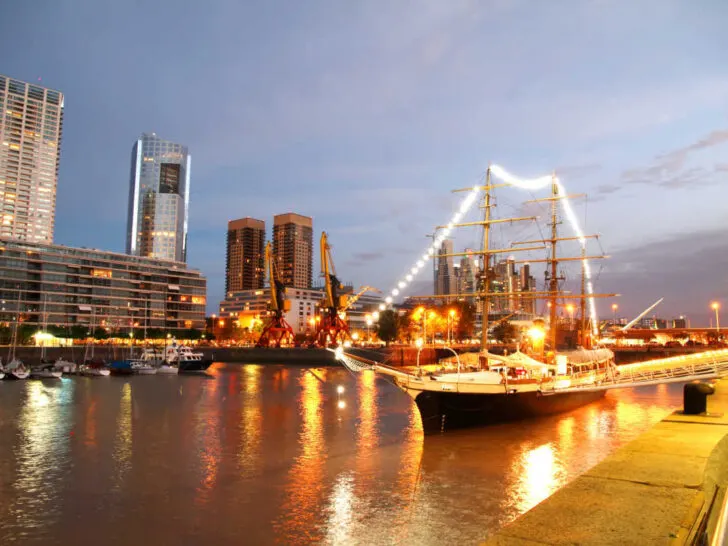 Go out at night with friends or fellow travelers. There is always safety in numbers.
Trust your instincts. If something doesn't seem right, get away and move toward populated places. If a taxi driver seems sketchy, don't get in, or get out before your stop.
Walk with a purpose and never look lost or vulnerable, especially if you are alone at night.
Is Buenos Aires safe for LGBTQ+ travelers?
Argentina is considered by many as the most LGBTQ+-friendly country in South America. In 2010, Argentina legalized same-sex marriages and has since gone on to pass significant legislation to protect civil rights in the LGBTQ+ community, as well as recognize and pay for the medical needs of trans people.
Travelers seeking gay-friendly hotels and bars will be welcome all over the city, but the neighborhoods of Palermo and San Telmo are considered by many as the most popular gay areas.
Throughout the year, Buenos Aires plays host to many events promoting diversity and a huge week of Pride festivities occurs throughout the city every November.
Common Safety Concerns
Baggage theft and crime
As in any big city around the world, crime does happen in Buenos Aires. Your phone can be swiped from your hand, and your expensive watches and jewelry can be ripped from your body. There are also a number of scams that are common in Buenos Aires:
Two people approach you in tandem, one distracts you, often by spilling something on you, while the other relieves you of your valuables.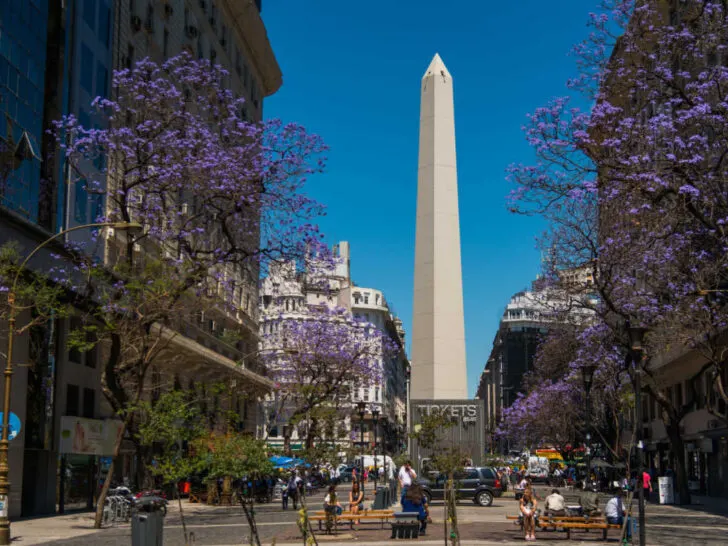 Someone entices you into a bar with a flyer for a shopping discount or free show. Once inside, you may not be allowed to leave until you agree to pay an exorbitant amount for a drink.
Some people in the street hand out small cards with horoscopes, lottery numbers, or pictures of saints. If you take the card, you are expected to pay for it. It is best practice to never touch a flyer or piece of paper a stranger hands you on the street.
Taxi drivers and street vendors sometimes pretend to help you review the authenticity of your pesos, then they trade counterfeit bills for good ones. Don't fall for this.
If someone does try to rob you, don't resist. Buenos Aires is filled with many street police who can come to your assistance, or at the very least, help you file a report. Most travel insurance does cover theft, so it is important to file a police report and take photos of your surroundings.
Protests
Protests demanding better wages, an improved economy, and human rights do occur in Buenos Aires. They generally occur around the Plaza de Mayo or Congress. They are never targeted at tourists. It is advised to avoid the protests and go about your day.
Natural disasters
Buenos Aires is generally a very safe location to live and travel. Heatwaves and high humidity can cause health problems during the summer months of January and February, and the high frequency of rain during these same summer months can cause coastal flooding.
Health considerations
Covid-19
As of August 2022, it is no longer necessary to provide proof of Covid-19 vaccinations upon entering Argentina. However, it is still a good idea to take safety precautions when inside a confined space with large crowds.
Traveler's diarrhea
Food is generally safe to eat in Buenos Aires. Take normal precautions by washing your hands, and washing your fruit and vegetables well before eating.
Eat at restaurants or food carts that are popular and have good reviews, and watch how the chefs and servers handle food and money – the latter can be unsanitary.
Water is safe to drink in Buenos Aires and throughout most of Argentina. If you are worried, bottled water is commonly available or you can bring a portable water filter.
Food allergies
If you have an allergy to food, make sure you have a list of those ingredients in Spanish to be able to show servers or chefs. Keep in mind, they may not always be familiar with the allergens.
Celiac disease is commonly understood in Buenos Aires and there are many stores and restaurants that offer gluten-free options.
Insect-borne diseases
There is a low risk of vector-borne diseases in Buenos Aires. As of July 2023, the Centers for Disease Control and Protection declared Argentina a "Level 1, Practice Usual Precautions" against mosquito bites and the possibility of Dengue Fever.
Rabies
Argentina is free of rabies from dogs, but rabies can still be contracted from wildlife. The CDC encourages those who are directly working with wildlife in Argentina to have the rabies vaccine.
---
Ready for your trip to Argentina? Plan your time in Buenos Aires with this expert-written itinerary for Argentina's capital, check out the most unmissable places to go in Argentina, and plan your trip to southern Argentina and the region of Patagonia.