So you're going on an adventure to South America? Working out exactly what to pack for a short vacation or a longer-term backpacking trip can feel like a daunting prospect: after all, what happens if you forget something essential or find yourself completely underprepared for the weather, altitude or climate of South America?
Before my first ever backpacking trip to South America back in 2014, I remember feeling exactly the same way.
Since then, I've spent over five years living and traveling in the region and have backpacked, vacationed, and lived across the continent, writing guidebooks (and this blog!) along the way to help others get to grips with a trip to South America. I've traveled on a budget and traveled in style, so I know exactly what to pack for South America depending on the type of trip you're taking.
I've overpacked (mostly), underpacked (rarely), and discovered exactly what items you can and can't find across the continent if you forget or mislay them during your trip.
I've also learned which hiking, camping, and general backpacking gear can withstand months (if not, in many cases, years) of traveling, so I can talk with educated knowledge about what you should – and shouldn't – invest your money in.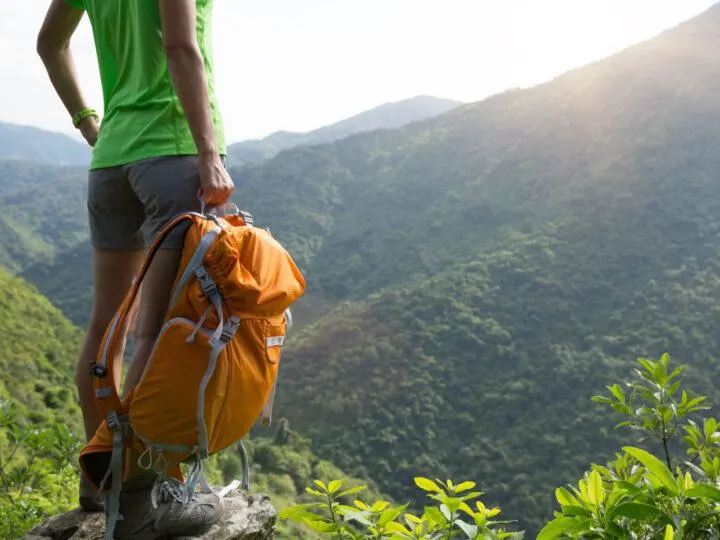 Key things to consider before packing for South America:
What type of traveling will you do? Whether you're planning a hiking adventure in Patagonia or hitting the beaches in Colombia, your luggage is going to look fairly different. This guide has been designed to cover most bases and has different sections that you can dip in and out of. You can also read my complete packing guide to Patagonia if you're planning on spending most of your time hiking.
Don't overpack: laundry facilities are inexpensive across South America and located practically everywhere you'll go. As a result, you can pack fewer items of clothing because you should be able to do laundry every couple of weeks. Turnaround at laundrettes can be as short as 12 hours and it should only cost a few dollars for a full load – making it extremely affordable. The only issue I've found is that they do have a tendency to damage your clothes, as well as occasionally losing socks and underwear. Always count the items of clothing you drop off and double-check everything's there before you leave the shop when you pick it back up again.
You can buy most things in shops in South America. Big cities tend to have all the shops you'll need for picking up items of clothing, toiletries, and electricals, with large, modern department stores often your best bet. However, prices on imported goods can be higher than you'll find at home; I've found this, particularly the case for electrical items and camping equipment (the latter of which is generally poor quality and very expensive).
Safety can be an issue in South America. The fewer obviously expensive items you can pack (yup, I'm looking at you, the latest iPhone or MacBook), the less likely you are to get robbed, and the more you'll enjoy your trip! You also want to always keep an eye and a hand on your belongings: this is very important in bus, train and metro stations where you want to have an arm through your rucksack strap or on your suitcase as thieves are very good at stealing them without you realizing they've gone. Make sure you also never put valuables into any luggage that goes into the hold on a bus or even into the luggage racks above your seat. Instead, keep valuable items at your feet and preferably securely attached to your person. Read our guide for more information about the safest countries to visit in South America.
So what do you need to pack for South America? Here's my packing list honed over seven years of exploring the continent.
Backpacks for South American travel
The type of luggage you bring is a personal choice, and you do see travelers with wheelie suitcases in South America. However, if you're planning on doing any multi-day hikes in South America (of which there are plenty), a backpack is the most versatile choice. Pulling a wheeled suitcase over cobbles or poorly-maintained streets in cities and towns across the continent is going to be hard work.
Finding a backpack that's comfortable for wandering the streets from the bus stop to your accommodation, as well as when you're on day eight of the O Circuit in Patagonia's Torres del Paine National Park is no mean feat.
I've had the same backpack for the past seven years and don't look forward to the day I have to part from it. Not only is it a women's fit (a very important choice if, like me, you're not the tallest), but it has an adjustable back system, which has meant I can adapt it to fit me more comfortably.
However, to be sure it would fit before I bought it, I took myself to a local outdoor shop to try on a number of backpacks. This is a great way to make sure you don't sink loads of money into a bag that will cause you frustration – or worse, a bad back.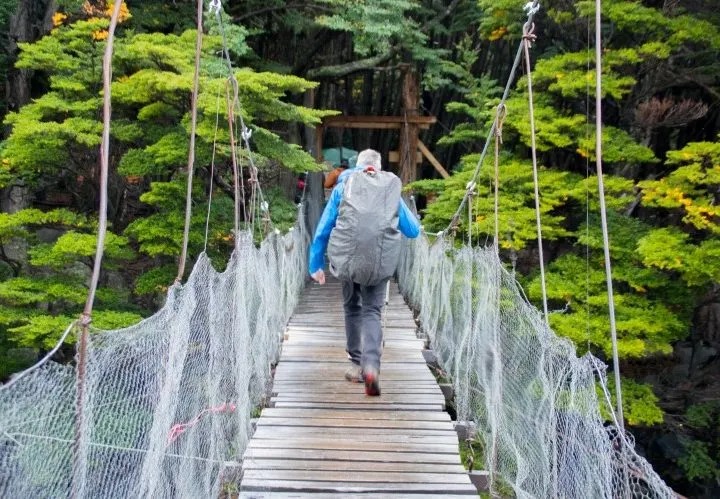 You also want a backpack that is as functional as possible. If you're planning on hiking in South America or even traveling to countries near the Equator where it tends to rain heavily for periods of the day, a rain cover – either included or added to your pack – is a smart idea, while various pockets, including side pockets for stuffing with shoes or water bottles, give your backpack space to grow and store more things if needed.
Unfortunately, my backpack, the Berghaus Torridon 60 liter, is no longer available to buy. Instead, Osprey is a great brand that's a little more expensive but known for being exceptionally reliable and long-lasting, making their bags ideal for both short and long-term travel.
For her: With plenty of ways to adjust the fit, plus ventilation for keeping your back cool on sweaty treks through the city or great outdoors, the Osprey Aura AG 65 liter (if you plan on doing longer, multi-day treks: buy it from REI|Osprey|Amazon) or the Osprey Aura AG 50 liter (for general backpacking: buy it from REI|Osprey|Amazon) are sturdy, long-lasting and comfortable backpacks.
For him: The men's Osprey Atmos AG 65 liter (buy it from REI|Osprey|Amazon) has similar functionality:
---
Wheeled suitcases for traveling in South America
Don't fancy lugging your belongings on your back like an oversized turtle? A wheeled suitcase isn't the most practical luggage for South America, but it'll work, particularly if any hiking plans you've got will involve a daypack instead (more on that below).
When it comes to a wheeled bag, one of the main considerations is whether you go for a hard or soft case. Soft cases have the benefit of not cracking if placed under stain (and on buses in South America they do tend to like throwing the luggage around), but if you're concerned about security, a hard case has the edge.
My favorite is the wheeled LEVEL8 suitcase. Not only is it roomie – it comes in 41L, 68L, and a whopping 108L – but it has three different zipped compartments, making it very easy to pack your belongings (and know where they are!).
The frame itself doesn't weigh too much, either, which ensures it's easy to wheel around and also doesn't use up too much of your weight allowance! Mine has been brilliant and it's easy enough to pack a small rucksack inside this suitcase for day trips.
---
Daypacks for South America
A day pack can serve multiple purposes on a trip to South America. For days spent exploring the city, a 20- to 40-liter backpack will be a perfect size, with enough room to carry water, a camera, and extra layers. It'll also be the right size for day hikes, whether trekking in Torres del Paine National Park or for a day exploring Machu Picchu. They're also useful as hand luggage on a plane or when traveling overnight on buses.
Again, I recommend comfort and functionality when it comes to a daypack. An adjustable waist strap is invaluable when you're hiking, while a waterproof rain cover and smaller pockets for keys or lip balm are also handy.
I spent many happy years with my Lowe Alpine daypack, however, it's a brand that's practically impossible to find in the US and 25l is a little small if you're planning on doing a multi-day hike. Instead, Osprey is again a great alternative.
For her: You can find my Lowe Alpine 25 on Amazon or check out the Osprey Sirrus 36, which is packed with pockets, has a waistband and rain cover, and is easy to adjust: REI|Amazon
---
Clothes for South America | Hiking and essentials
Choosing which clothes to pack for a South America trip is all about versatility – and recognizing that this continent is one hell of a huge place with an incredibly wide-ranging array of climates and altitudes.
No, it's not always hot and sunny in South America and yes, there are places where it feels like it rains all the time (or it actually does if you're visiting in rainy season). Before you begin, check out my guide to when to visit South America, which runs you through the types of weather you can expect in different parts of the continent. However, it's worth bearing in mind that you'll want to be packing for pretty much every possible climate if you're planning a backpacking adventure that spans more than just one country.
It's also worth noting that altitude can have a real impact on temperatures. If you're heading to Cusco, Machu Picchu, Arequipa, Huaraz, Quito, La Paz, or other similarly high-altitude destinations, you'll quickly notice that temperatures drop significantly at night. A warm fleece or down jacket will quickly become your favorite item of clothing.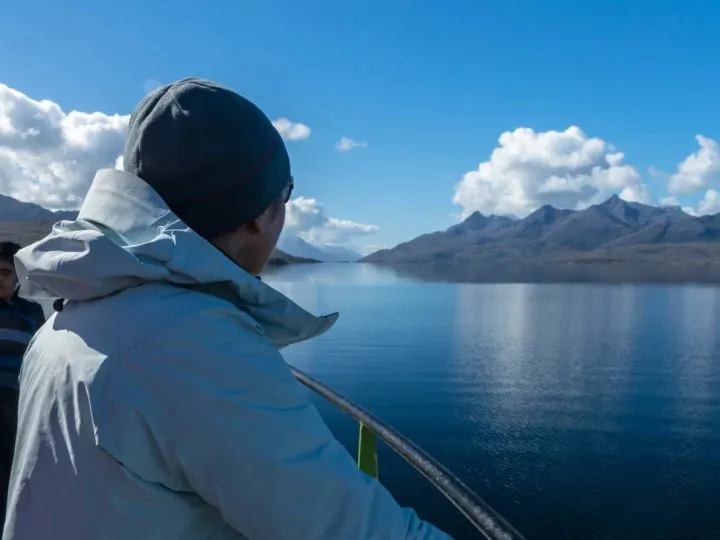 Finally, a note on fabrics. Quick-dry and moisture-wicking materials, such as polyester, nylon, and linen, are a good choice, particularly if you end up needing to do a wash in a sink in your hotel (you invariably will). Cotton will keep you cool, but takes absolutely forever to dry, while silk will end up getting crumpled in your bag.
If you don't have much already in your wardrobe that seems good for traveling, REI have a whole range dedicated to travel clothing for men and women that's worth checking out and that can be filtered according to material and qualities (such as moisture-wicking).
A waterproof jacket: I grew up in a family who takes hiking very seriously and I can't fault my dad for persuading me that a good quality Gore-Tex waterproof jacket is an essential item of clothing for your bag. It'll keep you dry and, if you spend more, the material is going to be breathable and stop you getting too hot or sweaty, even if you're hiking. My latest jacket, the Patagonia Storm10, is a three-layer waterproof (read: extremely dry) made from 100% recycled nylon. It's very thin, which makes it light but also easy to layer up using a down jacket or cozy fleece beneath.
For cheaper budgets, North Face is always a good choice, too. Their Alta Vista jacket is a breathable, lightweight option at an affordable price point.
For her: I love the Patagonia Storm10 Jacket as it's an ultralight, easy-to-pack but fully waterproof jacket (Patagonia); the North Face Alta Vista Jacket (Amazon|REI) is significantly cheaper but offers good weather protection.
For him: the Patagonia Storm10 Jacket is a good option (Patagonia) or the equally lightweight but waterproof Patagonia Torrentshell 3L (REI|Patagonia|Backcountry); if you want something more affordable, the North Face Alta Vista (Amazon|REI) is a good shout; if you're looking for something that'll last you a decade, check out pricey but industry-leading Arc'teryx (REI|Amazon)
---
A warm fleece: Fleece is a material designed to keep you warm by trapping body heat; at the same time, it's extremely lightweight. It's not only great for cool evenings when the temperatures drop, but it'll be a great addition to your hiking backpack if you head out into the mountains.
---
A down jacket: I don't think I wear any coat more than my down jacket. It's because it not only provides me with a welcome extra layer, but it also packs down very small and light and can easily be worn under a waterproof jacket if I'm feeling really cold. Be aware that, while a down jacket is a great piece of kit, because down (the feathers used inside the coat for insulation) isn't designed to get wet, you want one that's either water resistant (pricey) or synthetic down (cheaper but heavier). I've been wearing a Jack Wolfskin down jacket (Amazon), which is packed with responsibly sourced down with 700-fill (a number that basically puts it at the top of the range when it comes to warmth). It's also extremely light, so excellent for shoving in your pack for when you need it.
---
Two or three x hiking trousers and shorts: Whether you're looking to hit the trails across South America or might do a bit of day hiking here and there, a couple of comfortable pairs of hiking trousers are must-haves; trust me, you'll regret any hikes you do in jeans. Hiking trousers will also be extremely comfortable on days spent wandering around the city.
Investing in those that are quick-dry is a must (nothing's worse than getting rained on and your trousers staying wet). prAna are known for the durability of their women's hiking trousers, while Columbia have some great options for men.
---
Two or three hiking tops: Lightweight, easy drying, and quick-to-wash hiking tops are also essential, particularly as they'll keep you nice and cool in the South American humidity. Any sort of sports tops should suffice, but make sure they're made from moisture-wicking materials.
For her: REI have some great own-brand t-shirts
For him: REI have some own-brand t-shirts for men, too
---
Hiking poles: They might seem like something you only need once you've gotten past a certain age, but hiking poles are now something I always take with me on a hike. Not only are they great for taking the pressure off your knees when you're going downhill, but they're extremely handy if you roll your ankle or injure yourself on the trail. Check out REI's guide to selecting trekking poles or try Black Diamond from REI|Backcountry|Amazon.
Clothes for her
Three or four casual tops: These can be a blend of tank tops, short-sleeved (for protecting your shoulders from the sun), and long-sleeved t-shirts (the latter are good for the jungle when you'll want all skin out of sight), as well as casual shirts (great for throwing over you in hot weather when you start burning). Sustainable companies such as Organic Basics and Tentree have some great t-shirts and tanks from recycled synthetic materials, organic cotton, and linen; just avoid light colors which will end up getting stained
A smart top or shirt: There's likely going to be at least one occasion where you'll want to dress up and a smart top or shirt can make you look respectable.
Two comfy linen trousers or similar: I never travel with jeans for the main reasons that they're a) very bulky and b) horrifically unpleasant in hot, humid climes. Instead, I prefer linen trousers or ones made from a lightweight, quick-drying material, such as recycled polyester. Tentree has some great linen and recycled polyester trousers.
Two pairs of leggings: Leggings are an absolute essential when it comes to your South America packing list. I tend to have three in my backpack: two pairs for hiking and another pair that can be worn either out and about or for sleeping in cold climates. Any pair of leggings will do, but REI has some affordable options, while prAna does some really comfortable pairs (REI|Amazon) which have handy side pockets for your phone or other essentials on the trail.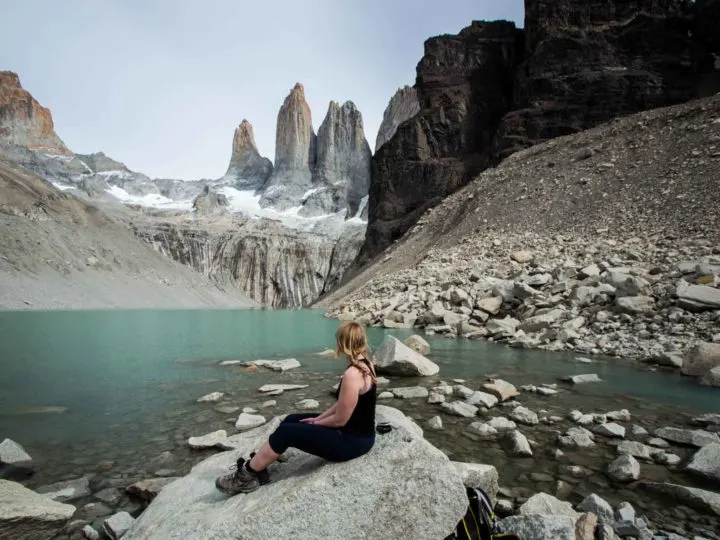 Two pairs of shorts: Depending on when you visit South America, it can get very warm, so a few pairs of lightweight and quick-drying shorts are a must (or just throw in a few more trousers if you don't like getting your legs out). TenTree have some lovely linen shorts.
One dress or skirt: Sticking with the theme of wanting to look nice and respectable at some point during your trip, a dress or two can make you feel a bit smarter.
A lightweight jumper or cardigan: Even in the hottest, most humid parts of South America, temperatures can drop, so a lightweight jumper or a cardigan will keep you cozy and warm against the chill.
One or two swimsuits or bikinis: There are plenty of opportunities for swimming in most parts of the continent and the water can be extremely inviting on a hot day.
One pair of pajamas: I tend to wear short pajamas at night and put on a pair of leggings if I get cold.
Seven underwear: This should be enough to go without doing laundry all the time if you're traveling for a long time.
Four bra: As above.
Seven pairs of socks: This depends on the type of shoe you plan on wearing. If you're going to be in trainers, bring plenty of trainer socks, plus at least two pairs of hiking socks. I wear a liner pair and an outer pair when I'm hiking, but you might just wear the one pair with your hiking boots. Bridgedale (liner and outer socks) or Darn Tough are good for both liner socks (REI|Darn Tough|Amazon) and outer socks (REI|Darn Tough|Amazon)
One scarf: A lightweight scarf has been invaluable for me during my time traveling in South America. Not only can it keep you warm, but it can be an excellent light layer against the sun when it gets too hot or be used as a blanket on an overnight bus journey.
Clothes for him
Three or four casual tops: Go for a range of different styles; just make sure they're lightweight and quick-drying, plus some long-sleeve casual shirts that can be worn over a t-shirt for extra warmth. Organic Basics have some great tencel t-shirts (made from wood pulp that's lightweight and more moisture-wicking than cotton). Again, avoid light colors that will get stained from sweat or just general wear.
A smart top or shirt: Great for helping you scrub up nicely when required.
Two casual trousers: As suggested above, I would strongly recommend against packing heavy and hot jeans. Instead, go for cargo trousers or any other type of lightweight trousers – again made from a quick-drying material such as recycled polyester or nylon.
Two pairs of shorts: Bring more or less depending on whether you prefer wearing trousers or shorts.
A lightweight jumper: You'll want something that's thin but can provide an extra layer of warmth when needed.
One or two swimming trunks: This allows you to have a pair drying and a pair being worn
One pair of pajama bottoms: Even if you generally sleep naked, think about those around in your hostel or hotel – you'll want a pair of pj bottoms if you do share a bathroom and need to exit your room in the middle of the night!
Seven underwear: This should be enough to go without doing laundry all the time if you're traveling for a while!
Seven pairs socks: This depends on the type of shoe you plan on wearing. If you're going to be in trainers, bring plenty of trainer socks, plus at least two pairs of hiking socks. I wear a liner pair and an outer pair, but you might just wear the one pair with your hiking boots. Bridgedale (liner and outer socks) or Darn Tough for both liner socks (REI|Darn Tough|Amazon) and outer socks (REI|Darn Tough|Amazon)
Footwear for your South America trip
A pair of hiking boots: I'll always be an advocate for hiking boots and I've bought Salomons for my last three pairs. Mostly, it's because they don't give me blisters (an issue I've faced in the past), and because they're made of Gore-Tex so keep my feet completely dry on hikes. They're also a lot lighter and have better breathability than those made from leather.
However, if you're not planning on doing much hiking – and only expecting to wander around towns or embark on day hikes – it might be better to just take a pair of decent hiking shoes instead.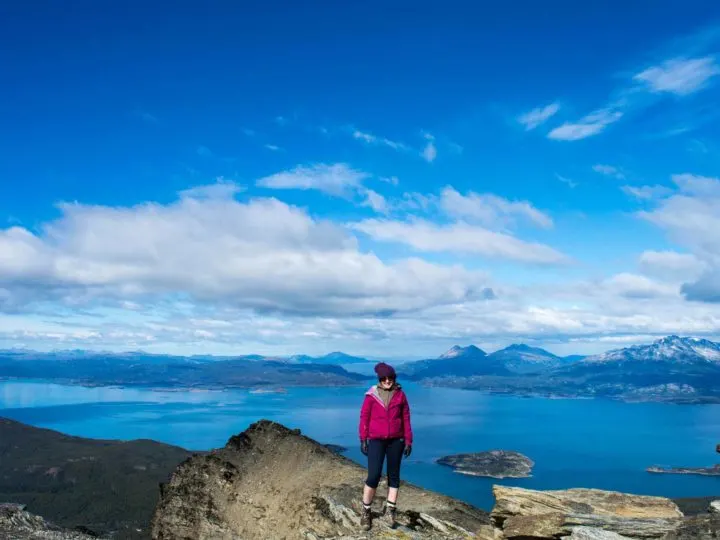 It's worth going into a shop to try on boots before you buy them online to make sure you know your size; trust me, nothing's worse than a pair of ill-fitting hiking boots. Try them on with the socks you'll be wearing with them and you should get a good sense of whether they fit or not. It's also important to break new boots in (i.e. wear them for a few short walks beforehand) before taking them with you to South America.
Salomon has been my go-to hiking boot for a long time:
They also do hiking shoes:
---
A pair of sandals or flip-flops: When you're spending a day sightseeing or at the beach, you want something comfortable that'll keep your feet cool and allow them to breathe. I travel with a sturdy pair of Teva sandals, as well as some flip-flops (made from sustainable materials) for lounging.
My Teva sandals are sooo versatile and I know they're going to last forever.
---
A pair of trainers: If it's colder or you just want something comfy on your feet that isn't as heavy-going as a pair of hiking boots, trainers are ideal. Make sure they fit well and don't rub.
---
Travel essentials for South America
Travel water filter: A water filter is an environmentally-sound investment for your trip and one that should save you money in the long run by cutting out spending on bottled water. I've used so many different types of water filters cross the years but my favorite has long been the Steripen Adventurer (Amazon|REI), which is the quickest and easiest method of filtering water that I've found: you simply insert the Steripen into a 0.5- or one-liter container of water and stir it for the required time. Hey presto: clean water. The batteries should last up to 50 liters, although they are an unusual type of battery, so purchase a spare set before you leave. Another alternative is the Grayl Geopress, which performed very well when I tested out half a dozen water filters for travel.
A water bottle: To use the Steripen, you need a water bottle with an opening of at least 38mm (I have a Nalgene bottle).
A dry bag: One thing I quickly learned while traveling in South America is that when it rains, it pours. And when it rains – and you don't have confidence that your backpack is waterproof enough – or perhaps you're on a river boat in the Andes and want somewhere to store your camera and passport in case you take an unexpected dip, you'll want a dry bag. Seriously, these have saved me so much money in damaged valuables that they're completely worth the investment. I love Sea to Summit dry bags because of their quality and durability: REI|Backcountry|Amazon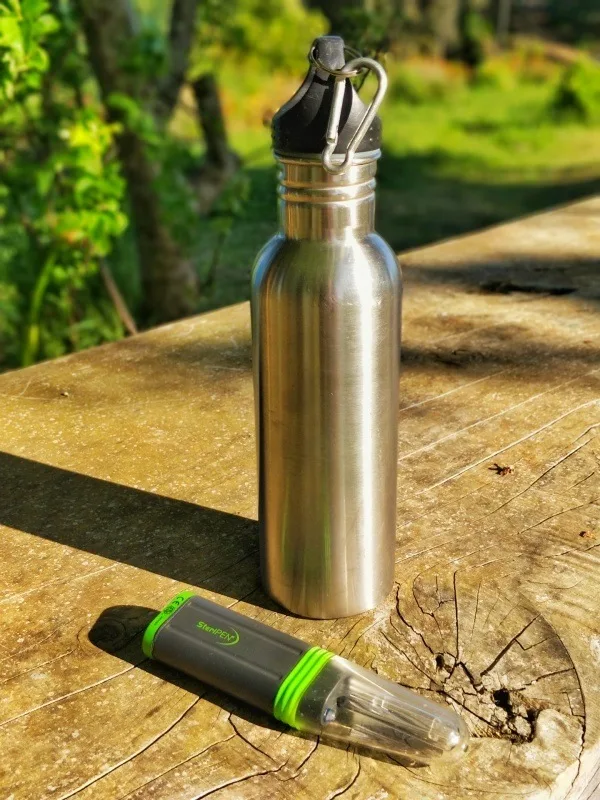 A compression bag: A bit like packing cubes, compression bags help you stuff and compress clothing so you can fit more into your bag. Just remember to roll rather than fold otherwise you'll end up with some really creased clothing. Get one from REI|Backcountry|Amazon
Emergency cash: It's always worth having some spare cash on you in case your wallet gets stolen. I tend to keep around $100 USD in different pockets across my backpacks in case of emergencies.
Travel documents: Keep a photocopy of your passport, travel insurance, and travel vaccinations (including yellow fever card) on your person, in case of emergency, as well as a digital copy somewhere safe (and preferably shared with someone back at home).
Travel insurance: I never travel without travel insurance and it's the number one way you can prepare for your trip to South America.
Bank cards: Withdrawing money from ATMs is fairly straightforward in South America, although you can face a lot of bank charges if you don't have an account that gives you free cash withdrawals abroad. I would highly recommend finding a company that allows you to do this. As I'm from the UK, I use a mixture of the Halifax Clarity credit card, which allows unlimited free cash withdrawals per month, as well as my trusty Monzo card (free withdrawals up to a maximum of £200 every 30 days).
Sewing kit: Being able to stitch up a tear in your favorite pair of trousers or even your backpack (something I've had to do on more than one occasion) is vital if you're traveling for an extended period of time. Try this one.
Silk sleeping liner: Unless you're planning on doing lots of hiking and camping, I would recommend leaving your sleeping bag at home and instead using a sleeping bag liner. You can hire sleeping bags from tour companies across South America, and when you do, you can protect yourself from whatever might be on them with this liner. I've also used mine religiously as an extra layer on overnight buses. I use this one.
Sleeping mask: If you need it to be dark when you sleep, a sleeping mask is a travel necessity, particularly as hotels and hostels can have curtains of varying quality. I love this one.
Microfibre travel towel: You want something lightweight that dries quickly, without feeling like it's just moving the water around. I love my microfibre travel towel (you can also find them cheaper on REI).
Ear plugs: I personally can't stand them, but if you need silence to sleep then investing in a reusable pair of earplugs will ensure you get those Zs. Try these ones.
Travel pillow: Long overnight bus journeys can get tiresome and leave you with a crick in the neck if you don't have anything to rest your head on. This pillow (REI|Amazon) from Sea to Summit is made from a silky, brushed polyester outer that's soft to the touch and packs down extremely small.
Swiss Army penknife: Invaluable for making sandwiches on the road and handy if your accommodation doesn't have a wine bottle opener! Check them out on REI|Amazon
Padlock: Many hostels and other accommodations have lockers and you'll need your own sturdy padlock for using them. Check them out on Amazon
Safety: I've never used a money belt, mostly because they've always looked uncomfortable and hot to wear. Instead, I tend to have a small zippered bag with various internal pockets where I store my valuables and ensure I always keep my eye on them when I'm out and about. That said, I have heard of people having the straps of their bags chopped without them noticing, so this isn't exactly a foolproof plan. If a money belt would make you feel better, try this one.
Door stopper: It might seem like the strangest thing to be included on this packing list for South America, but I always travel with a doorstop. I've stayed in some hotels and hostels where I struggled to lock my room door; as a solo female traveler, this is far from ideal. A plastic door stopper can be used on the internal side of the door to prevent it from being opened from outside, giving you peace of mind at night time. Try this one.
Scrubba: Doing laundry can be expensive and not necessarily work within your timeframes, if you've only got a day or two in a place. I've been using the Scrubba for years now and it's the perfect way to wash your underwear, t-shirts, and even larger items such as trousers quickly and effectively. It doesn't leave your clothes all soapy, like when you wash them in the sink, either.
Toiletries for South America
Hanging toiletry bag: Easy to hang on the back of a bathroom door or suspend from a hook in your bedroom, a hanging toiletry bag is extremely functional and has been part of my backpack ever since I first started traveling to South America. This one from Sea to Summit has lasted me over seven years and counting.
Sunglasses: The sun's strong in South America. Invest in polarising sunglasses with a UV filter to protect your eyes.
Sunscreen: It's not only the beach where you can burn; altitude can see you burn even faster. Opt for a mineral-based sunscreen that's safe to use in the ocean such as All Good Mineral.
Solid shampoo and conditioner: For weight-saving purposes, buy solid shampoo and conditioner bars, which should get you through a number of months without needing to buy any more. Ethique is a brand with lots of options for solid shampoo and conditioner, while Etsy has lots of brands selling them too.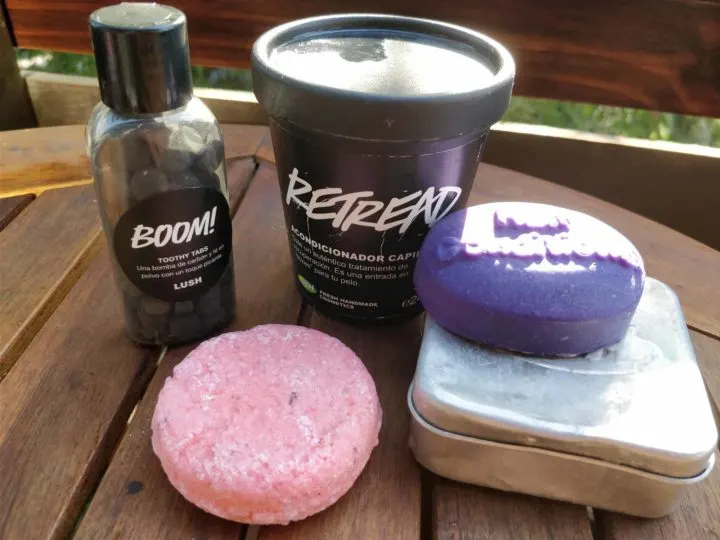 A lightweight, travel medical kit: For any cuts or more serious injuries, you'll want a first aid kit on hand. Check them out on REI|Amazon or just put one together yourself.
Compeed plasters: Blisters are not something to take lightly as they can make hiking extremely uncomfortable. Pack some Compeed plasters before you go and use them preventatively if you know your shoes give you blisters or after a blister has formed to help it heal.
Face masks: These are no longer obligatory in shops, public transport, and other enclosed public spaces in countries across South America, so it's up to you if you still want to use them.
Hand sanitizer: Keep a bottle on hand to use when there aren't hand washing facilities available.
Malaria tablets: Check with your doctor as to whether antimalarials are required for your trip. If you're heading into the Amazon, it's likely you'll need them.
Motion sickness tablets: Bus journeys into the Andes mountains can leave even the most robust travelers feeling a bit sick to the stomach. Motion sickness tablets can make you feel better.
Anti-diarrhea pills: It's very likely you'll end up facing a bad stomach at some point during your trip because of poor food preparation hygiene and water that isn't safe to drink. While avoiding salad (because it may have been washed in contaminated water) and ice in restaurants is a good ploy, you'll want some anti-diarrhea pills for when the inevitable happens.
Vaccinations: Jabs such as yellow fever, hepatitis A and B, typhoid, and rabies (the latter if you plan on heading to remote areas) are necessary for travel to South America. Consult your doctor a few months in advance of your trip, as some of these vaccinations require more than one dose.
Insect repellent: The mosquitos in South America enjoy sampling new blood, so make sure you've got a strong insect repellent that you can use in hot, tropical destinations. I avoid DEET-based repellent, which can damage your clothing and even melt the plastic. This one from Sawyer (REI|Amazon) doesn't have DEET but still works.
Menstrual cup: I've used mine for the past four years and it's incredible the amount of money – and plastic waste – that it has saved. Tampons can also be difficult to find in South America (or at least the big brands that you're probably accustomed to at home). Bring a couple of emergency tampons for treks or situations where you don't have access to running water for cleaning your menstrual cup. Try out this menstrual cup.
Hairbrush: These can be surprisingly heavy, so buy a small one that isn't.
Baby wipes: Great for multi-day treks where showers aren't a possibility. Do the environment a favor and buy some biodegradable ones. You can buy these in South America, too.
Face wash: Nivea products are easy to find across South America; other brands not so much, so bring what you need.
Moisturizer: As above.
Makeup: Foundation and concealer can be difficult to find for pale skin; otherwise you can buy all the major brands in cities across the continent.
Technology for South America
A eSIM: Rather than buy a new SIM in each country, I'm now using eSIMs which have changed my travel life! You can download them in a second, add credit in another second, and I've found them useful in multiple countries across the globe in the past few months. I recommend Airalo.
Camera: I travel with my Sony A7iii, a mid-level DSLR, with a great, all-around travel lens, the 24mm to 105mm Sony lens. However, unless you're very keen on photography, sticking to a classic point-and-shoot camera is likely a better option, particularly as they draw less interest when you're out and about and weigh considerably less. My dad swears by his Canon Powershot. Not not only is the image quality incredible but it's compact and very easy to use. They are often very good deals on buying this camera, particularly when Canon have just brought out a newer version.
SD cards: Make sure you've got plenty of space for capturing photographs by bringing a couple of spare SD cards.
Kindle: It can be difficult to find English-language books across South America. While there are always random books for exchange at hostels across the continent, if you want a bit more control over what you read (or want to buy a guidebook, such as my Moon Chile, before you go), investing in a Kindle Paperwhite is a great idea. Remember to charge your Kindle regularly!
Power bank: Ensure your phone always has charge, even after a long bus journey or a few days away from civilization in the jungle. Anker is a great brand for reliable and inexpensive power banks (Amazon), while REI has a power bank that can be hooked up with solar panels if you're planning on going far off-grid.
Rapid charging USB cable for your phone: Nothing beats having a slow-charging USB cable. I recently bought this one without realizing quite how long it was. It wound up as a fortunate mistake as it's perfect for a hotel or hostel where the plug socket is in an awkward place!
Universal adaptor plug: Plug sockets vary a huge amount across South America. To avoid bringing the wrong adapter, it's best to just use a universal adaptor so that you'll never be left without access to electricity. Check them out on Amazon
Headphones: A pair of Bluetooth headphones can help you listen to music on bus journeys without needing to have your phone within reach of anyone else. I use these ones, but you might prefer less obvious in-ear headphones instead (these aren't great when you're trying to snooze on the plane!).
Laptop: Realistically, I would advise that you don't bring a laptop unless you're working on the road. I've found that the more valuables I take, the more stressful traveling becomes because of the fear of potentially getting robbed. It also adds to the weight of your pack.
Headlamp: Great for reading in bed or for any camping trips you do. Bring a torch or check out Black Diamond headlamps (REI|Backcountry|Black Diamond)
Camping equipment for South America
I often get emails from readers asking whether they should bring their own camping equipment or buy (or rent) gear when they get to South America. The answer I always give is: it depends.
If you're planning a camping-heavy trip to Patagonia and expect to spend a decent part of your trip staying in a tent – whether on multi-day hikes or to save money on accommodation – then it's definitely worthwhile bringing your own equipment.
Not only can it be expensive to rent for extended periods of time, but you're hiring gear that has probably seen more than its fair share of wear and tear and might not be in the best condition (or the most waterproof).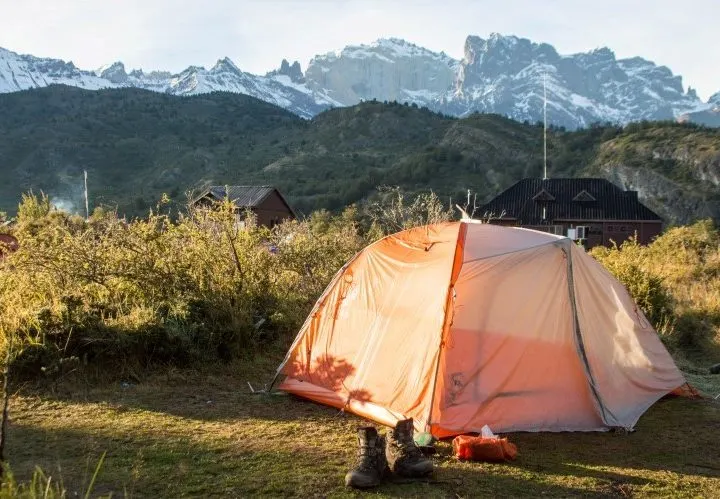 Buying camping equipment in South America is also something I don't recommend. Gear is often significantly more expensive than what you'd find back at home, and, while there are affordable local brands, the quality, however, is generally pretty terrible.
If you're planning a trip of two halves, with a stint camping and hiking and another leg without, you can always post your camping gear home, sell it to other travelers (something possible using Facebook groups or asking around at your hotel or hostel), or donate it.
Tent: Tents range from affordable to extremely expensive and everything in between. If you're planning on doing multi-day hikes, I would strongly recommend investing in a lightweight tent; your back will very much thank you if you do.
When I hiked the Circuit in Torres del Paine National Park, I took the Big Agnes Copper Spur HV UL2 (and you can read my full review of the Big Agnes Copper Spur HV UL for more information). It is an expensive tent, but I was thoroughly impressed with how light and sturdy it was. More affordable options from North Face are also recommended.
---
Sleeping bag: Warm and lightweight sleeping bags do come at a premium, however, it's another area where I think it's worth investing. Nights can get cold on the Inca Trail, in Patagonia or any other Andes region.
I recommend a good three-season sleeping bag if you'll be camping at altitude or in Patagonia and the Nemo Disco 15 sleeping bag is a great choice. It's filled with down and appropriate for three-season camping, meaning it's comfortable down to 25 degrees Fahrenheit (-4°C) and a good choice for traveling in Patagonia during spring, summer, and even the shoulder seasons (September through November, and March through May) when the night time temperatures start to fall.
It also only weighs 2.6lbs (1.21g) and packs down small enough to fit in the bottom section of my Berghaus rucksack. It's available for men and women and is a great investment for both camping in Patagonia and other parts of the world.
---
Sleeping pad: Small, comfortable, and durable sleeping pads are really hard to find, but will ensure you can get some sleep when you're camping. You can get a basic, thin foam one for very cheaply. Alternatively, a bigger investment is in an inflatable pad – that gets you off the ground a little, keeping you warmer and more comfortable during the night.
---
Cooking utensils: When it comes to pots and pans, ultimately what you want is something lightweight, versatile and that can be cleaned easily. You'll also want a bowl, a durable, plastic or metal mug, and a titanium spork (much sturdier than plastic).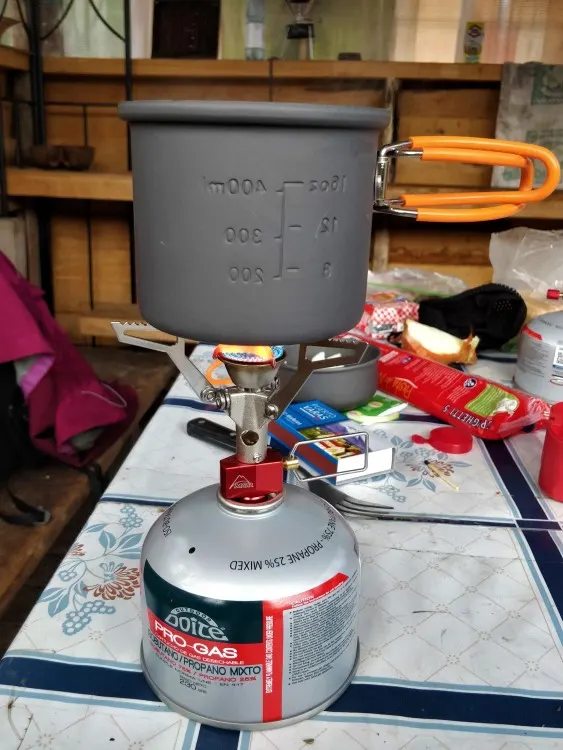 ---
Cooking stove: You want something lightweight and reliable. I used the MSR Dragonfly when I was camping and backpacking around Peru and on the O Circuit hike around Torres del Paine National Park in Chilean Patagonia. Tiny and lightweight, it also uses unleaded petrol – a fuel that can be purchased very easily and cheaply all over South America and which saves you the hassle of trying to find gas canisters.
Alternatively, a more affordable option is the MSR PocketRocket 2, which is smaller but does need you to buy gas canisters (which you should be able to find in towns and cities near hiking destinations).