As the sun rises over the Andes, the pastel-colored buildings in Bellavista and Barrio Italia are illuminated by the rising sun as the city comes to life. People sip their morning mate before the busy capital city springs to life each day.
The social and cultural heart of Chile, Santiago is a city that captivates its visitors with its mix of old and new. There are local working-class diners that haven't changed for the better part of a century just down the street from hip new gastropubs. It has stately art-deco museums and the tallest skyscraper on the continent.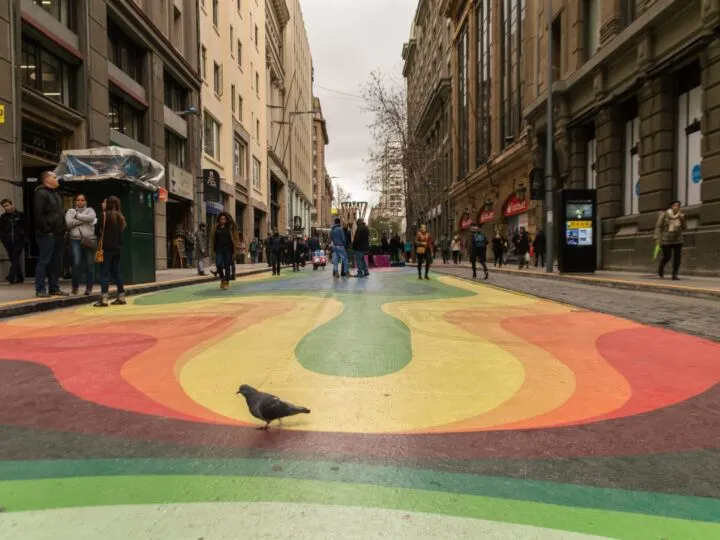 One of the oldest cities in South America, Santiago was founded in 1541 as an administrative center and base of operations for what would become a centuries-long conflict with the native Mapuche people, who resisted the advance and subjugation of the Spanish conquistadors. When Chile gained independence from Spain in the early 1800s, Santiago became its capital.
Geographically, the city sits in a basin between the coastal range to its west and the towering Andes Mountains to the east. Santiago has a climate similar to much of the Mediterranean, with warm, dry summers and cool, slightly humid winters. When choosing which month to plan your trip, consult our guide on when to visit Chile.
Although Santiago is a city of many faces, one thing is for certain: this exciting capital city is among the must-see places to visit in Chile. Whether you're planning on visiting for a few days or a whole month, travelers will have an endless list of things to do in Santiago, Chile.
What's there to do in Santiago?
1. Join a walking tour
A great starting point to acquaint yourself with the city is a walking tour. Many local tour companies operate well-organized tours led by well-informed, friendly guides. A sightseeing tour will help you gain your bearings of the city center, fill you in on the city's most important landmarks, and give you insight into local history, the large network of subway lines, and points of interest.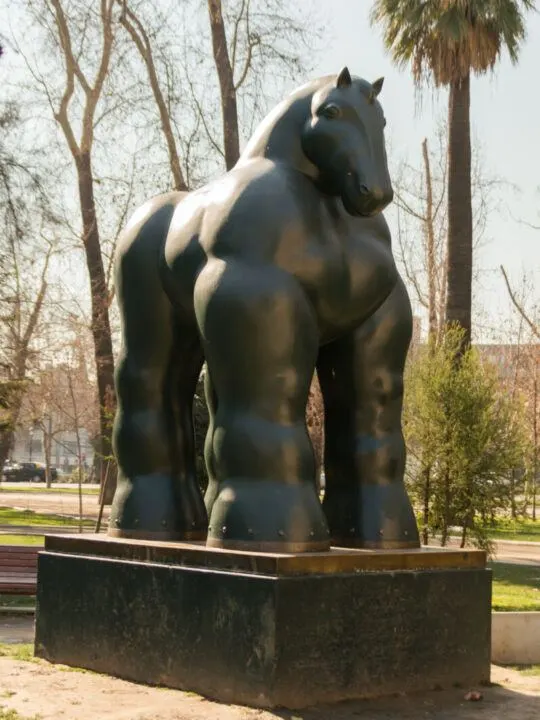 Walking tours are generally free of charge, but attendees are encouraged to tip their guides for their service. We recommend Strawberry Tours, whose personable guides offer four different itineraries or the option for customized Santiago Chile tours. Most of these tours cover different areas of downtown Santiago, highlighting its impressive art-deco architecture.
You can also take a bike tour of the city to cover more ground and explore further.
Planning Your Trip to Chile?
Save time, stress & money with a customized travel itinerary planned for you by a Chile expert
What previous clients have said:
Steph's itinerary exceeded all expectations. She provided off the beaten path hikes, great restaurants and accommodations, and very helpful local contacts.
Due to the weather, we had to deviate from our original plan, however, Steph quickly responded to our email during the trip with further recommendations. Her service took all the guesswork out of planning our vacation and lead to the most fun and unforgettable trip we have ever had!
Catherine Bradley
Traveled to Chile and Patagonia in Dec 2019/Jan 2020
Another must-do is a city metro tour of Santiago's expansive network. Fares are quite affordable by western standards and most destinations of significance are within a short walk of a station. Rechargable and refundable Bip! Metro Cards are available for purchase at all stations.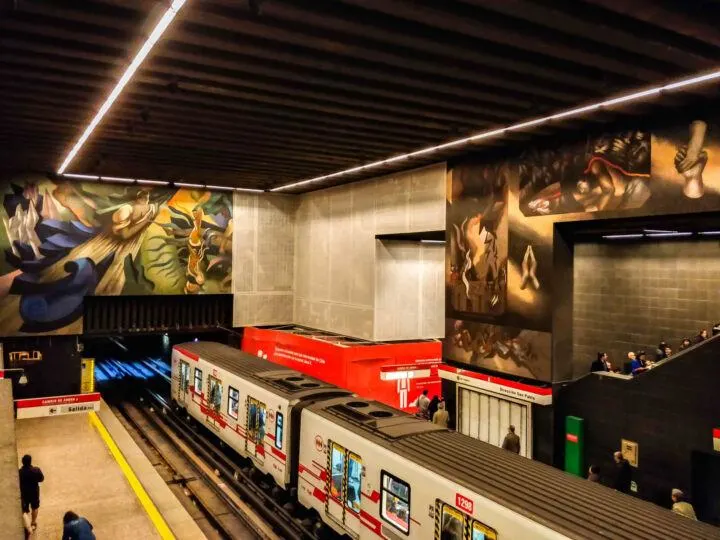 2. Spend a morning at one of Santiago's beautiful parks
When it comes to well-manicured parks, the capital city has them in spades. The largest and highest of them is the Parque Metropolitano (the Metropolitan Park), northeast of the city center. Among its attractions are two outdoor pool complexes, a botanical garden, an observatory, and the national zoo. The southwest end of the park is crowned by Saint Cristobal Mountain, the city's highest point.
The southern bank of the Mapocho River, which splits the city into north and south, has several kilometers of well-manicured parks, with walking trails under large shady trees, and packed with sculptures, murals, and public performance spaces.
Spending a few days in Santiago? Check out our guide to unforgettable day trips from Santiago for inspiration and tips for visiting the surrounding countryside, wineries and more.
3. Climb Santa Lucia Hill
In the central district of Lastarria lies Cerro Santa Lucía, a shining jewel in the midst of the city. While offering excellent views of the cityscape with the Andes beyond, the hill also boasts two 200-year-old fortresses, well-manicured gardens, and the neo-classical Fountain of Neptune at its southern base.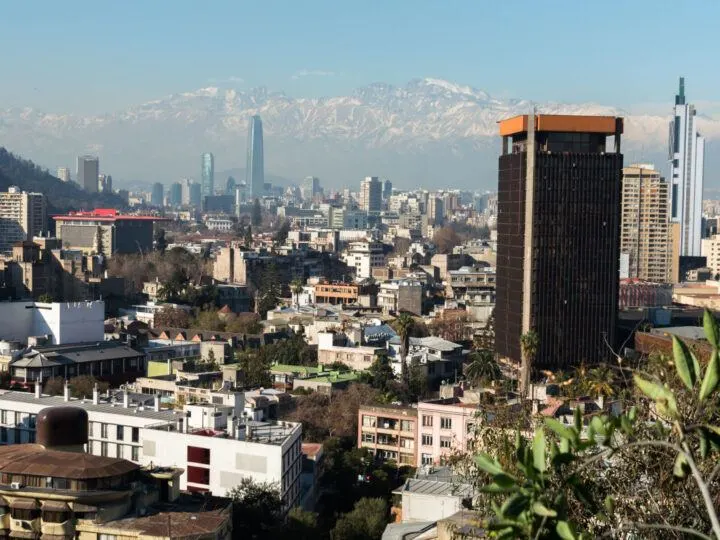 This is the historical heart of the city, and its first Spanish settlers clustered their homes around its base. It is a quintessential component of the history of Santiago.
4. Take in Santiago's Plaza de Armas and adjacent Metropolitan Cathedral
All the best cities in Chile have a lovely central plaza, and the capital is no exception. Set in the middle of the frenetic business center of Santiago, the Plaza de Armas is itself a microcosm of the country's rich cultural heritage.
Hawkers compete to sell snacks and souvenirs, old men play chess, and businesspeople spend their lunch break on a park bench. Towering palm trees provide shade above the large fountain and some of the best-sculpted statues of Santiago.
The plaza lies directly across the street from the impressive neo-classical Catedral Metropolitana (Metropolitan Cathedral), with its opulent frescoed ceilings, gold-leaf altar, and stained-glass windows.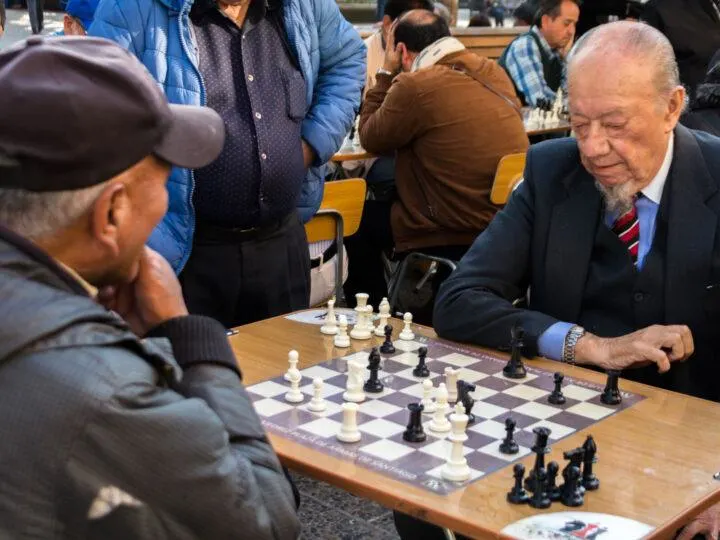 5. Seek out Santiago's street art
Scattered throughout the city's streets, Santiago's street art demands the attention of locals and visitors alike. The city's grafiteros showcase Santiago's artistic character, one that does not necessarily confine itself to a museum. Its influence hails from every corner of the globe, demonstrating the city's growing international flair.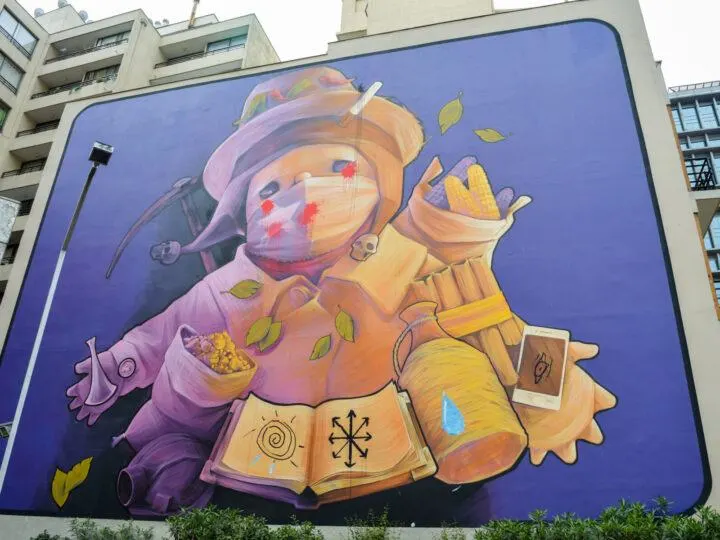 Well-known and newly created street art is fast becoming some of the most popular tourist attractions in Chile. Works by INTI and Lord K2 have become world-famous, but hundreds of other artists demand attention for their groundbreaking visions painted, stenciled, or sprayed across the city.
They are among the best things to see in Chile and you find them throughout the city's central neighborhoods, including Lastarria, Brasil, and Bellavista, as well as Paseo Bandera, an entire street in Downtown Santiago that has been pedestrianized and painted with art.
6. Make a morning visit to the Mercado Central
Santiago's massive central market, the Mercado Central, is well-visited, and for good reason. Situated at the north end of downtown just south of the Mapocho River, this market is the long-standing, lively hub of city commerce.
Its seafood market is exceptional, as are its food stalls, serving up national specialties such as curanto, a hearty stew of seafood, meat, and potato typically eaten in Chiloé in the south. Beyond the food, the central market is a great place to peruse all that Chile produces, from flowers to woolen textiles.
7. Visit one or all of the city's world-class museums
When it comes to fine art, Santiago possesses an embarrassment of riches. For those without the time to visit them all, it is a difficult task to choose just one. These historical places are among the most famous buildings in Chile.
For those seeking insight into Chile's tumultuous past half-century, head to the Museo de la Memoria y los Derechos Humanos (the Museum of Memory and Human Rights), which documents in detail the atrocities committed by the authoritarian regime of General Augusto Pinochet, only deposed in 1990.
To delve even deeper into this scar on the country's past, visit with Travolution on a guided tour of the museum and a visit to a Santiago neighborhood where the wounds of the military dictatorship run deep (get 5% off if you mention Worldly Adventurer).
Just a block west is the Museo Nacional de Historia Natural (Museum of Natural History), astounding visitors with its collection of wildlife dioramas, as well as an entire whale skeleton. The museum is located in the idyllic Parque Quinta Normal (Quinta Normal Park) west of the center.
Two more of the best museums in Chile are the Museo Chileno de Arte Precolombino (Pre-Columbian Art Museum) and Museo Nacional de Bellas Artes (National Fine Arts Museum), a block southwest from the Plaza de Armas, and two blocks north of Santa Lucia Hill, respectively. Each has an exquisite collection arguably unparalleled in South America.
8. Visit the Gabriela Mistral Cultural Centre
Of special note among the city's museums is the Centro Gabriela Mistral (Gabriela Mistral Centre). More than an art museum, the venue hosts exhibitions, premieres, concerts, and theatre performances. The center's namesake was a world-renowned author, educator, humanist, and diplomat, who became the first Latin American writer to be awarded the Nobel Prize for Literature in 1945.
9. Spend some time in Barrio Italia
A bit southeast of the center, the upscale neighborhood of Barrio Italia is filled with lovely cafes, hip bars, and outstanding eateries. It's also the antiques district, where you can browse to your heart's content through bric-a-brac and restored furniture.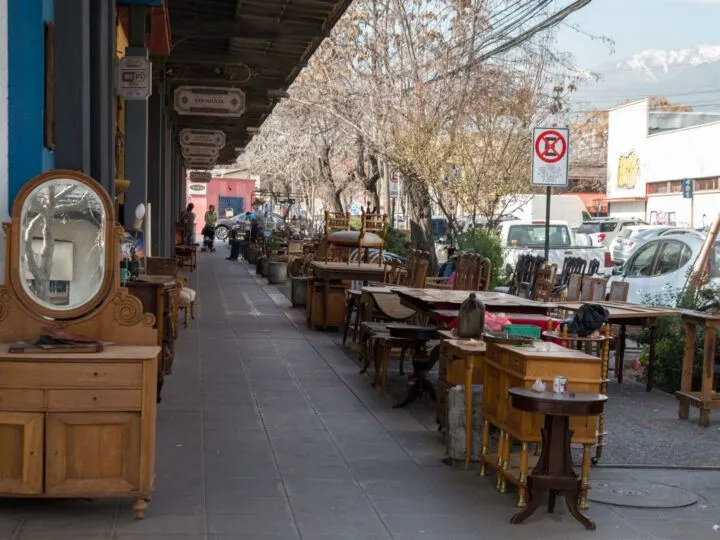 For good reason, Barrio Italia is arguably the best area to stay in Chile, with a full complement of accommodations from happening hostels to boutique hotels. For more info, check out our guide to where to stay in Santiago.
10. Eat lunch at a local Fuente de Soda
Literally a soda fountain, fuentes are old-school diners serving massive sandwiches and draft beer for those with a serious appetite. Most have linoleum floors, wood panelling and walls adorned with kitsch and memorabilia. The service is brisk and the clientele is local.
One of the best is Martuca in Barrio Providencia, offering sandwiches piled high with your choice of meat, melted cheese, and veggies alongside an impressive assortment of local and international microbrews. Choose a stool at the bar or a table, order up, and step back in time.
11. Enjoy an exquisite dinner at Santiago's top restaurant
On the other end of the dining spectrum is Chile's most revered restaurant, Boragó. And what an experience it is. As Santiago's dining scene becomes increasingly refined, its chefs are experimenting with local ingredients and flavor combinations on a new level.
Dinners at Boragó are an occasion to savor and have up to seven courses with optional wine pairings. Boragó stands atop the list of best restaurants in Santiago.
12. Do a proper pub crawl in Bellavista
In recent years, upscale gastropubs have proliferated in the Bellavista neighborhood just north of the river. Quality brewing was brought by German immigrants in the 19th century, reflected in the names of some of the best local breweries.
Among the best brewpubs in Santiago are Kunstmann Kneipe, Jardin Mallinkrodt, and KrossBar, each serving several varieties of schop, or draft, beer. The food is excellent as well, featuring charcuterie boards and craft burgers, while more understated bars such as José Ramón 277 serve more low-key sandwiches and beers and are popular among young professionals and students alike.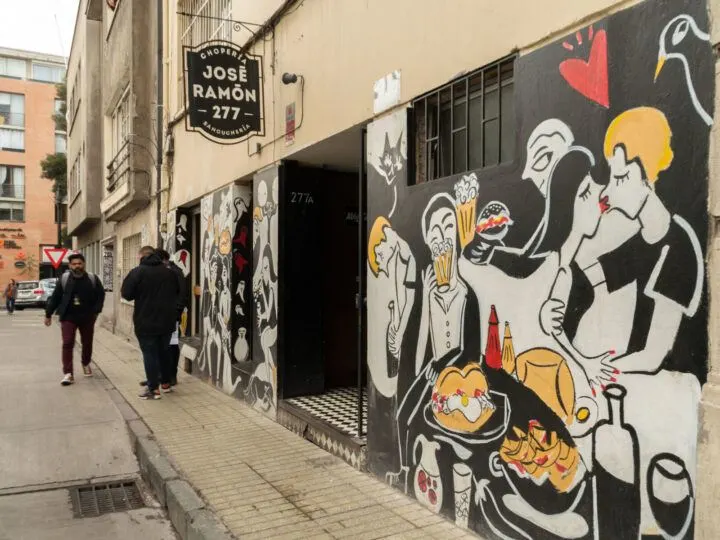 13. Take a deep dive into Santiago's nightlife
The capital's carrete, or party scene, is regionally renowned. Things get going late, as the local dinnertime isn't until 10pm. If you show up to a bar or club before midnight looking to dance, you may be the only one out on the floor. But once things get going, they won't stop until the sun is well up.
Many places are cafes and restaurants by day until the floor is cleared of tables and chairs to make room for the arriving pisco-fueled dance crowd later on. Some popular spots include Bar Constitución and Havana Club in Recoleta for electronic/reggaetón, and salsa/merengue, respectively, Club de Jazz in La Reina, and La Peña del Nano Parra, also in Recoleta, for an eclectic mix of live local music.
14. Survey the surrounding region at the Costanera Center
No matter where you are in the greater metropolitan area, you will be within sight of South America's tallest building, the Costanera Center Tower. From the 62nd story, the view of the sprawling city and the snow-covered Andes is dramatic indeed. Nearly all of Santiago's points of interest are within view.
250 meters below is South America's largest and most modern shopping mall. If you need something you've left at home or need to stock up on provisions, you're sure to find what you're after in this six-story shopping mecca.
15. Join in the celebrations at the Santiago a Mil Festival
Every January, the capital hosts one of the top summer events in the country, the Santiago a Mil Festival. For three weeks, entertainers from around the world congregate to put on world-class music, theatre, and dance performances, many of which are free of charge.
The whole city pours into the streets as the festival runs day and night across the capital, making this one of the can't-miss activities in Santiago. Check out the official website for the full rundown of events.
16. Absorb the cityscape from the striking Bahá'í de Sudamérica temple
High above the city lies one of Santiago's most picturesque feats of architecture. The Bahá'í de Sudamérica temple looks like an upside flower waiting to unfurl and is a place of worship belonging to the Bahá'í faith and has won dozens of awards for its intriguing design.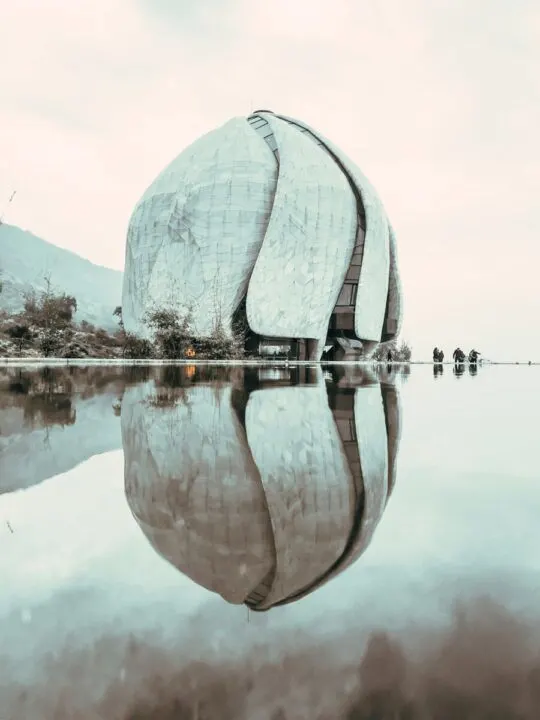 Regardless of your faith – or lack of it – the temple is a truly beautiful building and, thanks to its location, promises sensational views of Santiago below. The easiest way to visit is by taking Line Four (the blue line) from Tobalaba to Grecia and getting a taxi up to the temple.
Where is Santiago and how can you get there?
Chile's capital sits in the center of the country, 116km east of the port city Valparaíso. While Chile is a far-flung destination for most, Santiago is well-connected, with direct flights to major cities in North America, Europe, Australia, and many cities in South America. Travel within Chile from Santiago is convenient and affordable, particularly via plane and bus.
Getting around Santiago
Santiago has South America's largest metro system and an extensive bus network. Fares start at $720 pesos (around $0.88 USD) and allow free transfers to other metro lines and buses within a two-hour time window. Metro hours are 7:00-23:00 Monday through Saturday and stop an hour earlier on Sundays.
Taxis are an affordable option for getting around as well. Some taxis are metered while others are not. For unmetered cabs, always agree on a fare before getting in. If you'd rather not take a local taxi, Uber operates in Santiago, but since it operates in a legal grey area the driver will likely ask one passenger to sit up front to hide the fact that it's an Uber and therefore to avoid being stopped by the police.
For traveling to and from the airport, taxis are the easiest option and will run between $15.000-$20.000 COP to or from the city center; book in advance using
reliable and safe transfer service Miles and Smiles. Alternatively, there is a convenient bus service operated by TurBus for $1,900 COP one-way or $3,400 COP return to the Central Train Station, which has a metro station.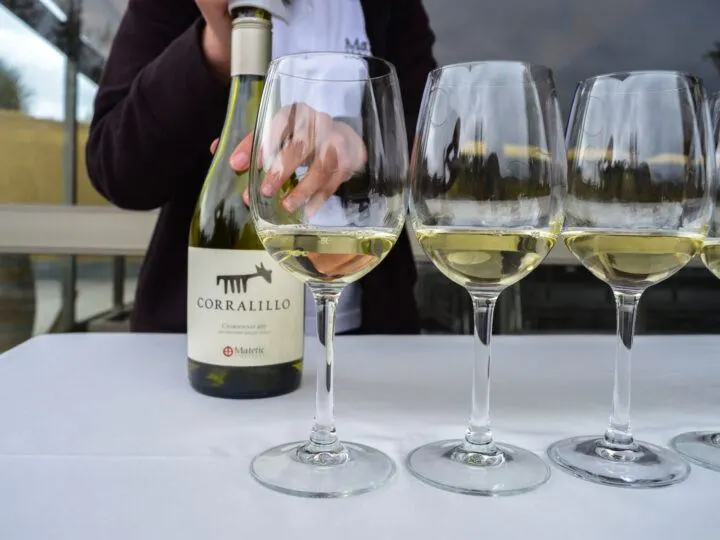 What day trips can you do from Santiago?
While there are many things to do in Santiago, Chile, there are a number of worthwhile activities to be undertaken nearby the capital. Just a two-hour bus ride west is Valparaíso, a city offering a change of pace and bursting with character.
While doable on a day trip, it makes an excellent weekend (or weeklong) getaway as well – find out what to do there with our guide to the best things to do in Valparaíso.
Between the two cities lies some excellent wine country with plentiful vineyards from which to choose. Emiliana, one of Chile's foremost organic wineries, offers outstanding tours, tastings, and winemaking workshops, while Matetic is a boutique biodynamic winery with delicious with a fine restaurant and extremely high-quality wines. Find out how to visit independently by reading the article about Valparaíso above.
If a winter getaway is more your thing, the world-class ski resorts of Farellones and Valle Nevado are within an hour and a half drive.
Read our complete guide to Santiago day trips and, for a broader look at places to visit in Chile, have a look at our comprehensive practical and regional guides to the country.
Is Santiago safe?
Yes, Santiago is safe for visitors who follow common sense. Like most destinations, you would be advised to exercise discretion with phones and valuables and mind where you walk late at night. The city's shadier districts are generally further from the center. If leaving a bar or club at night, it is recommended that your taxi or Uber directly home to avoid being a target.
Finally, if the whole process of planning a trip halfway around the world seems daunting, why not let someone who's spent extended time there lend a hand? We can tailor a trip to ensure peace of mind and an unforgettable adventure in Santiago.