Chile is a country marked by extremes. This is reflected by its great length, which stretches from the Atacama in the north to Tierra del Fuego in the south, as well as in its climates, featuring bone-dry deserts, temperate rain forests, the Andes mountains at their highest point and one of the world's longest coastlines.
These extremes also apply to its cuisine, which is as varied as its natural environment and people.
Unlike Peru, whose cuisine is more renowned, traditional Chilean food is unpretentious, filling comfort fare meant to help stave off the elements.
Many of its more traditional specialties are being rediscovered in modern kitchens eager to prepare meals with local ingredients unique to Chile's various ecosystems.
This owes to its cultural heritage as much as its natural environment. While traditional Spanish cuisine undeniably influences the range of dishes found in Chile, its pre-Columbian civilizations left a footprint with native ingredients and cooking techniques.
This is an exciting time for Chilean cuisine, with many chefs going straight to source for ingredients to concoct long-forgotten recipes as well as newer creations.
Santiago has the greatest range and most refined restaurants in the country, but great food is not limited to the capital. Here are the dishes and foods you have to try in Chile.
Meat dishes
Pastel de choclo
A good place to start is with a local favorite that ticks the boxes of local taste. Pastel de choclo is basically a mashed corn pie filled with pino, a common Chilean mixture of ground beef, onions, basil, and paprika. Chicken is often added, along with black olives and hard-boiled eggs. Merkén, a smoky mild to medium chili, is increasingly popular too.
This dish is a great example of Chilean comfort food: savory and filling to counter the cool evenings. An ideal place to sample pastel de choclo in Santiago is La Casa Vieja, with locations in Providencia and Las Condes districts.
Planning Your Trip to Chile?
Save time, stress & money with a customized travel itinerary planned for you by a Chile expert
Empanada de pino
Whereas pastel de choclo features pino in pie or casserole form, the ever-popular empanada de pino neatly wraps the filling in savory pastry dough.
Minced beef, onions, black olives, and hard-boiled egg feature prominently, and many choose to top it with pebre, a spicy sauce of green chili peppers, onions, garlic, coriander, and often tomato (making it similar to Argentina's chimichurri).
Empanada de pino can be found across the country, but this Central Chilean pastie is best enjoyed in Santiago at a place that specializes in them. Empanadería San Luis in the Ñuñoa district makes outstanding empanadas, including this variety, either baked or fried.
Chorillana
The favorite choice for many to share with friends is the ubiquitous chorillana. This mountain of french fries, chorizo sausage, sliced steak, and diced onions topped with a fried egg or two is best enjoyed over beers and ranks near the top of the most popular Chilean foods.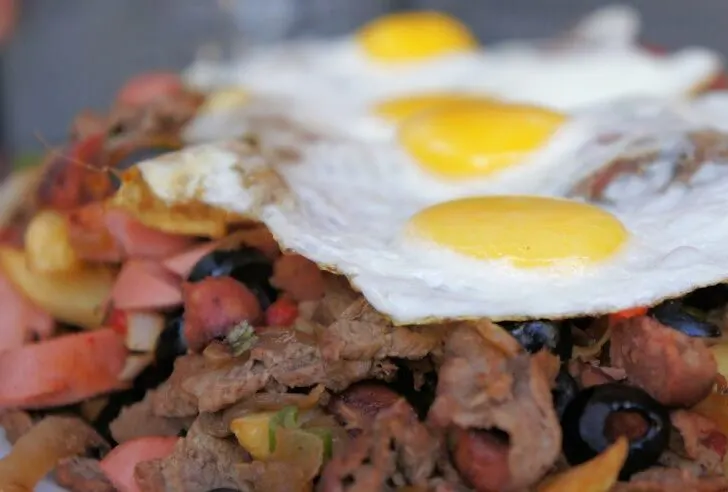 Nearly every place serving beer has chorillana, and Chile's booming brewpub scene offers plenty of options. In San Pedro de Atacama try Barros Restaurante, and The Singing Lamb in Puerto Natales. In Santiago, El Mesón has an unparalleled selection of draught beer alongside their chorillana.
Completo
One look at this decked-out version of the hot dog and you'll understand why it's called "the complete". A completo has been a staple of the fuente de soda (soda fountain restaurant) or schopería (same, but with draught beer) for the past century.
The original is a pork sausage on a bun with smashed avocado, sauerkraut, diced tomatoes, mayonnaise, and "salsa americana", a relish of pickled vegetables.
Restaurants often serve popular variations of this Chilean hot dog, including the italiano (minus the sauerkraut and pickled veggies), and a lo pobre (with fried onions, chips, and a fried egg). A classic, no-frills place to eat one is Dominó, with locations all around Santiago.
Barros luco/chacarero
Another favorite at the fuente de soda is the massive sandwich known as a barros luco. But to call this a sandwich is like calling the Andes a series of hills. This jaw-busting lunch special features a more-than-generous portion of tender sliced steak, topped with melted cheese on a freshly-baked bread roll.
The chacarero is the same, but with tomato, green beans, and pebre. One of these plus a draught beer is about as local as a lunch gets. An excellent spot to try one is Fuente Mardoqueo in Providencia, Santiago.
Pataska
While the completo in a relatively modern invention, pataska is anything but. Made long before the arrival of the Spanish, this Andean stew is a traditional dish originating in the mountains and high desert of Northern Chile. This was prepared as a harvest festival meal in honor of the Incan Pachamama.
It is made with a base of potatoes and boiled maize, usually with charqui (dried horse or llama meat), with various herbs and spices. The place to try pataska is Las Delicias de Carmen in San Pedro de Atacama.
Carbonada
Another bone-warming choice for a brisk evening, carbonada is a stew prepared in the winter all over Chile. Similar to minestrone, it's made with potatoes, carrots, pumpkin, green beans, and several herbs with diced pork or beef.
Carbonada is a traditional Chilean soup that's popular in many restaurants, and goes well with oven-fresh bread. An ideal place for this, and several other soups is La Sopería in Barrio Italia, Santiago.
Ajiaco
One of the most popular soups in Latin America, especially in Colombia, ajiaco in Chile is distinct in its use of leftover steak from the previous day's barbecue, and green chilies to add a little bite. It's hearty and filling, with lots of potatoes and onions with a dash of cumin.
This is commonly eaten as a hangover cure. The perfect place to try it out is at the aptly named El Ajiaco, in Ñuñoa District.
Plateada
A true Chilean classic, plateada is a slow-cooked delicacy served for special family occasions. Beef brisket is simmered in a deep saucepan in a reduction of red wine, garlic, salt, pepper and vinegar. It is then transferred to the oven and cooked at low heat for a few more hours until the brisket is tender and filled with flavour.
Although this is traditionally a home-cooked meal, plateada, along with other hard-to-find traditional recipes, is served at Don Peyo Restaurant in Ñuñoa. Peluquería Francesa makes a wonderful version with a Roquefort cheese sauce, best paired with a bold cabernet sauvignon.
Arrollado huaso
This autumn dish has been a countryside classic for centuries and is among the most traditional Chilean dishes. This huaso (cowboy) preparation is pork wrapped in pork skin, brushed in a mild chilli sauce, then cooked in a hearty broth. It is a Southern Chile specialty but can be found in traditional restaurants further north as well.
Preparation of this dish is done on family ranches, but an authentic rendition can be found at El Pipeño near Barrio Franklin in Santiago.
Cordero al palo
Another South Chile meal not to miss is the traditional lamb roast, which is an entire lamb vertically roasted for several hours over an open flame. During preparation, it is constantly brushed with salmuera, a garlic, and salt solution in water to keep the meat juicy and tender.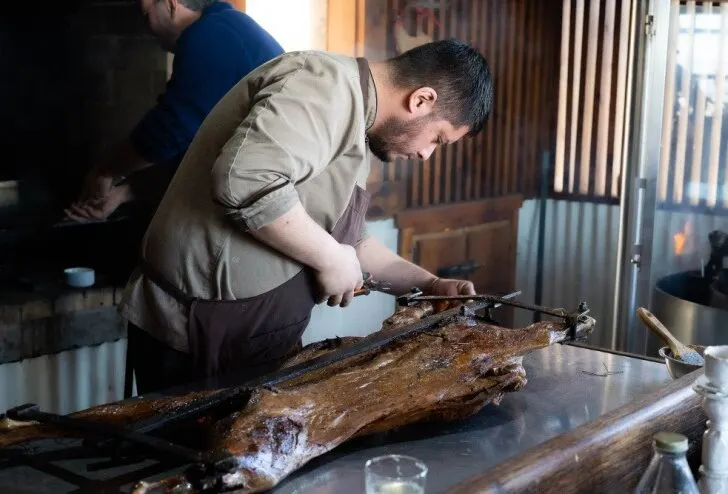 In Patagonia, cordero al palo can be enjoyed at El Asador Patagónico in Puerto Natales. In the capital, head to El Mesón de la Patagonia in Lo Barnechea, the northeast corner of Santiago.
Seafood dishes
Pastel de jaiba
This bready casserole is a favorite both on the coast and in Santiago, and contains blue crab in a cream and white wine-based mixture, topped with grated cheese. Traditionally prepared in a clay pot, chili peppers can be included for an added zing.
Pastel de jaiba is best sampled seaside in the surf town of Pichilemu at Costa Maria or in Valparaiso at Porto Viejo. In Santiago, an excellent version is served at El Ancla Providencia.
Empanada de jaiba/camarón
For those who love a good pastie, you're in luck! Chile has a great variety of them. This version has either jaiba (crab) or camarón (prawn) covered in melted cheese. An empanada de mariscos (seafood) is a mixture of the two.
For an added kick, spoon some pebre over the top. Empanadería San Luis in Santiago and Delicias Express in Valparaíso make excellent ones worth seeking out.
Machas a la parmesana
Chileans love shellfish. The large quantity and variety of bivalves have made them a popular food for snacks or meals. Machas (razor clams) are common in many seafood restaurants, and in this dish they are cooked in butter and white wine, then topped with either melted parmesan or mantecoso cheese.
The aforementioned restaurants in Pichilemu, Valparaíso, and Santiago are a good bet for ordering a large platter of machas a la parmesana, which are perfect in the summer months paired with a sauvignon blanc or dry rosé.
Gambas al pil pil
This Spanish-inspired dish has become increasingly popular in recent years. Prawns are fried in garlic butter and prawn tail sauce and served sizzling. Some restaurants add smoky merkén chili powder for an added dimension.
Marisqueria Tahiti in Barrio Yungay is a great place to try gambas al pil pil and just about any other seafood dish popular in Chile.
Caldillo de congrio
Chilean poet and noble laureate Pablo Neruda so enjoyed this dish that he wrote an ode to it. Conger eel is cooked in a garlicky fish head broth with clams and mussels. Round off the meal with a glass of sauvignon blanc and you may begin to understand Neruda's obsession.
The ideal place to find this emblematic delicacy is Bocanáriz in Bellas Artes, Santiago, where the food is matched by its impressive selection of Chilean wines.
Curanto en hoyo
Chiloé Island, between Central Chile and Patagonia, has a unique atmosphere and its own traditional gastronomy. Perhaps the most famous of its dishes is curanto en hoyo, an ancient preparation comprising several types of seafood, meat, and vegetables, covered in leaves and cooked in a hole in the ground.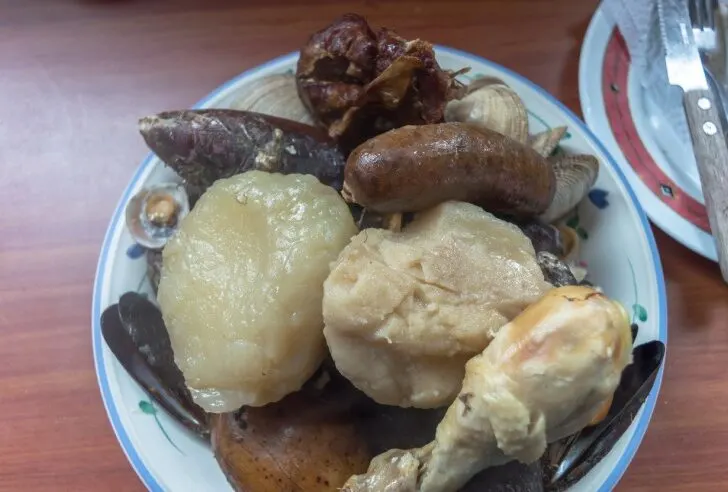 Ingredients can vary, but it's common to use loganizas (a chorizo-like sausage), chicken, shellfish, and potatoes. Because of the difficulty of its preparation, this is generally a meal made for special occasions. For the real deal, make the schlep to Fogon Chilote "El Chucao" an hour northeast of Castro on Chiloé. A more easily accessible place to try good curanto is Chiloentumesa in Barrio Italia, Santiago.
Ceviche con palta
Visitors quickly find that Chileans love avocados. Many, many dishes are complemented with palta, and ceviche, a dish loved in many South American countries including Peru, is one of them.
A popular version is similar to a poke bowl with salmon ceviche and various veggies including tomato and onion, while on Easter Island, you'll find it made with ocean-fresh tuna. The citrusy ceviche marinade, made from lemon juice ties it all together, and after you've tried it you may wish to try making it yourself!
For a taste of this ceviche variant, along with other Peruvian-Chilean fusion dishes, head to Mistura del Perú in Barrio Italia.
Vegetarian dishes
Porotos granados
Although Chileans often eat a lot of meat, there is plenty on offer to suit vegetarians as well. This stew is a popular choice in the summer and combines kidney beans, pumpkin, corn, garlic, and basil. A heartier version, porotos con riendas, adds noodles, and a thinner version with a whole corn cob is called pilco.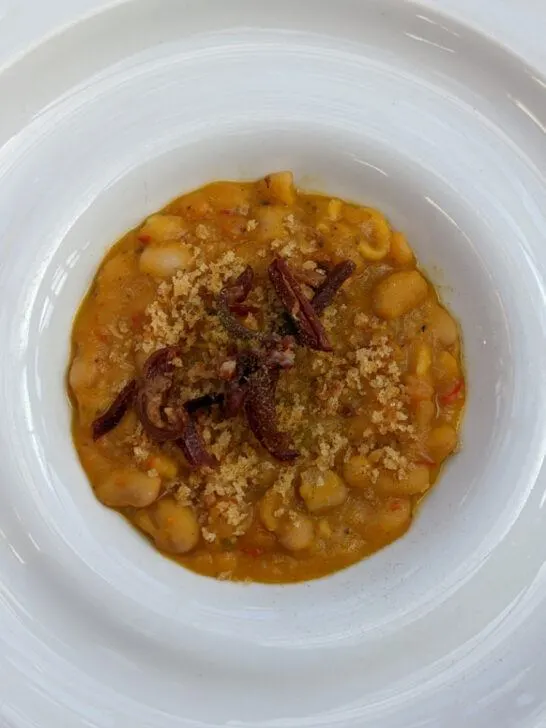 There are countless restaurants serving porotos granados, but where better to try it than Palacio del Poroto in Estación Central, Santiago.
Chancho en piedra
This unusually named dish actually means "pig on stone", when in fact no meat is used at all in its preparation. Originally named chanco de piedra, the action of mashing ingredients against a stone, people started calling it chancho as a joke.
This tomato-based sauce is made with onion, garlic and olive oil and is great as a spread on bread with cheese. Try it at the upscale Quitral in Bellas Artes, Santiago.
Humitas
A popular lunch or onces (elevenses) food, humitas are a mixture of mashed corn, onion, garlic, and basil wrapped in corn husks and steamed. They are often enjoyed with pebre or chancho en piedra.
Humitas are generally Chilean street food and can be found all over central Santiago rather than in restaurants. You'll find them in and around Mercado Central in the city center.
Milcao
This potato bread originated in Chiloé, and is good with chancho en piedra. It is made with potato flour and is quite filling; ideal for cold winter nights in the south. Chapalele is similar to milcao, but with eggs added to the potato flour.
Both these types of Chilean bread are freshly made at Chiloentumesa in Barrio Italia.
Ensalada de digüeñes
This seasonal dish is quite unique in Chilean cuisine. In the southern temperate rain forests, digüeñe mushrooms grow on beech trees during the winter months. They have a unique texture and are prepared with onion, garlic, oil and coriander.
Although difficult to find because of its limited availability, Peumayén Ancestral Food has digüeñe salad in August and September.
Chilean beverages
Chilean wine
In the last half-century, Chilean viticulture has gained rightful renown for its high-quality vinos. While they offer many of the varieties found elsewhere in Europe, make sure to try carmenere and carignan reds, which all but disappeared from Europe hundreds of years ago.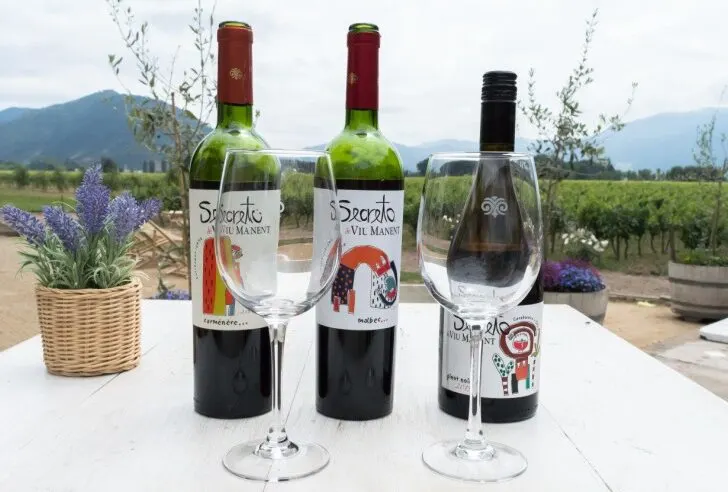 Good places in Santiago to sample excellent wine from around the country are Bocanáriz in Bellas Artes and La Vinocracía in Ñuñoa.
Pisco
Peru and Chile have a centuries-old feud over who began distilling this popular grape brandy. More importantly, each country is now making outstanding pisco both for sipping on its own or in the ubiquitous pisco sour cocktail.
While probably every bar in the country serves pisco, a perfect place to learn about and enjoy the spirit is Chipe Libre República Independiente del Pisco in Bellas Artes, Santiago. In Patagonia, you can be sure to find a local take on this ubiquitous drink: the calafate sour.
Cola de mono
A favourite Christmas liqueur, "monkey tail" is a sort of Chilean white russian, made with aguardiente (similar to grappa), milk, coffee, sugar and cloves.
While many people buy the premixed store-bought variety, premium versions are made at bars around Chile during Christmas festivities.
Desserts
Sopaipillas
A favorite throughout Chile, sopaipillas are sweet fried dough with pumpkin and are among the most popular street foods. You'll find them at seemingly every street corner so you'll have lots of opportunities to try different varieties including pasá, with orange peel, clove, and potato flour.
Pan de Pascua
For whatever reason, Chileans generally refer to Christmas as Pascua, even though Pascua is in fact Easter. So while this "Easter bread" ought to be prepared in March or April, you'll typically find it in bakeries in December.
Also confusingly, this isn't actually bread, as it's a sponge cake made with batter, honey, ginger, walnuts, almonds, and raisins. Regardless of the name, it's quite the holiday sweet treat. A fabulous pan de pascua can be had at La Ermita in Vitacura District, Santiago.
Mote con huesillo
This could be classified as food, beverage, or dessert, and really hits the spot on a hot summer day. Mote con huesillo is wheat-based with brown sugar and dried peaches. The popular treat is found on many dessert menus in restaurants and is sold by street vendors in cities around the country.
They're found everywhere, but Mote con huesillo Patagual near Parque O'Higgins in Santiago specializes in them.
Ready to sample some of Chile's most delectable dishes?
In conclusion, Chilean gastronomy reflects the unique natural setting. A trip from north to south shows how the cuisine is influenced by the bounty of the land and sea.
While Santiago is at the cutting edge of Chile's restaurant scene, other cities around the country offer a surprising range and quality of dishes. A generation ago, Chile was considered a culinary backwater compared to its neighbors, but this is no longer the case.
Importantly, Chile's top restaurants are no longer Peruvian or French. By forging its own path, Chile is creating something all its own for everyone to enjoy. Find more inspiration for where to go to enjoy the best Chilean dining in this guide to the most unmissable things to do in Chile.