Say the words "northern Chile" and there's probably only one place that pops into your head: San Pedro de Atacama.
Sure, there's a reason it's one of Chile's top tourist destinations, but by limiting your trip to only one town in the region means you miss out on the other even more interesting places to visit in northern Chile.
I recently travelled to El Norte Grande – the north of Chile – my first research trip for Moon Chile and have to admit to being surprised by the rich history and the astonishingly varied landscapes in what is ultimately just a huge desert.
You may have heard of some of the places mentioned on this list; what they all have in common is the fact that only a tiny proportion of international tourists find their way to them.
So if you're looking for interesting and truly off-the-beaten-trail things to do, then read on for my top ten places to visit in northern Chile.
Planning Your Trip to Chile?
Save time, stress & money with a customized travel itinerary planned for you by a Chile expert
What previous clients have said:
"It's refreshing to find someone with insider knowledge that can take you off the beaten track, away from the mainstream. I particularly liked the detail you give; where to stay and your favourite places. We stayed in some lovely places because of your knowledge, places that we would probably never have found. I also liked the fact that we could ask you questions whilst on the move. Lots to like Steph!"
Sharon, United Kingdom
Traveled to Patagonia, January to February 2019
1. Place to visit in Northern Chile: Parque Nacional Lauca
From Arica, the road climbs up into pre-cordillera, the mountains just before you reach the Andes themselves.
After a three-hour, winding drive, you arrive at Putre – an absolute essential on this list of places to visit in Northern Chile.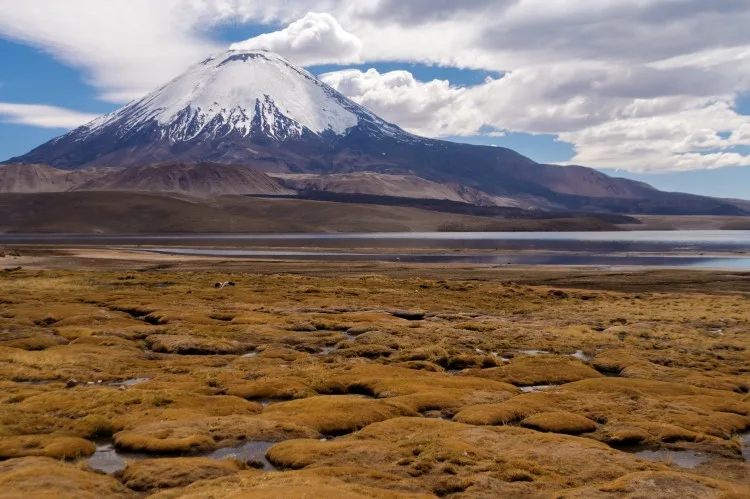 Putre itself isn't the highlight; instead, east along the road towards Bolivia, Parque Nacional Lauca is one of the easiest of these off-the-beaten-trail places to visit in North Chile, particularly if you've not got your own vehicle.
There are plenty of companies based in Arica that offer tours up to the national park.
Lago Chugará is the top attraction; a huge lake – and one of the most beautiful in South America – that squirms with Andean birdlife and sits in the looming shadow of Volcán Parinacota. At 4,517m above sea level, take it slow when trotting along the 1km path that heads around the lake.
Along the road to the lake are a number of beautiful little villages with elegant, restored adobe churches (such as the pretty Iglesia de Parinacota) and the landscapes themselves of sparkling altiplano lakes and herds of guanaco make this an essential trip to take in the north of Chile.
If visiting using an agency based in Arica, be aware of the "vomi tours" which head to Lago Chungará and back again in only one day.
Believe me: going from sea level to over 4,000 meters in one day is enough to make anyone puke. Instead, it makes more sense to stay overnight in Putre to allow for acclimatization.
How to get to Putre and where to stay
Public buses leave the domestic terminal in Arica for Putre at 7am each day and arrive around 10am. To return to Arica, take the bus from Calle Baquedano at 2pm or from the main square at 5pm.
If coming in your own car, be aware of the effects of altitude (bring plenty of water to drink) and remember that there is no petrol station in Putre so fill up before you leave Arica.
Budget accommodation
Expect very basic accommodation at Hostal Cali (Baquedano 401). The water is only hot if the owner turns it on and the facilities aren't anything impressive, but this place is clean and cheap. They also have a wifi connection.
A double costs $25,000 CLP/$40 USD.
Not-so-budget accommodation
For me, Terrace Lodge was the only place to stay as it meant I could take a tour of the surrounding area with the owners. It's a fantastic place with five comfortable rooms, a great breakfast, and encyclopedic knowledge of this far north part of Chile.
They run day trips out to some of the harder-to-reach parts of the altiplano. The old owners had a map that they designed of the region, which was invaluable if you've got your own vehicle and are planning on taking a self-guided tour – ask if they've got access to this when you visit.
There's a two-night minimum stay and a double costs $40,000/$64 USD per night.
2. Places to visit in Northern Chile: Reserva Nacional Las Vicuñas
South of Putre, Reserva Nacional Las Vicuñas is yet another of the north's most interesting places to visit.
It's flanked in the east by the piercing volcanoes of the Andes and home to herds of tentative guanaco and the rarer, more delicate vicuñas who make eye contact with you across the dry grassland known as the puna.
But the viscachas are the stars of the show, a creature related to the chinchilla but that looks more like a fluffy rabbit.
They nibble on the bufedal (sharp grass) by the side of the road or sit on rocks enjoying the sunshine, so it's not unusual to find them as you drive around the reserve, their eyes closed to slits and little care for the tourists snapping photos a mere couple of meters away.
At the far southern end of the reserve, the Salar de Surire is a vast salt flat that's far more impressive than the one in San Pedro de Atacama and punctuated with flocks of three types of feeding flamingos.
They come here to feed, searching through the saline water with their beaks for tiny shrill, their bright pink bodies, wings and legs contrasting with the blinding white of the salt flat and the deep blue of the sky.
Both Reserva Nacional Las Vicuñas and Parque Nacional Lauca still feel untouched and unspoilt by tourism.
Everywhere you go, expect to see wild animals and vast volcanoes, all of which are only visited by a handful of people each week and are far more beautiful as a result.
3. Places to visit in Northern Chile: Antofagasta
Before last month, I'll admit to knowing nothing about Antofagasta. Squat. Nada. But I was pleasantly surprised and – as Brit – came to realize why I should know far more about this otherwise unassuming port city than I did.
Antofagasta doesn't exactly rank highly as one of the unmissable places to visit in Chile, but the town has a number of interesting landmarks showing the influence of the British.
This is particularly noticeable in the businesses that came here to make the most of the saltpeter industry that saw huge amounts of wealth being garnered in the region in the 19th and 20th centuries.
My absolute favorite was the Ex Estación Ferrocarril (the old train station), a still operational train station that has informal guided tours run by the site guards.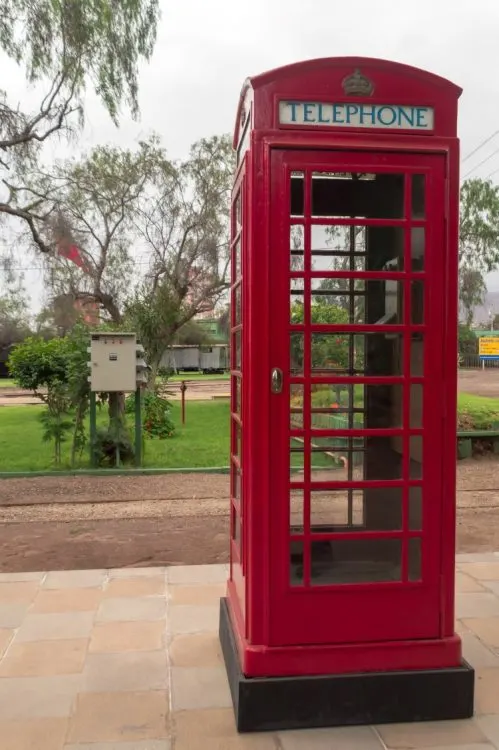 From a restored train carriage that the Pope used during his visit to the city in 1987, to the freight car that was part of the train that Butch Cassidy and the Sundance Kid reputedly ambushed in their final robbery in the wilderness of Bolivia, the relics preserved here are truly fascinating.
But that's before you even get to the various pieces of British memorabilia, including red telephone boxes, British-made clocks marking the time on the platforms and even a steam engine brought all the way from Liverpool in England.
Visits are possible on Friday afternoons and between 10am-1pm and 3pm-6pm on Saturdays and Sundays and the guides only speak Spanish, although it's definitely possible to pop in and admire the relics from this not-so-distant time, even if your Spanish is limited.
Nearby, the Museo de Antofagasta is also worth a visit thanks to its fascinating display of the fishing methods used by the region's first inhabitants – the Chinchorro – (spoiler, they inflated sea lion skins to make rafts).
What's more, the city has a really pretty coastline that is best viewed from the bar of the Gavina Sens Hotel with a pisco sour in hand.
How to get to Antofagasta and where to stay
There are plenty of buses heading to Antofagasta from Calama, San Pedro, and Iquique.
The bus station is about a 10-minute walk from the center, although taxi collectivos (shared taxis that have a fixed route through town) can take you into the center for around $600 CLP/$1 USD.
Budget accommodation in Antofagasta
Most of the accommodation in Antofagasta comprises apart-hotels, many of which look out across the bay and have their own cooking facilities. This one ($108 USD one-bedroom apartment), which has modern furnishings, access to a pool, and private parking, is a good choice.
---
Not-so-budget accommodation in Antofagasta
Another top choice with its own beautiful ocean-side restaurant specializing in fish dishes and all rooms offering balconies overlooking the bay is Terrado Suites Hotel (double $80,000 CLP/$134 USD). It's got a gym, sauna, and heated pool downstairs, as well as an unheated infinitely-style swimming pool right next to the sea.
4. Places to visit in Northern Chile: Iquique
Besides San Pedro de Atacama, Iquique might be the only other of these places to visit in northern Chile which you've heard before.
It's popular with backpackers and other holidaymakers who come to lounge on the sprawling Playa Cavancha beach, dip their toes in its warm(ish) waters, or hit up some of its world-class waves.
But there's plenty more to Iquique than sun, sea, and surf. On the main plaza, Casino Español is the city's most beautiful building, designed in a Moorish style with lavish murals and wide archways.
It's also a great place for a delicious lunch, with a three-course menu del dia with wine costing $9,900 CLP/$16 USD.
An hour's drive out of Iquique, Oficina Humberstone is another of the fascinating historical places to visit in Chile.
In its heyday in the mid-20th century, it was the largest saltpeter (nitrate) mine in the country.
Most of the machinery used to extract and process the mineral was pinched from the site before it became UNESCO World Heritage protected, a lot of the houses in which the 3,700 residents lived remain reasonably intact.
This ghost town in the middle of the desert used to be a bustling hub of industry and diabolical living conditions, even though the on-site swimming pool, theatre, hotel and bar give a sense of some of the leisure activities that were available to the workers who lived here.
How to get to Iquique and where to stay
Plenty of buses connect Iquique daily with Arica in the north and Antofagasta, Calama, and San Pedro de Atacama in the south. Rodviario Terminal de Buses is the main bus station and is located in the north of the city.
To reach Oficina Humberstone, catch a bus from the Mercado Central for $2,000 CLP/$3 USD. They leave roughly every 15 minutes.
Acommodation in Iquique
All of the places I normally recommend in Iquique appear to have gone under during the pandemic. Again, Iquique has a plethora of apart-hotels that I provide more than adequate accommodation.
5. Places to visit in Northern Chile: Pisagua
As you head north from Iquique along Ruta 5, a road shoots off to the left and, after a winding drive across the desert, followed by a nail-biting descent down a road cutting perilously close to the cliff edge, you finally arrive in Pisagua.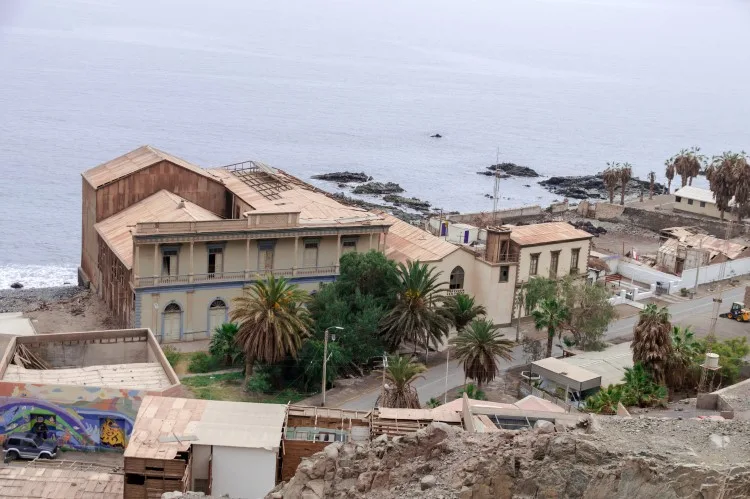 In the late 1800s and early 1900s, it was an important port town for the exportation of nitrate.
But fortunes change rapidly and while the wealth of the town's old inhabitants is still visible in the once luxurious English-style mansions that remain, its population is now only around 200 and it doesn't see many visitors nor make it onto any list of places to visit in northern Chile.
Unfortunately, it's Pisagua's macabre history that has left it off the main tourist route.
For two years during Chile's military dictatorship, a concentration camp believed to hold around 2,500 political prisoners was stationed there.
Later, in 1989, soon after the country's return to democracy, a mass grave was discovered in the town's Municipal Cemetery a few kilometers north and a large memorial has since been erected in memory of the 19 bodies that were uncovered – as well as those who disappeared without a trace.
On a less grizzly note, the Teatro Municipal – a symbol of Pisagua's grand old days – is worth a visit; this huge building sits overlooking the sea – and with new holes behind the stage makes you even more aware of the waves below.
You can venture into this beautiful old building by asking for the key from the library next door.
How to get to Pisagua and where to stay
One of the reasons Pisagua receives so few tourists is due to the lack of public transport to get here, meaning it's only accessible with your own vehicle.
Budget accommodation in Pisagua
The only place in town is Hostal La Roca (Ramirez, +56 940619433) where a double with a private bathroom will set you back $28,000 CLP/$45 USD with Wifi, cable TV, and breakfast included.
They've also got a lovely terrace with sea views outside. Make sure you call before arriving as they only have five rooms.
Not-so-budget accommodation in Pisagua
As it's a two-hour drive from Iquique in the south and a further three hours to Arica in the north, it makes sense to stop off in Pisagua traveling between the two.
6. Places to visit in Northern Chile: Arica
Of all the places to visit in Chile on this list, Arica was the city that surprised me the most.
Barely a stone's throw from the Peruvian border, I'd actually stopped here briefly on my first visit to Chile in December 2015 – and was struck by how unpleasant the bus station was.
But looks can be very deceiving and it was only on my second visit that I had a chance to appreciate what a vibrant and historic place it really is.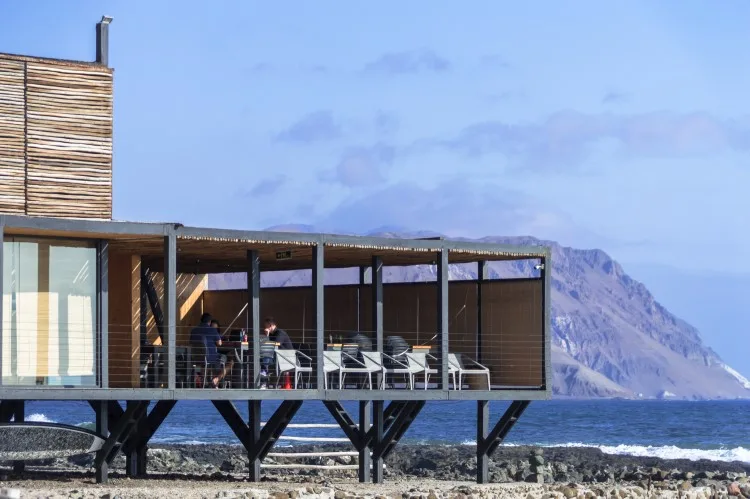 The number one Chile tourist attraction in Arica is Museo Sitio Colon 10. It's a residential building turned museum, where back in 2004, a surprised architect discovered the mummified remains of the region's earliest inhabitants, the Chinchorros.
At 7,000 years old, they're the oldest mummies even uncovered on the planet and were preserved thanks to the extremely dry and saline climate that characterizes the Atacama.
I can't stress how fantastic this museum is: not only are you given an audio guide with information in English about the Chinchorro culture and their mummification techniques, but you can actually almost *walk over* the mummies.
They were left in situ as they were too fragile to move and so visitors can stand on the layer of glass above the remains and look down into the eyes of these ancient people.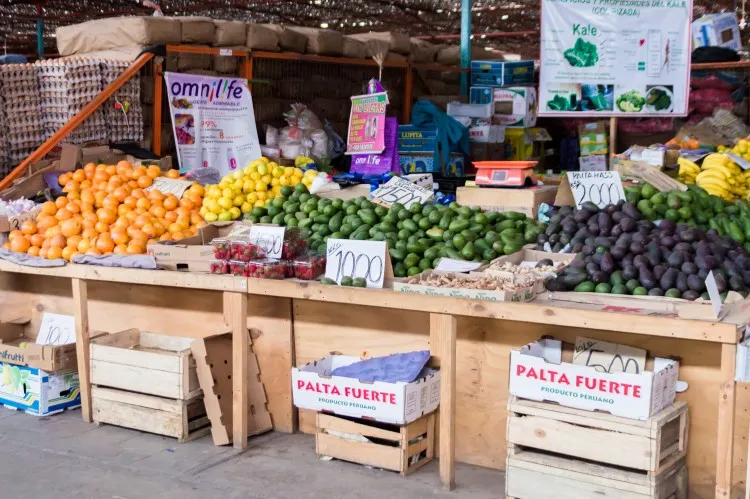 But the city is also a wonderful place to enjoy the beach (apparently the water's even reasonably warm by normal Chilean standards) or check out El Agro, the enormous market on the outskirts of town that sells the huge amount of produce cultivated in the Lluta and Azapa Valleys.
It's worth a visit purely to get a sense of quite how fertile the region is and to sample the locally-grown olives and maracuyá (passionfruit).
How to get to Arica and where to stay
Arica is a 40-minute taxi collectivo ride from Peru and has regular buses to Iquique and further south from the domestic terminal (next door to the international bus terminal).
To reach El Agro, take micro 828 from the center.
Budget accommodation in Arica
French-Canadian Le Petit Clos (Cristibal Colon 7, $38 USD double) has only nine spacious, clean rooms, which gives it a homely feel. Room 4 offers views across the port, so it's worth asking for this one. Upstairs, a shady terrace and communal kitchen offer city views.
Not so budget accommodation in Arica
One of my highlights was staying in the incredible Hotel Apacheta (Av. Comandante San Martín 661), a modern building constructed from wood and vast windows overlooking the ocean.
In the morning, I was awoken by the calls of the seabirds on the beach below. A double costs $56,000 CLP/$100 USD per night, while family rooms (two bunk beds for four people) are $85,000/$136 USD CLP – ideal if you're traveling in a group.
7. Places to visit in Northern Chile: San Pedro de Atacama
Ok, so I couldn't write a post about things to do in northern Chile without including San Pedro de Atacama.
Although it has been a victim of its own tourism success and is often heaving with visitors, particularly over Christmas and during the summer, this town stuck in the middle of the Atacama Desert still has an impressive range of sites that you can't really miss if you're traveling in the north of Chile.
I've written an entire post about off-the-beaten-trail adventures in the Atacama Desert, but the crux of the article is how you should rent a car to explore, giving you more freedom to see lesser-visited places.
Among my favorites are Piedras Rojas and the Salar de Tara in the south of Reserva Nacional los Flamencos.
Here, a salt lagoon surrounded by a patchwork of red volcanic stone remains to this day one of the most stunning places I've ever visited in Chile.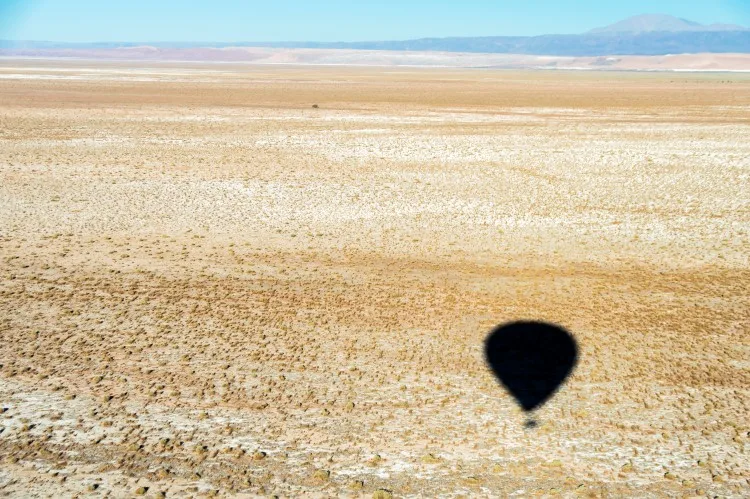 I'd also strongly recommend a balloon tour with a local company, as there's nothing quite like seeing the salt flats and the desert landscape from the air.
Nearer to San Pedro de Atacama, and accessible via tours with Ayllu and Flaviabia Expediciones (tour agencies in town), Tocanoa has vineyards – yes, they are producing wine in the middle of the desert.
What's more, the wine is surprisingly good, particularly given the extreme conditions in which the vines are grown – you can actually see the Salar de Atacama from the vineyards.
How to get to San Pedro de Atacama and where to stay
From Calama Airport, transfers take you directly to San Pedro de Atacama for $15,000 CLP single ($28,500 CLP return). These can be organized directly from the arrivals terminal.
If you've got tight timescales, from San Pedro de Atacama, it's also possible to cross the border into Peru and on to Arequipa by bus.
This isn't something I would recommend so much as it means missing out on the other incredible places to visit in Northern Chile, but still a good option if you've only got a few days to spare!).
Budget accommodation in San Pedro de Atacama
Just a short, 10-minute walk from the main street in San Pedro de Atacama lies on of the town's best budget choices: Hostal Pablito ($85 USD double). With its large, year-round swimming pool and comfortable, impeccably clean bedrooms, this guesthouse feels like a real bargain. The staff are very welcoming and can be flexible with early breakfasts where required for pre-dawn tours.
Not-so-budget accommodation in San Pedro de Atacama
Easily the nicest accommodation you will find in San Pedro, Ckuri Atacama (Los Laureles 170) have only three rooms, but each has a private bathroom with shower, large double bed, and a small dining area with fridge, cutlery, and plates.
Breakfast isn't currently included but you can easily buy what you need and eat in your own personal dining area! The owners are incredibly friendly too. A double room costs $48,000 CLP/$78 USD.
If you're looking for more space and facilities, the ten large bedrooms, decorated with thatch ceilings, adobe walls, and beautiful Andean textiles, make up the gorgeous Hotel Pascual Andino ($219 USD double). It's situated just outside of the center of San Pedro de Atacama, making it within a stone's throw of all of the town's restaurants but without the unwelcome noise pollution.
Each room has a shady outdoor patio with rattan furniture as a place to relax during the cool evening, although each has access to an outdoor lounge and a small pool, which will likely become your go-to location during the heat of the day.
The hotel's free bikes are also handy if you fancy heading out to Valle de la Luna for a spectacular sunset, or just as a means of exploring the town on two wheels.
Finally, if you're looking for budget-blowing luxury, look no further than Explora Atacama. Prices start at $1,760 USD per person per night and include all food and drink (the meals are cooked by the in-house chef who sources the vast majority of his ingredients from the local area – which just happens to be a desert!).
Accommodation is in very comfortable if somewhat plain bedrooms with volcano views (those at Tierra Atacama are much more luxurious) and their specialty: unique tours around the Atacama Desert.
They consider themselves the pioneers of the region and are constantly opening up new routes and destinations that no one else visits.