In a continent defined by natural spectacle, Colombia is a country that would take several lifetimes to fully explore. Situated in the northwest corner of South America, Colombia is a paradise for anyone seeking an escape from civilization.
Colombia is the second-most biodiverse country on Earth – trailing only Brazil – thanks to an astounding breadth of flora and fauna spanning rainforest, desert, coral reefs, and mountain ranges.
As the Andes reach their northern terminus, it splits into three separate ranges separated by deep valleys and unique ecosystems.
Many of these unique habitats are now national parks, offering visitors the chance of a lifetime to explore this most magical of countries – and one we consider to be among the best in South America for its natural heritage.
Read on for our definitive guide to the best national parks in Colombia.
Equipment for hiking in Colombia
Colombia presents its fair share of challenges for casual hikers and intrepid trekkers alike. It is essential to prepare for whichever national park you plan on visiting. Because many of these national parks are quite isolated, tours are often multi-day affairs and require preparation.
Proper footwear is a key consideration before setting off. Hiking boots (men/women)that you've already broken in are mandatory for every national park. In addition, a good backpack (men/women)and proper attire are just as important.
Be sure to bring a waterproof jacket (men/women) as it's no fun getting drenched when you're miles from shelter. Each destination has its own climate, so make sure to read up on what you'll need for each national park.
Don't forget to bring a water bottle, and either water purification tablets or a water filtration system, as you might not have easy access to potable water in the more remote national parks.
If doing an overnight trip, make sure to bring a warm sleeping bag (men/women) and pad, and good-quality tent to ensure happy camping. Spending a night or two far from civilization is an amazing experience.
A power bank with a fast-charging cable is a good idea for your phone or camera, along with a universal adapter plug.
On a multi-day trek, you'll need to bring cooking tools and food rations. A portable stove, pots and pans, cutlery, and Swiss Army knife are all necessary for extended trips. A reusable water bottle is also helpful, with a water filter such as the Grayl useful for ensuring water from streams is safe to drink.
Other essentials include sunglasses, sunscreen, insect repellent, soap and a med kit. Don't forget a good book (or e-reader), a deck of cards, a padlock, and a torch or headlamp.
It is highly recommended that you be vaccinated against yellow fever and tetanus at least ten days before departure, especially if visiting the more remote national parks in Colombia.
Last, make sure to only pack what you need. You'll have to carry everything on your back, so if you don't need it, leave it at home!
Planning Your Trip to South America?
Save time, stress & money with a customized travel itinerary planned for you by a South America expert
What previous clients have said:
"Steph's itinerary exceeded all expectations. She provided off-the-beaten-path hikes, great restaurants and accommodations, and very helpful local contacts. Due to the weather we had to deviate from our original plan, however Steph quickly responded to our email during the trip with further recommendations. Her service took all the guesswork out of planning our vacation and led to the most fun and unforgettable trip we have ever had!"
Catherine and Curtis
Traveled to Chile, December to January 2020
When is the best time to visit Colombia?
As Colombia is a tropical country, there are no pronounced differences in temperature from month to month. There are, however, great differences in how much rain will fall, depending on which part of the country you'll be visiting.
The northern regions along Colombia's Caribbean coast see the most rain from May through November, with October generally the wettest month. December through April is hot and very dry.
The center of the country near to the Andes has two wet seasons, April and May, and October to December (though you can expect rain in any month).
The coastal Pacific region has heavy rain all year, but January through March tends to be relatively drier.
The Amazon rainforest of course sees a lot of rain, with the drier months lasting from June through September.
In general, the dry months are best for planning a visit to the national parks for the sake of comfort and convenience, but the wetter months also have their benefits. For more information, head over to our complete guide to when you should visit Colombia.
The most unmissable national parks in Colombia
Tayrona National Park
When to visit: Any time outside of October through December for hiking, as heavy rain washes away trails. For the beach, any time, although December and January tend to be busy.
Must-have gear: Swimsuit, waterproof clothing, a hat, sunscreen, and strong insect repellent (local brand Nopikex is effective).
Do I need a guide? A guide is not required, but we suggest hiring a guide for longer hikes that venture further inland. We recommend Expotur, who offer sustainable tours throughout the Caribbean region in Colombia.
Entrance cost: 57.500 COP ($12 USD)
Located just to the northeast of Santa Marta on the Caribbean coast, Tayrona National Park (Parque Nacional Natural Tayrona) is wedged between the sea and the world's tallest coastal mountain range. The coastline is dotted with beaches, some touristy and others more isolated, with coral reefs offshore.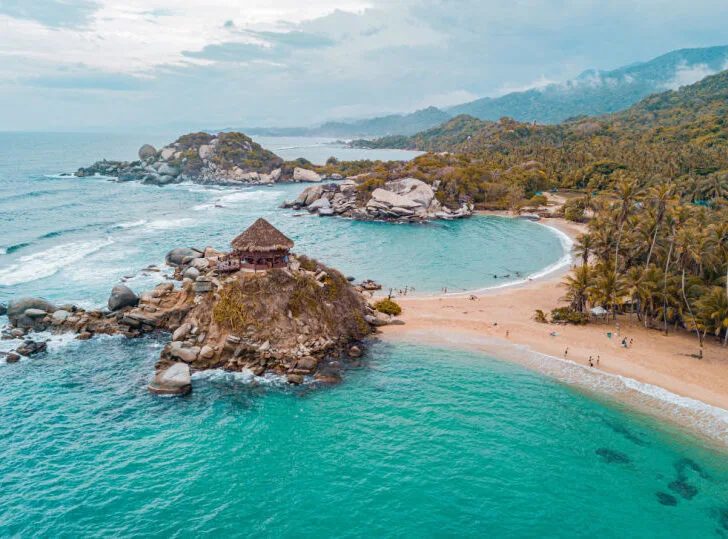 The scenic Playa Bahía Concha is the most popular beach, but the pick of the bunch is Playa Cristal, a short boat ride from Los Naranjos. There are diving and snorkeling opportunities at the coral reefs along the coast, but take local advice and mind the strong undertow.
The interior is home to howler monkeys, oncillas, and over 300 species of birds. For those keen on hiking, make sure to come prepared for the elements. You will cross shallow rivers and climb steep, slippery paths, but you'll be rewarded with pools under waterfalls where you can swim.
The park can be accessed by two entrances, one at Hacienda Palangana near Santa Marta, and the other at the eastern end of the park near Los Naranjos. Looking for further inspiration? Our guide to planning an itinerary around Colombia includes this national park!
Sierra Nevada de Santa Marta National Park
When to visit: The same as for Tayrona National Park; much of the park is inaccessible from September to December due to heavy rain. January through April is the best time for the Lost City tour.
Must-have gear: For the Lost City tour, the tour company will provide camping gear, food, and water. Bring all necessary clothing, including a hat, waterproof jacket, several changes of socks and underwear, sunscreen, and insect repellent
Do I need a guide? For the Lost City, you must go with a tour company. Again, we recommend Expotur for its responsible practices.
Entrance cost: 1.750.000 COP ($375 USD) for four-day trip
Towering above Tayrona National Park is the Sierra Nevada de Santa Marta, and the national park of the same name (Parque Nacional Natural Sierra Nevada de Santa Marta). This area was home to a pre-Colombian civilization largely forgotten until the 1970s, when the lost city of Teyuna was re-discovered.
Today, the four-day trip to the Unesco World Heritage archaeological site now known as the Ciudad Perdida is an unforgettable experience, and the highlight of many visitors' time in Colombia.
This is a rugged trek and requires a good level of physical fitness. The tour operators carry the camping gear, food, and water, but you will need to carry your own essentials through steep mountain and humid jungle terrain. Tours leave from Santa Marta, and the trailhead is a two-hour drive from the city.
Macuira National Park
When to visit: Year-round
Must-have gear: A hat and plenty of water. Bring petrol and a spare tire if renting a 4WD vehicle.
Do I need a guide? It's not required and many choose to hire a 4WD vehicle on their own, but banditry is not unheard of and it's best to limit your activities to daylight hours. Macuira Tours offers excellent four-day excursions, is run by members of the Wayuu community and its profits directly support Wayuu families.
Entrance cost: Free
Most people don't associate desert with Colombia, but the northernmost point of South America is noted for its giant sand dunes overlooking the deep blue of the Caribbean. Macuira National Park (Parque Nacional Macuira) is located on the remote Guajira peninsula, and it seems a world away from the rest of the country.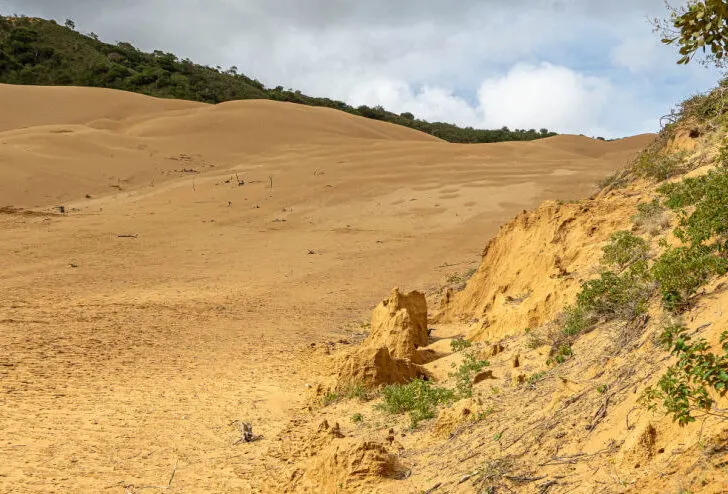 The Spanish never subdued this region, and its inhabitants, the Wayuu, remain fiercely independent but welcoming to visitors.
The obvious draw here is the dunes, on which you can sandboard, but there are also forests and cacti which can't be found elsewhere in Colombia. And along the coastline, you'll likely have a beach all to yourself. Camping in the desert is an amazing experience, and you'll have a stunning view of the night sky.
Macuira is quite remote, and the nearest city with an airport, Riohacha, is a seven-hour drive away.
Corales del Rosario y San Bernardo National Park
When to visit: Year-round, although October is often rainy, and December and January see many local visitors during their annual holiday.
Must-have gear: Swimsuit, sunscreen, and mosquito repellent. All diving and snorkeling equipment can be rented from local accommodations or dive schools.
Do I need a guide? No.
Entrance cost: 18.500 COP ($4 USD)
Just west of Cartagena are two sun-drenched archipelagos fringed by coral reefs that comprise the Corales del Rosario y San Bernardo National Park (Parque Nacional Natural Corales del Rosario y San Bernardo). Visitors can snorkel and go scuba diving among mangrove forests and seagrass beds.
The closer of the two archipelagos, Rosario, is a short boat ride from Cartagena. Although a beautiful beach getaway, the coral reefs are deteriorating due to sediment from the mouth of the Magdalena River.
The Oceanarium is a popular aquarium to see many of the marine species found on the islands, but their use of captive dolphins for live shows has been criticized by animal rights groups.
The further of the two island groups, San Bernardo, is more southerly, isolated, and less touristed. The highlights are the white sand beaches, snorkeling, and diving. Access is by a once-daily speed boat leaving Cartagena at 9am.
Utría National Park
When to visit: For diving, year-round. For whale watching, August and September.
Must-have gear: Strong insect repellent, mosquito net, sunscreen, swimsuit, and waterproof clothing. Also bring plenty of cash, since ATMs are few and may not be working.
Do I need a guide? Yes, it is required. Mano Cambiada, located in Nuquí, is recommended.
Entrance cost: 63.500 COP ($13 USD)
If wild and isolated is what you're after, look no further than Utría (Parque Nacional Natural Utría). In a remote pocket of unspoiled coastline along Colombia's Pacific coast, access is by prop plane to Nuquí, then a 90-minute boat ride north.
Travelers come for diving, mangrove forests, deserted beaches, and boat excursions to catch sight of humpback whales and dolphins. This protected area is also a hotspot for hawksbill turtles, a critically endangered species of sea turtle.
Unfortunately, a lot of the tourism in the Pacific sees little benefit for the local indigenous community. However, Mano Cambiada is a non-profit organization that focuses on sustainable development for the local community through ecotourism.
Amacayacu National Park
When to visit: Year-round. November through May for greater access by boat throughout the park. June through September for the drier season.
Must-have gear: Strong insect repellent, mosquito net, waterproof clothing, and a hammock if planning to sleep within the park.
Do I need a guide? Yes. We recommend Amazon Tour Leticia for its variety of options and activities and commitment to conservation and supporting indigenous communities.
Entrance cost: Free
In the extreme southeast of the country, Amacayacu (Parque Nacional Natural Amacayacu) is Colombia's slice of Amazon rainforest. Visitors can reach the nearby city of Leticia by flight from Bogota (offered by major airlines) or by boat upriver from Iquitos in Peru or downstream from Manaus in Brazil. From Leticia, it's a two-hour boat ride to the park entrance.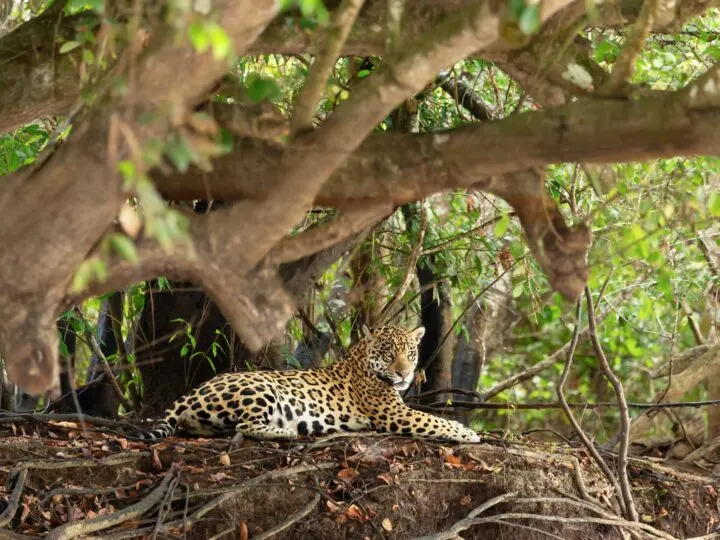 The region has high-water and low-water seasons, and each has its own appeal. The forest floods from November through May, allowing access by boat to such places as Isla de los Micos, home to many species of monkeys.
The low-water season has the obvious advantage of less rain while hiking through the park.
There are hundreds of primate species in this region – the greatest variety on Earth and one of the reasons this national park is on our list of the best places to see in Colombia.
In addition, visitors are treated to quite a range of frog and bird species in the park. Manatees, otters, and pink dolphins are also regularly sighted. Jaguars and tapirs live in the park as well but are rarely seen.
For intrepid travelers, nocturnal tours are available where you can sight snakes, alligators, and tarantulas, among other creepy crawlies.
Although becoming rare through conservation efforts, animals and animal products are sometimes unscrupulously sold, and if encountered should be reported to police or park officials.
Tuparro National Park
When to visit: June to September, as the wet season renders many roads impassible.
Must-have gear: Strong insect repellent, sunscreen, and a hat.
Do I need a guide? Because of the remoteness of the park, a tour guide is essential. Amazon Adventures organizes six or eight-day expeditions.
Entrance cost: 54.000 COP ($12 USD)
North of the rain forest towards the border with Venezuela is the Llanos, a wide expanse of savanna. This is rough and tumble country where people grow up riding horses and the key feature is the difference between the dry season and the wet season when much of the area is flooded.
The massive Tuparro National Park (Parque Nacional Natural Tuparro) is a great place for horseback riding and spotting seasonal wildlife, including armadillos, tapirs, and peccaries. The most famous sight in the park is the raudal de maipures, a large boulder balanced precariously in the middle of the Orinoco River.
Cueva de los Guácharos National Park
When to visit: Year-round
Must-have gear: Insect repellent, a torch, a raincoat, and a swimsuit. Camping gear if going without a tour group.
Do I need a guide? It is not required to hire a guide, but many prefer to go with a group. Baquianos does a four-day trip.
Entrance cost: 60.000 COP (13 USD)
In the south of the country, Cueva de los Guácharos (Parque Nacional Natural Cueva de los Guácharos) is most famous for its limestone caves, as well as for its scenic cloud forests. To reach the caves, it's a two-day hike from the town of Palestina, stopping overnight in La Mensura. Each day is about a seven-hour hike.
The park is home to a wide variety of bird and primate species and is among the most beautiful in Colombia thanks to its glossy forests and abundant rivers and waterfalls.
Galeras Nature Sanctuary
When to visit: Year-round
Must-have gear: Sunscreen, a hat, and a raincoat.
Do I need a guide? A guide is required only in the Telpis Laguna sector of the park. Ecoglobal Expeditions offers an extended six-day camping trek in the park.
Entrance cost: 12.500 COP (2.50 USD)
Just west of Pasto in southern Colombia is the Santuario de Flora y Fauna Las Galeras, set beneath the volcano of the same name. The park has crater lakes, cloud forest, and endemic wildlife common in the mountains of Ecuador and Peru.
The pleasant temperature at this altitude makes this a great place for an extended camping trip.
Serranía de La Macarena National Park
When to visit: June through September offer the driest conditions for hiking.
Must-have gear: Swimsuit, insect repellent, a hat, and waterproof clothing.
Do I need a guide? Due to the remote location, a guide is not required but is highly recommended. Palenque Tours does multi-day treks in the park.
Entrance cost: Free
Best known for the Caño Cristales river – which, with its unique pink hue is probably the most beautiful river in Colombia – La Serranía de la Macarena National Park (Parque Nacional Natural La Serranía de la Macarena), and the connected Tinigua National Park, is a vast, isolated preserve far to the south of Bogota.
The park has many waterfalls and natural swimming pools and covers a wide variety of terrain from mountains to plains.
Palenque Tours offers multi-day trips which highlight wildlife sightings, exploring the park's hiking trails, visiting indigenous communities, and the Caño Cristales itself.
Chingaza National Park
When to visit: Year-round
Must-have gear: Sunscreen, a hat, and a raincoat
Do I need a guide? No, this is a good place to be on your own. There are marked trails deeper in the park, however, that require a guide.
Entrance cost: 62.000 COP ($13 USD)
Easily accessible just to the east of Bogotá, Chingaza (Parque Nacional Natural Chingaza) stretches across the easternmost spur of the Andes. Its high-altitude environment features alpine forests, deep blue lakes, and unique flora and fauna.
It's a popular hiking destination for foreigners and Bogotaños alike, and there are six trails with a limited daily capacity. Don't forget to bring an extra layer, as the temperature can rise or drop quickly here.
Los Yariguíes National Park
When to visit: Year-round
Must-have gear: Sunscreen, a hat, insect repellent, and a raincoat.
Do I need a guide: Yes, a guide is required. Palenque Tours will offer trips once the park reopens.
Entrance cost: To be determined. Likely around 70.000 COP ($15 USD)
An ideal park for hiking and seeing a huge variety of plants and wildlife, La Serranía de Los Yariguíes (Parque Nacional Natural Los Yariguíes) is in the central range, and covers over 2,700 meters (9,000 feet) of elevation. It is just west of the adventure sports center of San Gil and the colonial village of Barichara.
Yariguíes is ideal for travelers who want to see the whole gamut of jungle, cloud forest, waterfalls, and mountain ridges, with an amazing range of bird species. At the time of writing, the park was closed for maintenance but is due to open again soon.
El Cocuy National Park
When to visit: Year-round
What to bring: Sunscreen, a hat, and a raincoat.
Do I need a guide? Yes, you must have a guide to enter the park. We recommend Living Col, which offers multi-day trips.
Entrance cost: 85.000 COP ($18 USD)
Another high-altitude Andean park with stupendous views, El Cocuy (Parque Nacional Natural El Cocuy) lies northeast of Bogota. Within the park are glacial lakes and the snow-capped Ritacuba Mountain, which can be summited with a guide.
This park is well above 3,000 meters (10,000 feet), so it's advised to drink plenty of water while you acclimatize. It's also home to a unique, high-altitude ecosystem only found in the high Andes of South America: páramo.
This alpine tundra plays host to stunted shrubs and tussock grasses, as well as eagles, hummingbirds, and spectacled bears.
Some of the parks hiking trails have been closed following objections by the indigenous groups who inhabit these lands, the U'wa. But you'll still find plenty to keep you busy, with 15 5,000-meter (16,404-feet) plus mountains studded the landscapes of the park.
Los Nevados National Park
When to visit: Year-round
Must-have gear: Sunscreen, a hat, and a raincoat.
Do I need a guide? No, a guide is not required.
Entrance cost: 54.000 COP ($11 USD)
Towering above the scenic coffee-growing region of Colombia, Los Nevados (Parque Nacional Natural Los Nevados) is an amazing collection of deep valleys, high plains, and snow-topped mountains. Visitors can spot mountain tapirs, cougars, oncillas, and occasionally spectacled bears, here.
Experienced mountaineers can climb Nevado del Tolima, the conical active volcano, but access in the northern sector of the park, near the more active Nevado del Ruiz volcano, is partly restricted. However, you can read our guide to the other day and multi-day hikes in Los Nevados National Park.
Valle de Cocora
When to visit: Year-round
Must-have gear: Sunscreen, a hat, and a raincoat.
Do I need a guide? No, although there are guides at the park entrance who will offer to share their expertise.
Entrance cost: 54.000 COP ($11 USD)
Adjacent to Los Nevados, Valle de Cocora is a gorgeous valley famous for its cloud forest. The region's iconic wax palm trees (which can reach up to 60 meters (200 feet) tall) grow here in areas of higher elevation and were featured in Disney's animated movie, Encanto.
The park is an easy day trip from the town of Salento, just southwest of the valley, and situated close to the pretty, pasted-hued buildings of Jardín.
Want more Colombia travel content? Check out our Colombia travel itineraries and list of the destinations you can't meet in this beautiful country.