Imagine sitting in the shade at a vineyard while sipping a glass of exquisite wine on a warm, dry afternoon. While this may evoke thoughts of Provence, Tuscany, or La Rioja, Europe isn't the only place you can enjoy great wine.
The secret has long been out: Chile's wines are just as good as what you'll find in Europe. Because of Chile's diverse range of climates and volcanic soil, their flavor, complexity, and amazing selection of varietals compare favorably with any country in the world.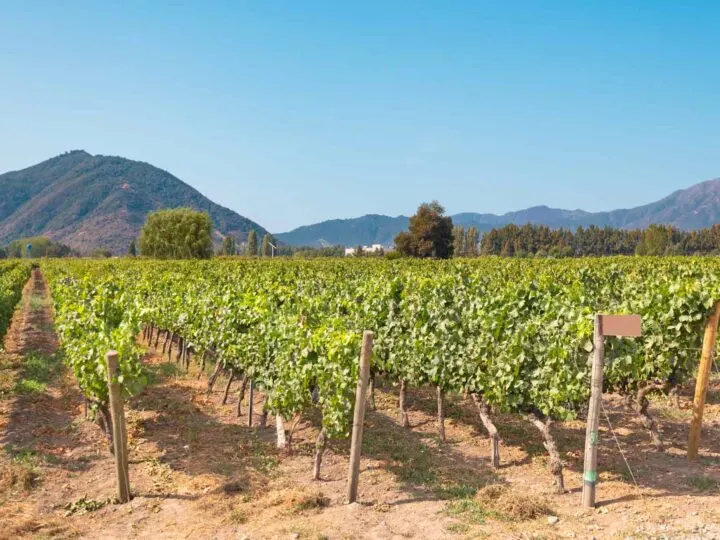 Now the fourth-largest exporter of wine in the world, Chile's large-scale production has developed alongside small-batch vintners making refined, innovative, and sustainable wine. While Chile has become well-known for its red grape varieties, it also features a great range of white, rosé, and blends.
Another great reason to delve into Chilean wines is the rare varieties on offer. Certain grapes that have either fallen out of favor or were wiped out by a fungus in Europe now flourish in Chile. You can expect to find carignan, cabernet franc, petit verdot, and carmenere in several regions.
Chile's wine-making regions are spread across a huge area and several regions from the bone-dry Atacama Desert in the north and the Mediterranean climate of the central region, to the cooler coastal regions and the misty hills of Biobío further south, each with its own character and nuance.
Read on to discover Chile's best wine regions and finest vineyards.
Insider tip: Most wineries will expect an advance reservation for tours; you can generally find this information on their websites. Others will permit tastings without reservation – you can just turn up and try their produce. It's also important to note that Chile has a zero-tolerance policy when it comes to drink driving. If all members of your party are planning on sampling the wine, it's easy enough to organize a local taxi to drop you off and pick you off at the winery.
1. Maipo Valley
Chile's largest commercial wine-growing region, the Maipo Valley accounts for a large percentage of their export market with such brands as Concha y Toro (Casillero del Diablo), now found virtually everywhere in the world.
While these producers often focus on high-volume export, they and smaller vineyards also make some of the best small-batch wines in the country. cabernet sauvignon is the star of the show here.
Just south of the capital, Santiago, the Maipo Valley has been cultivated since the 1500s, but intensive viticulture took hold in the early 1800s. The climate is warm and dry, and its clay soils make it very fertile. It is divided into three sub-regions.
Central Maipo is the most intensively cultivated area and makes bold and balanced cabernet sauvignon along with some carmenere. Alto Maipo is in the foothills of the Andes Mountains, with rockier soil contributing to more complex cabernet sauvignon. The smaller Pacific Maipo region sees more moisture and produces reds with more natural acidity, including pinot noir.
The Maipo vineyards are a good jumping-off point to enjoy and learn about Chile's red wine. They are easily accessible from Santiago and have lovely grounds, well-run tours, and tastings.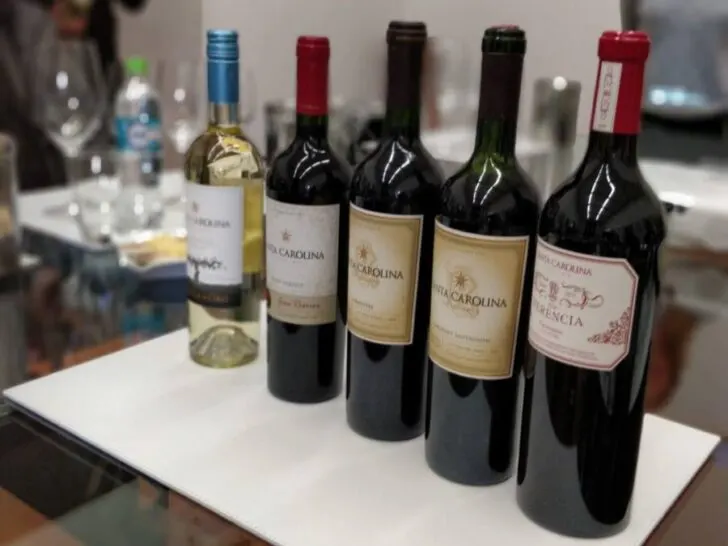 The award-winning Viña Santa Carolina (tours from $17/3 wines, one hour) has its origins in grapes planted in 1875, with the vineyards remaining here – pretty much right in the city – until the 1970s, at which point they moved their vineyards to various places around the country. On Linea 5 of the metro, it's an easy half-day trip from the capital.
Concha y Toro (tours from $38/6 wines, 2 hours, tastings from $25/3 wines, 70 minutes) is a short bus or taxi ride from the city metro and is known for cabernet sauvignon as well as a premium carmenere.
Another vineyard with a long history and a good range of tours is Santa Rita (tours from $30/4 wines, 1.5 hours, tastings from $25/2 wines, 1 hour); you can even stay at the vineyard in their on-site hotel, Casa Real ($400 USD double).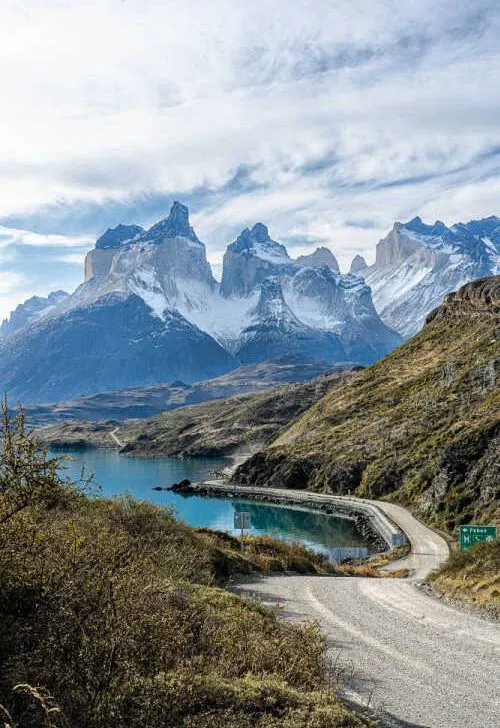 Want a custom-made Chile itinerary, but without the effort of planning it?
Get it planned by an expert (me!) with my travel itinerary planning service; you'll give me an overview of your ideal once-in-a-lifetime trip to Chile and/or Patagonia, and I'll put together a custom itinerary just for you using my expert knowledge of the destination.
Alternatively, if you're looking for a local operator to plan and book your trip, I recommend our trusted partner EcoChile Travel. They design and book tours throughout the country, such as this 12-day highlights of Southern Patagonia itinerary – and offer Worldly Adventurer readers a 5% discount on their services!
Book here to claim your discount.
A smaller producer, Terramater (tours from $38/6 wines, 2 hours, tastings from $25/3 wines, 70 minutes) is a vineyard begun in 1996 by three sisters committed to sustainability and premium wines. Among their unique vintages are "Chicha", a floral muscatel, and an Italian-style sangiovese.
2. Cachapoal Valley
Just south of the Maipo region is the Cachapoal Valley, which stretches from the foothills into the Central Valley. The eastern half of the valley has rocky soil and produces smaller, more intense grapes for blends, and the western half focuses on excellent carmenere.
The western Cachapoal town of Peumo has a growing reputation for its top-notch carmenere reds. A vineyard worth seeking out is San Pedro (tours with tasting from $34/3 wines, 1.5 hours), one of Chile's largest wine exporters, who also bottle some of the most refined carmenere and cabernet sauvignon.
A smaller producer, Vik (tours with tasting from $50/3 wines, 2 hours), has lovely grounds outside the town of Millahue, and makes an outstanding blend of cabernet sauvignon and cabernet franc.
If you want to immerse yourself in the vineyard – and their very unique architecture and design – then opt to stay overnight in Hacienda Vik ($499 USD double).
3. Colchagua Valley
Southwest of Cachapoal is one of Chile's premier wine-growing regions, the Colchagua Valley. These two valleys are sometimes collectively known as the Rapel Valley. The area is synonymous with carmenere, although many other varietals grow well here.
Many world-renowned vintners are based here, and chances are you've already had a tipple of one of them. The region is ideal for wine, with warm dry weather and ocean breeze, wedged between the Andes and the coastal mountain range.
The town of Santa Cruz is centrally located in the valley and is the perfect place to base yourself as you explore the region.
Its terroir is suited to a wide range of red grape varieties, including carmenere, cabernet sauvignon, bordeaux, and merlot. Among the numerous reputable vineyards include Montes (tours with tasting from $44/4 wines, 1.5 hours), which has an outstanding on-site grill, Fuegos de Apalta. Run by celebrity Argentine chef Francis Mallmann, it serves – probably – the best steak in the country. The setting surrounded by vines is also divine.
Nearby, Clos Apalta (tours with tasting from $31/2 wines, 1.5 hours), the wine venture of the French cognac company, Grand Marnier. Their eponymous wine was awarded 100 points by American critic James Suckling and it's worth checking out their gravity-led winery.
They've also got a very exclusive restaurant and their Relais & Chateaux-run hotel, the Clos Apalta Residence ($1,700 USD double). Book well in advance for both.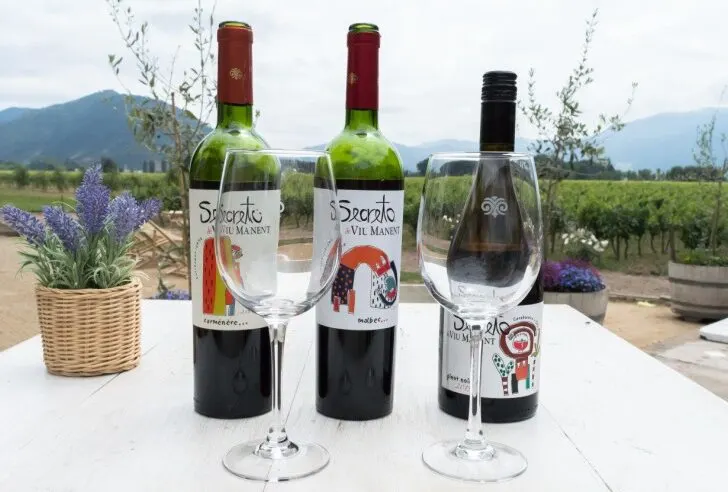 You'd also be remiss not to visit Viu Manent (tours from $24/1.5 hours, tastings from $19/7 wines), a winery founded in 1966 on a hacienda with 150-year-old vines.
Their signature offerings include carmenere and malbec, while they run cooking classes, have a brilliant restaurant (Rayuela Wine & Grill) and you can even stay the night at their Vibo Wine Lodge ($226 USD double).
Right at the heart of Santa Cruz, informal Laura Hartwig (tours with tasting from $25/3 wines, 1.5 hours) offers organized tours, as well as casual, impromptu tastings at their tiny shop, which exists on their equally small vineyard of just 80 hectares. You'll struggle to find their excellent wine outside of the vineyard, as most is exported.
A little further away in the nearby town of San Fernando, Casa Silva (tours with tasting from $22/4 wines, 1.5 hours) is Chile's most awarded winery – and for very good reason.
Their micro-terroir carmenere is their signature wine, however, their grapes include pinot noir, chardonnay, syrah, cabernet sauvignon and the more unusual sauvignon gris, too.
Their excellent restaurant, Polo Club House, overlooks the family's polo field (members of the family are international polo players), serves up truly spectacular food, and is very much worth a visit. Stay overnight in Hotel Casa Silva ($210 USD double), the Silva family's original home that's been converted into an elegant boutique hotel.
4. Curico Valley
To the south of Colchagua is another large-scale producer of wine, the Curico Valley. While it may not receive the plaudits of Chile's more famous domains, this region is notable for the variety of grapes grown due to its limestone and volcanic soil and slightly cooler climate.
While the valleys further north tend to specialize in a few red grape varieties, in Curico vineyards you can take your pick from cabernet sauvignon, sauvignon blanc, or chardonnay.
Among the best winemakers in the area are Miguel Torres (tours from $19/1.5 hours, tastings from $31/2 wines) and Errazuriz (which operates tours in the Aconcagua Valley to the north of Santiago).
5. Maule Valley
The Maule Valley is regarded as Chile's most bulk and industrialized wine-making region, but due to its excellent range of terroirs, it has some excellent wine to offer its visitors.
The soil is quite varied here depending on elevation and proximity to the Andes mountain range and the coastal mountains, and the Maule River. The soil includes granite, limestone, clay, and loam.
Spanish colonists planted Pais (tempranillo) vines beginning in the 16th century, but these are being steadily replaced by cabernet sauvignon, merlot, carmenere, sauvignon blanc, and carignan.
While much of the valley is cultivated by bulk producers, a noteworthy vineyard in Maule is Casa Bouchon (tours with tasting from $19/3 wines, 1.5 hours).
Their exclusive hotel, Casa Bouchon Hotel Boutique ($221 USD double), is situated within 180-year-old adobe buildings and has glorious views across the surrounding vineyards.
6. Itata Valley
As we move further south, Chile's climate begins to change noticeably. Cloud cover is more frequent and the Pacific Ocean beyond the coastal range has more influence on grape cultivation.
The Itata Valley, like the Maule, was long regarded as a bulk wine-making region, but local wine-makers are now finding the region suitable for different grapes, including pinot noir, cinsault, and muscat.
A popular vineyard in Itata is Männle (tours with tasting $17/4 wines, 2 hours) which specializes in Cabernet Sauvignon and dry red blends. They also make an interesting dry orange wine worth a taste.
7. Malleco Valley
The southernmost of Chile's major wine-producing regions, the Malleco Valley is the most influenced by the cold-water Humboldt Current which flows north in the Pacific. Although there is a lot of rainfall, much of it falls in the cooler months, and summer brings long sunny days and cool nights.
As wine producers have learned more about Chile's varied terroir, it's been discovered that Malleco is excellent for chardonnay and pinot noir, which make up over 90% of vines here.
Aquitania (tours with tasting from $33/4 wines, 1.5 hours) is a vineyard with lovely grounds gaining attention for its Cabernet Sauvignon, Pinot Noir, and Sauvignon Blanc.
8. Casablanca Valley
Just west of Santiago on the road to the coastal city of Valparaiso is the increasingly popular Casablanca Valley. While the wine in the Central Valley is influenced by intense sunlight and dryness, this valley amidst the coastal range sees fog in the mornings and cool ocean breezes.
This moisture, along with clay soil, makes the Casablanca Valley ideal for pinot noir, sauvignon blanc, and chardonnay. The region is also at the forefront of innovative organic wines.
Some vineyards to check out include:
Emiliana (tours available by online reservation)is an organic vineyard with resident llamas and a range of wines, including their Coyam, a red blend that is frequently awarded 95+ by North American wine critic James Suckling.
Nearby Casa del Bosque (tours from $15/30 minutes], tastings from $19/4 wines) offers bike tours, picnics and three different restaurants, making it an excellent place for a pre-lunch tasting.
Viñamar (tours with tasting from $19/3 wines, 1 hour) are best known for their exquisite sparkling wines.
Bodegas RE (tours from $15/1 hour, tastings from $19/2 wines), who experiment with unusual blends, for example: a pinotel (pinot noir and muscatel).
Brazilian-owned boutique winery Attilio & Mochi (tours with tasting from $38/5 wines, 1.5 hours) focuses – usually for its location – on reds, including cabernet franc, grenache, malbec, and pinot noir, plus unfiltered orange wines.
9. San Antonio Valley
Just to the south of Casablanca, the San Antonio Valley excels at much the same as its neighbors to the north. The growing season is long and grapes ripen slowly, giving them a balanced flavor.
As in Casablanca, pinot noir, sauvignon blanc, and chardonnay rule the roost, but a surprise red varietal in the region, syrah (normally grown in drier regions further north), has been well-received.
Notable vineyards in the area include Matetic (tours with tasting from $38/4 wines, 1.5 hours), a "biodynamic" vineyard, whose practices protect local flora and fauna without using chemicals or pesticides and who use gravitational flow during their winemaking process to conserve energy use.
You can stick around for a while here: their brilliant restaurant, Equilibrio, and boutique hotel, La Casona ($296 USD double) are both linger-worthy in their own right.
Further towards the coast, Casa Marin (tours only with advance reservation) is one of the most awarded vineyards in Chile, and their pinot noir, grenache/syrah blend, and, most importantly, their sauvignon gris are not to be missed.
You can also stay here after a long day of wine tasting in their Bungalow Miramar guesthouse ($167 USD double), with views right across to the Pacific.
10. Aconcagua Valley
North of Santiago in the Central Valley, the Aconcagua Valley sits in the shadow of South America's tallest mountain of the same name. From here northwards, the climate because increasingly hotter and drier, making it ideal for a number of red grape varietals.
The climate, along with the rich but rocky volcanic soil, make the region perfect for cabernet sauvignon and syrah, as well as pinot noir, and some white wines closer to the coast.
An established and longstanding favorite in the region is Errazuriz (tours with tasting $42/3 wines, 1.5 hours), which sources its grapes from a few regions but offers tours and tastings in Aconcagua.
11. Choapa Valley
Journeying north from Aconcagua is the narrowest stretch of Chile between mountains and sea, the Choapa Valley. The chalky clay soil is heavily irrigated to produce the local wine.
This region almost exclusively grows excellent syrah grapes, as well as Pedro Ximenez white grapes, known for making fortified dessert sherries. Viña De Martino is the primary winemaker of the region but does not offer tours in Choapa. Their syrah is nevertheless worth seeking out.
12. Limari Valley
Further north lies the unique Limari Valley, which despite its aridity specializes in Chardonnay and Pinot Noir, wines usually associated with wetter climates. It is also a large producer of pisco, Chile's grape brandy and national spirit.
Of Chile's wine regions, this fertile valley is quite special, and at Viña Tabalí (tastings from $15/2 wines) you can sample what they're becoming known for. Their red blends use several grapes, including syrah, carmenere, and viognier.
13. Elqui Valley
Heading further north, the landscape appears more and more dry and barren, which provides the perfect contrast for the bucolic Elqui Valley. Irrigated with meltwater from the Andes, this oasis amidst the desert is Chilean wine's northern frontier.
Like in the Limari Valley, irrigation and the cool breeze from both mountains and sea have made it possible to grow a surprising range of grape varietals.
Many of the local vintages are blends of three or more grape types, including carmenere, pinot noir, and syrah. A great place to sample them is Cavas del Valle (tours available without reservation), an hour inland from La Serena.
14. Atacama Desert
Although the Elqui Valley is generally considered the end of the wine line on the way north, there is amazingly wine production in this driest of regions, the Atacama Desert. Near the town of San Pedro de Atacama, some farms that once grew table fruit have put down vines and are making good wine.
At these small, highly-irrigated vineyards, chardonnay, sauvignon blanc, pinot noir, merlot, and syrah are made. You can sample them at Bodega Ayllu (tour with advance reservation; book a tour from San Pedro de Atacama here), which features the wine of Viña Santa Romina.
The vineyard itself is operated by a cooperative of indigenous Lickanantay people from the community, who have been cultivating wine since the 16th century.
---
For more inspiration, read our in-depth Chile itineraries or get in touch for a custom-designed itinerary for your next trip to Chile!